Furniture and Decor Sources For Our New House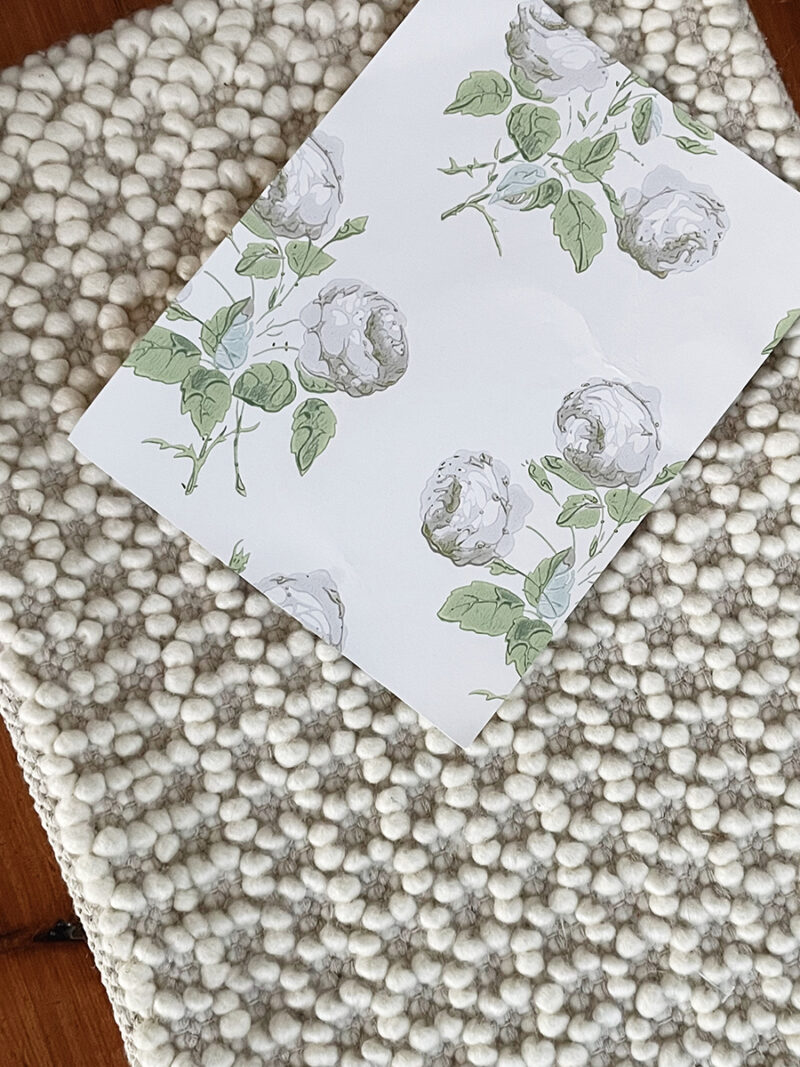 I've been getting a lot of questions about the furniture and decor sources in our home, so I wanted to put together a post for easy reference. This project is different from anything else I've done because I'm going custom with some upholstery and window treatments. It's felt like a huge undertaking and commitment, and I'm not someone who's used to staying put. the longest I've been in a home in the last 11 years is 4 years, and I felt ready to move 2 years ago. But this house is different. It feels like a forever home, and I can't imagine ever leaving.
Furniture and Decor Sources For Our New House
It's been a bit of a learning curve – finding sources and fabrics, and making some big (and sometimes costly) decisions that I need to commit to for a long time. But it's really exciting, too. Thinking of furniture and decor that will grow with my girls. Choosing pieces that I won't tire of that feel new and fresh, but also timeless.
I shared our renovation plans and timeline here.
Choosing Sisal vs. Jute
I love the look of jute, but it sheds and we wanted to give sisal a try in this home. The jute in our old living room is so so soft, and the shedding around the house wasn't bad, but it would get all over my pants when I'd sit on the floor. I love the rug enough that I didn't mind, but Conor really wanted to try sisal, and he really didn't see the point in custom window treatments, so we compromised and I'm loving our sisal rug.
The family room sisal isn't rolled out yet, but the one in the sitting room is out and I love it. It's not as soft as jute, but it's not rough. I wouldn't sit on it with bare knees, but would sit down on the ground. It doesn't really shed and I love the look of it.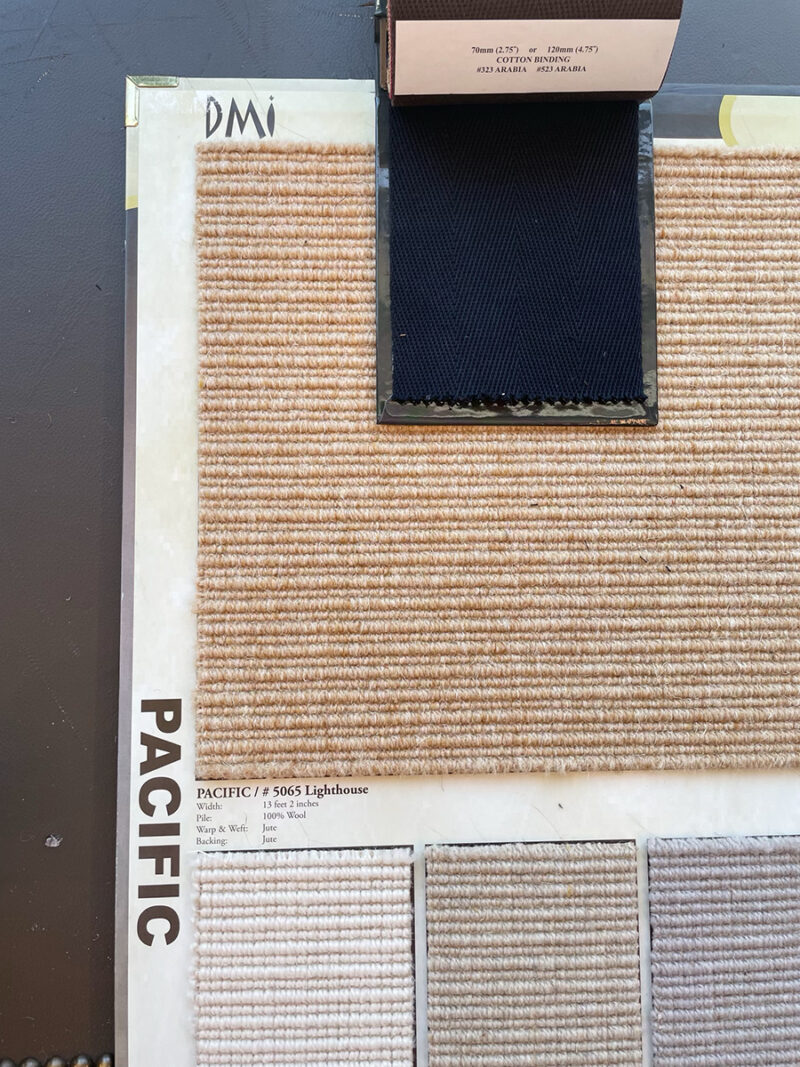 Our stair runner
The stair runner in our old home was great, but if I could change it, it would have been softer and a bit less chunky. So I went to Home Carpet One in Lakeview (this is not in partnership with them) to look at samples. They pulled a few things that were similar to our old runner, and my decision was made almost instantly. I chose a wool that's made to look like sisal. It's pretty flat and looks a bit more elevated, is very soft, and it's a lot more durable. I should note that we did not have any issues with our last runner, but since this is a long-term home, I wanted something that would be easy to clean, and that would hold up for a long time.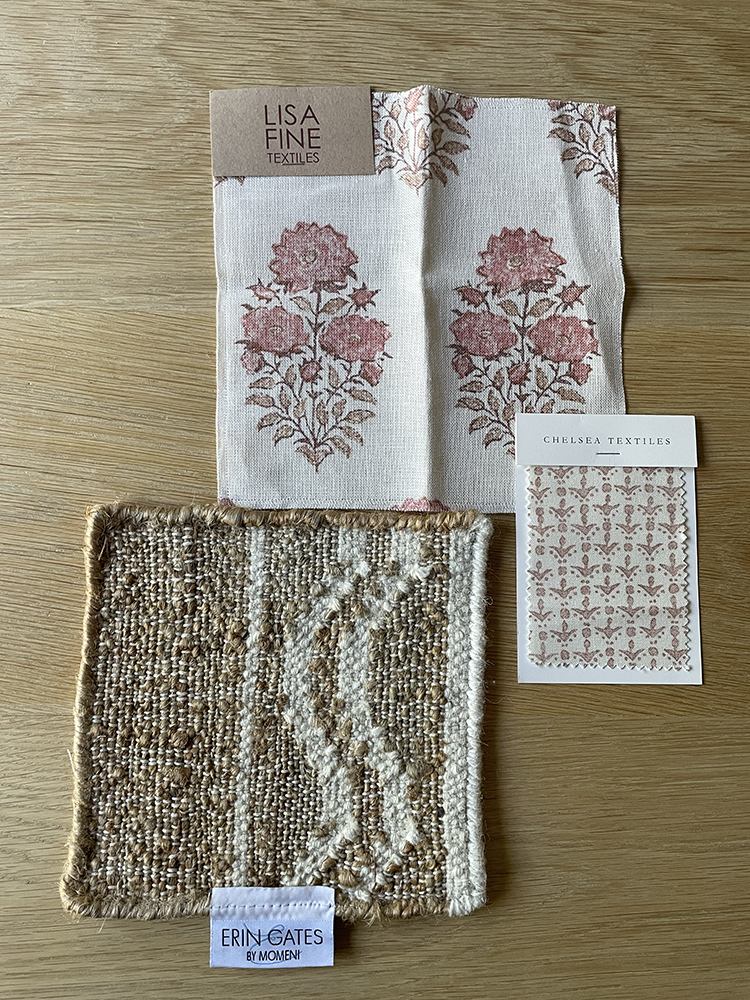 Ordering Custom Window Treatments
I am working with Basia Frossard (not discounted/not in partnership with her). She's making custom rods and white linen curtains for our bedroom and roman shades for Margot's room. We usually just do Pottery Barn curtains but since this is a forever home, I wanted to do something really beautiful. My mother in law used Basia for her window treatments in her last home, and I loved the curtains in her bedroom, so I asked for the same ones. This was a huge investment, but you really can't compare them to anything store bought. It felt right for this house.
We did have Hunter Douglas woven shades in our last home and I couldn't have loved them more. So I'm excited to partner with HD again, this time on my office, Kate's room, and our guest room. I chose the same shades we had in our old sunroom – it's a bit darker and warmer than what was in the girls' rooms, but lighter than what was in our bedroom.
Wallpaper
Elyse of Wall of Sound Designs came highly recommended by two friends and was wonderful to work with. She took her time to make sure everything lined up perfectly, and was just lovely. And she did an amazing job. If you're in the Chicago area, I would recommend using her for wallpaper installation.
Choosing Floor Stain
We have red oak floors so going light wasn't really an option. Sure, it can be done, but we didn't want the floors to look pink, and since this is an old house, we were going for traditional vs Scandinavian. I love light floors. But the water popped Special Walnut (top right) made the most sense for this home. We love it.
Our white paint
We went with Benjamin Moore snowfall white for most of our home. It isn't too stark or cool, and actually feels quite warm for white. I really prefer when rooms flow and white walls always look good. I'll probably wallpaper my office and the powder room, and we wallpapered Kate's room, too. Margot's room is Farrow and Ball dimity. I was going for a creamy color in her room but settled on a soft, creamy pink since everything looked to beige.
This post contains affiliate links. If you purchase something using my links, I may earn a small commission at no cost to you.
Disclaimer: I am partnering with Annie Selke, Momeni, Hunter Douglas, (all gifted) and Circa (discounted) but am only choosing items I truly love for this home. With this sort of partnership, I have a list of deliverables that I'll give the brand in exchange for product, so it's a trade since I'm doing work. But I cannot stress the fact that I would never recommend something I do not love to you.