How to Design a Living Room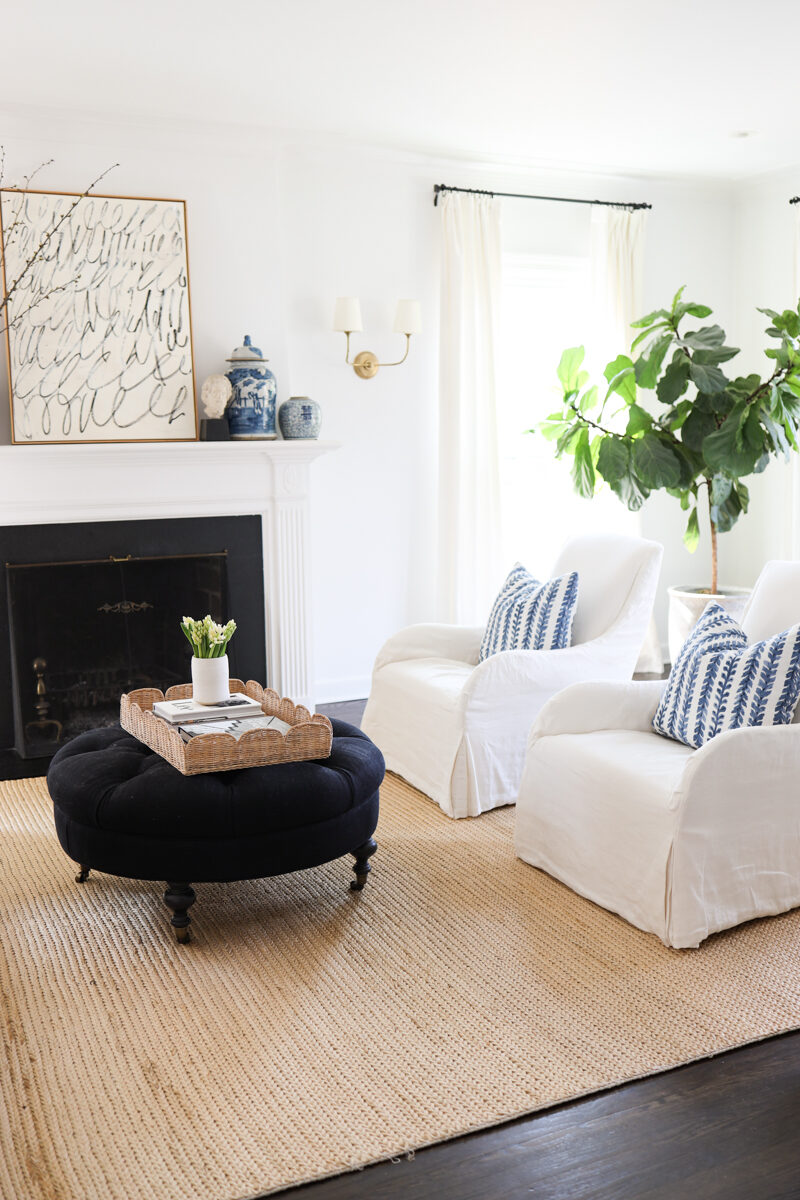 You're here because you want to design a living room, and chances are that you're overwhelmed. It's hard, especially when the room has multiple functions like ours does. Designing a space that feels warm, functional, and one that has that natural flow isn't always easy. Our living room completely transformed over the years as our family grew and our needs changed. A large coffee table was replaced with a soft ottoman – one we could move out of the way so our girls could play. Oversized chairs were replaced with smaller ones to save on space. From furniture and rug size to layout, floor plan, and functional storage, I'm going to share how we designed a family-friendly living room. It's centered around both the fireplace and TV, with space for our kids to play.
How to Design a Living Room
(everything is linked at the bottom of this post)
First, a backstory on the evolution of our small living room. It's a good size but isn't very wide, so it is a small room. Our home has one living space that functions as both a living room and family room. We do have a sofa and TV in the basement, but that room is really a playroom, so it's not somewhere we hang out very often. When we first moved into our home, we bought a sofa we loved. Just over a year later, we cofounded Anecdote. Given what I do, it didn't make sense not to feature Anecdote in my home. I also saw our current sofa and fell in love immediately – it was meant to be.
We had two chairs that I designed for an old collaboration, so I had to feature them, but they were way too chunky. When they were discontinued, I sold them, but opted for a chaise to open up the space for our growing family. It wasn't the most practical seating arrangement, but the girls had room to play. Last year, we ordered these smaller scale chairs (they have since been discontinued 😭).The chaise is now in storage, and these chairs are perfect for the space.
Choosing a paint color will change the room feel, and we often get stuck here. White walls brightened the room and the color palette is simple – mostly whites, beiges, and touches of blue. Light colors feel bright and warm to me, but if that's not your thing, I get it.
Plan your living room layout
Most of us are not interior designers and feel a little overwhelmed by the layout let alone choosing the right living room furniture, fabrics, and lighting. But you want to decorate your room, and this is a great space to start. The first step is planning your layout and thinking about form and function is a great place to start. Start with a seating area. Know your preferences and personal style. I knew that the TV was not the first thing I wanted anyone to see when entering our living room, so that ruled out hanging it over the fireplace.
Placing furniture
It can be tempting to put furniture against walls to free up space, but that doesn't always work. Having the furniture in the middle of the room made the small space easier to walk through, providing an easy way to get to the office. And we really considered how we use the space. We needed to be able to see the TV for family movie nights, a good conversation area since this is both our living and family room, and space for our girls to play. If you're working with a larger space, you may have more options, but also might need two separate seating areas. It also allowed for some extra play space for our girls to play, too.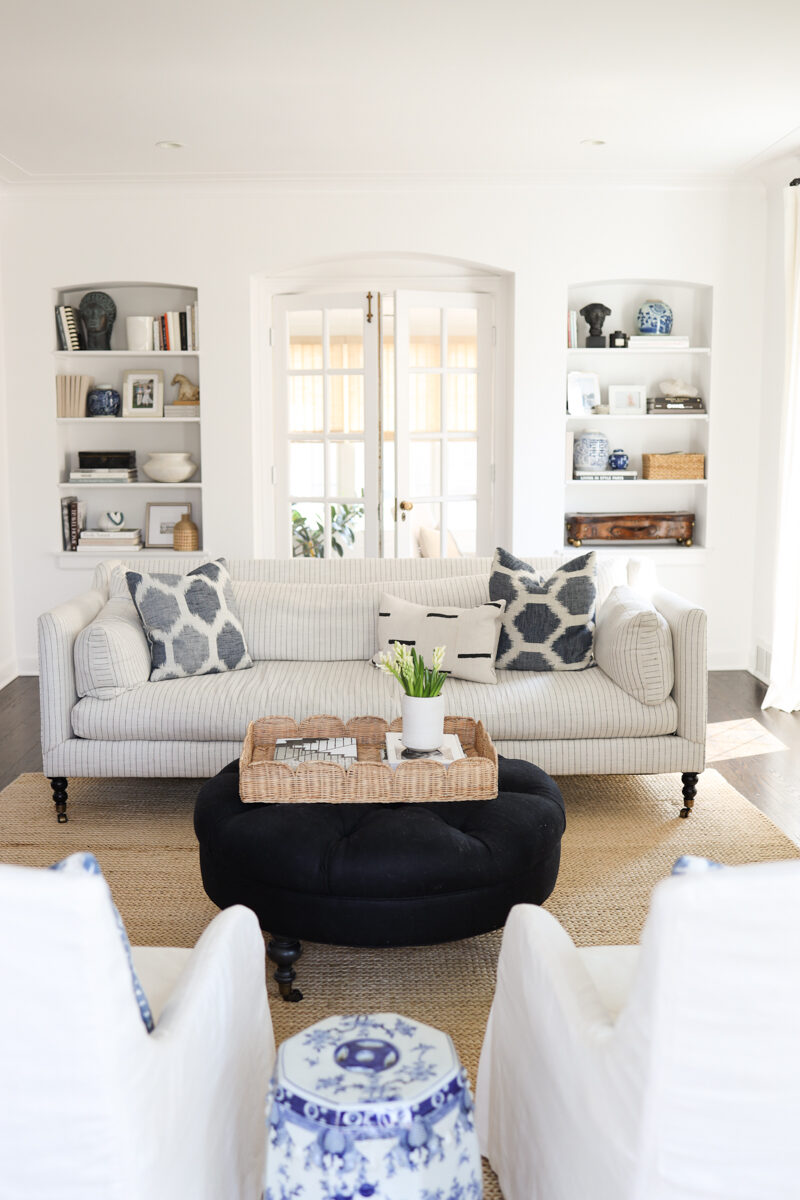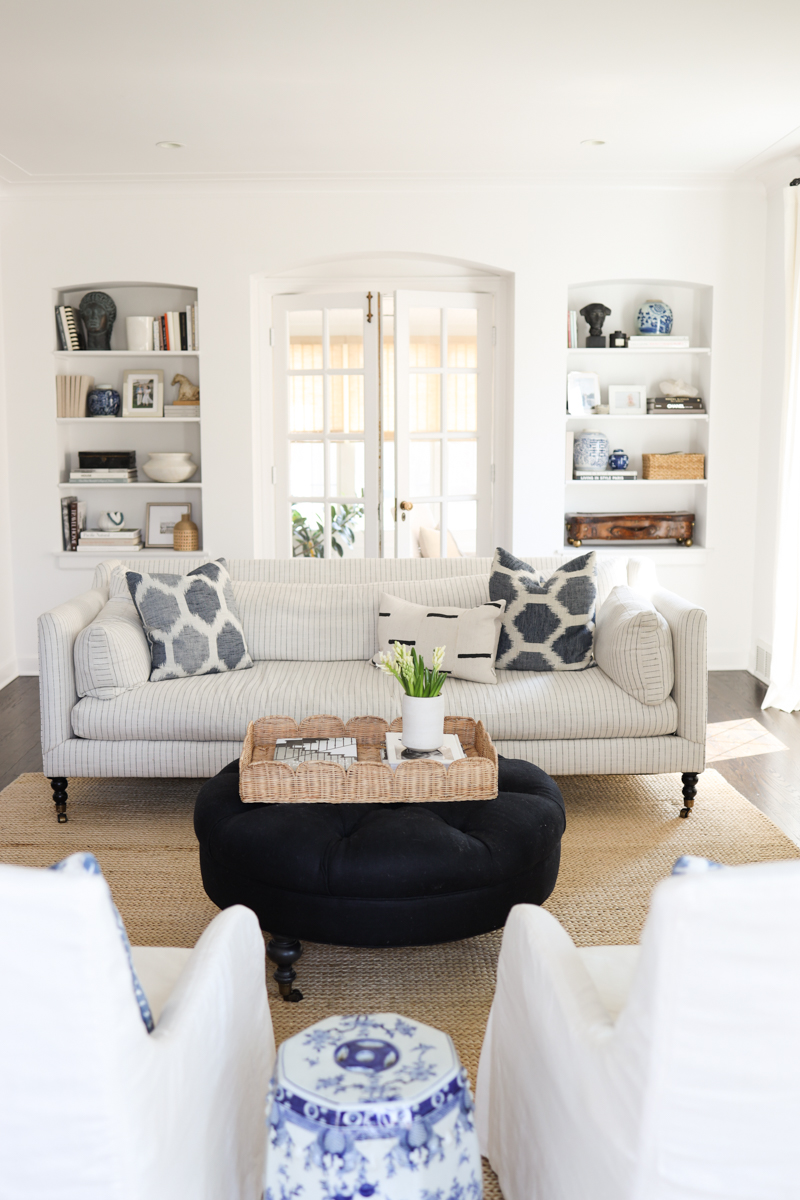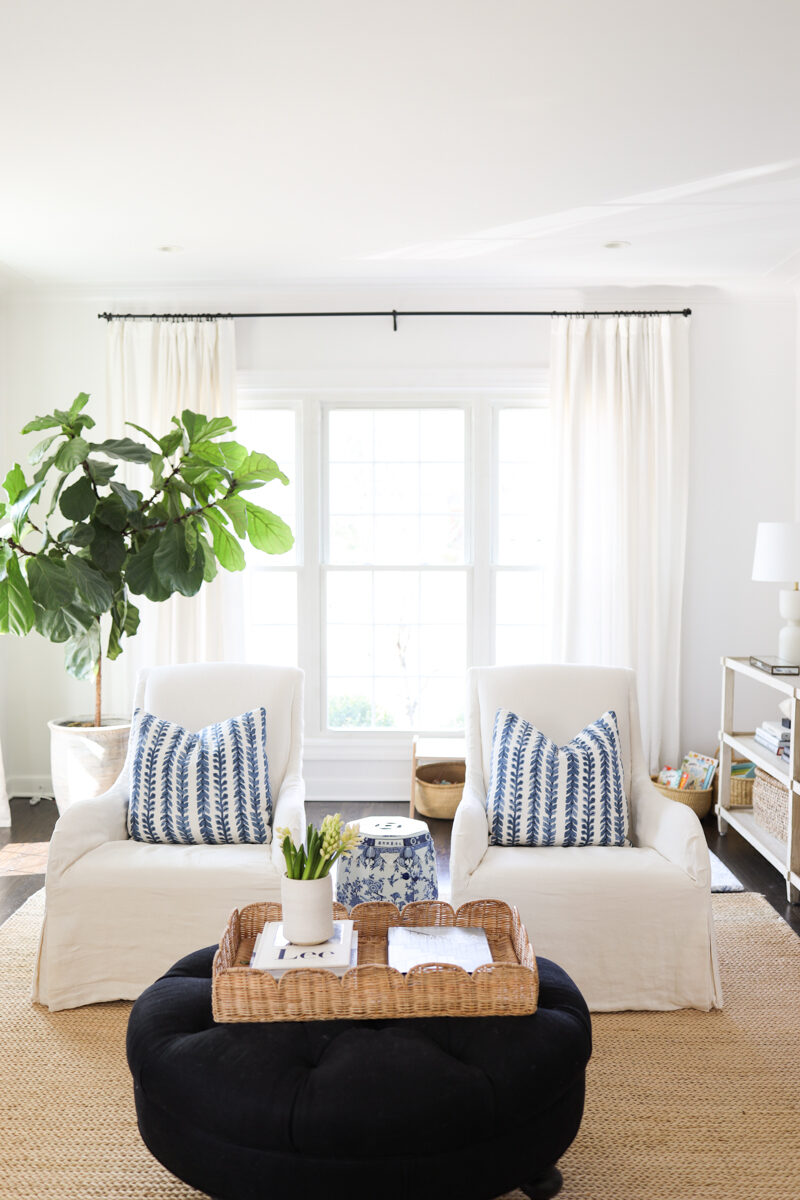 Choose the right furniture
When choosing furniture, choose pieces that fit the room, work together aesthetically, and consider your needs. Start with bigger pieces, and select the rest of your furniture around those. Know what you like and stick to it. I am personally not a fan of sectionals so that was out for us. They're great in a basement family room/TV room, but I do not like them in main living spaces. There's something about them – they lack any and all charm and are generally not very pretty. I prefer beautiful pieces with curves and detail. We added a sofa and smaller, curved accent chairs when we did our living room redesign, and love how it turned out.
If you opt for a more tailored sofa, consider paring them with slipcovered chairs. We had a coffee table that looked great in the space, but it was so large and not ideal for our daughters who needed more space to play, so we changed it for a softer, round ottoman on casters. Choose a coffee table that makes sense for your family. It's so easy to roll out of the way making space for the girls to play. Try to mix mediums – it's ok to pair patterns and to mix woods. If you're struggling, look up rooms you love on Pinterest for ideas. I opted for a garden stool as a side table and love how it looks between our two white chairs.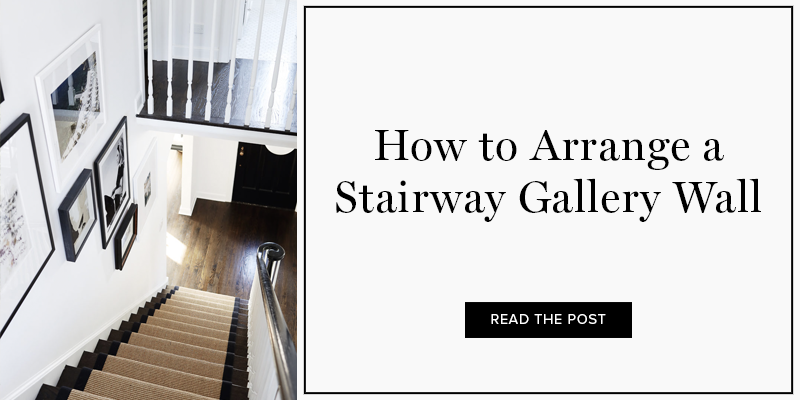 Choosing the right fabric
Choose performance fabrics, like crypton, that resist stains. Slipcovered chairs can be cleaned easily, too. I am not one to shy away from lighter fabrics and will tell you that our dark ottoman gets dirty, too. I'd rather take good care of the pieces we own and know when they're dirty. Our furniture is professionally cleaned quarterly, and the girls can have milk and snacks in here, but we try to avoid anything especially messy. That's not to say that they haven't spilled smoothies on the sofa because they have. Life is meant to be lived. Stains happen. It's fine.
Art and an accent wall
We put a vintage oil painting on one of our accent walls and another piece above the mantel, but that's it. This room is right off our entry and across from the dining room (and large dining table), which has a big piece of art. And our stairway gallery wall is between the two rooms and features a ton of art.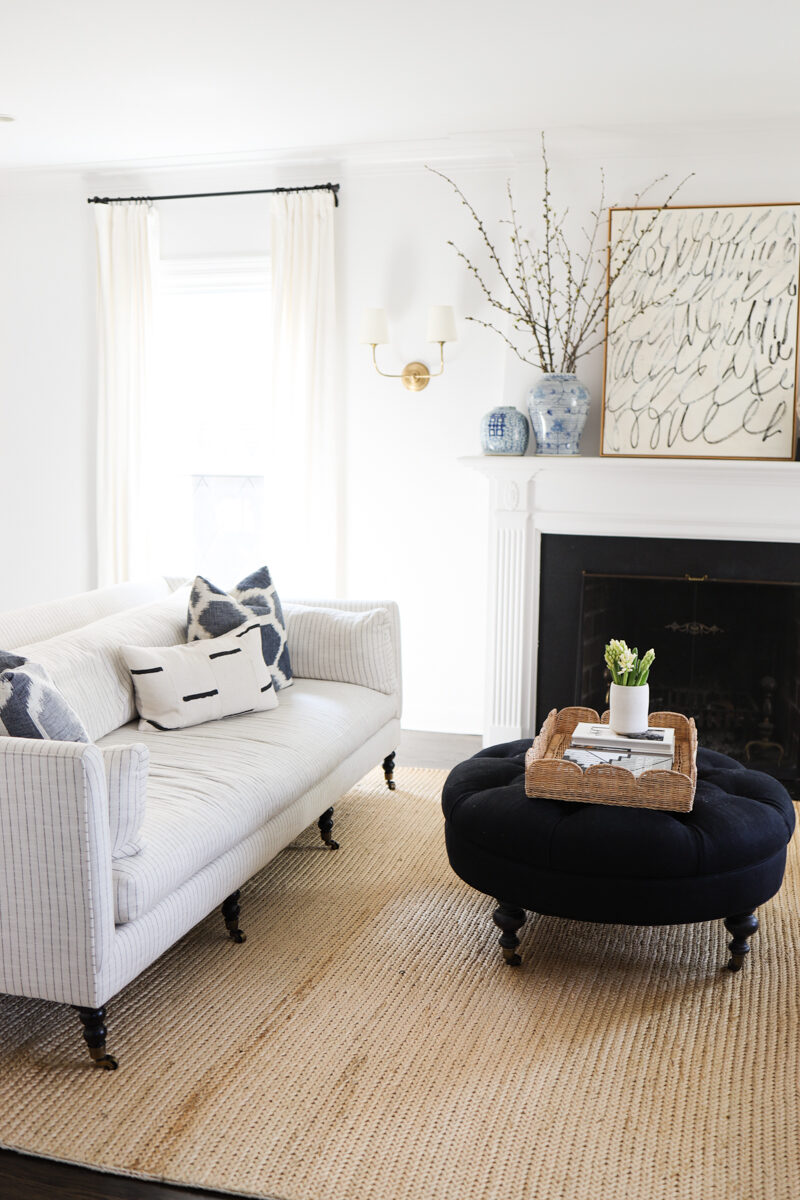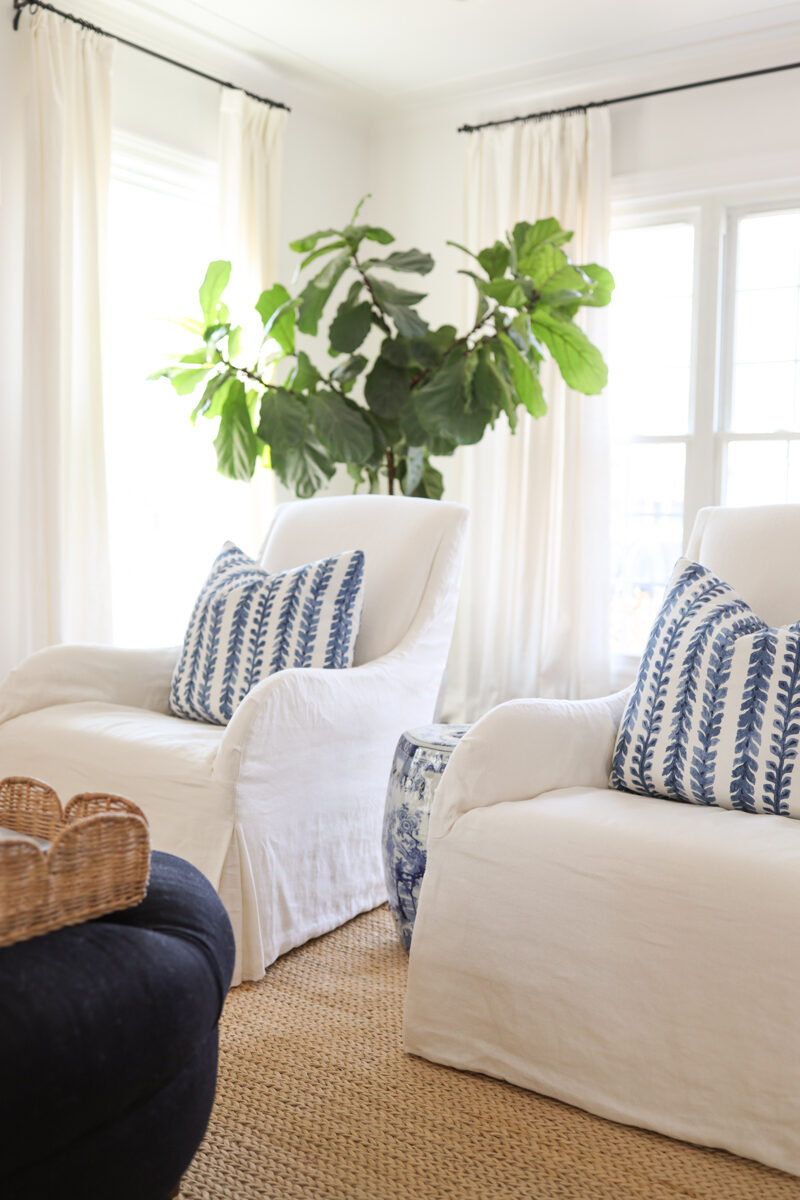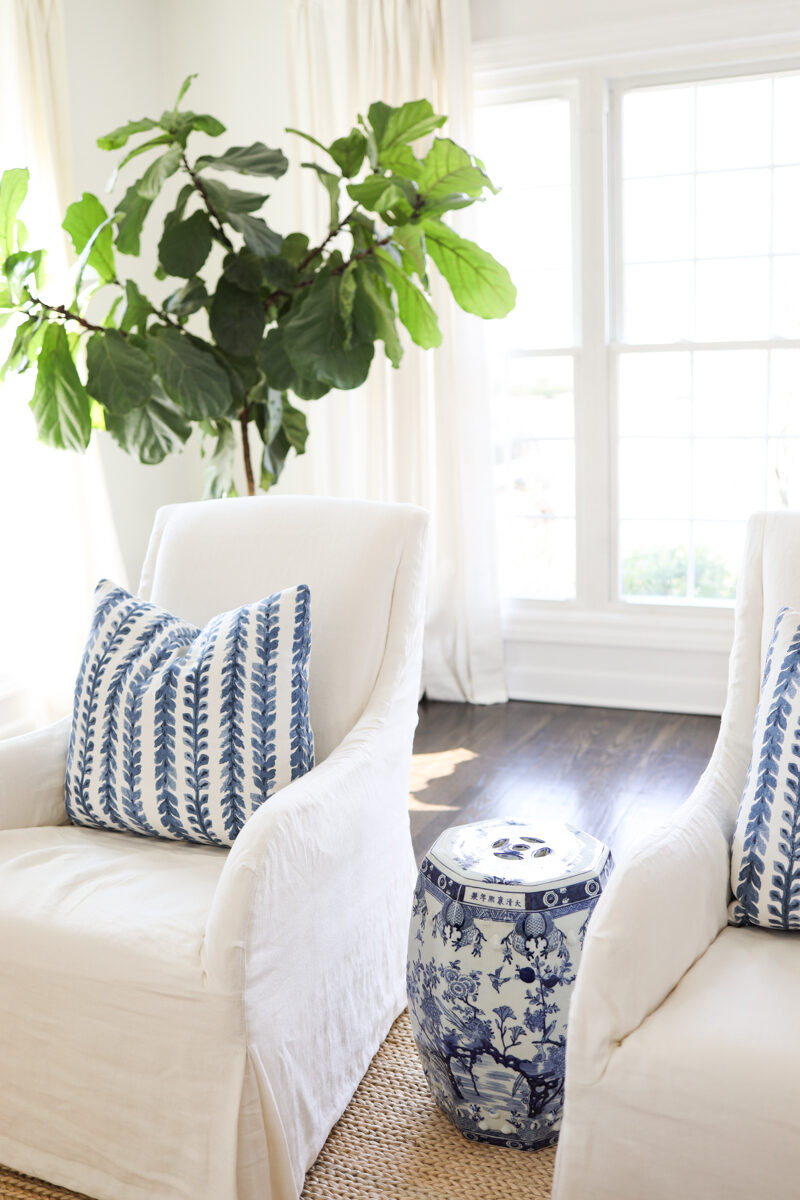 Add lighting
I'm going to say it. I hate cans. Hate them. Overhead lighting is a bit harsh, lacks any and all warmth, and I hate it. We had two especially ugly cans above the fireplace and ended up getting rid of them, and wiring in these beautiful wall sconces (on dimmers). I love a soft, lampshade, so adding sconces by the fireplace and a table lamp to our console brought a lot of warmth into the room.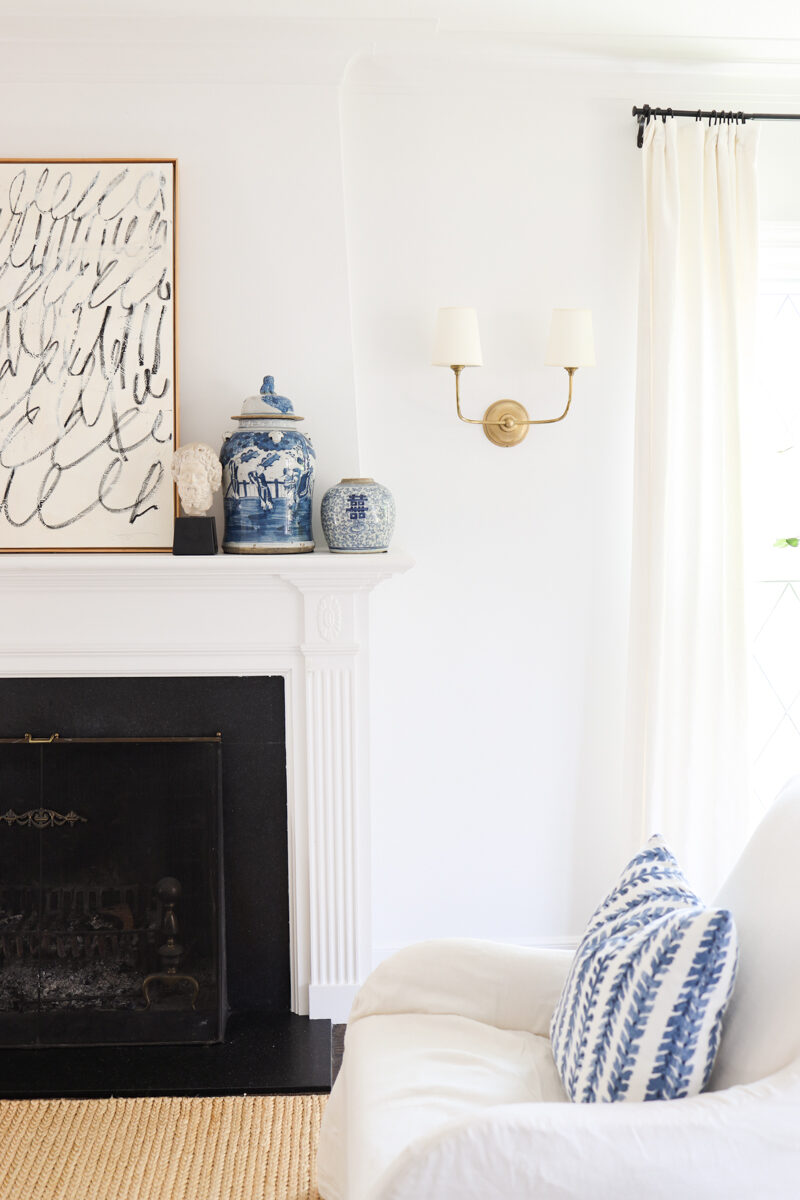 Try not to make the TV the focal point of the room
The fireplace is the focal point of our room, so having pieces around that was important. We needed a TV, but I am also very much not a fan of TVs above fireplaces. We needed a way to frame the room around both the fireplace and TV, while making it easy to access our office through the french doors. By creating groupings around but not facing the fireplace, we allowed for gathering spaces around both the fireplace and TV. Adding an open console across from the fireplace brought both functional storage for decorative objects and toys, ambient lighting, and a place to draw attention away from our wall-mounted TV. See how I added a gallery wall around the TV in our old condo.
The TV is actually on a swivel stand, so it can be pulled out from the wall to face the sofa. The baskets on the console store toys (but you'd never know it) and the books and decor distract from the TV above.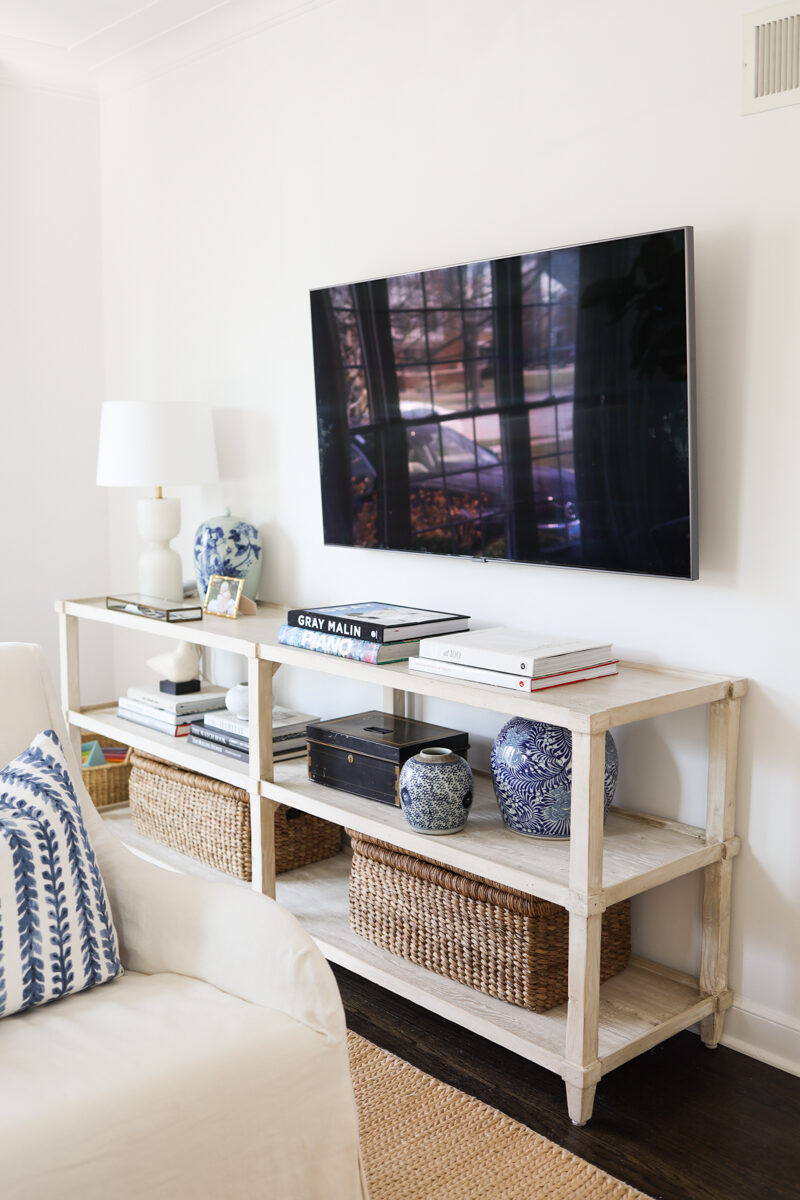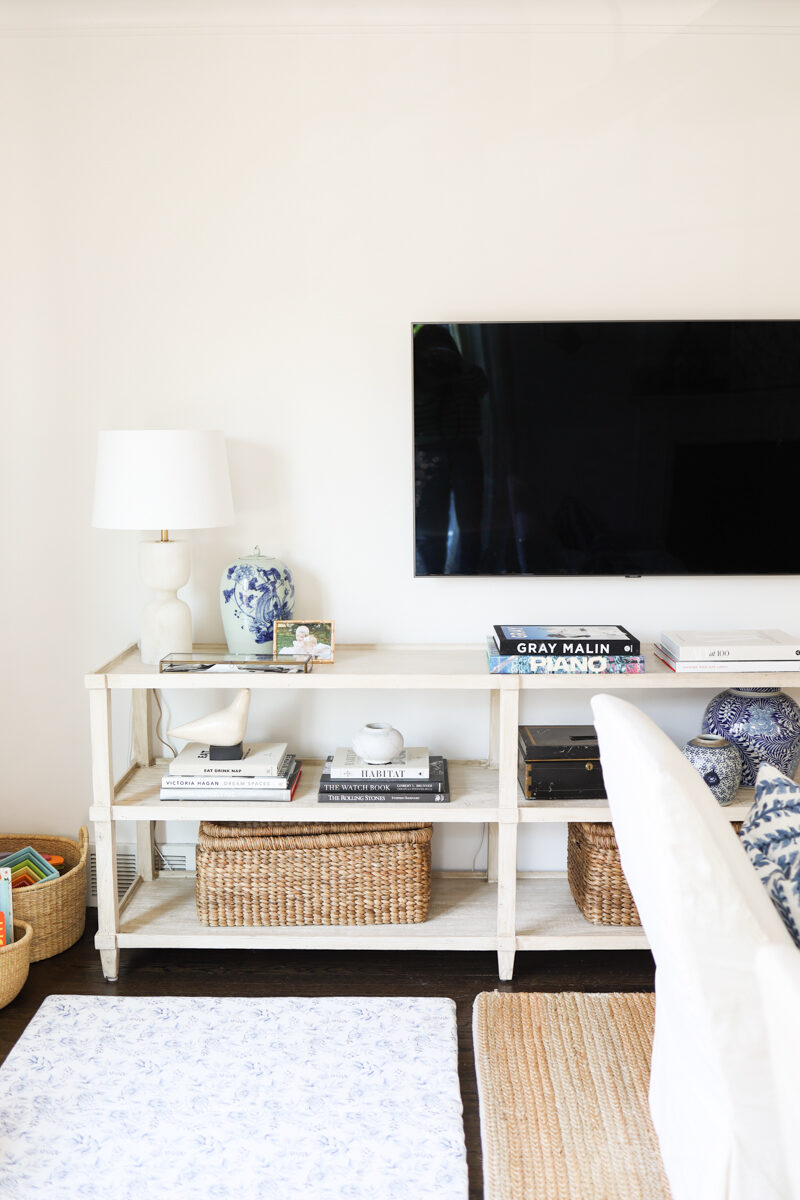 Design the room for whoever lives in your home and with your style in mind
There are some decisions I made that others with kids might not, like white furniture. But it works for us. I love that white, airy feel, and chose pieces that felt right aesthetically. There are other things we avoided like floor lamps and a marble coffee table since those aren't ideal for babies and toddlers. A console gave us storage and crypton fabric kept our furniture somewhat spill resistant. Toddlers always find a way, don't they? My point here is to think about you, your family, and whoever lives in your home (pets?) and how you live. Do you love to entertain? Drink red wine? Put your feet up on something soft? Consider how you'll really use a room before investing in furniture.
Consider storage and function
This living room is also our family room, and we have two young girls, so making it a space that worked for them was key. Baskets hold toys, they have a little table to play at, and a playmat that works with our decor, and folds up for easy storage. I actually designed this play mat for Toki Mats, and a % of each sale goes to Alex's Lemonade Stand childhood cancer research.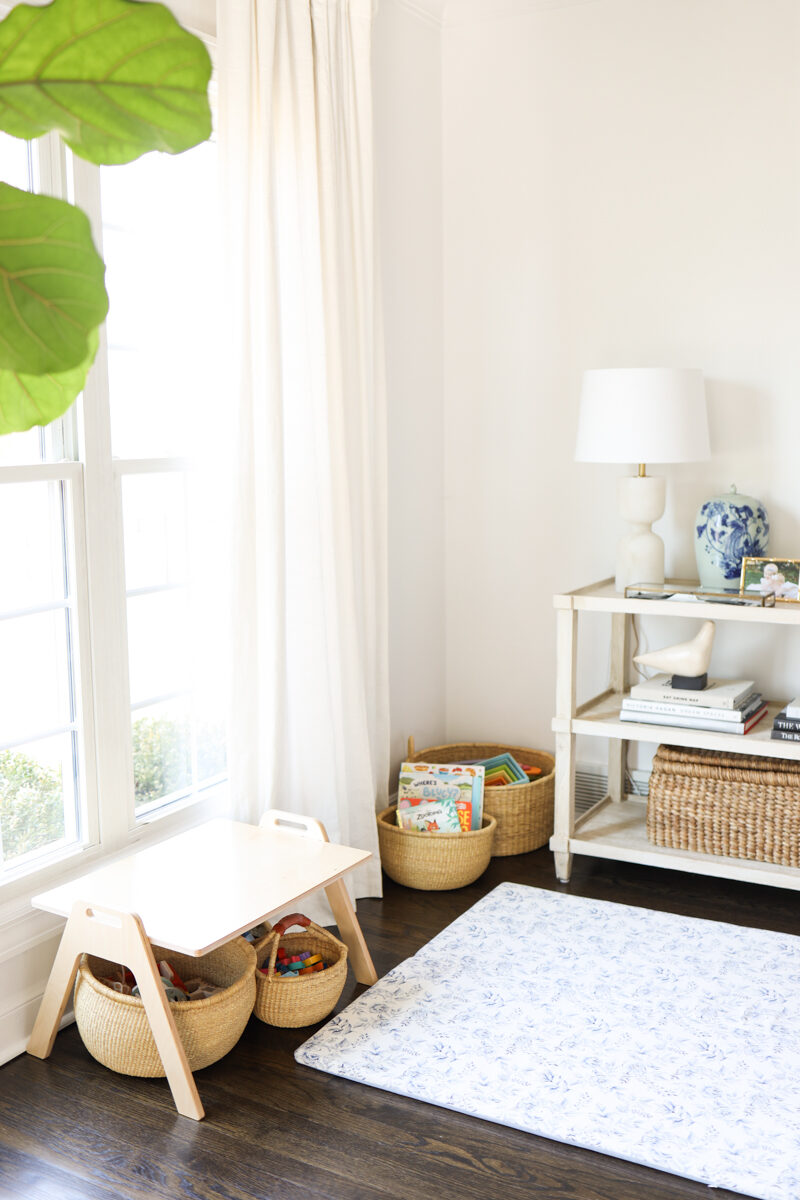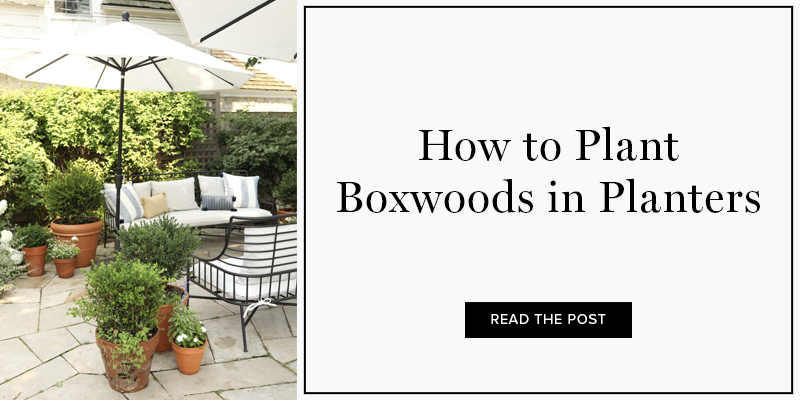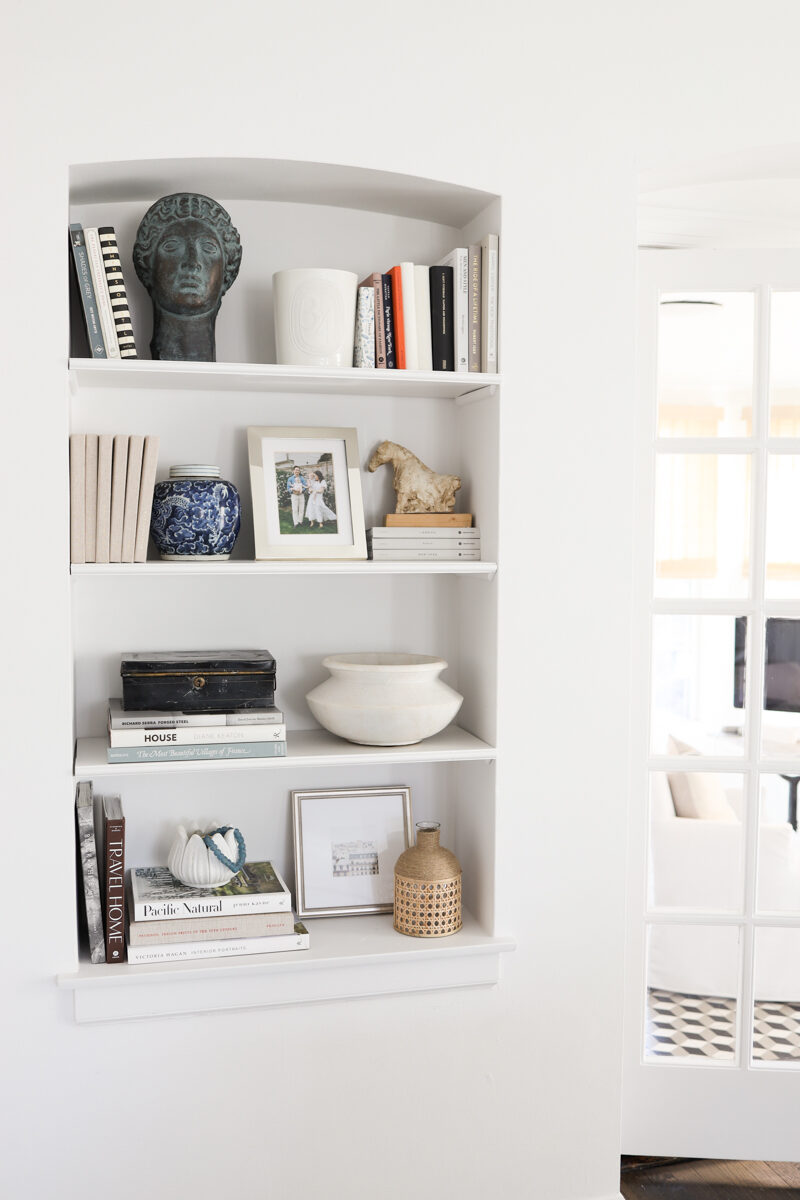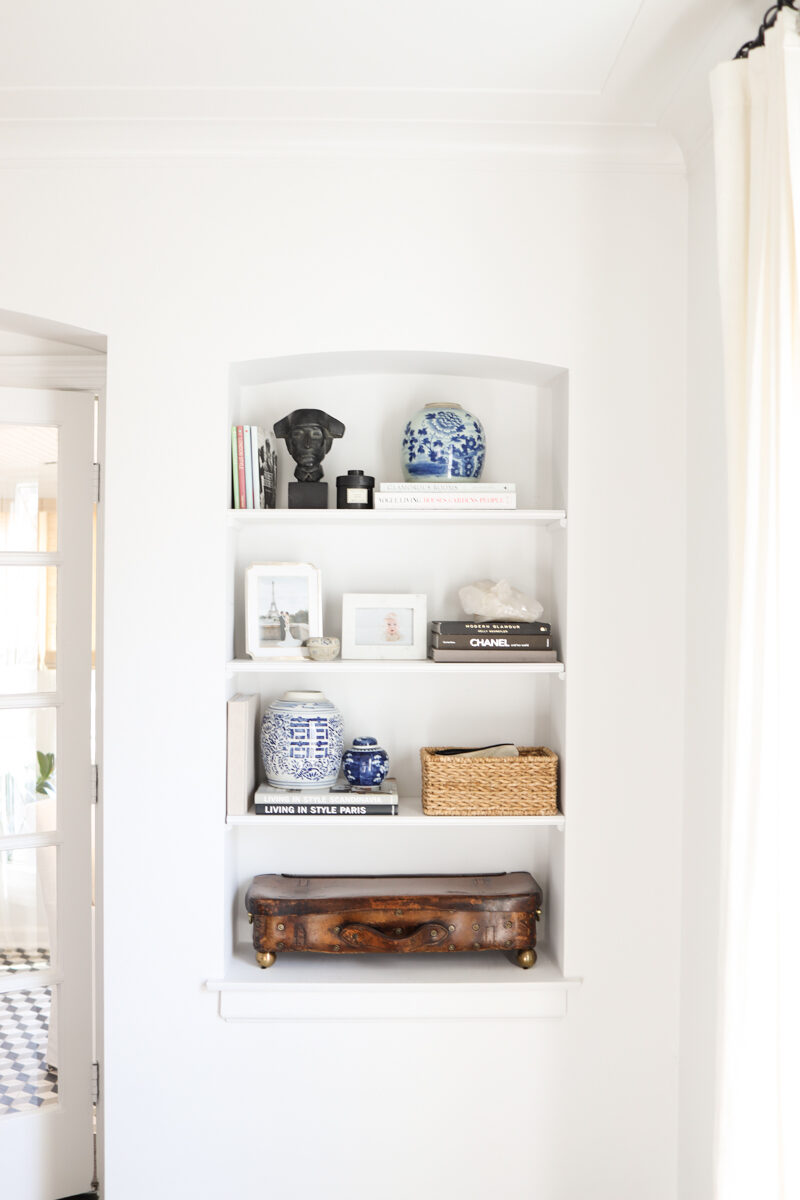 Warm things up with pillows and accessories
I prefer neutral furniture for a few reasons. I won't tire of it, and it's so easy to mix in different colors and patterns with throw pillows and blankets. Adding throw pillows is a great way to add some pattern, texture, and warmth to a room. Accessories can be a bit overwhelming, but they really complete the room. I personally like bringing in some ginger jars, vintage objects, family photos, and woven elements. I love the built in shelves – the open shelving is purely decorative, and is a nice place to hold family photos, books, and objects.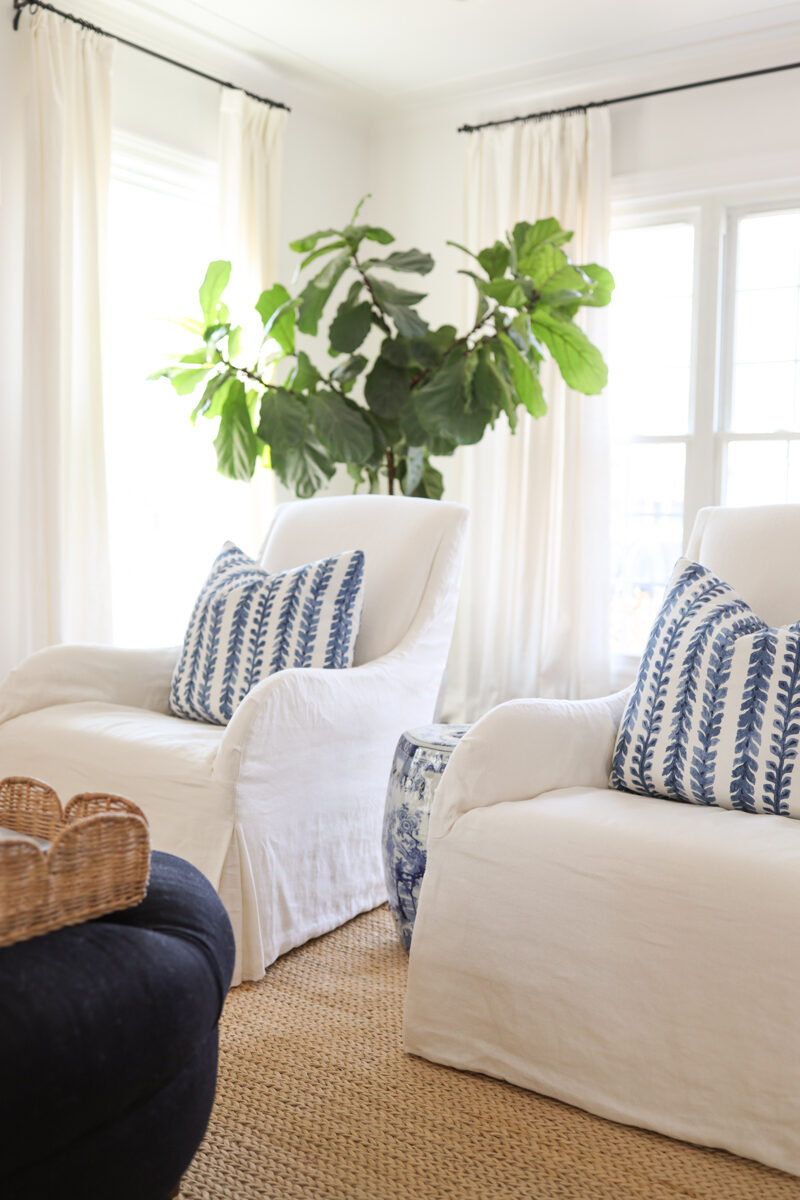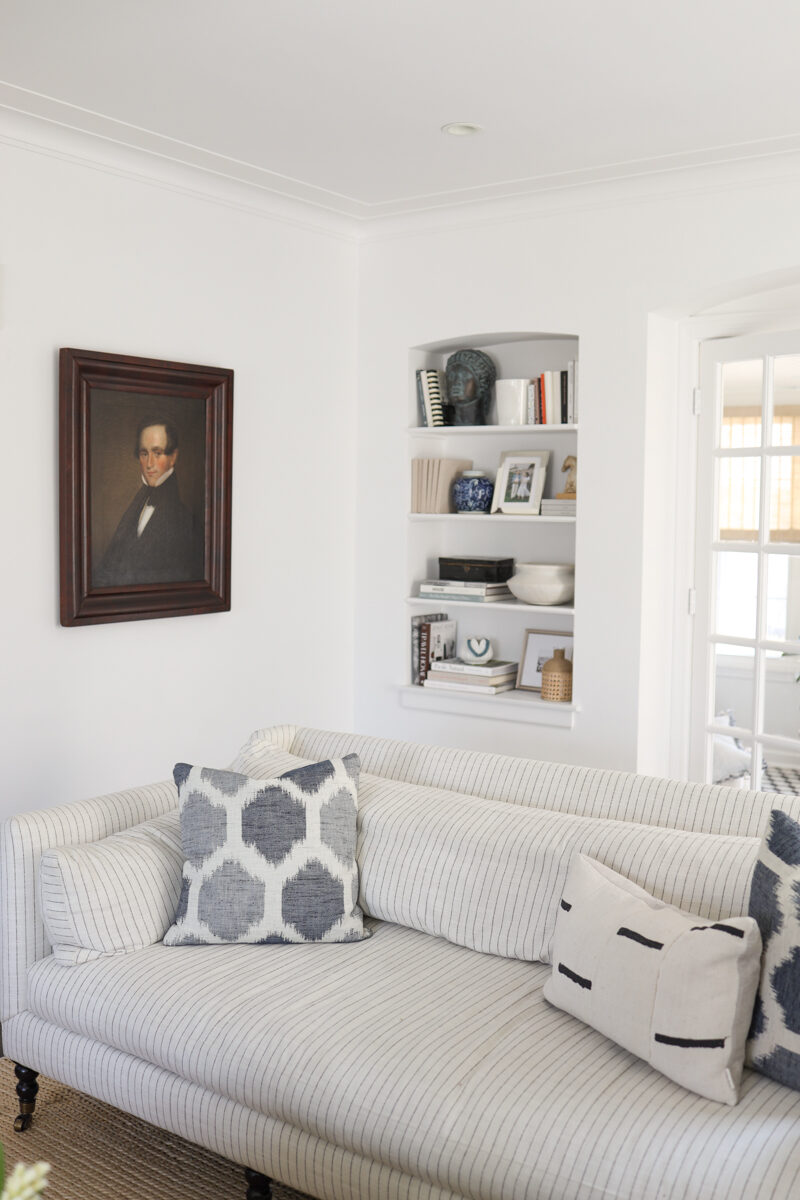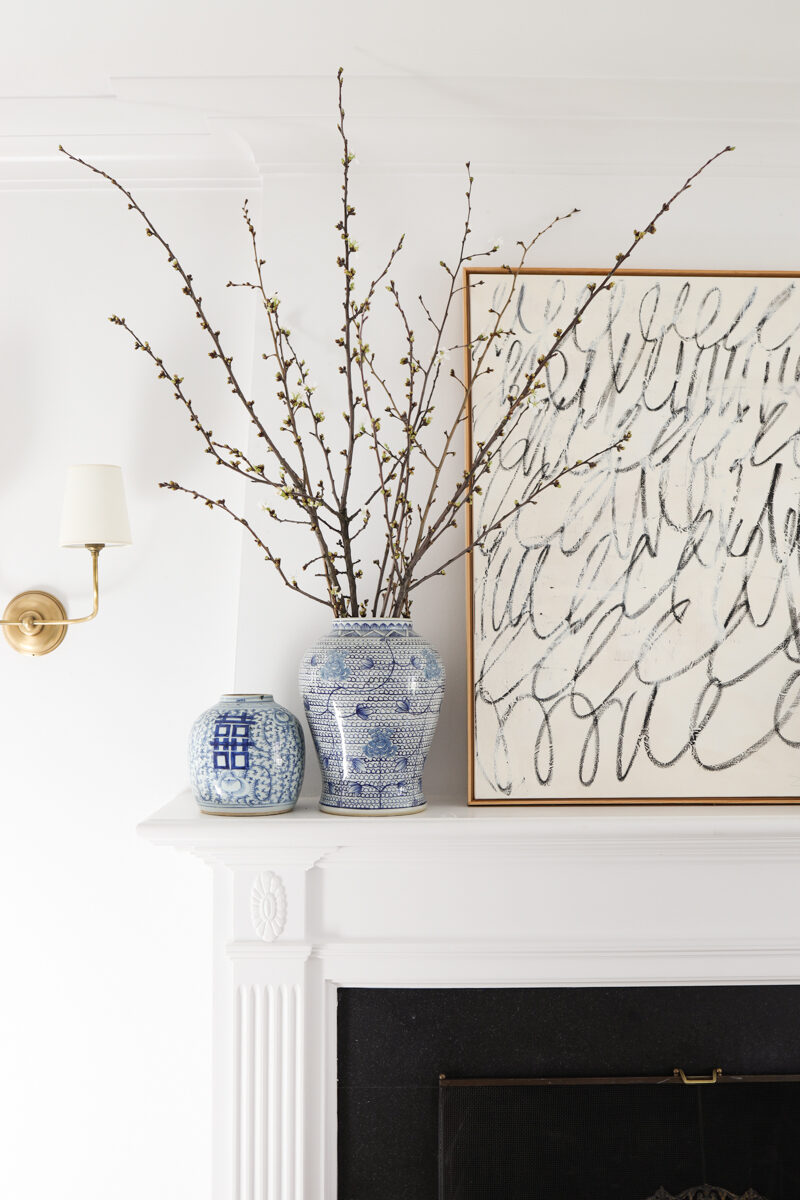 Add some greenery
Every room needs greenery. We have a fiddle leaf fig (it's real) that has held up very well. The planter is from Vagabond in Western Springs, IL. If caring for a real tree isn't your thing, there are some great faux options out there. The branches are real, but I need to finally spring for some faux ones because they never last long enough.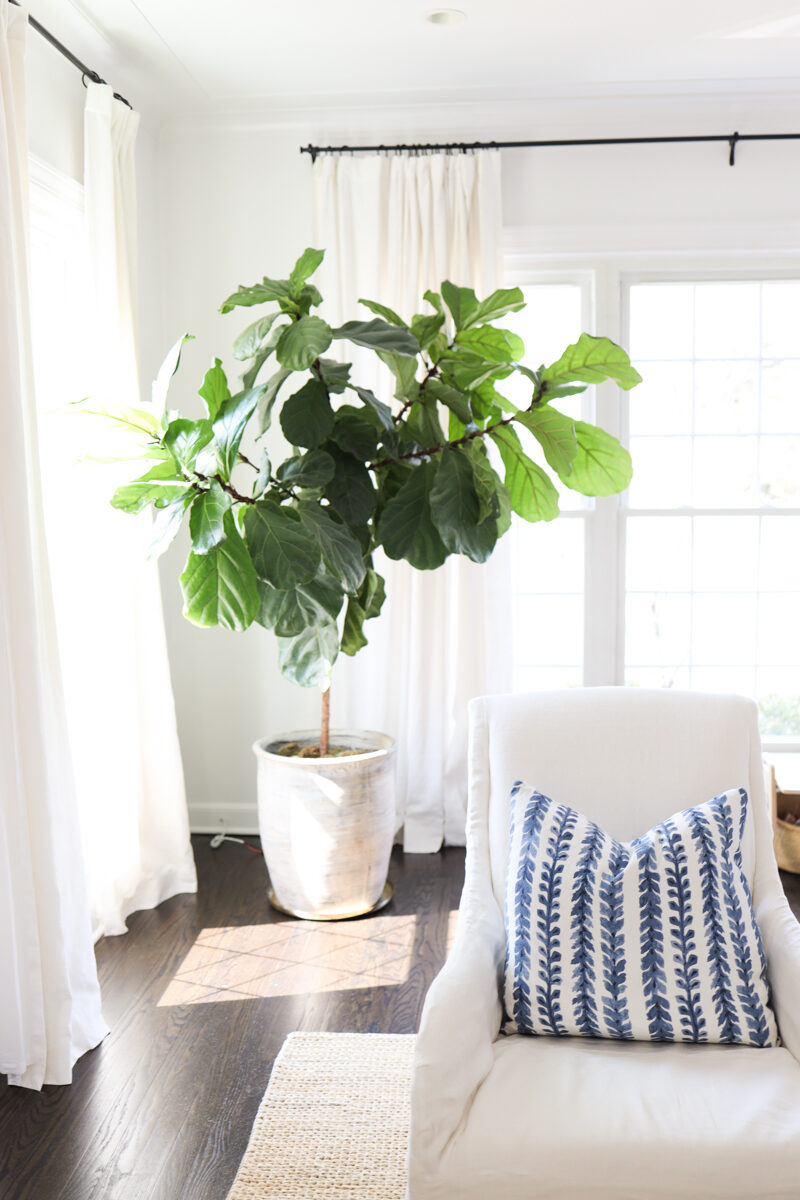 Choose the right living room rug
A good rug is hard to find. Area rugs are pricey and finding a family-friendly jute (if that's your thing) is an undertaking. Large area rugs are expensive, and jute is a bit more affordable than most wool rugs. I did some extensive research and found the perfect jute rug. Don't choose a rug that's too small for the space. This is a 9×12, and fits the room perfectly. One of the most common mistakes I see are rugs that are too small for a room. I personally prefer when the rug is at least under the front legs of the sofa and chairs. Choose a rug that works for the space. Jute is tricky because it's not always soft and sheds, but I love our jute rug. The shedding is pretty minimal and it's so, so soft.
Don't forget about window treatments
Our curtains are pretty budget-friendly and were purchased at Pottery Barn (on sale!). Something more custom does usually look a bit nicer and more tailored, but this does and trick and adds a lot of warmth to the room. Be sure to consider whether or not you'll need to leave them open or closed. We added sheers to our old condo for privacy reasons and they were perfect – they let light in but gave us some privacy.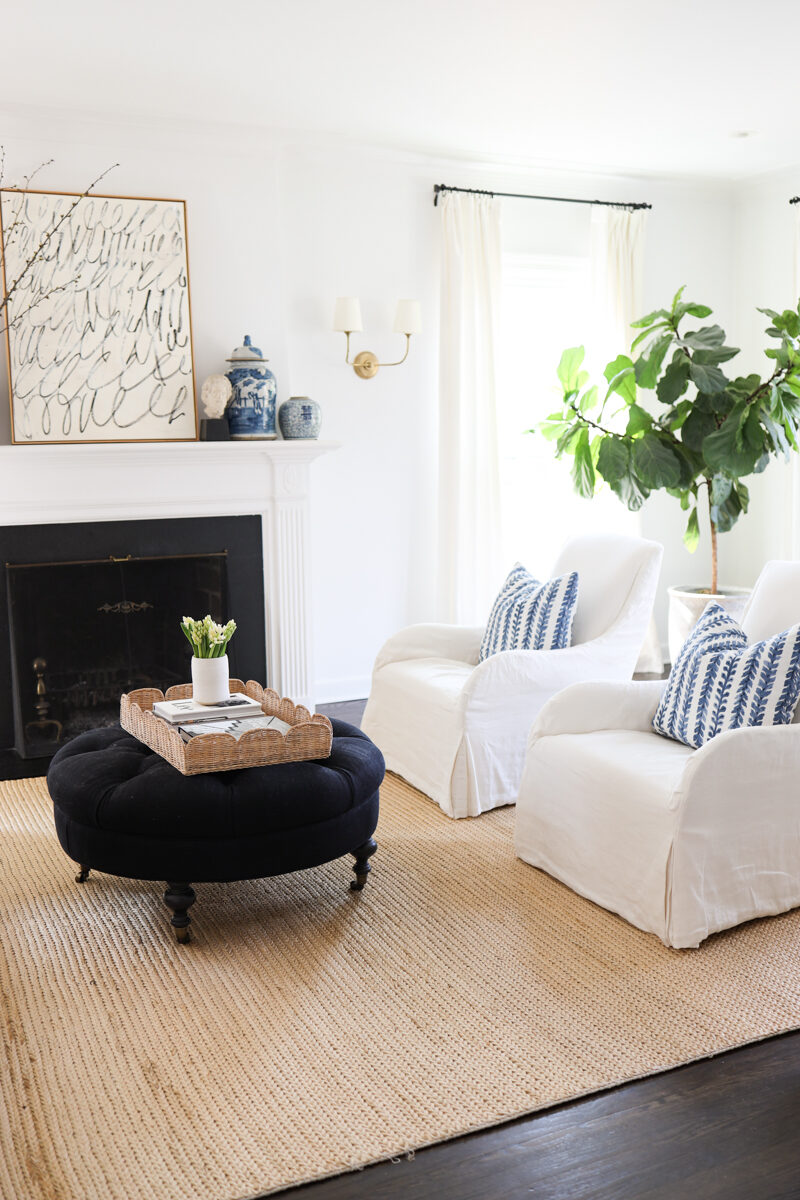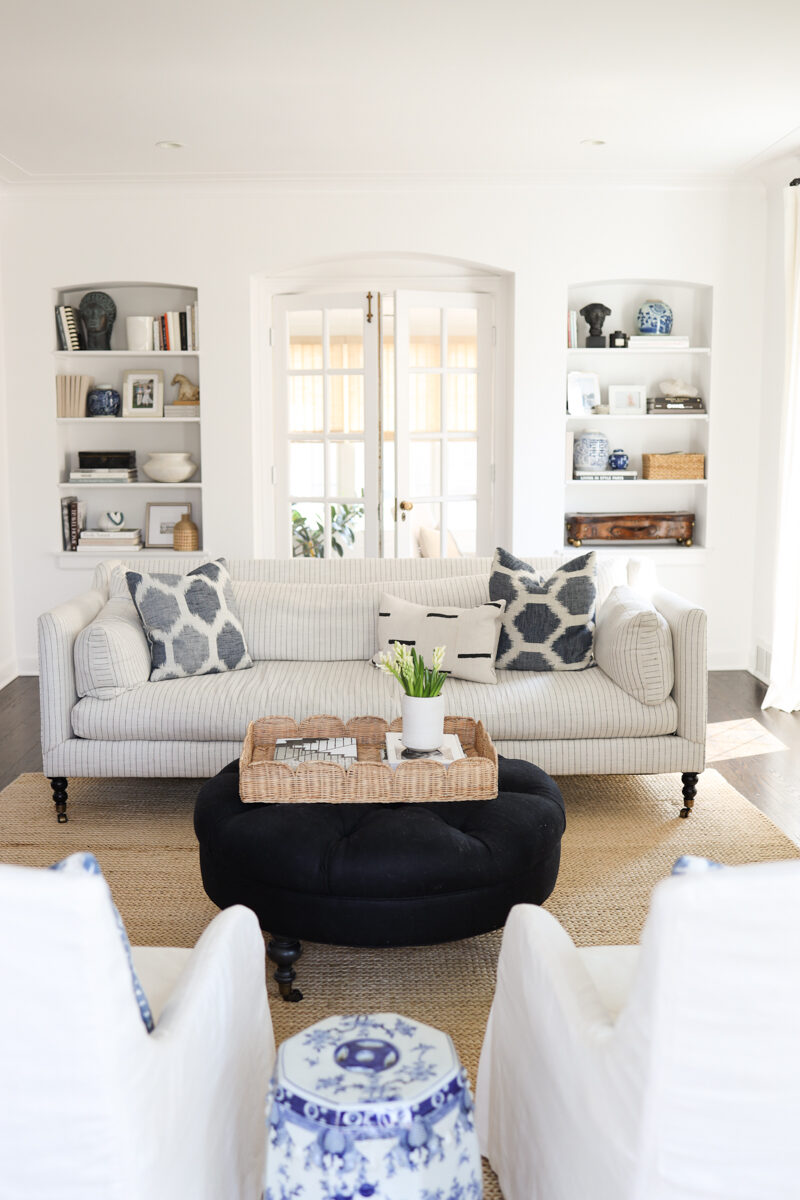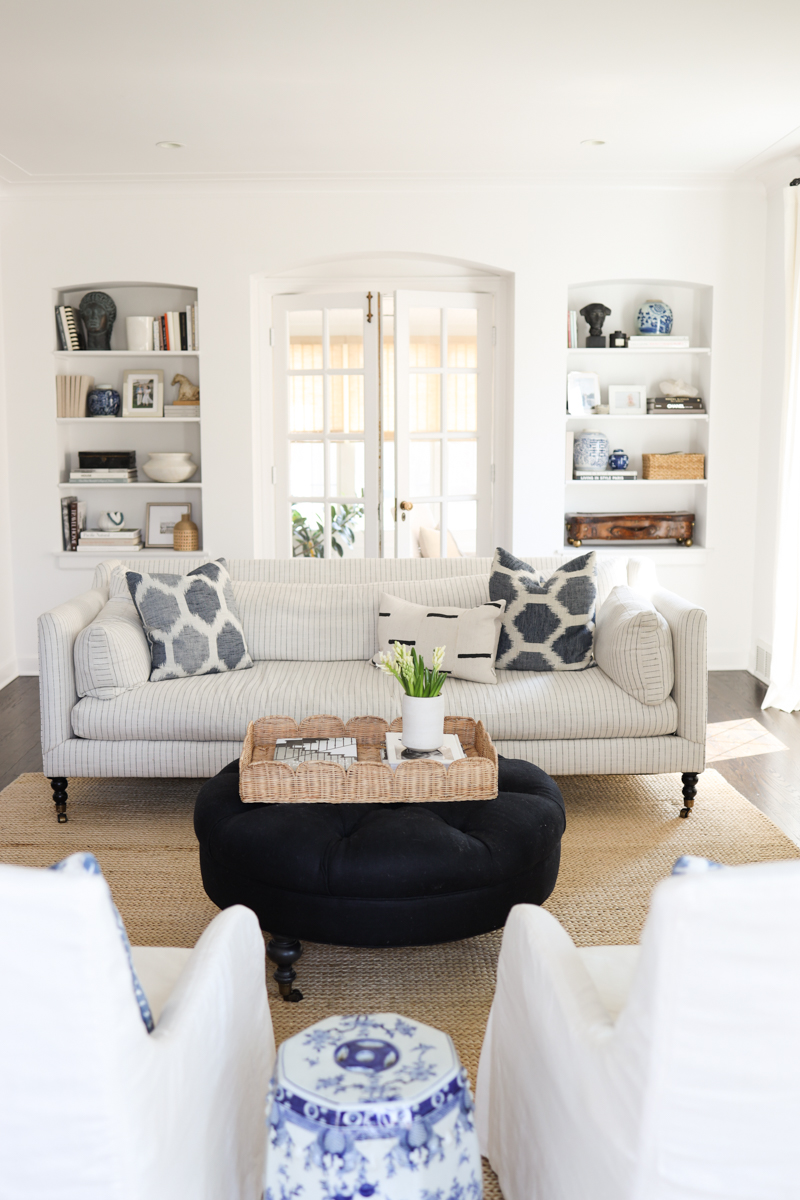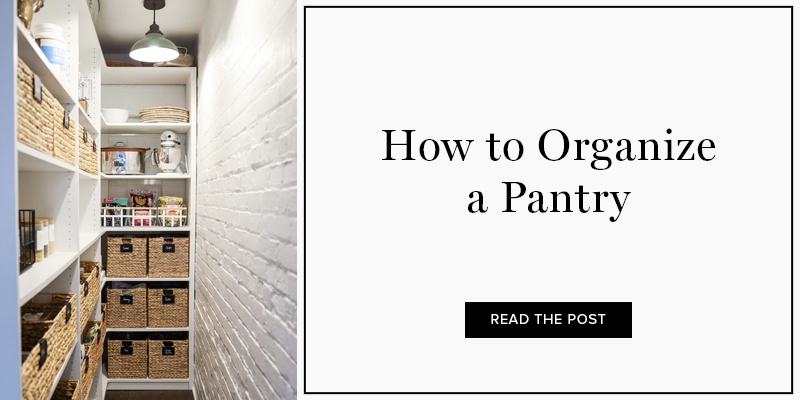 Shop my living room