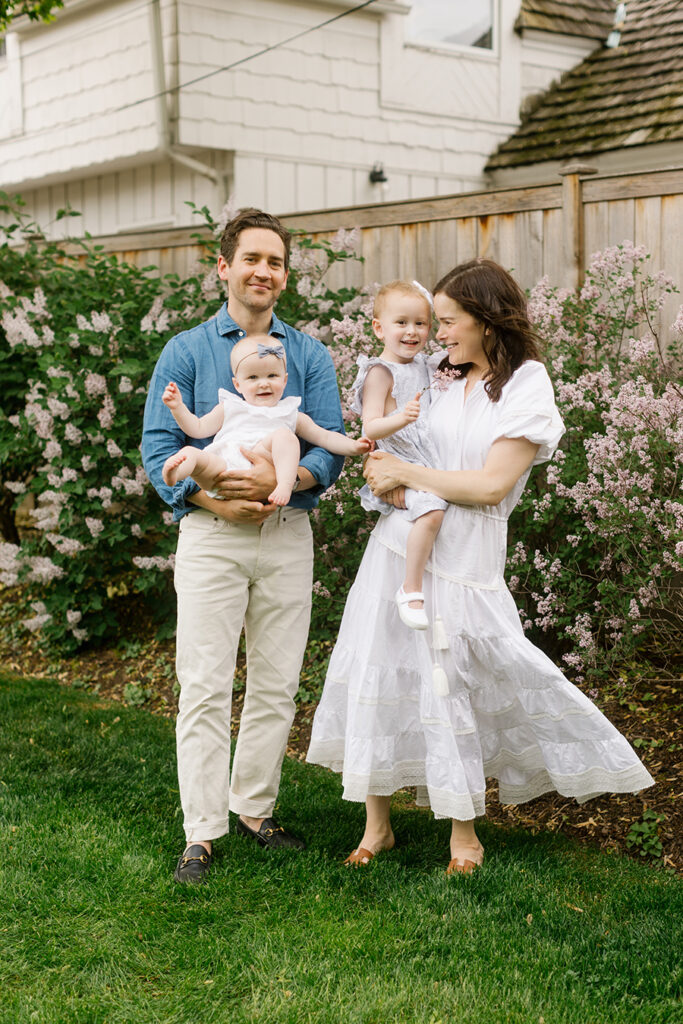 Hi. My name is Danielle Moss. I'm mom to Margot and Kate, and Cofounder of both Anecdote and The Everygirl/Everymom. I started creating content when I launched my first lifestyle blog in 2007. The next few years were spent designing blogs for thousands of clients around the world while growing my blog and community. Two years after moving from Los Angeles to Chicago, I cofounded what quickly became one of the top women's lifestyle sites, The Everygirl. Years later, just months before becoming a mom, I cofounded The Everymom.
Along with my realtor husband Conor Scanlon, (who I met on Tinder – there is hope!) got married in Paris and renovated a vintage condo in Chicago's Gold Coast. Our home was featured on Architectural Digest and MyDomaine. Less than one month after our wedding, we found out we were going to be parents. A few months before our daughter Margot arrived, we sold our condo and purchased our first home. Margot was born July 2018. The following year, my husband and I, along with my mother in law and our friends, cofounded Anecdote. Within a few months, Anecdote was named one of the best stores in America by House Beautiful.
In May 2020, just six weeks before welcoming our second daughter Kate, Margot was diagnosed with Leukemia during a global pandemic. Facing the unimaginable, I made the decision to step down from my position at The Everygirl, and the following year, I sold my half of the company. It was an impossible situation, but we found our way. Margot is thriving and finishes treatment in July 2022. And in less than two years, we raised over $300,000 for pediatric cancer research. Her little sister Kate has been our sunshine.
Walking away from a company I built from the ground up wasn't the typical path, but it was the right move. It was the right move for my mental health, my spirit, and my family, too. At the start of 2021, I made the transition back to blogging. It has felt so freeing to be able to make what I was making running a company while only taking on the partnerships that align with my life.
Over the years, I've been able to partner with some incredible fashion, interior, and lifestyle brands including Ralph Lauren, American Express, Shopbop, Tiffany & Co, Reformation, Nespresso, Lululemon, Serena and Lily, Ben Soleimani, Kohler, Farrow and Ball, and David Yurman in creative blog and social media partnerships. I've designed products for Toki Mats, Chappywrap, and Alice and Wonder. I also offer digital interior design consultation and services.
If you're interested in working together or would like a media kit, please contact hello@danielle-moss.com email me at hello@danielle-moss.com.
Every post on this site is written by Danielle Moss. You're welcome to use and share my original images with proper credit linking back to my site. If a photo is not my property, I'll always do my best to give credit where it is due. If you ever notice a mistake, please do let me know. I do feature paid advertisement and affiliate links, and will only work with brands and link to items that I love and want to endorse. I may receive a commission if you use my links, at no cost to you. Danielle-moss.com occasionally receives vendor/brand sponsorships for mentioning products and services.
Mediavine Programmatic Advertising
For information regarding data collection by Mediavine ad partners including how to opt out of data collection, please click here