The 44 Best Toys For 18 Month Olds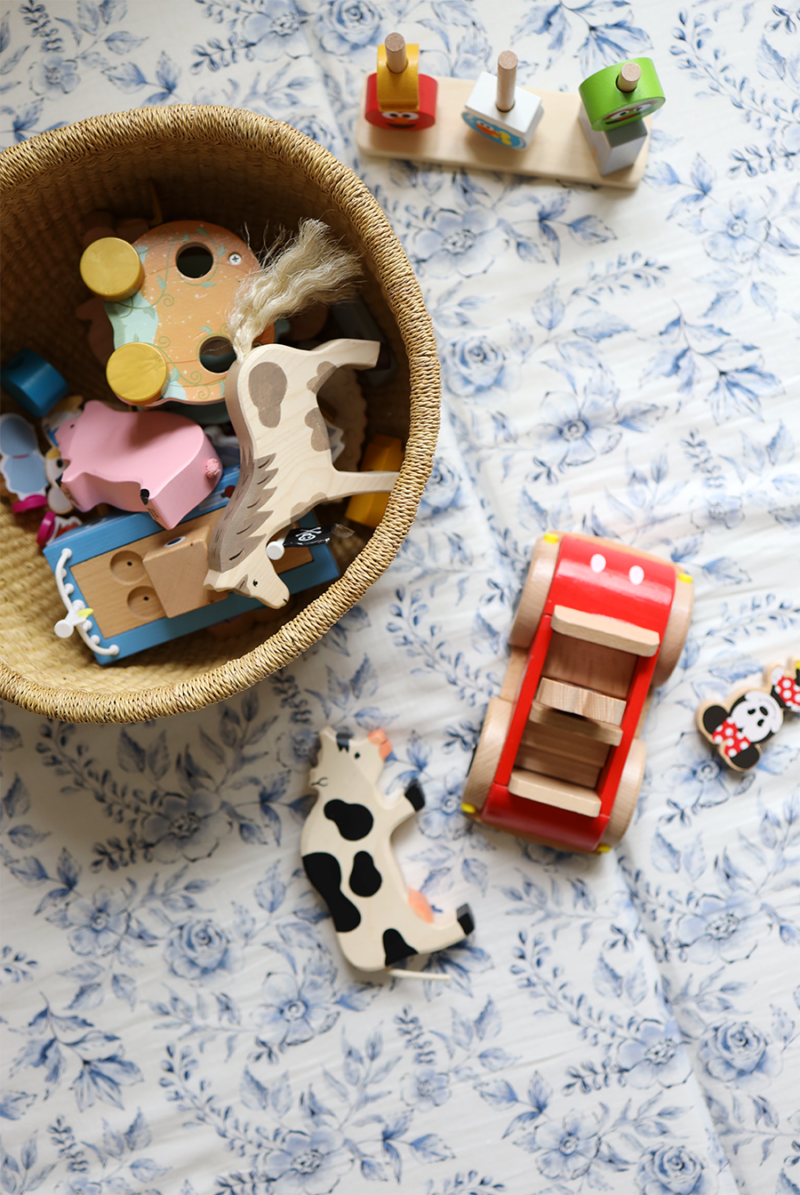 Finding the best toys for your 18-month-old can be a challenge. They've outgrown their baby toys but still put small pieces in their mouths, and they're not ready for toys designed specifically for older toddlers. I try to choose toys that will keep young toddlers busy, and put a lot of focus on toys that will grow with them. Most of these toys are also played with by my 3 year-old, so I feel good recommending them knowing (most) are toys your toddler will enjoy in the years to come.
A good toy will stimulate your toddler, encourage them to move, pretend, and play, and they will, ideally, like them in the months and years to come. So whether you're looking for gift ideas for a niece or nephew, have a baby that's going to enter this stage soon, or are here and wondering what to do with your 18 month old, I hope I've got you covered.
The 44 best toys for 18 Month Olds
My daughters are 18 months and 3.5, so I am a big fan of toys that both girls will want to play with. When it comes to selecting toys, I prefer wooden toys because they feel simple, substantial, and if I'm being honest, they're often a bit more aesthetically pleasing. But sometimes, you need to go for a brightly colored plastic toys. Kids love a little color. I should add that some of these toys do have pieces that a child could choke on. Always supervise your toddler when playing with anything small enough to fit inside their mouth.
See how I organize and store our toys here
Shop our play mat here
Toys that encourage pretend play
Toddlers love playing pretend, and baby dolls are one of those toys for 18-month olds that they will continue to use in the months and years to come. Think of toys that will inspire them to be creative. Kitchens, grocery stores, figurines, dolls (I love these anatomically correct vanilla scented dolls, too), and food toys are a great start. You don't need all of these, but I'd be sure to have a kitchen, doll, figurines, and play food.
I wasn't sure where to stick the Toniebox in this post, but it's one of our most-used toys. It's recommended for ages 3 and up but my younger daughter has been using it independently since she was around 15 months old. She loves switching the figurines out, and will either do that, or have music playing while she plays.
Toys for the little artist
My kids started coloring when they were around 12 months old. At 18 months and up, you'll see toddlers really starting to get creative. I avoid paint at all costs but know we need to give finger-painting a go soon. My 18 month old will ask for her favorite color, and loves using crayons and dot markers, so I haven't pushed anything messier. Get some bright colors and let them go wild on an easel or play table. These giant coloring posters are amazing, too. I taped one down to the playroom floor, put some crayons down, and the girls colored on and off for days!
Problem-solving and Learning toys
Leave it to Melissa and Doug to make two caterpillar toys that are single-handedly responsible for making sure my girls knew all their colors when they were just a little over a year old. The Lovevery Montesssori play kits are incredible. They're so well-made and come with a book for parents that explains the various ways to play with them. They are so worth it and make a great gift.
Chunky puzzles seem to be a one-use toy but they're actually great for open-ended play, too. Since they are essentially wooden painted animals, trucks etc, the pieces can be used a number of ways. I store all the pieces in a small basket, so when it's time to play with puzzles, finding the right pieces is part of the game.
Open-ended toys
Ah. Open-ended toys are my favorite. These are toys that kids can play with independently, in multiple ways. The way they use these toys can change as they grow. Blocks, dolls, simple, wooden toys. I included a lot of blocks, and you don't need them all, but these are toys your toddler will use for years. I keep open baskets in the play room and living room, and inside we have wooden blocks, magnetic blocks, and of course, Duplo. The girls are on a big Duplo kick right now.
Wooden animals and figurines will be played with forever. We have a good mix of plastic figurines from their favorites shows (hello, Daniel Tiger) but any time I can find a wooden version, I'm on it. I keep a basket (so many baskets) of wooden characters, animals, and a few vehicles, and they can be used with blocks, play silks, etc.
Toys that encourage physical activity
Ride on toys are great for toddlers at this age. They're learning that they can make toys move, and are finally coordinated enough to get the hang of climbing, jumping, and even driving. I've included a few climber and ride-on options, and will let you know what we have, love, and use below.
Bath toys
Board books
We love reading! Ollie, Pout Pout fish, and anything with animals, letters, and numbers. Here are a few of my 18 month-old's favorites.
If you buy something through using my links, I may earn an affiliate commission (at no cost to you). I personally curate everything you see on my blog and only recommend products I love.