How to Declutter, Organize, and Store Toys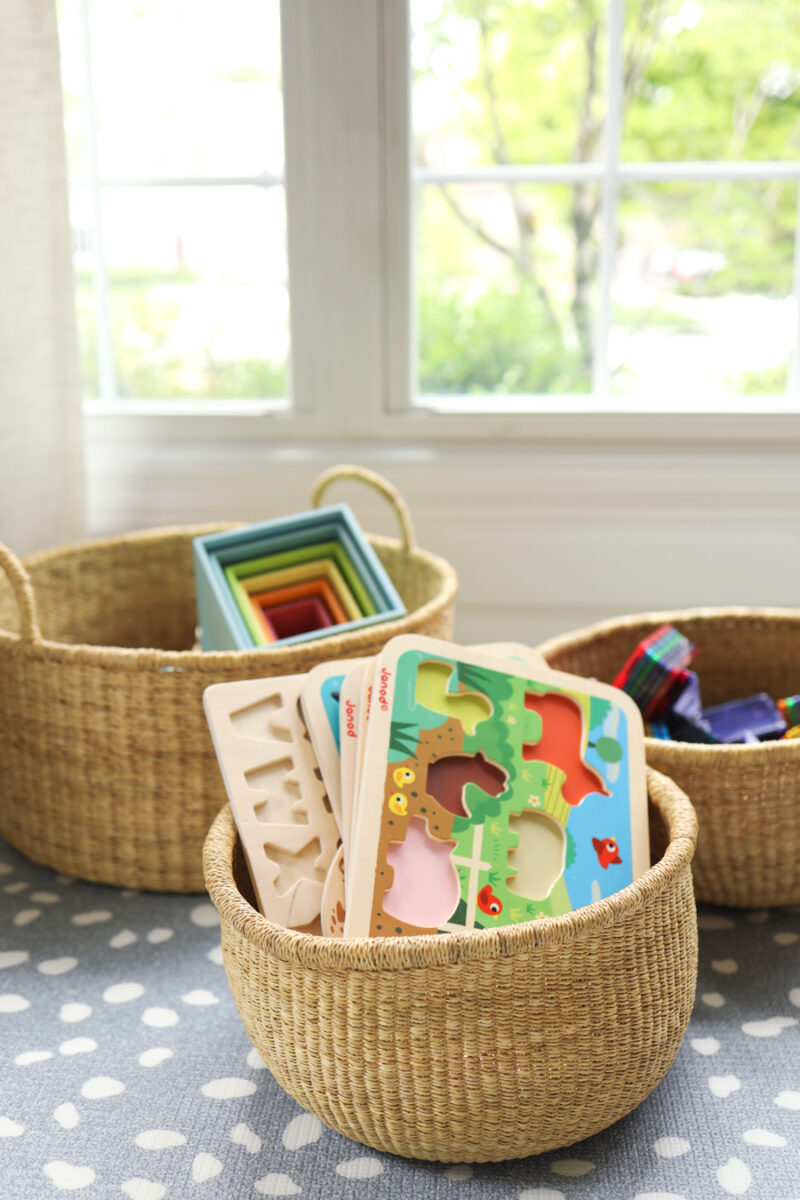 When you become a parent, slowly but surely, the toys begin to take over your home. During a pandemic or long, cold winter, you might even find yourself making a few too many purchases to try to keep things fun while you hibernate. Pikler climbers, bounce houses (why yes I did), a toddler trampoline (don't act like you don't have one) and anything that might keep your little ones occupied. It takes some time to learn what kids actually need and what your kid(s) will play with on repeat, so there's some trial and error – it only took me three years to start to feel like I had it figured out.
I've done a few rounds of organizing our toys and after having a second baby, I have come up with what feels like a great system. After learning how toddlers play but more specifically, how my toddler plays, I now know that open-ended toys are best. Example: your 2-year-old loves Frozen. Buy a few figurines, but skip the giant castle. Yes, it's "fun" but it's so unnecessary and all that plastic stuff takes up so much space. Buy some blocks that your child can use to make their own frozen castle or a city. Here's how I finally simplified and implemented a truly organized toy storage system.
Step 1. Purge: declutter and donate
Go through everything (yes, everything) and make two piles but never do this in front of your children. One to keep and one to donate/sell/recycle. I kept the things my girls use the most – mainly, toys that can be used different ways. So like I said, I kept the figurines and even the little Peppa car, but the Peppa treehouse? Goodbye. And guess what? Margot didn't notice. I listed a few things on facebook marketplace (for free) and donated the rest.
Step 2. Organize
Sort everything by type. Truthfully, this wasn't a big step for me because everything was mostly organized by type, so I just put the toys I planned on keeping into baskets in the playroom and living room.
Step 3. Figure out your storage solutions
Figure out where the bulk of toys will be stored and utilize shelving and cabinets. A playroom? Closet? Family room? We have an IKEA cabinet in our playroom that is full of labeled bins and boxes where we keep art supplies, figurines, Duplo, etc. I use baskets, bins, boxes, and canvas pouches to organize toys by type. I had this whole plan to make iron on labels for the canvas pouches but that project is so far down on my list that it hasn't happened. Maybe I'll get around to it someday. I keep the girls' most-used toys in baskets and bins on the floor. All the IKEA bins are linked in this post.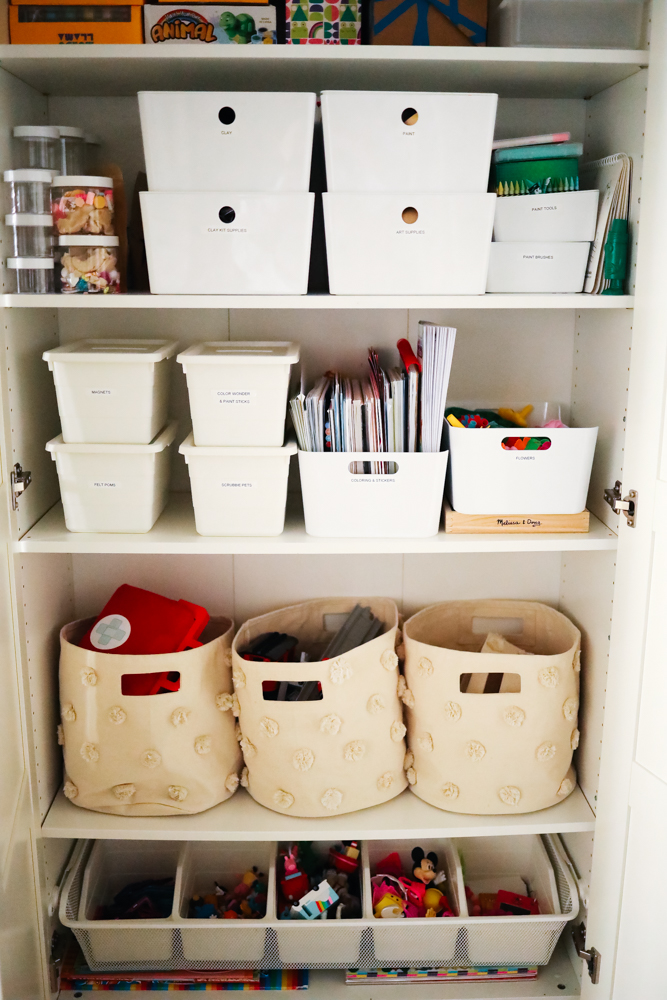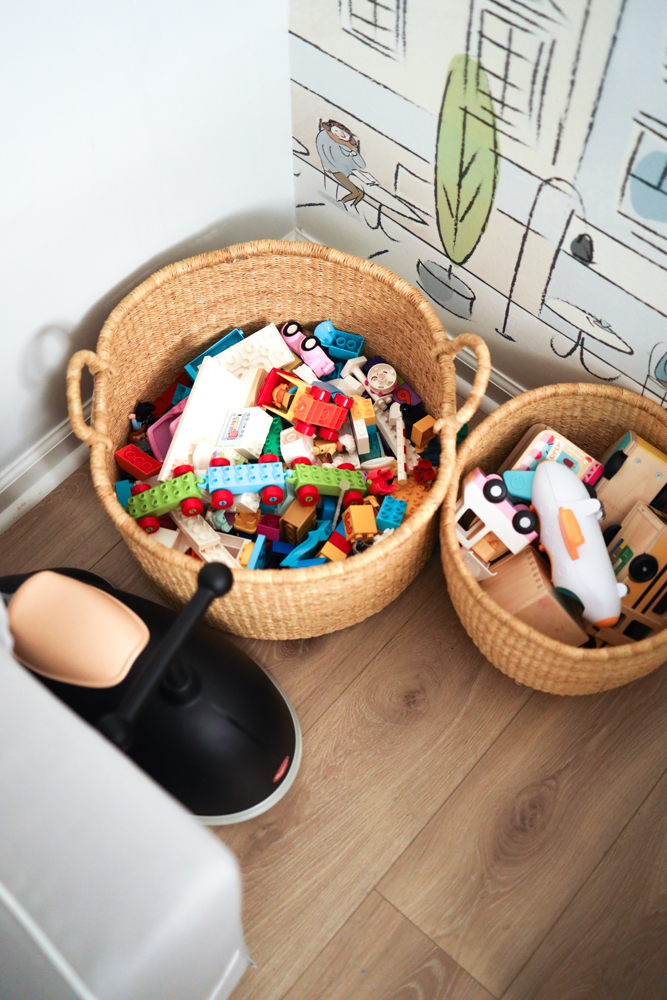 Step 4. Sort and store
Figure out what's going where. I put all our big wood toys in a big floor basket since that's a great way to store most-used toys. There's one for puzzle pieces, another for wood toys, books, food toys, baby toys etc. I keep smaller pieces in IKEA bins in our toy closet. Anything Kate is too young to play with is up high, but I actually went through all Margot's toys and put most toys with smaller pieces away for now. We have a few that Margot is allowed to play with during nap time and it honestly gives me so much anxiety.
Step 5. Rotate! Rotate! Rotaaaaaate!
Did anyone get the friends reference? Sorry, guys. I am admittedly not the best at this but I'm working on it. I keep a few baskets in the living room and the rest in the playroom. Each of the girls have a lidded basket on our console, and I keep shared toys in floor baskets. Right now, there are baskets for wooden toys, Magna-tiles, and books. I try to switch out what's in those baskets, even if it's as simple as switching out different types of wooden toys, books, or food toys (Margot's favorite). This is a great way to give old toys life again, to give your child a nudge to be creative, and to find out what your child may have outgrown (or no longer seems interested in).