How to Create Kids Play Area in A Small Space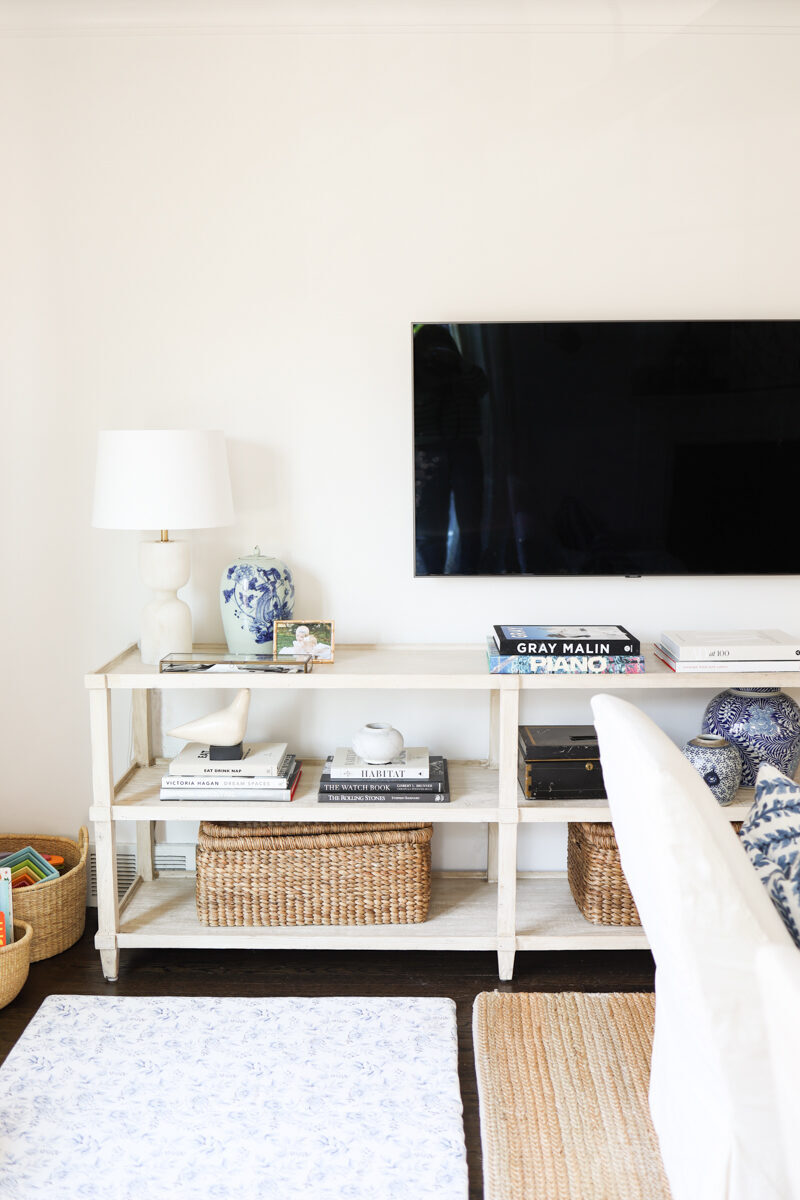 Like most parents, I made some big, bold statements about the kind of mom I would be. My house would always be clean, my kids would never wear clothing I didn't like, and I'd be a minimalist with toys. Then I had kids. My house is definitely not always clean, I recently purchased Minnie Mouse sweatsuits, and I am anything but a minimalist. Two kids and two years of isolation will do that to you. But, I try to keep the clutter to a minimum. Here are some tips to help you create a kids play area in a small space.
How to Create Kids Play Area in A Small Space
Our house has one living room that also functions as our family room. It was important to me that this room work for our whole family. That meant having a space that felt nice for adults, and one that had an area for my kids to play. I wanted to find a way to bring their toys into our living room without it feeling like a play room.The area by our TV console (and behind our living room chairs) is the perfect, small play space. It's hidden by the chairs, but not so much that we can't see the girls. It also has great sunlight, and the console serves as shelving for toys.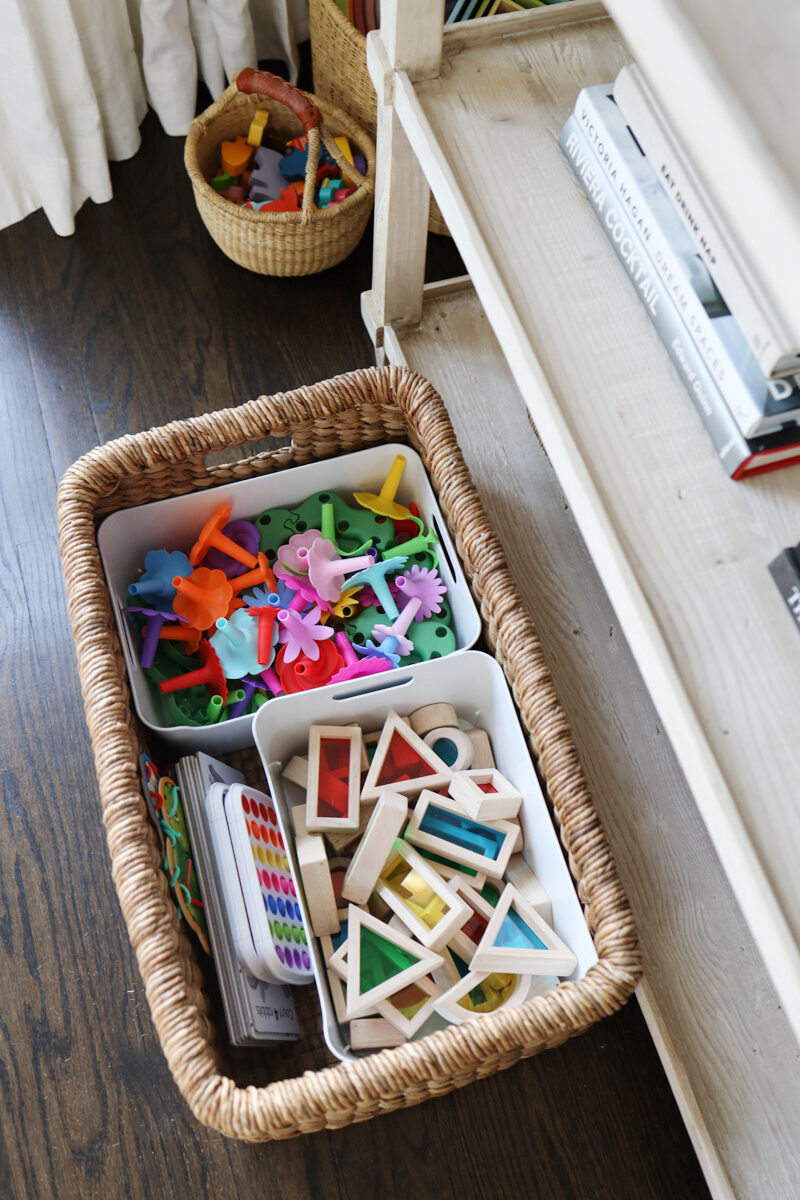 Find a functional storage system that looks good
Assuming that you don't have a cabinet with closed doors, you'll want to find storage that doesn't look terrible. We have two lidded baskets on the shelf – one stores dolls and the other (which I change out semi-regularly) currently holds the girls' favorite blocks and their stacking flower garden. The white bins can be found here. I love how easy the boxes are to pull out, and when the toys are put away, it's like they're not even there.
A minimalist would stop here.
So naturally, I kept going. We're home a lot and spend a lot of time in this room, so we needed a few more baskets. This is me justifying the number of purchases I've made to keep our children entertained the last two years.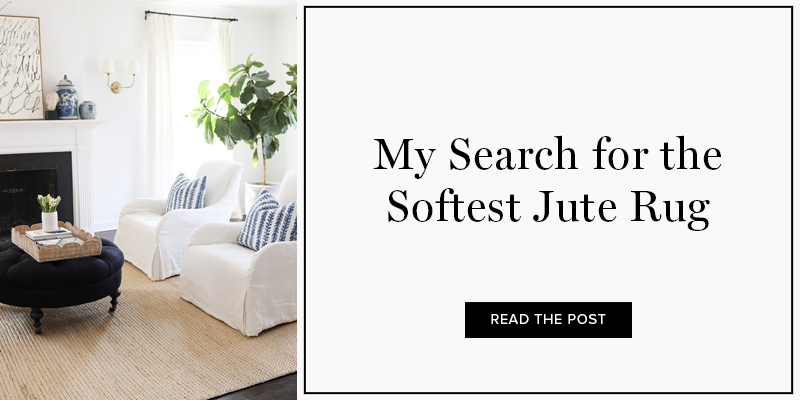 I added a few floor baskets to the room. Here's what's inside:
The large wooden basket holds the Grimms rainbow, cubes, and puzzles. We don't really rotate these out.
A smaller basket holds wooden animals and misc. wooden toys.
Another basket holds books.
The small baskets hold all the puzzle pieces for the puzzles in the largest baskets and animal Magnatiles.
A tip for puzzles:
Store puzzle pieces in a basket. Part of the game is finding the right puzzle pieces for each puzzle. These puzzles are my favorite since the pieces are solid, stand up, and are kind of like little figurines.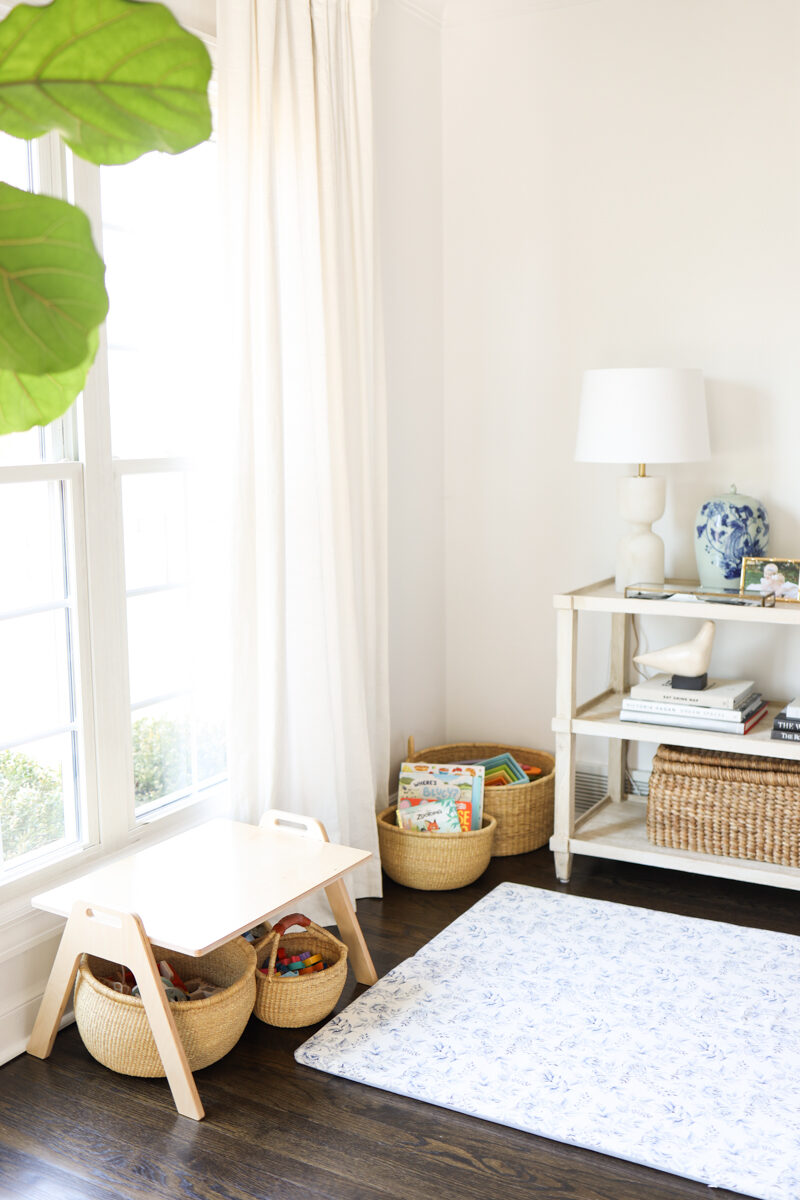 Rotate toys and books
I'll admit that I could be better about this, but about once a month or so, I switch up the toys that we store in this room. It's a good chance to look at what my kids have outgrown and what can be donated. And it brings a new life to toys, too.
Add an easy-to-store play mat that works with your decor
There are some beautiful play mats out there, but this TOKI Mat holds a special place in my heart. First, it's a collaboration I designed with the brand. One side has blue flowers and the other, a simple blue stripe. It's soft, foldable, and easy to wash. And it's one of the prettier mats I've seen, but I'll include a few other favorites here in case it's not the right one for you.
Choose larger toys that blend in
Our chowki table's design is simple and works with our decor. The girls use every single day – it's the perfect small play table. Having toys that work with your decor, are smaller in size, or that fold up for easy storange is key. Some are larger than others, but ultimately, nothing that we leave out is bold and offensive. They have those toys, but they're in cabinets. Everything (mostly) blends in or can be put away.