Classic Spring Fashion Trends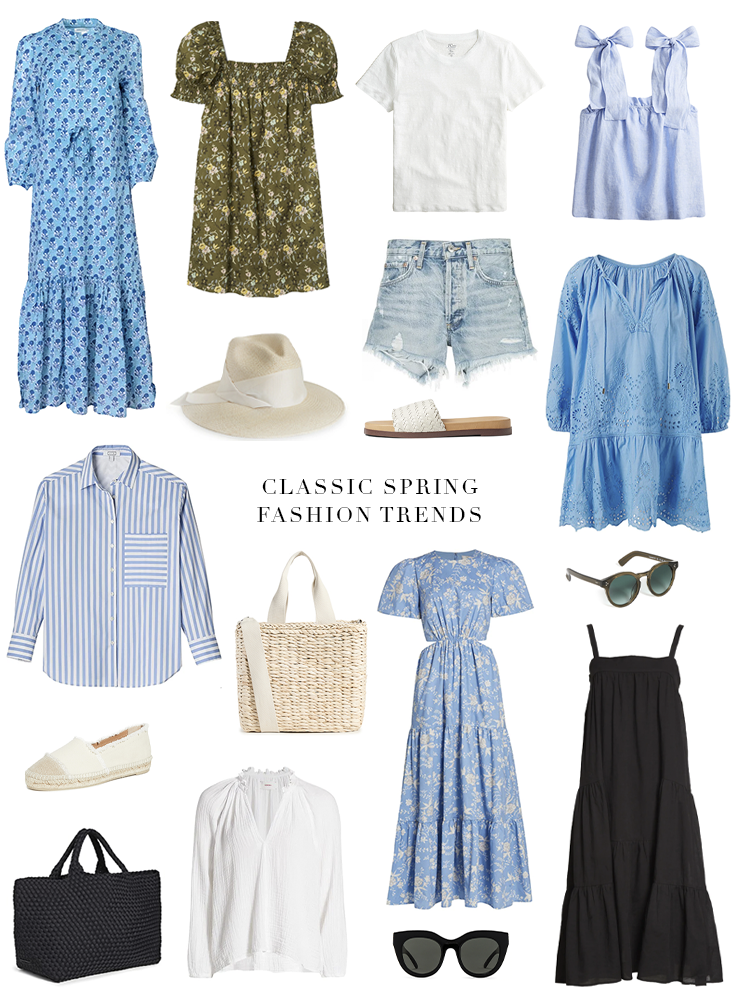 There are those classic spring trends I love, year after year. The words "classic" and "trend" might seem to contradict each other, but classic style is always on-trend. I've also found newer trends that feel timeless, like block print and eyelet. Flowy dresses, light denim, and woven bags are "trendy" but they're here to stay. Or at least they are for me. It's going to be in the 40s this week, but we had a nearly 70° day a few days ago. I can't stop thinking about the classic spring and summer fashion trends that I am eager to wear again this year. See more in my shop.
After what felt like an eternal winter, spring is finally here. The days are longer, temps are finally warming up, and our tulips are starting to bloom. The first day of spring was in the high 50s and I aggressively broke out my sandals and wore a dress because I needed to feel like myself again. I should probably ease my way in with loafers and espadrilles. And maybe even some light sweaters. The next day, it was almost 70°. Warmer days are coming.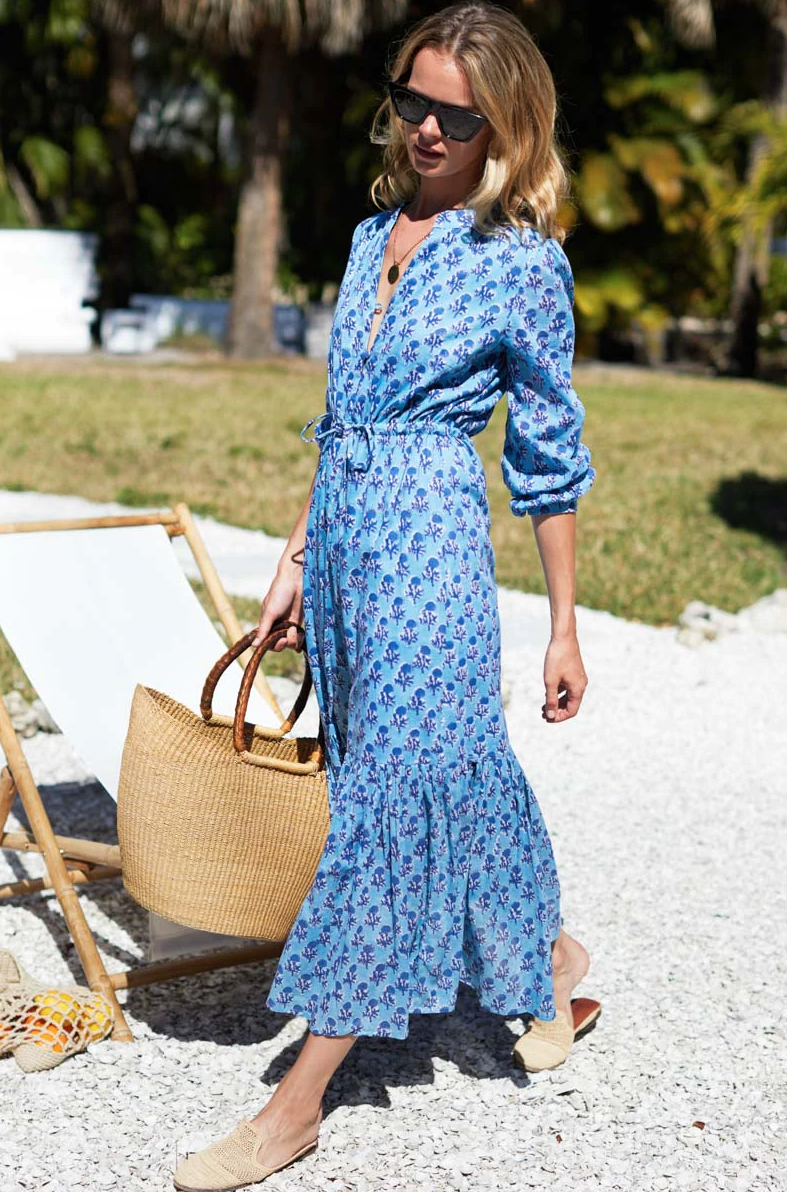 Block Print Dress
This print comes in two styles, and I have both styles (in two different prints). I prefer this style since it's more fitted (and flattering). It's light, so it's easy to wear on warmer summer days, too.
Floral Dress
I love this floral pattern, and the cut is definitely more "on trend" but it's a sweet, simple dress.
Summer Dress
I have this in navy and the only downfall is that it's dry clean only. If you can get past that, the style and fit are perfect, and it's really light and easy to wear.
Cutout Dress
Ok, so this is a bit trendier, but it's so cute.
Eyelet Dress
Dresses like this are so easy to wear. I have a white dress that's very similar in style, and have worn it every spring and summer for years. The eyelet is so pretty (and breathable if you run hot like I do). I love the blue, and it's on sale right now.
Smocked Dress
I have a few dresses like this one and wear them all the time. If nap dresses (with the ruffle sleeve) feel too trendy for you, this is a really nice alternative.
The Perfect Oversized Button Down
I rarely stay that "everyone needs this in their closet" but you actually do need this shirt. The title gives it away, and the fact that I have in in 3 colors speaks to how great it is.
Smocked Top
I suppose this is a little trendier than most but I love it. It's really simple and is a piece I'd very likely wear in the years to come.
White Blouse
I love a white blouse with jeans, denim shorts, or linen pants. The simple ruffle on this is so cute.
Linen Tee
The perfect linen tee. It's shorter but not cropped. I love it.
White Jeans
These jeans are stretchy (so comfortable) but not too fitted. I would recommend sizing down.
Jeans
I've been linking to these jeans for a few years now. They are my favorite, most-worn jeans. Highly recommend them if you've had kids – they're stiff so they don't stretch out, and the high waist is very flattering.
Denim Shorts
I've had these for years and live in them. You know I love my AGOLDE jeans. I used to be so self conscious in denim shorts because my legs are very pale. After years of using self tanner, I finally stopped caring and embraced it. These are comfortable and look great with a cute top or tee.
Gardenia Hat
This hat is gorgeous, isn't it? Definitely on-trend but beautiful and classic.
Sunglasses
I have the Leonard sunglasses in a few styles. When a pair broke this year (fell out of the car and we drove over them), I splurged and got these. The green is fun, but they're not too green. I really love them.
Black Sunglasses
These are bold and fun but classic, and they're priced really well.
Woven Slides
Love a woven slide for spring and summer. They work with everything and are easy to wear.
Espadrilles
I have these and lived in them all spring and summer last year. They're so comfortable and I love the style.
Straw Tote
I love straw bags (wrote a whole post about them) and really like that this has a handle and crossbody strap. Anything that looks good and allows me to be hands-free.
Woven Tote
I have this in beige but that color seems to be sold out right now, and I love the black. It will stay cleaner, too. This bag is a great, lightweight, grab-and-go option that works from lunch to the beach.
This post contains affiliate links. If you purchase something using my links, I may earn a commission at no cost to you.