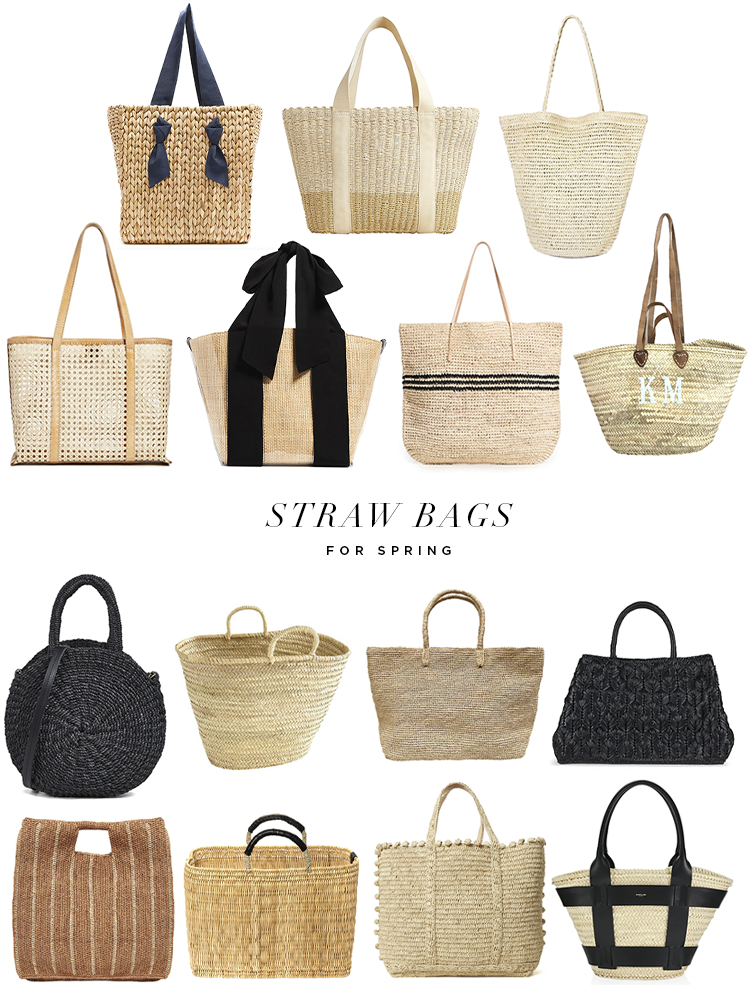 You know how much I love woven elements in my home, but I also love when raffia and rattan weave (sorry, had to) into my closet. From bags and sandals to jewelry and accessories, woven accessories are practical, stylish, and sustainable. So today, I'm sharing 20 straw bags for spring. Why straw bags? They're versatile – from lunch and travel to poolside or even errands.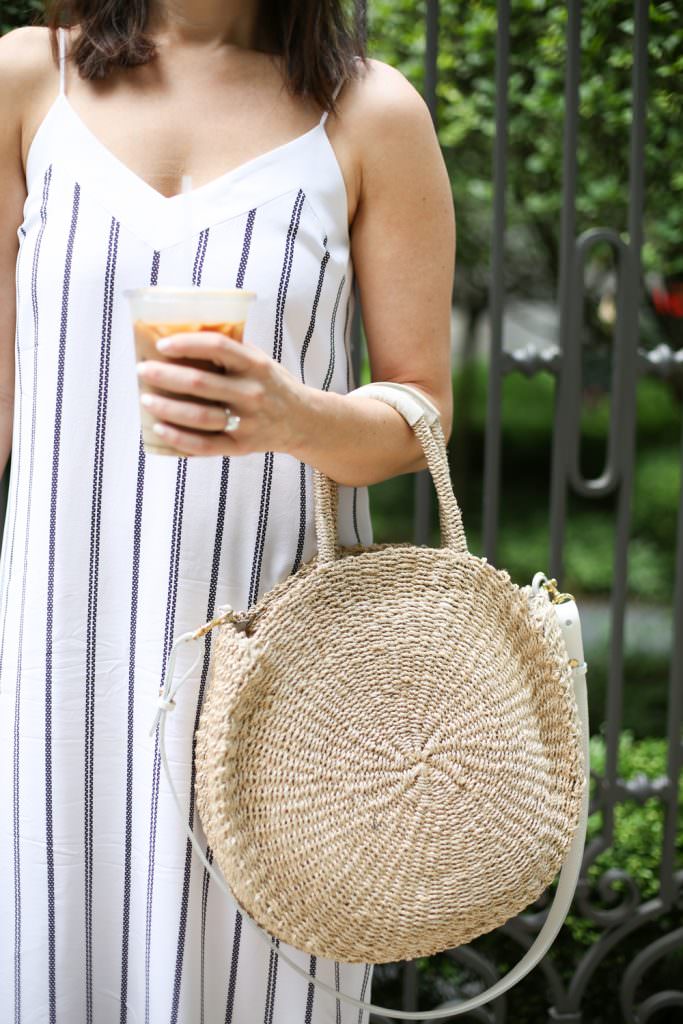 Straw bags add a chic and relaxed element to your spring and summer outfits. They come a number of styles, too, so there's one for everyone. Today, I'm sharing a roundup of straw bags, perfect for those warm weather outfits we're all ready to wear. I tried to share a variety of brands and price points. If you're in the market for a new straw bag and want to see more options, check out this brand and this one, too.
Luxe Stripe Tote
This top handle bag is large enough to carry around with kids, and great for the beach, too. It's a great everyday bag for spring and summer. I love the slouchy raffia construction and contrast stripes.
Rattan Bag
A simple and sophisticated carryall option, the Margot tote is one of my favorites. I have the classic version in navy, and it's great for everyday, but if you're looking for a beach or picnic bag, I'd size up. The classic rattan and leather trim makes this one feel so sleek and timeless.
Island Bahia Bag
This natural cornhusk tote with signature grosgrain ribbon knot handles is especially beautiful.
Raffia Tote
Handcrafted of woven raffia, this charming tote bag is designed with a top magnetic snap closure and two interior pockets. It comes in a few colors, but I'm loving the black.
Woven Montauk Tote
I have the classic Montauk tote, and this woven version is made of raffia with a snap closure top and two interior pockets.
Market Basket
This classic market basket is produced by Moroccan artisans In a lovely herringbone weave. I have a few of these in various styles, and love them as storage in the car, at home, or for the farmer's market. There's nothing these bags can't do, and there isn't a spring or summer outfit they don't look good with.
Raffia Basket Bag
Handcrafted in the south of Spain by local artisans using woven raffia, DeMellier's Santorini bag has a traditional basket shape and open top. It's an elevated take that would look beautiful with a black dress. Take this bag from day to evening – it's woven but feels more like a purse.
Milos Bag
A simple and slouchy Mar Y Sol tote with a summery feel, crafted in intricately woven straw and finished with a fun strand of tassels.
Natural Woven Tote
A timeless and chic tote that you can wear from spring to summer! Great accessory for running to the market and holding your goodies. I'd love this with jeans and sandals or a dress. It's versatile, simple, and timeless, so it goes with everything.
Striped Tote
A fun, different spin on a woven bag, I love this striped option.
Woven Pom Bag
This pom bag is another fun take on a raffia bag. It comes with a crossbody strap making it as functional as it is fun.
Deauville Bag
This straw handbag with pvc overlay and an oversized grosgrain ribbon handle is a stunner. It makes such a statement and is just so beautiful.
Rattan Tote
Handwoven of lightweight rattan, Poolside's Isola tote features knotted grained leather handles. The white leather handles really pop and make this bag stand out. This basket-style piece is finished with the foiled logo at the front.Take it from the pool to the beach, to dinner. It's the perfect everyday spring (and summer) tote.
Market Basket
These are beautiful and sturdy enough to be used as a room accessory in the home, or running around town. Would be especially nice for the park or beach.
Alice Bag
I have and love this crossbody. It's fun and different without being too trendy. Comes in a few colors, and while I have the natural color, I'm feeling really drawn to the black. The crossbody strap makes it especially easy to wear on long walks or while traveling.
French Market Tote
The classic tote basket silhouette is hand braided of natural jute and seagrass. Another bag that would be lovely in a mudroom or on a hook to hold functional items at home, or on the go.
Woven Shopper Tote
This beach tote is $35 and perfect for the farmers market, beach, or running around town.
Monogram Market Tote
I love Mariella Vilar's monogram bags. I've had mine for years (with my monogram in black), and have used it for everything from errands to picnics, and even a storage basket in my car.
French Market Tote
This classic French market tote is timeless and beautiful. It'll never go out of style, and goes with everything.
Pull Through Bag
This bag is a bit more trendy but not "too" trendy. I love the bucket bag shape, and see wearing this one to dinner. A great woven purse option.