How to Travel with Kids: The Best Travel Toys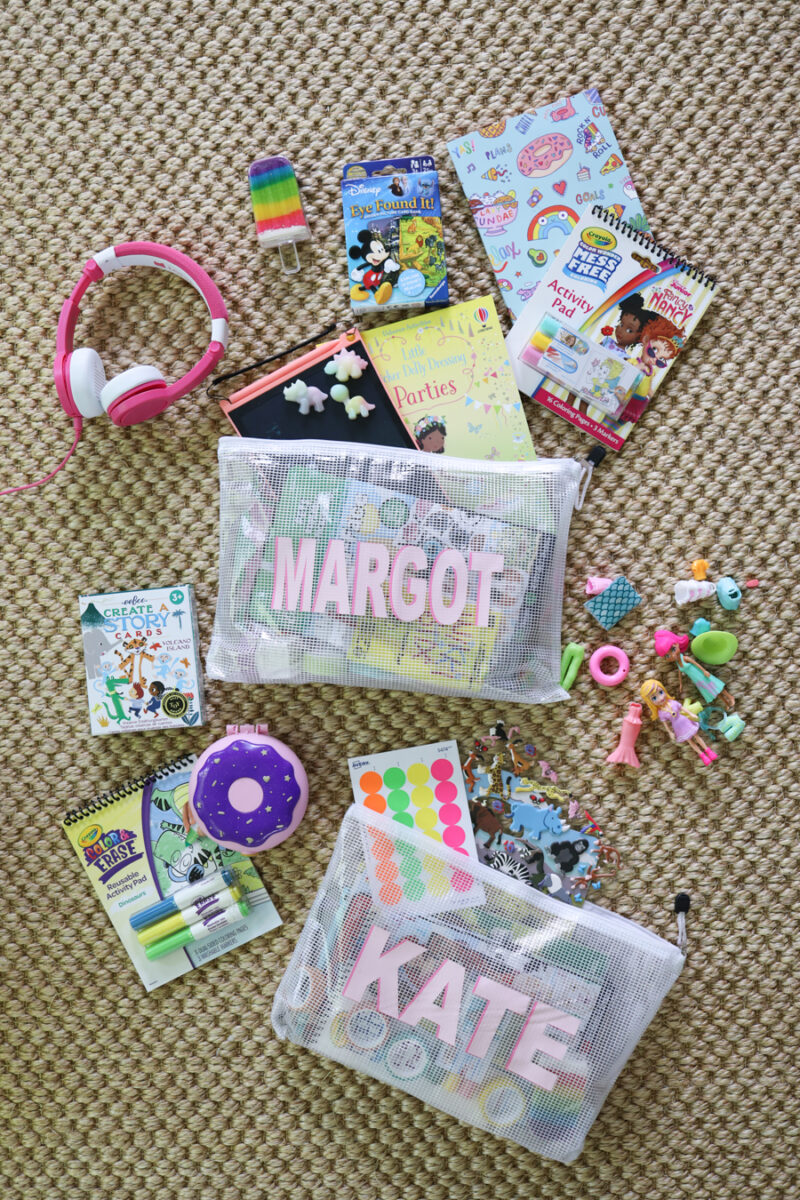 I just returned from two weeks in Italy with my 2 and 4 year-old. We've traveled domestically a handful of times and took a big trip to Italy when my oldest was 13 months, but traveling to Europe with 2 under 4 was…an experience. This was our first long flight in years, and my first with two kids: a toddler and preschooler. I know a thing or two about how to travel with kids and love a project, so I channeled a lot of energy into making sure the girls had things to keep themselves busy. I did my research and packed every tiny thing and restaurant activity they love (and more). So here are the best travel toys for kids.
How to Travel with Kids: The Best Travel Toys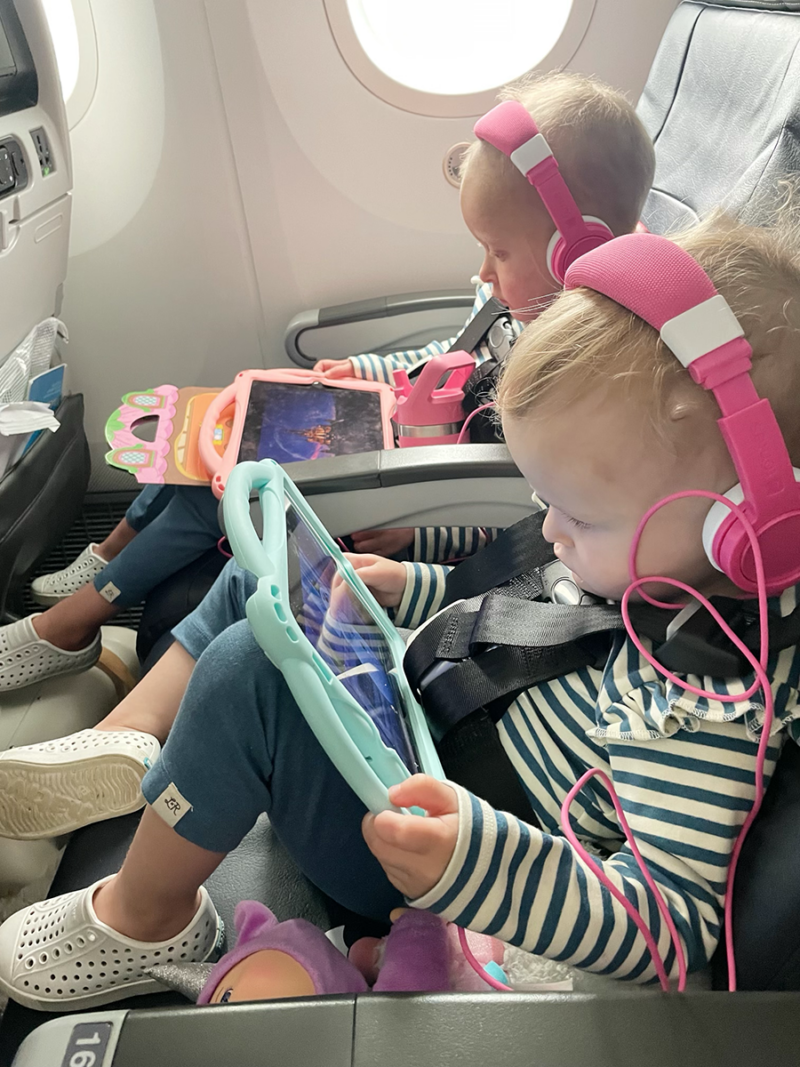 Planning a family vacation with young kids is a lot of work. A long trip means spending too much time sitting still, and little kids are not the most patient travelers. Now that I've spent a collective 17 hours in the air with my two young children, I want to share the travel toys that worked for us. I had a large pouch with each of the girls names made for them, and they were great for the plane. I added some wikki stix, card games, a coloring book. And for Kate who loves figurines, we included Daniel Tiger and Peppa Pig, naturally.
What I brought that wasn't a hit:
Some of the toys pictured weren't must-haves, and I'm only planning on including the ones we loved most. The two Crayola pads got maybe 5-10 minutes of use the whole trip. I love busy books and I know kids love them, but they did not keep my kids busy. My kids don't love water wow books, so I guess this shouldn't surprise me – these things are just not ideal for my kids. I'd just bring a busy book instead next time. This one is great, but I didn't bring it. We do have a really cute felt one. And the clay popsicle thing wasn't great – it was so hard to close the little holder so I'd just opt for a regular (small) sensory jar.
iPad and Headphones
An iPad is the best thing you'll bring on your long haul flight or road trip. I downloaded their favorite movies and shows on Disney+ and Amazon and each one is loaded with their favorite apps and games. You can see our full list of favorite apps for younger kids in this post, but my #1 is Sago Mini World. It keeps them busy forever. There are no screen time rules in our family on travel days, and few things make passing time in a car seat go by like an iPad.
The Tonie headphones are ideal since they're well-made, padded, and fold, so they are ideal for travel.
Stickers
Stickers are always a huge hit with my girls. I've shared the Melissa & Doug puffy stickers time and time again because they will keep little kids busy on long trips or at dinner. My 4 year old actually plays pretend with the little sticker characters, and my 2 year old will spend 20-30 min (a toddler lifetime) peeling and placing stickers. The Ooly pack is really fun, too. Lots of large puffy stickers, and sheets of regular stickers, too. Peeling stickers builds fine motor skills – these are great for little hands.
Sensory toys and jars
My kids love these and play with them all the time. These are such fun travel toys. The small resin toys are always fun, and there are lots of themes and shapes to choose from. They're great on their own, in a sensory bin, or with clay. I should note that these small parts are not ideal for younger children and I watch our 2 year old very closely when she's playing with them.
LCD Writing Tablets
This was recommended by a friend and quickly became one of my favorite toddler travel toys. It's great for kids of all ages. Both my girls love it.
Eye Found it
This is a fun travel toy, and is one we'll definitely use when we go to Disneyland this fall! It's a classic game of eye spy, which my 4 year old loves, and would be great for kids who are a little older, too.
Polly Pocket
These really withstood the test of time, and are great for older toddlers as long as you keep an eye on them. Both my girls love polly pocket, although some compacts are a little bulky. The compact design of the donut made it the perfect size for travel. These are a good option for small hands, and are fun for kids who like role play. My 4 year old will play with her polly pockets for what feels like forever.
Dress Up Dolls
Another Polly Pocket hit, these are great for developing hand-eye coordination, and are the perfect travel toy since they're small, and the outfits are quite malleable, so they're easy to stuff in a bag. This is one of the new toys I bought for the trip, and the kids both loved them, although putting outfits on can be tricky, so I'd recommend these for ages 4+.
Dolly Sticker Books
These sticker books are great for ages 4+. We used them last year but my older daughter needed a lot of help at age 3. They were still fun for her, but at 4, she can use them on her own. I think this would be great for older children, too.
Wikki Stix
These are a great option for young kids, and they make great travel toys since they're so small and lightweight. My older daughter made wax bracelets, and my 2 year old wasn't as into them, but played with them for a little bit.
Dot Coloring Book and Stickers
I love these dot books with dot markers but wasn't about to bring those on a plane, so I brought small dot stickers, and the girls loved them.
Lego Dots
My 4 year old loves lego dots, and this little bracelet and keychain set is great for travel.
Coloring Pages and Sticker Sheet Set
This coloring page and sticker set is pretty great, although my daughter was mostly into the stickers. It comes in a few options (Fancy Nancy, Frozen, and Trolls).
Lisa Frank Sticker Pad
In case it's not clear, my older daughter really loves stickers. She also loves rainbows and animals and I had this feeling she'd love Lisa Frank. And it's still here, so I bought this $4.50 sticker pad and it kept her busy for a very long time. She stuck those damn stickers to everything but they kept her entertained so it's fine.
Figurines
We brought quite a few figurines, and while both girls play with them, Kate (age 2) likes to carry them with her wherever she goes. She will ask for mom tiger and Daniel (and Katerina, too) and has just started to make them dance and hug each other. It's really sweet. I just threw them in their own little pouch and we were good to go.
This post contains affiliate links. If you purchase something using my links, I may earn a small commission at no cost to you.