The Best Apps for Toddlers and Little Kids (Ages 2-5)
Whether you love it or hate it, screen time is sort of inevitable when you have children. Toddlers and preschoolers have short attention spans, but just like good toys, the right app will keep them engaged, while combining learning and fun. Most of our favorite apps combine both learning and …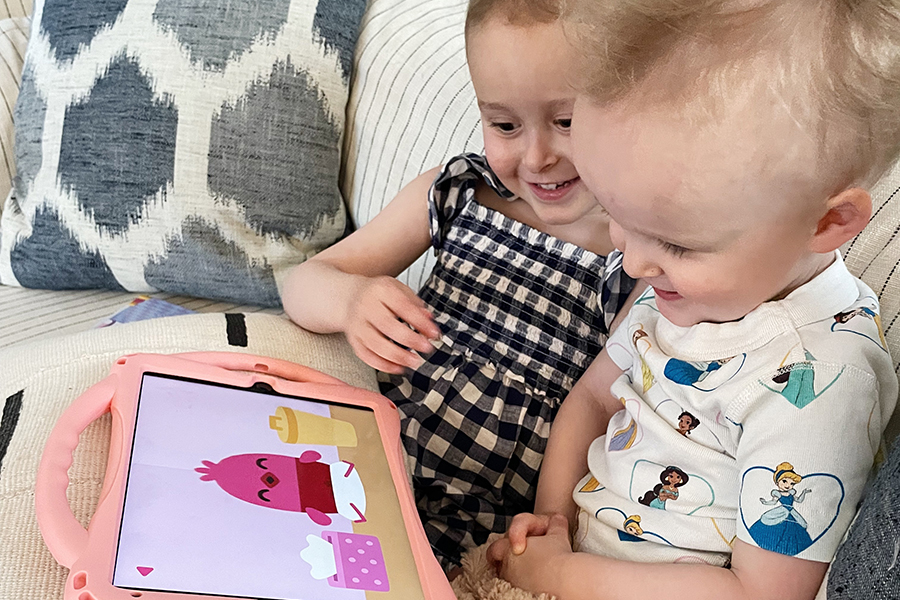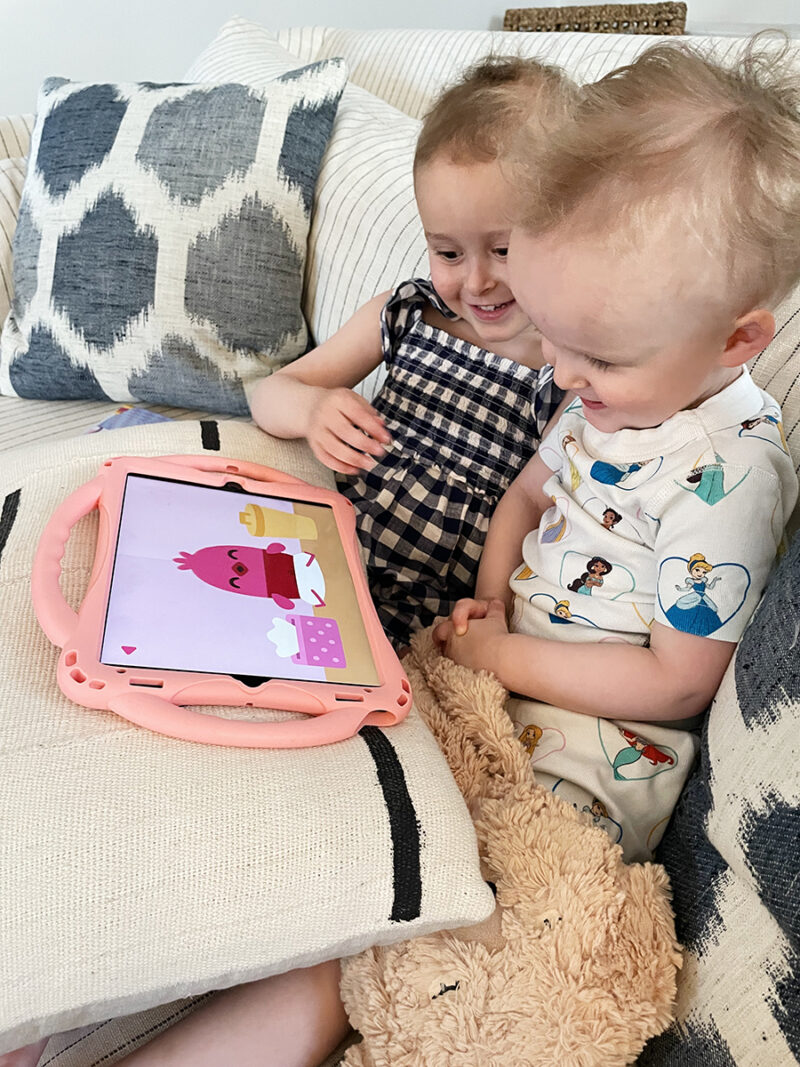 Whether you love it or hate it, screen time is sort of inevitable when you have children. Toddlers and preschoolers have short attention spans, but just like good toys, the right app will keep them engaged, while combining learning and fun. Most of our favorite apps combine both learning and play – some more than others – but it's all about balance. If you want to help your child learn and give yourself a break (because what parent doesn't need that?). I'm going to share the best educational apps and best toddler apps for young children. Most are free and a few might seem pricey, but I promise you that they're worth it.
The Best Apps for Toddlers and Preschoolers
When I first became a mom, I was very anti-screen time, keeping any and all screens away from my daughter until she was a year old. So when I became a mom for the second time, I caved much earlier and threw both my kids in front of Sesame Street before my youngest could even sit up, and bought myself 10-15 to shower. I still kept screen time to a minimum, but being a parent is hard, and sometimes, we need some help. The American Academy of Pediatrics says to avoid giving young children too much screen time, and to limit to an hour a day. There are days we need more than that, and that's ok.
Choosing the right app for your toddler and preschooler
Over the last two years, I have received a lot of questions about the apps my girls use, so I'm excited to share our favorites today. We didn't really rely on apps until we found ourselves in the hospital with our daughter. It was then that my mother-in-law bought an iPad for her since we spent two weeks in one room, and needed something to distract her and keep her busy. We relied on extra screen time to navigate both a pandemic and time stuck inside, and some of these games made her laugh, which meant the world to me as a mom. In my almost four years as a mom, I've learned that it doesn't have to be all or nothing. Screen time can be fun and educational, and it offers a much-needed break for parents, too. I do try to choose interactive games with educational content that will help my girls with basic skills. So today, I'm going to share some toddler learning games and some that are just plain fun, too.
How to prevent a young child from accidentally leaving an app
i use guided access to "lock" the iPad in a game, so my girls can't (and won't) exit out of a game. This is ideal for younger toddlers who can't help themselves from pushing the home button while playing a game. It ensures they won't exit the game, and for older kids, will give them access to the app you've given them permission to use. And it's pretty easy to set up. I very rarely turn this on for my 4 year-old but always turn it on for my 2 year-old.
Go to Settings > Accessibility > Guided Access, turn on Guided Access.
Tap "Set Guided Access Passcode", then enter a passcode. The only way to leave the app is to then enter the passcode.
Sago Mini World
This app is a must-have, and is my pick for the best app for young kids. My older daughter has loved this app since those hospital days before her second birthday, and has so much fun playing it years later. She's always called in birdie game since the little pink bird is her favorite character. Sago Mini World has over 35 fun mini games (or worlds) – so there's something for everyone, and you can truly get lost in it, which, when you're stuck inside or on a long trip, is key. Play with babies, travel to outer space, work at an an ice cream shop, or go camping. go to the zoo, the city, camping, and race cars. The game teaches your child through open-ended play, promotes fine motor skills, and allows each child to play in their own way. It's a game, but it's also a world, and both my girls have so much fun with it and even enjoy playing it together. I would recommend this app for ages 2-6.
You can purchase one-off mini worlds, but I highly recommend the full version. It's especially great if you're traveling or looking for something for frequent doctor visits.
Price: This app is $6.99/month or $29.99 a year
Sago Mini School
Sago Mini School is the educational version of Sago Mini World. It's one of the best learning apps we've tried, and keeps toddlers engaged. Kids love fun games and parents love educational games, so this is the best of both worlds. There's a little less play than Sago Mini World, but it's still very fun and I love how much my daughter has learned. Once your kids get into the Sago characters, this app is even more fun. My daughter calls this one 'Birdie game school" and when I want her to learn but give me a moment, this is the game I'll hand her. Learn letter recognition, math skills, cognitive skills, counting, building, puzzle pieces, and more. This app is recommended for ages 2-5. My daughter knew her letters and numbers pretty early, and still had some trouble at 2.5, so I'd say it's ideal for 3+.
Price: Pay a $7.99 monthly subscription or $35.99 a year
Peekaboo Barn and Peekaboo Wild
If you're in a pinch and need to keep your baby toddler occupied, this is a great app 1-2 year olds. Both my girls liked these simple apps that teach toddlers animal sounds and animal names. Peekaboo Barn has been their favorite – tap on a barn to see and hear different farm animals. Kids interact by tapping on the screen, and a new animal appears. It's a simple app, but I like the no crazy bells and whistles approach to this one. This app is great on mobile devices – I have it on my iPhone because small children have meltdowns, and you never know when you might need it.
Price: $1.99/each
Daniel Tiger's Day and Night
This gem from PBS Kids is one of the best free toddler apps out there. Learn about morning and evening routines with Daniel tiger. Decorate pancakes, brush teeth, get Daniel dressed, and get him ready for bed. This app is really simple and easy for toddlers and preschoolers to use. Play simple games with this interactive app.
Price: Free
Daniel Tiger Play at Home
Another free app from PBS that both my girls love. Play doctor, music, stickers, and wash, brush, and flush the potty in Daniel's bathroom. Explore Daniel Tiger's home with this fun and free app.
Price: Free
The Best Apps for Toddlers and Little Kids
Duplo World
The FREE version includes access to the Lego Duplo train, or make in-app purchases for $3.99. You can also gain access to everything for an annual fee. This is another open-ended game that features Duplo pieces, so if your kids love Duplo, they'll recognize some of their sets. It's an especially fun app for kids with Duplo sets. It's great for preschoolers and kindergarteners, and supports multitouch, so two kids can play at the same time, or you can play with them.
Price: Get unlimited access for $29.99 a year
World of Peppa Pig
Ok, so I think Peppa is kind of the worst. She's a little rude and body shames her dad, and the show is kind of terrible. But – my kids love her. And while I do not personally care for Peppa, this app is actually pretty cute. It's full of puzzles, activities, and games, and keeps the girls entertained. I do keep an eye on my older daughter when she plays it to make sure she's actively playing and not just watching clips from the show.
Price: The app is free and contains a good amount of free content, but a subscription ($21.99 annually) will give you access to everything.
Crayola Scribble Scrubbie Pets
This is my favorite free app, and is great for 3-4 year olds. It isn't the most educational of the apps on this list, but it's fun. Discover a world of scribble scrubbie pets. Decorate them, care for and earn new pets, and play games.
Price: Free
Shapes!
Think of shapes as a digital shape sorter. It's a great way for kids to learn matching and different shapes. This app is ideal for older toddlers
Price: Free