How to Eat at a Restaurant with Little Kids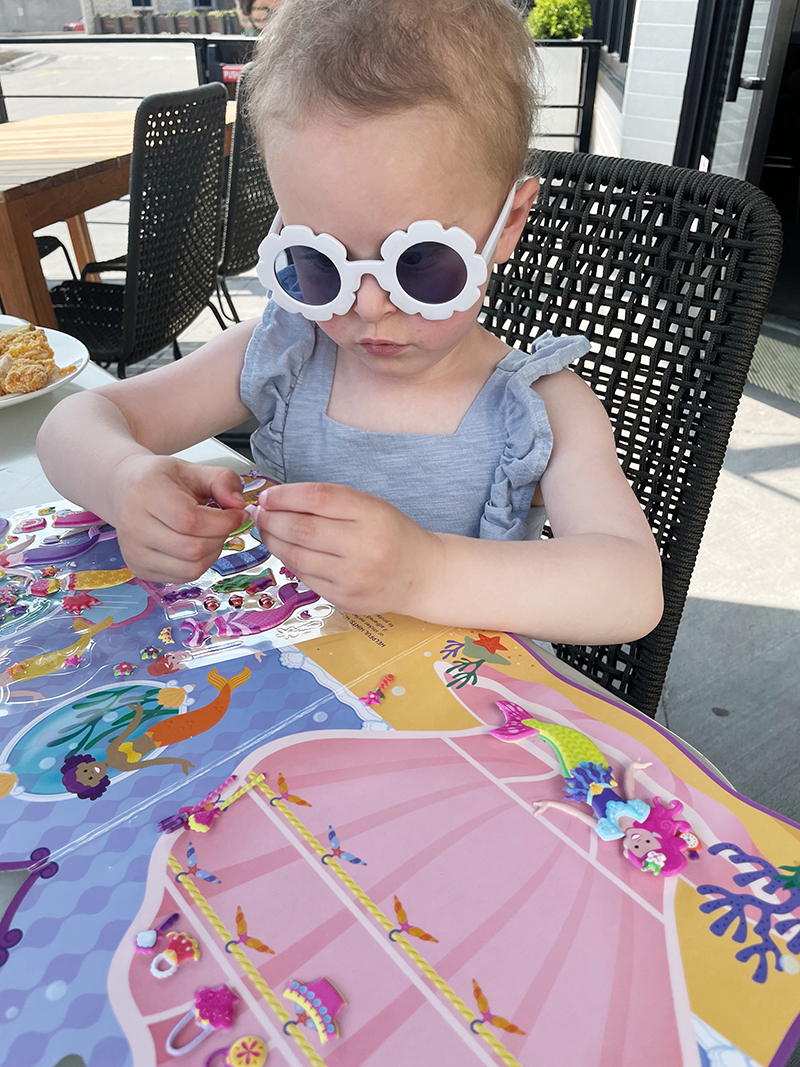 I would have rolled my eyes so hard at this one before having kids. You take them to a restaurant, duh. Yes, you could just take your kids out and hope for the best. But why not set them (and yourself) up for a nice time? I've learned that the trick to doing anything with kids (especially toddlers – they're fun) is setting the bar really low. Expect a meltdown or two, and be pleasantly surprised when there isn't one.
How to Eat at a Restaurant with Little Kids
My (almost) 2 year-old spent most of her life not doing anything (2020 baby) and our first time eating out was…not good. Sensory overload, wanting to run around, and boredom because I forgot to bring toys. How did I forget the toys? But we didn't stress – it was more like embracing the crazy? This is fun! 😵‍💫 There was some (a lot of) crying and eventually, she watched Daniel Tiger on my phone. It was fine. Everyone was fine.
Being the virgo that I am, I was determined to master dining out with kids. We were going to take them out this summer and it was going to be fun. Ha. So I did some research, thought about what might keep the girls busy, and ordered a few things for my going out toolkit. I'm happy to report back that we've had a few very successful meals with our toddler and preschooler, and I want to share a few tips and toys that have worked for us.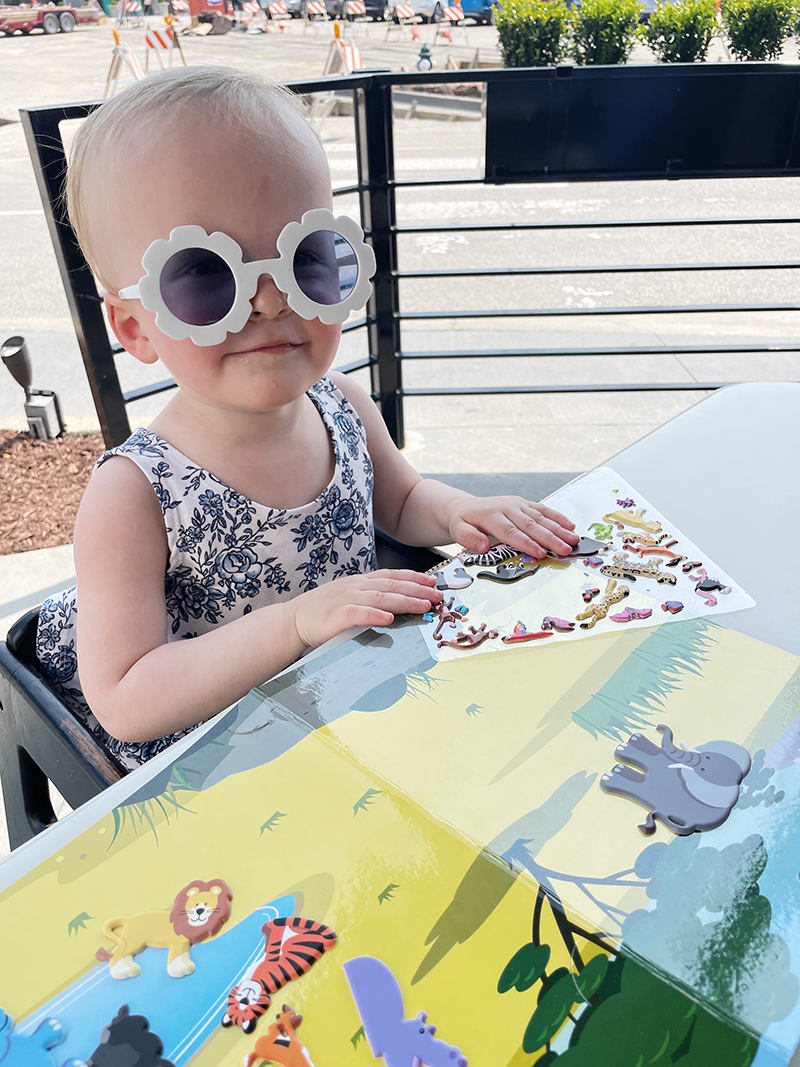 Eat early
Our 11:15 AM lunch reservation was one of our most successful meals, and I found myself wondering why I hadn't done that before. Don't make kids wait until they're hungry to sit down at a restaurant. Our kids usually eat at noon, so arriving early before the restaurant was crowded meant getting seated faster, a less-busy kitchen (food arrives faster), and a generally better experience for everyone.
Choose a kid-friendly restaurant
This might seem obvious, but restaurants that are used to having kids are set up for families. Also, choose someplace that's not especially quiet. Make sure there's something on the menu that they'll eat, too. We recently went to Summer House, and the roof is made of skylights, there are huge lights and hanging plants, too. And being greeted with paper menus and crayons made their day.
Explain how to dine out to your kids
Before even going to a restaurant (even if it's a patio) we talk about how we're going to eat out, and that we need to not yell. About how everyone is there to enjoy their meal, and how we need to allow them to do that. I always ask Margot to place her order, and we are big on please and thank you. Let your kids interact and engage.
Plan ahead
Look at the menu and at the very least, be ready to place an order for your kids when you sit down. Toddlers are wild, and getting that order in (and making sure the waiter knows it's ok to bring their food first) will save you. Do not take 10 minutes to look at the menu before ordering food for a 2 year old.
Pack a few distractions (come armed)
I usually bring an iPad in the car because my younger daughter cries if she's not distracted, so I'm not going to tell you to keep your kids off screens. I am all for doing what you need to do, but I personally do not want to make it a habit of pulling tablets or phones out at a table. So what do I do? I bring toys that we can play with and talk about. I start the meal with a sticker book or figurines, and if/when they get a little antsy, most on to the next one.
The Best Restaurant/Travel Toys
Polly Pocket
Polly Pocket is back and if your preschooler or little kid likes tiny things as much as my daughter, it will keep them busy for an entire meal.
Puffy Stickers
The Melissa and Doug Puffy Stickers are the holy grail – I cannot recommend them enough. Just peeling the sheet takes an (almost) 2 year-old quite a while, and add in naming the animals, moving them around, and they're busy until the food arrives. They're really solid, so they won't rip, and again, my not even 2 year-old can peel them which is key. The dress-up ones are perfect for our almost 4 year-old and keep her busy for forever. They do play with them once all the stickers are on the pad, but if you're sitting down at a table, peeling is the best part for younger ones.
Animal Figurines
Figurines are always a favorite, but I especially love these battat animals since they're so tiny and there are 4-5 of each one, so if you lose one, it's no big deal. Margot loves Disney doorables, too. We haven't brought them to a restaurant but probably should since she loves them so much.
Mini Squigz
These are so strange but so fun. We had the baby version when my older daughter was under 1 and she loved it. These are tiny, but addictive.
Building Toys
These are teeny tiny so would be ideal for 5/6+ but my daughter is almost 4 and was mesmerized by them. There are larger plus plus blocks (we have them – they're great!) but they're too big to bring to a restaurant. We love these, too.
Water Wow
So this is admittedly my least favorite toy on this list, but I have to include it because they're cheap and I've heard from too many people who's kids love them. My girls like and use them, but not for 15-20 like the stickers.
Eye Found it Game
My kids love a game of I spy and love Disney, so I had to buy this one.
Memory Game
Ok, so this is more of a car or travel game, but you could definitely bring it to a restaurant, so it's on the list. I like that 2 kids or parent and child can play together.
Mouse Macarons
We love our Maileg mice and the tiny treats and tea set have been a big hit with my older daughter the last year. We've brought them to the hospital and have little mini tea parties.
Disposable Placemats
These are not a toy, but these disposable placemats stick to the table (but peel off easily). And most important, they keep my younger daughter busy, and the table clean.