Basement Playroom Ideas for Kids: Decor and Flooring
I shared our basement before and after two years ago and today, want to share some updates I made over the last year. This was such a fun space to create for my girls and in an effort to make the space one we could all enjoy, I ordered some …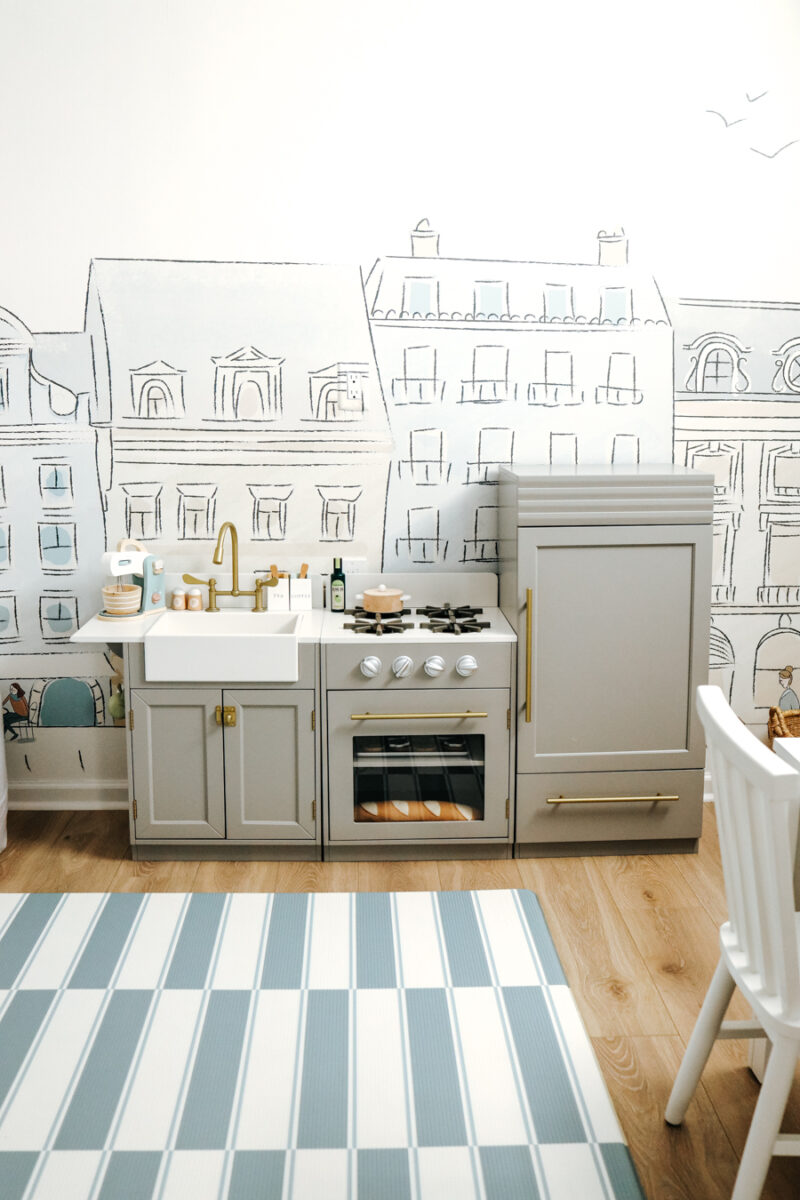 I shared our basement before and after two years ago and today, want to share some updates I made over the last year. This was such a fun space to create for my girls and in an effort to make the space one we could all enjoy, I ordered some new art for the mantel and switched out our throw pillows. Since I get asked about our wallpaper and play table often enough, I wanted to do that thing I do where I share all the sources so when you come to my blog and search "playroom wallpaper, baskets, or rug" this post will show up. This is me organizing my blog the way I just organized my fridge. Here are playroom ideas for a basement playroom.
Basement Playroom Ideas for Kids: Decor and Flooring
First, a few notes on this room. We purchased our laminate floor from from Divine Flooring but the exact floor is no longer available. We chose laminate since it's durable and was easy to install over the existing tile. The floor was easy to install – we actually installed it over tile. We also painted the walls and added Parisian mural. A few months ago, I moved the kitchen and table, created a little reading nook, and just this week, added a craft station. New art above the mantel and some fresh throw pillows added something that felt like "us" in the space since the girls have clearly taken over.
We painted the stairs, added railing on the right, this indoor/outdoor runner from Annie Selke, and of course, a baby gate. I don't have a link to the exact gate since we hired Safety Matters to baby proof our home.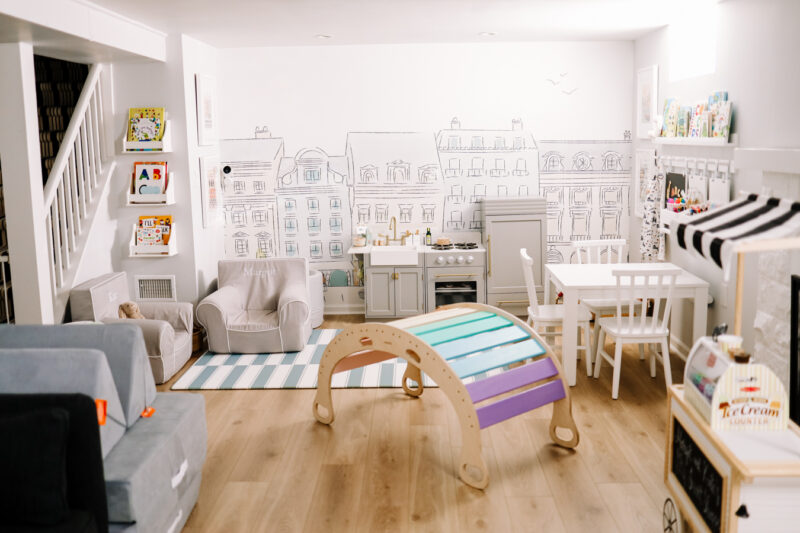 Playroom Wall Decor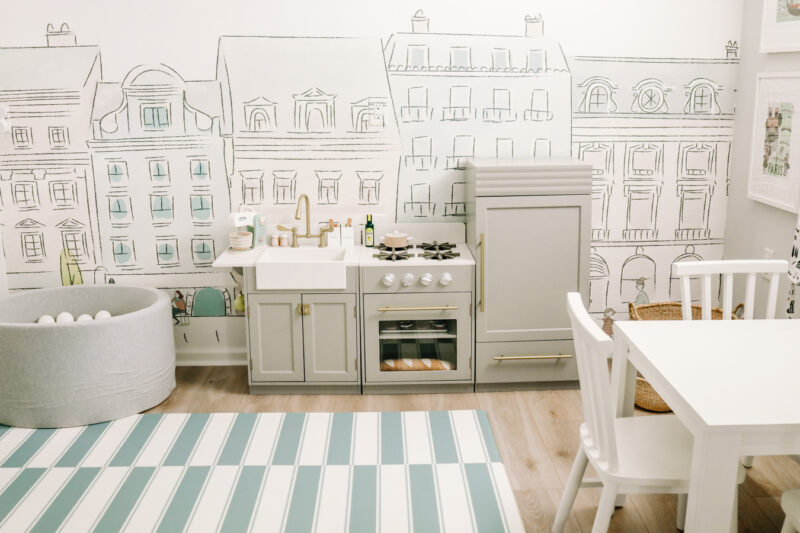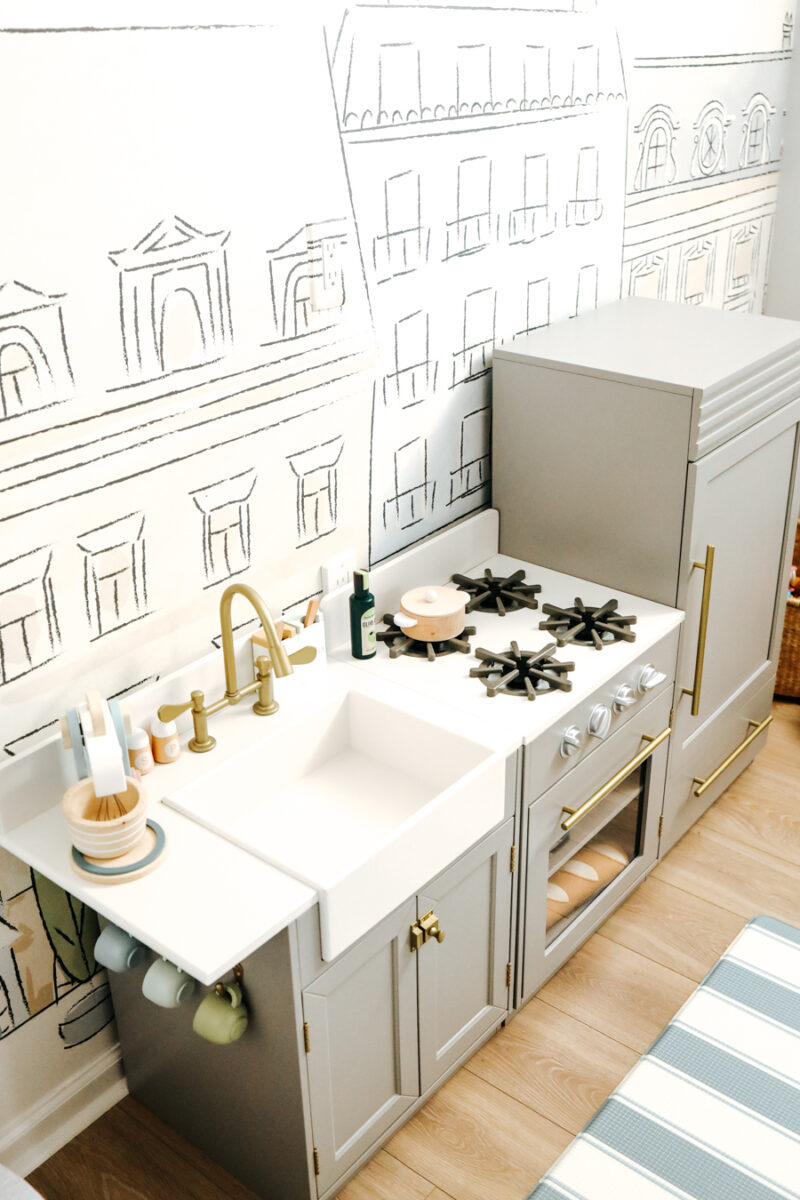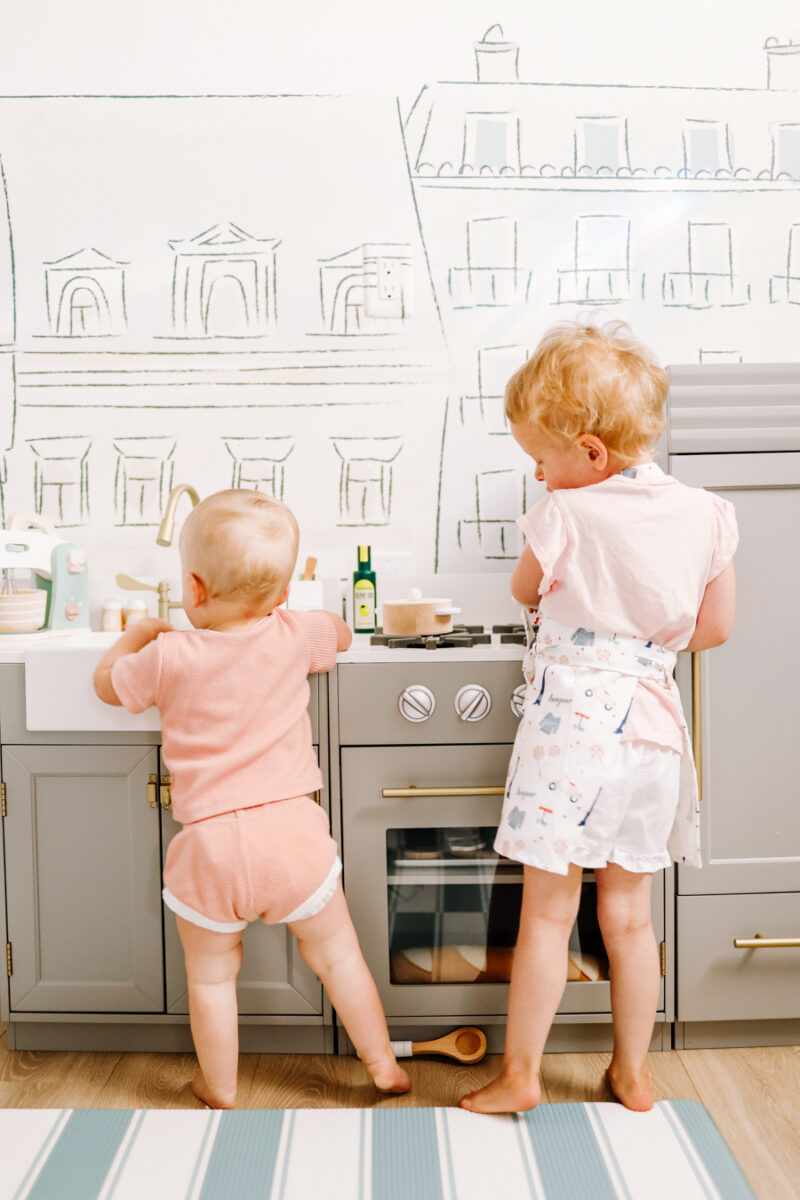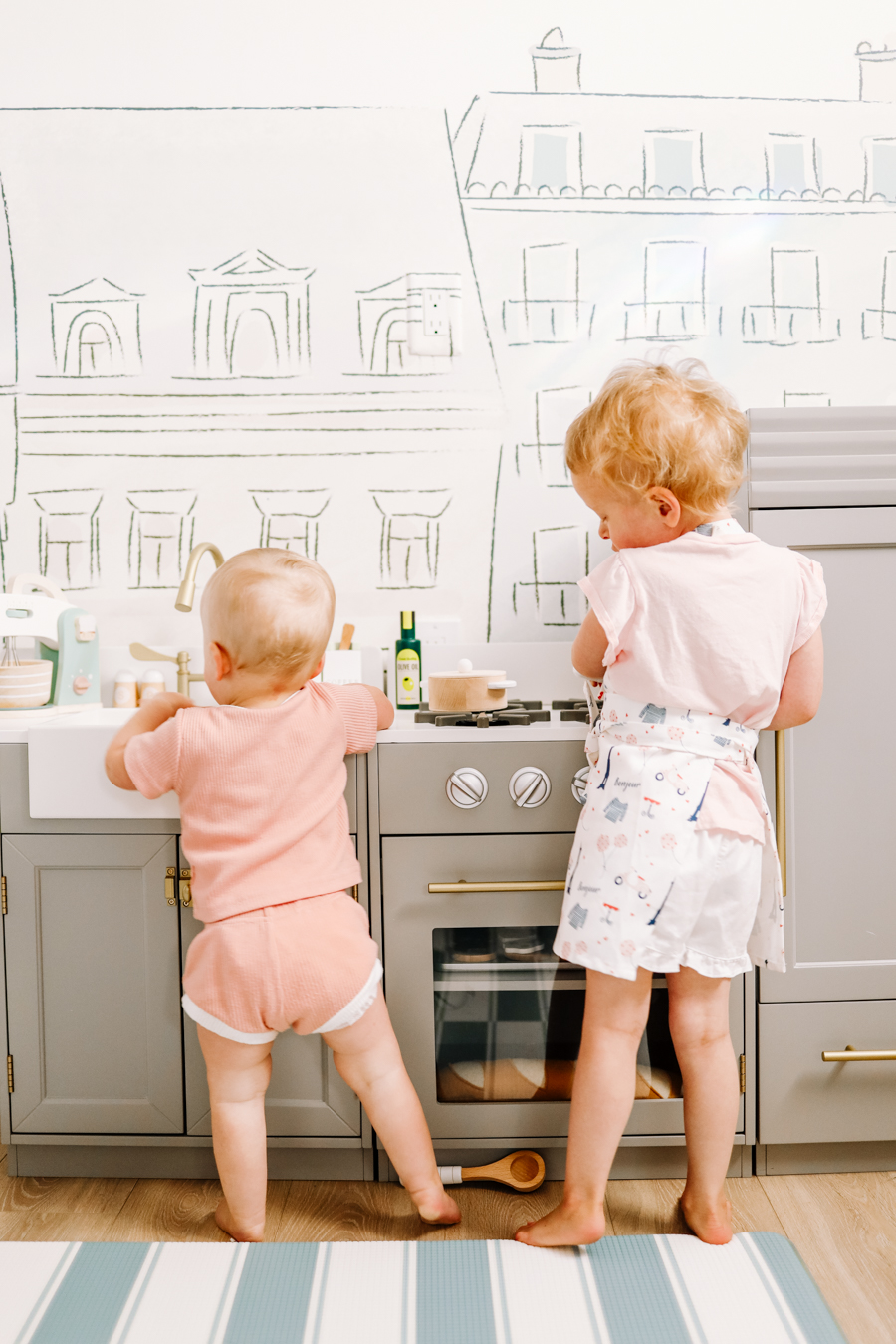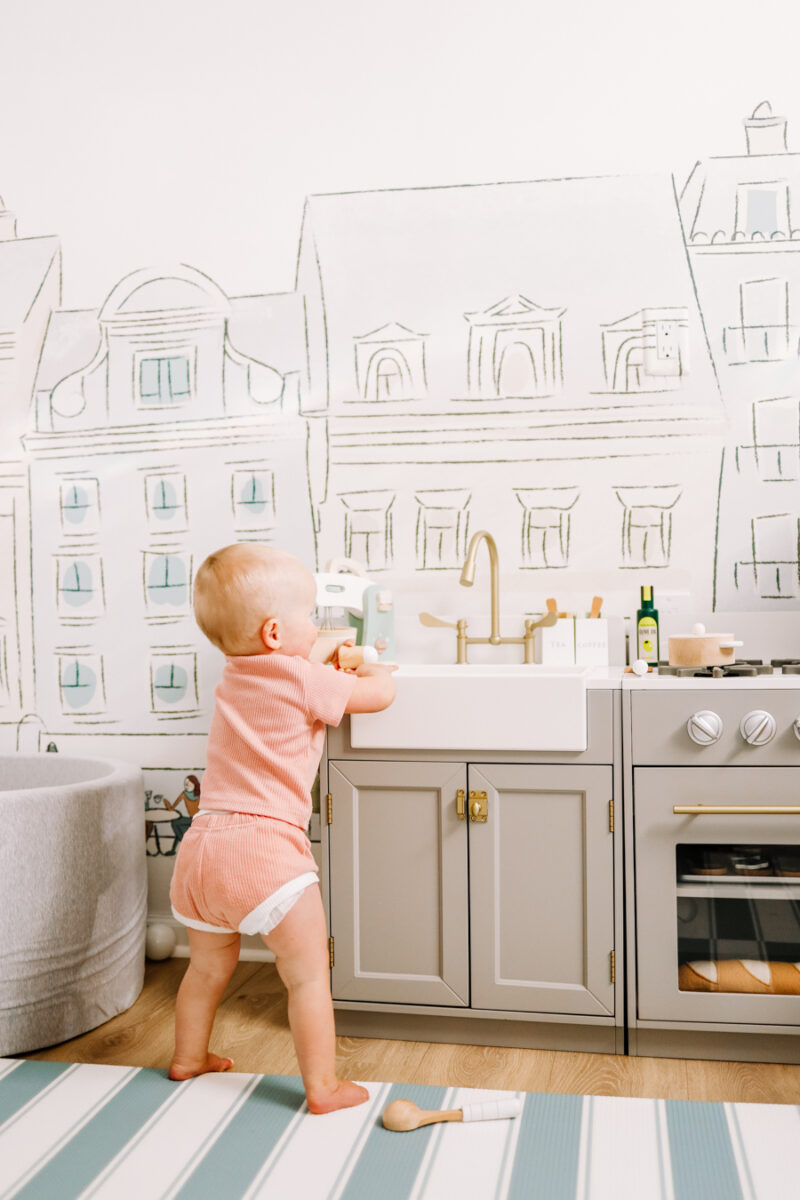 The Play Kitchen
The girls love our play kitchen – it's one of our most-used toys since Margot loves play food, and it's the perfect height for Kate to stand at, too. We have the larger 3 piece kitchen and I'd say the smaller one is probably fine. If you want to save a little bit, skip the fridge – it's a glorified shelf that you don't have to have. The wallpaper was added after I found out we were having another girl since it's a little feminine. We were married in Paris and Margot loves pretending she's going "on holiday" (big Peppa fan). We previously had a rug in this area but the play mat is so easy to wipe clean which is ideal for crafts, and it's really cushy, too. Shop all our favorite play food in this post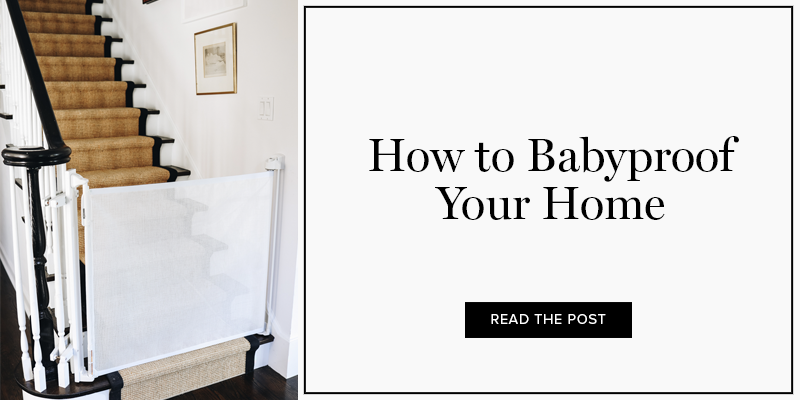 Playroom Storage: Baskets and Bins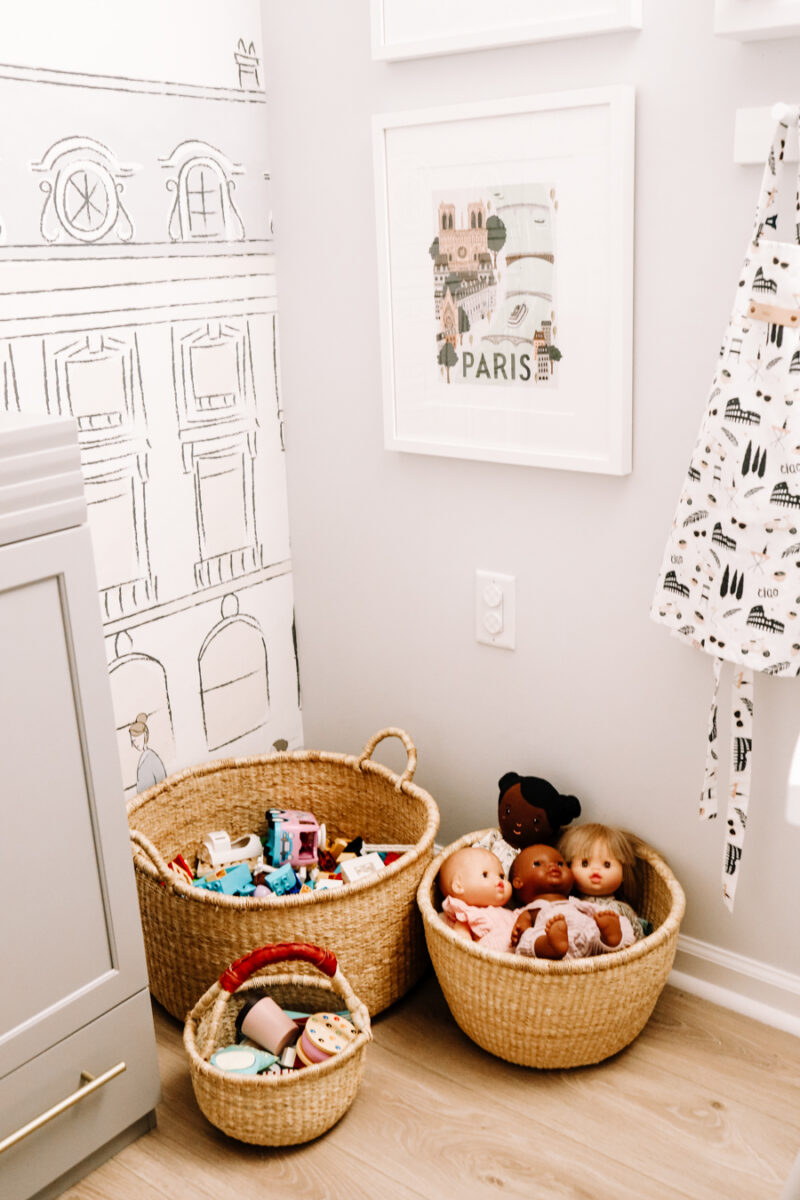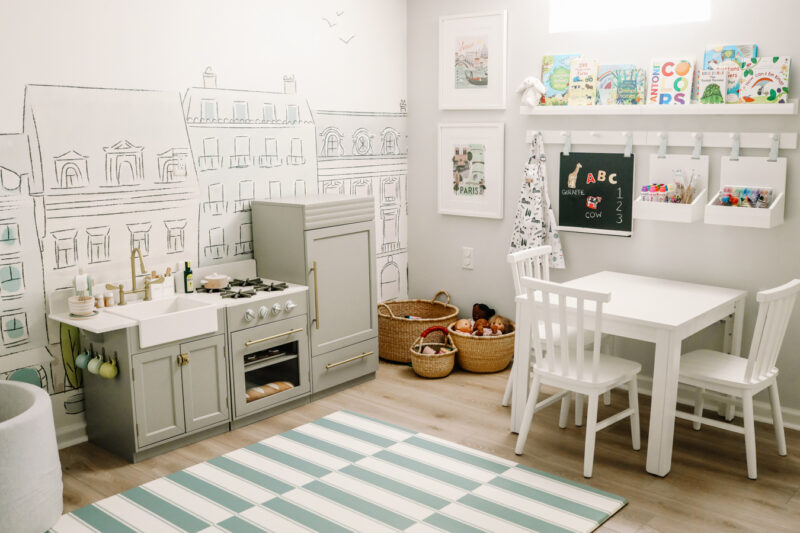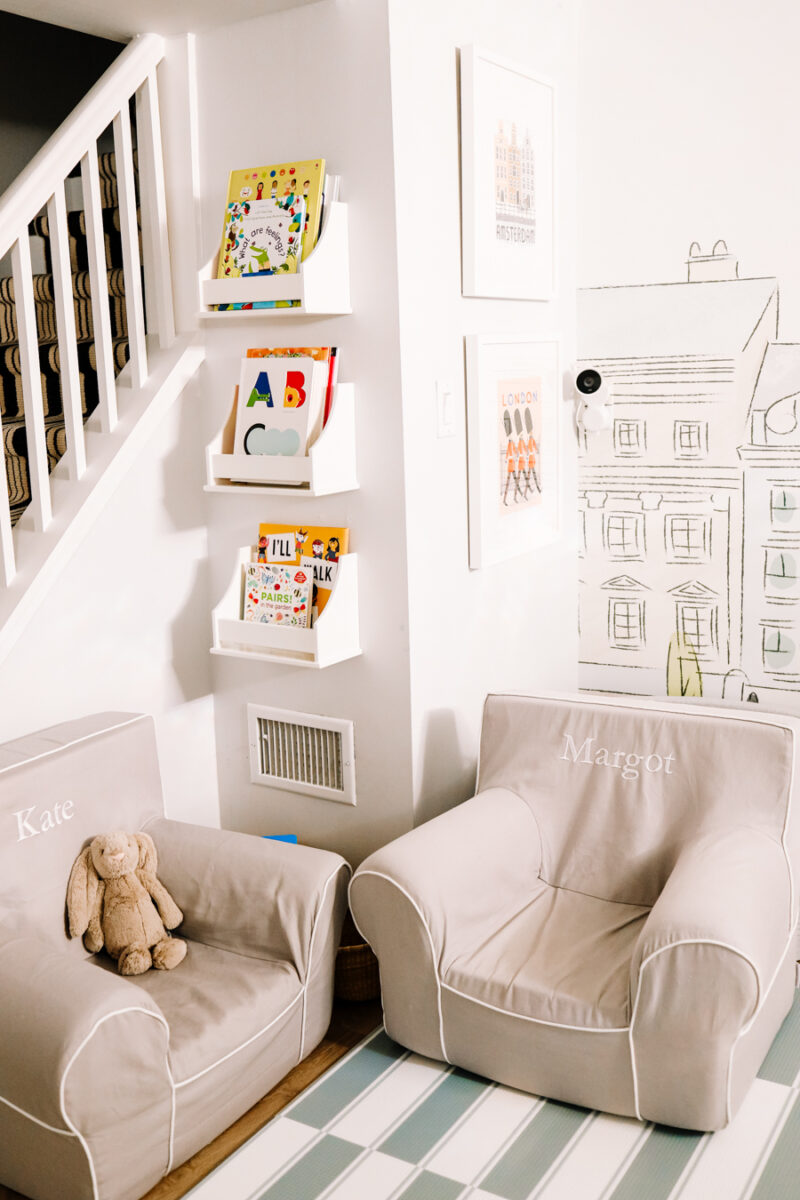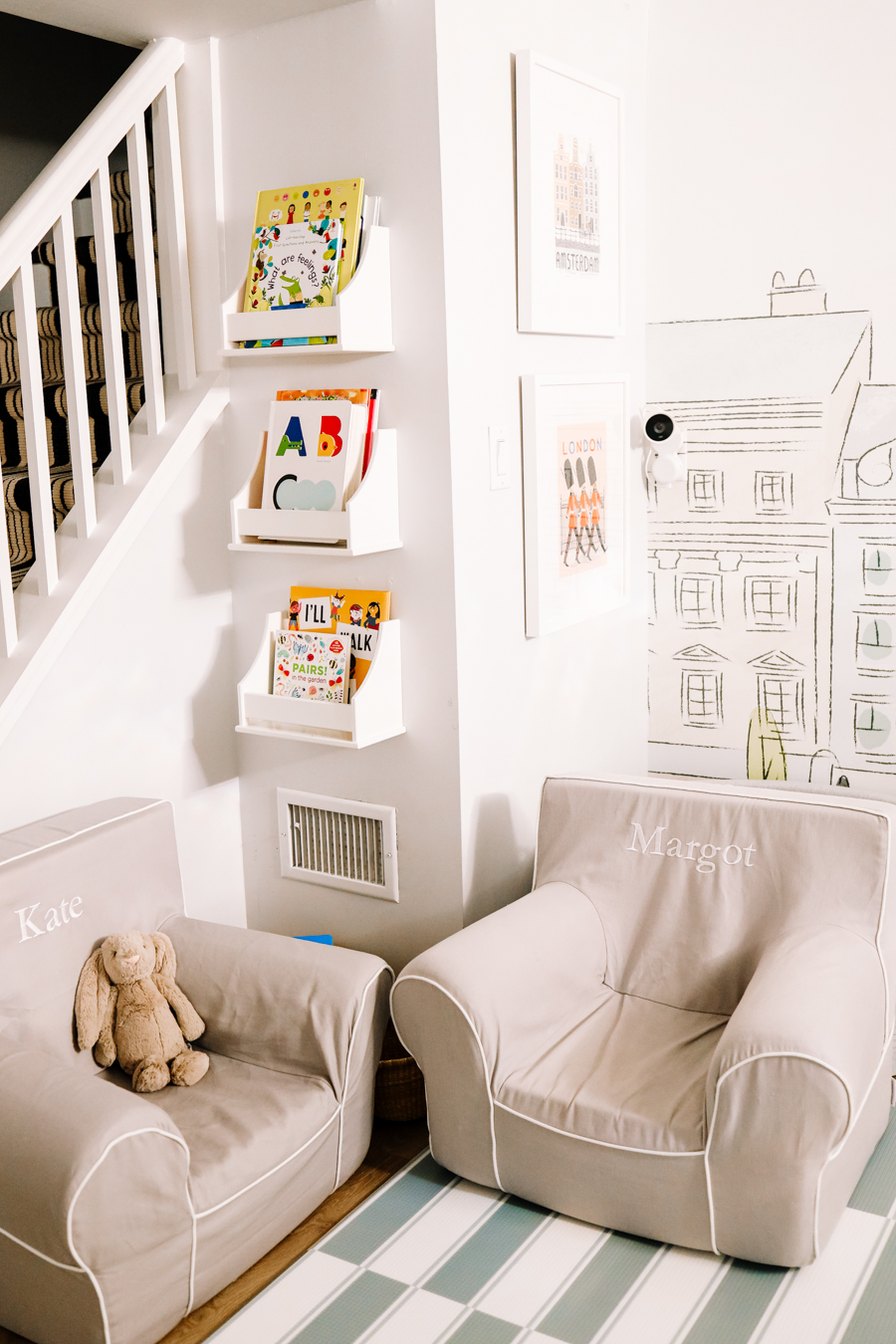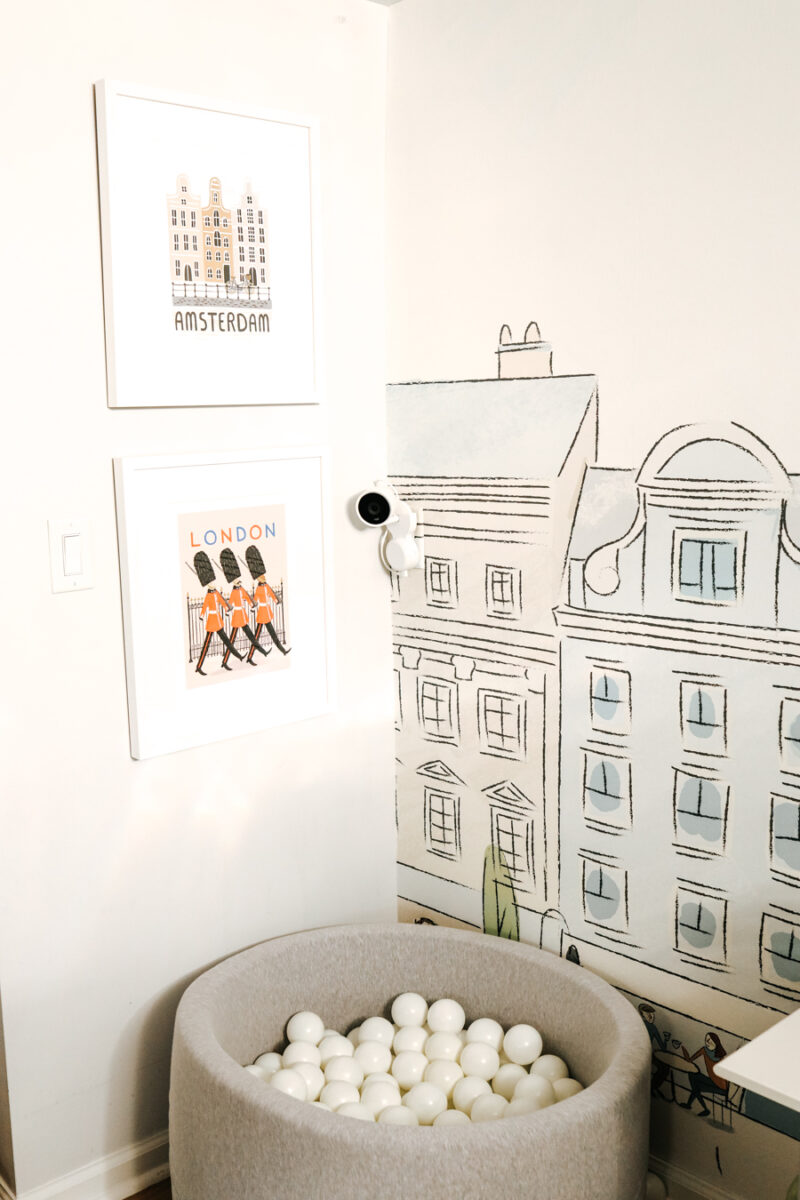 Playroom Wall Decor
Playroom Storage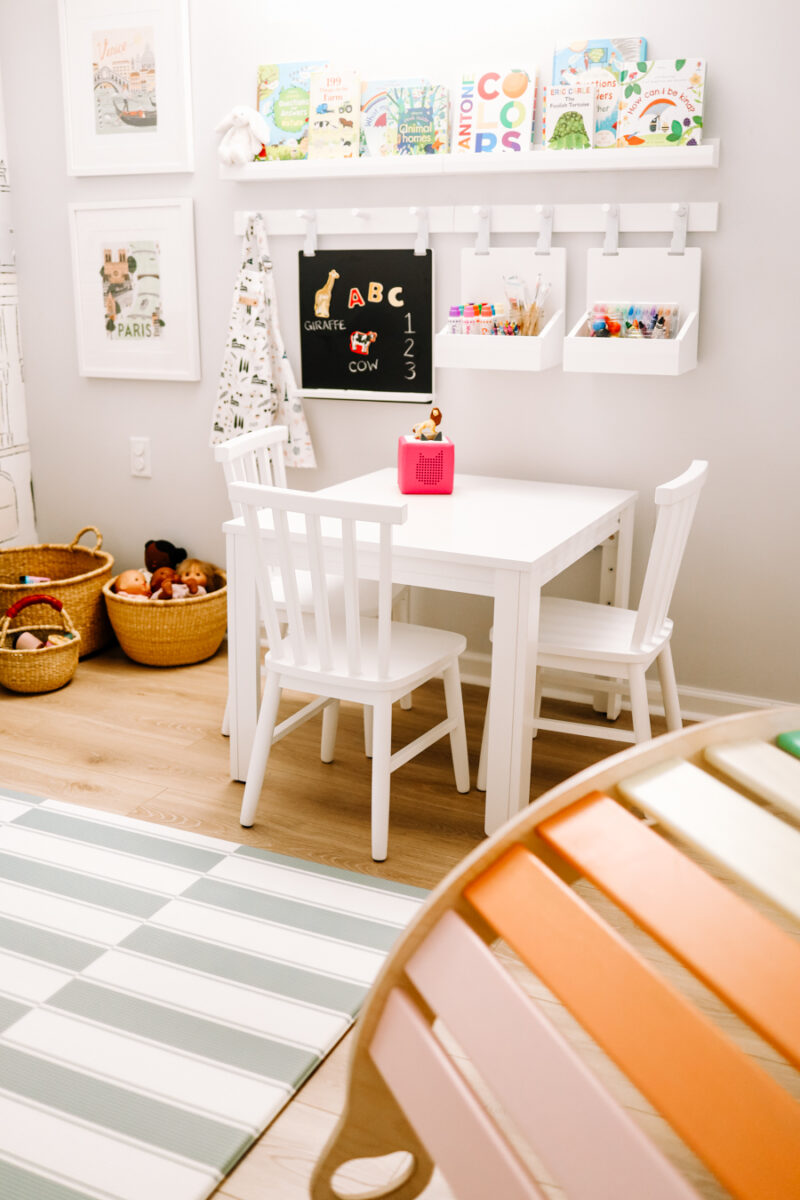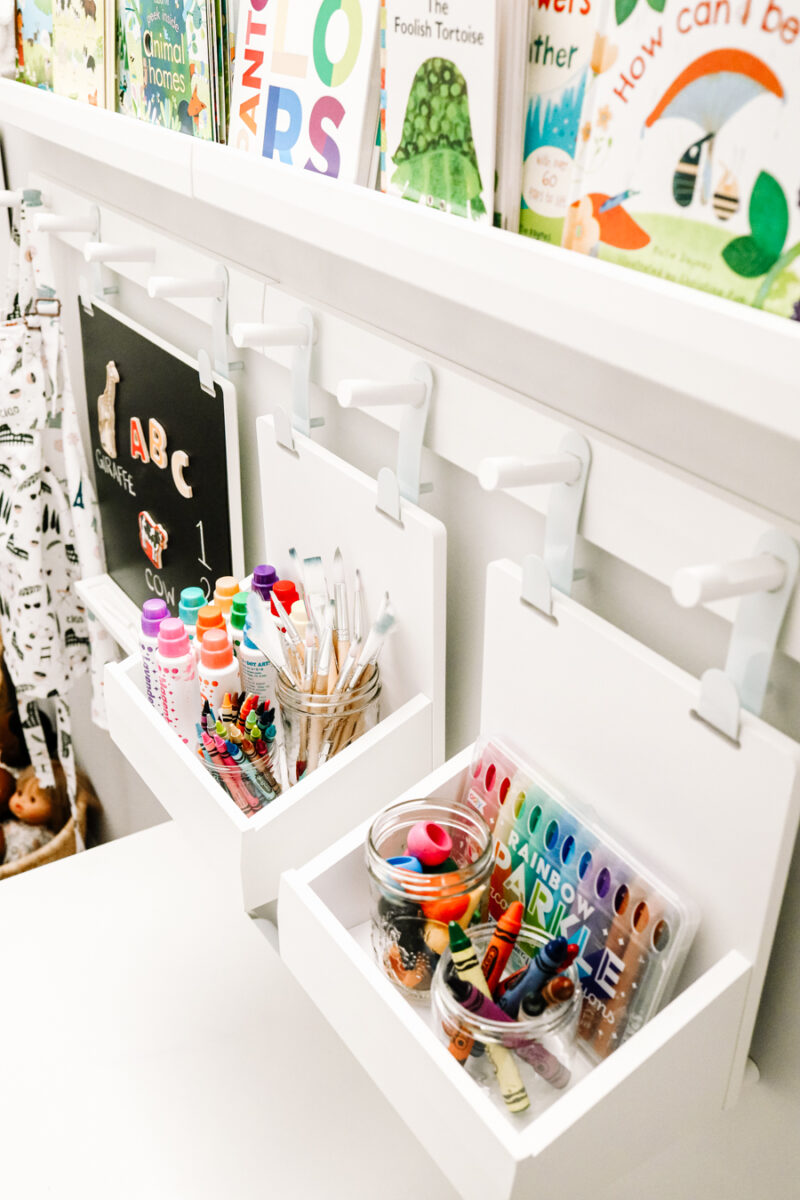 Playroom Furniture and Craft Organization
The craft area was a little dull, so I made the wall a lot more fun adding bins, pegs, and a bookshelf for the books we're reading that week. I ordered some seasonal/themed felt garlands that I'll switch out, too. Shop our favorite art supplies here.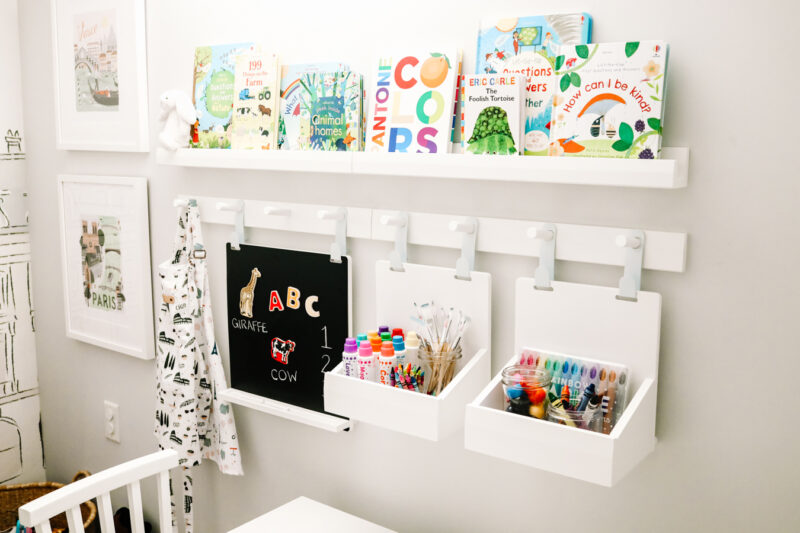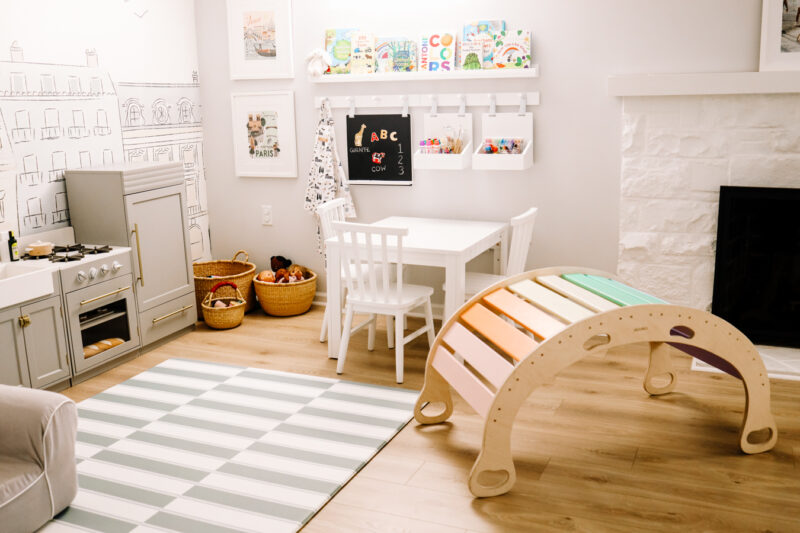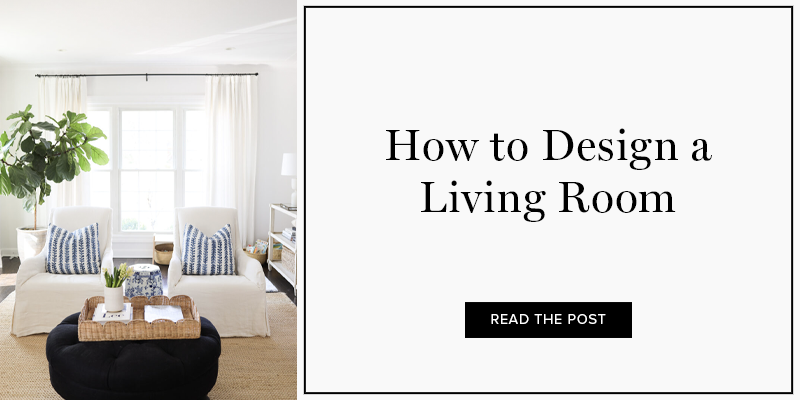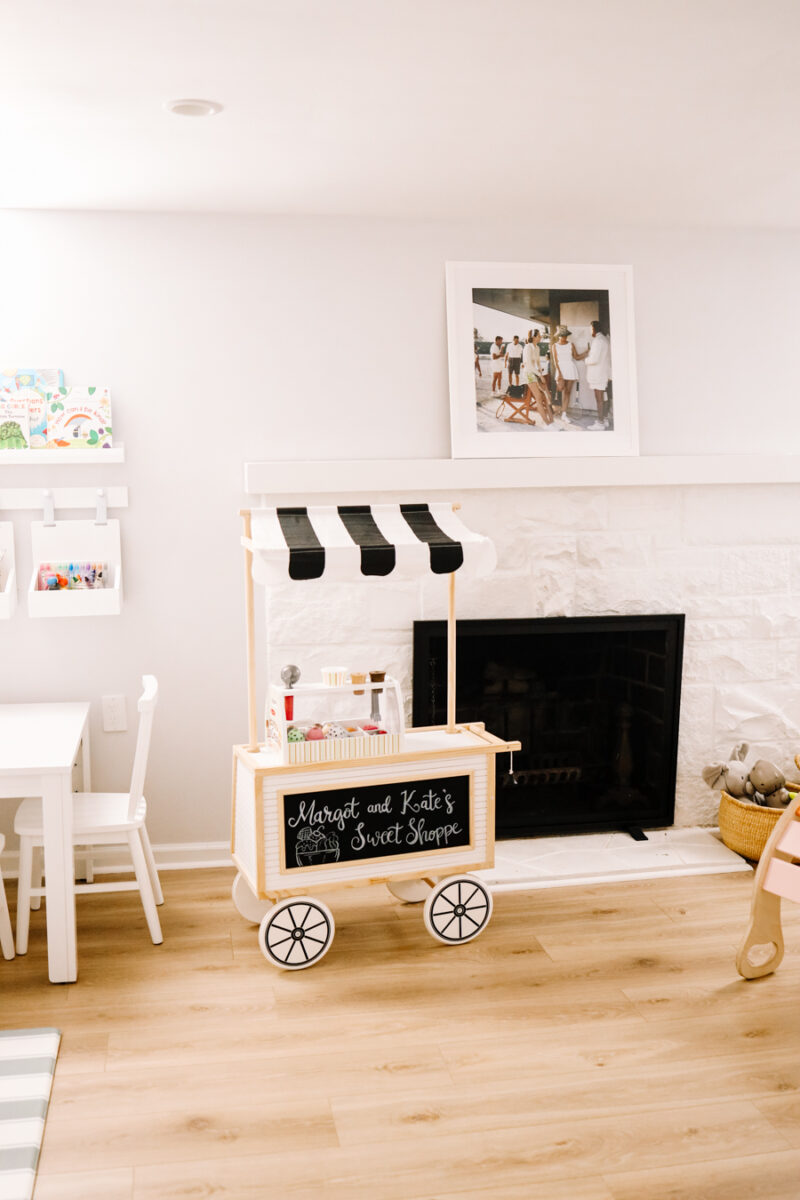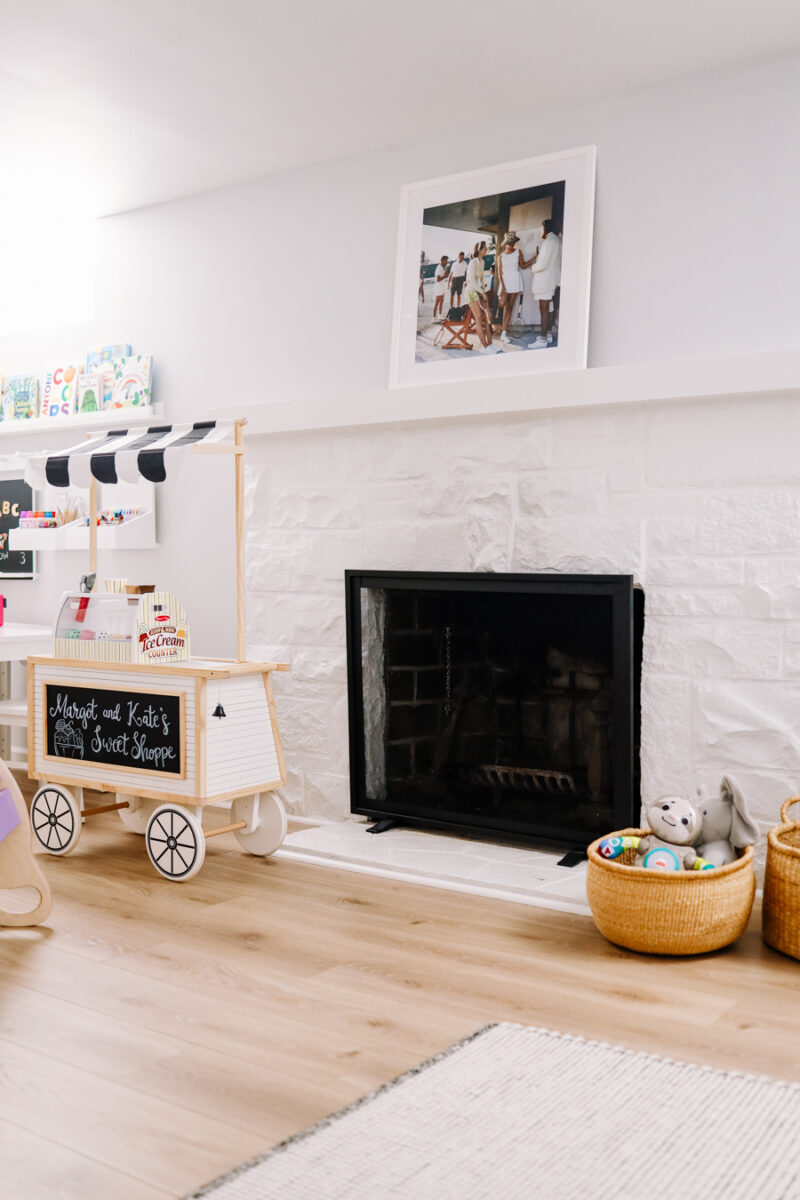 Playroom Market Carts
Our market cart is from Target and has since sold out, but I found a few similar ones. It's such a great little spot for holding Margot's play food and treats – we love it.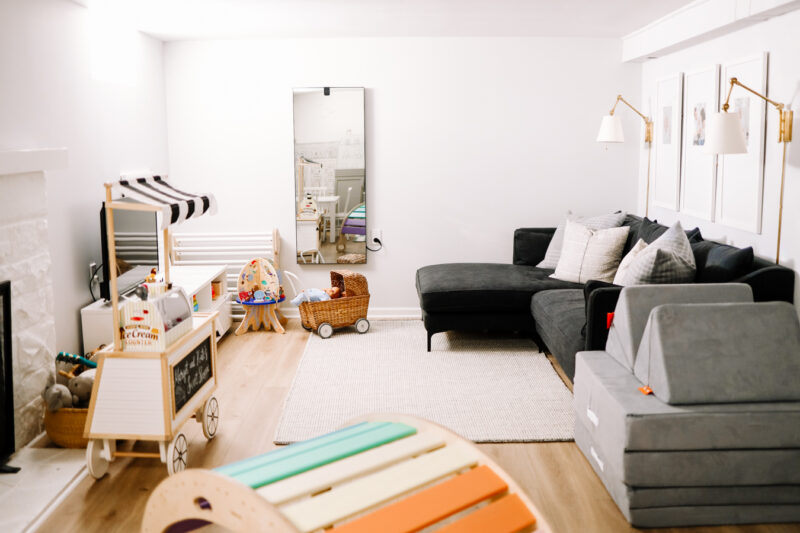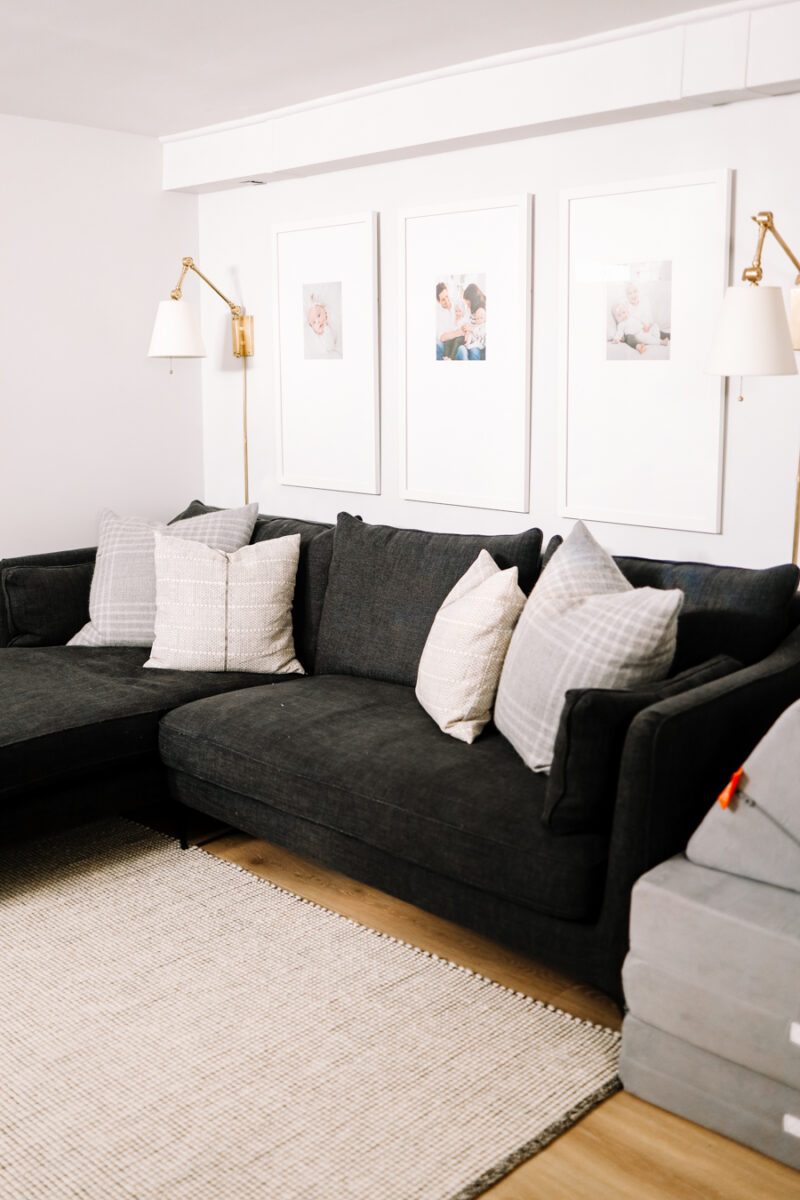 Playroom Rug