How to Style a Console Table Under a TV
When it comes to choosing pieces for my home, I'm all about form and function. I love when a piece of furniture offers me a chance to style a vignette and gives me the things I need, like a place to store toys. A console can be one of the most important and functional pieces in a room. In our case, this console is serving as a media stand, toy storage, and shelving for stacks of books and objects. Console tables can quickly become cluttered, but when done right can be one of the best pieces in your home. Today, I'm going to talk about how to style a console table for the living room, and share a few console tables I love.
How to Style a Console Table Under a TV
Styling a console table can also give your room a new look, and is a great opportunity to add personality to your home. When choosing a piece of furniture for below your TV, think about how you'll use it. We chose an open console and even though there aren't cabinet doors for storage, it's been perfect for us. We don't have any TV components since we have Hulu, Netflix, etc, so the cords go through the wall to an outlet below. If we did have components, they could easily be hidden in a basket below. Our baskets are used as toy storage, and I really like having favorite books and decorative objects on display.
If you have kids, please don't forget to have the table anchored to the wall. Our youngest tries to climb it all the time, and anchoring keeps her safe. See how we babyproofed our home.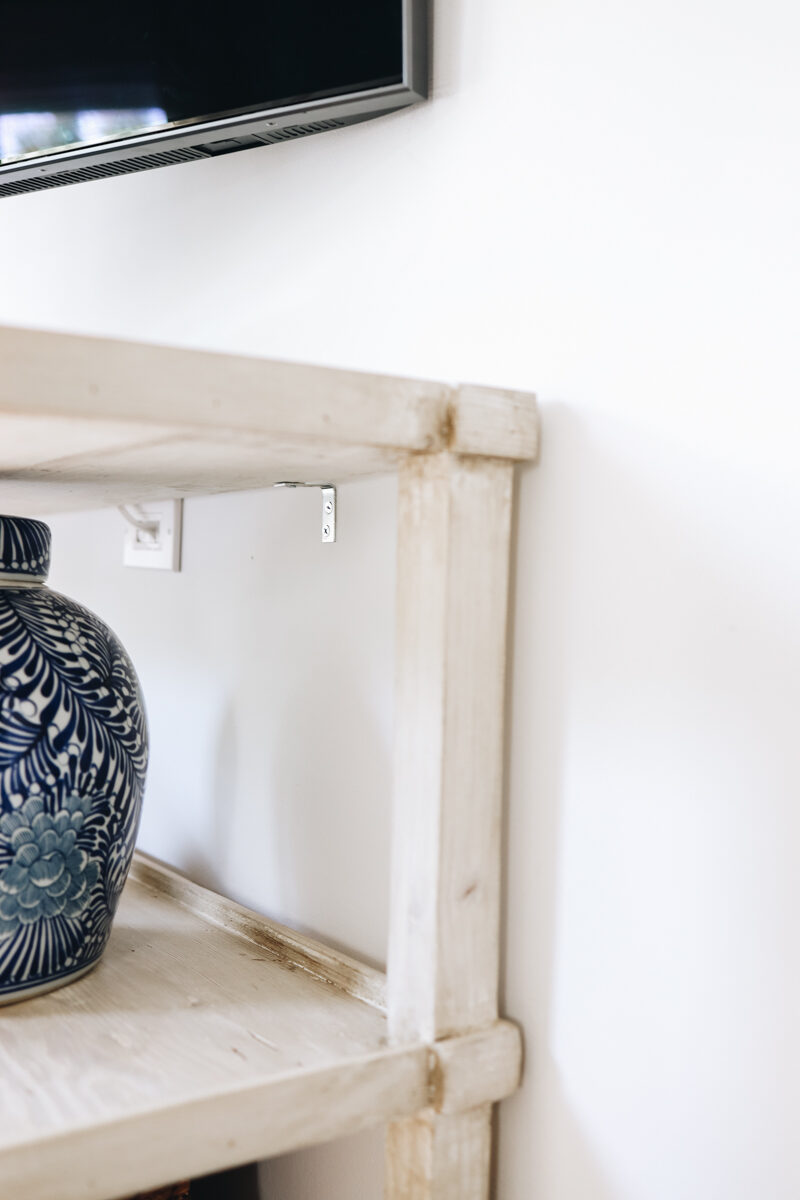 Looking for a Console Table TV Stand?
Pro tip: Choosing a console with a shelf below doubles your storage. Ours has two, although we could have added baskets to the floor below. But I love our console. Here are a few favorites.
Add a Focal Point to Your Console Table
I would normally suggest starting with a piece of art or mirror like I did here. Since our console is serving as a media stand (without holding any components), the focal point is the TV. The console ultimately serves as a distraction from the TV. It adds some warmth, decor, and storage below the television that I refused to hang above our mantel on the other side of the room. I really don't like TVs above fireplaces.
Add Lighting to Your Console Table
When it comes to decorating your console table, consider objects that vary in height. I prefer lamps to overhead lighting, so consider adding a lamp for both warmth and height. I brought in a ginger jar that's a bit smaller than the lamp, and the two pieces work so well together.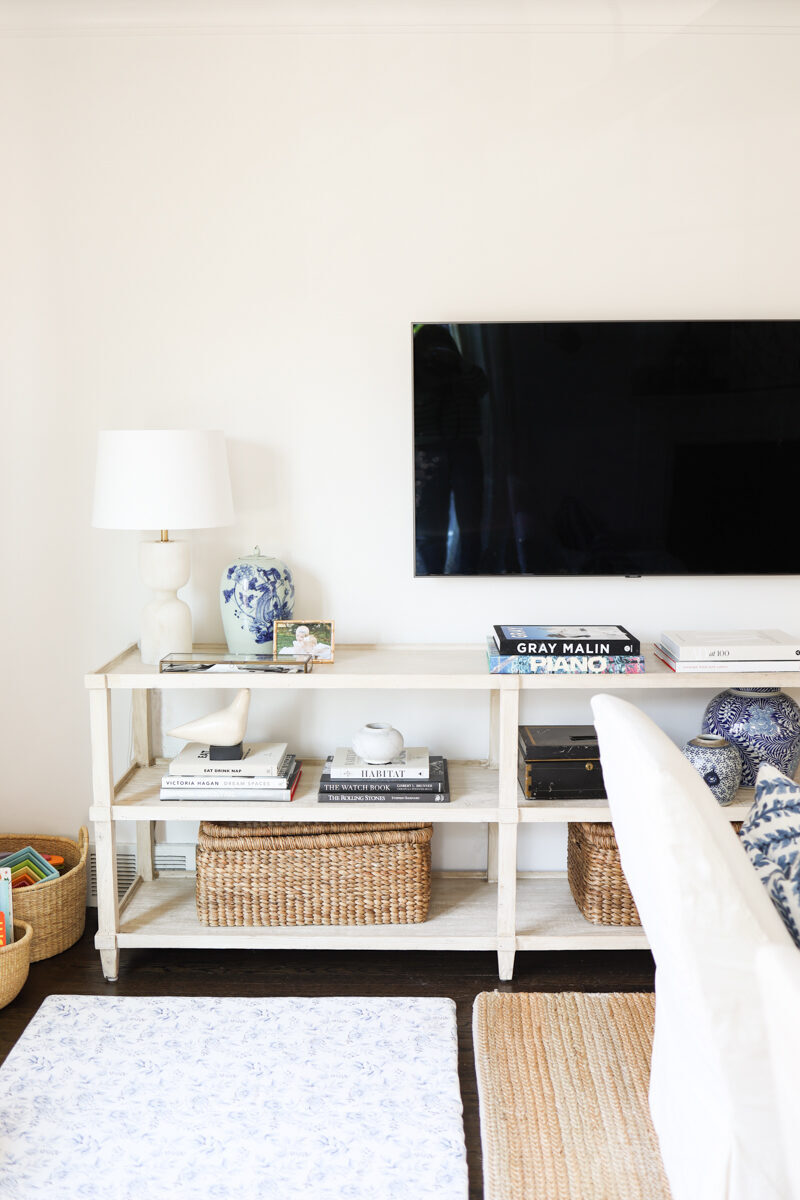 Stack Books, Boxes, and Other Objects
We brought in a small box for polaroids, stacks of books, a lamp, and ginger jar. Start with stacks of books, and go from there. Our old console had a piece of art leaned against it but ultimately, that piece ended up on our mantel. A vintage decorative box holds wood starters for our fireplace (form and function). See some of my favorite coffee table books here.
If ginger jars aren't your thing, consider a bust. Busts, bowls, trays, and other objects add interest, texture, and color. At one point, we leaned a larger piece of art. My youngest likes to try to climb the console, so candles are a no for now, but I'd normally add one.
Consider Console Table Storage
Some might argue that a console with doors that close would offer better storage and they're not wrong. But – an open console is the best of both worlds. It offers shelf styling and storage. Baskets will add texture and storage for blankets, or in our case, toys. Our lidded baskets were a great addition since they added more storage and interest to the piece.