Guest Room Ideas and Inspiration for a Welcoming Guest Room
After moving into our home last July, there were a lot of projects to focus on. The guest room is downstairs, right off the half-bath. We ended up having to add the guest room closet to the half-bath so there would be enough space for a standard size toilet, so …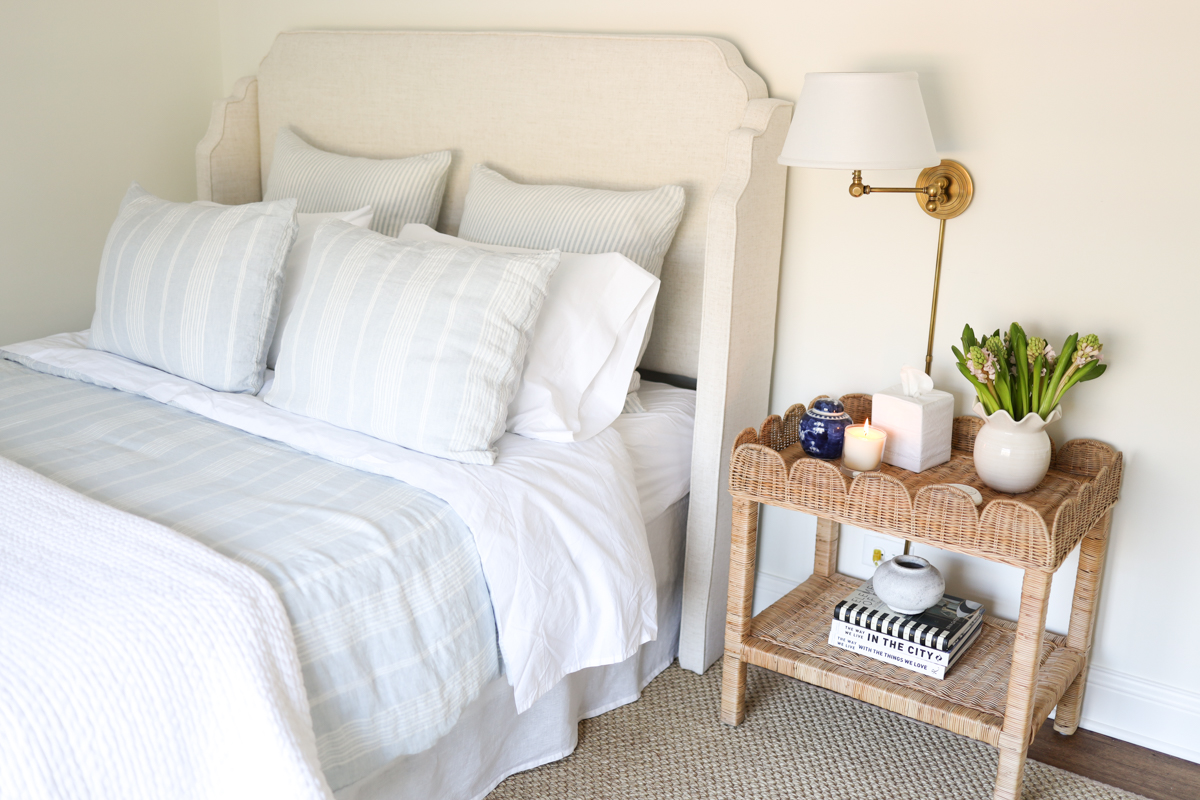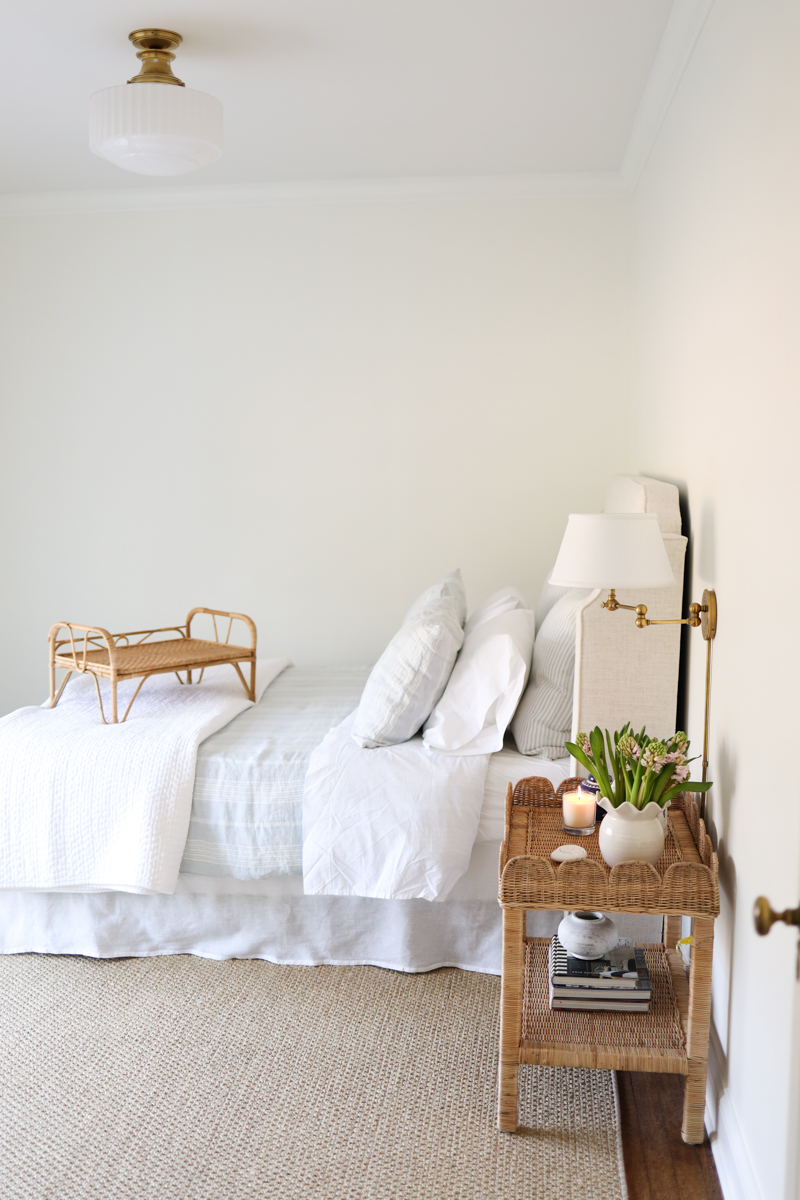 After moving into our home last July, there were a lot of projects to focus on. The guest room is downstairs, right off the half-bath. We ended up having to add the guest room closet to the half-bath so there would be enough space for a standard size toilet, so this room doesn't have any storage yet, but didn't lose any extra space. More on that later. We had a guest room upstairs, but it's going to our girls who will be sharing a room. So – we decided to make this small, downstairs space a guest room. I'm really happy with how this simple, airy space came together. It's small but feels light and cozy, so if you're looking for guest bedroom ideas, know that you can make any space feel warm and inviting.
Guest Room Ideas and Inspiration for a Welcoming Guest Room
This room was originally going to be my home office, but we have a sunroom that we are going to convert at some point in the next year. In the end, this makes more sense since there's more space in the sunroom. So back to the guest room. I love interior design and wanted this room to feel light and airy. Keeping things simple and not too cluttered is ideal in a small guest room. It's (mostly) done, but needs some sort of storage – a luggage rack and/or dresser. A small desk could be a great addition, too. I have a place for my sister to stay when she comes to visit, so we're set for now.
It isn't often that we have house guests, but one of my sisters comes to visit 1-2 times a year, and we've had friends visit. And you never know when someone will be sick or, with the new baby, might need a full night of sleep. This room is also a bit out of the way from our most commonly used spaces, so it functions as a quiet place when you might need to sneak away.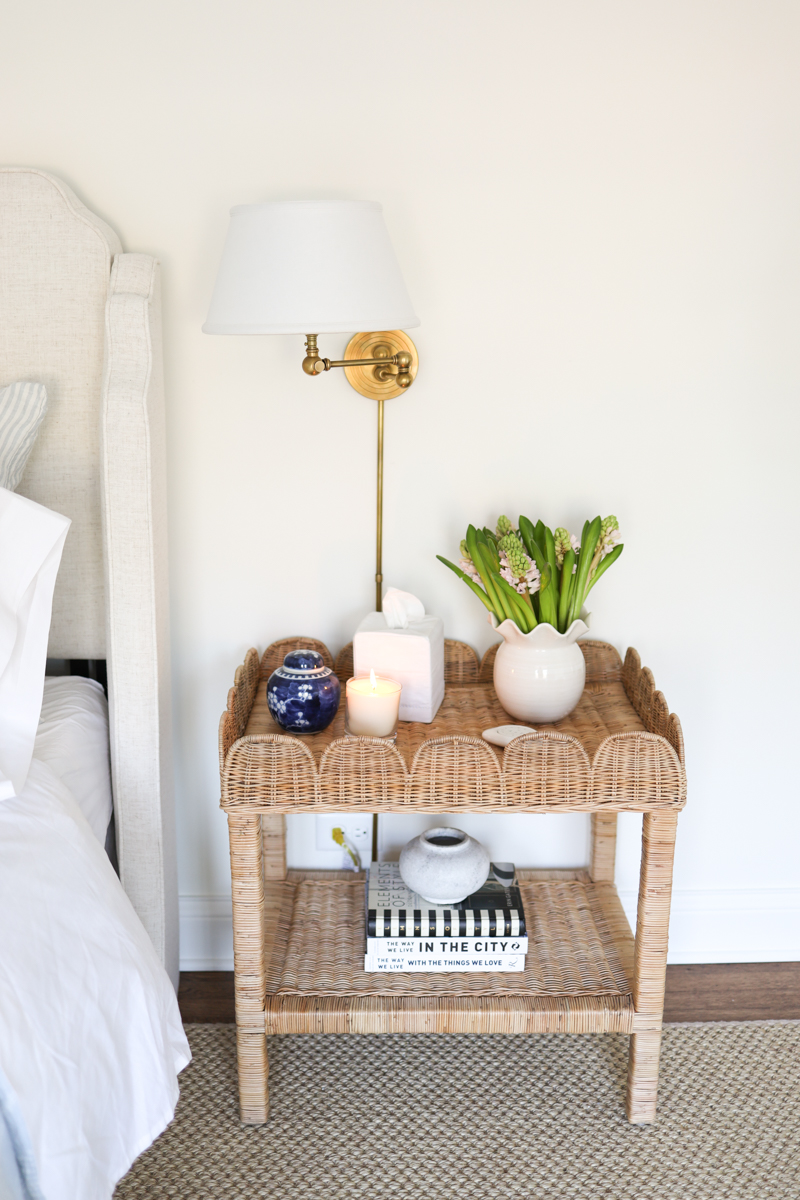 What to offer your guests
Since we're moving the kids around upstairs (our girls are about to share a room) we brought this small bedside table into the room, and it's perfect for thoughtful touches that might make someone feel at home. Fresh flowers, tissues, reading material, decor, and of course, a candle. I always like to pick up a current magazine or two. It's a place to put a cup of coffee, too. I like to have a basket of toiletries in the guest bath, or even in the guest room – just something else that makes your guest feel welcome. And don't forget the fresh bath linens (new, fresh towels!) and a hair dryer.
Entertainment
As I mentioned, books and magazines are always nice, but if you have guests that might stay a while, Smart TVs are a nice addition as well, but that didn't feel necessary for this space. Don't forget to have a little piece of paper with the wifi password!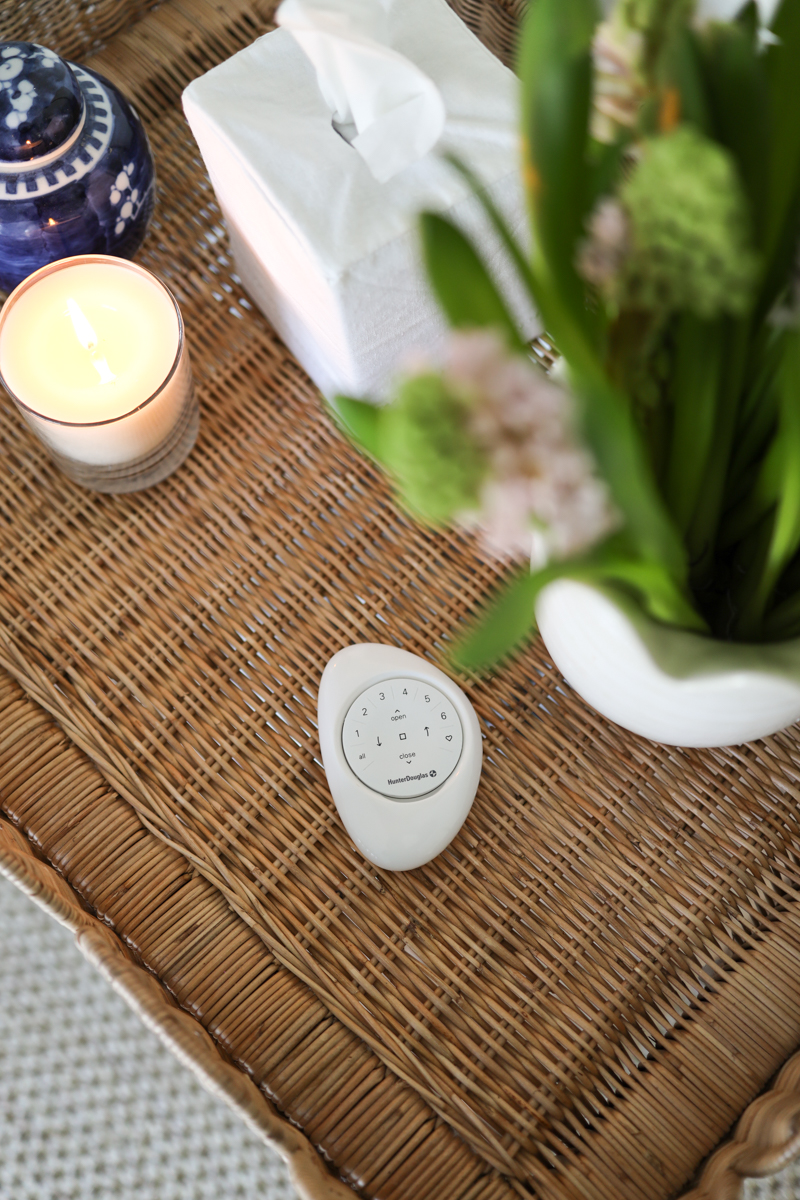 Woven Window Treatments
We had Hunter Douglas woven shades in our last home and I was so excited to partner with the brand on this home as well. These shades are the same ones we had in our sunroom, but with blackout, and the best addition: they are electric. I was on the fence about going with PowerView (remote control) shades, but Rachel from Beyond Shades (who I've loved working with!) raved about them. She told me that I'd never want to go back and I'm telling you – they are the best. I double tap the heart button and both shades open to my favorite height preference. They are especially convenient when a window is behind a larger piece of furniture or bed, or or in a room with a handful of shades, like our family room. PowerView saves time but more important, always looks perfect.
The remote control is simple and even chic. You can mount it to the wall, which I'll do in our family room, or leave it out. And some of the features I love are that you can open/close from your phone and, set timers to darken a room or to open shades when you know it's time to wake up. That's going to come in really handy when my kids are teenagers. I did choose blackout in the upstairs bedrooms but opted not to for this room since I love how the light shines through the larger window with the shades halfway down, and this was initially going to be my office. Unlined is gorgeous if you don't need room darkening, which is also lovely, but the way the sun hits is…chef's kiss.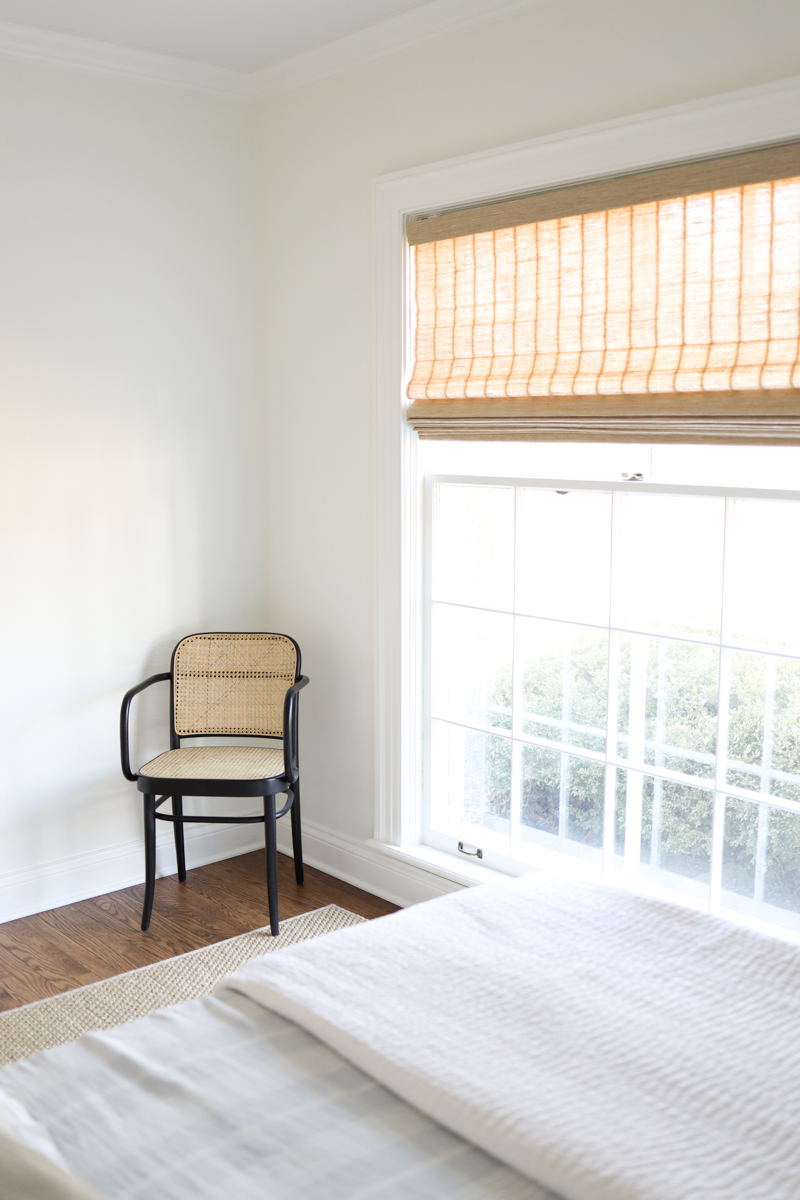 Choosing a guest room bed
I think queen beds are ideal if you have the space. There's more than enough space for one or two people – so I'd say a queen guest room is ideal.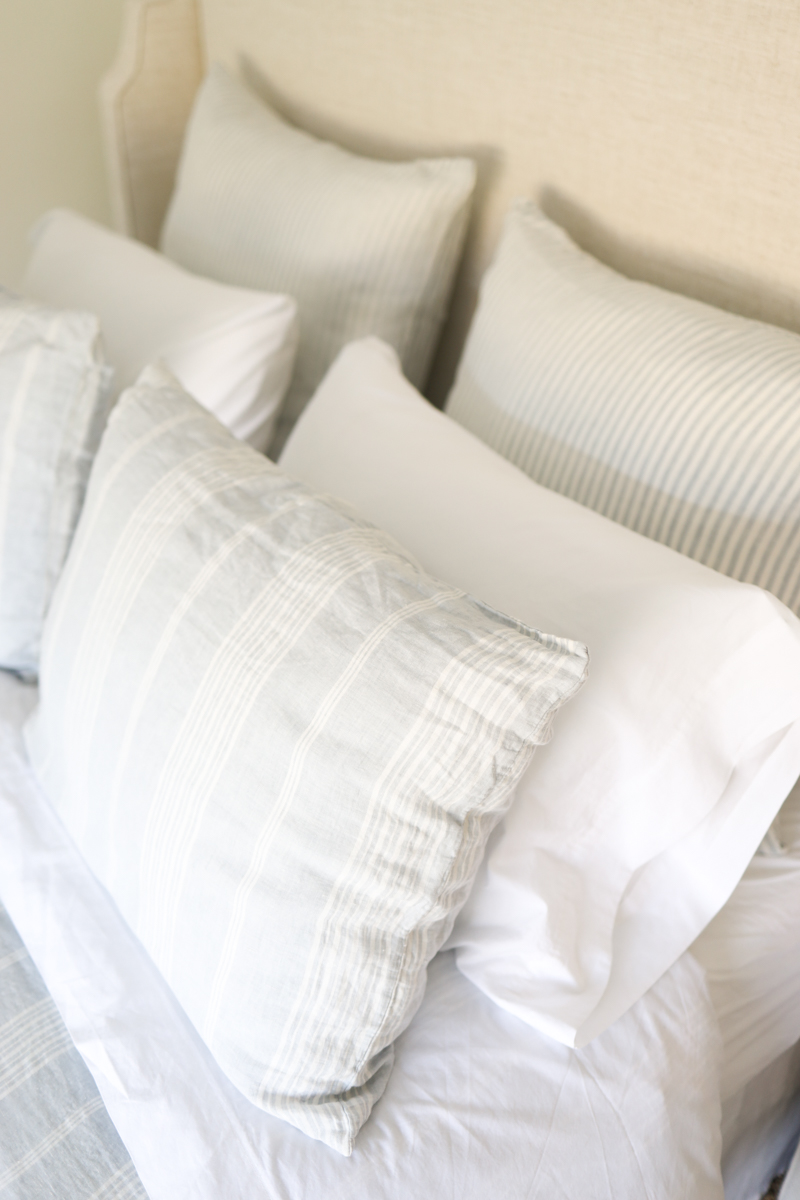 Making the guest room bed cozy and inviting
I added percale bedding (so crisp – my favorite), a striped linen duvet and shams, and a soft, cozy quilt to our guest bed. Extra blankets either in a basket or foot of the bed, are always nice to have. I always love a quilt or throw folded at the end of the bed – an extra layer of coziness. I love crisp, clean bedding – it's always a nice addition for overnight guests, and can make the space feel like a hotel room.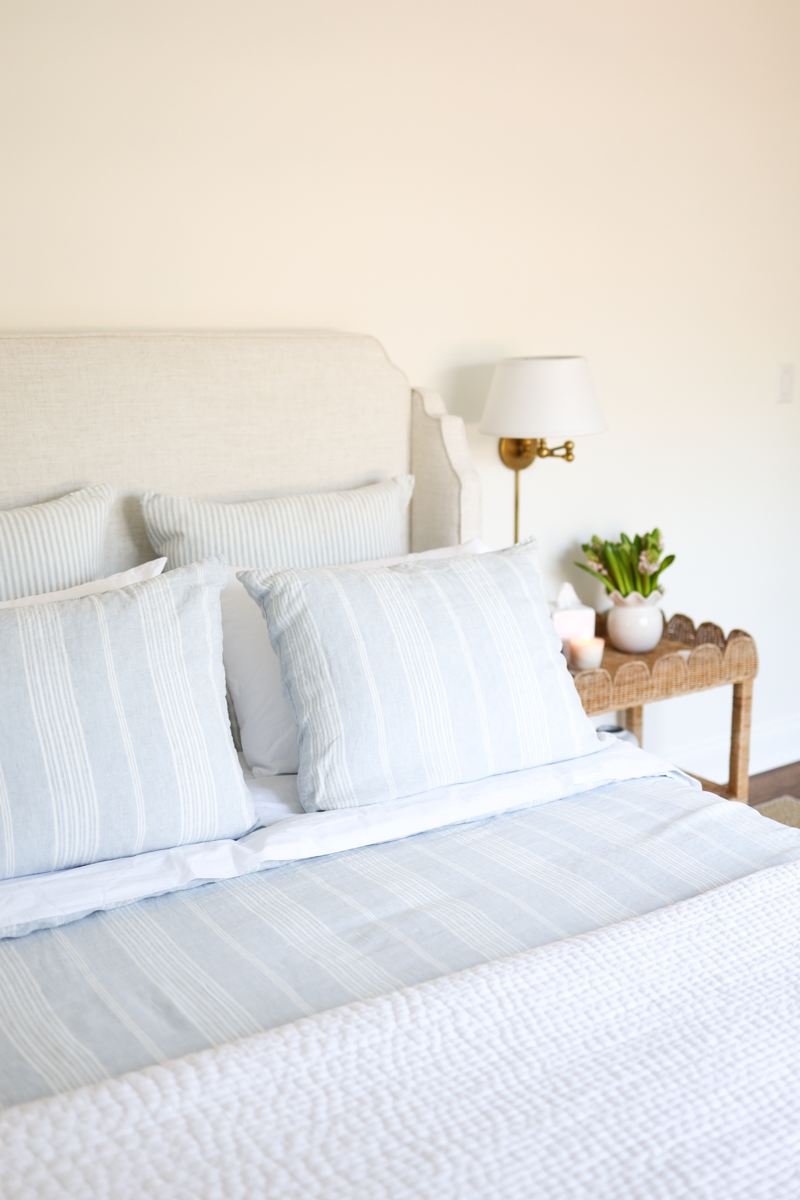 This post contains affiliate links. If you purchase something using my links, I may earn a small commission at no cost to you.