The Spring Wardrobe Staples To Have In Your Closet This Season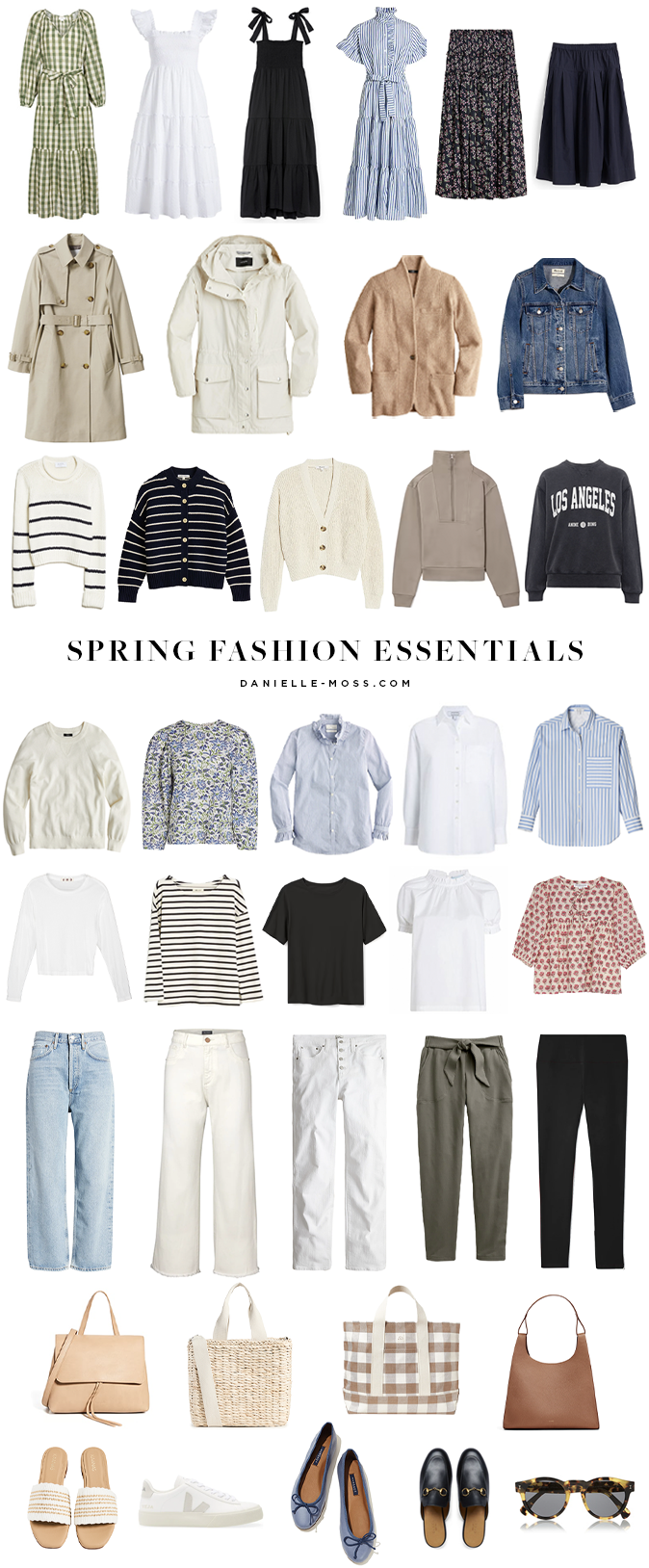 Jackets and Outerwear
With unpredictable temperatures and sometimes very heavy rain, a good jacket is a must. There are few things more timeless than a classic trench. I have one black and one camel, and a flowy trench, too. A good lightweight, waterproof jacket will take you far. Sweater blazers always make me feel more put together, and I love the cut of this one. And denim jackets are always great with dresses, leggings, and white jeans.
Sweaters
It's time to break out all those chunky sweaters and elevated sweatshirts. I've been on a cashmere loungewear kick and this sweatshirt from J. Crew is so chic. Invest in a good cardigan, something striped, one simple, and one statement sweatshirt. And don't forget about the half-zip. A trend that's made a big comeback, and one that I really love.
Shirts and tops
When it comes to tops, I tend to keep things a little simpler – oversized button downs, stripes, and I have this thing for white eyelet. I like tops that aren't too fitted, and are easier to wear. There's nothing more versatile than a button down – you can wear them with anything. Skip buttoning the last few buttons and tie a knot in the bottom to wear with jeans or a skirt. Invest in a few fun pieces you can dress up or down, and mix in some classic tees.
Jeans and pants
You know I love my AGOLDE Jeans, and this pair is perfect for spring. A friend recently introduced me to these, too. A pair of white denim is a must, and a wide leg jean, in white (my preference) or blue. My tie waist pants are the most elevated "lounge pants" – they feel like sweats but are so, so stylish. I just ordered them in two more colors. And you can't go wrong with leggings. Until recently, I only really wore my aligns, but these leggings are my new go-to. I've been living in them.
Bags and Accessories
From woven bags and totes to sunglasses and slides – these are the pieces that will make your outfit come together. If you don't have a woven bag or tote, I recommend getting one. They're great for spring but feel like summer – there's something so uplifting about a woven bag after a long, cold winter. I often end up carrying a big tote when I'm out with the girls since it's easier to carry some of their stuff with me. Get something simple/classic or something a bit more fun.
This post contains affiliate links. If you purchase something using my links, I may earn a commission at no cost to you.
Shop the post