Women's Loungewear That Is Stylish and Cozy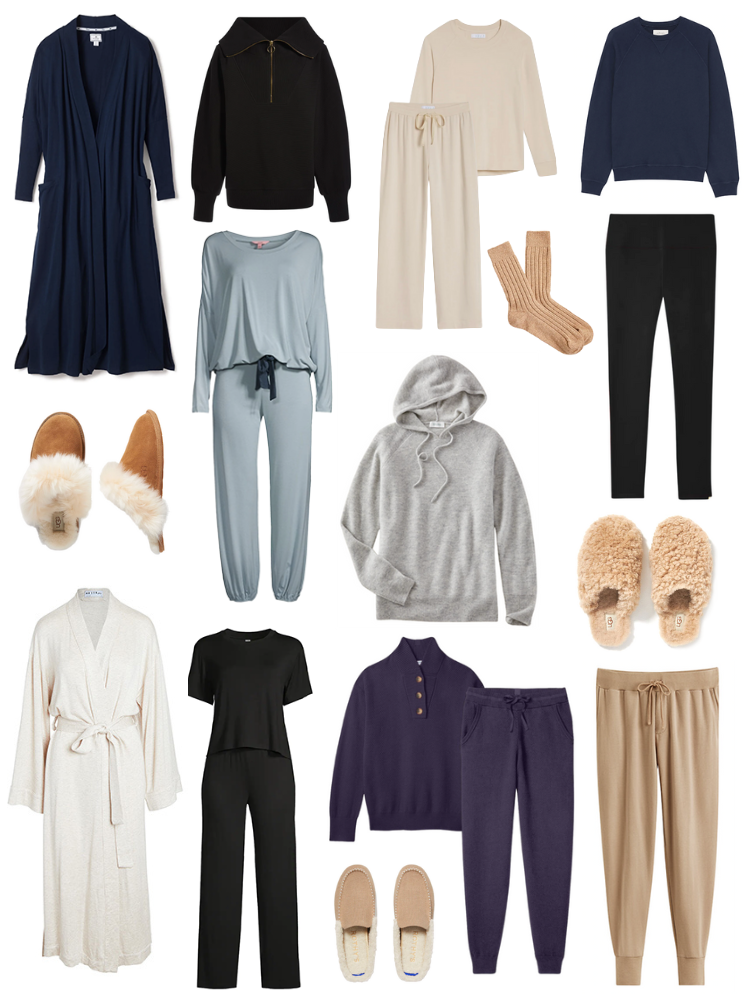 I love a cozy loungewear set as much as the next girl. During winter months, I turn to my loungewear collection whenever I'm home or on the go. From cozy sweatshirts to lounge dresses, and don't get me started on the perfect, matching set – I love anything I can cozy up in when I'm home. Which, when it's freezing outside, is almost all the time. Anything without elastic waistbands is just not fun when you're home – I love cozy sweatpants and leggings. And I especially love women's sleepwear that's cute enough to lounge around the house in. So here's some of my favorite women's loungewear that is both stylish and cozy.
Women's Loungewear That Is Stylish and Cozy
If you're looking to up your women's loungewear game, you've come to the right place. Over the past year, I've expanded my collection, and usually like to invest in a few new pieces when it gets cold. I've rounded up the best women's loungewear for yourself, or if you're looking for a gift for someone else.
Sweatshirt: I love this cotton blend sweatshirt. The side zippers make it a great option for maternity, too. Wear this with leggings or joggers for a cozy look that's lounge-worthy but still stylish.
Relax Set: This set is a closet staple – it's the best women's sleepwear and loungewear and one of my most-worn loungewear sets. I love the relaxed fit. It is the ultimate luxury loungewear – the soft fabric is especially cozy. It is truly the perfect loungewear, and I love it so much that I have it in 2 colors. Bonus: I am 20 weeks pregnant and love how it fits.
Pima Duster: We love Petite Plume in our house. The pajamas and robes are so soft and easy to wear, and the pima collection is made of the softest fabric. I've gotten really into nightgowns and love this one. It's cozy but will have you feeling put-together, and works well for maternity, too.
Gisele Slouchy Set: I love this scoop neck set – the waist band really expands since there's a tie, so it's great for maternity. It's one of my favorite long sleeve tops, and is made of the coziest fabric.
Rothy's Slippers: Find the ultimate cozy comfort with these backless slippers. They come in a handful of colors, but I love the tan. They're knit with a blend of premium merino wool and Rothy's signature thread. This easy-on, easy-off mule features a soft sherpa lining and sturdy outsoles suitable for indoor and outdoor wear. And bonus: this eco-friendly, sustainable brand made these slippers out of 4 plastic bottles (& RWS-certified wool).
My favorite kimono robe: This robe is heaven – I love it so much that I have it in black and grey, and am actually wearing the black one as I work on this post. It comes various colors and prints, and makes such a good gift. It's so light yet still warm (but not too hot) and is made from the coziest fabric.
This post contains affiliate links. If you purchase something using my links, I may earn a small commission at no cost to you.