The 12 Best Skincare Products For Dry (and Aging) Skin
I've never focused on "anti-aging" products and don't plan on starting now. News flash: your skin is aging. Getting older is not a bad thing! What if, instead of trying to stop our skin from aging, we focused on taking care of it. I started prioritizing skincare and hydration in …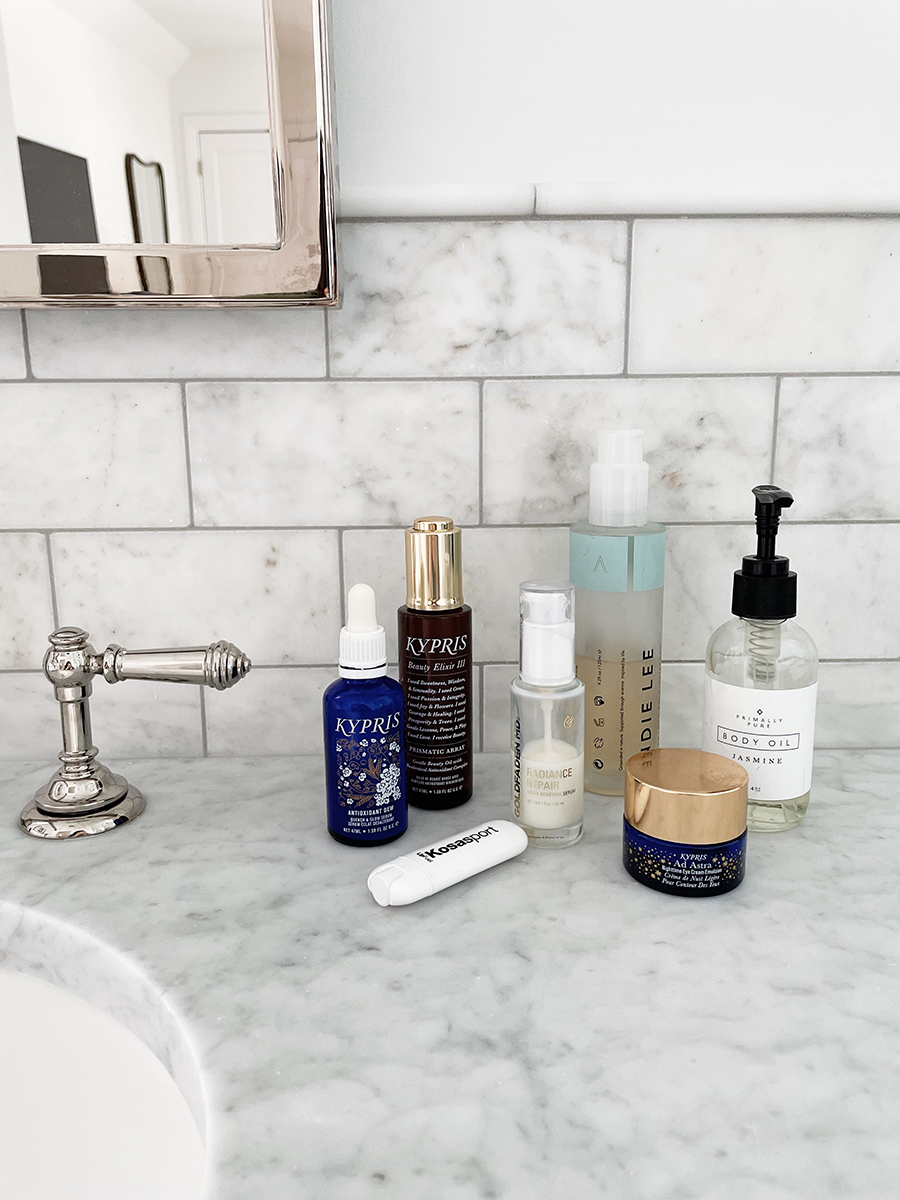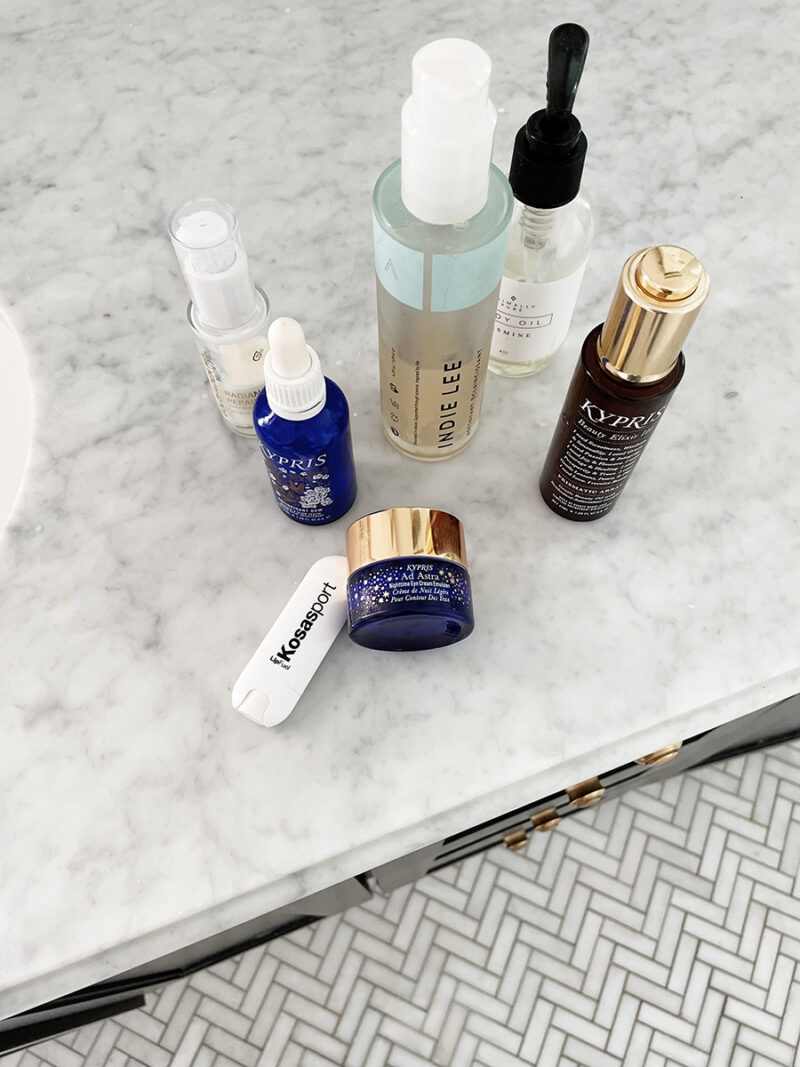 I've never focused on "anti-aging" products and don't plan on starting now. News flash: your skin is aging. Getting older is not a bad thing! What if, instead of trying to stop our skin from aging, we focused on taking care of it. I started prioritizing skincare and hydration in my early 20s. Use great products, eat healthy food, and drink tons of water. When I made the switch to clean beauty over two years ago, I wasn't sure that I'd find products that compared to what I had been using, but it turns out, it's all so much better. My skin looks better at 39 than it did before I started using "clean" beauty products. I've found these products to be more hydrating and sensitive to my dry and sensitive skin. Here are the 12 best skincare products for dry and aging skin.
The 12 Best Skincare Products For Dry (and Aging) Skin
During, I would always experience excessive flakiness, irritation, and extreme dryness. But with the right products, you can and will notice a huge difference. And good product will keep your skin in better shape (there's that anti-aging component). When I was in my early 30s, I met makeup artist Bobbi Brown for tea and she complemented my skin (true story). I attribute that to staying on top of hydration, and limiting sun exposure. Things have obviously changed a little bit since then (I'm like, almost a decade older and the last two years probably aged all of us 10 years), but I've still always prioritized caring for my skin.
These products will help your skin look its best year-round, and will keep it hydrated all winter, too.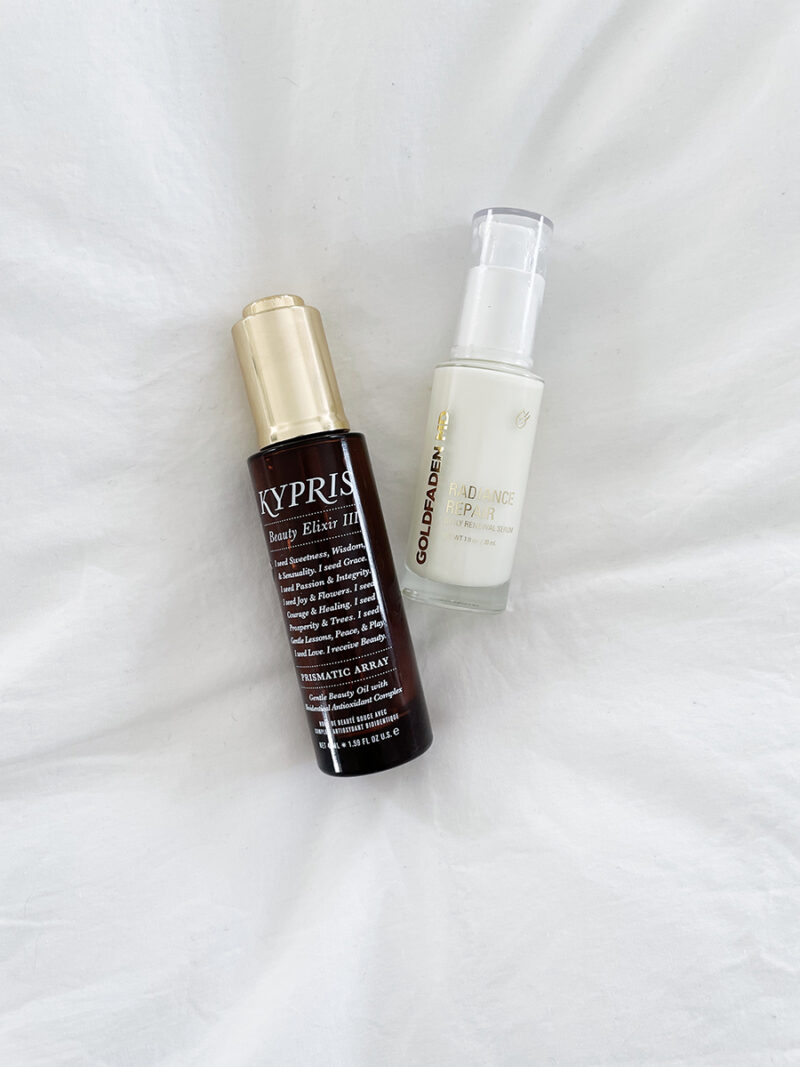 Beauty Elixir III: Prismatic Array Moisturizing Face Oil
If I could only use one skincare product, this would be it. I've raved about this product again and again, and have used it religiously, twice a day, since the end of 2020. According to the brand: Beauty Elixir III: Prismatic Array is a gentle, multi active beauty oil created with certified, bio-identical CoQ10, Vitamin C Ester, & a rainbow of sustain­ably sourced botanicals with a neutral scent blended to dimin­ish the appearance of UV over-exposure and dryness for a luminous, petal-soft complexion. I have experienced hydration and softness, and an evenness to my skin-tone that I'm not sure I've ever had. I use 4-5 drops twice a day and it's the greatest skincare product I've ever tried. The oil leaves your skin feeling hydrated, but never greasy.
Antioxidant Dew Quench & Glow Facial Serum
I use this along with the Prismatic Array oil at night – it is basically my moisturizer, but I opt for oils and serums because our bodies produce oil and do not produce lotion. Hydrating with lotions and thick creams doesn't make as much sense to me. According to the brand: Antioxidant Dew lavishes skin with quenching encapsulated antioxidants, nurturing amino acids, and an array of soothing botanicals. Use as a lightweight hydrator or as a layering piece in your skin care wardrobe. For best results, use in combination with your favorite KYPRIS Beauty Elixir.
Ad Astra Nighttime Eye Cream Emulsion
This is a newer find that I've only been using for a few months, but I've noticed a reduction in puffiness around my eyes. According to the brand: This luscious emulsion of botanicals and peptides gently infuses the eye area with generous moisture and a smoothed appearance complementing your nightly rest. This works well, too, and is a bit more budget-friendly.
Radiance Repair Serum
I alternate. this with my antioxidant dew, but typically use it in the morning. It leaves my skin feeling smooth and hydrated. I am not an expert on the technicalities, but know that once I added this (like my eye cream, it's a newer addition) I noticed how good it felt when I put it on. It's so hydrating. According to Credo: Goldfacen M.D. Radiance Repair Serum helps protect skin against photoaging and free radical damage, while helping hydrate and brighten the appearance of skin. This serum is packed with fortifying and firming ingredients including sunflower seed oil, meadowfoam seed oil, plant stem cells and baobab oil. This advanced serum features a unique reverse emulsion technology to ensure skin absorbs nutrients needed to help strengthen the skins natural lipid barrier.
Face Wash
I've been using this for years. It's a cleanser, makeup remover, and mask, too. According to Sephora, this face wash is rich in potent antioxidants and plant extracts to cleanse, protect, and enhance the skin. I love how it feels, and leaves my face feeling clean and refreshed.
Lemongrass Body Oil
This is something I touched on earlier, but bodies do a much better job of healing, hydrating, and actually retaining moisture. This oil contains: Fractionated Coconut Oil, Sunflower Oil*, Kukui Nut Oil, Sweet Almond Oil*, Argan Oil*, Tamanu Oil*, Lemongrass Essential Oil* – these ingredients are good for your body. It is restorative, reparative, and so good for you. Worried about feeling greasy? That has not been an issue with this oil. I've been using Primally Pure's oil and deodorant for years and years – they absolutely wonderful. I love this body oil, too.
Body Polish
Skincare isn't just for your face. Making sure your whole body stays hydrated is key. I like to exfoliate when I shower (as needed), stripping away the dead, dry skin, and love how my skin feels afterward. If you like coconut, you'll love this exfoliating body polish. This uses coconut oil, which happens to be one of the most hydrating ingredients out there, and the exfoliant is gentle but does the trick. Not a fan of coconut? Try the rose.
Lip Balm
I have a bit of a lip balm addiction. As someone with chronically chapped lips, lip hydration is key. Kosas lip balm is so hydrating, and the best part? It comes in a few tints. I have the sheer, warm beige, and warm tan, and use them all regularly. I love this one, too.
Lip Mask
This isn't a must-have, but if you have dry lips and balms aren't cutting it, it's pretty amazing.
Hand Cream
My hands always feel dry during winter, and oil does help, but sometimes, you need a little hand cream. It's one of those things you should always have in your bag, and like my other beauty products, I prefer something clean since I'm often around my kids, and toddlers try to sneak everything (even our hands) into their mouths. According to Credo: The non-greasy formula contains organic shea butter which is naturally rich in vitamins A, E and F, and organic avocado oil, rich in fatty acids to help nourish skin.
Self Reflect Sunscreen Broad Spectrum SPF 32
I'm pretty sure we all know about sun damage, and once again, I attribute religious SPF on my face (daily) since my early 20s to avoiding major sun damage.
Wake Up Call Overnight Facial Treatment
Not an expert, but I like how this one feels, and my skin always feels refreshed in the morning. According to the actual experts at credo, this treatment contains CoQ10, DMAE, Alpha Lipoic Acid, Retinol, and Organic Red Tea which may help reduce the appearance of fine lines, while nourishing and restorative vitamin E, Avocado and Grapeseed Oils may deliver intense hydration and long-lasting skin soothing benefits.
*Bonus* Beauty Products for dry and aging skin
This post contains affiliate links. If you purchase something using my links, I may earn a commission at no cost to you.