The Best Ikea Finds That Look Expensive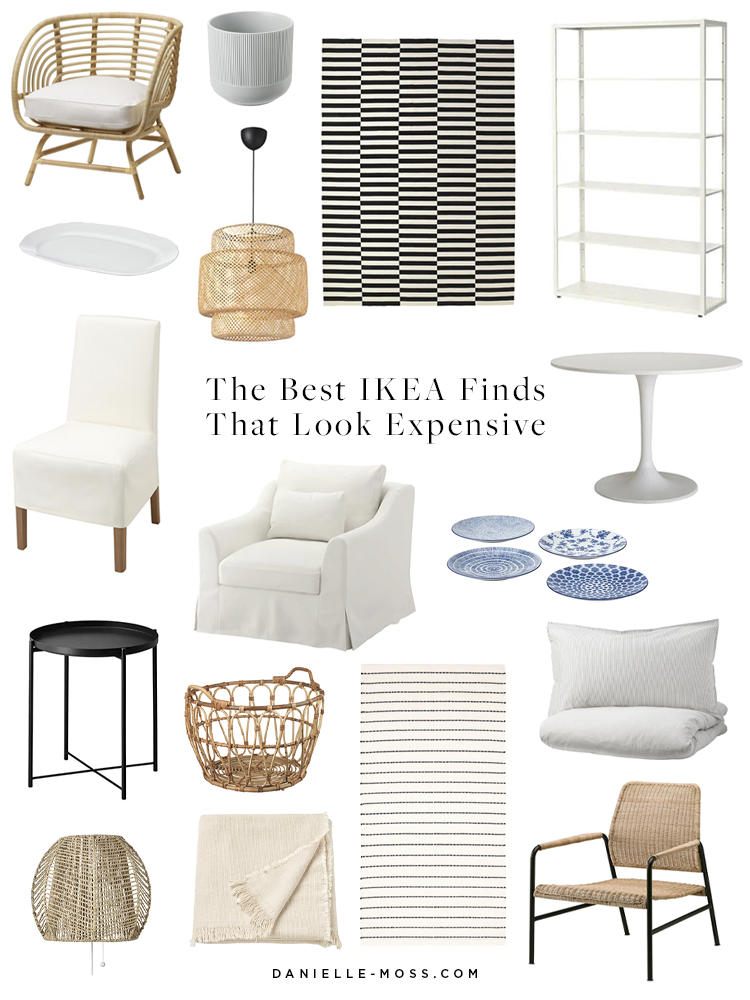 IKEA is the ultimate resource for budget-friendly home decor, furniture and storage solutions, but navigating that giant maze of a superstore can be overwhelming. The Scandinavian retailer is filled with affordable decor, storage solutions, furniture, and even kitchen cabinets – there's almost too much to choose from. And some of it isn't so great, either, so how are you supposed to know what to go for? In an effort to make the shopping experience a little easier, I've rounded up the best IKEA finds that look expensive (but aren't). I've relied on pieces from the brand to fill my apartments. If you're decorating a small space or studio apartment, IKEA is a great resource, but these affordable pieces work in any home. And so it's clear, this post is not sponsored by IKEA and I did not use affiliate links.
The Best Ikea Finds That Look Expensive
If you're not up for a visit and want to avoid the overwhelm, many of IKEA's products are available online, and for curbside pickup. If you are going to make a trip to IKEA, go with a plan, and try to avoid purchasing every little basket and organizer you come across. Some of them seem to good to pass up, but it all adds up.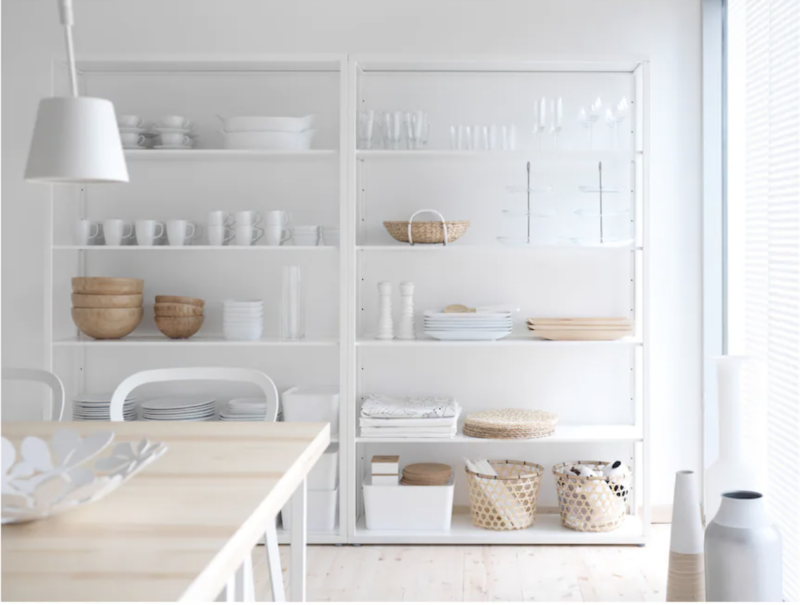 The best IKEA Furniture That Looks Expensive
This is probably where pieces are most hit or miss. Some are just not good, others are fine, and then there are the wow-factor pieces that you can't believe cost anywhere from $20 to a few hundred dollars. I really appreciate the clean lines of so many IKEA pieces – that they're simple enough to put together (I once built a dresser on my own – took a while but I did it!) and they're just so affordable. The simple, Scandinavian design speaks to me, and works in a variety of styles. And many of the wood pieces can be hacked to look like they're really expensive, custom pieces. I left those out since I want to share pieces you can buy as they are – so here are my favorites.
The Best IKEA Chairs
Your first time at IKEA will overwhelm you, and even if you know what to look for, it's a giant maze and you're sure to get lost. The perk of everything at IKEA is that there's always an affordable price, and if you're decorating a small apartment or large living space, there's always something at IKEA. I'm sharing some of my favorite IKEA items from the Swedish superstore.
Rattan Chair:
Made of hand-woven rattan, the texture looks beautiful and is comfortable to sit in. A great way to invite nature into your home. It's the perfect size for small spaces and the low price can't be beat.
Armchair:
I love the lines of this chair – it looks expensive but comes in at under $400. The cover is easy to keep clean since it is removable and can be machine washed. If you're looking for a sofa, the Ektorp sofa is one of IKEA's more popular options.
Rattan Chair:
Another rattan find that has that comfortable and inviting yet modern feel.
Slipcovered Dining Chair:
A traditional design that's comfortable and easy to keep clean.
Outdoor Lounge Chair:
Generous seats, fluffy cushions, and mesh fabric make this modern seat especially comfortable.
Pedestal Table:
This is a budget-friendly take on the classic tulip table.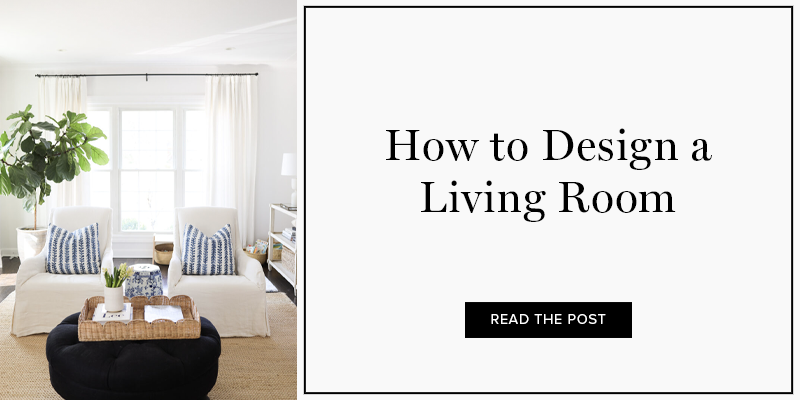 Side Table:
Light and easy to move around with removable tray top. And it's under $20.
Oversized Desk/Dining Table:
The clean lines of this table make it the perfect dining table or desk. This versatile piece would look great in a kitchen or home office. It's one of IKEA's most popular products for a reason.
Nesting Tables:
I love these little guys that, when nested together, are the perfect spot for your remote controls.
Shelf:
I bought two of these for my old office. And this is, in my opinion, one of the best pieces of budget-friendly furniture at IKEA. It's versatile, functional, chic, and the modern design works with any aesthetic. Drawers can be added for items you don't want on display. It's a good option if you need extra storage space and is (in my opinion) one of the best items at IKEA. Fill the shelves with storage bins – it would be great for kitchen utensils or office supplies.
Tower Shelf:
I had this in the office of one of my old apartments. Tempered glass and metal are durable materials that provide a modern and airy feel. This shelf comes in two different colors (white and black) and is a great place to hold smaller items.
Bookcase With Glass Doors:
This piece was designed in the 70s and is renewable, recyclable, and durable. A glass door can help keep dust out and the clean design is beautiful.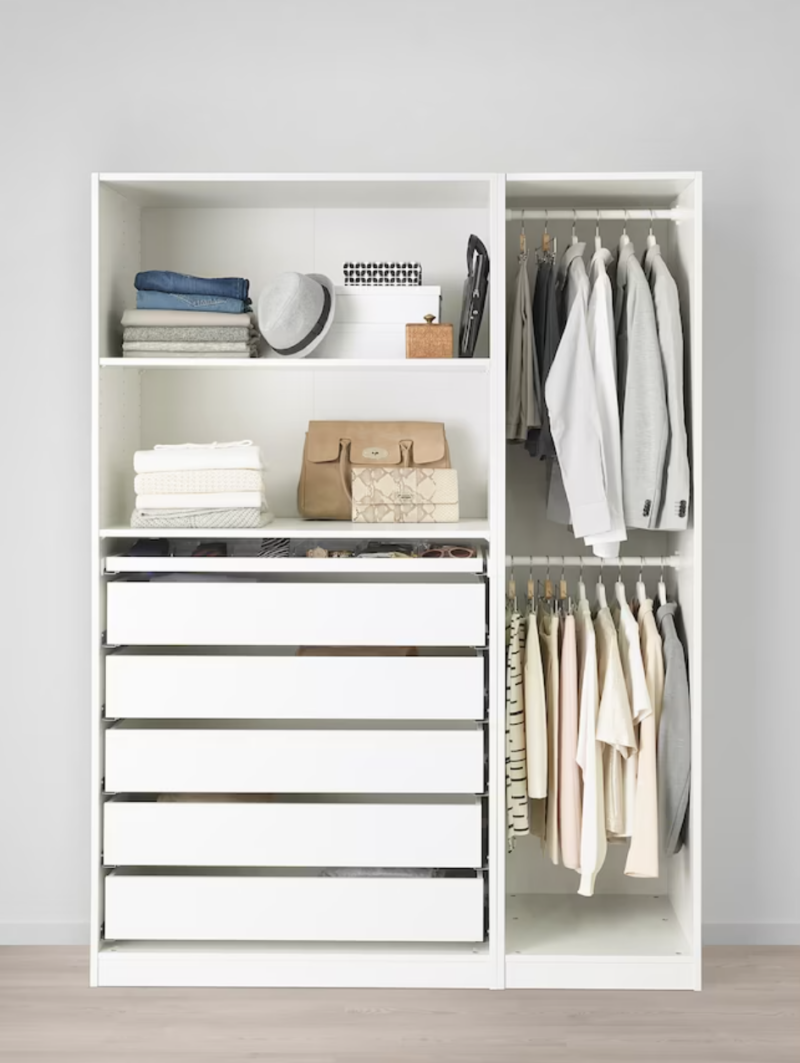 The Best Ikea Products That Look Expensive
IKEA Storage Solutions
IKEA is one of my favorite places when it comes to storage solutions and home organization. I wrote posts on my favorite IKEA finds for an organized home, and another on IKEA's best organization essentials.
Clothing Rack:
A super-affordable piece that's great on display or for extra storage in a closet or basement.
Wardrobe:
I love this wardrobe so much – ideal for open concept closets where everything is neatly on display
Snidad Basket:
I use this to store blankets in our living room.
Belly Basket:
We have a bunch of these for toys and misc. items – they work as a basket, or pop the top in for a basket/bowl.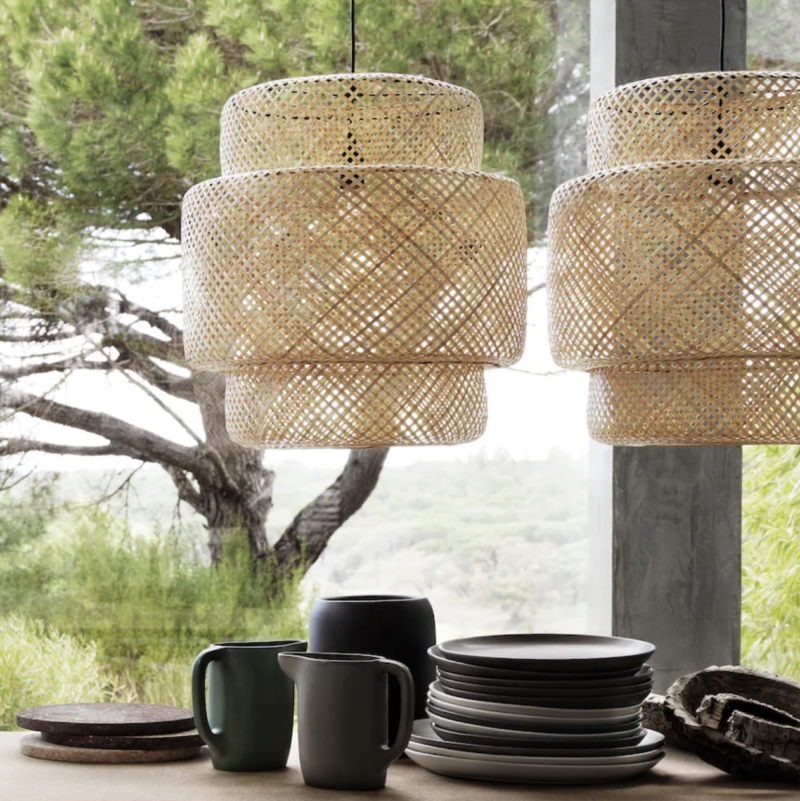 The Best IKEA Lighting and Decor
The lighting and decor you choose will completely transform a room, but they can come with a (very high) price tag. IKEA's rugs are some of my favorites, and the good lighting is oh so good. Whether you're looking for a pendant, jute, or gallery frames, here's the best lighting and decor from IKEA.
Woven Pendant:
This pendant is a personal favorite. It has been featured in every IKEA roundup I've ever read, and for good reason. It's beautiful, under $100, and the bamboo lattice is so warm (yet modern).
Wall Light:
The hand-braided sedge of this wall lamp spreads a beautiful, warm glow. IKEA lighting is affordable and the options are pretty endless. If you're in the market for a floor lamp, table lamps, or even a ceiling fixture, check out IKEA's lighting.
Striped Rug:
Priced under $25, this rug has the same pattern on both sides, so you can turn it over and it will withstand more wear and last even longer.
Jute Rug:
You know how much I love a jute. This durable rug is especially practical in a dining area since it is flat woven and easy to vacuum.
Striped Rug:
Look up Nate and Jeremiah's Chicago home and then add this gem to your cart. It's handwoven and another flatweave, so it's ideal for dining and living areas.
Low Pile Rug:
This warm, neutral rug would work in virtually any room and was inspired by Moroccan shag rugs, but is low pile, and lower maintenance.
Throw Blanket:
This throw is so warm and simple – would work anywhere. Undyed and unbleached cotton has natural color variations which makes every throw unique.
Striped Bedding:
I love this simple stripe duvet cover. It adds subtle texture and pattern, and is made of of 100% cotton – a natural and durable material that becomes softer with every wash.
Gallery Frame:
A budget-friendly design classic. This version that is identical to the gallery frames you see at Pottery Barn.
Gold Mirror:
This mirror is similar in style to a best-seller from Anthropologie, except it's under $70
Grey Planter:
The perfect simple (ribbed!) home for your plants.
Vase:
Designed by Ilse Crawford, and created with mouth-blown leftover glass. This cute vase looks a lot more expensive than it is.

The Best Ikea Products That Look Expensive
For the Table
The perfect dinnerware set should be stylish and timeless, and special but not so special your heart will break when a piece is dropped or chipped. You should be able to add more settings or buy replacements (at a reasonable price) if needed, and these finds are all beautiful yet affordable.
Blue and White Plates:
You know I'm a sucker for anything blue and white, and these beautiful plates are priced at under $4 each!
Porcelain Platter:
Did you know IKEA carried porcelain? No? Neither did I. The soft, ruffled edge makes this collection especially exquisite.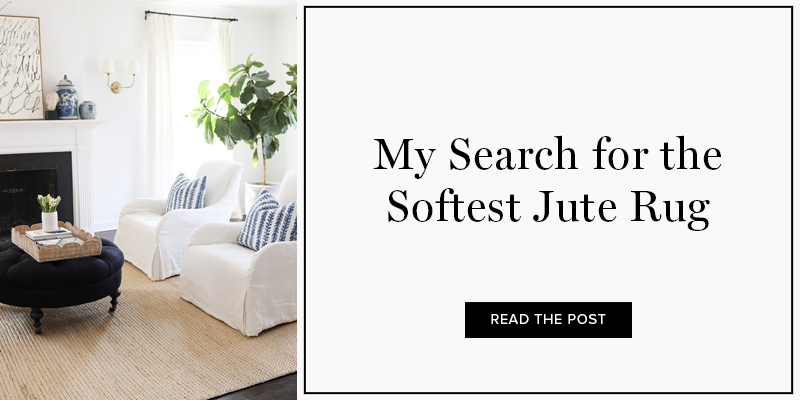 Champagne Coupe:
Buy a set of 4 champagne couples for just under $15 – these are so timeless and elegant, and easily replaceable should you drop one.
Bamboo Dish:
This handmade bowl is not waterproof, but would make for a beautiful centerpiece on your table or counter.
This post was originally published in 2020, and republished in March, 2022.