IKEA Home Organization Products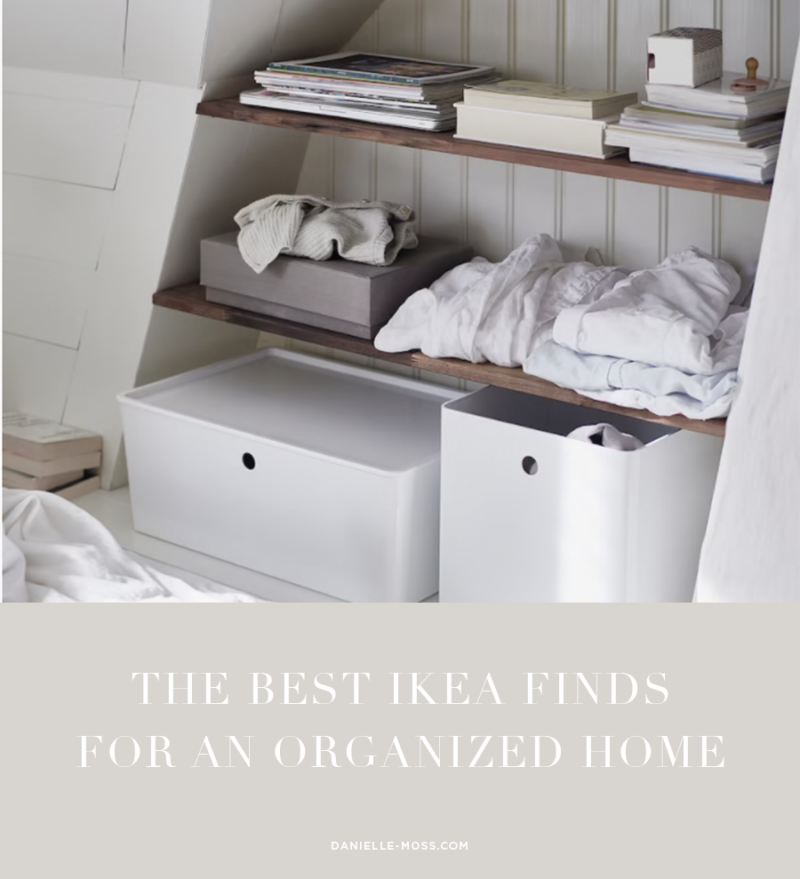 I've been tackling some big organization projects over the last year. If you're in the market for baskets, boxes, bins, or even a new closet or shelf, IKEA has the best storage and organization solutions for your home. I'm a serial cabinet and closet organizer who loves to create "systems" for storage for everything in our home. I have made a lot of progress organizing our home, starting with our kitchen cabinets and office, and moved on to the basement, which was a disaster. I love a good basket and bin but they can really add up, so I stand by IKEA organizing being the most affordable and practical way to get it done. Here are my favorites! Here are the best IKEA finds for an organized home.
This article was originally published in January 2021.
The Best
Ikea

Finds For An Organized Home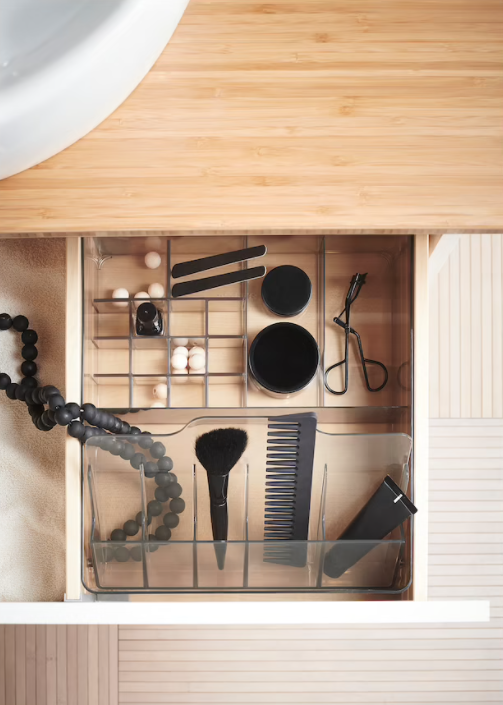 Kuggis box with lid:
We have a few of these in our basement. They're perfect for art supplies, so if you have a craft room or play room, these are it. They're stackable and wipe clean so easily – we love them.
Sockerbit storage bin:
I have at least 30 of these (probably more). Our closets are teeny tiny, so my husband and I keep all our off season clothes in these boxes. I prefer them to clear boxes because they look a lot nicer, and it's easier to store clothes by type (think denim, sweaters, dresses etc). I also use these to save Margot's clothes by size as she grows out of them since they're being passed on to Kate. Each one is labeled so we know exactly what's inside.
We have one of these in our entry (as our entry closet) and two in our basement/playroom for toys and games. You can see how I organized our playroom storage here. These PAX systems are completely customizable, so you could easily set yours up for long-hanging, or add some more shelving or drawers.
Bergsbo doors:
This is the door we have on our Pax cabinet. Add IKEA hardware or something nicer to make it look even more custom.
Clothing rack:
I had one of these in my apartment bedroom and kept my favorite clothes out on display. These days, we keep one in the basement to hold extra coats and jackets.
Book display:
We have our books on this wall shelf but I like this display option since it makes books easier to reach for little ones.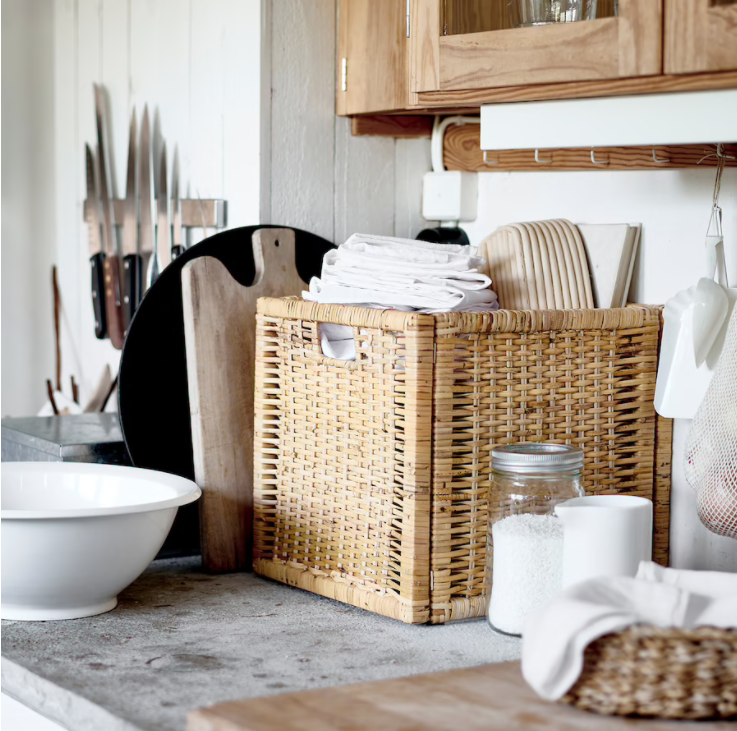 Risatorp wire basket:
This is so multifunctional. Use it in the laundry room, playroom, or even your pantry. It's ideal for food storage (think veggies) or basic, everyday items. I love it.
Rattan basket:
I love a structured basket for toys because it won't lose shape and this one has handles so it's easy to carry from room to room.
Bamboo basket:
This basket is made of bamboo, rattan, and leather. It's chic and practical, and is the perfect storage solution for toys and blankets. The handles make it easy to move from room-to-room.
Snidad storage basket:
We have one of these in our living room and use it to store throws. It holds 3 big blankets and I love the simple design.
Pax wardrobe:
I love the pax system – the clean lines are so simple and Scandinavian, and it's fully customizable. From rods and shelving to drawers and baskets, you can do anything with it.
Pudda basket:
Ideal for toys, crafts, and accessories.
Godmorgon box:
The ultimate makeup storage solution.
Felt box:
My Mother in law has a few of these in her basement. They're soft so would be great for toys, and look really nice on a shelf.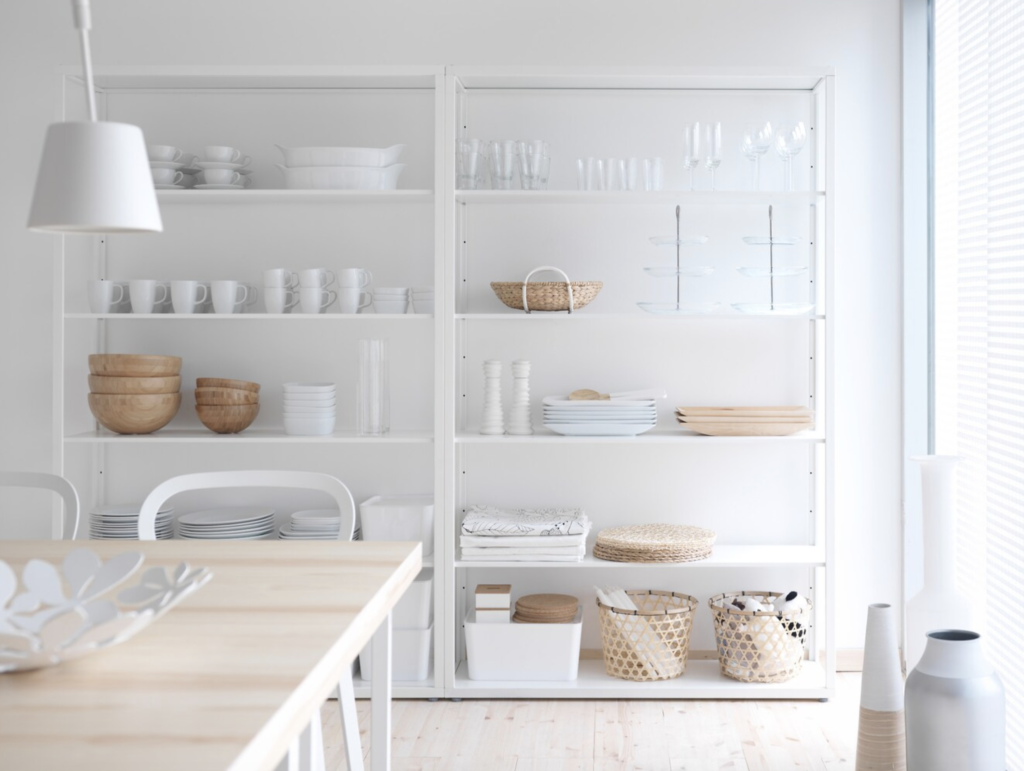 Fjalkinge shelf:
I ordered two of these for my office and used them to hold props for photo shoots. They're so beautiful (featured in the image at the top of this post) and look a lot more expensive than they are.
Vittsjo shelf:
I had this in my old (home) office and really like the design.
Glass jar with lid:
What is it about a glass jar for food storage that looks so aesthetically pleasing?
Fladis basket:
These are so versatile. Keep the handles turned up to hide your things, or flip them down to display the contents (and use it as a basket/bowl). This multifunctional basket is handwoven and so chic/simple. Great for soft toys and accessories.
Basket:
I love a structured basket for toys and books – it won't lose shape and will offer a spot for anything you don't want sitting out.
Utility cart:
Where can't you use a utility cart? We have one in the girls' bathroom for extra towels and toys. Makes a great craft cart or laundry / cleaning cart, too.
Baskets:
I love this little set of lidded baskets.
Box with lid:
Love this versatile makeup storage solution. So simple for a makeup minimalist like myself.