Our Ikea Pax Entry & Coat Closet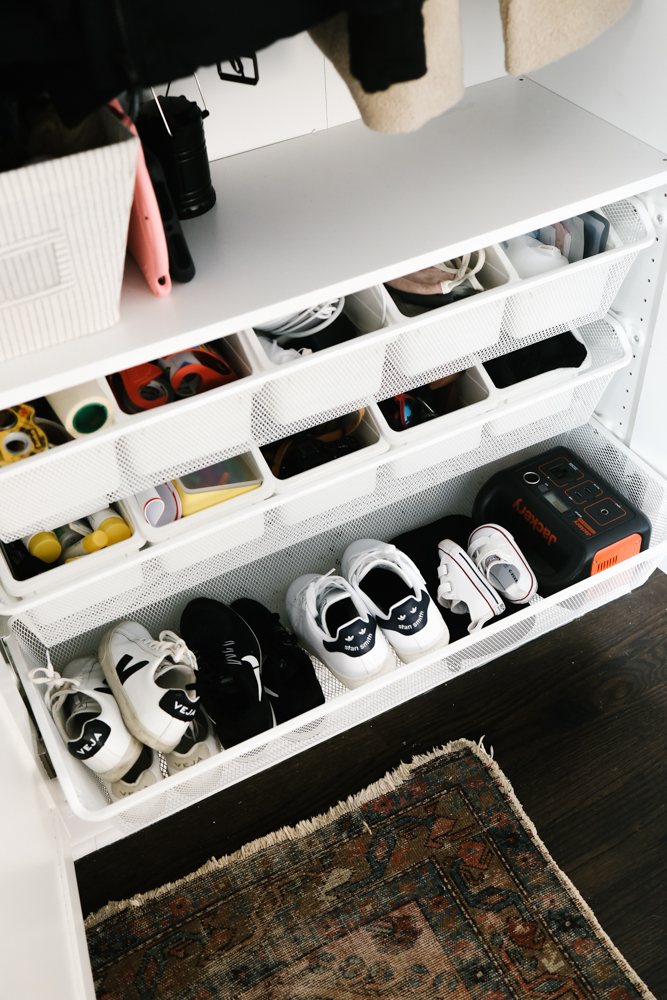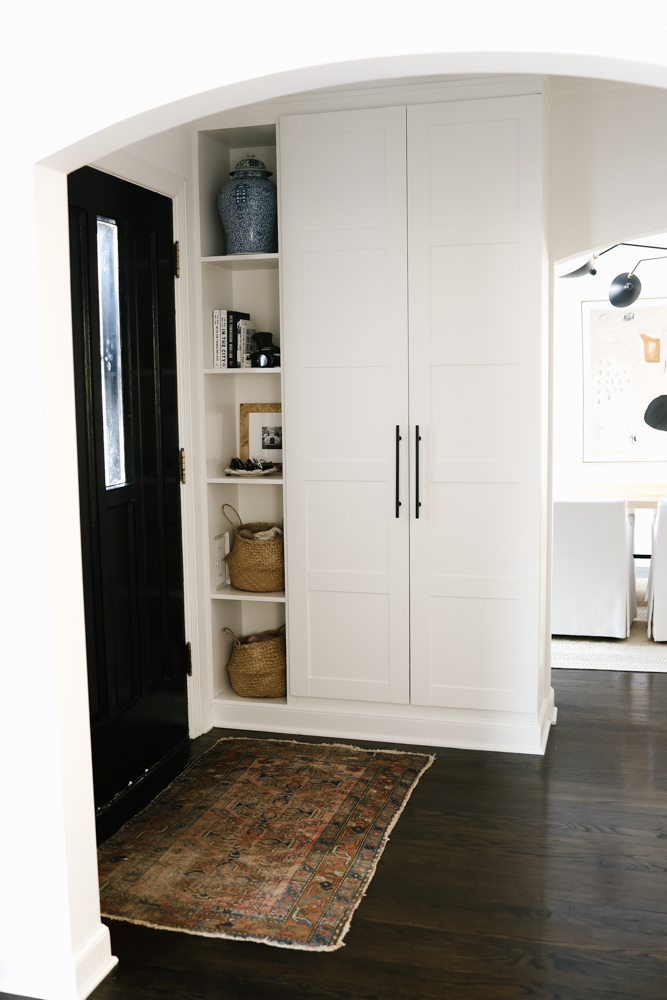 I loved our first little house, but the smaller footprint started to feel smaller as our little family grew. We moved in during the month of May, but come winter, realized that we were missing a real coat closet. The previous owners installed this IKEA system in our entry and it served us well for the four years that we lived in our home. Long coats and bags go on hooks at the top of the basement stairs, but this system has been great for jackets, shoes, sunglasses, and everything else we need to stash away day-to-day. The interior organizers and interior fittings make the wardrobe solution system completely customizable, and you can use the IKEA planner to design your own PAX wardrobe. We actually had two similar PAX closets in our basement playroom, and they were great for toy storage. Here's a look at our Pax system IKEA closet.
Our IKEA Closet
This system is amazing. IKEA Pax wardrobes offer such great storage – they are one of the best IKEA products. First, you can add whatever you need to create the storage system that's right for you. Add shelves, bottom drawers, pull-out trays, or a clothes rail for coats to your Pax wardrobe system. This system is in our entry and right next to our living room, so the front of the wardrobe is something we see all the time. Its the perfect fit in our home, and the wardrobe solution is something you should add to your shopping list the next time you visit IKEA.
This post is not sponsored by IKEA. I just really liked our entry closet and any time I posted, got a few questions about it. And it's so affordable, so I wanted to share this small space storage solution with you.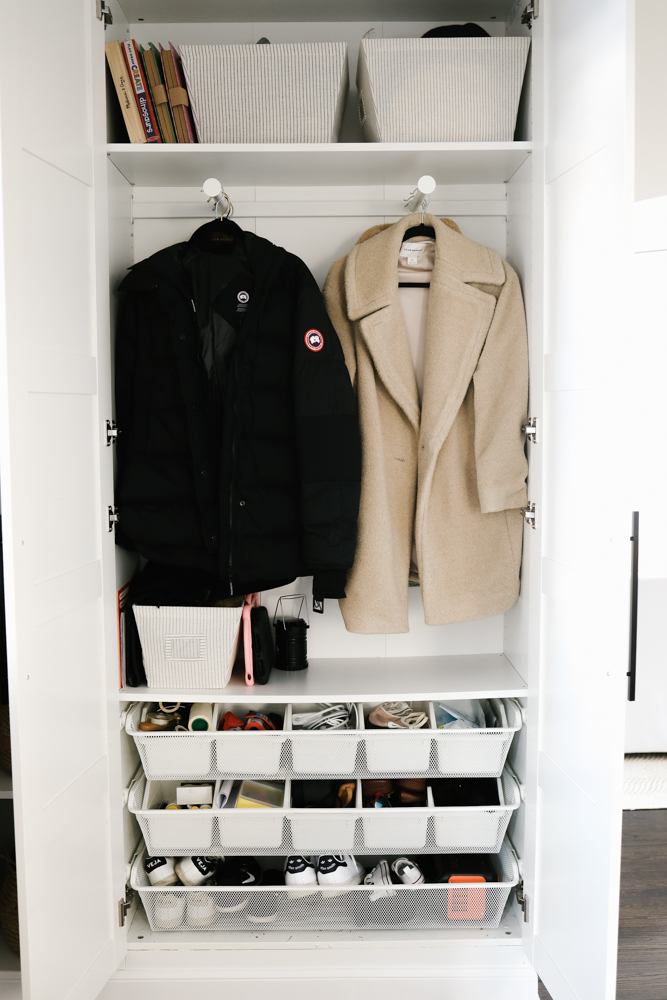 Things to note
While it's great and I'm glad we had it in our first home, I want to share a little bit about our wardrobe, and recommend doing your research before purchasing. Here are some things to note: The back of the closet is actually a thin particle board, so it's sort of flimsy. Once your closet is full, you won't really notice, and it didn't matter to us, but that's something to take note of. I'm sure building it wouldn't be fun, but I can't speak to that since these systems were installed before we moved in.
IKEA will not install your closet (and really, no one can install it) unless your baseboards have been removed. YOU cannot install this closet with baseboards, as it will not be flush against your wall. We are not DIY people, so we'd hire someone, and if that isn't an issue for you, great. But this is something to consider.
Custom closets are expensive, so that's one of the (very) good reasons to consider IKEA. IKEA considers the needs of people, and continues to make a positive significant impact on our planet. But the IKEA Pax closet system is customizable and are the best solution for small spaces when you're on a budget. We use these IKEA bins in two of the drawers to hold everything – masks, sunglasses, sunscreen, cords, packing tape etc. The bottom drawer is reserved for shoes. If I were designing this from scratch, I'd use the IKEA Komplement shoe shelves. They're not fancy, but are good quality and do the job. The mesh basket drawers aren't as deep as I wanted them to be for (adult) shoes, but are great for kids).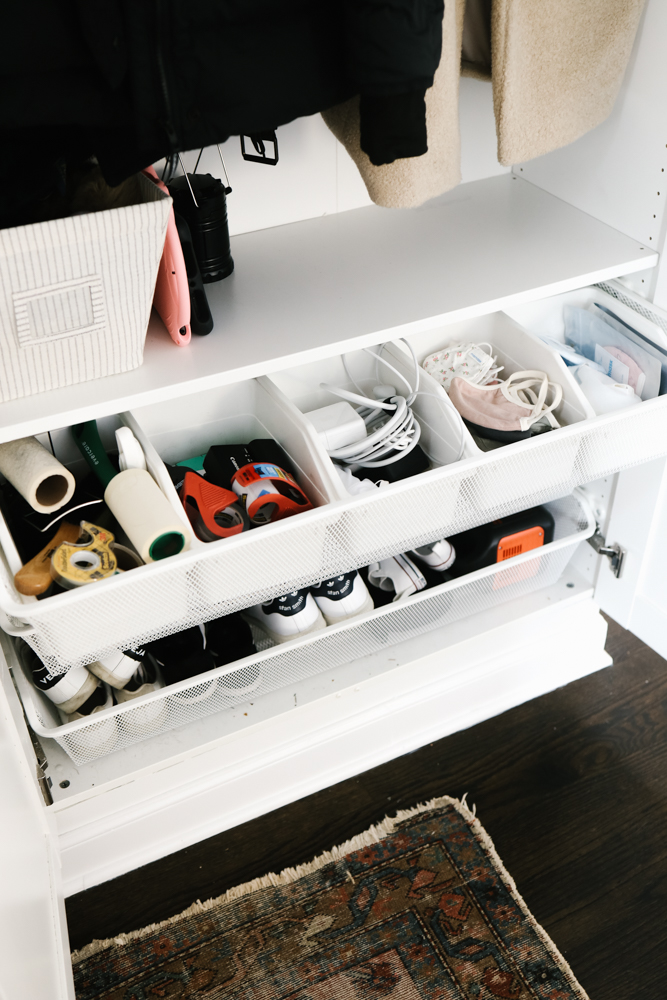 Why we love it
The closet doors look custom, and are also available as sliding doors. This system works perfect for our entry and bonus: it's made of sustainable sources. It's a mini coat closet meets mudroom. We store shoes and essentials in the bins below, coats on hangers, and there's a shelf on top for extra items. And I love that we can close the doors to contain the clutter. The additional storage space gave us somewhere to hang coats and keep things we need to grab day-to-day.
Our system wasn't very deep (just 13″) so coats only fit on a pull-out clothing rod that allows you to store clothes hanging forward off the back wall as opposed to across. This was not ideal (less storage and hard to see what's hanging). But we had zero hanging storage and were working with a small space.
There's actually a shoe shelf option that I would have appreciated, but I didn't care enough to switch these drawers out. I kept shoes in the bottom drawer, and then used IKEA bins to hold everything else.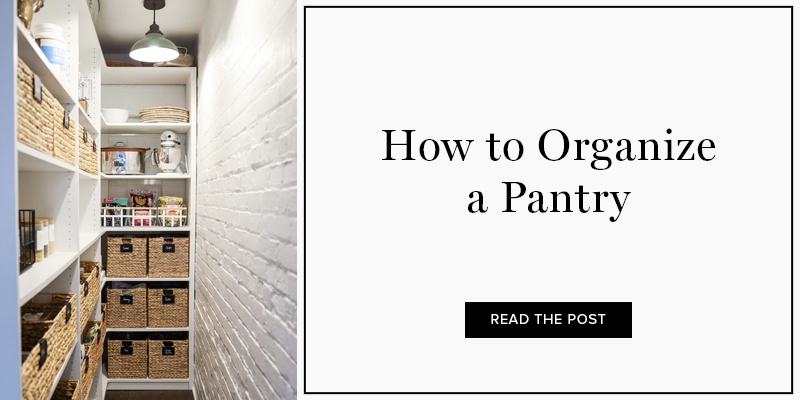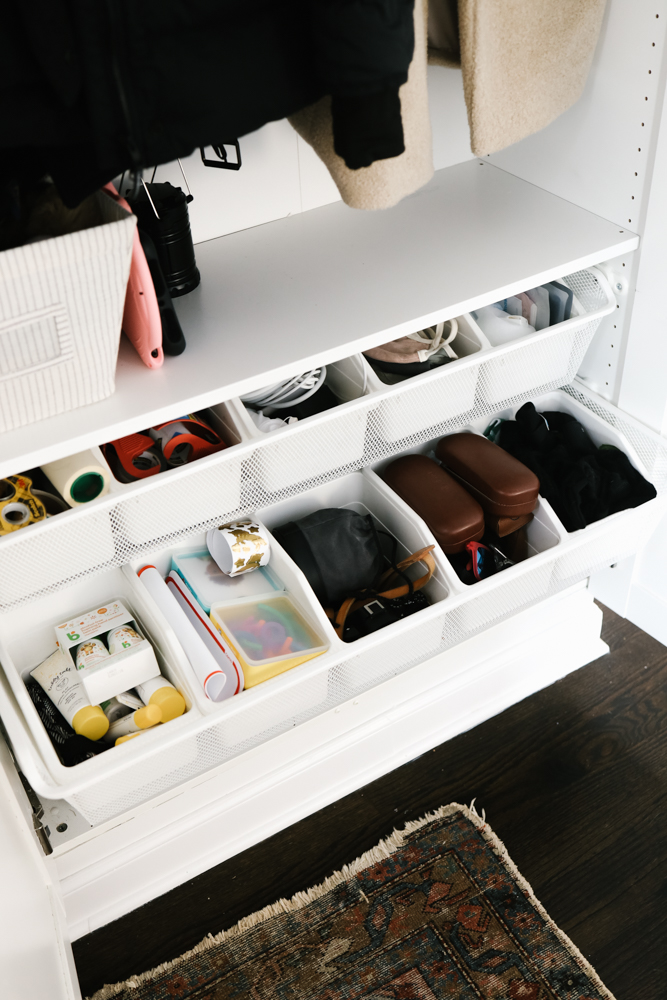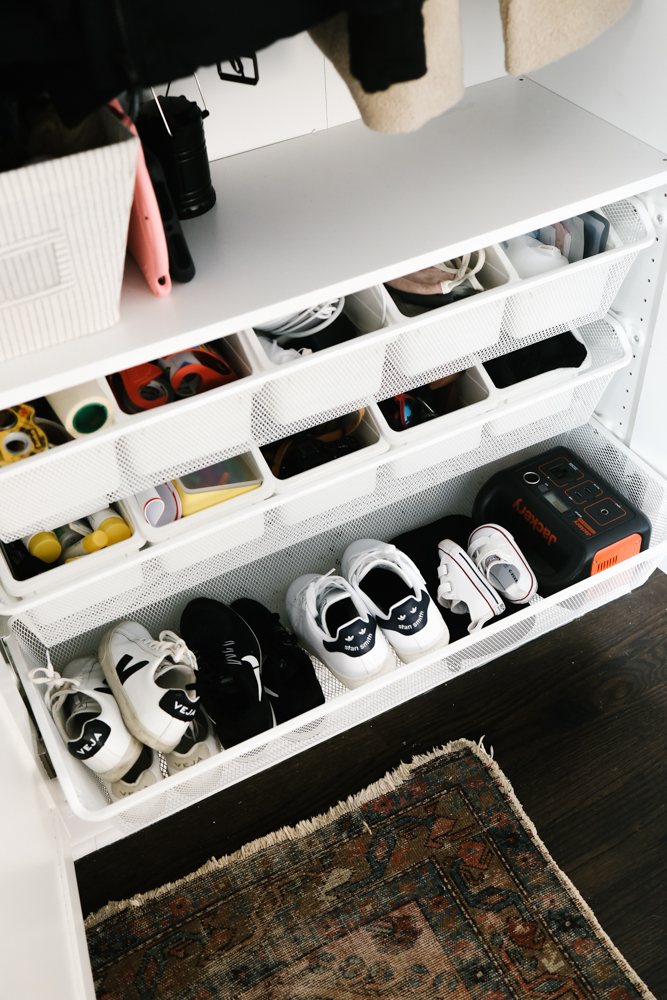 Shop Our IKEA Pax Entry & Coat Closet
These PAX systems are completely customizable. You could easily set yours up for long-hanging, or add some more shelving or drawers. Here are the pieces in our entry cabinet. The same system is set up in our basement playroom, and you can see how I organized that here. IKEA furniture isn't amazing quality, but it's good quality and is made of sawmill leftovers and scrap wood. The brand makes use of whole trees and not only the trunks.
IKEA and sustainability
This is a lot more sustainable – IKEA cares about forest ecosystems and makes a positive impact on our planet. IKEA has said that by 2030, their goal is for all materials to be recycled or renewable. By 2030, all materials will be sourced in responsible ways. And I love that IKEA cares about an even more holistic approach. And the IKEA forest positive agenda makes the brand a key change driver. Responsible wood sourcing is so important, and I love that that's something that IKEA cares about.
The IKEA Pax unit can be used in any room – even a walk-in closet.
Are the IKEA Pax wardrobes worth it?
Yes, definitely. The price alone is the biggest pro – you can create a really functional, well-made, nice looking unit for less than most other systems. They're not incredible, high quality, but they're good quality, and held up to years of use. And the previous owners lived in our old house for at least 5-7 years, so that says something. They're pretty sturdy (minus the particle board / cardboard back, which really wasn't an issue for us). This system had to be close to 10 years old by the time we sold our home, and it was still in great shape. I didn't love the mesh drawers (aesthetically) but I still liked the system.
Can you customize your Pax wardrobe?
Yes. IKEA Pax wardrobes are fully customizable. Browse IKEA's inspiration closets and wardrobes to customize one of their designs, or start from scratch. The frames line up well – we had two wardrobes connected in our basement and they fit next to each other quite well. You can also add your own hardware to dress up (and further customize) your Pax system. Whether you're looking to create an entry closet, playroom closet, or bedroom closet, IKEA has Komplement interior organizers to help you get exactly what you need. They're designs specifically for IKEA's PAX fitted wardrobes. Get organizers like rails, boxes and shelves to customize your storage to suit you and your clothes.
Where did you purchase baskets for your Pax system?
I always love The Container Store baskets and have used those in a few different sizes. They're not cheap, but there isn't a basket that I love from IKEA that complements the Pax system.