Cuisinart Air Fryer Review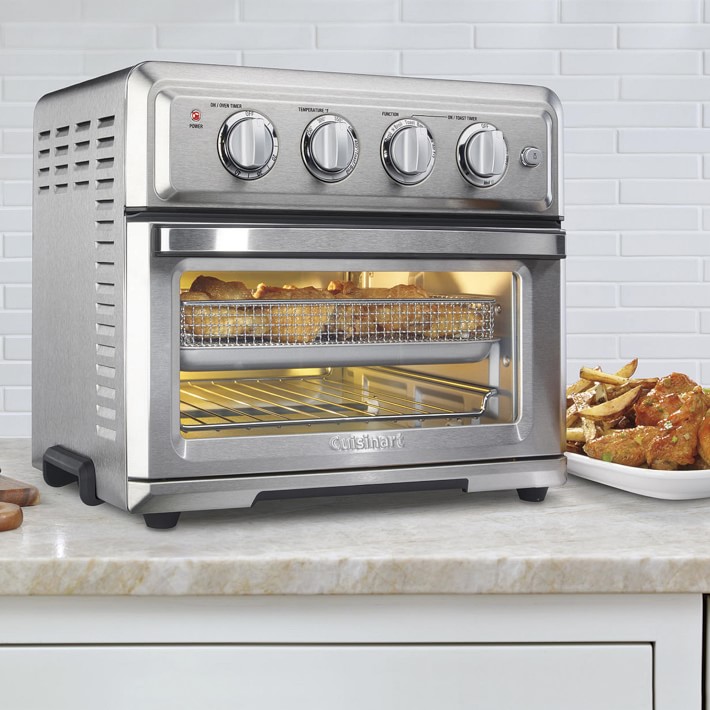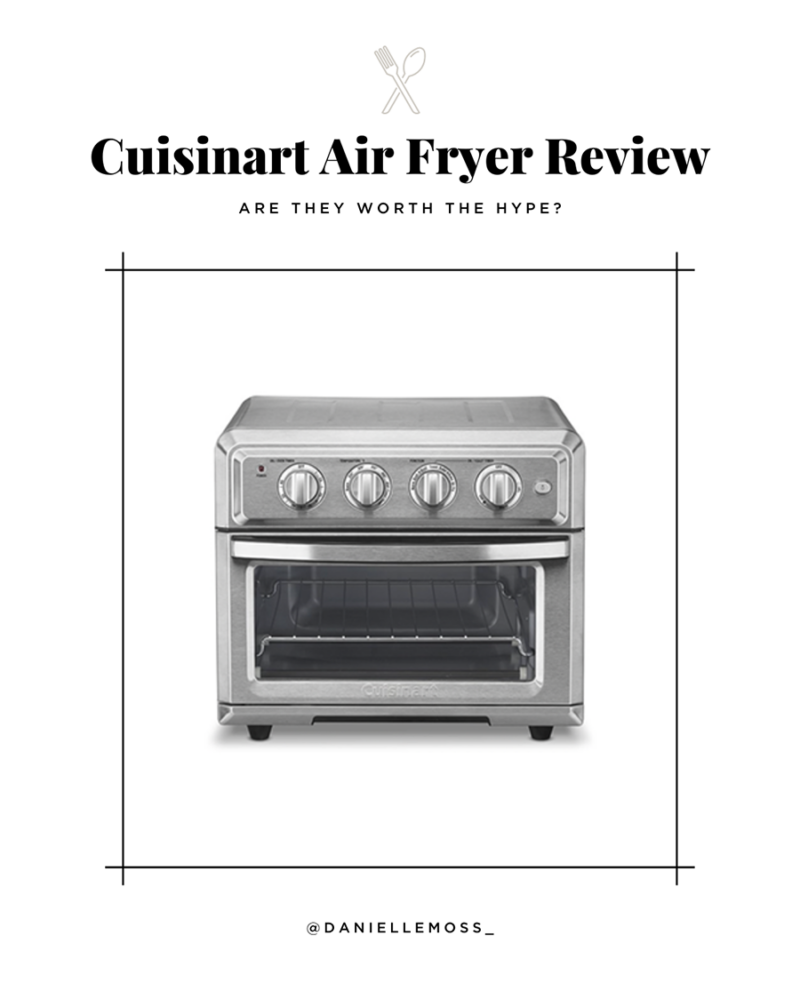 I spent at least a year rolling my eyes at everyone and their air fryers. I didn't get it, and it sounded so gimmicky. Sure, it's supposed to be the "healthier" way to warm your food and they say french fries are just so much better in an air fryer. But if you're one of those people who ever heats anything up, sometimes reheats pizza, or makes frozen chicken nuggets, you need an air fryer.
Cuisinart Air Fryer Review
So I'm one of those people who finds overly trendy things annoying, but then seeing that overly talked-about thing everywhere inevitably gets to me and I cave and buy it. We live in a small space with minimal counter space and I was so hesitant to buy a countertop oven. But it's one of the best kitchen appliances I own and definitely our most-used appliance.
I have the Cuisinart Airfryer Toaster Oven TOA60 model, recommended to me by my friend Jess. When you order it, you'll get the air fryer toaster oven, an oven rack, baking pan, air-fryer rack/basket, grill plate, crumb tray and recipe booklet.
What do you make in the Cuisinart air fryer?
Frozen food: Chicken nuggets taste like the real thing in an air fryer. If you haven't tried these nuggets, they are available at Costco and on Amazon Fresh and taste like actual fast food nuggets but are significantly healthier. French fries (I love sweet potato fries) and even frozen pizza (it can accommodate a 12-inch pizza and is a pro at heating leftover pizza) also taste a million times better when made in an air fryer.
Toast: Slices of toast, waffles, grilled cheese, too.
Meals: Tacos, fajitas, burgers, roast chicken, chicken breasts, salmon, steak, and bacon.
Sides: Roasted potatoes, brussels sprouts and other veggies, and biscuits.
Desserts and snacks: apple chips, s'mores, chickpeas, donuts, pasta chips, cinnamon rolls and more.
Is the Cuisinart air fryer toaster oven large enough to make a meal?
It's large enough to heat up food for the kids or a meal for us, but we're not making a full dinner for four people. It would heat up enough frozen nuggets for a family and you could make 4 chicken breasts or veggies and prepare the rest of the meal elsewhere, so it really depends on what you're looking for. It's been the perfect size for us, and I can't really imagine a larger countertop oven, but it's not big enough to make a meal for large families. But is any countertop oven large enough to make a meal for a large family? Probably not.
How much space does an air fryer take up?
It is not small but isn't huge, either. I'd just measure your countertops and cabinet height above to make sure it will fit. I had initially planned on leaving it in the pantry off the kitchen and bringing it out when we use it. But we use it every single day (far more often than our conventional oven), so it's never left our counter. We don't have a bunch of appliances out – this is the only one. Our blender is in a drawer and we keep our counters pretty clear. One thing I love about this air fryer is that it's stainless steel and looks "nicer" than most. Aesthetics are important to me.
How do you clean your air fryer?
I suppose this is a negative, but I've never seen a non-gross baking tray. The baking tray gets pretty and I actually ended up replacing it. If you were to line the tray with foil it would stay cleaner, but the manual says not to do that. I did just find a nonstick air fry basket and ordered that, so I'm hoping that will be easier to clean and that it will stay cleaner than the basket that comes with the air fryer.
The tray is still easy enough to clean but the residue isn't cute. But again, it's an oven tray. I've tried soaking and scrubbing – it's impossible. Because there's a tray below the basket, the rest of the oven stays very clean. The rack and air frying basket are simple to clean, so that's a positive.
There's also a crumb tray (just like a typical toaster) that pulls out and can be cleaned, but we never really need to clean it since there's another tray below the basket. I'm telling you – it's perfect.
What are the different functions?
This thing can air fry, bake, broil, convection bake, convection broil, and toast. There's a warm setting, too.
The one downfall (if you can even call it that)
For best results, you really need to watch your food while it's being air fried. The glass door makes it easy and I really don't mind since it's so fast, and I don't love turning on the oven with a toddler running around the kitchen. You cannot reheat food and walk away, especially on the air fry setting. And everything tastes better and is more fun when it's air fried. Sure, you can us the toast setting but why would you do that? The air fry function is the best.
What's the big deal with air fryers?
An air fryer's heating elements are usually on the top of the unit along with a large fan, and it cuts down cook time significantly. You also don't need to preheat with this air fryer which, when you've been working all day and need things to be quick and easy, is huge. If you were to fry nuggets in oil for example, you'd use a ton of oil to do that. I add zero oil, or just a little drizzle of olive oil to veggies or chicken. So you use way less oil and it's fried in air vs…(you guessed it) oil.
It is a stand-in for both your oven and your microwave.
I still use my oven but strongly prefer my air fryer. But let's talk about reheating food. Microwaving leftovers is gross. Soggy pizza is gross. But air frying leftovers is amazing.
Cuisinart Airfryer Toaster Oven TOA60 Dials
There are four different dials on the TOA60.
On/timer: The "on" dial is also a 60 minute timer.
Temperature: Bake or air fry food from 250 to 450 degrees Fahrenheit.
Function: Manually adjust it to air fry, convection broil/bake, or toast.
Toast: This is pretty straightforward. Choose the shade of toast (light, medium, or dark). I air fry my toast though 😂
Cuisinart Airfryer Toaster Oven TOA60 Specs
Size: 15 1/2″ x 12 1/2″ (15″ with handle and cord holder) x 13 3/4″ high
Interior: 0.6-cu.-ft. interior
Capacity: Large capacity allows you to toast 6 slices of bread, bake 12″ diameter pizza or air-fry 3 lb. of chicken wings. Nonstick interior.
Modes: Air-Fry, Convection Bake, Convection Broil, Bake, Broil, Warm, Toast and Grill.
Smart features: None
Weight: 23 lbs
Watts: 1800
Is the Cuisinart air fryer worth it?
Yes. Absolutely yes. Do I wish the tray was easier to scrub clean? Yes. And sure, I've burned things a few times but that's because this is not a "set it and forget it" reheating appliance and it's a powerhouse. So you have to watch your food because it is so fast that you can't just let it do it's thing which isn't a negative. Especially at dinnertime. The reviews speak for themselves, and it is ranked as one of the best air fryers out there. I don't have anything to compare it to, but we've had it for 15 months and use it almost daily, so that has to say something. It is truly a must-have if you have kids.