Sisal Stair Runner Before and After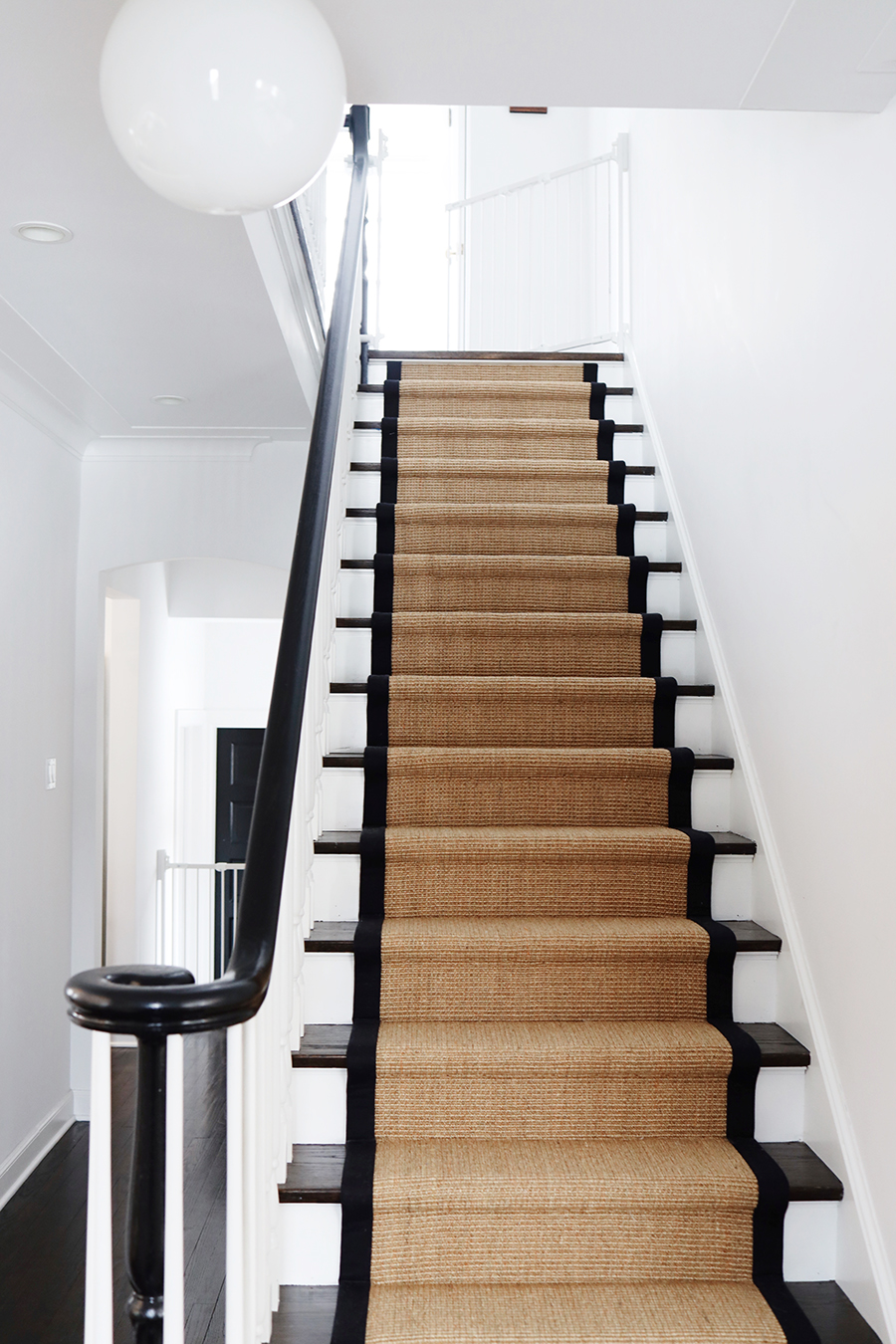 I love the look of a stair runner, and how it adds warmth to an otherwise plain (and slippery) staircase. As much as I love design, this choice was actually one that came down to function. When Margot was a baby, I slipped going up the stairs while holding her. She was fine but I immediately got a quote for a stair runner. When I started looking for stair runner ideas and designs, I knew I wanted to go with sisal or jute. I want to share the perfect stair runner – our sisal runner – that offers a classic look for wood stairs.
Sisal Stair Runner Before and After
Stair carpets are a great way to add warmth to your home, and to make your stairs safe for young children. But custom runners can be pricey. The first quote came in, and the $3000 price tag felt like too much. I held off knowing we'd need to revisit once Margot started walking. Months later, Buddy fell down the entire flight of stairs and it was time for a carpet runner. It was time. I ordered some samples and figured out what I wanted almost immediately.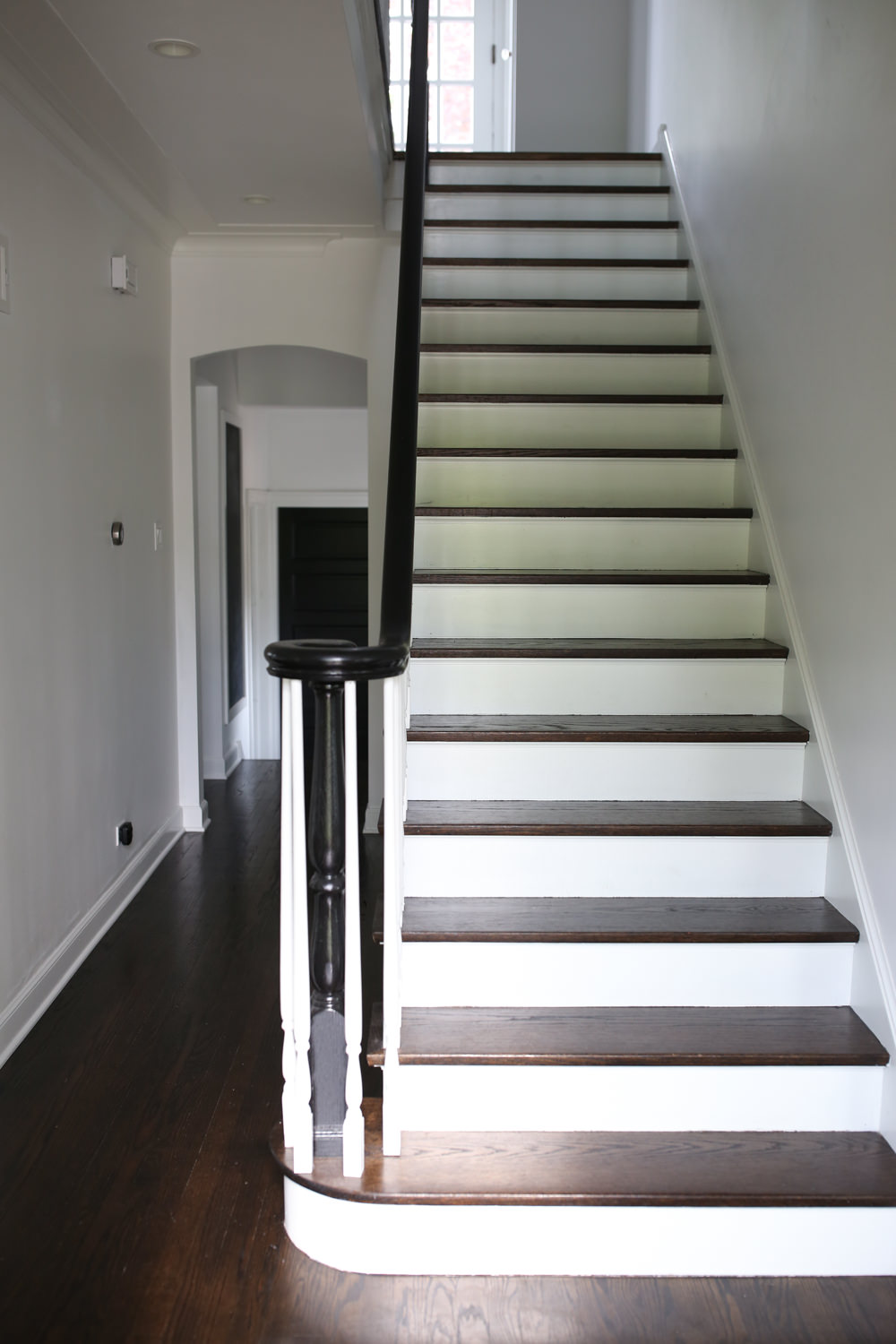 Here's the before
Our stairs actually looked like this for a very long time. They felt fine day-to-day but looking at these photos, seem so sad and empty. Lauren Buxbaum's townhouse staircase (which is a little more grand than ours) has always been a favorite, and I knew I wanted something similar in style. Look for staircase ideas when looking for a new runner, and find one that feels right for your home. I know the look is wildly different, but I love the classic sisal with a black band.
Finding the right sisal runner (at the right price)
These modern stair runners are timeless and traditional, and work in most homes. The first thing I did was order sisal swatches. Order a few different colors and consider whether or not you have a curved or straight staircase. You should consider foot traffic and durability, too. I went with Paradise in Cobble from DMI and chose 2" black cotton banding. Sisal is not as soft as wool, but it is soft enough and gave us the traction I was hoping for, and I love the look of natural fibers. The installer added padding so it's pretty cushy. I wanted to go a shade or two lighter but was too worried about stains. This has held up really well.
The new quote was 50% less than the first – and installation took place less than two weeks later! It's a softer sisal and very padded, so it's quite comfortable and grippy. When it comes to rug runners, wool carpet holds up better than natural fibers, but I just love the look of sisal. It's also timeless and traditional, so there's no risk (at least not for me) in tiring of the design. I've actually also found that dark colors show more hair and dust, so I went with a medium tone.
I prefer stair runner rugs to stair treads (I just don't like those), and we went custom, but a pre-made runner is a great choice, too. I really like Annie Selke's runner rugs – they are a great option for stairs.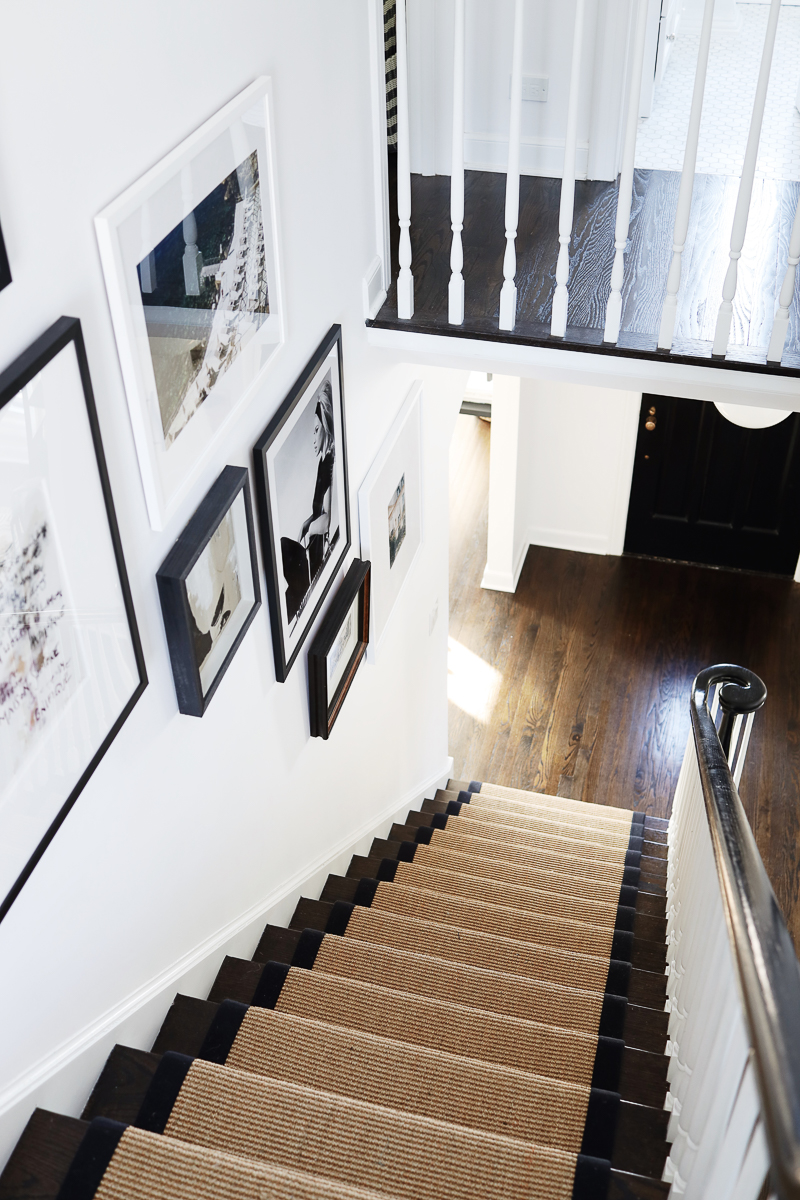 We went with the waterfall method, which is the most common installation method. Just bring the carpet over the edge of the stairs and go straight down to the next one. The overall look is clean and traditional. This is our main staircase, and offers a warm and elegant but casual look.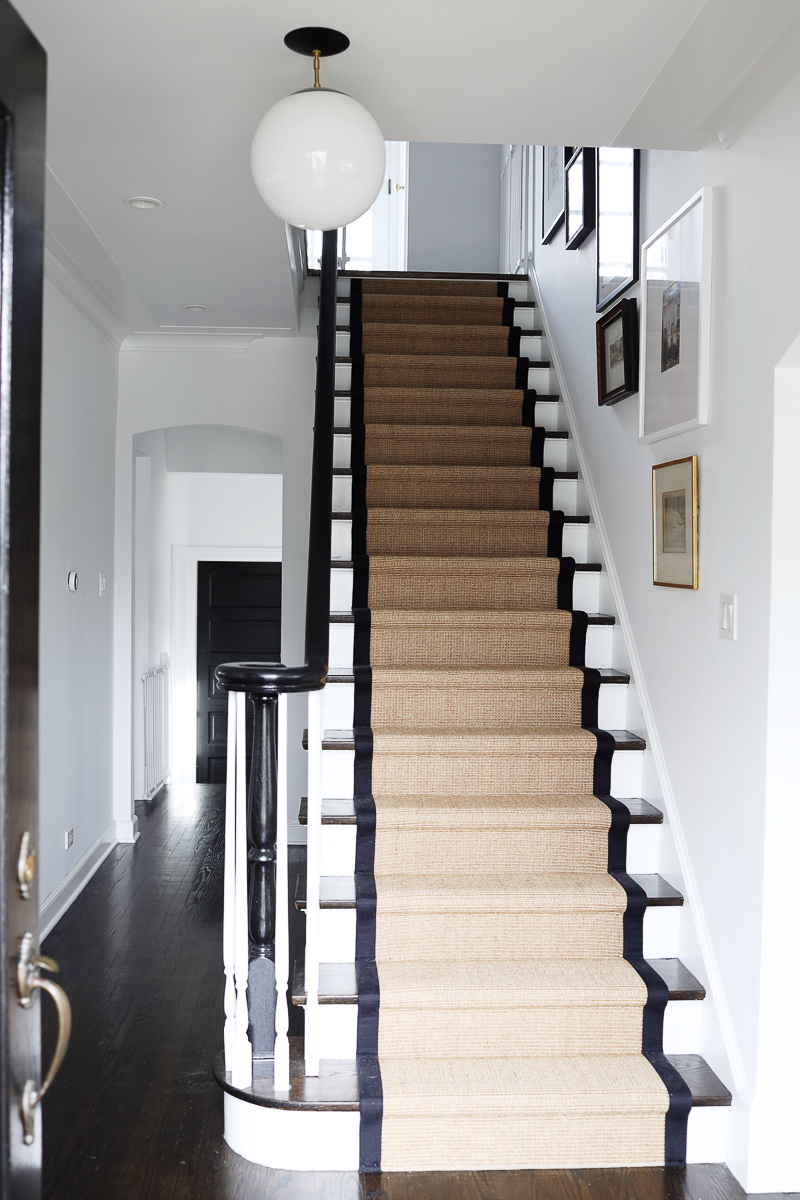 A stair runner looks so nice on hardwood flooring, and a custom stair runner is the perfect way to "finish" your staircase or entryway.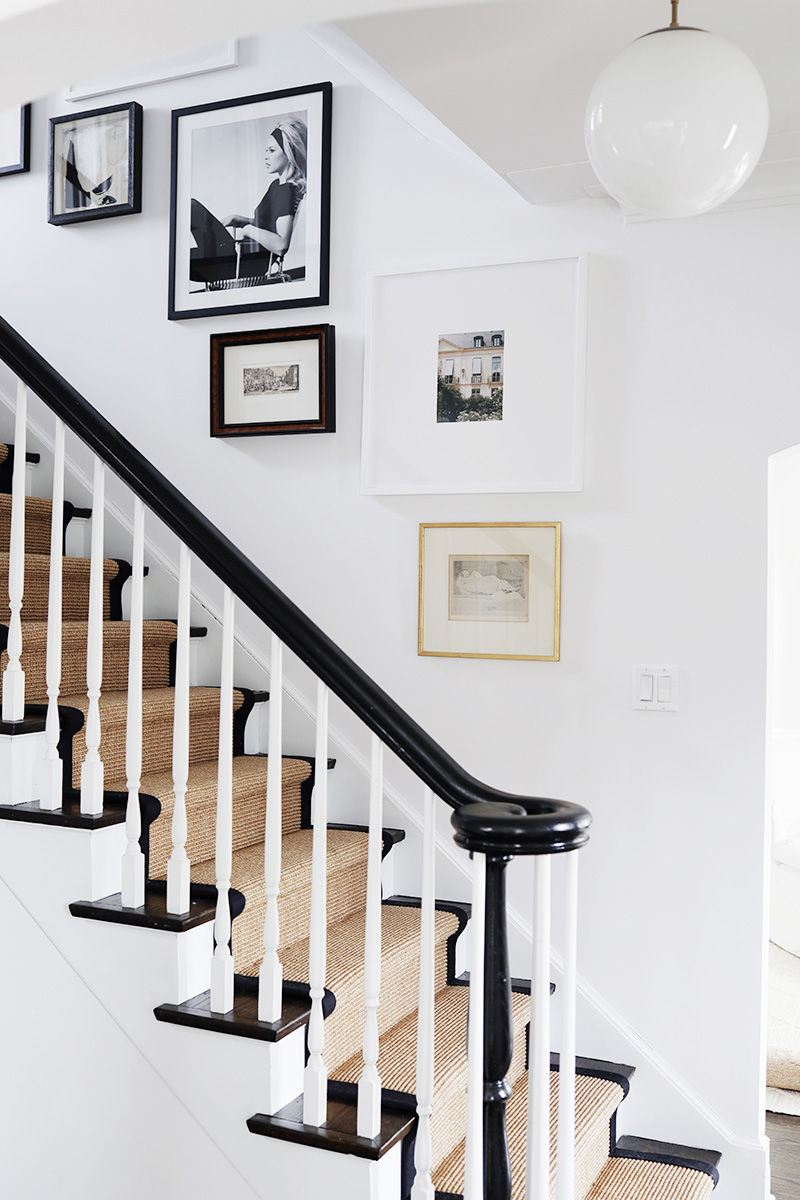 Here are the details on all the art in our stairway gallery wall.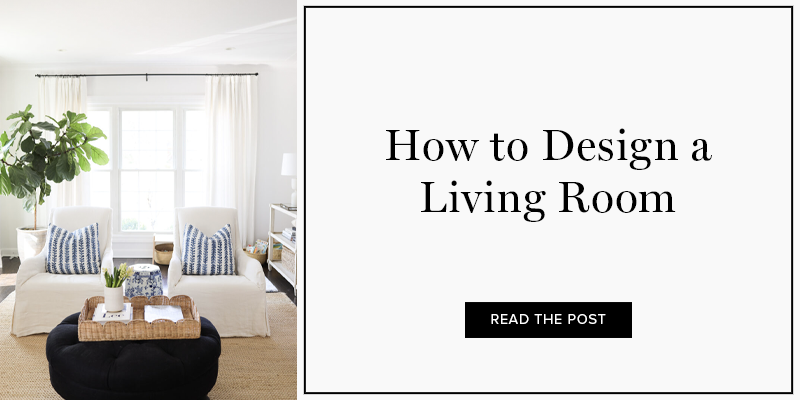 Thank you to my interior designer friend Kira David who ordered swatches and placed the order for me.