Montessori Inspired Toy Storage and Organization
I vowed to be one of those parents that had very few toys in her home. I'd be different and keep things simple – my kids wouldn't need much. And I'd avoid bright colors, plastic, and light-up toys. Then came winter and a pandemic and months and months at home …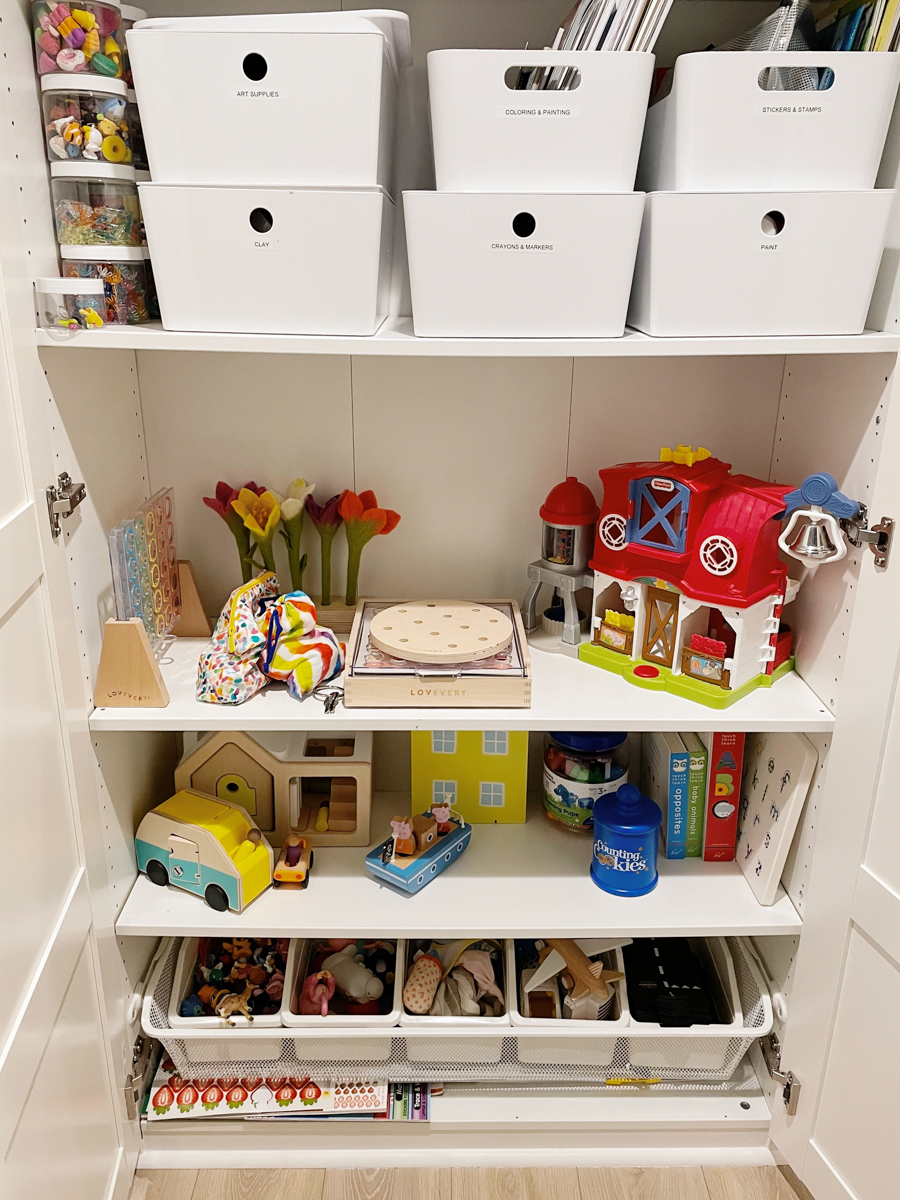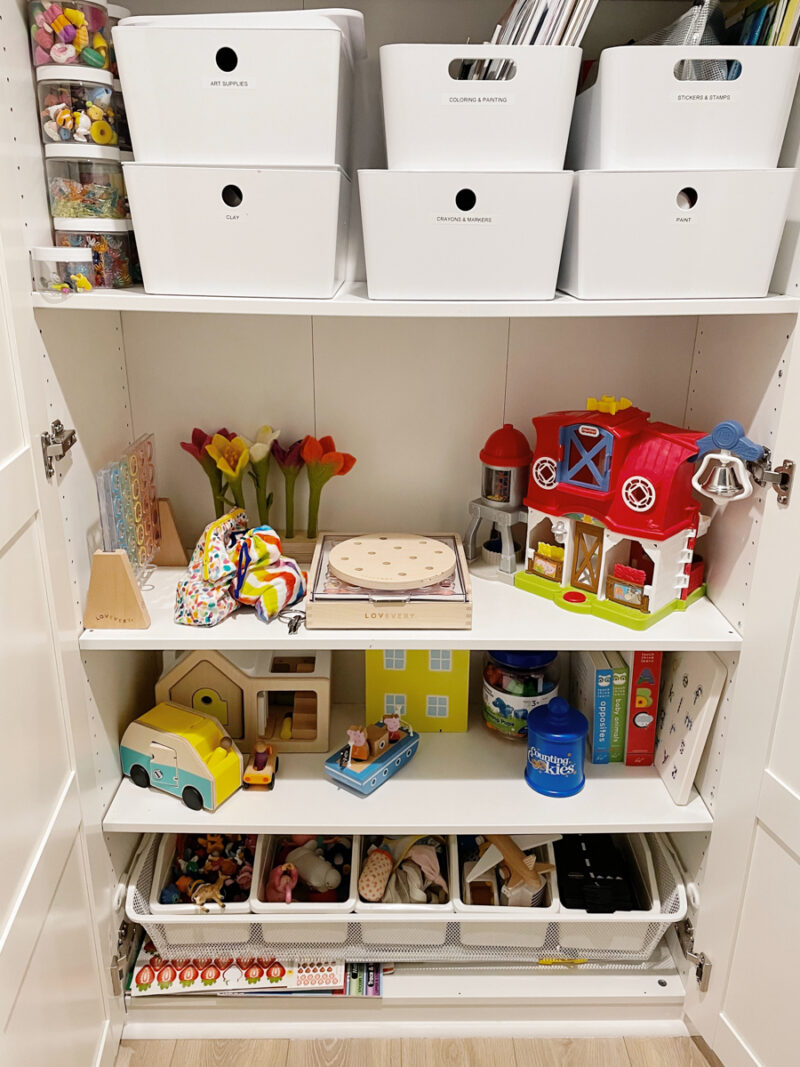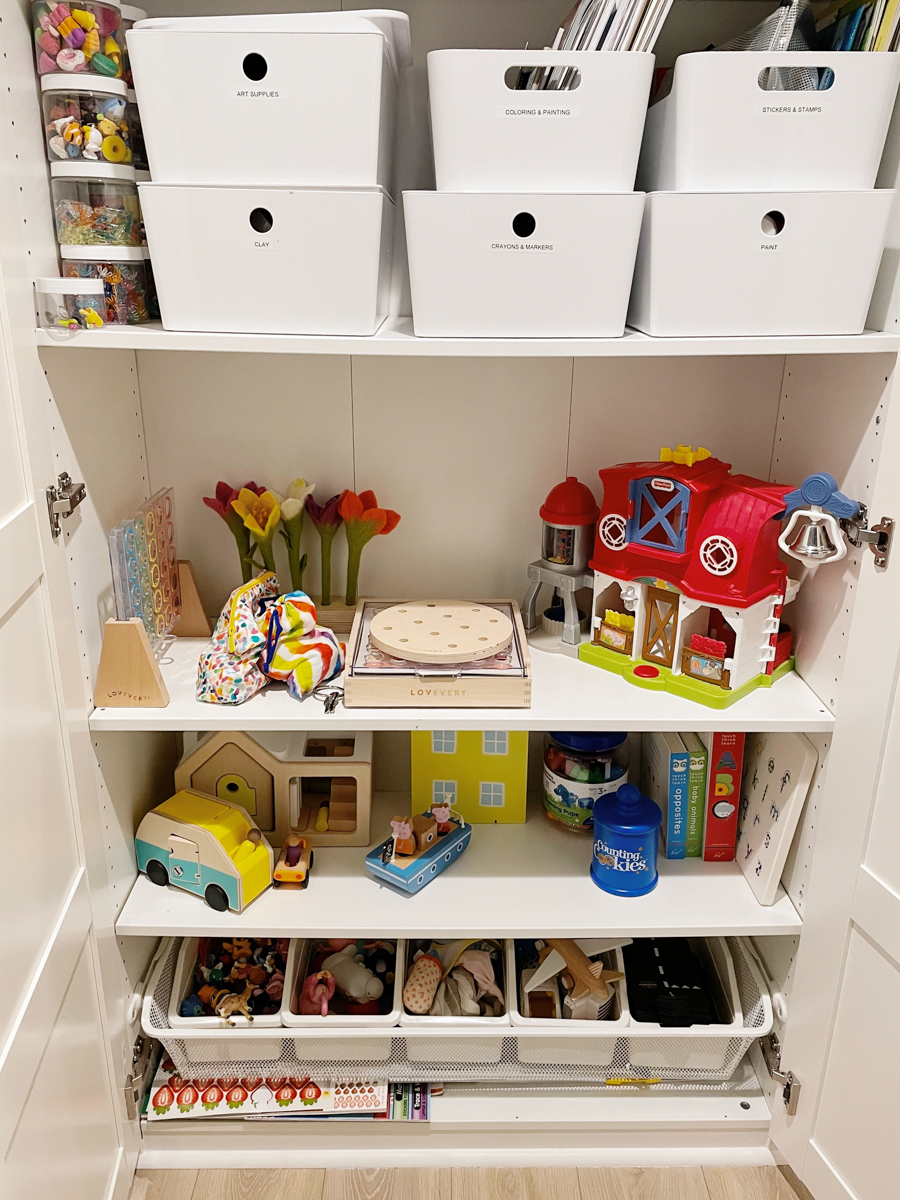 I vowed to be one of those parents that had very few toys in her home. I'd be different and keep things simple – my kids wouldn't need much. And I'd avoid bright colors, plastic, and light-up toys. Then came winter and a pandemic and months and months at home without anything to do. I found myself researching toys and activities to keep my toddler and baby busy, adding anything and everything that might help my girls thrive during isolation. But I found our toy cabinet looking a little disastrous and it wasn't easy for my kids to navigate. So here's some Montessori-inspired toy storage and organization for you.
Montessori Inspired Toy Storage and Organization
At first, a new toy is exciting, but when it's stuffed in a cabinet or always accessible, interest is lost quickly. A Montessori environment relies on open shelves and rotating toys to keep the space organized and to promote independence in children. It's not for everyone, and it's not all or nothing – you have to do what works for you. Up until recently, our cabinet was full of bins that were not used very often because my kids didn't have easy access to them. It was just too much. So I found myself thinking about toy storage ideas.
When it comes to toy organization, I keep a few baskets full of toys in our living room. For the most part, I tried to keep things simple, which is something you have to do in small spaces. Toy storage baskets are great, because they look nice, you can store toys by type, and they make clean-up a breeze. But the best part is that your kids can see what they have in front of them.
So I did another toy edit
This was no small task, and it's one I recommend doing without your kids around. I pared things down, organizing, and simplifying our toys. It means going through everything and doing a little toy organizing.
Then, I decided to create a Montessori inspired shelf for our girls. In the process, I basically became a toy organizer to my kids' toys and at the end of the day, it felt so much better. I can't claim full "Montessori" here – we definitely have "more" and not all our toys are Montessori style. I do prefer open-ended toys when possible and embraced some Montessori philosophies, but do things my own way.
Doing this has definitely fostered more independent play and has also encouraged more meaningful and focused play at home. But this is a great option and one that is a bit more low key, but still functional.
Storage Solutions: Our Toy Storage Bins and Shelves
It's pretty simple. We had a lot of toys packed into a cabinet that our girls did not play with. And then the toys that were nicely on display (like their farmer's market and ice cream counter) got tons of use. So why not implement a "system" that would give our girls access to the toys we own? And then rotate toys out when they lose interest, and bring them back weeks later, making them fun again.
We keep toys with small pieces in lidded plastic bins, and I actually prefer solid bins with labels to clear bins (aesthetically). But when it's a toy you want your child to access on their own, clear bins really are great for little kids who can't read yet.
While a rolling cart or toy storage furniture would probably be ideal, our house had these cabinets that did the trick for us. But something lower at the perfect height for children to access is ideal.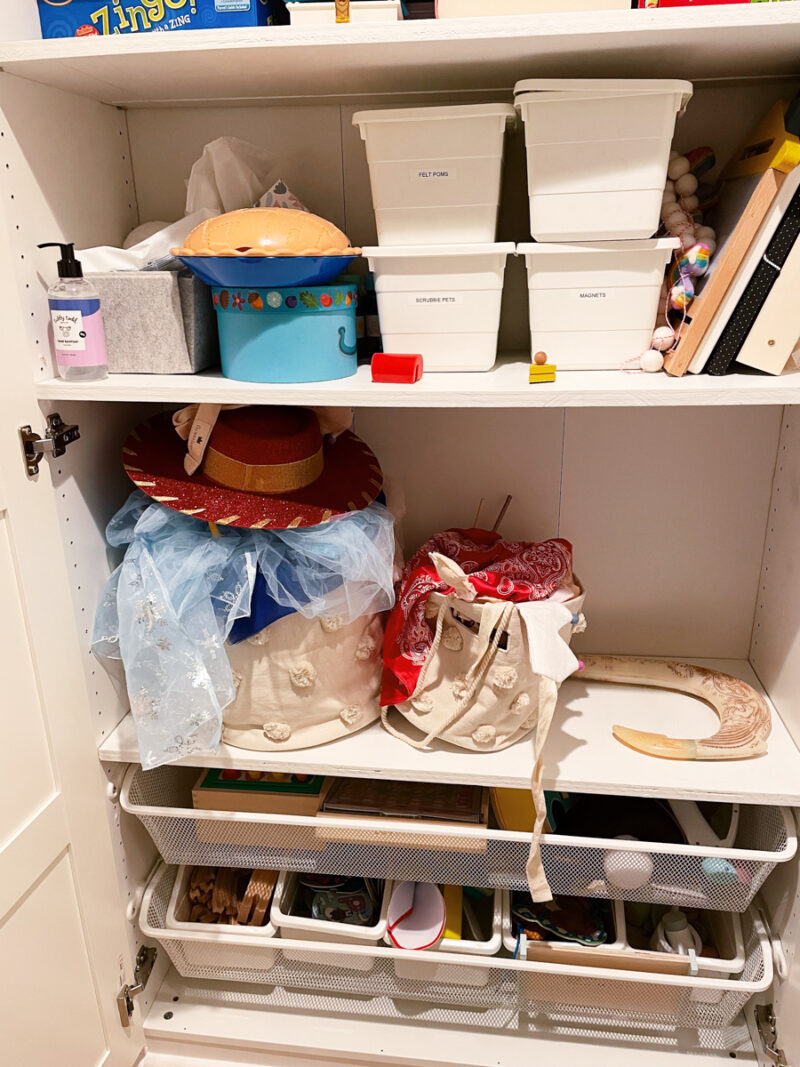 How to Set up a Montessori Toy Storage and Organization
Purge toys you no longer need
I went through every basket, the play kitchen, and our toy cabinet, and made a few piles. Toys the girls use and toys they don't.
Toy rotation
Any "overflow" went into one of two bins in the basement that I'll rotate out every few weeks. The toys they've outgrown or show little interest in were listed for free to a family who could use them on facebook marketplace. This is the best way to keep things fun and fresh, and to get years of use out of your toys. It takes work, but if you set a monthly reminder, you will notice a difference. Having less out keeps kids engaged and means less clutter for your house, too.
Make toys accessible
As you can see, dress-up clothes were a disaster and didn't get much use. I ordered a child-size clothing rack for the girls' dress-up stuff and they're already using them a lot more. It's nice to have everything on display, at their level. There are so many storage options available, and really, it comes down to what is best for your home and child. If you have more floor space, baskets are ideal. And you'll have space to keep larger items, like an ice cream cart out as opposed to in a closet. Handy cubbies, open bins, or baskets make things accessible, and you can order various sizes depending on the toys you're storing.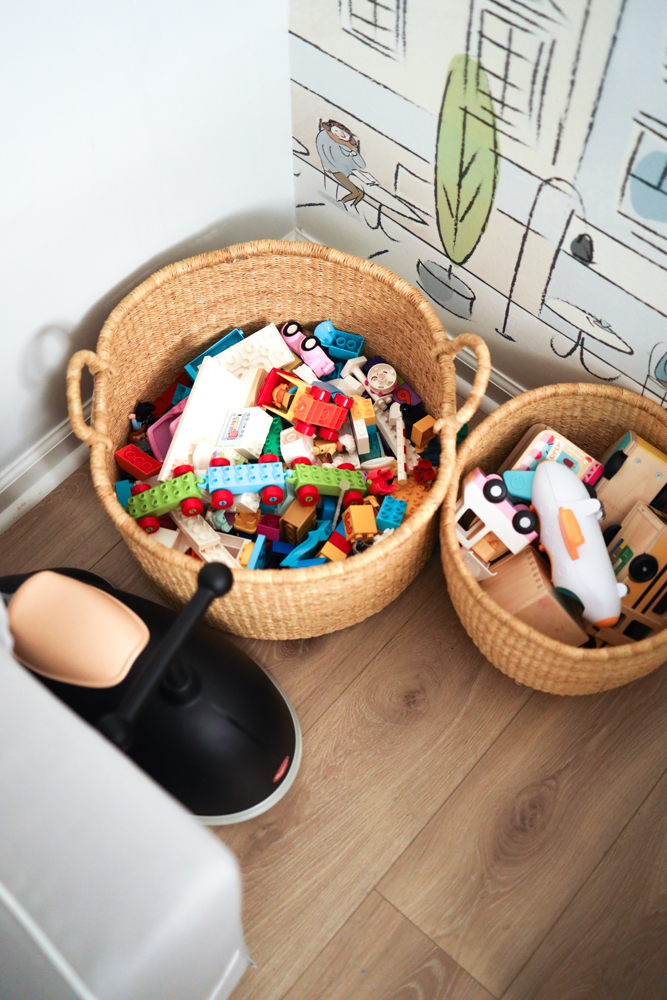 Set up a Montessori-style shelf
A Montessori shelving unit should be at a height that is easily accessible for your child, and the shelf should be completely open (we have this system and open the doors during play time). It's an optimal storage solution if you have the space, but our IKEA storage units were great and held so much.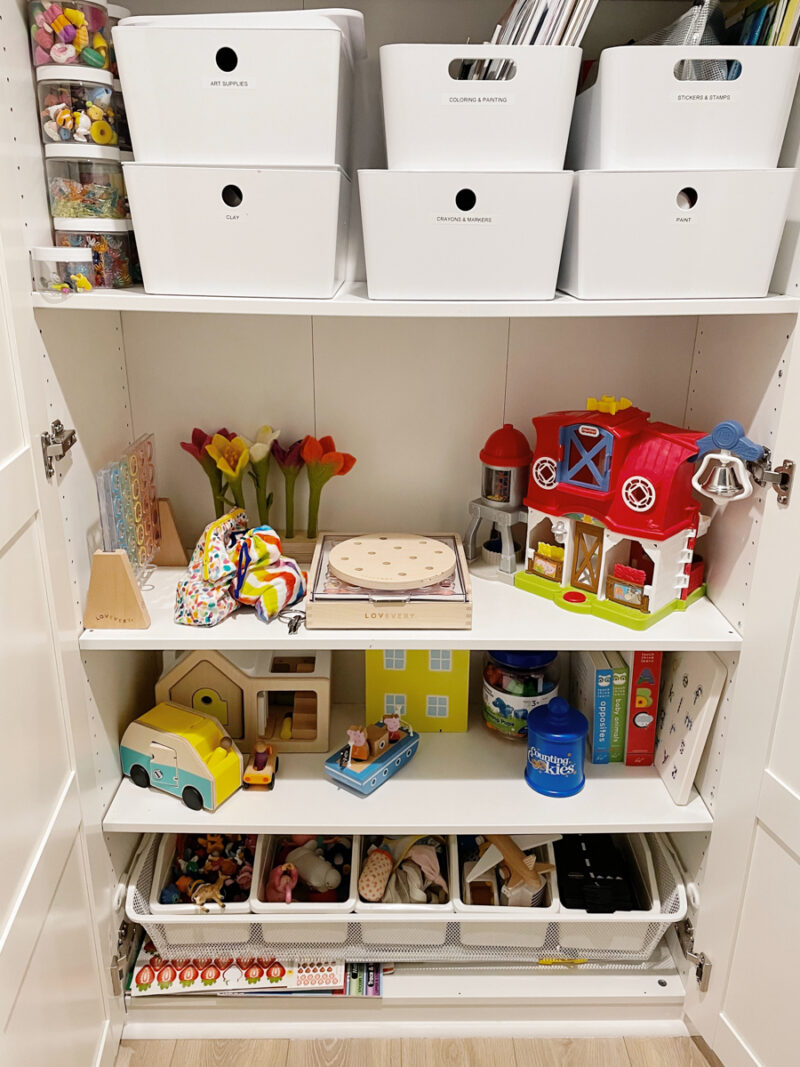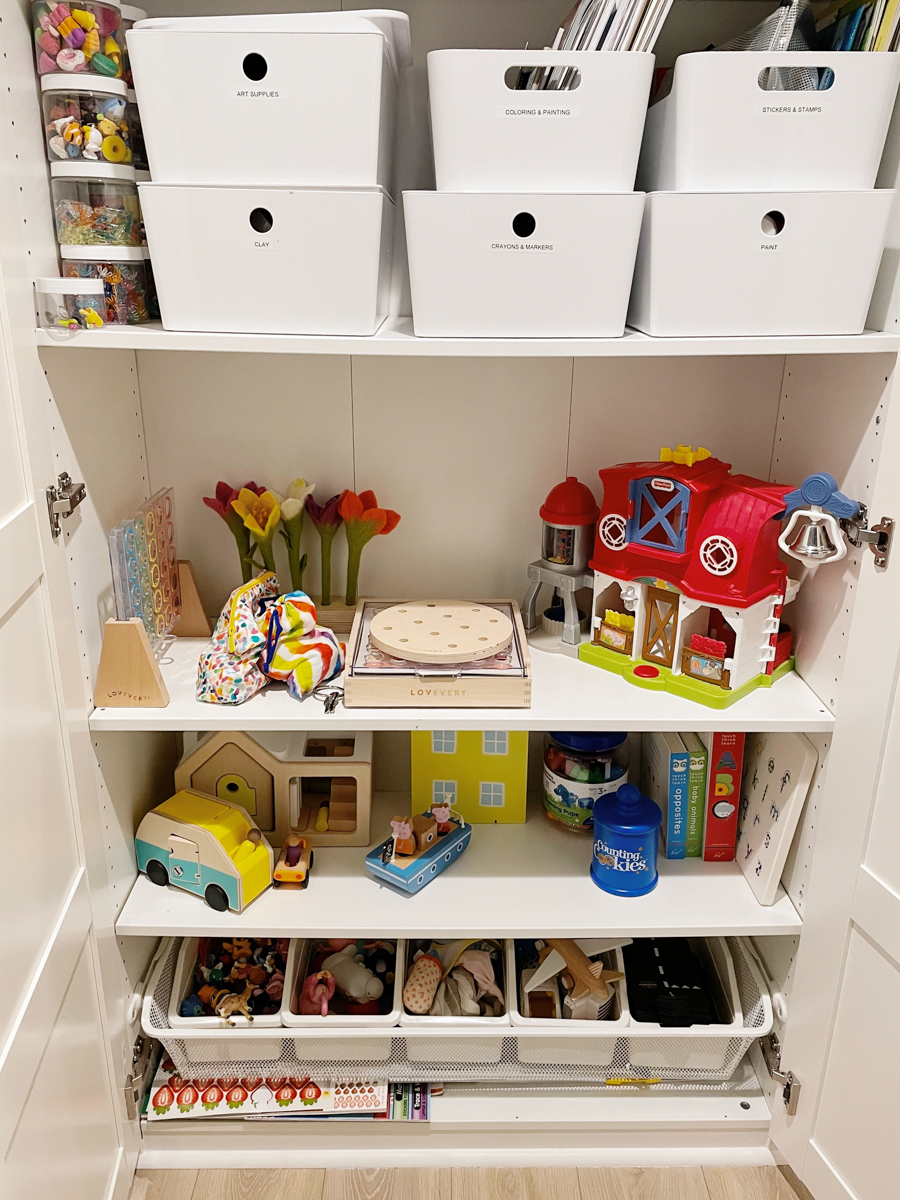 Storing Art Supplies
I keep art supplies in these plastic boxes, and actually store them on higher shelves to keep disasters from happening (with two young kids).