The Best Toys For Two Year Olds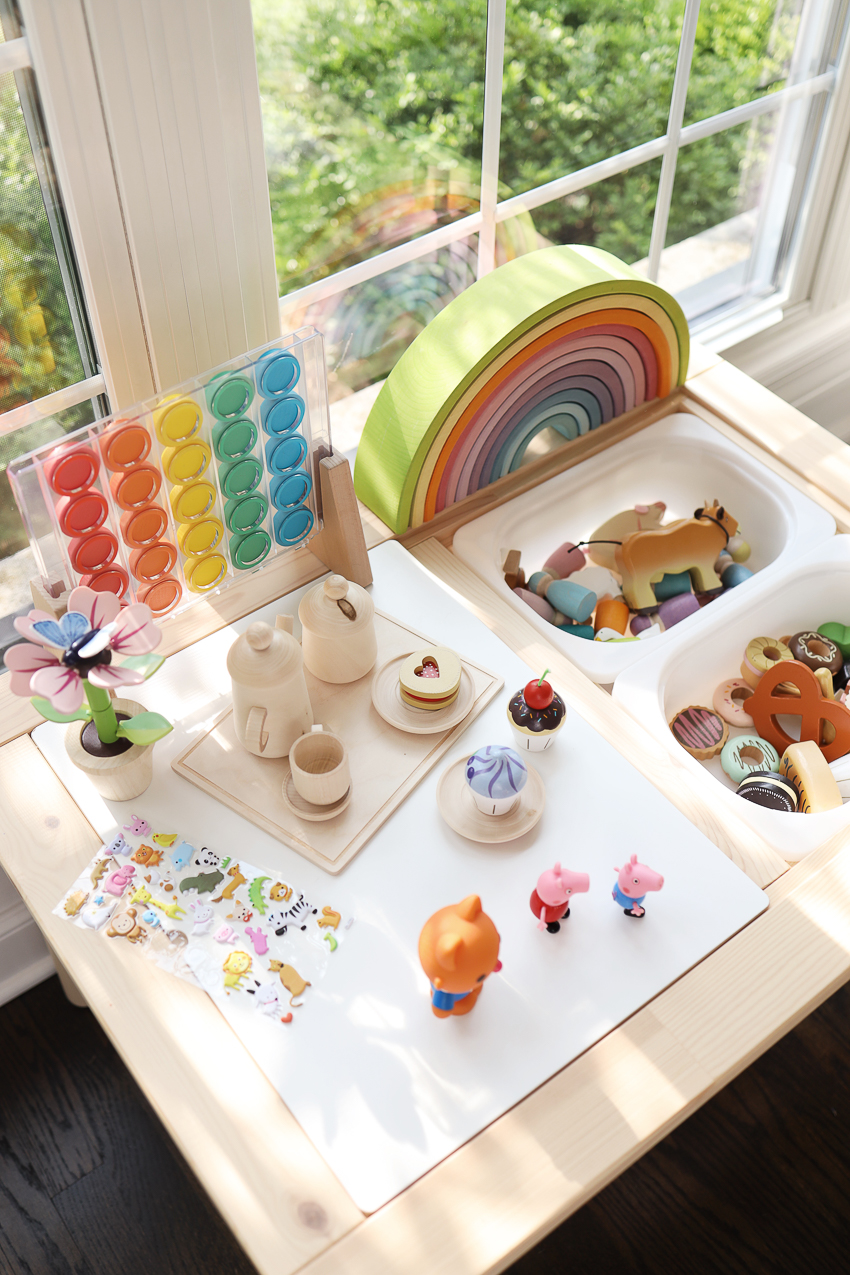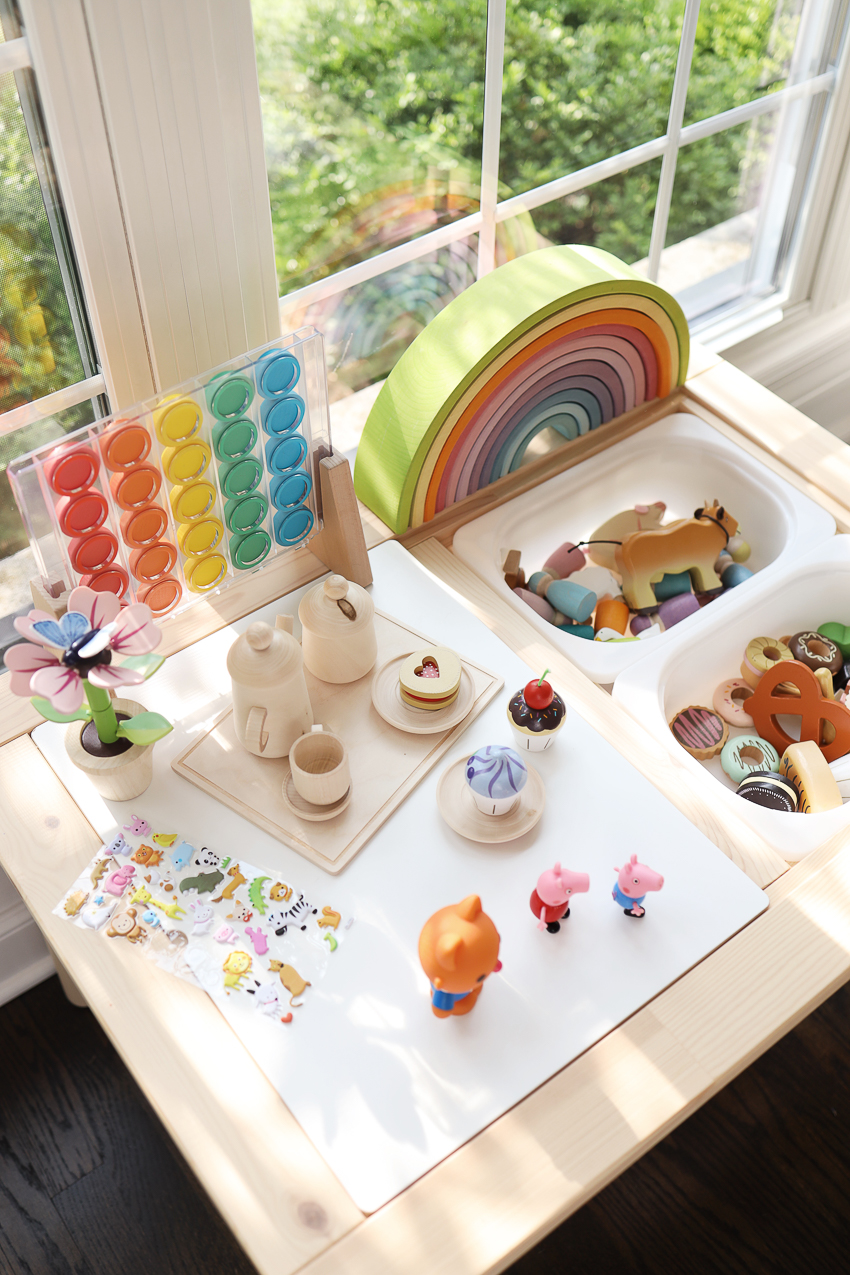 When it comes to toddlers, it's amazing how much things can change in just a few months. Months before writing this post, I shared My daughter's play area and some of her favorite toys. Now that my girls are 2.5 and 4.5 and I've been through this stage twice, I want to share the best toys for two year olds. All little ones play differently, but I've learned a lot about the toys that will get the most play, the ones that are the most open-ended, and the toys that will last. I'll share how we play with some of these toys and the one my preschooler still loves, too.
The Best Toys For Two Year Olds
Two year olds are so much fun. I love anything that's good for open-ended play. From simple puzzles and building toys, to musical instruments and construction toys, good toys will toddlers and preschoolers engaged, and will last. Both girls went through Daniel Tiger, Peppa Pig, and Mickey Mouse phases. They both love play food, their play kitchen, and the green toys cupcake set that I've linked so many times that I am not including it below (but really, you need it). The ice cream toy she's loved for months is still a favorite that she plays with almost every day. We play with baby dolls and read lots of board books to develop those language skills.
Let's talk about some more of their favorite things.
Sensory kits and stickers are some of my kids favorite things. These are a great way to help your 2 year old develop fine motor skills and are great for playing pretend, too. I purchased two kits and then signed Margot up for the monthly subscription (nothing was gifted or discounted). They have been amazing for her and she'll play with them for over an hour! There are a few toddler kits but the ones I ordered are recommended for ages three and up, so we watch her closely, but Margot seems to be long past wanting to put things in her mouth.
I had to stop spending so much money on clay sensory kits and actually started making my own. They're super easy to make. See how I did it here.
Educational toys don't have to teach numbers and letters. Toddlers and young children learn through play, so every time they play with great toys, they're learning new skills. I love open-ended toys because there are so many different ways to use them.
A few notes.
I splurged on this wooden tea set but it's a bit smaller than I'd like, so I linked to a different one in the post. We use this silicone mat at Margot's booster seat when she plays with clay. The little border helps contain the mess.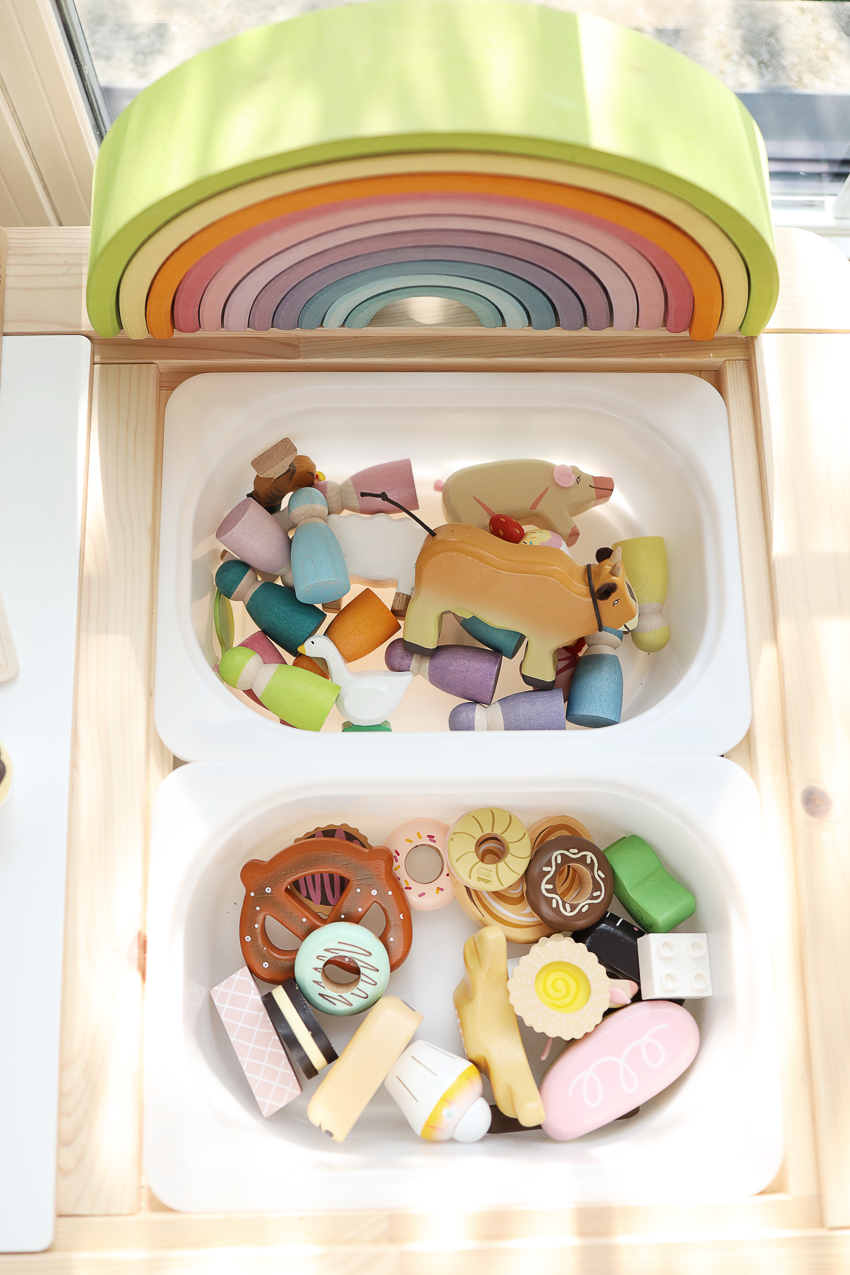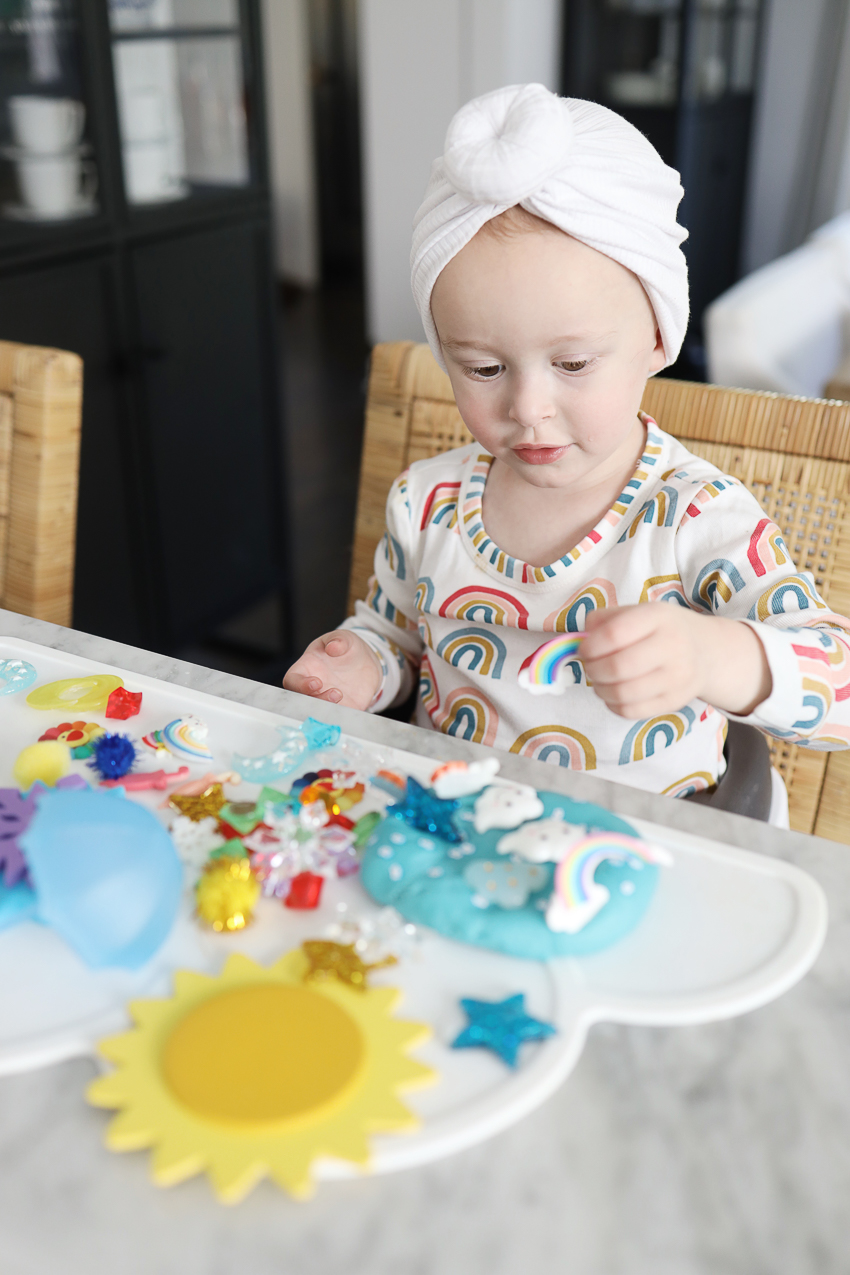 Wooden Makeup Toy
This was a gift and quickly became a favorite toy. Play pretend with an assortment of wooden accessories including a perfume bottle with a bulb atomizer, a hand held mirror, a hair dryer, a comb, a shell compact make up kit, a lotion, a nail varnish, a lipstick and a powder puff. I love how sweet and simple this toy is and that it sparks my kids to use their imagination, and to play pretend. My 4.5 year old still loves makeup toys, so this is one of those gifts that will last.
Toniebox Audio Player
This has been my kids' favorite toy from ages 1-4.5. They use this audio player almost every single day, and we have almost every single Tonie audio figuring. It's so easy for little ones to use! Just place the figurine on top of the audio player and listen to stories and songs from your favorite characters. From Olaf to Paw Patrol, there's something for everyone. I've found that younger toddlers just like switching the figurines out, but as your child gets older, they'll really sit and listen. It's great for story time, quiet time, or to have music playing (that your child can control) during play time. I cannot say enough good things about the Toniebox – it's a great choice for all kids under 6. Bonus: it's a great toy to extend quiet time once your preschooler stops napping.
Sensory Kit
These are the best, but are a bit pricey. But you can make one yourself for a lot less money. If you are going to splurge on one and have two young kids, there's enough going on that they can share it. I made the mistake of buying them each their own kit, and it was not necessary to purchase a second.
Duplo Blocks
Ok, so anything children can use to build is always great. Duplo, Magnatiles, wooden blocks – they are always a hit with young kids and I love that they'll grow with them, too. This is a toy my 4.5 year old still plays with, so it's great for 2 year olds with older siblings. This is one of those toys that's open-ended, so these blocks can be built to create anything. And if your toddler doesn't love them the way you'd imagine, trust me when I tell you they will.
Doctor's Kit
Pretend play is so important for toddlers and preschoolers, and a doctor's kit is always so much fun for 2 year olds. Similar to the makeup kit, this is one of those toys I believe every young child should have. If your child is going through something medical like mine did, it's a must-have, but these doctor kits are great for prepping and practicing going to the pediatrician, too.
Wooden Blocks
I love wooden toys, and this blog set is a favorite. It includes a shape sorter and little peg figurines, so it's great for imaginative play and hand-eye coordination. Open-ended toys like this can be used for everything.
Wooden Cars and Trucks
This wooden construction truck is adorable, and Jack Rabbit Creations has some really great options that I've purchased as gifts. My girls have the way2play rubber roads (highly recommend them) and we love simple wooden cars. Given their love of Mickey, this one is a favorite.
The Best Mold-Free Bath Toy
Both of my kids (2.5 and 4.5) love these bath puzzles. We have two sets and they love to play pretend and build with them.
Ice Cream Counter
We keep this in our living room and it gets used almost every day. Learn colors, make ice cream towers, and play ice cream shop. It includes a wooden ice cream counter, eight ice cream scoops, six toppings, two cones, cup, scooper, tongs, wooden spoon, and six pretend dollar 1 bills. It's recommended for ages 3+ so always supervise younger children, but both of my kids loved playing with this toy as toddlers, and it gets use every week.
Large Animal Figurine Set
These are great for sensory play, the bath, or a water table.
Tea Set
A tea set is always a great toy – classic and simple, but good for hours of fun. Play pretend with a friend or dolls. The set includes a pretty cupcake, tea bag, 2 cups and saucers, 2 teaspoons and a milk jug. All presented on a round tray. For ages: 3+ years. And I love this eco-friendly brand.
Wooden Cupcakes
Since both my kids love play food, I'm including a few of our favorites in this post. Play food is one of the best gifts for young children – it's the perfect toy for playing pretend: kitchen, chef, picnics.
Play Kits
We really liked these Lovevery play kits, but I will tell you that the toys don't retain my kids interest as long as I hoped. They are developed by child development experts and are the perfect way to build skills that our kids need at age 2. I just wish they were a bit more interactive.
Wooden Rainbow Stacker
Figurines
Choose a figurine from a show your toddler loves, and they'll have fun playing with their favorite characters. The figurines my kids play with most often change with whatever show or toy they're into. But these are always a favorite. I keep a basket of all our figurines together, and I will tell you – you do not need all the play sets. Pair a favorite figurine set with some blocks to create a city. Or use flower blocks to create a garden. It's all about playing creatively with open-ended toys.
Puffy Sticker Play Set
A classic toy – both my girls love these. There are stickers all over my house but they keep my kids busy so everyone wins. I almost always bring these out when we are on the go. They're ideal for restaurants but be sure to watch your 2 year-old since stickers are small and are a choking hazard.
Wooden Train Set: I really tried to get my kids into trains but they didn't love them the way I hoped. But my friends kids seem to love them though, and train sets are a great, classic toy. I love this one – Le Toy Van is another favorite brand for beautiful wooden toys.
Baby Doll: Every toddler and little kid should have a baby doll to love and nurture. My daughter got a Bitty Baby for her second birthday and absolutely loves it. She is now 2.5 and still plays with it all the time, caring for and nurturing her baby. This is also a great gift (and practice) for a toddler or preschooler that is about to become an older sibling.
Dot Paint
This paint comes in bright colors and is about as mess-free as paint can be. I am someone who does not want paint all over the place, and these are really fun and great for little kids. They are very thick and the right size for little hands too.
Paint Markers
Both my kids love these, but they definitely require some supervision and could make a big mess if you're not paying attention. When you want to paint colorful pictures but don't want to leave the mess behind (which is almost always me) it's time to use these paint sticks. Ease the pain of messy clean-up with the same amazing paint finish!
Play Kitchens
I include this in every gift guide because it's a classic and will last for years. I've talked about the importance of playing pretend in early childhood, and using a play kitchen is one of the best ways to do that. We have the larger Pottery Barn Kitchen, which I chose because I thought it would last longer and I really like the storage component (the fridge is basically a big shelf). But – if you're looking for something smaller and more affordable, I love this one and would actually choose it if I were buying a new one.
Sensory Play Table
This is one of the best toddler toys, and there are some amazing add-ons on Etsy. Use it as a play table, activity desk, or even a water table. It's such a simple toy, but there are endless ways to use it. And it's a great spot for easy storage too.
Squigz
There's something about these squigz that both my kids love. They are such a fun toy for little kids.Use them on a window, on the go, or in the bath. My kids pretend the pieces are telephones, or build big towers with them. They're fun, easy to clean, and there's a mini-version (great for restaurants) too.
The Scooter That Grows With Your Toddler
Ok, this scooter is the best. There's a seat that's great for 1.5 year-olds, and the handlebar becomes a push handle for parents. As your toddler gets older, the seat and parent handlebar can be removed. So this works from ages 1-6! Pretty awesome.
Tricycle
I love a balance bike but neither of my girls were ready for one at age 2. So I'd start with a tricycle which is great for strength and still a lot of fun. And I love this one since it comes with a removable push handle.
This post contains affiliate links. If you purchase something using my links, I may earn a commission at no cost to you.