The Best Toys for 4 Year Olds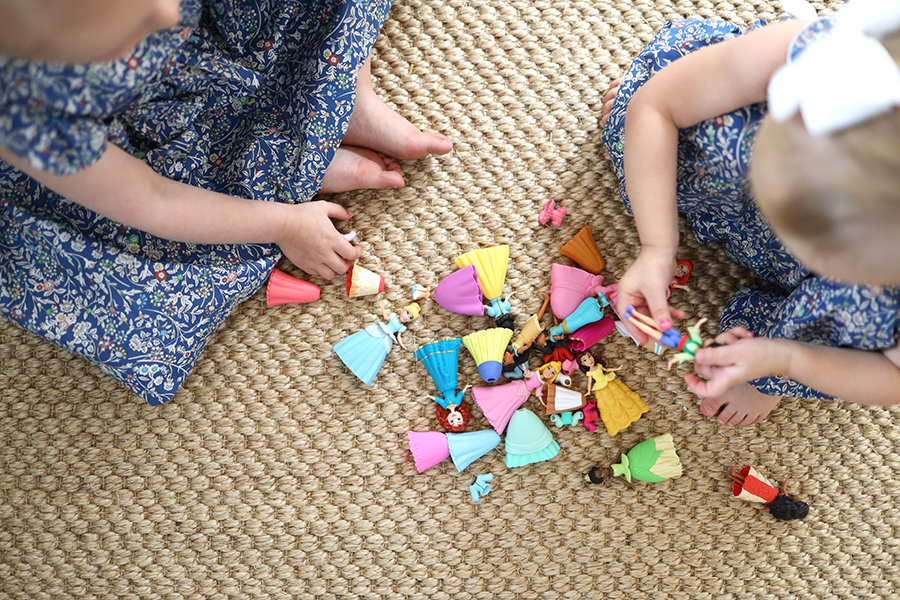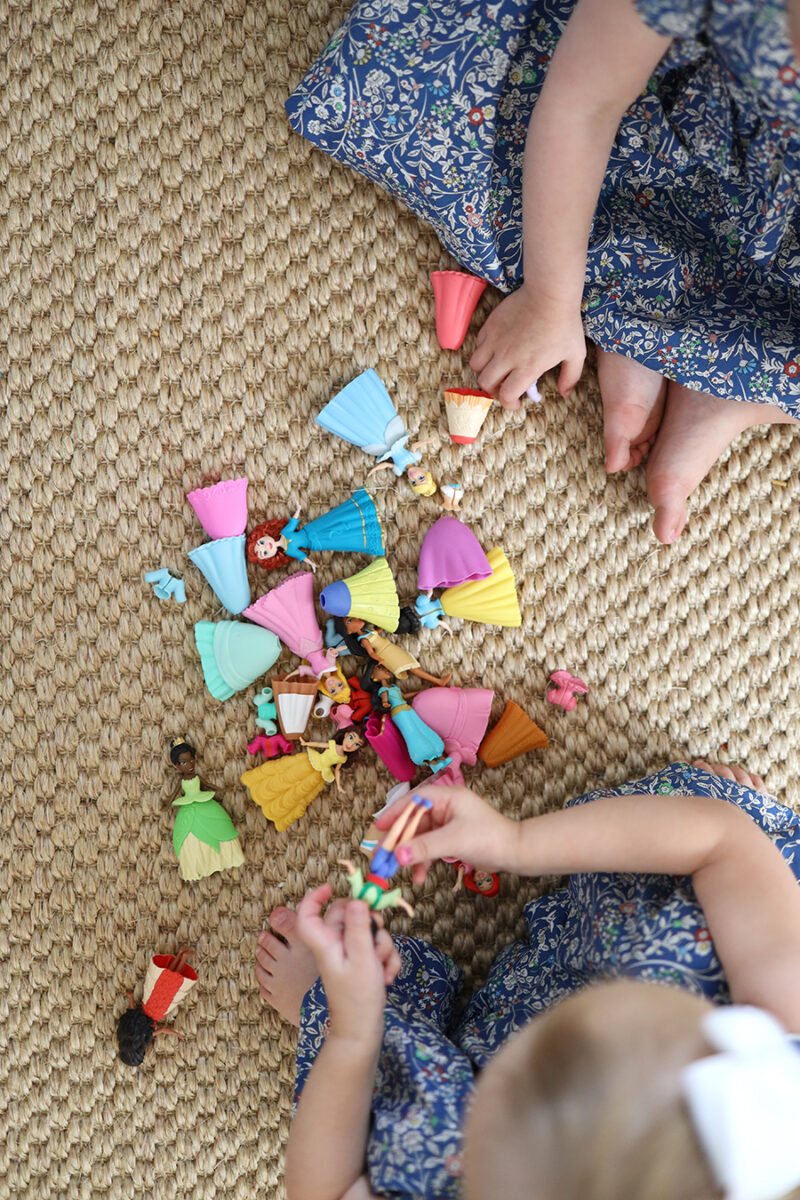 As a mom to two little girls with a little boy on the way, I hope that all my children play with everything from trains and tools to dolls and kitchens. So today, I want to share the best gifts for 4 year olds and what I think are the best toys for open-ended, imaginative play. I'd say many are for little kids in the 2-6 age group though, because my younger (2 year-old) loves a lot of them, but we have friends who are 6 that love them, too. It's so important to remember that all kids play differently, so let's just call this what it is: these are my 4-year-old daughter's favorite toys, but these are great for any 4 year old boy or girl.
I do not typically purchase what some might consider the best educational toys and all games are educational games. Why? Because young kids learn through play. A great toy might be as simple as dress-up paper dolls that young kids can play pretend with. Talk about how they play, colors, make up stories etc. Toys like that are the perfect way to get their little hands and fine motor skills developed, too. And bonus: none of these toys have sound effects. I talk a lot about open-ended toys and how my kids play.
The Best Toys for 4-Year-Olds
When we moved into our new home, I put some more toys in my daughter's room so she'd be able to have some fun, creative alone time when she needs it. She's started going up to her room to play with her dollhouse and American Girl dolls on her own. And when her friends come over, they want to go right up to her room to play. There's a lot less jumping from toy-to-toy – she will now play with the same toy for an hour. She has so much fun playing pretend, and I love that she plays independently now. My little girl loves dinosaurs and building. She has a rubber road, train set, etc. She also loves all things pink and unicorns and dolls. I think a marble run would be a huge hit, but we have a baby coming soon, and marbles make me nervous.
If you're looking for outdoor toys that might help your child with gross motor skills, read this post.
Four year olds are curious and creative.
They love to get lost in their own little world and are really beginning to understand and process the world. At 4 years old, my daughter loves playing with anything tiny, where she can get lost in pretend play. I love toys that build find motor skills, social skills, problem-solving skills, and ones that inspire role play, creative play, and keeps kids engaged. Easy cleanup is always a plus, too. If you're looking for the best gift ideas, there's something for every 4 year old i this post. You can see how I store our toys in this post. If you're looking for something for a 4-year-old, these are my daughter's favorite toys – the ones she plays with almost every day.
Maileg Mouse House
My children's love of Maileg mice knows no bounds. I can't say enough great things about these little mice. The girls got the house for Christmas last year, and it's been a classic toy that play with more and more each month. My older daughter will now play with it by herself for more than an hour. The pieces are beautiful – we always get comments on how pretty the house is. And they're solid (and pretty large, too). It's definitely a splurge, but the furniture, mice, and decor are so timeless. It's truly the perfect gift for little kids.
Sensory Objects
Disclaimer: This is my sister's shop, but it all started with her making resin popsicles for the girls. My girls loved them so much that I kept pushing my (younger) sister to open a shop. And since I'm her older sister, I did what I do best and asked weekly until she caved. 😂 She's had almost 150 sales in just a few weeks, and I've gifted these sensory toys to a few friends. They've been the BIGGEST hit with my girls and their friends, too. Fun Aunt Jess only has limited stock since everything's made by hand, so follow her on IG to be the first to know when new product will drop.
Polly Pocket
This is one of those toys that really withstood the test of time. No, they don't make them like they used to. They're even better. We probably have too many Polly Pockets, but they are just so much fun. Most sets come with surprise accessories, and it's all super tiny (and sometimes confetti gets everywhere). But I will tell you that these are the best on-the-go toy, and I even recommend them for young children as young as 2 – 2.5 (once they stop putting toys in their mouth), as long as you watch them very closely. We bring these out to restaurants and they always keep my kids busy. If you find yourself going to a birthday party, this is the gift for a four-year-old girl.
Lego Dots
These are for ages 6+ but they are really fun for 4-year-olds, too. They're great for developing hand-eye coordination, and are a creative and fun way to make something new. I was a big Lego fan when I was a kid, and would have loved Lego dots. These small pieces are teeny tiny so watch out for younger siblings. Make bracelets, art, or keychains, and then decorate them again. This cupcake set is especially fun – great for travel or party favors, too.
Doctor Kit
Young children love playing pretend, and for us, having a doctor kit was especially important since we spent a lot of time at the doctor last year. Normalizing doctor visits was helpful, but this all goes into creative play. And the best part about toys like this is that they really last.
Dress-Up
Both my girls have gotten really into dress-up over the last few months. I keep a few outfits in my kids closets for ease of use. Practice getting dressed, playing pretend, and have great fun pretending to be who you want to be. Dress-up clothes and accessories are great for these early years – imaginative play is so important for preschoolers and my kids always have a great time with them. I put this clothing rack in my 4 year-old's room so she always has access to her favorite dresses and can play pretend any time she wants.
Wellie Wishers Dolls and Accessories
These were a Christmas gift and both my girls (2.5 and 4.5) absolutely love them. My 4 year-old will play with all the American Girl and Wellie Wishers accessories for an hour plus. She loves them, and I love that the Wellie Wishers sets are a lot more affordable than the original doll accessories, but still good quality.
Dress Up Dolls
I bought these dolls for an upcoming trip but broke them out on one of those very long days when I just needed everyone to be quiet and wow. These little princess dolls are so much fun. The skirts can be a little annoying for small hands to remove, but my 4-year-old got the hang of it pretty quickly. Figurines are always a favorite in our house – the girls love carrying them and making them come to life. This toy would be a big hit with 5-year-old girls, too.
American Girl Dolls
When I was a little girl, if you would have told me that American Girl dolls would still be popular in 30 years, I'm not sure I would have believed you. But they are. And I was sure 3.5 was too young for her first doll, but my mother-in-law really wanted to get one for Margot for Christmas. And oh my gosh – she loves Samantha and plays with her almost every day. I eventually bought a little doll table and chair set, and a bunk bed, too. Samantha was such a hit that I ended up buying Kit for my daughter's 4th birthday.
Flower Garden Blocks
This may look like one of those annoying plastic toys and I suppose it is, but it's also been one of the most played with toys in my home. These flowers are one of my top picks for little kids – they are great for little hands and can actually be educational toys, too. Work on patterns, colors, and building big towers together. Two is actually a good age start for these – both my kids love them.
Duplo Blocks
These Legos are the right size for smaller hands, and one of those toys my kids will actually play with for a long time. Duplo makes (real) train sets, amusement parks, Disney sets, or look into a Duplo starter kit full of basic blocks to get your kids building. At 2.5 and 4.5, my kids still love a Duplo set – they make great birthday gifts and the age ranges are great for toddlers and preschoolers, so it's a favorite for toddlers and older siblings.
Maileg Mice
Maileg mice have been a favorite for years and really are the perfect toy for these early years. They're such a fun toy good for hours of play, both with and without the dollhouse. Both my girls love the mice and accessories, too. If your kids love tiny things, Maileg mice and their tiny accessories are the very best. The tea set and little treats (and tiny food items) have been very popular, and are great for travel.
Dolly Dress-Up Sticker Books
We love these dress-up sticker books. There are books with almost every theme, they're diverse, and keep my daughter busy. A great travel or on-the-go activity, these have been a favorite for almost a year. Pro tip: peel back the paper around the stickers to make getting stickers off the page easier for your child.
Magnetic Tiles
Magna-Tiles make the best gift. We have a huge basket of them out in our family room, and started adding in themed animal sets. When I saw the dinosaur set at Target, I had to surprise my kids with it. My 4-year-old loves dinosaurs (as you can see here) and loves these figurines. It took until age 4 for her to get really into Magna-Tiles, but she will now spend hours making cities and buildings. A favorite has been recreating the Encanto house with her figurines. Build fine motor skills and problem solving skills. Create anything and everything – these are so amazing for open-ended play. They are a splurge, but are made so well and are well worth it.
Disney Doorables
Disney Doorables are so simple, so tiny, and pretty awesome. These were a medicine reward (read: bribe) during my daughter's treatment, so we have a lot of them. There are some themed packs out there, but most are a "surprise." So when I needed certain characters, I actually turned to eBay.
Audio Player
Here I am posting about the Toniebox again, but it's still one of our most-used toys. Young children love this thing, but the best part is that I've heard from parents of 6 year olds who still love it, so it's one of those toys that your kids will keep playing with. My youngest learned how to use it at around 1. It's an audio player, and when you place a Tonie (figurine) on top, it tells stories and plays songs. Each one has about 45 min. of audio, and I've found that my kids really like playing and listening, and that my older daughter who doesn't nap, will do quiet time while relaxing and listening to stories.
Simple Board Games
It wasn't until right around 4 that my daughter started getting into board games. The idea of playing family board games feels so sweet and simple, doesn't it? She really likes hungry hungry (unicorn) hippos, Peppa Monopoly, Candyland, and will play any themed memory game, too. There's a bit more explaining when it comes to Monopoly and Candyland, but she does enjoy them, and they're a great way for younger children to learn the art of rule-following and losing, too.
Art Sets
We love Melissa & Doug, and love art sets in our house. But I'm not the biggest fan of messes, so day-to-day, I try to choose creative toys that are a little less messy. These paint with water books are perfect since they're paint-free. We love clay sensory kits, and I'm a big fan of Ooly products, too.
Grocery Store
This grocery store is on the smaller side, so I'd say it's ideal for ages 2-5. I like that it takes up less space, and Tender Leaf Toys are really sweet, eco-friendly, and look nice in your home. My girls love playing grocery store and farmer's market, and fill this little food stand with treats and food. The Tender Leaf food sets are so, so cute, too. It serves as a great place to store food toys, and kids love playing with it.
Necklace Making Kit
My daughter has a few of these themed necklace making kits and loves making (and wearing) them. Learn different colors, practice stringing, and have fun with a timeless toy like this one.
Play Food
Some of the most played with toys in our home? Play food. My kids carry it around in bags, picnic baskets, at use it at their play kitchen and grocery store. Kitchen sets are the best. They love treats the most – from ice pops to cookies and other wooden sweets, these are such simple toys that are well-loved in our home. When it comes to play food, I really like Le Toy Van and Tender Leaf Toys. This ice cream counter is another favorite.
Play Jewelry
Super Smalls is a fun, glitzy, brand that makes jewelry designed for play. Super Smalls believes in imagination, dressing up and letting all kids shine. My kids love dress-up – it's the first thing my daughter does when a friend comes over. And dress-up outfits are fun, but the accessories are everything.
Matching Games
This is a great game for developing critical skills – the educational value is just so good, and your children will practice critical thinking while having fun. Match your favorite characters while "working" on memory and focus. Toy Story is a popular one in our house, but there are lots of options, and choosing characters your child loves makes matching games fun. These are great family games and usually go by pretty quickly, so they're a good starter game for younger kids.
Book and Puzzle Set
I love these book and jigsaw set. The puzzle pieces are sized perfectly for little hands, and they are simple, with just 9 pieces. The set comes with 3 puzzles and includes a board book. Young children can enjoy spotting farmyard animals and complete the jigsaws to recreate three of the colorful illustrations. These beautiful jigsaw puzzles and matching books come in different styles and themes that will keep little ones engaged. They make great gifts, too!
Search and Find Books
My daughter loves I spy / search and find books, and this one is hands-down her favorite. I love that there are various themes within the picture book, so there's something for everyone. There are thousands of objects to find, count, and discuss. The book has multiple 1001 Things to Spot themes within its pages, and is paperback, so it's easy to take along on trips or long drives.
Figurines
Figurines are one of our most played with toys, and will always be put to good use. From Bluey and Encanto to Peppa and Toy Story, my girls both love carrying them around and use them with Duplo, Magna-Tiles, and their dollhouse. My four-year-old will really play pretend with them now, and gets lost in her own little world with all her favorite characters. I used to buy the play sets that go with figurines, but have learned that it's a lot more fun and magical to create your own world vs. breaking out the Bluey house. Although we do have the Encanto house, and the girls love it. It's a balance. I prefer smaller play sets (less "stuff") but figurines seem to be the key to their little hearts.
Grimm's Wooden Toys
I love Grimm's toys. They are so sweet and simple, and can be literally anything. My daughter loves to create cities, zoos, parks, and little worlds for her figurines and Maileg mice. They are pricey, but are designed to last a lifetime, and are made with FSC sustainable wood and non-toxic colors. Grimm's toys are fun for kids of all ages and remain mindful of the planet and our environmental impact. Like many of our toys, I keep these in a basket with our favorite wooden animals to spark creative, open-ended play.
Squigz
I can't say enough good things about Squigz. They are the best unofficial bath toy and keep my girls happy and entertained in the bath. Large enough for younger siblings, safe to play with, and good for hours of fun. Use them in the bath, on trips, or on windows. I love the mini versions for dining out, but they're pretty small, so I wouldn't recommend giving them to a child under three without supervision. But really, we should always keep an eye on kids when smaller pieces are involved.
Plus-Plus
Plus-Plus is one shape with endless possibilities! Create 2D or 3D shapes with these amazing little puzzle pieces. I love that Plus-Plus encourages open-ended, creative play. And it's a perfect STEM toy to develop fine motor skills. They are recommended for ages 5-12, but my 4 year-old loves them. She can't quite make elaborate shapes yet, but they keep her busy when we go out to lunch, so I'll take it. And bonus: Plus-Plus is made in Denmark in our own zero-plastic-waste factory powered by renewable energy. For younger children, check out the BIG Plus-Plus sets.
Melissa & Doug Puffy Sticker Play Set
Last but definitely not least, you'll find about 5-10 of these in our toy cabinet at any given time. Going out to dinner? Traveling? Need kids to sit down quietly for a few minutes? Melissa and Doug puffy stickers are almost always the answer. I buy them on Amazon and usually keep my eyes peeled for sales – it's best when they're around $5 each, and they'll keep both my 4 and 2 year-old busy for a good 30+ minutes. They are reusable but lost their stickiness when you stick them on anything but the glossy background (with a convenient play handle) which my kids do all the time. They're probably good for a few uses, but half the fun is getting a new pack. Can't recommend these enough.
This post contains affiliate links. If you purchase something using my links, I may earn a small commission at no cost to you.