Pink Dinosaur Birthday Party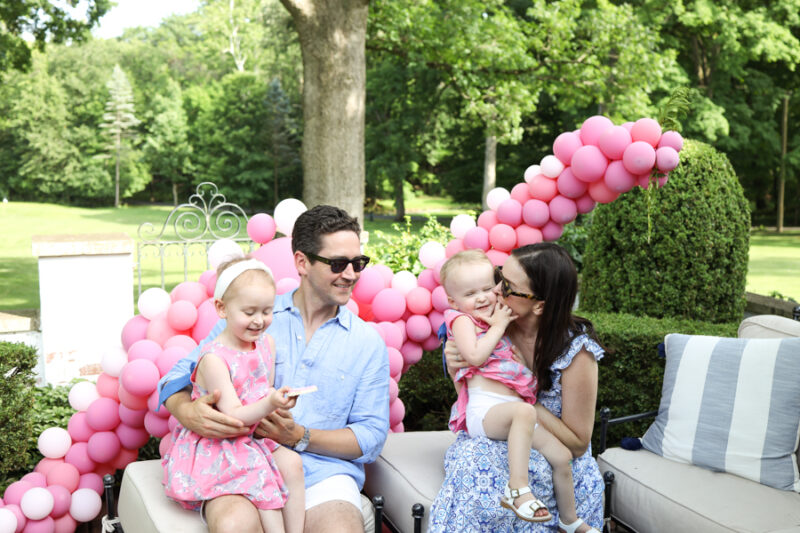 The girls' pink dinosaur birthday party was a hit! Our party guests had fun, and we were so happy to gather with our favorite people in our new home after not being able to do so for years. It was one of those days where nothing went right but in the end, it all worked out. We woke up to 80 gallons of water in the basement. The bounce house couldn't be delivered because it was pouring, and I barely took any photos because of the rain. But after over two years of treatment, Margot took her last dose of chemo that morning, and really, nothing could have ruined our day.
Pink Dinosaur Birthday Party
I could have used a break with the weather but whatever. The sun came out and almost everyone was able to come to our party a few hours later after the weather improved.
This birthday celebration was long overdue. After years of isolating, it felt amazing to be able to celebrate with everyone. Last spring, my now 4 year old decided that dinosaurs were the coolest thing ever. We bought a dinosaur book for our friend's son, she found it, and the rest is history. This party had to be all things dinosaur. And in little sister fashion, Kate got really into them, too. They both love pink (although that's not my doing) so a pink color theme dinosaur party theme was sort of inevitable. I really thought we'd have an Encanto, Toy Story, or glittery unicorn themed birthday party, but the girls wanted dinosaurs, so I went with it. And I went all out with dresses, balloons, cookies, and birthday cake.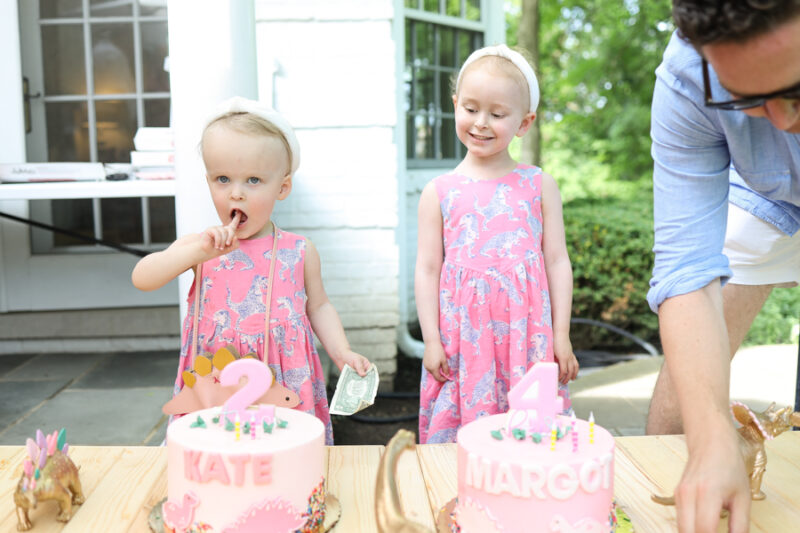 Our Dinosaur Themed Party
If you're looking for fun birthday ideas and dinosaur party supplies, this post is for you. Here's a look at the girls' big day! Not pictured: dinosaur temporary tattoos, a wooden ring toss dinosaur game, our dinosaur sprinkler, and our rainbow photo backdrop (due to weather and general party craziness).
I attempted to get a photo of the girls, but this wasn't what I had in mind. Kate kept saying "water head" so this was my really cute balloon garland photo. 😂 #memories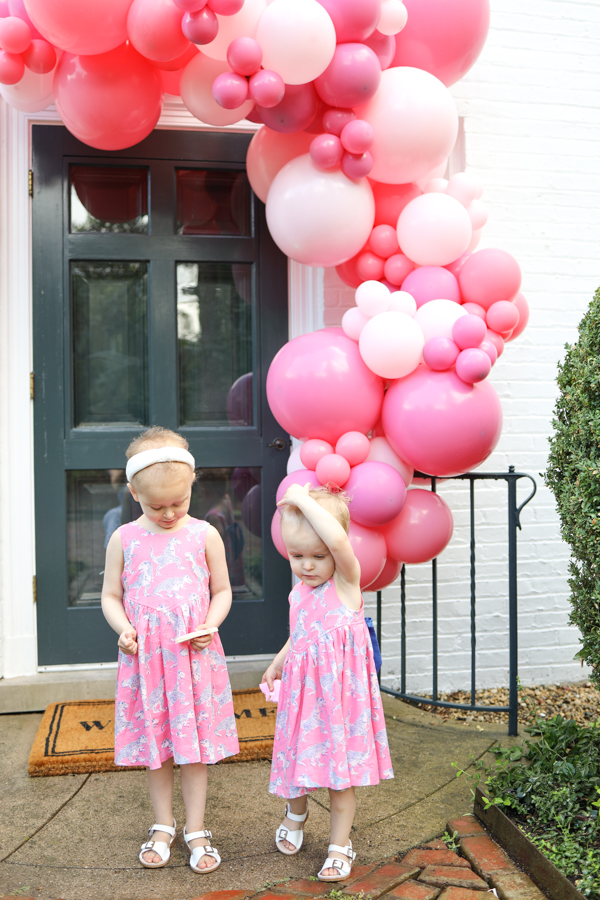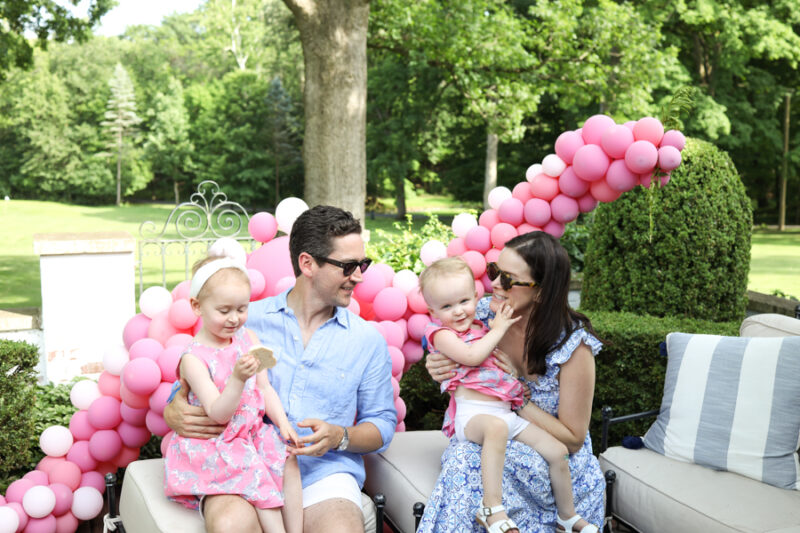 A big thank you to my friend Rebecca for snapping a family photo! I'm so glad we got these. Note to self: hand your photographer friend a camera when everyone sings happy birthday. I wasn't thinking. And now, on to the dinosaur birthday party supplies.
Dinosaur Birthday Party Ideas
The Girls' Outfits
The girls have two dinosaur dresses – one pink and one blue. My friend told me about this one on Etsy and I had to get it. Activities like this one are an easy way to keep younger children busy. My dress is Hillhouse but sold out. There are quite a few patterns and colors to choose from here.
The girls' sandals are L'Amour, and if you use the code DANIELLE, you'll get a 5% discount, and 20% of your order will go to Alex's Lemonade Stand! Margot's headband is Little Poppy Co (they're our favorite).
Balloon Dinosaur
I had planned on a balloon garland but saw this dinosaur on instagram and it's so much fun – I knew we had to get a big pink dinosaur. 99 Haus Balloons did the most incredible job. It was a splurge, but was worth it.
Dinosaur Sprinkler
This thing is ridiculous but looks so fun. I had to get here. Such a fun way to keep the kids busy. Since it rained and the grass was soaked, we never even used it.
Dinosaur Party Favors
I was going to get favor box but ended up filling bags with sidewalk chalk (and sealed the bag with a custom dinosaur sticker), along with bubble wands from Target. I took things a little too far and made these, too. They were a huge hit! This was my first time doing favors and I probably went a little overboard, but it was really fun.
Dinosaur Garland
Another etsy gem that comes in any color palette you're looking for. Garlands are a great way to add a little extra something to birthday parties.
Dinosaur Party Decorations
These painted dinosaur toys are amazing but I found the same dinosaurs for $33 so I'm going to paint them myself. I bought these dinosaurs for another project, along with this spray paint and this paint, too. I got some little dinosaurs to decorate and there's another DIY I might try. Wish me luck!
Dinosaur Crayons
I found these on Etsy and will have them out on the craft table with the big dinosaur poster.
Dino dig
I planned a little dinosaur excavation with these dinosaur eggs. Break the eggs and dig for dinosaur fossils and dinosaur bones – very appropriate for a dinosaur birthday party theme. And naturally, they're purple and sparkly.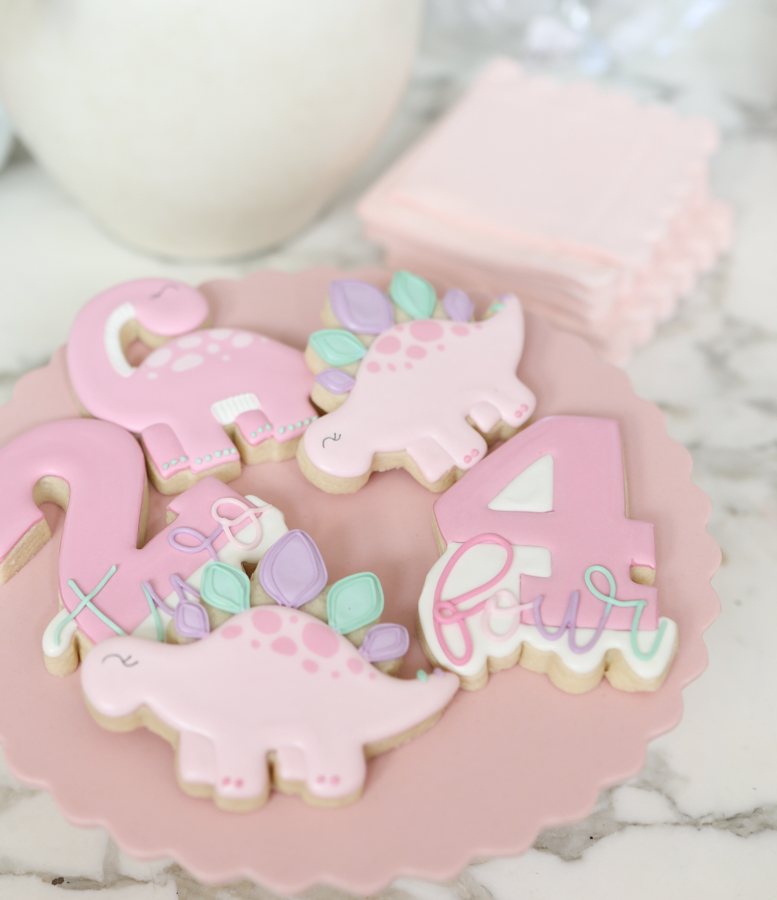 Our cake and cookies
Local baker Maggie Makes Cookies made the most beautiful sugar cookies for us! She's such a talent. The use of her cookies as dinosaur cake toppers was a little unexpected, but they worked out perfectly. For anyone looking to order a simple cake, the cookie toppers were so cute! Highly recommend that. And pro tip: don't forget the birthday candles. Don't worry: my mother-in-law picked some up for us.
And now, on to the cake. I am not sharing the bakery since the cakes were cute but Kate's tasted just ok (at best – no one ate it), and the standing dinosaurs on top both cakes arrived broken. I don't want to say anything negative about a business but also don't want to promote a business that we didn't love. Fortunately, our cookies by Maggie Makes Cookies made the perfect cake toppers!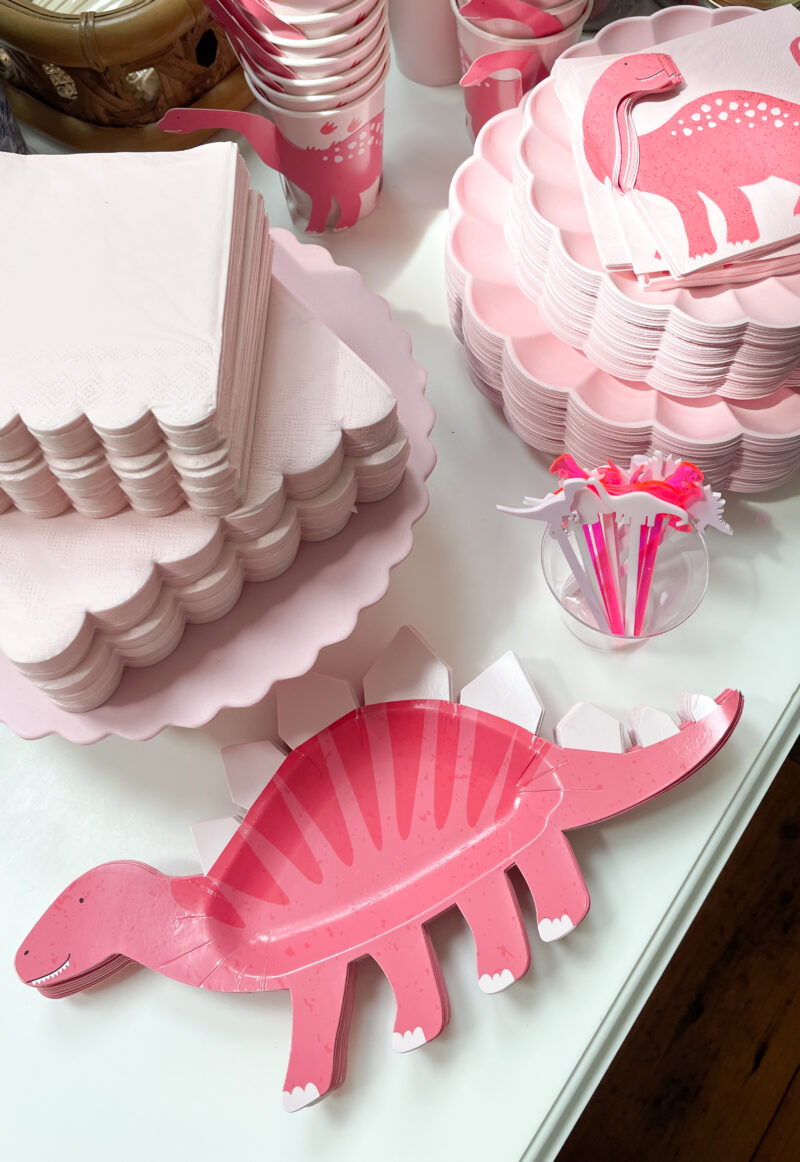 Dinosaur Paper Goods
It was surprisingly difficult to find cute pink dinosaur paper goods, but I found these on Etsy (they're made in the UK) – the dessert plates are so cute! The cups had stickers on them that would not come off without ruining the cups so skip the cups! But the real winner is the Meri Meri eco-friendly scalloped plate. I really hate that party decor produces so much waste, and these plates are biodegradable. I try to use the same garland and banners when I can. These streamers are weatherproof and I've used them for a few of the girls' birthdays. Unfortunately, they kept falling over with the rain and wind, but I tried.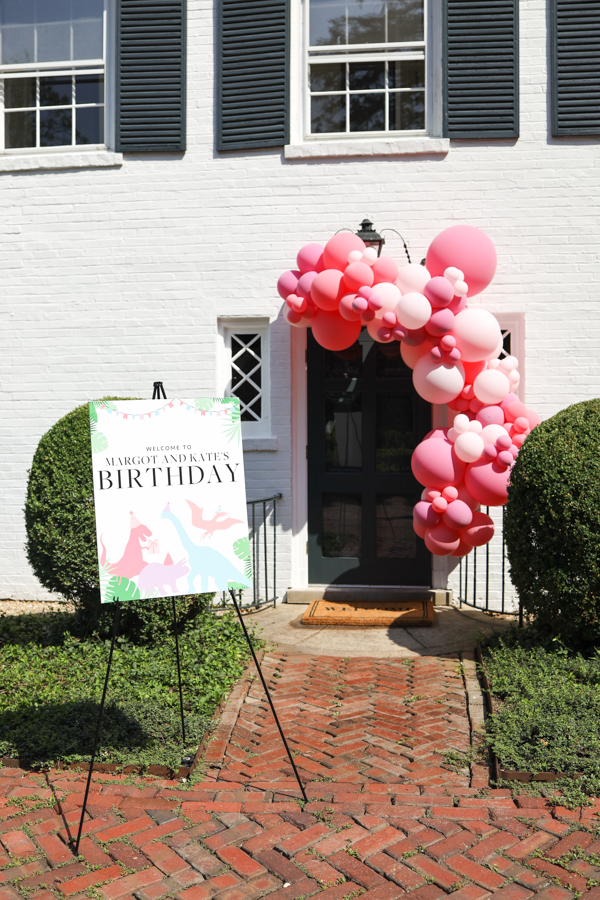 FREE Printable Custom Birthday Sign
I made the birthday sign in Canva using a few different graphics and printed it at Minutemen on a foam board. It was so quick and easy. For anyone who might need the sign, here it is without text! Download it here. And download the blue version here.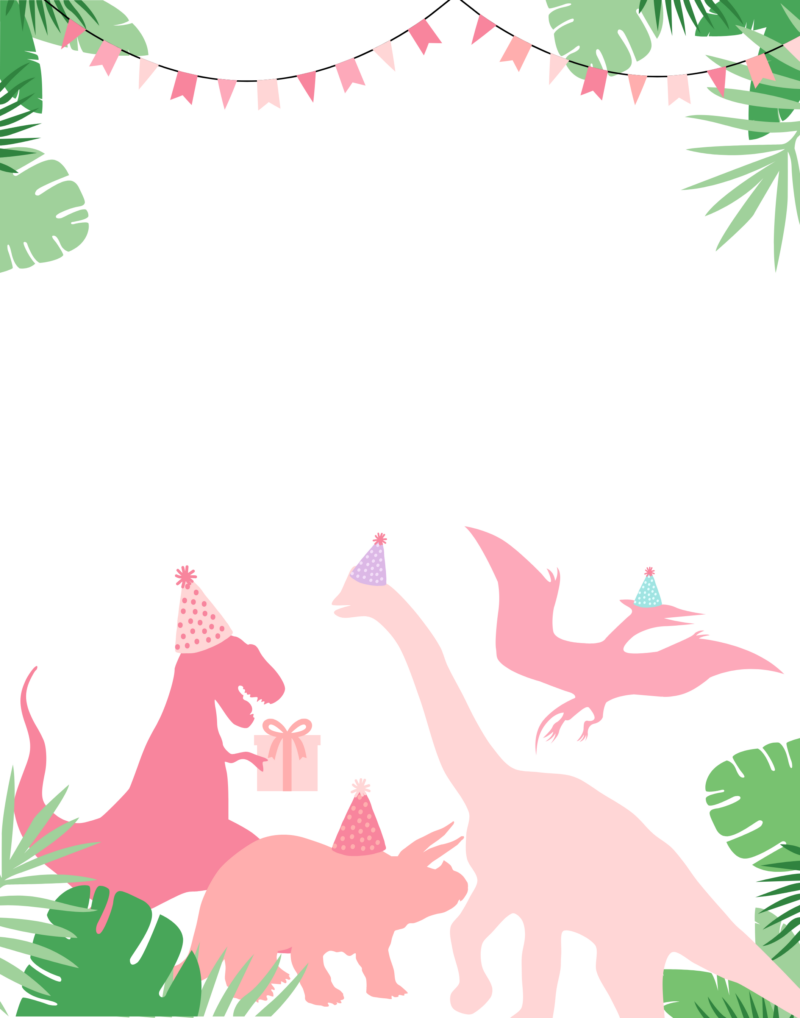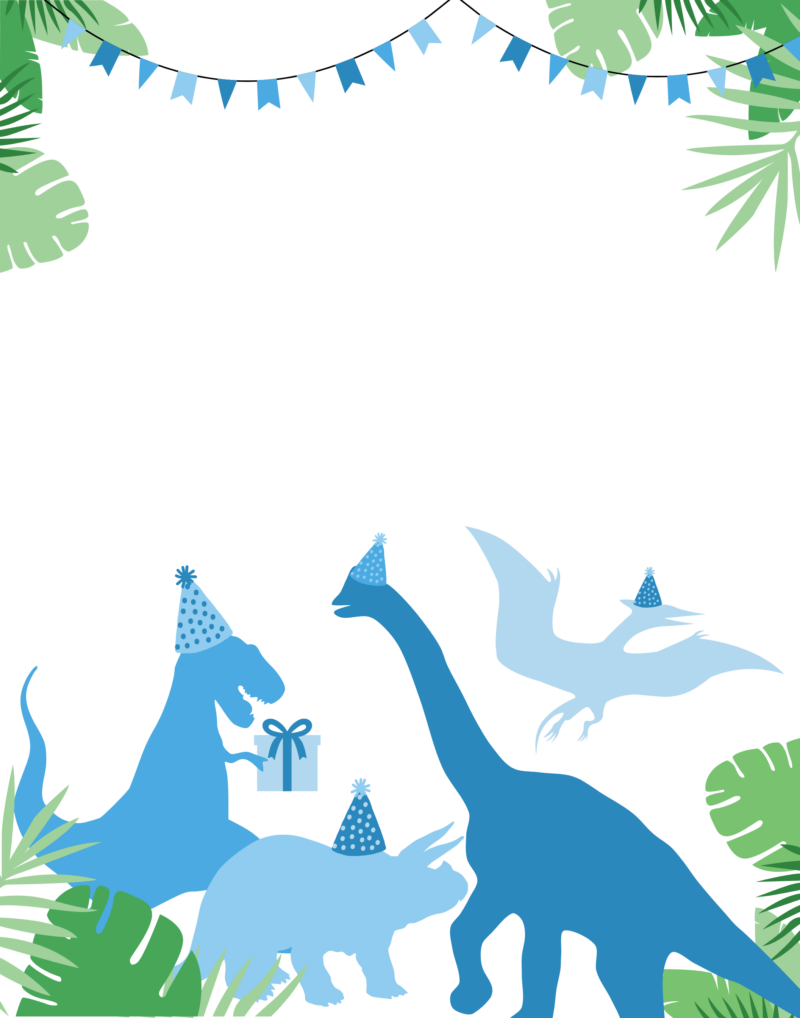 Dinosaur Party Favors
I set up the girls' Market Cart as a party favor cart, and filled it with goodies for the kids. My talented friend Stacy wrote out the wording in chalk maybe a year ago, but it worked perfectly for this party.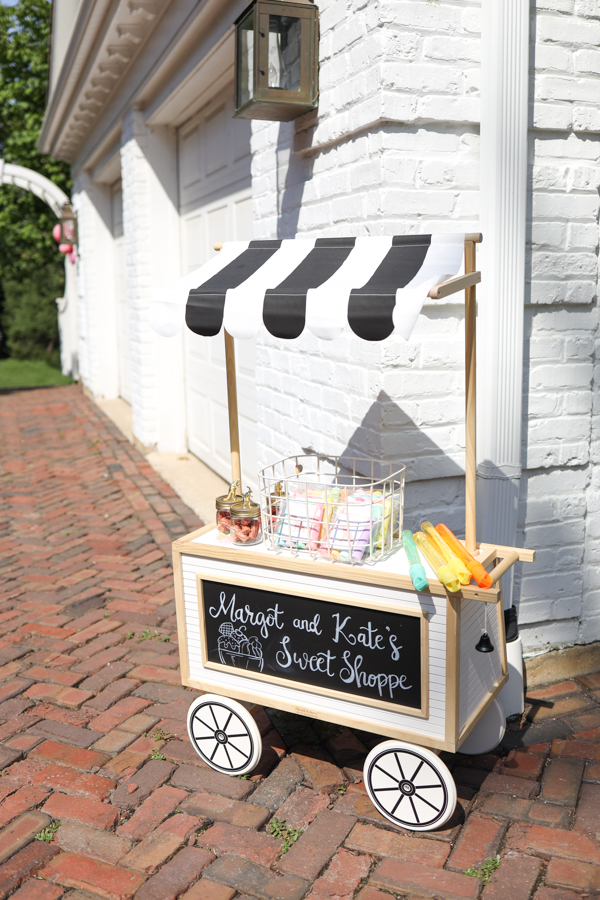 Resin Dinosaur Sensory Toys
My sister made these adorable resin dinosaurs and not long after this party, launched her etsy shop. Follow her on IG to know when new products drop. My kids love her resin pieces – they are all handmade/hand dyed and so cute.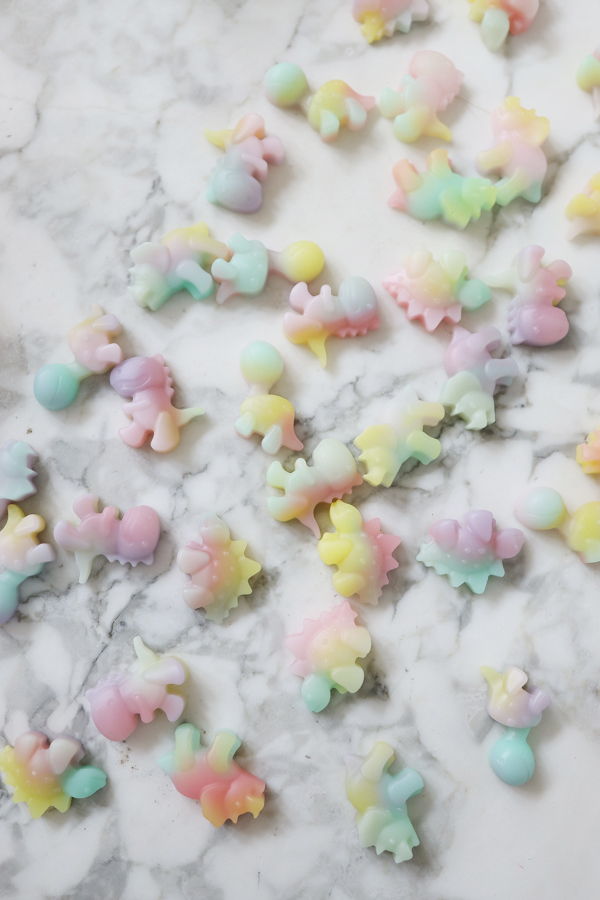 Sidewalk Chalk Party Favors
These were the easiest party favors to make, and I love how they turned out. I just put chalk in a small bag and added this custom sticker on top. Like I said, they were so easy and the kids loved them. The lesson I learned here is that this could have been our one party favor along with a cookie and it would have been fine.
Candy Mason Jars
These candy mason jars were a bit more involved but were so fun to make. I filled them with Kate's favorite candy. And they turned out so great, right? See how I made them here.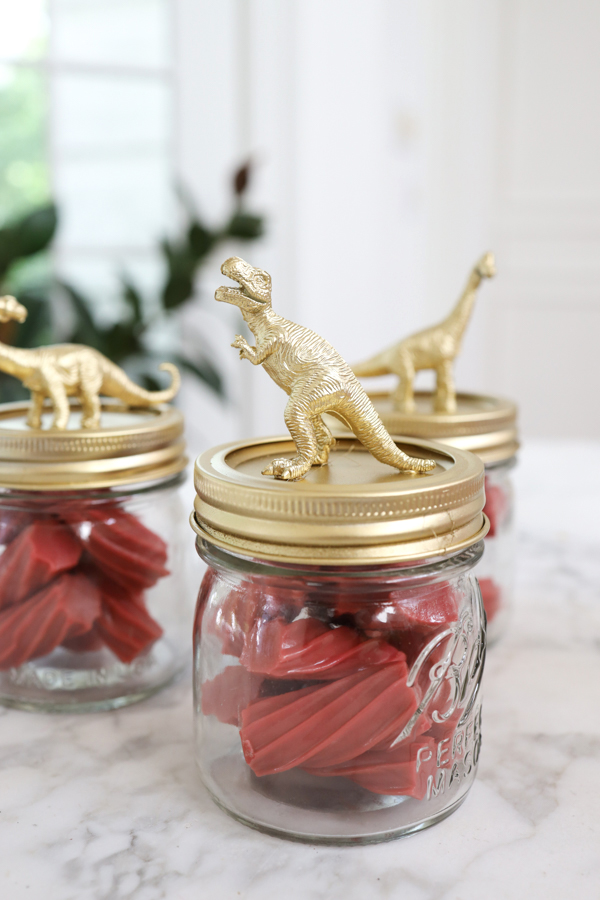 This was such a special day, but next year, I'm doing a birthday party package at one of those kids' places. I'll show up with some balloons from 99 Haus Balloons. Once we get into inviting preschool friends, that seems so much easier. It'll be a fantastic birthday party, and the perfect way to keep my house clean. There are so many great places to host special occasions. We were excited to host in our yard – it was the right place this year. Our outdoor space is just so good, and we ordered pizza (Margot's favorite food) to make things easy.
This post contains affiliate links. If you purchase something using my links, I may earn a small commission at no cost to you.
Shop the post