Mermaid Birthday Party Decor and Party Favors
My little girls turn 3 and 5 this year, and with their birthdays just over a week apart, we're going to celebrate both birthdays together. My kids have been on a big mermaid kick lately and last-minute, decided on a mermaid-themed party. Planning parties for them is so much fun …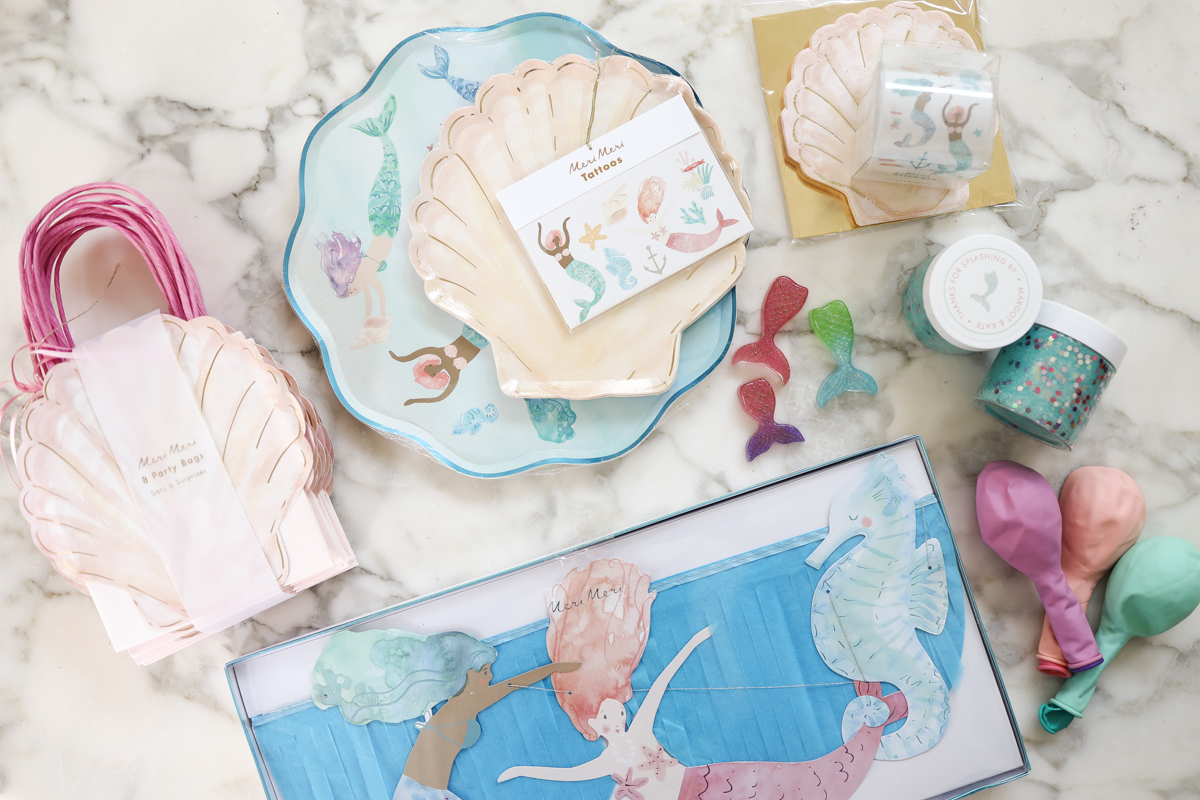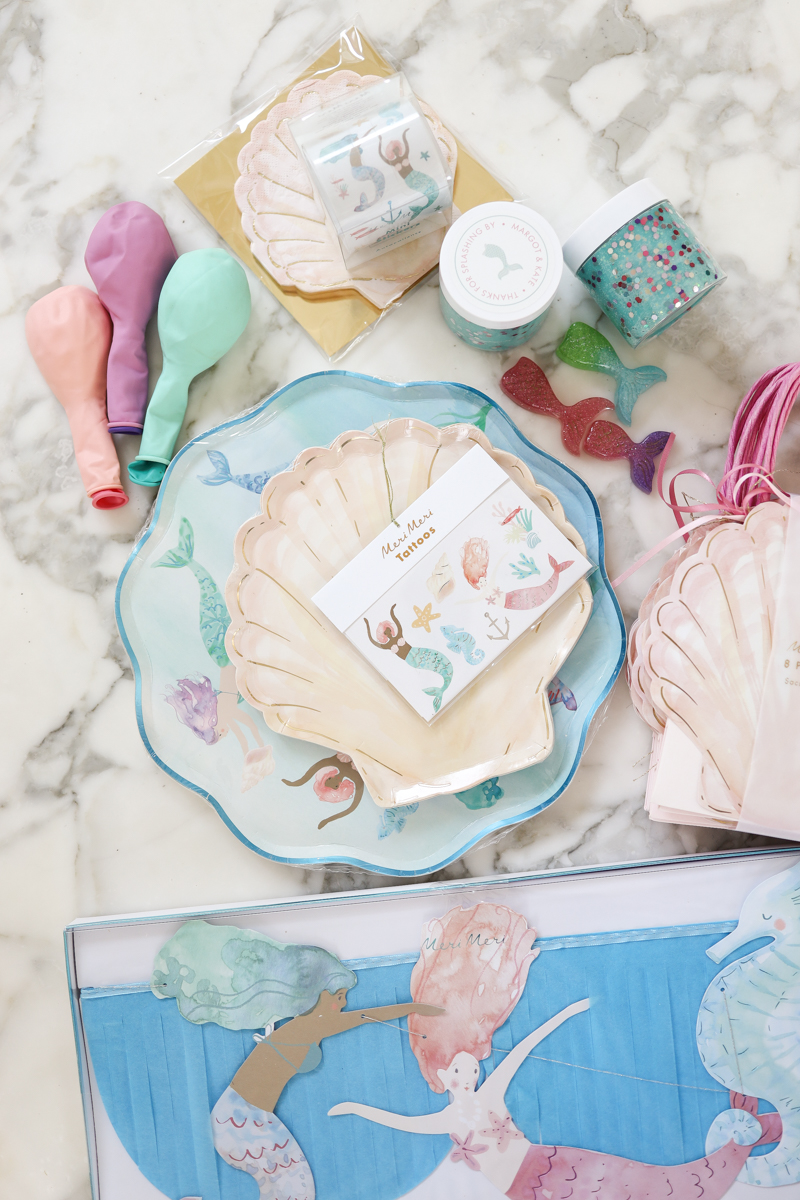 My little girls turn 3 and 5 this year, and with their birthdays just over a week apart, we're going to celebrate both birthdays together. My kids have been on a big mermaid kick lately and last-minute, decided on a mermaid-themed party. Planning parties for them is so much fun – I love a party theme, and making magic for them is one of my favorite things to do. With summer birthdays, a pool party is just too easy. If you're looking for mermaid birthday party ideas, I have everything from decor and party favors to outfits and accessories. Here are some of the best mermaid party ideas.
Make a Splash with Mermaid Birthday Party Decor and Party Favors
Mermaid parties need mermaid decor. I loved putting this under the sea theme together and want to share what I used with some other decoration ideas. When the party planning process began, I went right to Meri Meri, like I always do. I was able to find most of our mermaid birthday party supplies in one place, and added a few more things to the mix from other sites. There's even a matching mermaid invitation!The color palette is so fun, and this palette seems pretty standard when it comes to a mermaid themed birthday party.
If you're looking for more specific little mermaid party ideas, consider adding some crabs. I almost did, but really wanted to stick with this color palette. I almost ordered a mermaid cake, but cupcakes are so much easier with little kids. We'll have sea creatures like starfish and seashells. Here are my favorite under the sea party supplies. If we were having our party at home, I would have gotten these jellyfish lanterns. There are so many creative ideas out there, so I've included some favorites below.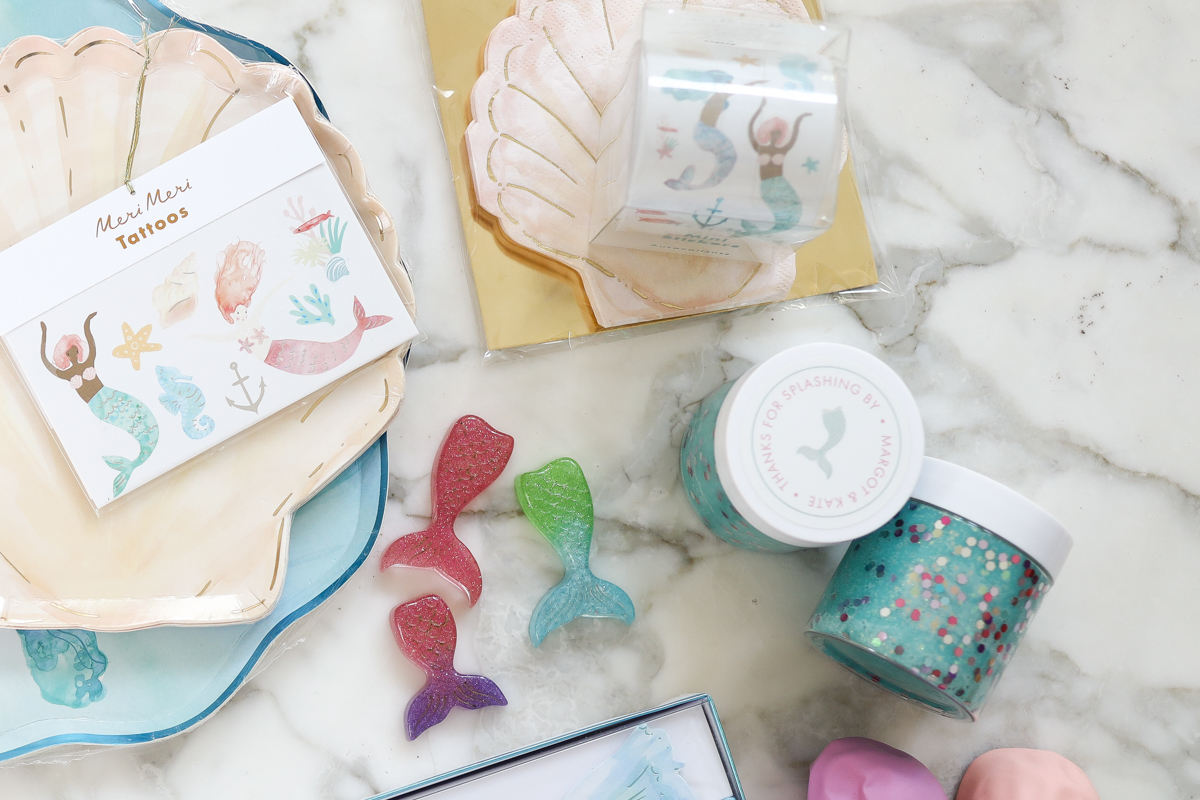 Mermaid Birthday Party Favors
Birthday parties have taken over our life this year and party favors are usually my least favorite part. Party guests end up with a bunch of plastic stuff that I don't want in my house. I like to choose items that kids will actually use and toys from fun aunt jess are always a great idea. I put together the cutest little treasure chest (ok, goody bag) that any mermaid lover would appreciate. I'm including some stickers, tattoos, and bubbles, too. Here are some ideas for a mermaid party bag.
More Mermaid Birthday Party Outfits
You can't have a mermaid birthday party without at least trying to look like a real mermaid. An outfit or fun accessory is a great addition to any fun birthday party theme. Each birthday girl got a new swimsuit for their special day.
This post contains affiliate links. If you purchase something using my links, I may earn a small commission at no cost to you.