Valentine's Day Pajamas for Babies and Kids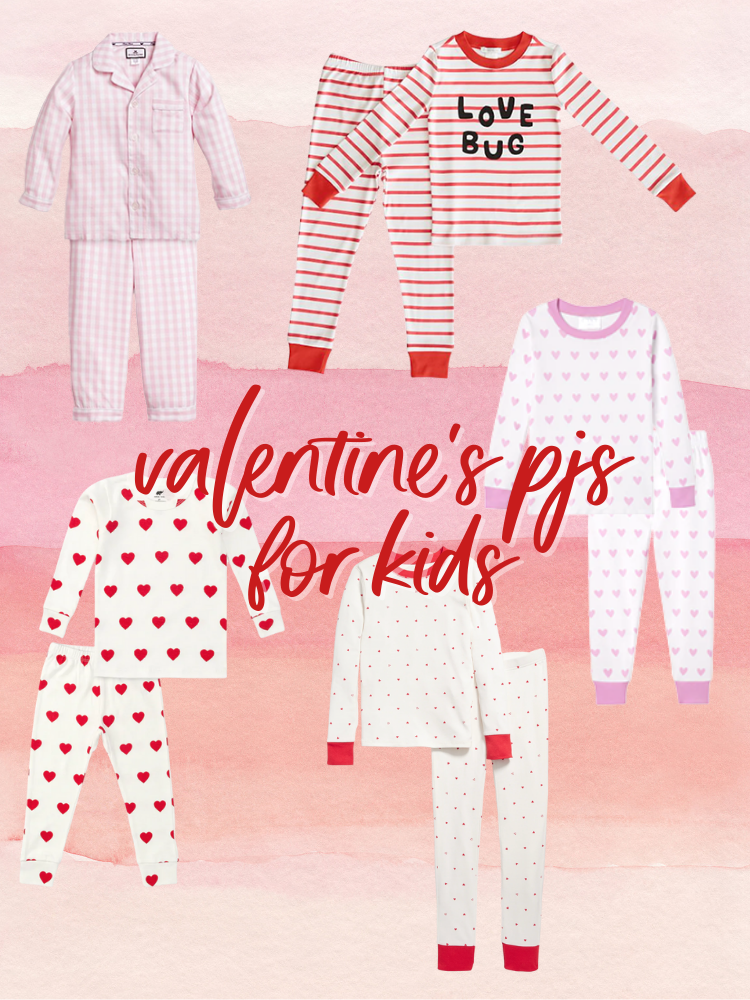 During winter months, on those cold, lazy winter days, my girls love wearing pajamas all day. And they love hearts, so all the new collections for Valentine's Day are very on-brand for them. I went a little overboard with the Christmas jammies but it's so much fun. And when your kids love hearts, Valentine's Day pajamas are hard to resist. February 14th is usually all about the kids at our house. So here we are, a few days into January and my girls are already wearing their Valentine's Day Pajamas. It might seem early, but some of the cuter kids pajamas are already selling out, so I know I'm not the only one looking forward to the next holiday.
Valentine's Day Pajamas for Babies and Kids
The other night, I was talking to my husband about Valentine's gift baskets and pajamas and he looked at me like 😳. But these are the perfect way to make things fun when (for us) it's freezing and there isn't as much going on. So if you love this day of love, or if your kids love hearts and holiday jammies, this is a great excuse to keep things fun. So today, I've rounded up the best Valentine's Day pajamas for kids.
LAKE has some great family pajamas year-round, and they don't stop at Valentine's day. They're so soft and made of organic cotton. Just be sure to size up for kids since they run a little small.
Petite Plume is another great option for the whole family – we all love them. And they are a bit more grown-up, so your big kids might like them, too. This is the one brand I can get my husband to wear without rolling his eyes at me at Christmas. Their pajama sets are beautiful, chic, and comfortable.
I love that LAKE came up with some Valentine's pajamas that aren't pink. I actually got these for baby brother since the girls will have the pink hearts.
Little Sleepies are the most-worn pajamas in our home. My girls love these breathable pajamas and their fun patterns. so when the brand sent them these ombre hearts, they insisted on wearing them that day. The brand offers free shipping on all orders over $25, and you can use my link and code MOSS15 for 15% off.
This post contains affiliate links. If you purchase something using my links, I may earn a commission at no cost to you.