The Best Swimsuits for Moms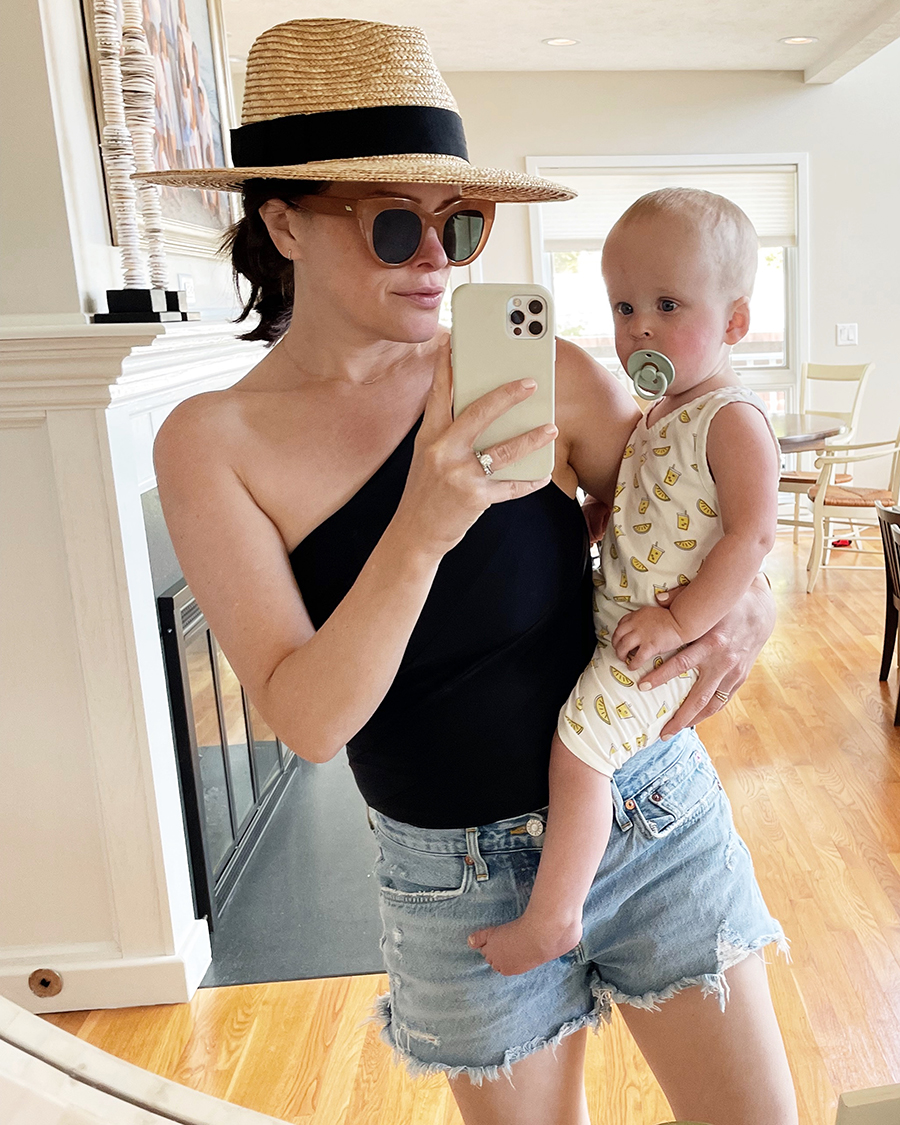 Spring is less than two weeks away and that means one thing for me. I've got summer on my mind. You can take the girl out of California…seriously though – the cold weather is so hard for me. I'm a summer girl. Or should I say lady? Whether you had a baby months or years ago, finding a swimsuit to fit your body shape can feel so challenging after pregnancy. And for some of us, it can be extremely discouraging. I cannot tell you how many swimsuits I've ordered only to have to return them because I could not get them to fit on top. These are what I believe to be the best swimsuits for those of us who might struggle to find swimsuits that…fit. Here are the best swimsuits for moms.
The Best Swimsuits for Moms
Years and years ago, I came across Summersalt, and my life was forever changed. And no, this post is not sponsored or in partnership with Summersalt. I am also entirely open to trying other brands, but found this one right after I became a mom and it just works. They have sent me a few swimsuits over the years so some of these swimsuits are gifted. I've purchased quite a few items, too.
So why Summersalt?
First, Summersalt goes up to size 24, so the sizing is inclusive and I love what the brand stands for. As much as I love a classic black swimsuit, each suit comes in different colors and playful prints. The suits I am going to share offer enough coverage and support for those of us who really need it. It holds you in (and up) in all the right places, and these suits really are the perfect fit. And finding a flattering swimsuit that doesn't look like something a grandmother would wear when you need a little (or a lot of) extra support isn't easy. But Summersalt made it happen for me.
These swimsuits work on all body types
When your body has gone through the changes that come with pregnancy, swimsuit shopping isn't fun. Consider weight gain, or maybe a growing (or sagging) chest, swimsuit shopping can feel downright impossible. I prefer a more modest swimsuit or at the very least, a one-piece. Not that there's anything wrong with a two-piece swimsuit – but you should wear what you're comfortable in, and I love a one-piece suit. And I love a one-piece swimsuit. So whether you're a size 2, 10, or 24, these suits just might be the answer to your beach-day woes.
I'm going to take one for the team and talk about my cup size.
And to be clear, this is something I am extremely self-conscious about and really struggle with. At the time I took these photos (summer 2022) I was a size 4 or 26 waist and a size G bra. That is not a typo. Having babies was not great for my upper half and yes, when I'm done having them I do plan on doing something about it, but that's a conversation for another day. I share this because I've really struggled with how large my top half is. Finding anything that fits on top is hard when your top half and bottom half are wildly different sizes. I don't know what it is, but there's just such great coverage, from the thick straps and high neckline to what feels like a tummy control panel when things are a touch softer.
All that to say, I wear a 6 in Summersalt! And they fit perfectly.
Let's start with the sidestroke.
It's one of the best one-piece swimsuits out there – so much that I would call it the perfect suit. In no world would I ever imagine wearing a suit with no underwire and one strap, but it just…works. This one is great for active moms which, if you're chasing little kids around a pool or beach, you're an active mom. It's the perfect balance between supportive and cute, comes in lots of pattern and color options, and it just works for mom bodies. It feels like a tummy control swimsuit which can be great for postpartum bodies. I'd say this style is the best when you need a little extra support. It shows a little skin and offers support without being too low cut. And as you can see in the first photo, it looks great with jean shorts, too.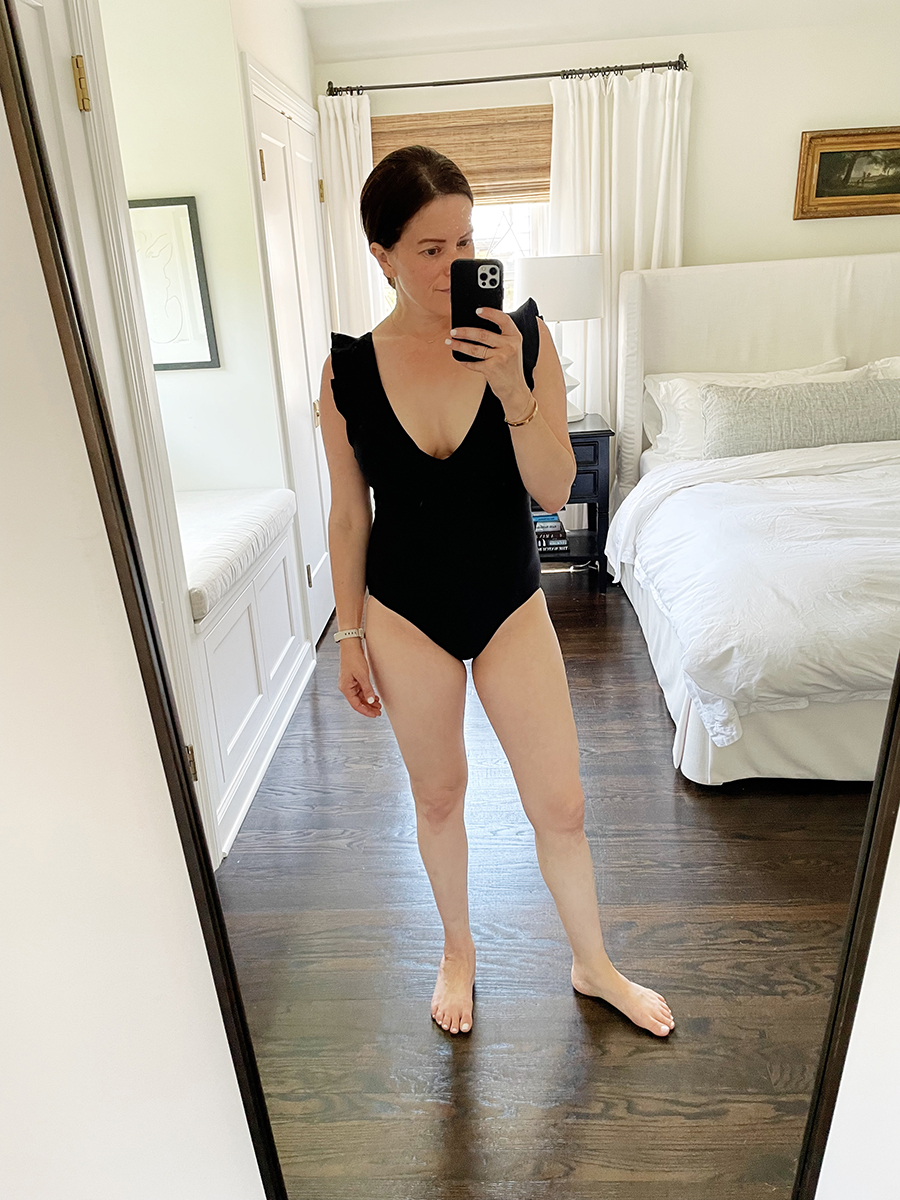 Then there's the ruffle backflip
This is my second-favorite swimsuit. The signature compression keeps you feeling secure, so there's piece of mind. It has plenty of coverage and there's no adjusting and knowing nothing will accidentally pop out when you're bending down to pick up your toddler. This is a must-have for swimsuit season – I love the ruffle detail, and it comes in some really fun prints, too. Did I mention the good coverage?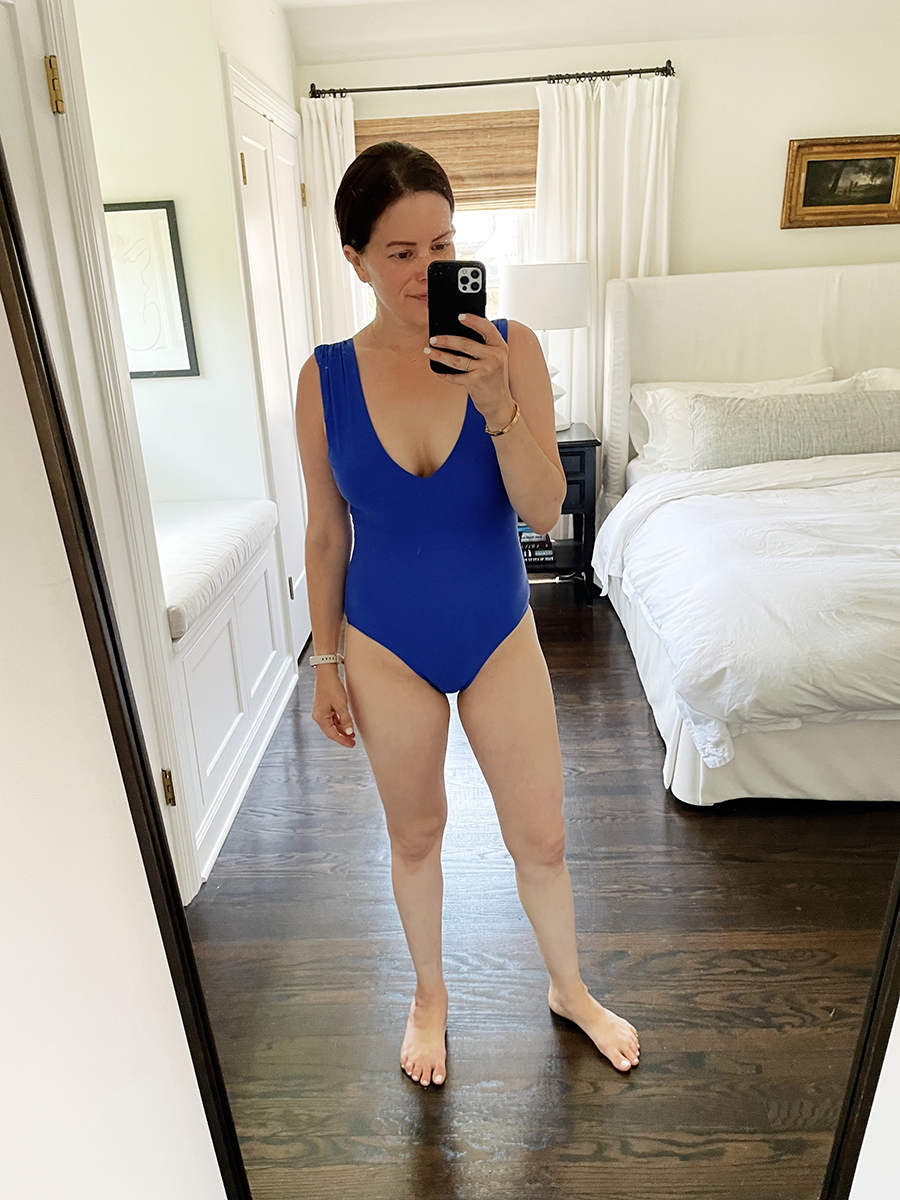 On to the ruched backflip.
This swimsuit has a deep v-neck front, open back, and most important – Summersalt's signature compression. The shoulders are wide, flattering, and supportive. I like this suit a lot, but it comes in third, after the sidestroke and ruffle backflip.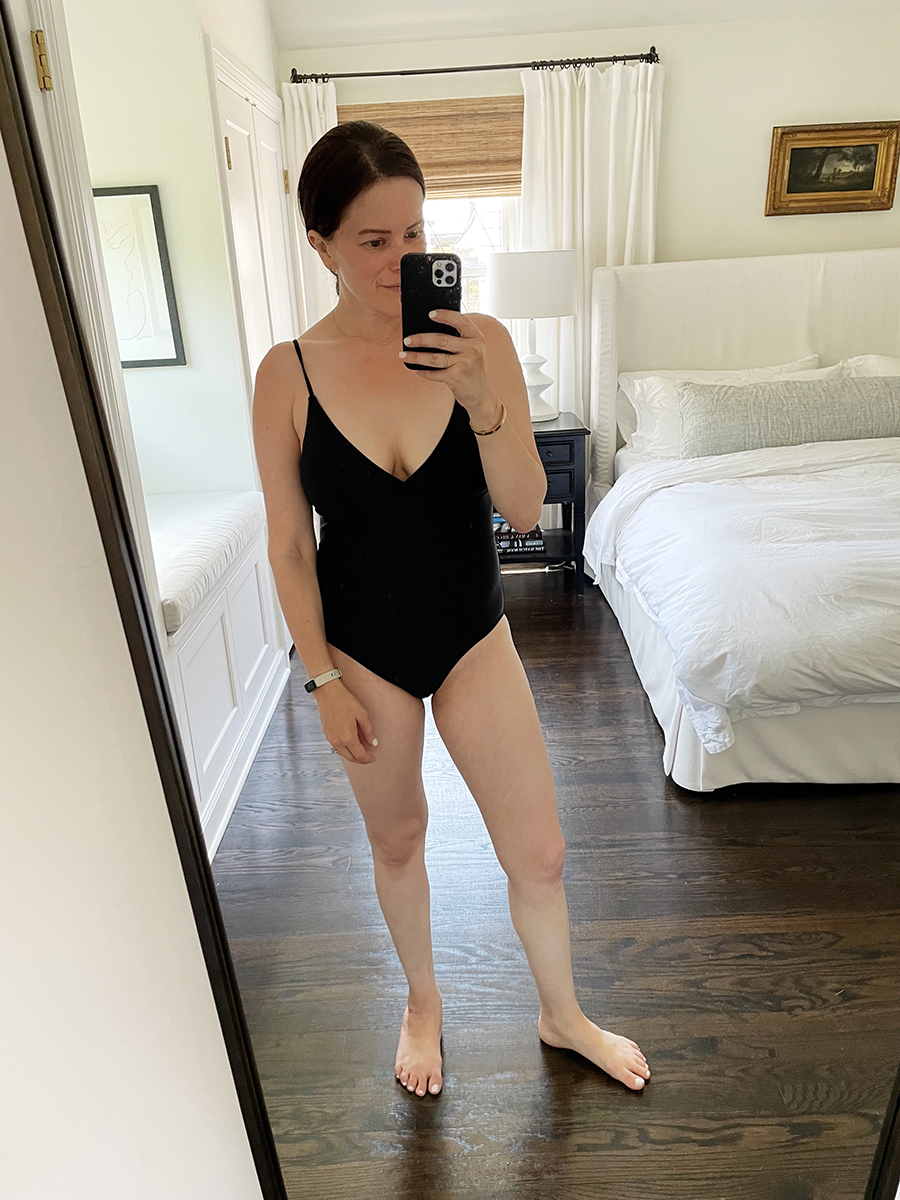 I was certain the wave wouldn't fit.
I have to rank this one last (still like it a lot). It fits but isn't as supportive as the other styles, but is still mom-friendly. When looking for supportive tops in a swimsuit, one might not think to order a suit with a thinner strap. But the adjustable straps are surprisingly supportive. And somehow, this fit and managed to hold my larger bust. So this is, once again, a practical option if you're postpartum or larger on top.
This post contains affiliate links. If you purchase something using my links, I may earn a small commission at no cost to you.