A Classic Fall Capsule Wardrobe
When it comes to shopping for clothes for a new season, you might find yourself feeling some decision fatigue. When creating a capsule wardrobe, which is how I try to live day-to-day, I tend to stick with neutral colors and versatile pieces that work well together. And choosing timeless pieces …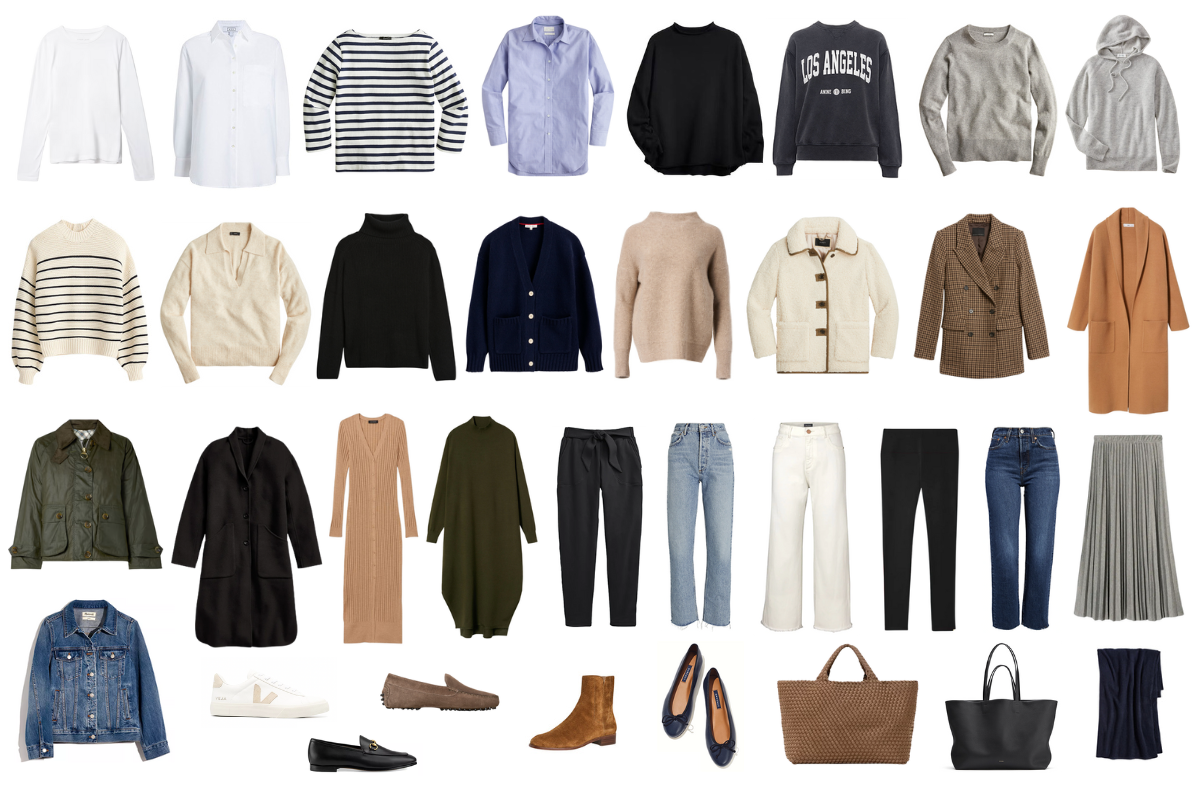 When it comes to shopping for clothes for a new season, you might find yourself feeling some decision fatigue. When creating a capsule wardrobe, which is how I try to live day-to-day, I tend to stick with neutral colors and versatile pieces that work well together. And choosing timeless pieces will ensure that you won't tire of them in the months and years to come. So now that fall is officially upon us, I've put together a capsule collection for this new season, and hope it helps you streamline your curated wardrobe for both fall and winter.
A Classic Fall Capsule Wardrobe
If you want to capsule your closet, the first step is a simple one. Own fewer clothes. In case it isn't clear, I tend to stick with a neutral color palette, and bring in a little color, in the form of green and blue. Owning fewer clothes will make it easier for you to get dressed in the morning. You'll spend less time looking through piles and piles of sweaters. Since I live in Chicago, I have seasonal pieces – summer dresses, spring sweaters, fall jackets, and winter coats. The concept of a capsule wardrobe leaves you with the pieces you really love – think Marie Kondo.
Pro tip: When going through your clothes, only keep the pieces you'd add to a packing list for vacation. The one you'd be excited to wear to lunch or dinner with a friend. If you're holding on to a sweater that you haven't worn in years, it's time to let it go. I'm not advising that you own 5 sweaters total – but only keep the essential items you love.
I don't like trendy pieces and cannot get on board with clogs and oversized cargo pants. Give me classic pieces – a trench coat, a great coat, white shirt, black dress, and pair of jeans, and I'm good to go. I focused on easy pieces because that's the season of life I'm in right now. So you could include a pair of trousers, leather jacket, and suede jacket. And maybe even some heels or heeled boots. But I have a 2 and 4 year old and work from home, so I'm in a loafers and ballet flats state of mind right now.
Tops and Sweaters
The current season is a little up and down here in Chicago. The colder months are coming, mornings are crisp, but we're still experiencing some warm weather, so it's all about layers. A white button-up shirt is always a classic piece with jeans or even leggings, and can be worn under a sweater, but is great on its own. The important thing to remember is to have a mix of colors – grey, cream, white, navy, black, and camel.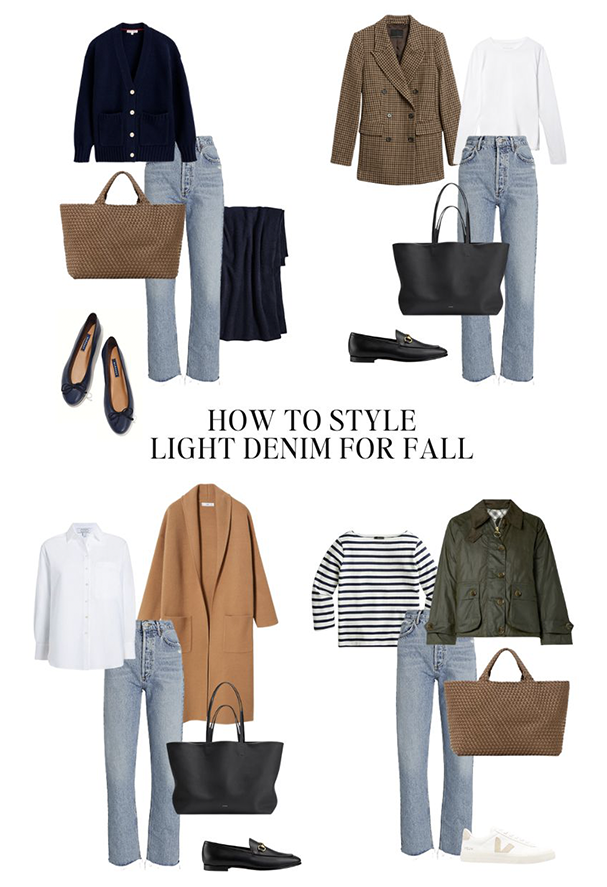 Pants and Dresses
When it comes to pants, I'd say you need fewer bottoms than tops. I almost always wear my favorite pair of light jeans, dark jeans, leggings, or tie waist pants (they are amazing and feel like sweats, btw). They're easy, look great with sweaters, and you can mix up the look with your outerwear and shoes. It gets so cold here so quickly, so I tend to stick with warmer sweater dresses vs lighter, flowy dresses for colder seasons.
Coats, Jackets, and Blazers
Coats can be so expensive, so I tried to include a mix with some more budget-friendly options. I love Summersalt's eco coat – and it's under $200. Fall is the perfect season for lighter coats – they are one of the key items you'll want this season.
Shoes and Accessories
And the accessories. I keep things pretty simple and classic here. The Gucci loafers are such a splurge but they are beautiful, comfortable, and will never go out of style.