Why We Chose Disneyland vs Disney World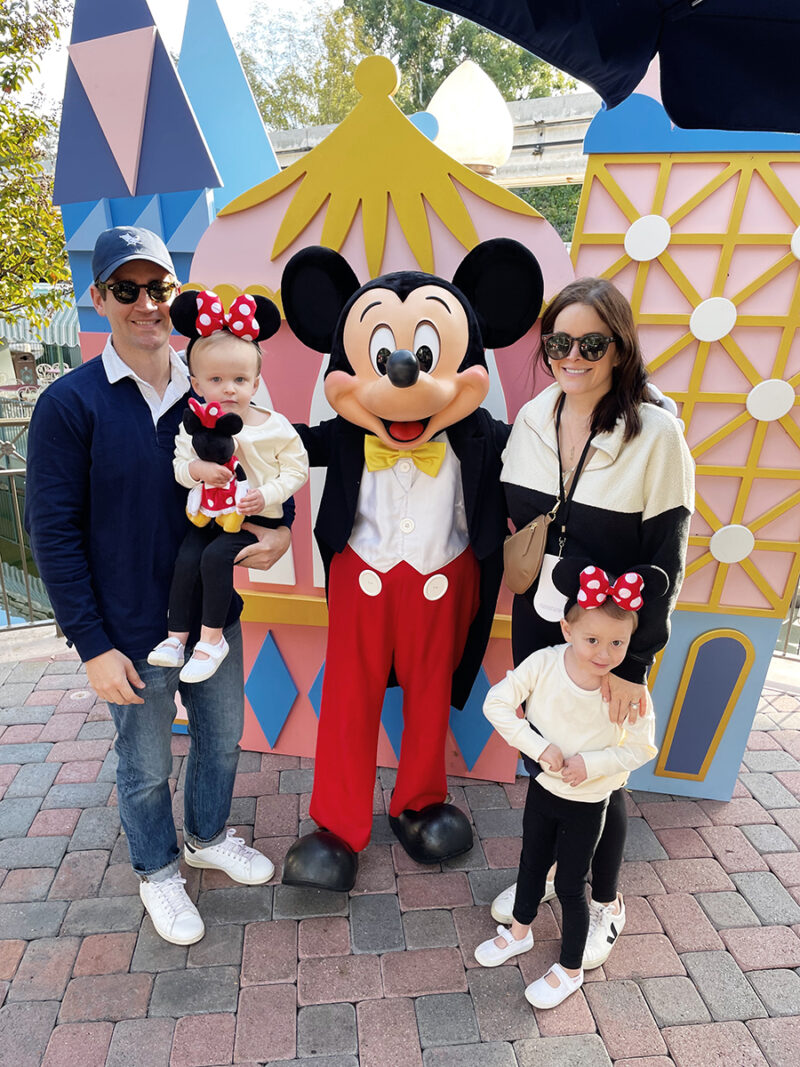 We just returned from a 3 day trip to Disneyland and California Adventure in Anaheim, California. Truthfully, I was never in between Disneyland vs Disney World – it was always California for us. I want to share our experience at the Magic Kingdom with our 2 and 3 year-old, what rides and activities they loved, and why we chose the Disneyland Park over Walt Disney World resort. I should mention that I've never actually been to Disney World, but Los Angeles felt more approachable, and I think it was. If you're planning a Disney trip are are in between Disneyland vs. Disney World with young children, I'd urge you to consider California since it's easier to navigate.
Why We Chose Disneyland vs Disney World
Disneyland is the original park and is, in my opinion, a better option for young kids. It's such a magical place to visit as a parent – there is truly nothing better than watching your kids watch a parade for the first time. I stared at their smiling faces and don't know that I've ever felt happier. We had the best time at Disneyland, and I had some of my best mom moments seeing the magic in my girls' eyes.
From what I've heard, the major difference between the two Disney theme parks is that Disneyland and California Adventure are much smaller. The thought of a week at any amusement park felt like way too much with two young children. I'm going to do my best to cover all of your questions about Disneyland resort hotels, naps, waiting for rides, and what rides my kids loved.
So here's my complete guide to spending a few days at Disneyland with young kids.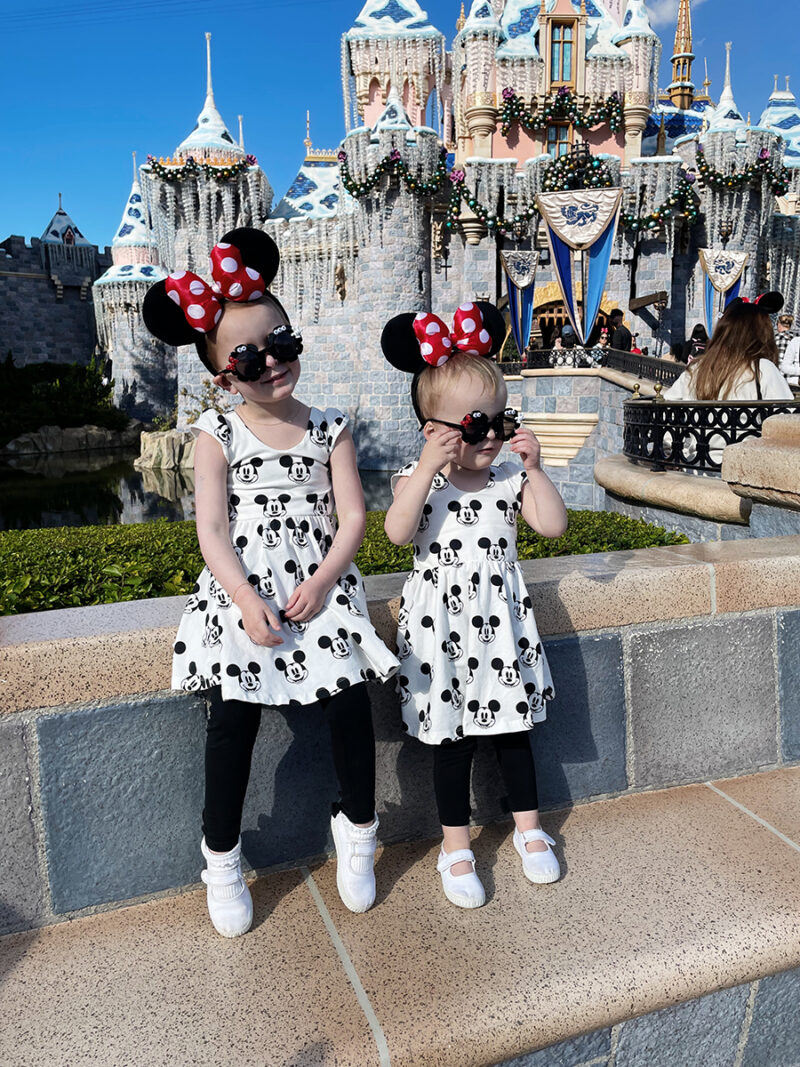 Disneyland vs Disney World
Since I grew up in California and have only been to Disneyland, it felt really nostalgic taking my girls there. I know the parks very well so navigating our way around was quite easy. I also don't exactly politically align with Florida, and have zero desire to go there. Nothing against anyone who lives in FL – I just strongly prefer Southern California.
Disneyland is significantly smaller than the parks in Florida. And while I have zero experience with Disney World, everyone I know who has gone has stayed a full week. Three days was more than enough (we could have done two) so with younger kids, I really do think California would be a lot easier.
My 4 year-old also loves Nightmare Before Christmas. The Haunted Mansion in California is completely redone in Nightmare Before Christmas style for the holidays. Both girls loved it!
Disneyland vs California Adventure
If you're in-between the two parks, I would choose Disneyland. I just love walking down Main Street. But it was always our plan to go to both, mainly to experience Pixar Pier. My girls love Toy Story, so there was no missing that.
Disney California Adventure park has some great options for adults and older kids. And it's got that west coast flair. Ha. There were a lot of rides we could and would not do with two young children, and I'm pregnant so there were a lot of rides that were off-limits for me, too.
Planning your trip
This was my first time visiting Disneyland in about 15 years, my first time going for more than one day, and my first time staying at a Disney hotel. There are off-property hotels, but we wanted to be on-site so it would be easy to take Kate back to the hotel for naps and an earlier bedtime than Margot. Staying at a property hotel also gets you into the park 30 minutes early.
When purchasing a park ticket a park hopper is a great way to experience both parks. We bought multi-day tickets with park hopper, and originally had Genie + but removed it since we didn't need it with the wish pass. I wasn't sure You do need to choose which park you'll visit first, and then at 1PM, can visit the other park.
For those who asked, yes, we did quality for DAS (the disability pass) since she just finished treatment. If And it would get us on rides faster, but we didn't need it with our wish pass. Margot's legs still get very tired (side effect from treatment), so that would have been the only reason I would have gotten one. But she wouldn't need it next year. If you have a child with any physical or sensory issues, I would recommend looking into DAS. I just went to the Disney site and video chatted with a live operator who set it up for us. They did need to see Margot and take her photo, but I handled the rest.
Which Disneyland hotel did we stay at?
When we first got to LA, we stayed at Shutters in Santa Monica. Long story short, we had to flip our dates around to avoid the rain at the Disney Parks. We were only supposed to head to Disneyland on the days we stayed at the Disneyland Hotel, but needed to go back-and-forth from Santa Monica for a shorter day so we could make it home for bedtime. I do not recommend that.
Disneyland has 3 on-site hotels to choose from. There's The Disneyland Hotel, Disney's Grand Californian Hotel and Disney's Paradise Pier Hotel – all are within walking distance to the parks. We just walked through Downtown Disney District and we were right there. And bonus – we could pick up Starbucks on the way.
I chose The Disneyland Hotel since it's less expensive than the Grand Californian, and I wasn't crazy about the lodge decor anyway. We stayed in one room with two full beds, and each shared a bed with one of the girls. They alternated waking up really early so that was fun, but what can you do?
First, let's start with waiting, because we had a different experience
I booked this trip (on my own) back in June, and had heard from Make-A-Wish a few times before and after we booked. I really didn't want to take them up on a Florida trip and there wasn't anything we really wanted or needed. So I asked Make-A-Wish if they could just provide us with a wish pass for the Disneyland parks. All children who go through treatment are eligible for a wish, and I thought that having the pass (which gets you on rides right away) would only make things easier and more fun. And it did. That said, we did not have to wait in line at all, so I can't really speak to the waiting process.
Most families plan a trip to Disney World – and Make-A-Wish even has their own hotel there. Still, Disneyland felt right for us. I wasn't sure how I'd feel using the wish pass, but realized very quickly that my girls deserved that extra magic. At one point, some guy asked us how we got the pass and if he could buy one and my friend (who also went through treatment with her daughter) just said "you don't want this. Trust me." More rides and less waiting seems like nothing after 798 days of treatment. I'd trade all of it and wait in line to not have gone through what we did.
Had we not had our wish pass, we would have utilized Disney Genie +, and I probably would have had Conor wait and met him farther in line when possible.
Disneyland with young kids
We brought our Valco snap duo trend and I cannot imagine having had any other stroller with us. Traveling with a larger stroller is definitely different than traveling with a yo-yo, but Margot napped in the stroller (Kate doesn't do that) and the basket and canopies were needed. You could rent a stroller, but I would not recommend this for younger children if you have a comfortable double stroller. Just make sure your stroller is on the list of Disney approved strollers.
I brought and extra outfit, sweatshirts, jackets, water bottles, and snacks to the parks for the kids each day. And I used these stroller hooks to hang our backpack and any extras. We used Margot's backpack but I wish I had gotten this for the trip.
My phone, wallet, and hotel key was in this crossbody. I wore jeans or leggings and sweatshirts from The Great every day. The biggest outfit mistake was bringing my Vejas. They've never felt uncomfortable prior to this trip but I've never done 3 days of that kind of walking in them. My feet were pretty sore – I should have brought these.
You can see the girls' outfits here. I probably went a little overboard, but ended up buying a handful of outfits for the trip, and they really loved them. The minnie ears were purchased at the park along with Kate's Mickey and Minnie.
Our schedule
The first day, we drove in from Santa Monica, so we weren't in the park until closer to 11AM and left at 3:00. I wouldn't normally plan such a short day but we had 2 more days there, and I knew they'd be longer ones. It was my hope Kate would nap on the car ride back to the hotel, and she did. Margot no longer naps, so we just stayed at the park all day. One of the days, we got lunch at La Brea Bakery (wouldn't recommend it) just outside of the park.
The other two days, the girls were up at around 6AM (CA is 2 hours ahead of IL) and we went to the park at 8AM. We picked up Starbucks for breakfast since it's on the way at Downtown Disney. Day 2 was spent at the main park with friends. We started in Fantasyland and spent most of our time there, working our way to Tomorrowland for Autopia, Buzz, and lunch. At that point, Conor took Kate to the hotel for a nap. We had Kate back at the hotel for bedtime at around 6/6:30, and I stayed at the park with Margot for a while longer.
On our last night, we stayed until 9:30 to see the fireworks but sadly, they were canceled. Margot fell asleep in her stroller at around 8:30, so I let her rest, and never woke her to see them.
Planning your days
Since I know the parks so well (like to the point that I can tell you where every single ride is within each land), I didn't really plan. But – I knew that with two very young children, we would want to start with the simplest rides in Fantasyland. I would do this with any child under 6.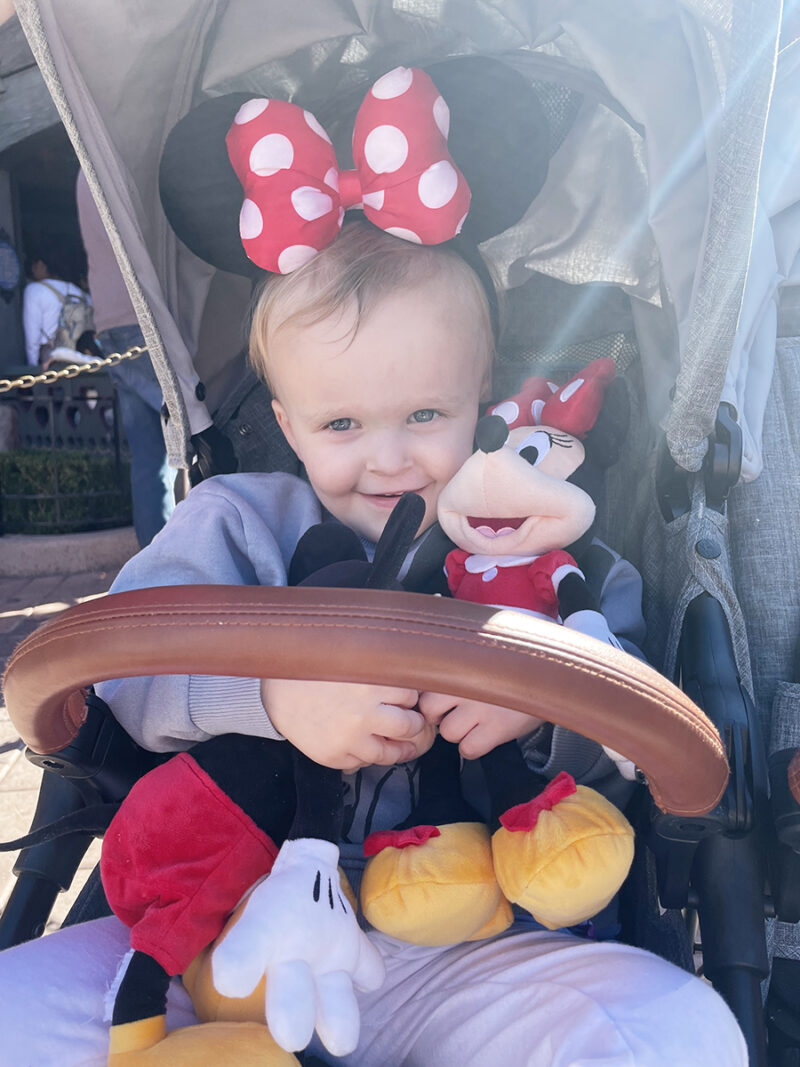 The rides our 2 year-old loved
I should lead with the fact that Kate is pretty cautious and takes a minute to warm up to new things. So we started things simple to warm her up to the rides. The Casey Jr. Train was a great first ride. She wasn't sure at first but ended up loving it! After that, we went on Dumbo which ended up being her favorite. Kate went from being a little hesitant to wanting to ride it again and again.
The carousel was a hit with Kate as long as she was on "the couch" – she does not like going up and down. Peter Pan was "too scary" since it was dark. She didn't like Alice and Wonderland, either, so we skipped Snow White, Mr. Toad, and Pinnochio, and pretty much everything else at Disneyland except for Haunted Mansion. She saw a video of the ride and really wanted to go on. We talked through how one room (the elevator) would be dark and I'd hold her. But she did ask to go on, and liked it – only because of the Nightmare Before Christmas Decorations.
The best rides for 2 year-olds
Casey Jr. Train
Dumbo
Small World
Teacups
Jungle Cruise
Little Mermaid
Carousel
Haunted Mansion
(she was napping when we went on Winnie the Pooh but would have loved it)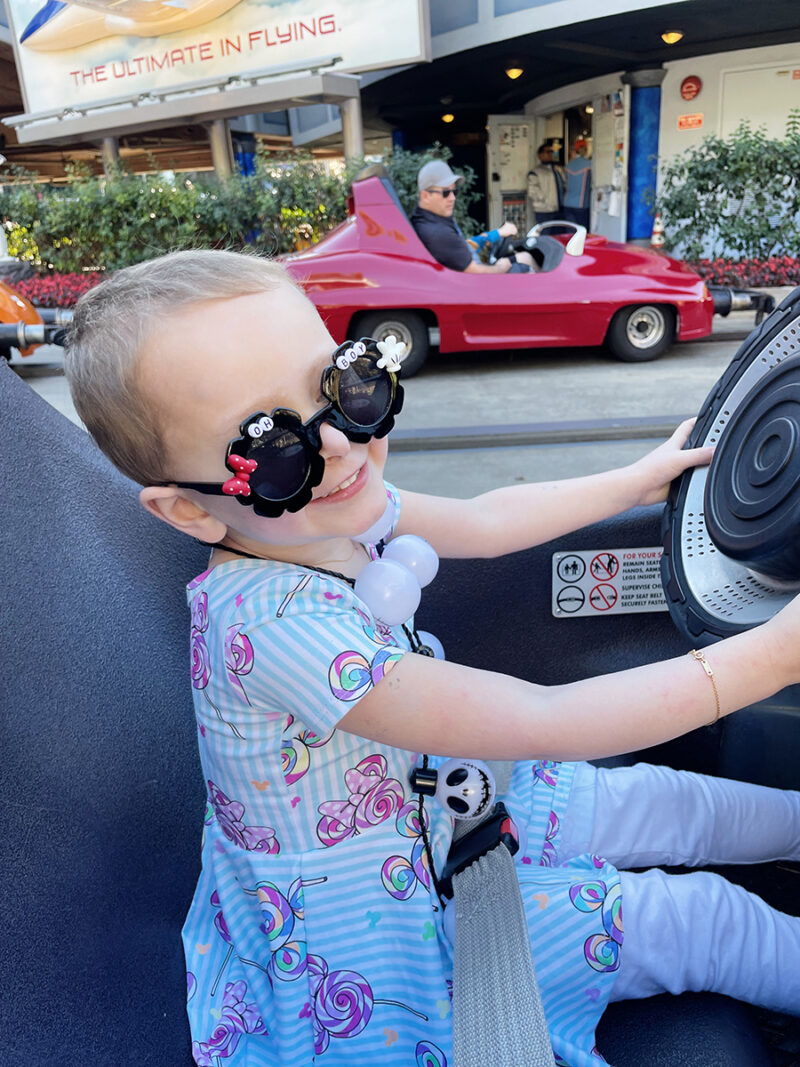 The rides our 4 year-old loved
Margot is a bit of a daredevil. If she had been tall enough, she would have gone on the Matterhorn bobsleds and she told me she knew she could handle space mountain but didn't meet the height requirement. She was tall enough for big thunder mountain railroad but we didn't bother going on since Kate and I couldn't join. She did say Pirates of the Caribbean was "a little much" but still liked it. We watched most of the rides on Youtube before visiting so she knew what she wanted to go on.
The best rides for 4 year-olds
Small World
Teacups
Alice in Wonderland
Dumbo
Autopia
Haunted Mansion
Winnie the Pooh
Both Toy Story rides (there's one at each park)
Jungle Cruise
Emotional Whirlwind at CA adventure
When it comes to younger children, I would skip:
Any/all fast rides. Most of those start at 42″ anyway and Margot is about 40.5″.
Pinocchio is dark and scary. I forgot how scary. Margot had her head in my lap the entire time. Kate was napping and did not join us. We really avoided most physically dark rides for Kate.
Pirates. And I'd only do Haunted Mansion during the holiday months if your child happens to like Nightmare Before Christmas.
The best place to meet Disney characters
Meeting Minnie and Mickey Mouse was a highlight for both girls. When walking into the park, if you go under the tunnel on the right, there are usually characters off to the back right (right when you walk in). We saw Mickey Mouse, Pluto, Goofy, Donald Duck, and both Chip and Dale there.
We had some luck just running into characters throughout the park. There's also a spot straight outside of Small World where we saw Mickey and Minnie.
If you want to meet princesses, there is a round building outside the castle (on the left if you're looking at the the Sleeping Beauty Castle). Margot's life was made when she met Rapunzel there. And the Toy Story characters were in Pixar Pier – another huge hit.
And I cannot stress this enough. Do. Not. Miss. The. Parade!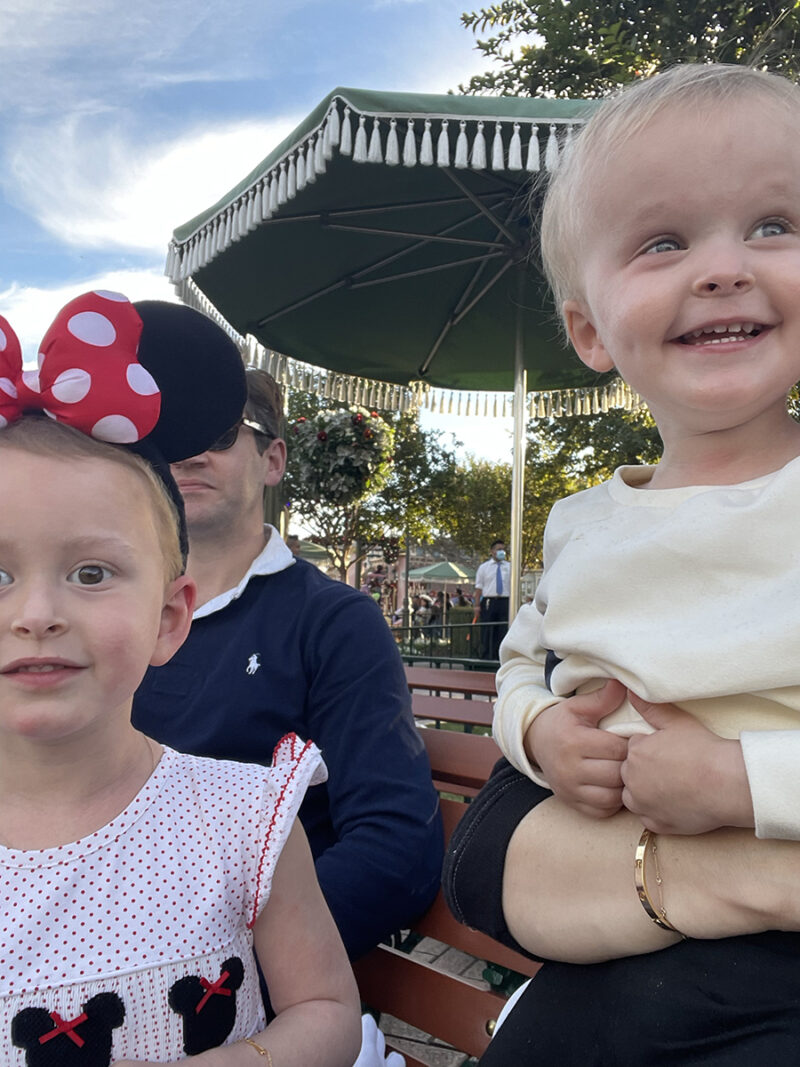 The food
Dining options are…not great. But it's theme park food so I didn't expect much. Our only good dining experience was at the Club 33 lounge in California Adventure. One of my oldest friends happens to be a member and met us there for dinner.
We had pizza from Pizza Planet and chicken tenders from Galactic Grill in Tomorrowland. Neither were great, but the kids didn't seem to mind. One of our days there, I picked up peanut butter and jelly at Starbucks and brought that in (which is allowed) and I always had applesauce pouches and other snacks for the girls.
There are a few stands with bananas and fruit, so there are healthy options to choose from. But the dole whips (outside of the Tiki Room), churros, and other treats are all so good.
Character meals are very, very expensive and just didn't feel worth it when you can see characters in the park. And with the pandemic, I'm just not there yet anyway.
Would I take a 2.5 year old (only child) to Disney?
To the mom who asked if i would go with just a 2.5 year old,I don't think I would, but that doesn't mean you shouldn't. If your child knows and loves all the Disney characters and can really verbalize their likes and dislikes, sure. Kate was great about telling us what she did and did not want to do, and what was "too cary" (scary) so I knew what worked for her.
I saw lots of parents there with babies and no older children, but that sounds unappealing to me. Sure, it would be fun, but it's not cheap and it's just a lot for little kids to take in. I'd wait until they were a little older.
Would I recommend taking young children to Disneyland?
It was a great trip, and I would definitely recommend taking young children. Was it easy? No. Not really. If we didn't have a new baby on the way and if Margot hadn't finished treatment this year, I would have done this next year after the girls were 3 and 5.
At one point, I suggested going alone with Margot because Kate is too young for a lot of it. I was worried it might overwhelm her, but it wouldn't have felt right leaving her out. So given those factors, we made the decision to go as a family now, and I'm glad we did. My girls were so isolated for so long and I wanted to make this magic for them. Since our situation is unique, my advice would be to plan a trip when naps are no longer a part of your life since it's just easier. It was fine, and my 4 year-old who never naps crashed in her stroller twice. Disney will wear you out.
I think everything is easier closer to age 4, and really don't want to travel until our youngest is 3. Our 4 year-old did great on both flights and adjusted so well. That's not to say that our 2 year-old wasn't amazing, because she was. It's harder for them to sit still and some rides seem scarier, but she had the best time. Just start slow and simple with the little ones. Even when you're exhausted, watching all the magic through their little eyes is truly one of the best things you'll ever do as a parent.