The Best Double Stroller
When you have more than one child, a double stroller is the easiest way to get around. Like many parents, I purchased one of those convertible strollers that works as a single or double stroller. But for a number of reasons that I'll get to in a moment, I ended …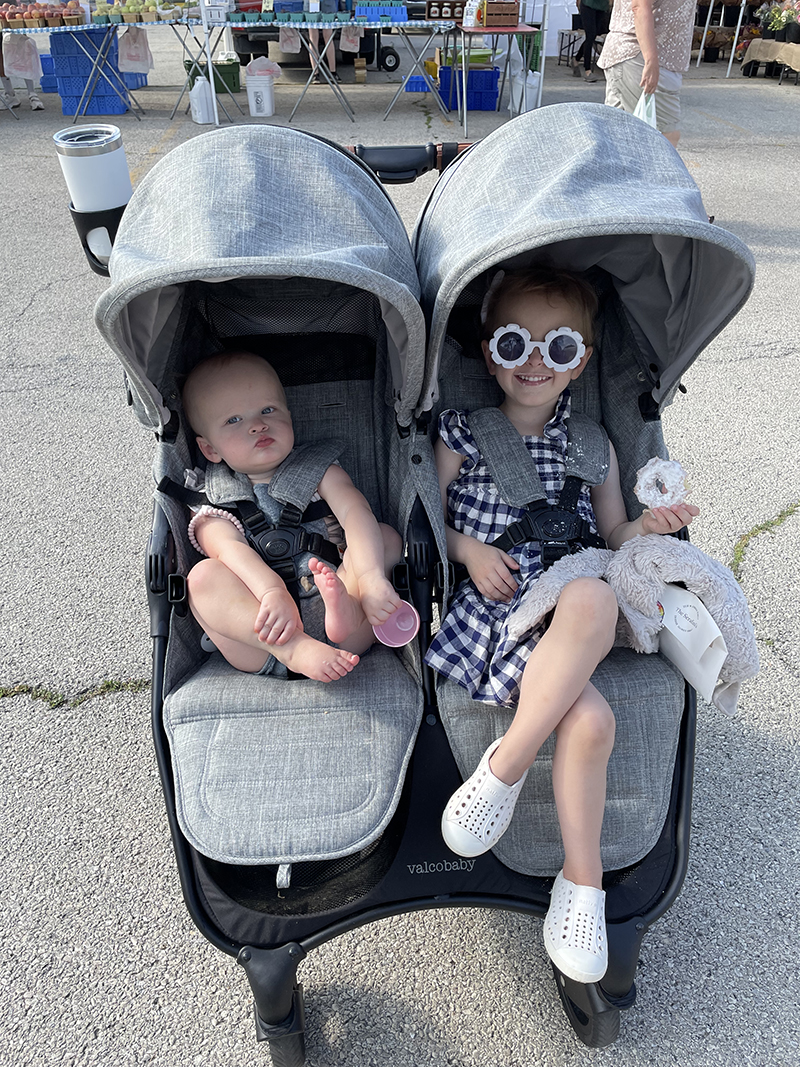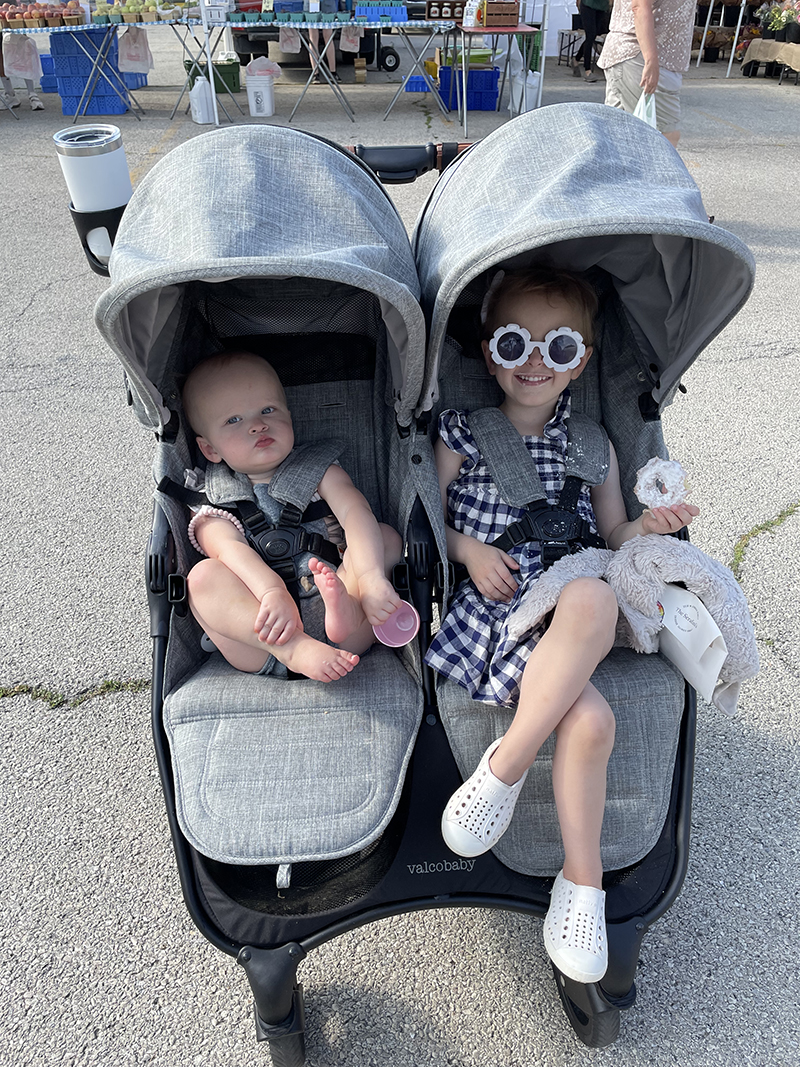 When you have more than one child, a double stroller is the easiest way to get around. Like many parents, I purchased one of those convertible strollers that works as a single or double stroller. But for a number of reasons that I'll get to in a moment, I ended up eventually purchasing a side-by-side stroller. From trunk space to ease of folding, there are so many factors to consider when choosing the right double stroller for your family. If you're looking for a side-by side stroller that's easy to use and have or are about to have a second child, I highly recommend the Valco Baby Snap Duo Trend. Here's why.
The Best Double Stroller: Valco Baby Snap Duo Trend
The Valco Snap Duo Trend is the best double side-by-side stroller – it works from birth to children up to 45 pounds, so it's great for older children, twins, or kids of different ages. There's even a bassinet (sold separately) for infants and numerous car seat adapters for infant car seats. This infant seat looks like a nice option, too. I haven't used an infant car seat adapter with this stroller but have friends who have, and they loved it. Each seat has a 5-point-harness complete with the signature Valco (toddler-proof) buckle. The weight limit is 45 lbs per seat, so that's something to consider. With a maximum weight of 45 lbs (per seat) I think we'll be able to use it until my older daughter is at least 5 – 5.5.
Why I ended up getting a new double stroller
I had the Uppababy Vista and love it as a single. It's fine as a double, but I found it heavier and harder to push, especially once my older daughter got closer to age 3. The second seat (or front seat) was too low to the ground, and not as easy to adjust. I've tried a lot of strollers in my almost 4 years as a mom – everything but an umbrella stroller. I share my favorite single stroller in this post.
Why I love it
The ease of use! The Snap Duo has great maneuverability and opens and closes with one hand. There's no removing seats to fold it, either – it's a great option for busy families who want something easy and functional. The seats recline fully and canopies extend for full coverage. But like, actual full coverage with UV mesh fabric for protection from the sun. The seats also recline separately, so one child can nap while the other is awake. I love that you can have one seat upright and a reclining seat at the same time. The toddler seat works for infants, but that did not apply to us since I purchased it when my second was around 9 months old.
Favorite features
The adjustable handlebar makes the stroller easy to push and is ideal for parents of all heights. It's great for both shorter and taller parents and is very easy to adjust. It's a smooth ride, too. I should also add that my sister who doesn't have kids commented on how smooth it was.
I started out with the VISTA and love it as a single, or with the ride-along board. But I did not love it as a double. It was hard to push and I had to take it apart to get it in the car. We still love and use it when my older daughter doesn't want to sit (so for shorter outings) but I would not recommend it as a double.
Weight and other features
The entire stroller weighs 23 pounds, making it the most lightweight stroller when it comes to doubles (if not the lightest) on the market. Did I mention that the stroller stands independently when folded? Because it does that, too. And in spite of the fact that it's a side-by-side, it fits through most doors and in tight spaces, or spaces that you wouldn't think it might fit through. The large basket holds a lot, but I will tell you it's sort of a pain to grab larger bags out of there.
The peek a boo windows make it easy to check on your kids, an doffer some extra ventilation, too. The shoulder straps are comfortable, too. The brake lever is located between the back wheels and locks (or unlocks) with one foot. And it's a pretty compact fold (no removing parts) for a double stroller. The Valco takes up about half the storage space as other strollers in my trunk. Oh! And the adjustable footrests are a favorite feature. Great for naps or when an older kid wants to keep their feet up. Like I said, it's a great choice – the best option as a double stroller. The price point is a little high, but it's worth every penny.
Traveling with the Valco Snap Duo Trend
We took our stroller to Disneyland and just used the Valco travel bag. To use it, you fold the stroller down and remove the front swivel wheels. One of my closest friends brought it to Disney World which is why I brought it to Disneyland. And bonus – it is a Disney approved double stroller! She raved about the coverage and near-flat recline for stroller naps. We did take this on a road trip and it takes up about half the space of our other full-size double stroller. And I have the same things to say – it was great at a theme park.
I've had the experience of checking it before security and at the gate, and preferred gate-checking since it was so nice to have to keep my kids contained at the airport.
The Valco Snap Duo Trend is the best double stroller.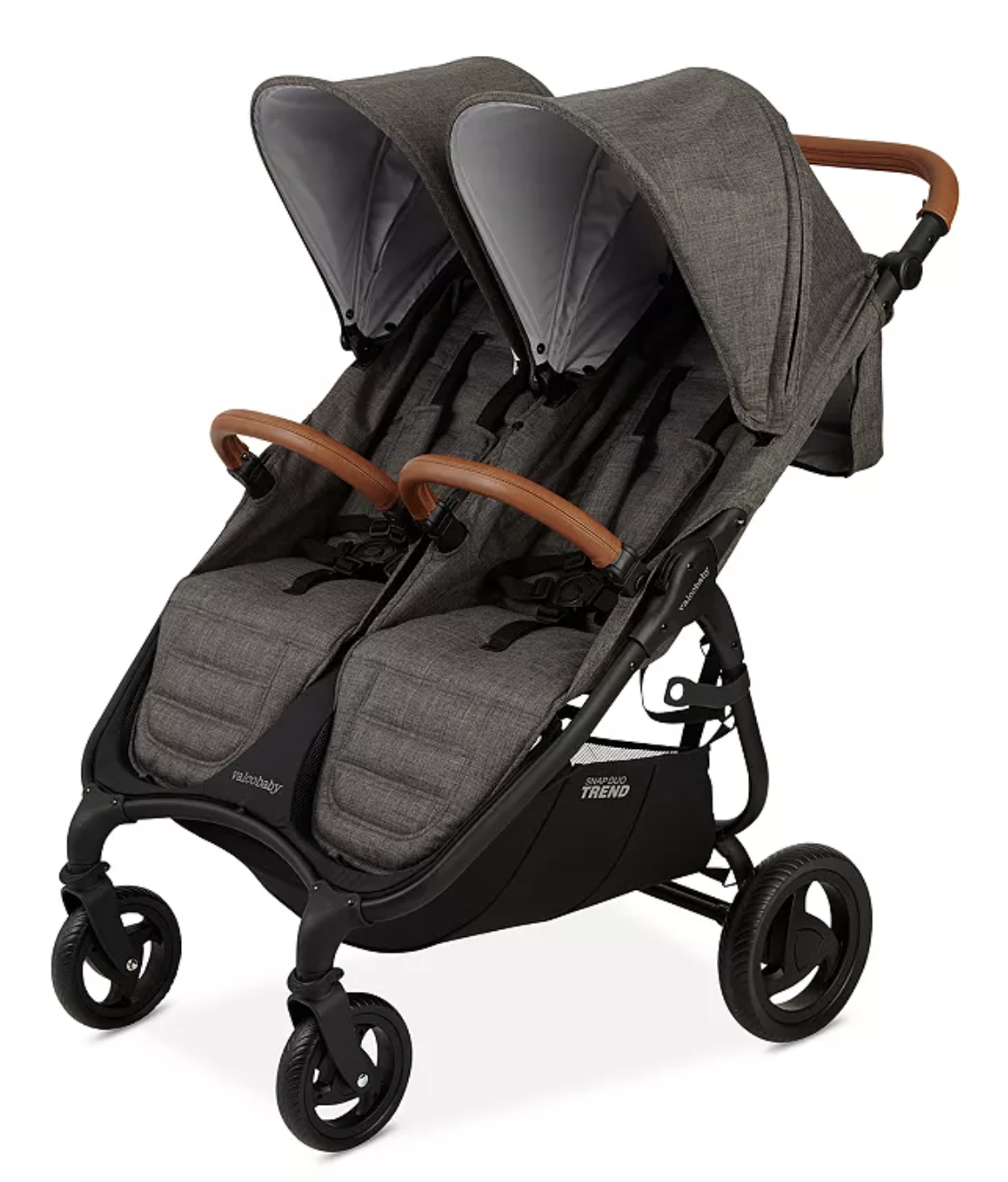 Valco Snap Duo Trend dimensions
Open: 29″L x 38″W x 44″H
Folded: 29″L x 15″W x 28″H
The only "negatives" (if you can even call it that) is that the basket isn't the easiest to put a huge bag in, and your kids can't face you. If those are deal-breakers, this is not the stroller for you. There are not built in cup holders, but this cup holder is great. We have this tray, too, and can fit two snack trays side-by-side at the same time. You can't fully fold the stroller with the tray so when we use those (which isn't often – just for long walks), I just throw them in the basket below before closing.
This is not an "all-terrain" stroller, so if you're looking for an outdoorsy, jogging stroller, this isn't it. It maneuvers so well and is ideal for long walks.
See how easy it is to fold here:
View this post on Instagram
This post was not written in partnership with Valco, and I paid full price for this stroller. If you use my links, I may receive affiliate commission at no cost to you.