Baby Shower Checklist: What You Need the First Six Months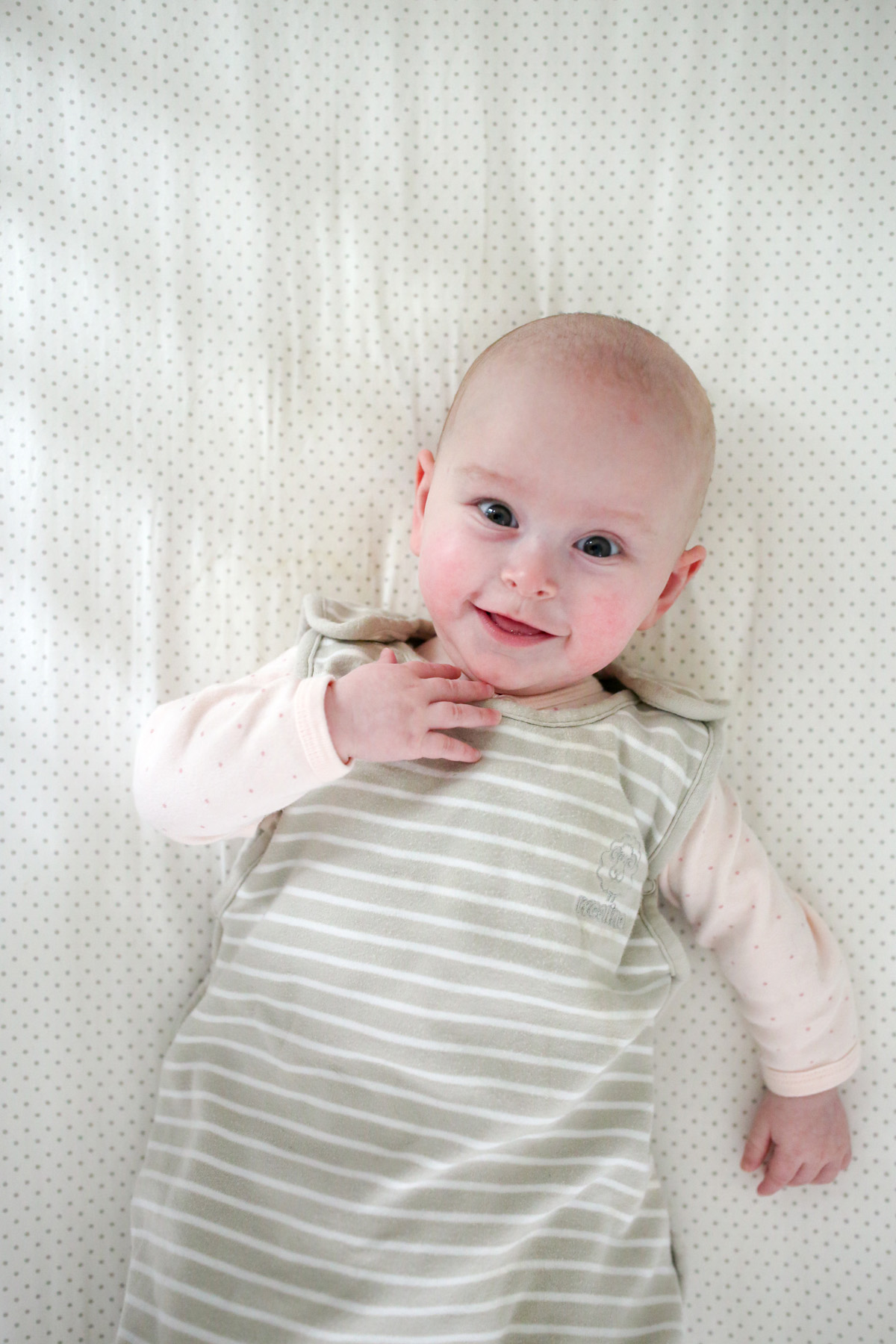 I've been a mom to Margot for over 6 months now (!!!) and wanted to share the items we use daily, what's nice to have but not a must, and am leaving off the things I registered for that we didn't need. Since my friends helped with my registry, I'd say I did a pretty good job at keeping it to the essentials. Here's a baby shower checklist that will get you through the first six months of parenthood.
Baby Shower Checklist: What You Need the First Six Months
I know this probably seems like a lot of stuff, but I took a less is more approach when it came to all the extras. There was a lot I tried to avoid (hello, activity center) and ordered as needed. It was a goal to avoid light up toys because my baby was born in 2018 and gadgets will be a big part of her life, so I want to keep things simple while I can. We now have two light-up toys and use them pretty sparingly, but they're a good distraction. You really need a lot less in terms of toys than you might think, and as requested on instagram recently, I'll recap the toys we actually used/needed the first six months in the coming weeks.
Here's my baby shower checklist: the items we've relied on the first six months!
Nanit Monitor:
I am so glad I splurged on this monitor. I got it because it offers an aerial view of the crib, and I love that it connects to my cell phone (and my husband and nanny's cell phones) so there's no need to carry around a monitor base. You can keep the nursery sound on or just have your phone push notifications to you. The nanit tells me what time Margot went to sleep, when she woke up (makes tracking naps much easier), and so much more.
White Noise Machine:
I once thought I lost this little wonder, freaked out, and ordered a new one on Amazon Prime. I've also forgotten to take it out and it's how car seat naps are possible, so we keep one in Margot's room and one in her diaper bag. It kept her asleep when a smoke alarm went off and when the dogs bark so yes, it's very, very worth it.
Sleep Sack:
This isn't cheap, but it's also the only sleep sack your baby will need from 2 months – 2 years and it regulates baby's body temperature so it can be used all year long.
Hatch Baby:
This thing is wonderful. You can control it with your phone, although I don't do that yet. It activates by being touched and has a few soft colors and varying levels of brightness, so it's great for soft light for middle of the night diaper changes and feeding. It also plays white noise, nature sounds, and a nursery rhyme! It's also great for toddlers since you can teach them not to get out of bed until the light turns a certain color. Really looking forward to that feature!
Wearable Blanket:
I never put Margot in snaps at night and don't understand why anyone would ever do that to themselves. Zipper sleep suits make life so much easier. This one is so SO soft – we've had at least 2-3 in every size. You'll probably want a few more sleep suits, but gowns are great in the beginning, so I'd start with a few of each and see what you love most. MORI has given Margot a few pieces but we've bought some, too. Love the brand!
Zipper Sleep Suit:
When Margot isn't sleeping in her MORI sleep suits, she's in one of these. They not only zip, but zip from the bottom, so they're amazing for middle of the night changes. Just like MORI, we've always had at least 2-3 in each size.
Pajamas:
Ok, just one more zipper onesie since I love these cute, playful prints. They run a little small (Maybe because Margot is on the taller side?)
Knotted Gown:
I used these a lot for the first 2-3 months and really love them. This brand is SO soft and so sweet. Margot even has a larger size gown that I put her in now.
One Piece:
This is one of my favorite everyday outfits for Margot. The ankle cuffs flip over and turn into booties, and it's just so soft and easy. I'm fine with snaps during the day btw.
Bodysuits:
These bodysuits are so great for everyday. Cute, soft, and easy. MORI makes matching pants (and headbands). Margot wears these all the time.
Socks:
Because these actually stay on baby's feet. I'd just get a few to start.
Humidifier:
This came highly recommended by quite a few of you on instagram, so I ordered it since humidity levels were pretty low in Margot's room. We have a whole house humidifier but it's still so dry in the winter, and this was great to have when Margot had a cold, too. Overall, I'm very happy with it.
Mattress:
100% organic and breathable.The Pebble Pure provides the safest sleep environment of any organic mattress on the market.
Crib Sheet:
We started out with two sheets but I just ordered a third to make life/laundry easier.
Crib:
I love the simplicity and price of this crib. I knew I wanted something with very clean lines that wasn't too expensive since it's such a transitional piece. This Babyletto crib is great because it's nice looking, affordable, and has a few color options to choose from. I switched the legs out for plain white ones and am very happy with it.
Glider:
You're definitely going to want a glider. It's an essential for soothing baby back to sleep, feeding, and story time. We love ours and use it every single day.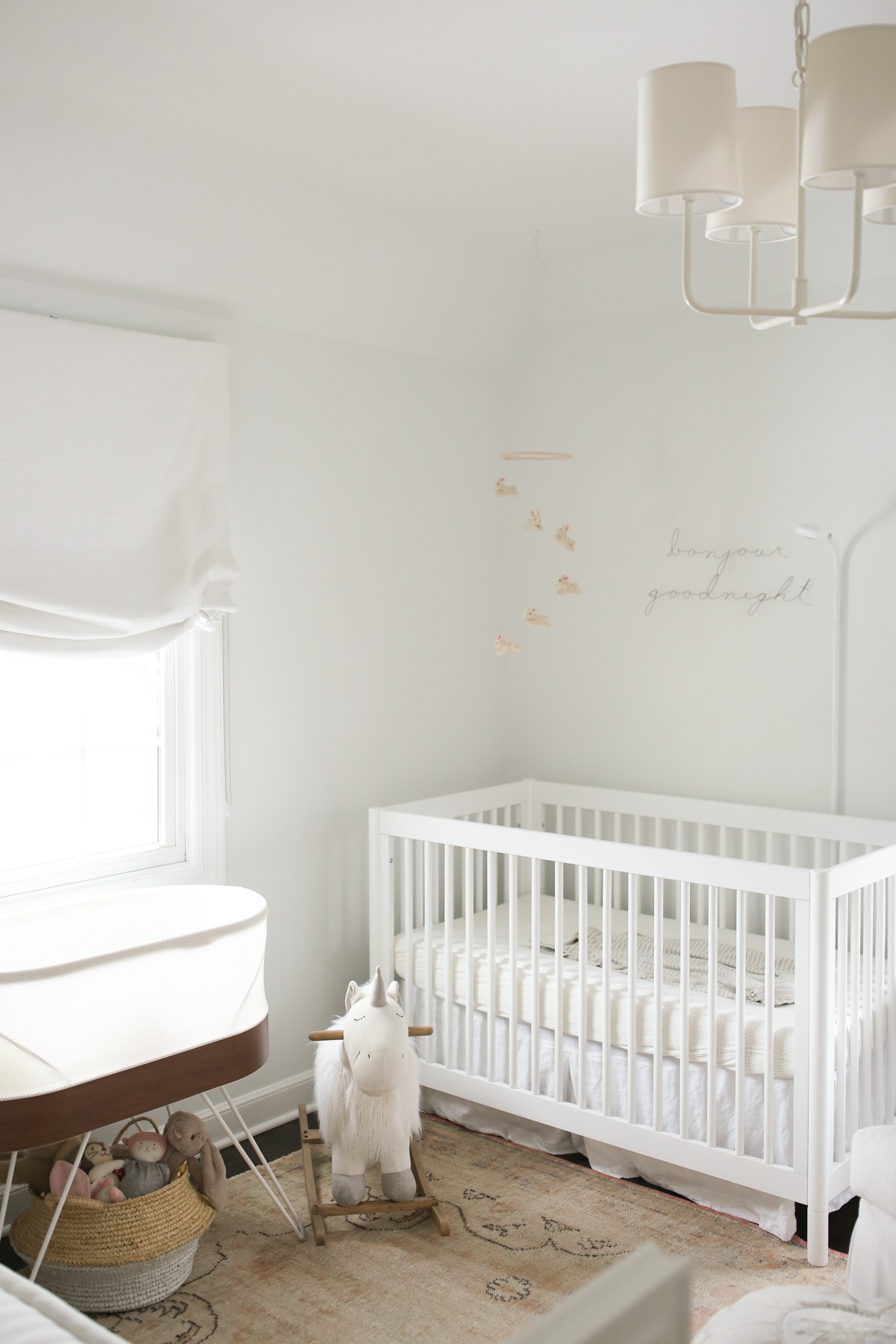 Baby Shower Checklist: What You Need the First Six Months
Swaddle:
We had a few swaddles and these are my absolute favorite. They're big and stretchy, and great for swaddling baby, or to lay on the floor for play time. We have a few since Margot spits up a lot, but you would be fine with 2-3.
Burp Cloths:
Margot is a very spitty baby and I've tried at least 4 different types of burp cloths. These have held up really well and are BIG, so you get great coverage. Most don't hold up, but these are still soft and look almost new.
Formula Maker:
We love this so, so much. With the simple push of a button, a bottle is made at the perfect (warm) temperature for baby. It makes middle of the night feedings so much easier!
Bottle Drying Rack:
I thought this was one of those things only suckers fell for but we use it every single day all day long. I don't know where else you'd even put bottles – totally necessary!
Bottle Brush:
Pretty self explanatory. I don't know how I'd clean bottles without one of these things.
Bottle Soap:
Even though I use natural cleaner, rumor has it that this doesn't leave any residue on bottles, spoons, and bibs, and since babies stick EVERYTHING in their mouths, I went with the bottle soap, too. It works well though, so I'd recommend it.
Bottles:
I made the mistake of getting a bunch of the smaller Comotomo bottles, but you'll only use those for a few months, so I'd just go with the larger ones. We have 5 and it's worked well for us. We're always washing bottles, but don't have to wash them more than once a day.
Feeder:
We started using these at about 5.5 months and Margot loves them! She started with avocado and moved on to banana. That's all we've done so far.
Bibs for Drool:
Until recently, I'd say we went through at least 4-6 bibs per day, so we have a lot of these. It really comes down to how much laundry you want to do and how often your baby spits up, so I'd start with 8 and order more if needed.
Bibs for Food:
Once Margot started solids right before turning 6 months, I found myself on the hunt for a bib that both functional and not ugly. These Gathre bibs are simple in design and wipe clean easily! We have two which I think is more than enough, and they will hopefully work through toddlerhood.
High Chair:
So you don't HAVE to have a high chair. Lobster seats will do but I really wanted to be able to pull a seat up to the table and love that this grows with baby and functions as a seat for toddlers and young children. And let's face it. It's pretty.
Pacifier Clip:
Margot doesn't really take a pacifier but I keep a rubbery one or small toy attached to this when we're out or she's in her car seat. Keeps it from falling on the floor and gives her something to keep herself entertained.
Pacifier:
Margot uses these from time to time, so since you don't know what your baby will like, I'd order 1-2 of a few different types of pacifiers and see what sticks. She loves playing with the really rubbery ones. They're so small and great for grasping and chewing, so if your baby doesn't take a pacifier, I'd still recommend having them on hand.
Detergent:
I've been using this detergent for years and it happened to be ranked as one of the safest for baby's skin, so continuing to use it was an easy decision.
Stain Remover:
I've tried this and Dreft and am not sure how much of a difference there is between the two. I really like this brand.
Skincare:
I've tried a few of the big brands and Tubby Todd is the very best. The ingredients were approved by Margot's dermatologist, and she has pretty dry skin, so we use the all over ointment and dream cream all the time! It's all so good and so worth it. Highly recommend this brand.
Boogie Remover:
Seems gimmicky but this little guy WORKS. Margot isn't a fan but I think he's the best.
Thermometer:
Rectal thermometers are the most practical but I just ordered one of these because imagine undressing a fussy baby to use a rectal thermometer when they're fussy at 2AM and you want to check their temp. This is much, much easier.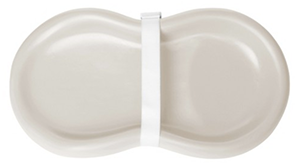 Changing Pad:
I don't really have anything to compare this to but I really like that it doesn't have a cover that needs to be washed all the time because things are bound to end up on your changing pad. When Margot was really little, I'd put a burp cloth under her just to keep her warm (new mom thing) but we use it as is now and it's been great.
Diaper Pail:
I'm not sure how much there is to say about a diaper pail but this is easy to use, doesn't smell, and works with standard trash bags.
Diapers:
I tested out a few brands and these are far and away the best of them all. They're biodegradable, arrive monthly, and zero leaks or blowouts. I love them!
Cloth Diapers:
That said, I love these diapers so, so much. They're soft and easy to use, and so cute, too! I could tell my nanny wasn't into them and I didn't want to push her to do anything she didn't want to do. I'd love to start using them a bit more.
Wipes Dispenser:
Not to be confused with a baby wipe warmer (those are pointless) this dispenser is one of those things I thought was gimmicky but is totally practical.
Diaper Ointment:
My doctor recommended this cream and Margot has had one very very minot diaper rash (the doc said it was nothing) so I'd say it's worked well for us!
Baby Basics:
We didn't have any luck with the windi but my friends seem to love it, and we use everything else in this kit. I don't know how I'd cut Margot's nails without these clippers!
Hooded Bath Towel:
Any hooded towel will do, but this one is the softest (and the ears are awfully cute).
Washcloths:
The first washcloths I tried out lost their softness pretty quickly but I'm happy to report that we've been using these a few months and they're still very soft!
Moby Rinser:
Another one of those things I thought was gimmicky but works really well! I still use my hand has a visor across Margot's forehead but like this little guy.
Bathtub:
Margot used the angelcare bath until about 5 months, when she tried to throw herself out of it. My friend recommended this tub which I wish we had just used the whole time. First, you don't need to fill the tub to use it, there's a sling for the newborn stage, it's perfect for where Margot is now, there's a seat we'll start using soon now that she's sitting up, and the seat pops out when baby is a little sturdier. It's truly transitional.
Bath Toys:
These are Margot's favorite bath toys! She loves grabbing and chewing on them. They do fill with water which can attract mold but we haven't had any issues, so hopefully we're ok?
Stroller:
This stroller is beautiful and easy to use, and works so well with the MESA car seat. That said, I prefer the NUNA car seat since it's lighter and has a cover that keeps the sun out. Long term, I love this stroller and there's the option to add a second seat. I'd say to look at both and figure out what works for you.
Infant Seat:
Babies can't just sit in a regular stroller seat until they're about 5-6 months old. But this insert is super soft and makes it possible for younger babies to use their stroller seat.
Stroller Organizer:
I had the UPPAbaby version of this but prefer this one. It's a bit sturdier and the little removable zipper pocket is very convenient.
Car Seat:
This car seat is a few lbs. lighter than the MESA but removing it from a stroller is a pain. My back is on the sensitive side so in the end, this is better for me, but I'm still a bit back and forth between UPPABaby and Nuna.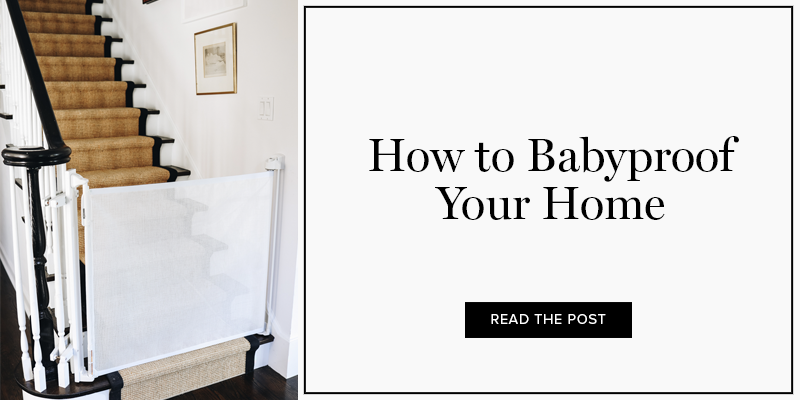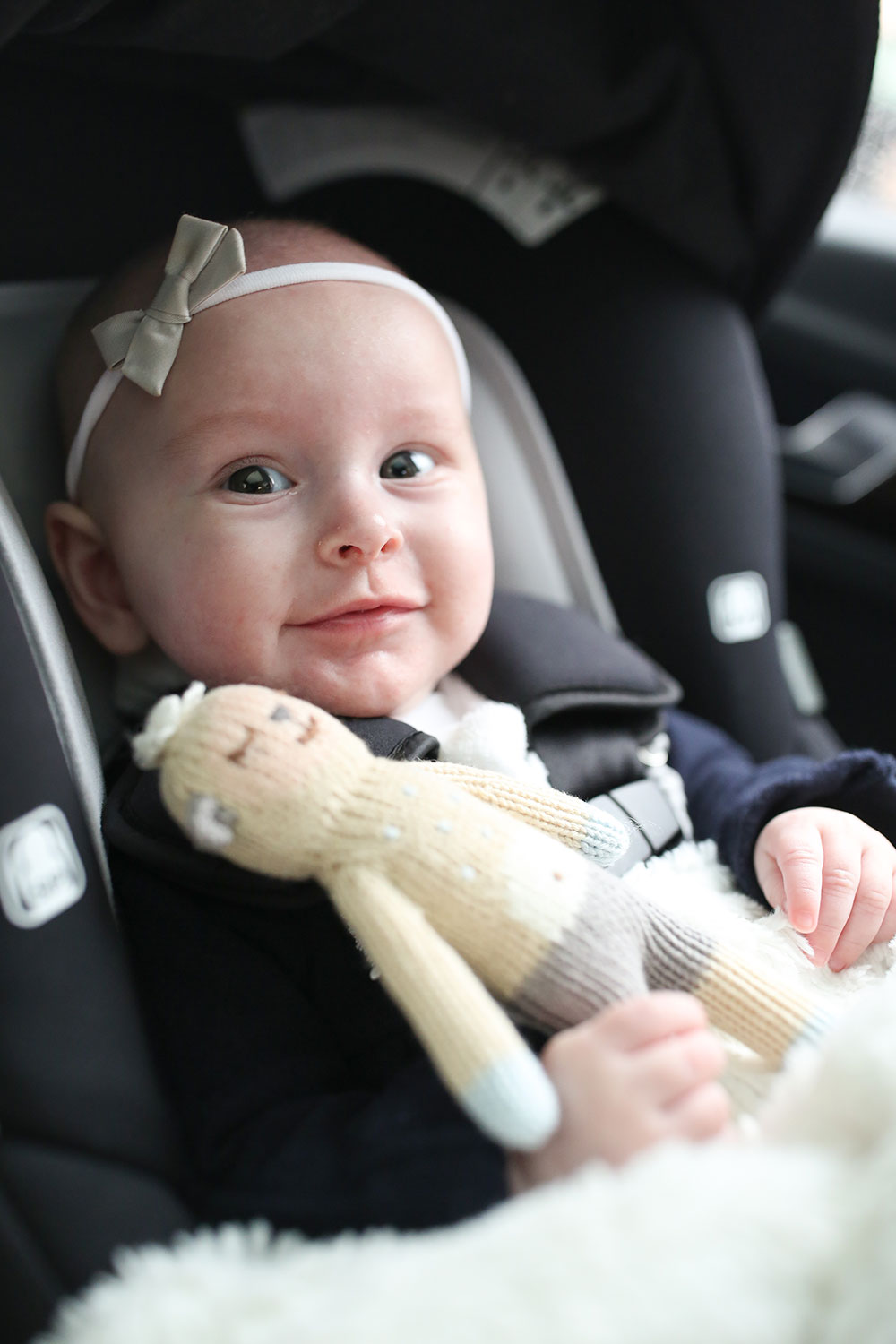 Baby Shower Checklist: What You Need the First Six Months
Igloo:
These fit on the car seat or stroller. Perfect for keeping baby warm during winter.
The Best Car Toy:
I was so anti light up toy because I wanted to keep things simple before her life is all about electronics, but I broke for this because it came recommended by a few parents. It has saved us on multiple car rides! You need it.
Car Mirror:
I can't imagine going anywhere without one of these. It's so nice to be able to see what's going on back there although if we're keeping it real, I haven't had that many solo trips with Margot since she hated the car seat for a few months. We're finally getting back into it!
Wrap Carrier:
I used this very regularly when Margot was little and haven't really tried to use it in a few months. When she was fussy, we went out a bit less and just held her.
Wipes Case:
File this under things I thought were gimmicky but they're actually so great and you'll use them all the time. Those small packs of travel wipes are a pain. This keeps the wipes moist and is easy to use on the go.
Portable Changing Station:
Great for backseat diaper changes. I love my Gathre mat but this is a bit thicker and more padded, so it's better for hard surfaces.
Doorbell:
I love that I can see who is at the door, speak to them without opening the door (safety is key!) but the best feature for parents? You can silence the doorbell for up to THREE hours. Makes nap time much easier!
Play Gym:
You really don't need a lot in terms of toys, but this play gym is something we love and use all the time. I love that it comes with a cover that turns it into a tent for toddlers.
Books:
You REALLY can't have too many books. Even though we have what I think are a lot of books, it feels like we're always reading the same ones. I'll share my favorites soon!
Bouncer:
We tried out 3 baby seats and this one is hands-down my favorite. It grows with your baby from infancy to toddlerhood, it's really nice looking, is easy to clean, and folds flat for easy storage or transportation. Margot has always loved this seat and might even love it more now that she's almost 6 months and loves bouncing.
Snuggle Me Organic:
This isn't a MUST HAVE but we used it a lot in the beginning. It's so easy to transport from room to room, and I kept it in a bassinet (basket) in the living room, or on our bed or sofa. We only used it for a few short months, but it came in very handy during the newborn stage.
Nap Basket:
Again, you don't have to have this but we used it a lot in the beginning, and it's great for toy storage when baby is too small to nap in a basket. The Snuggle Me fits perfectly inside.