Traveling With a Baby Under One Year Old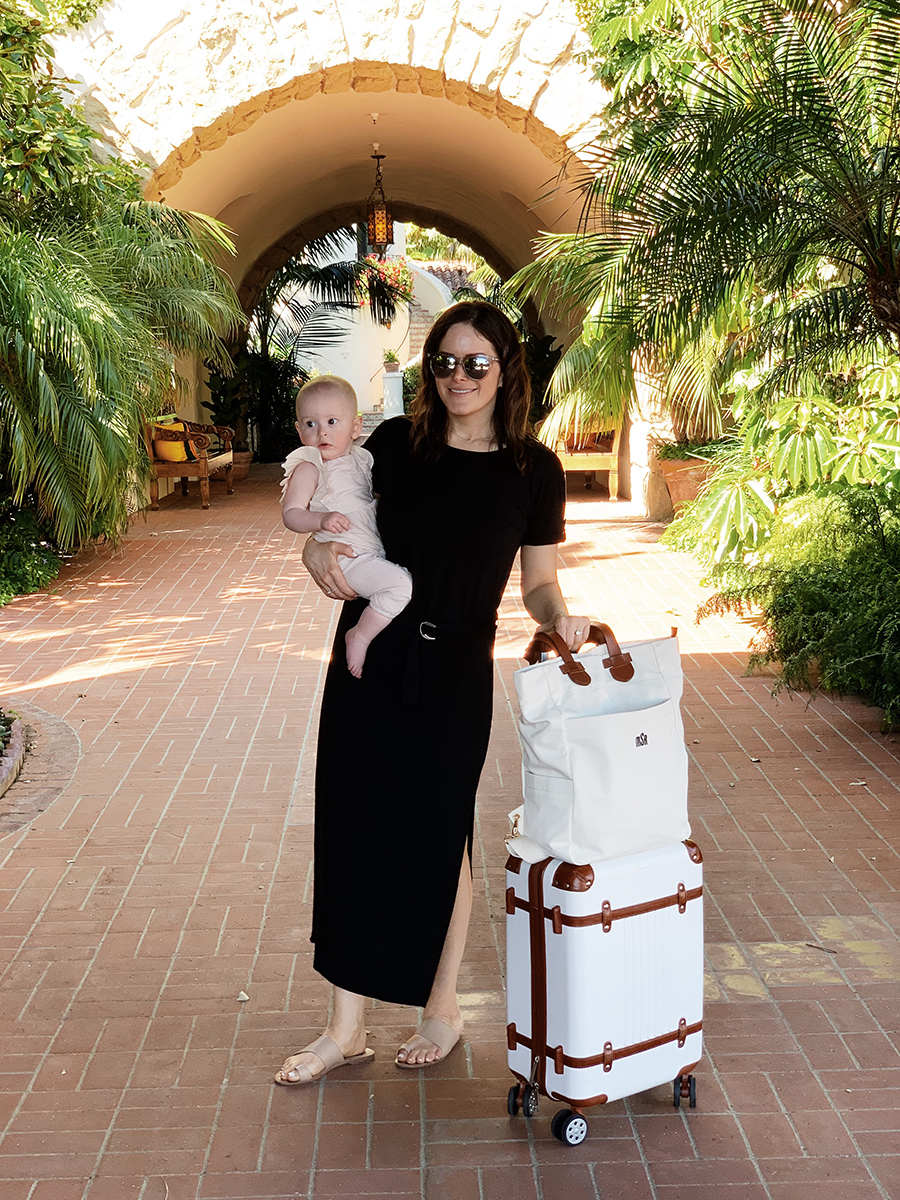 I've flown with Margot twice, when she was 3 and 9 months old, and that hardly makes me an expert, but I've learned a thing or two along the way. After getting quite a few questions about what did and didn't work for us, I wanted to share some of my favorite products, tips, and tricks for getting through the airport, flights, and getting around with a baby. Traveling With a Baby Under One Year Old.
Traveling With a Baby Under One Year Old
This post is a long one, but I did my best to answer all the questions you asked on instagram, and wanted to include anything I found myself googling and asking my friends on social (all of you!) before traveling.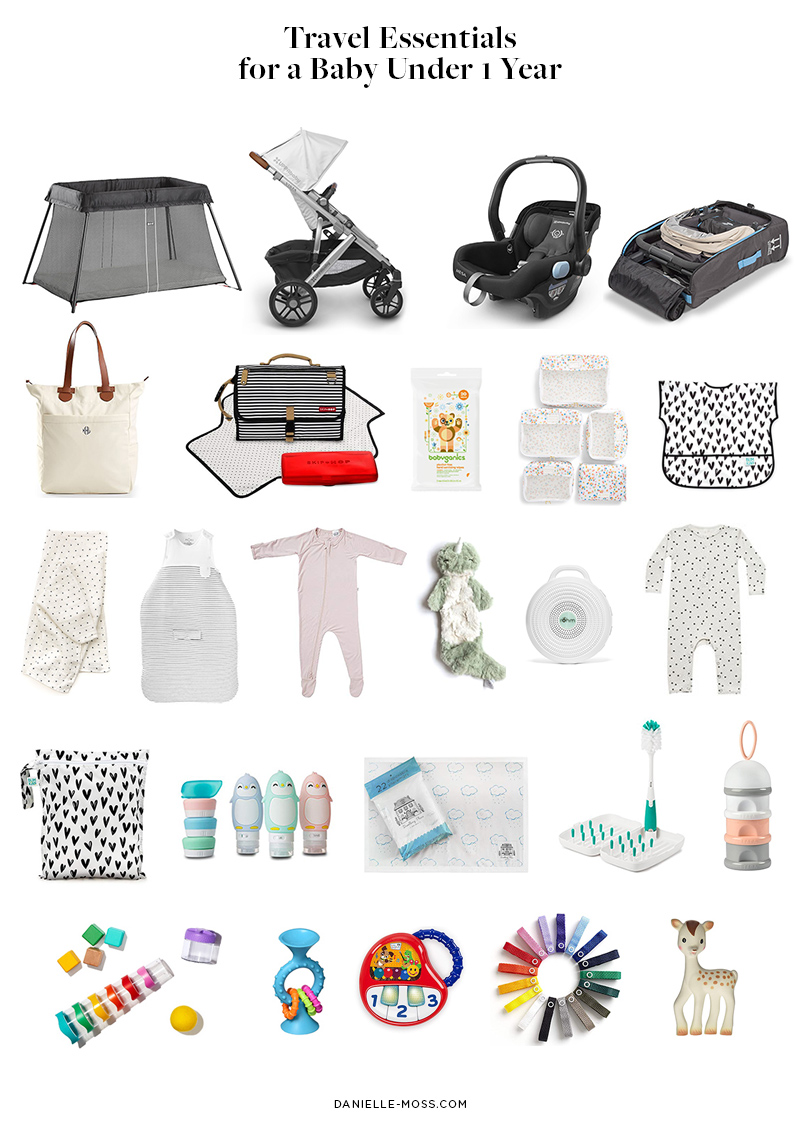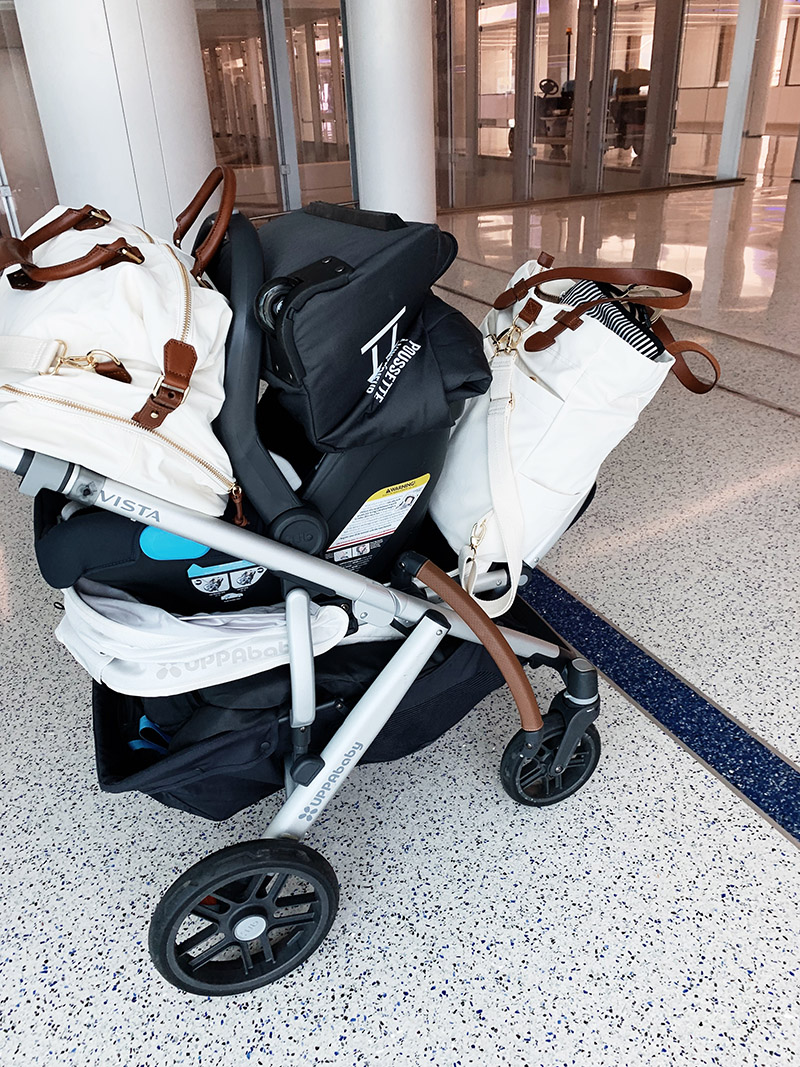 I made a checklist of everything we would need for the trip
And I polled my friends (you) on instagram, asking if I should bring a full-size or travel stroller. Now that I've traveled with both, I will tell you that bringing our full-size VISTA stroller and MESA car seat was perfect for LA, and I plan to always do this when traveling domestic. It was easier to get through the airport, and I loved having the stroller and seat for long walks in Santa Barbara. I even brought and checked our car seat base. Since we rented a car, I felt a lot safer having the base, and it was much easier getting the car seat in and out of the car
You don't have to bring a travel crib but the one in our hotel when Margot was 3 months old was pretty gross. I think it's best for baby to get used to their travel crib, and to have a safe, comfortable spot for baby to sleep in. It's one extra thing to carry, but I love our Baby Bjorn crib and will never use anything else.
What to Pack
In My Diaper Bag and Carry-On
I've tried a few diaper bags, and my new Mark & Graham was gifted, and is by far the best. It's so big and has lots of pockets – perfect for bottles, formula, snacks, clothes, and toys. There's a great little zipper pocked that I keep some makeup and my wallet in. The backpack straps are really comfortable and the bag feels shockingly light when worn as a backpack – even when it feels heavy as a tote. I definitely recommend it for everyday and travel.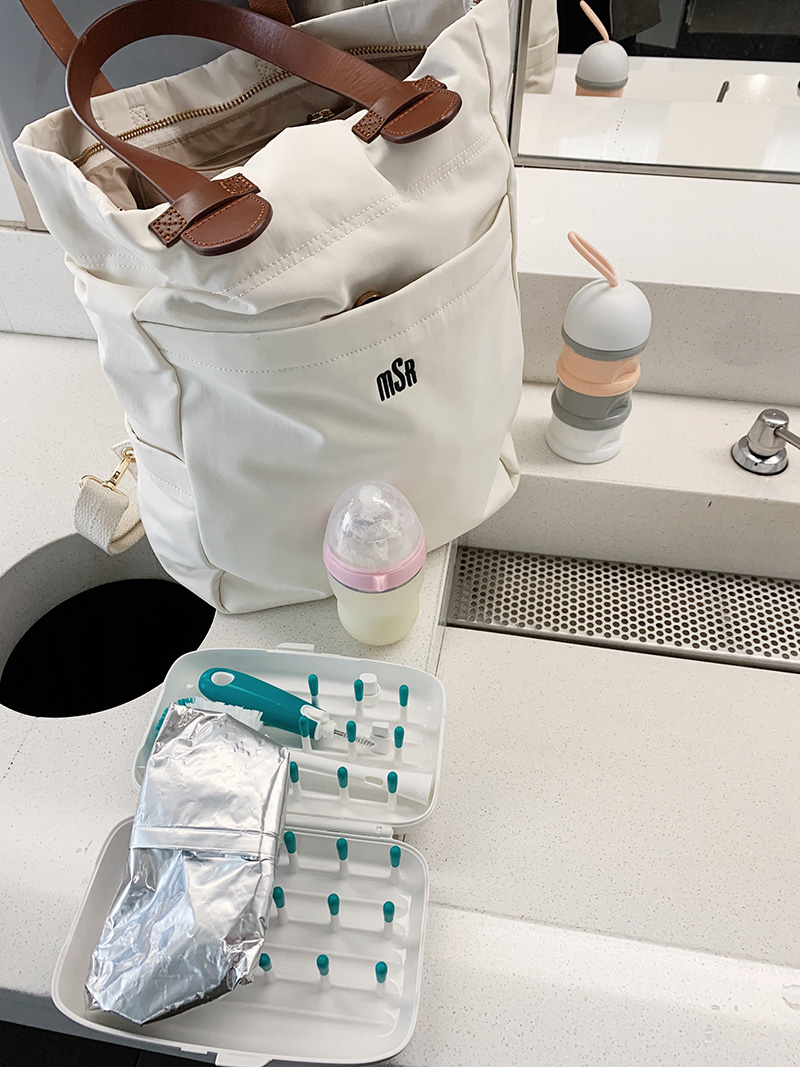 Traveling with a baby: notes
Packing formula
I was so nervous about packing formula this since Margot is on HIPP HA (hypoallergenic) and it can only be purchased online. I packed enough formula for 3 bottles in the travel formula dispenser, and two unopened bags in my carry-on and didn't have any issues getting through security. They will take the bag out and run it through a machine at security, but if you have a baby with you, you're ok to have water, formula, and ready made bottles with you.
Pack one outfit per day for baby and add 2 extra outfits. Don't forget layering pieces (sweater, jacket, hat, and a sun hat) if needed!
Pack as much as you can into into a large suitcase (or two) then check one or both when you get to the airport. I brought all the essentials, and the only thing we really didn't need was our baby monitor, only because I couldn't get it to connect to hotel wifi.
I loved having a full size stroller, stroller seat, and Margot's car seat, and would 100% recommend this.
It's the most comfortable and easy way for baby to travel, and I did not find it even a little inconvenient.
Hotel cribs aren't usually that nice.
They're often made of metal and are a strange place for baby to sleep, so I prefer having our own travel crib and 2 extra sheets. I've now tried the Guava Family Lotus travel crib and Baby Bjorn travel crib, and prefer the Baby Bjorn. It feels much lighter and is much (much) easier to use. Highly recommend it. Bring baby's normal toiletries (shampoo, body wash, diaper cream) to avoid any skin reactions while traveling. I packed Tubby Todd body wash/shampoo, lotion, and dream cream in this adorable children's toiletry set.
Travel tip:
We brought enough diapers for the flight and one full day, and bought diapers when we got there. I just made the switch to these eco-friendly diapers this week and am loving them so far!
Margot isn't a big eater but loves pouches.
I brought about 6 with us and then made a trip to Whole Foods after we checked into the hotel, and bought enough for the rest of the trip. We can usually get her to eat at least 3 a day, and aim to give her the ones with oats and veggies as opposed to just fruit. Happiest Baby puffs don't have any added sugar, so I love them!
I brought a few diapers on the plane and a few in our carry-on, and the travel sizes these wipes and this diaper paste.
I didn't pack too many toys – just a few things in two of the little Lovevery bags that come with our monthly play kits. In a small pouch, I packed 4 blocks, stacking cups, some links (she didn't care for those), a suction toy, a squeaker, light-up toy, and toy straps (best $4 find) to keep toys from getting lost. Brought a few backups that sort of worked. Post-its kept her entertained for a few minutes, although, like any other 9 month old, she kept trying to eat them.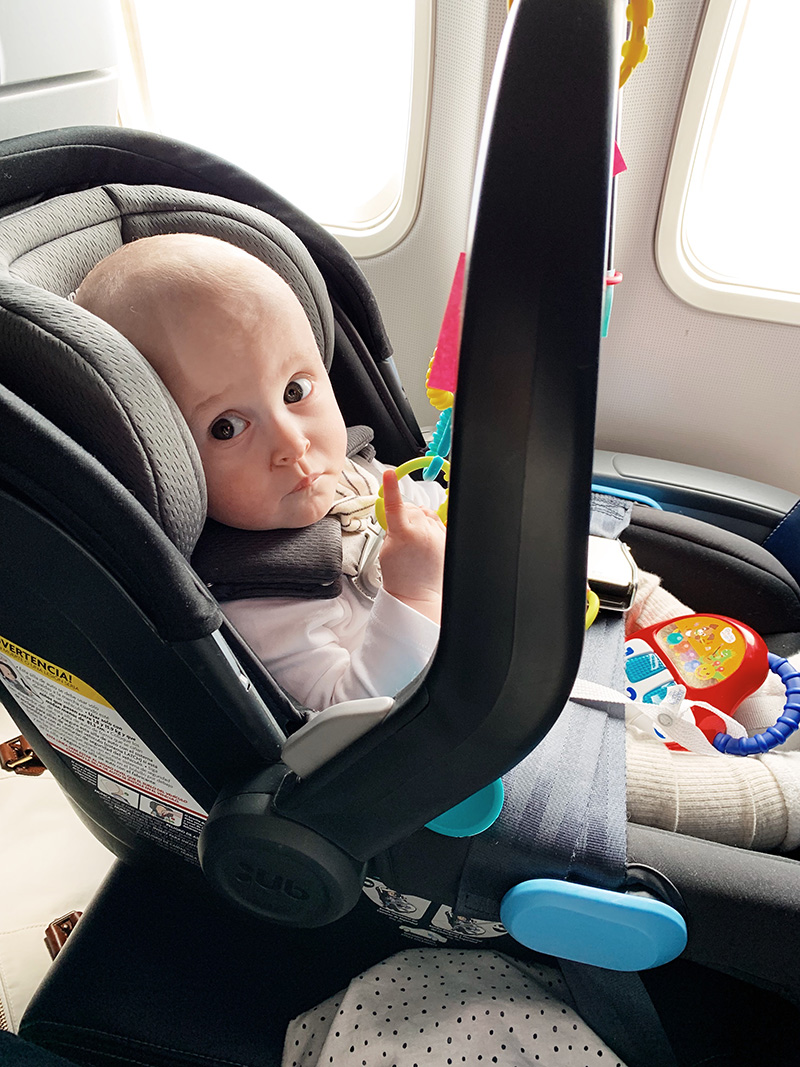 Getting Through the Airport and Flying with Baby
The first time we flew to LA, we booked our flights on Southwest, and since they were pretty open, we were able to bring Margot's car seat on for free. You have to do what works for you, but you never know when take-off or landing will be bumpy, and the safest place for baby to be is in his/her car seat, so we made the decision to buy a seat for Margot on our second flight since we used points and did not fly Southwest. This meant having our own row, and she naps pretty well in her car seat, so it made the flight a lot easier for us. If it's in your budget, I would recommend buying another seat. If not, fly Southwest and ask if there's room to carry the car seat on.
When we got to the airport, we checked our larger luggage and travel crib.
That left us with our stroller, stroller seat, car seat, car seat base, travel bags, weekender, diaper bag, and carry-on. Sounds like so (so) much when I list it all here, but it worked.
Getting through the airport
We piled almost everything in the stroller, I wore Margot in this sling, and we pushed a small spinner through the airport. Shockingly easy. We took the stroller apart, gate checked that and the car seat base, and carried the car seat on since we had a seat for Margot. If you don't have a seat, you can check a car seat (for free) at the gate. Once Margot is out of her infant car seat, we'll likely travel with a smaller stroller, but I really did love having the VISTA since it's so easy to use, the basket is huge, and it reclines for stroller naps. Another bonus is that her car seat is especially easy to take on and off of the VISTA.
I practiced taking the stroller apart and putting it in the UPPABaby bag (gifted and highly recommended), and put the car seat base in the car seat bag. We gate checked both and carried the car seat on, but you can gate check all these items for free.
Once you get on the plane
Conor wiped the seats, trays, and window down with Lysol wipes since they kill the Flu virus, and I bought these for Margot's hands. Be sure to feed baby during take-off to keep ears from plugging. She had toys to play with and took a decent nap. Cried for maybe 5 minutes on both flights (total) and smiled, waved, and nodded her head at everyone around us. She was very popular and the sweet woman behind us told Margot she brightened her day.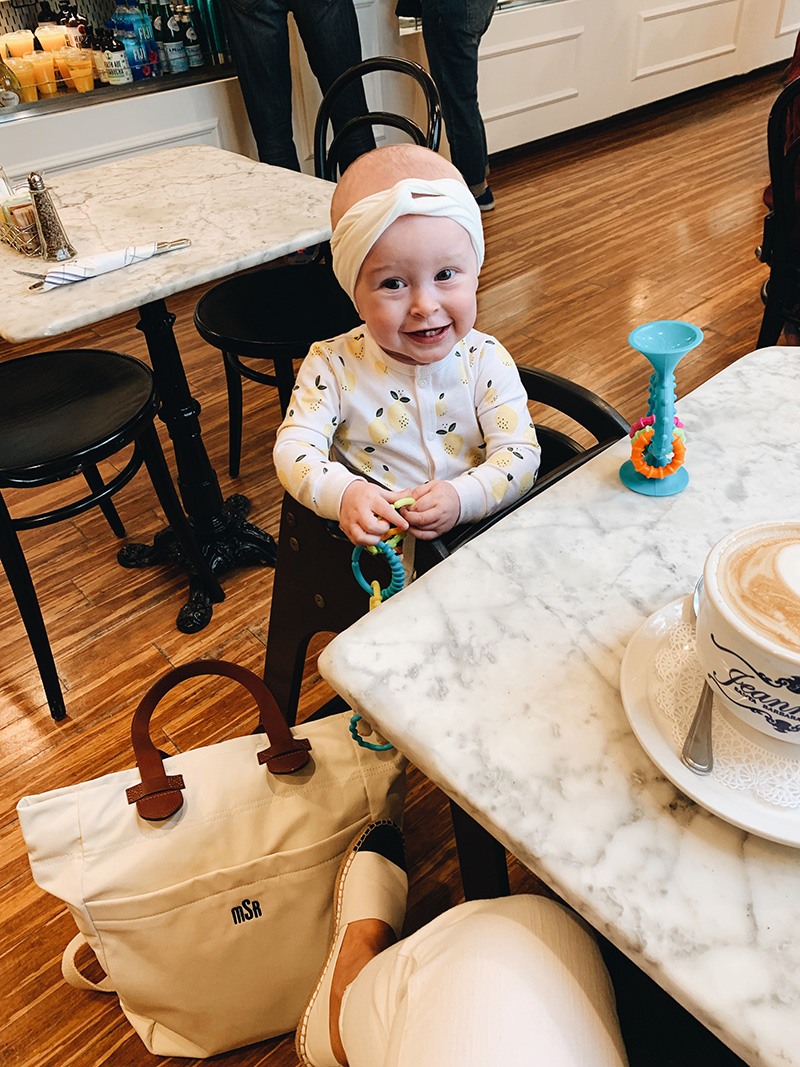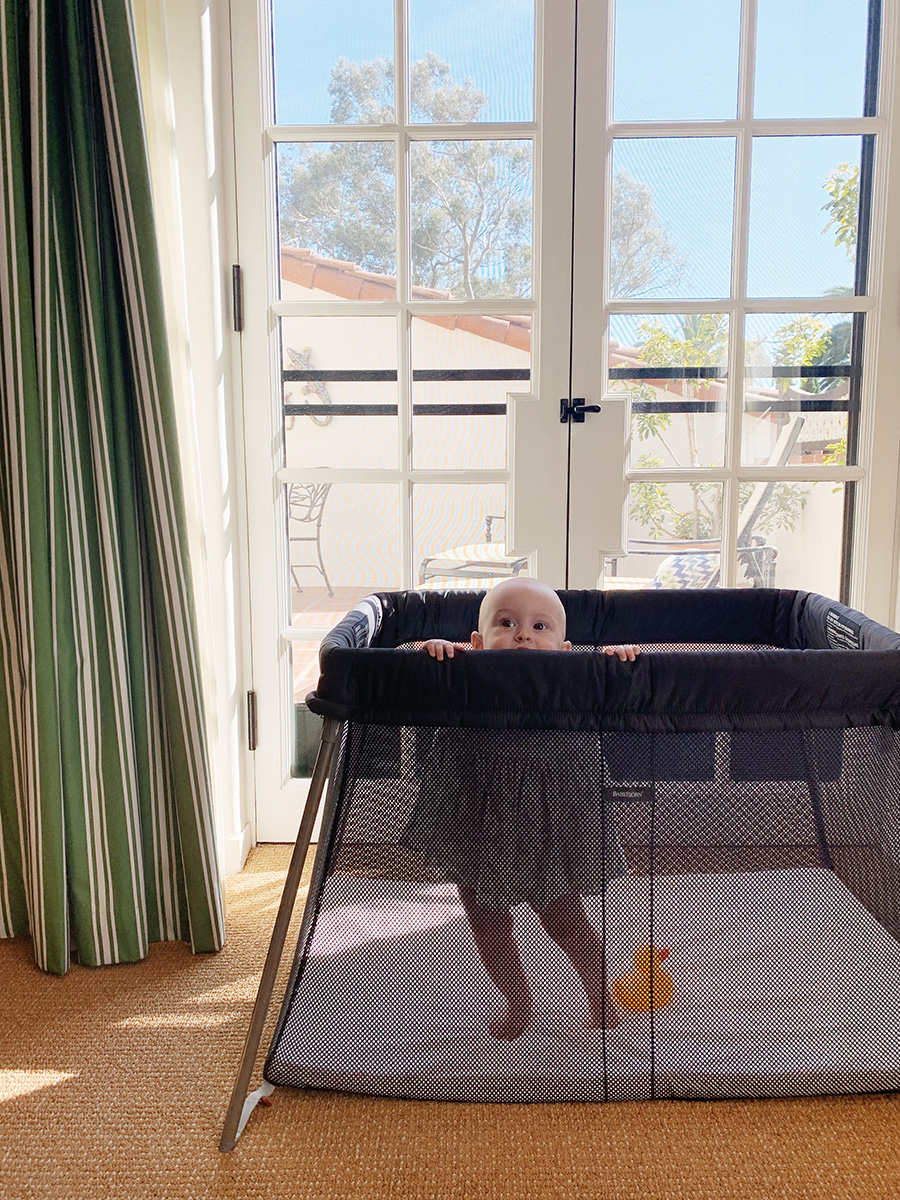 At the Hotel
We stayed at the Four Seasons Biltmore Santa Barbara and were generously offered a media rate, making it doable for us to upgrade to a 1 bedroom suite. The hotel was truly incredible! Since we were traveling with a baby, it was so nice to have our own little patio and a living room to relax in during naps and after bedtime, then we'd just sneak into bed when it was time to sleep. Room service was amazing! Plans had to be super flexible, and there were two nights we couldn't go out, so we put Margot to bed and enjoyed an amazing meal in our bath robes. Breakfast in bed (quickly moved to the patio because eating in bed with a baby is not possible) was so good.
If getting a 1 bedroom isn't an option, I would recommend finding a hotel with a little alcove, balcony, or a bathroom baby can nap in. You have to get creative, but need a place to sit during naps and after bedtime, that doesn't leave you silent in a dark room.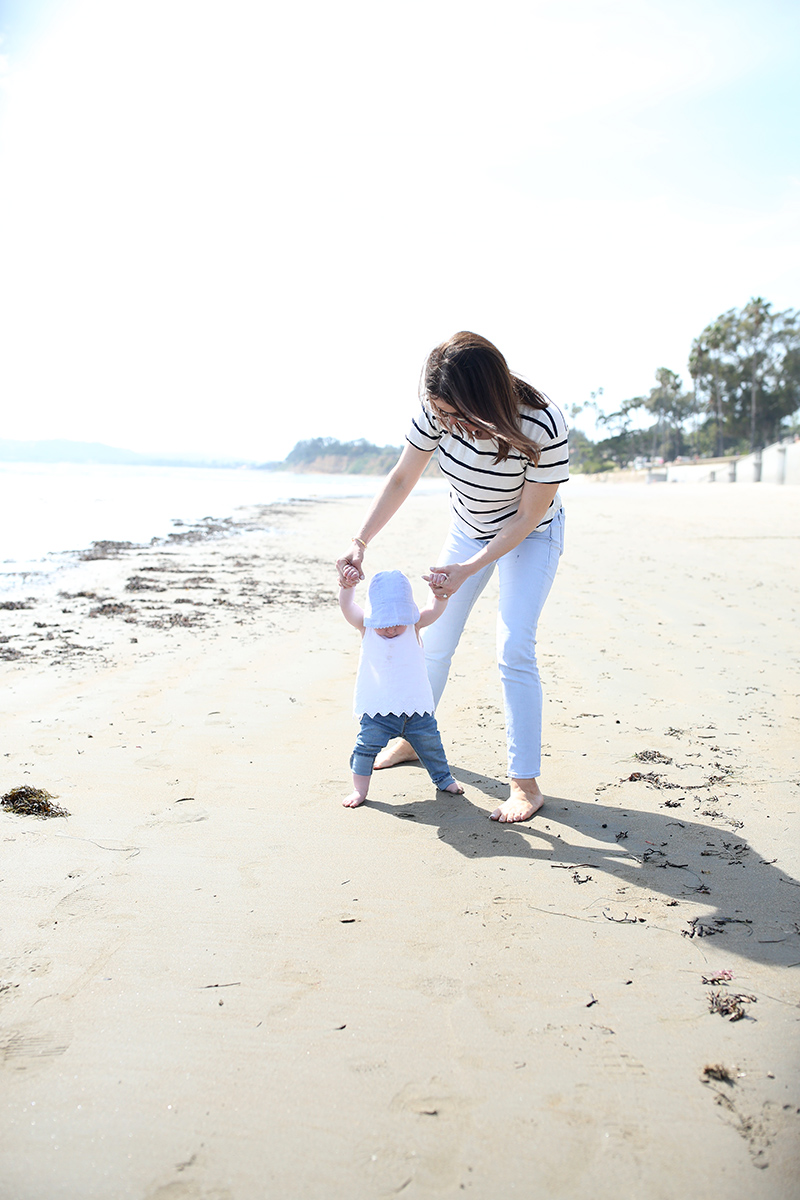 Going Out
LA is two hours behind Chicago, and Margot was so thrown off, but really happy, so we just went with it. Days were slower, we tried to get her at least one of her two naps in a travel crib, and she sometimes took the other one on the go in her car seat. We went into this trip with a plan of sitting on patios, walking around outside, and planned on taking her to the ocean and zoo, so there were very loose plans. Naps are always every 3 hours and that was the case every day except our last day. She struggled to sleep and had a 5 hour gap, so we canceled dinner plans, got her to bed early, and ordered room service.
Going to dinner with a baby
She's such a happy girl and just smiled/waved at everyone. I did plan things out so she'd always be back at the hotel 3 hours after waking up from a nap, so it worked out. I never pushed her for too long which set her up for success. She sort of adjusted to time change but was sleeping through the night before the trip and did not sleep very well at all. She woke up at least 1-2x each night and we had one especially miserable night on the trip.
What I Learned that I'll Apply to our International Trip
We just booked our trip to Italy and used points to upgrade to business class. I've never flown anything other than coach so this will probably make me hate any flights I take for the rest of my life forever, but it felt worth using those points so we could lay down while holding Margot. We won't be buying a seat so I'm a little nervous about take-off and landing (any advice?) but I'm hopeful that the extra space will make things better for all of us, and that she'll fall asleep laying down on me.
To ensure I didn't forget anything, I used the checklist function in my notes app on my phone (just click the check at the top) and made a checklist of everything I wanted to pack, checking things off as I packed. Here's the exact list I went off of!
Wearable blanket
Pajamas
Sound machine & charger
Monitor (did not use this)
Slumberkins
Toiletries
Diaper paste
Diapers
Motrin
Wipes
Outfits
Bows
Travel crib
Blanket (one outside one inside)
Carrier
Car seat
Car seat base
Stroller
Stroller bag
Bottles
Baby food pouches
Formula
Cereal
Snack container
Bib
Spoons
Travel bottle brush and soap
Pacifiers
Toys (fill Lovevery pouch)
Toy straps