The Family Friendly Mazda CX-90 and How it Fits Car Seats
I was able to test drive the Mazda CX-90 PHEV for a few days and shared a video of the car in partnership with Mazda. And I was so impressed with the car and how family-friendly it is, that I wanted to share an honest review here, too. The plug-in …
I was able to test drive the Mazda CX-90 PHEV for a few days and shared a video of the car in partnership with Mazda. And I was so impressed with the car and how family-friendly it is, that I wanted to share an honest review here, too. The plug-in hybrid model has latch and tethers in the third row, so unlike my Volvo XC-90, I was able to put a forward facing Foonf in row 3. Packages start from just under $40,000 and include different trim levels and seating for up to 8 passengers. The CX-90 SUV is amazing. And to be clear, I did partner with Mazda on a social media campaign, but wanted to share an honest review of this car, not in partnership with Mazda.
If you purchase your car through Napleton Schaumburg or Napleton Countryside, a portion of each sale goes to The Violet Foundation. The Violet Foundation funds treatment for pediatric brain cancers and assists families going through pediatric cancer treatment. It is an organization that is incredibly meaningful to our family.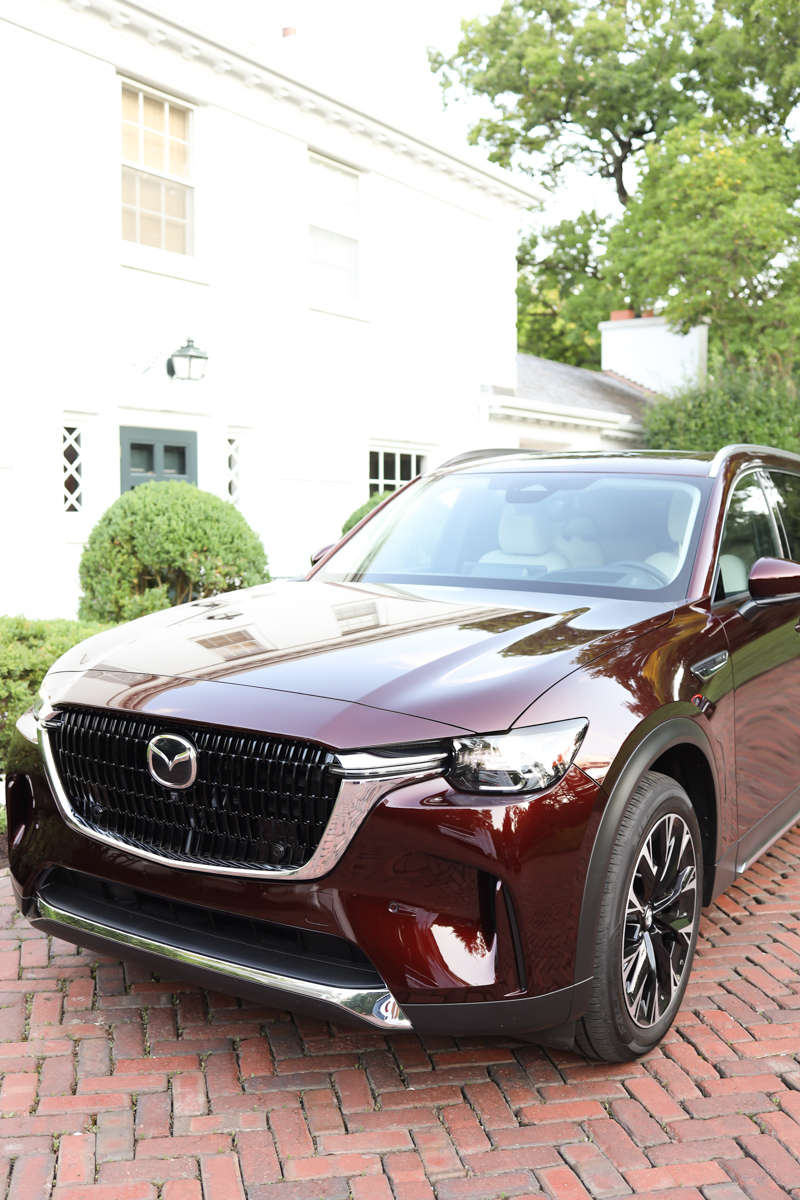 The Family-Friendly Mazda CX-90 and How it Fits Car Seats
I should start with a disclaimer – I know next to nothing about cars. But I have 3 children and know what works for parents with car seats. This car features a new platform and has 3 engines to choose from. The CX-90 also features the standard features of Mazda's Kinematic Posture Control, automatic transmission, automatic climate control, and a rear-wheel drive based platform. The 360° View Monitor with and see-through view technology gives drivers an enhanced view of the area ahead of and next to their vehicle. The see-through view feature – it made backing out of my long driveway easier than ever.
I own both a Lincoln Navigator and Volvo XC90. I cannot compare this to the Navigator since that car is much larger than the CX-90. However, the Volvo XC90 is comparable, and while I love my Volvo, this car is more functional with 3 car seats. The CX-90 rides similarly to the XC90, and feels just as luxurious. It's really smooth – even smoother than my Volvo, which I assume has something to do with the fact that it is a hybrid. It's super-quiet, too.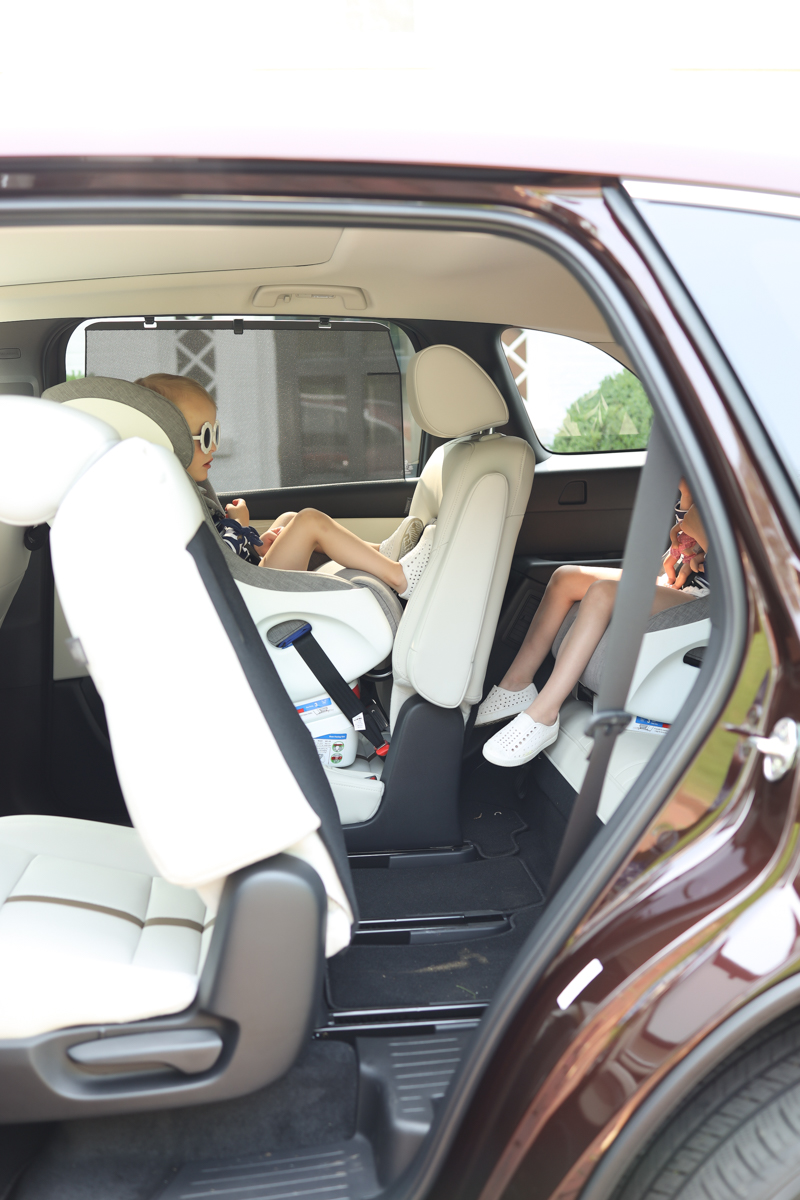 See how I used the car for a few days, from loading flowers and plants to car seats and getting ready for day at the pool.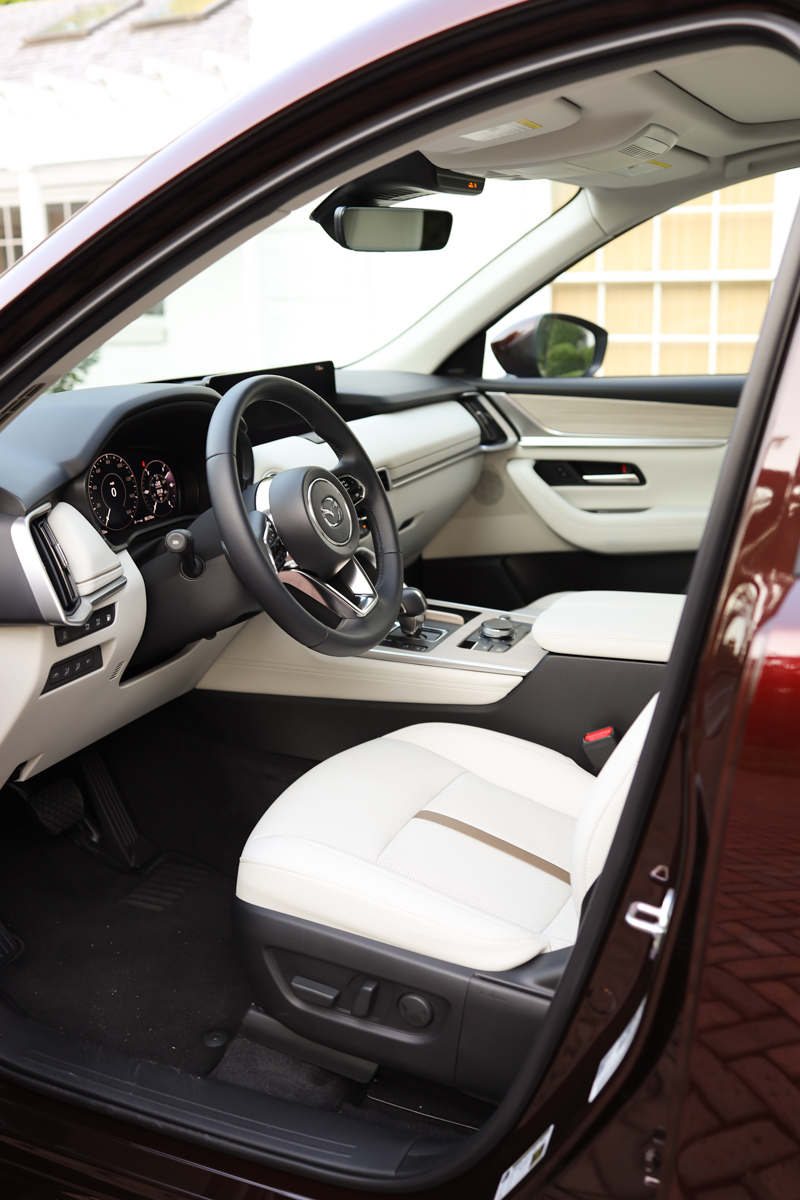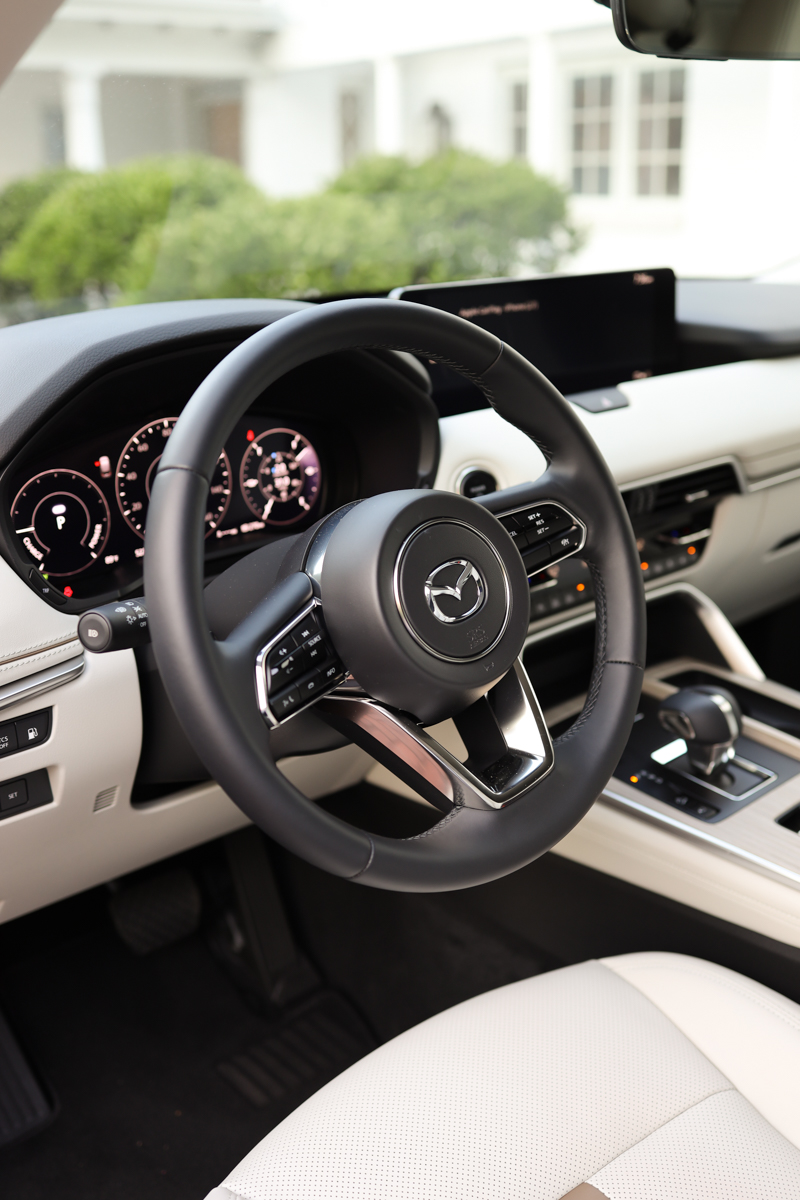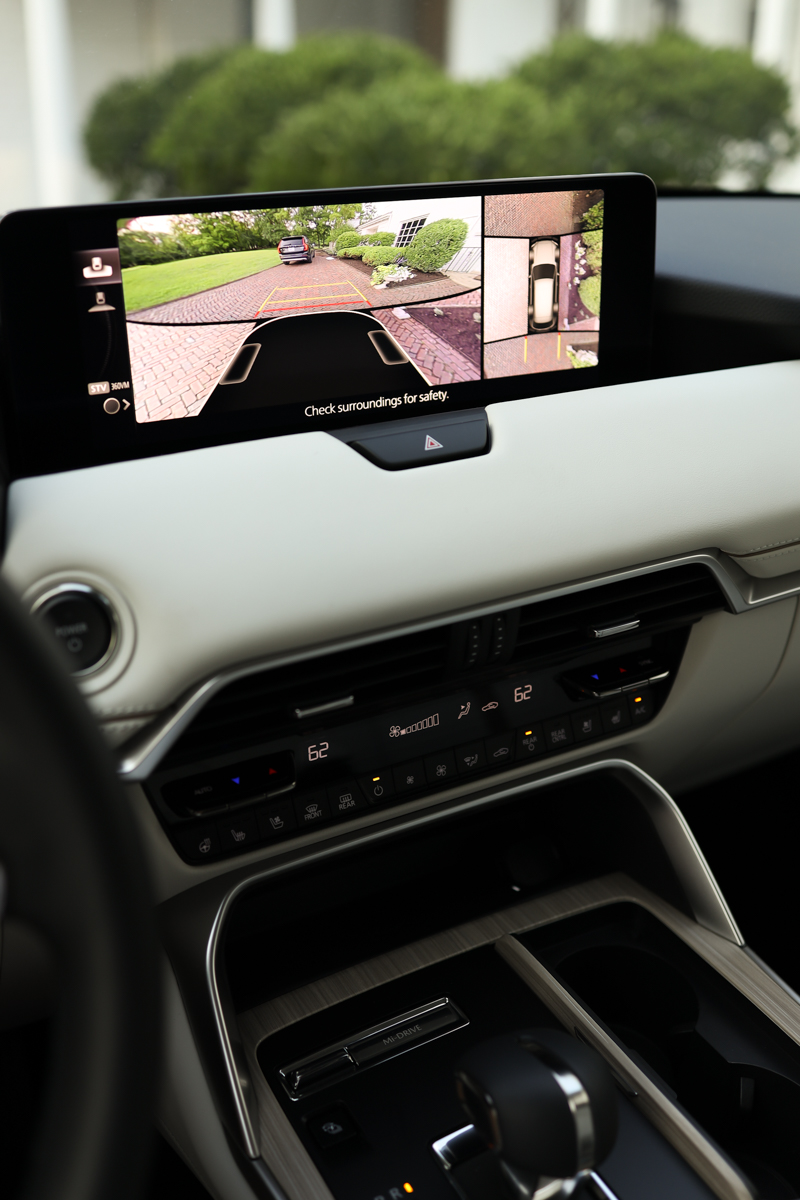 Features
The new CX-90 has all the essentials– apple carplay, a beautiful center console, leather upholstery, heated steering wheel, and 3 powertrain options to choose from. The PHEV mild hybrid system, which I had a chance to drive, combines a 2.5-liter four-cylinder engine with an an electric motor and battery. I love the hybrid electric vehicle option, since you're not fully reliant on charging, which I could see occasionally forgetting to do with young kids. But at the same time, if you stay on top of it, would need to fill up less often, which is better for the planet.
The 360 camera and see-through view make the car easy to back up or park in parking lots. And parallel parking couldn't be easier. The Mazda brand really thought about families and ease of use with this car. Just look at these front seats, the dash, and the center console.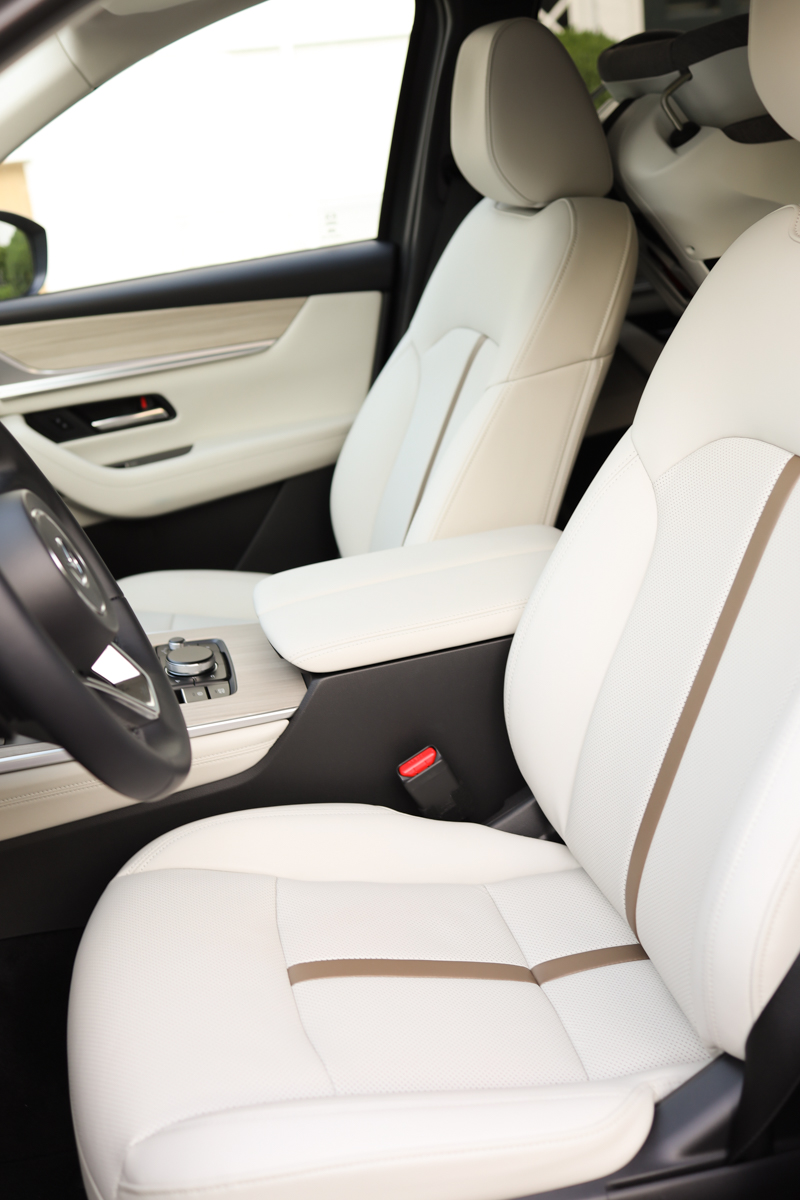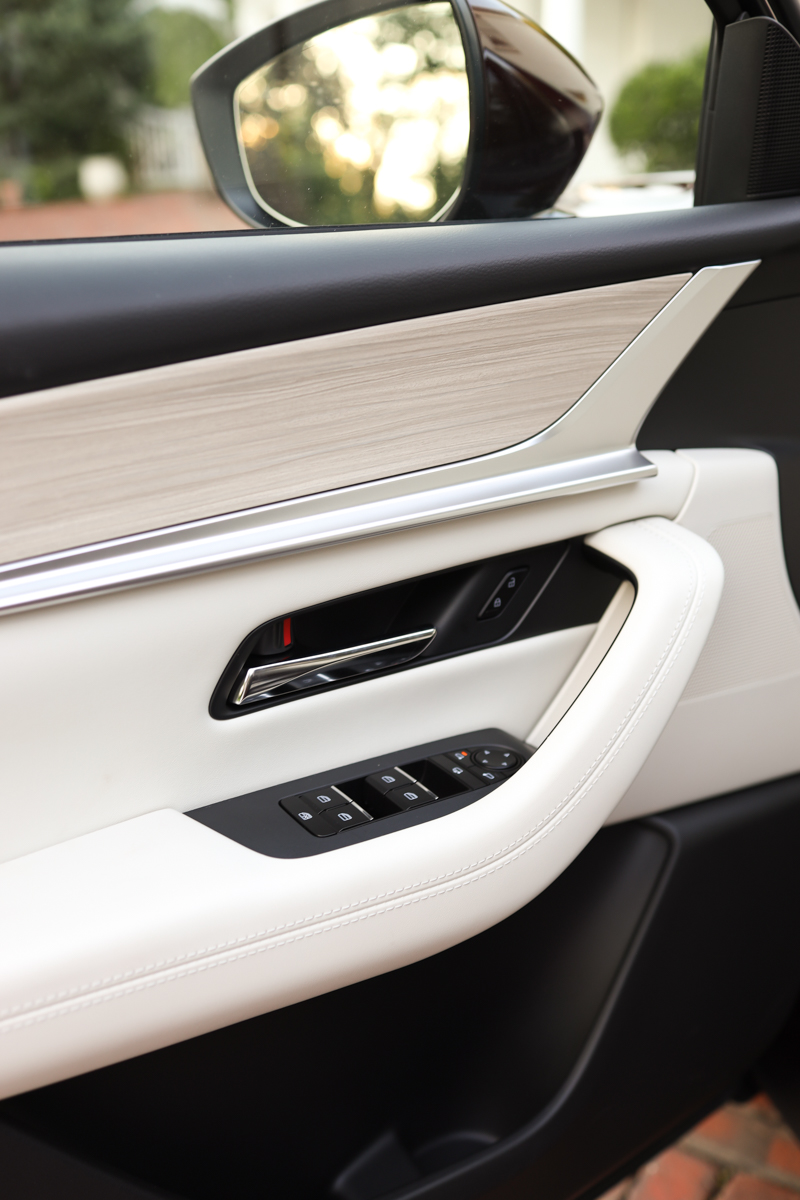 The sleek and luxurious design
This new model features panels of maple sit above a chrome stripe on the inside of the front doors on the highest trim level of the CX-90, the Turbo S Premium Plus. The car has lots of natural light. The available nappa leather-trimmed seats are beautiful and quite comfortable. The design is so sleek. Passengers can enjoy the natural light and enriching open ambience of our available panoramic moonroof.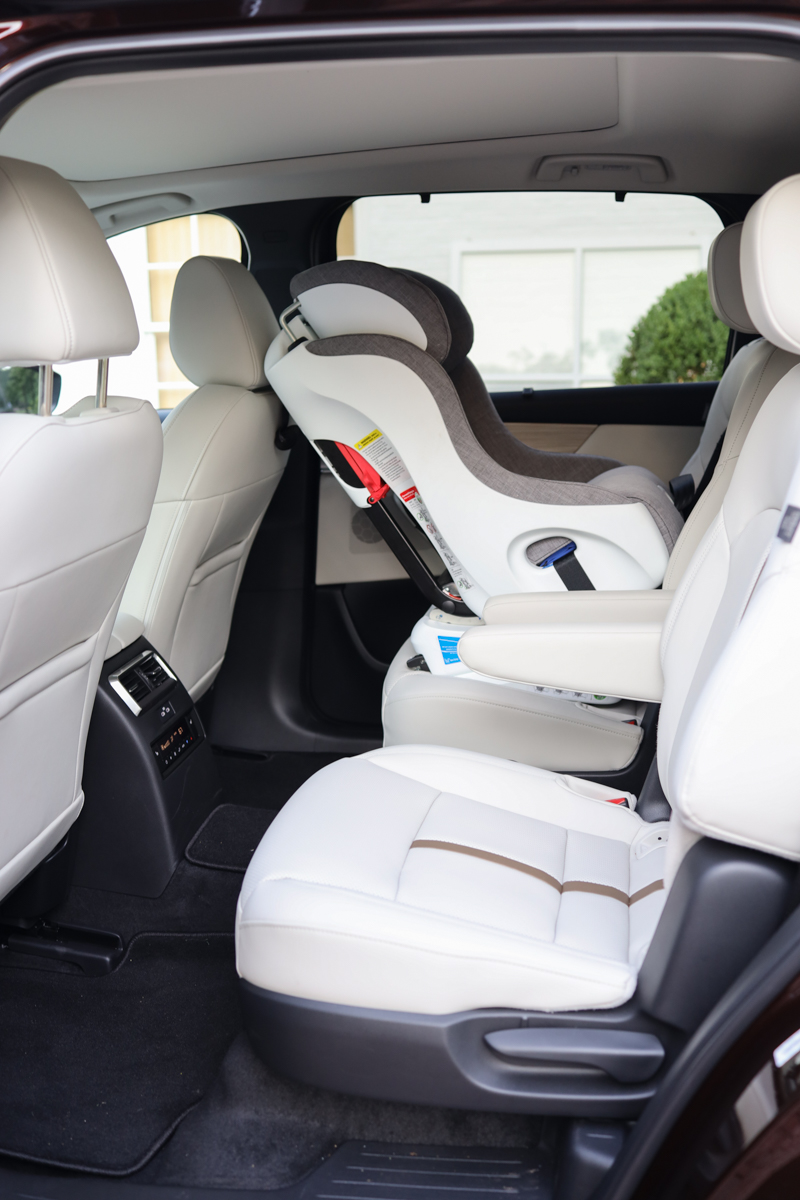 Seating
The Mazda CX-90 offers captain's chairs or a bench in the second row and a two or three-seat bench in the back. I test-drove captain's chairs and a three-seat bench, and found the setup to be ideal. The third row was a little more spacious than the third row of my Volvo XC-90, and the second row seats move forward and backward to offer more (or less) leg room for each row. I would take advantage of the available 3-seat third row. There was still plenty of seating, and this would be great as kids get older and are out of car seats.
As far as third row bench seats go, I'd call this one pretty standard. Leg room seemed pretty comparable to the XC90 with the second row seats pushed back, and had a bit more room with the seats pushed forward.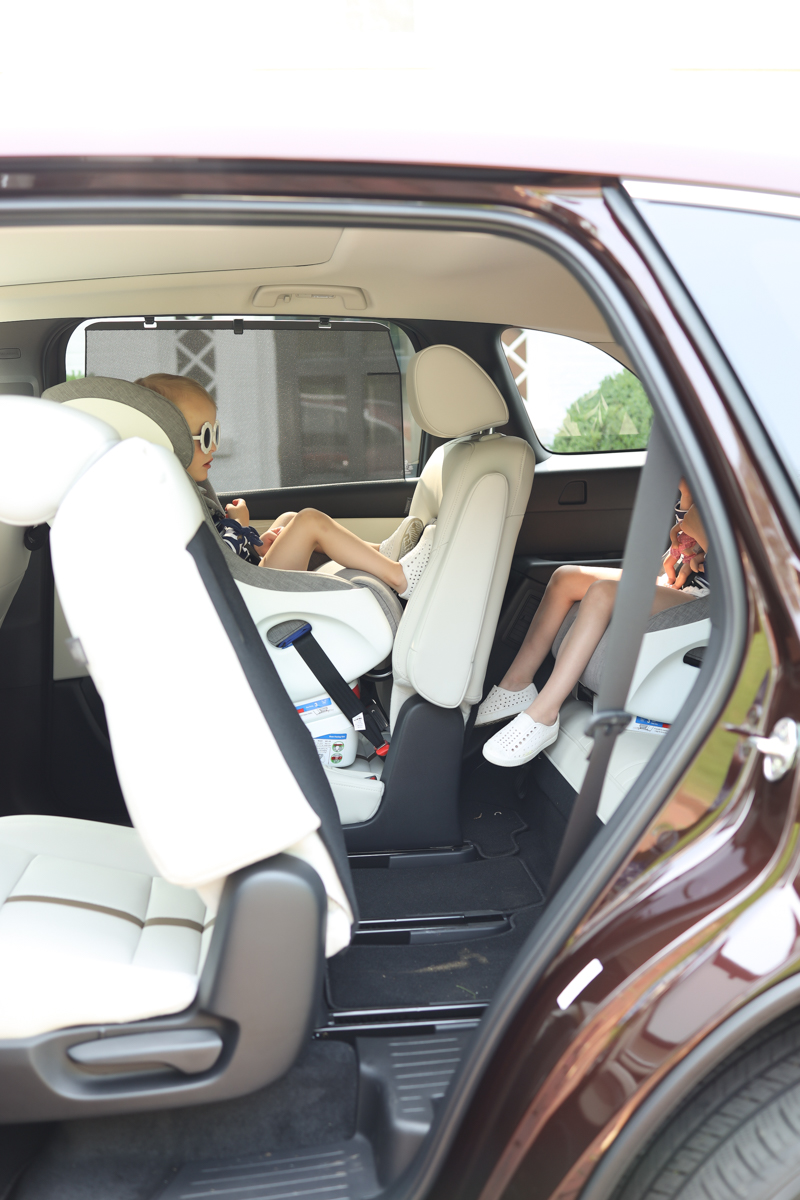 It's the perfect car for parents
When you become a parent, it's really all about ease, and moving things around in this car couldn't be easier. There isn't really anything you can't do with one hand. As a mom of three, there's so much I appreciate about this car. First, it fit a large rear-facing car seat in the second row. There wasn't a ton of room, but it fit. The sun shades are easy to put up and down, and are a great feature if you have little kids. Due to the car's not-too-large footprint, it was easy to reach row 3 to buckle my oldest in. The second row seats slide forward with the touch of one hand, and third row seats fold down just as easily.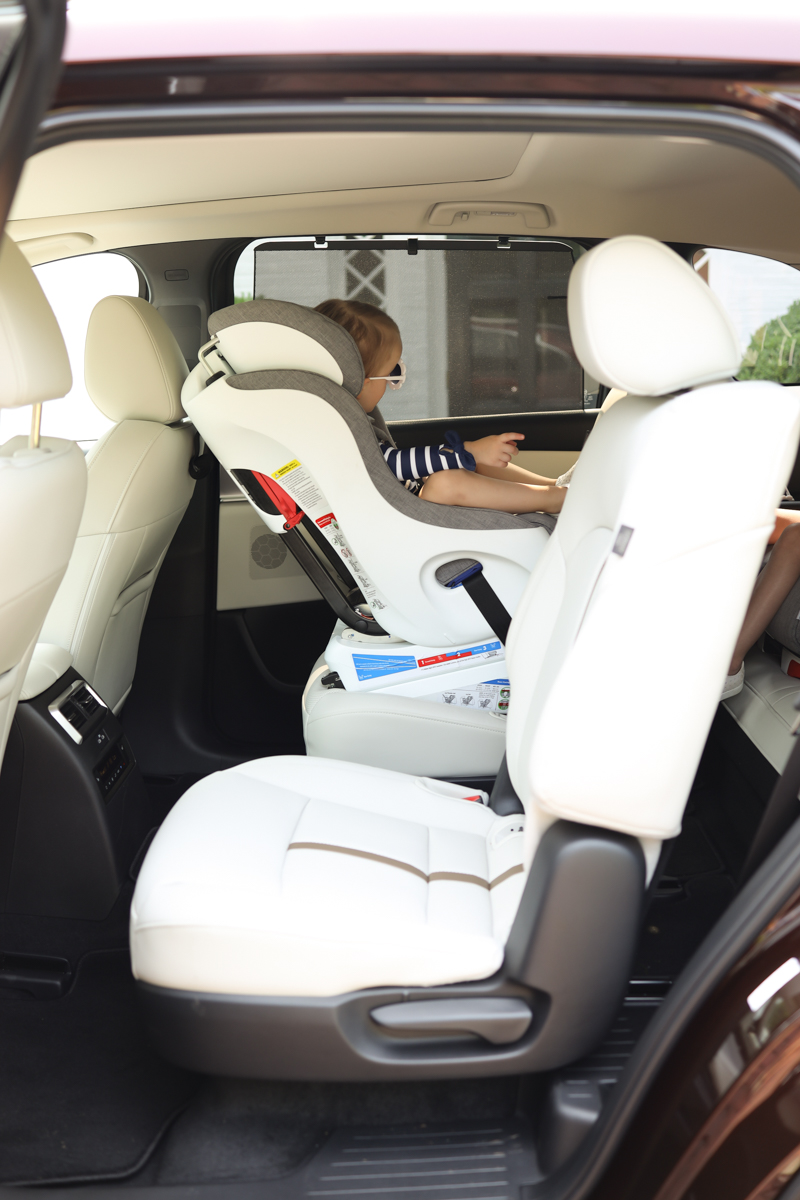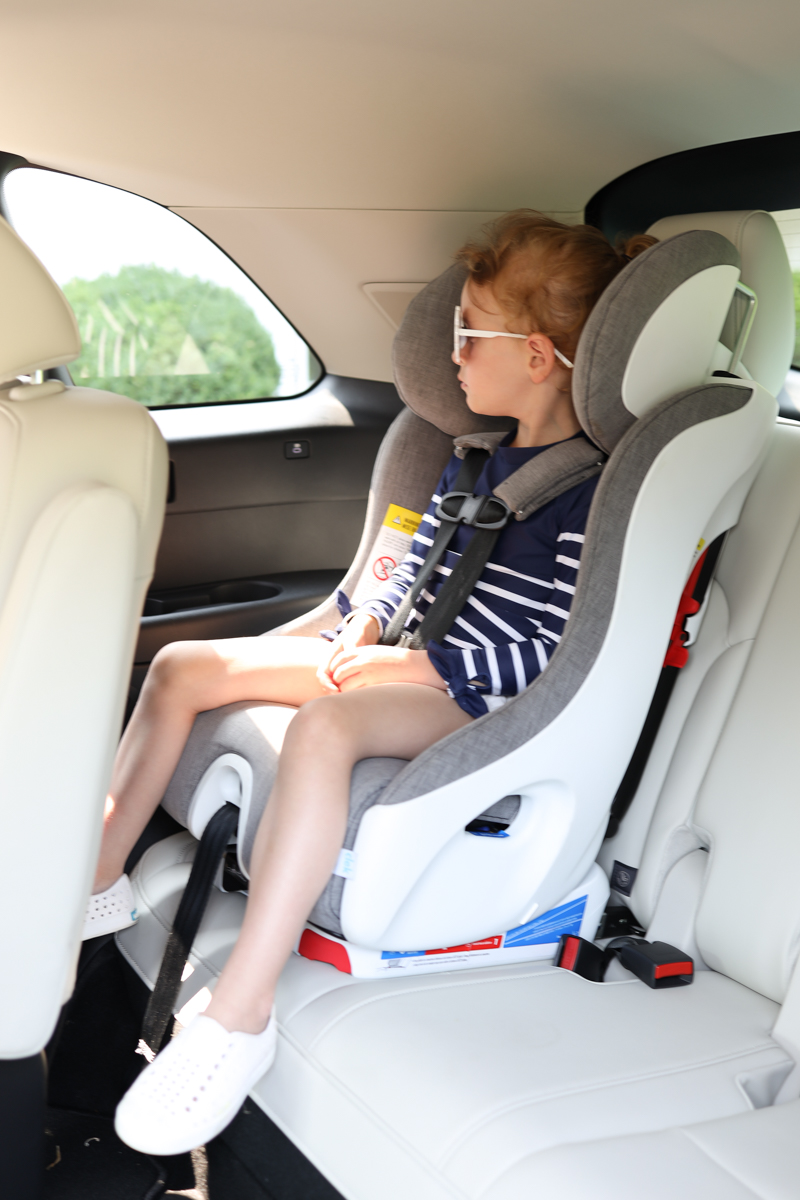 Car Seats in the CX90
If I had two forward-facing car seats, this car would be even more incredible. But – extended rear-facing is safest, so my second daughter will rear-face until she's around 4.5-5 years old.
But the CX-90 has something the XC90 doesn't have – third row latch and tethers. At the stage I'm in, with three kids in car seats, I cannot use the third row of my Volvo, and 3 car seats across is not fun. We got our Navigator just weeks before I was able to test-drive this car. Being able to make use of the third row would be a game-changer for me.
But let's flash-forward 1.5-2 years. I'd put my two older kids in the third row rear seats. If I had the third row with three seats, I could still have an extra seat between them. This would allow me to still have a seat for my son and an adult in the second row. Or i could put one of the forward-facing seats and a rear facing seat in the second-row seats. This would allow space for 3 car seats and two empty seats. I do like the option to put just one car seat in the third row, which allows you to optimize the expansive cargo area of the CX-90.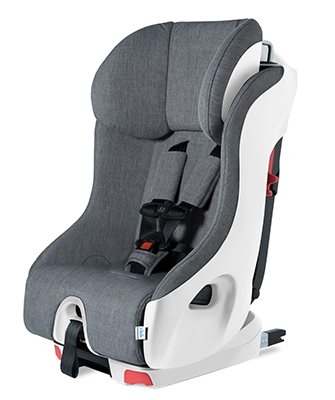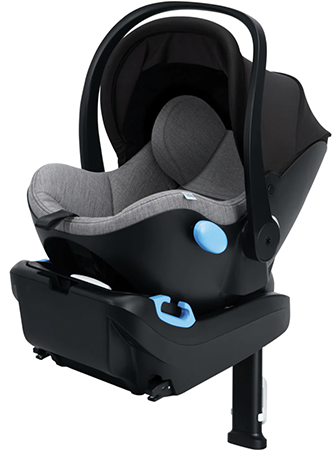 Clek
I did not shoot the Liing in this car but it does fit. You would just want to have it as the only rear-facing seat in row 2 to easily access row 3.
Shop now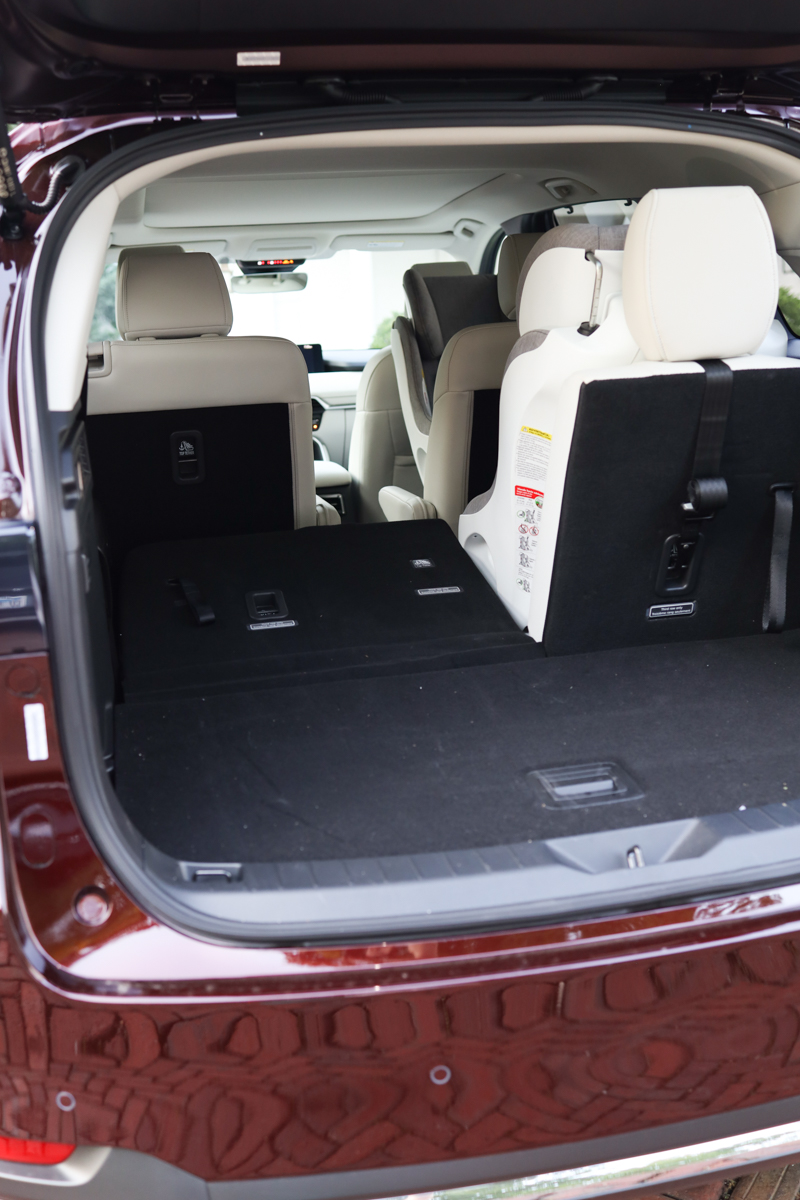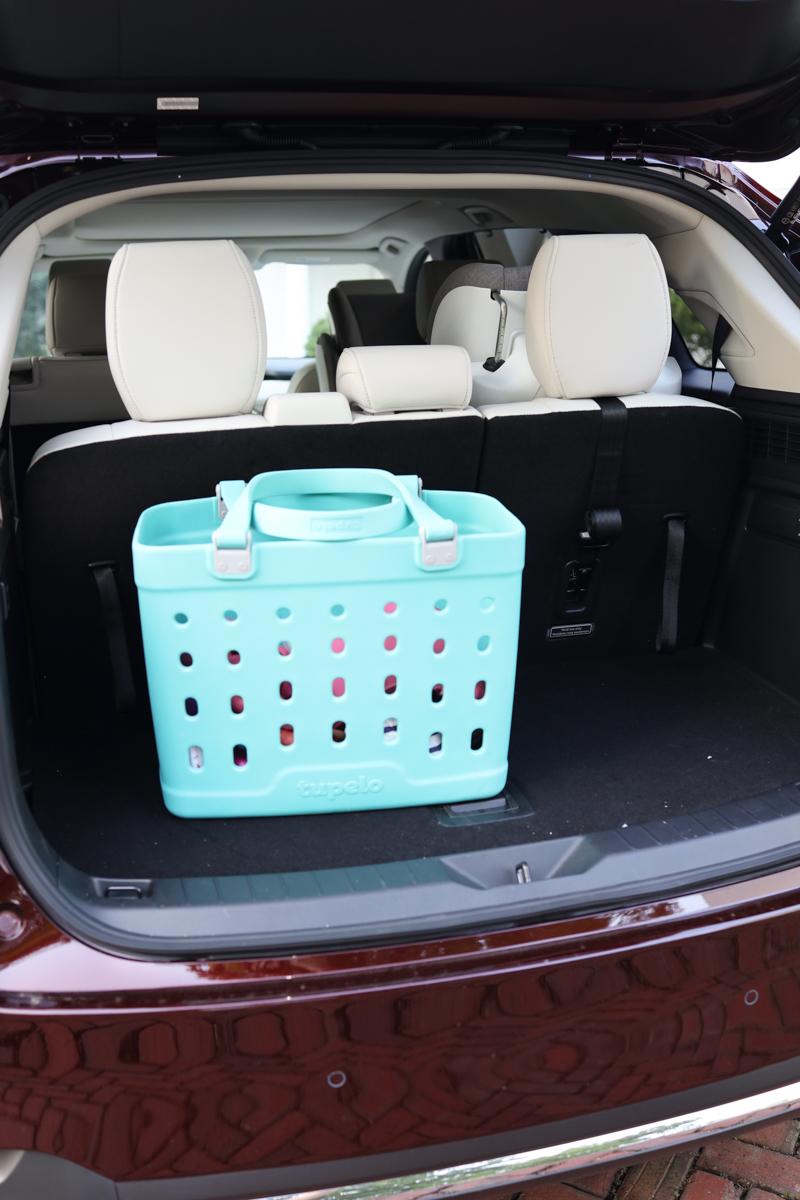 The trunk
The trunk of the CX-90 is almost identical in size to the trunk of the Volvo XC90 with the third row seats up. I really liked that I could have a car seat in row 3 and still lower row 3 (easily, with one hand) to maximize space. A stroller did fit with the third row up but took up the entire trunk.
This post contains affiliate links. If you purchase something using my links, I may earn an affiliate commission at no cost to you.