Moana Costumes for Adults and Kids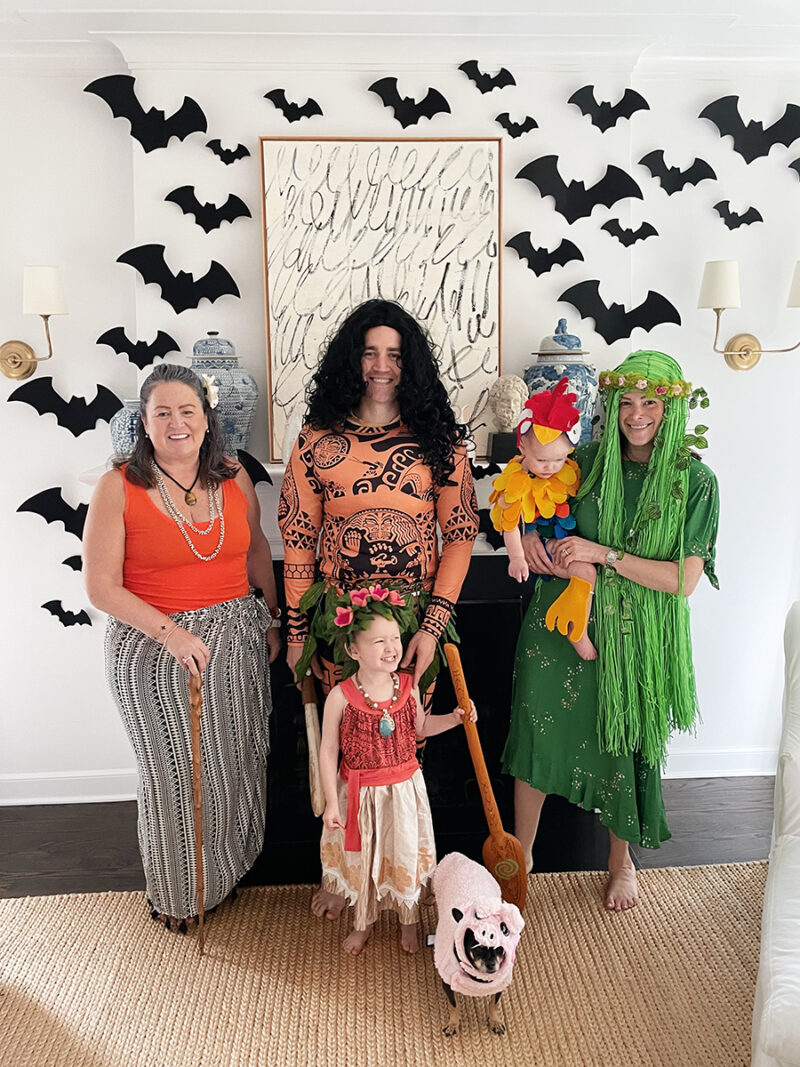 Like many parents, we decided to make Halloween magical for our Moana-loving three-year-old and dress our entire family as her favorite characters. Family Halloween costumes are one of those things I never thought I'd do, and then I had kids. And making magic for your kids is basically the best thing ever. Our oldest daughter had a Moana themed birthday last year and already had the costume (and a few accessories) so I liked the idea of not having to buy another costume. So I did what any parent would do and started scouring the internet months ago, hoping to find a great Te Fiti wig and Hei Hei and Pua costumes for our dog and one-year-old. I never thought I'd find myself looking for Disney costumes, but…parenthood.
Moana Costumes for the Whole Family
Of all the Disney princesses, Moana is a family favorite. She's strong and bold – someone for little girls to look up to. I suppose she's not really a Disney princess anyway – she's the daughter of the village chief. And my girls absolutely adore her. Disney's Moana is, in my opinion, one of the best Disney movies ever. Lin-Manuel Miranda is a genius, and I just love that it highlights cultures of the pacific islands, and the most important thing – that like other disney princesses, she didn't need a prince to save her.
Finding Moana costumes for adults was…fun, but there's nothing we won't do for Margot. Her moana outfit was easy and is so cute. When I came across the Hei Hei costume, I knew we had to move things around. My husband was in charge of his costume and found everything on Amazon – but I tried to go the small (Etsy) route, and found some real gems. Grandma Mimi made the best Gramma Tala using items she already had at home and a little bit of grey hair spray. Margot's favorite character is the Demi-God Maui, so when her dad surprised her as Maui, she lost her mind. As you can see, Margot was thrilled – it was so worth it.
Moana Costumes for Kids
Margot wore Moana's iconic 2-piece outfit complete with a moana necklace. It's made of soft fabrics and is really great quality. The island flowers in her hair are from an etsy shop. She set sail with her magic oar that actually lights up. If you have the talent, whip up a DIY Moana costume. I can't sew but was still able to partake in a little costume design by putting different pieces together.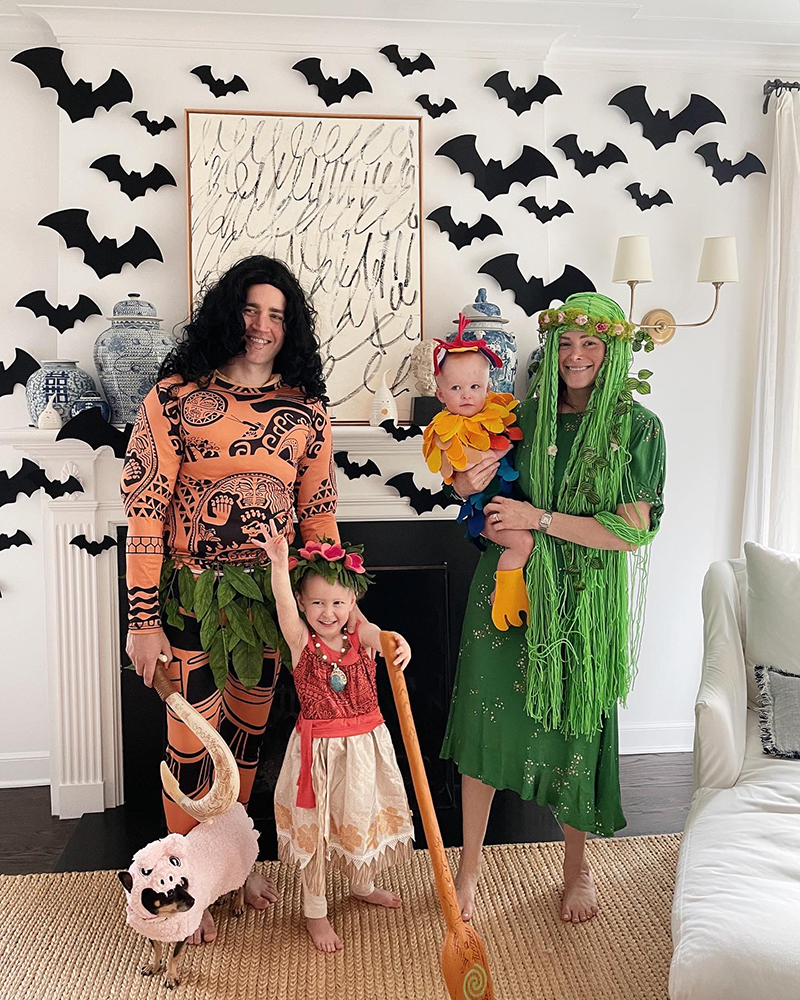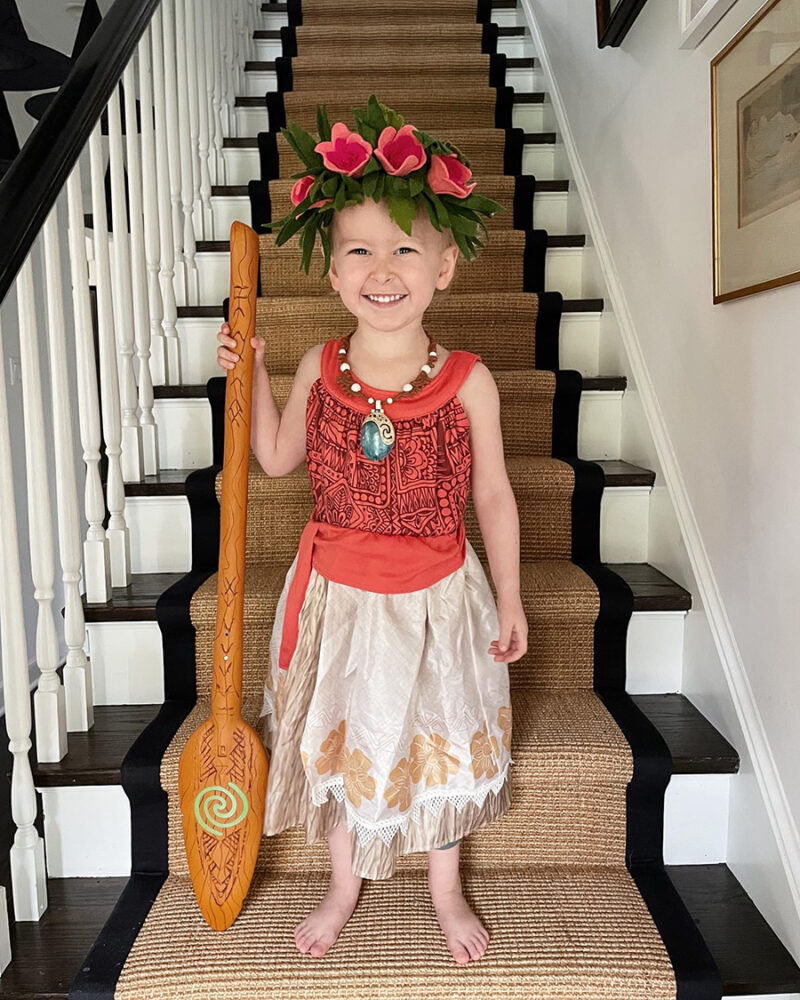 Moana Costumes for Adults
Te Fiti Costume
Take great care of this wig – it tangles easily! I could have gone the extra mile and painted my face green, but that felt like too much work. Next time.
Hei Hei is Kate's favorite character. She cracks up when he realizes he's on a boat, so she had to be Hei Hei. And baby Kate as a chicken is just about the cutest thing ever.
The Pua costume I purchased sold out, but this was by far the best one I found. It was a little more than I wanted to spend, but it's really good.