Pink Dinosaur Birthday Party Inspiration
I was sure I'd be planning an Encanto or Toy Story birthday this year. Then my soon-to-be 4 year-old got a dinosaur book. She still loves Toy Story and likes Encanto (which was taken over by Sing 2). But dinosaurs are it. She's seen the good dinosaur but there's no …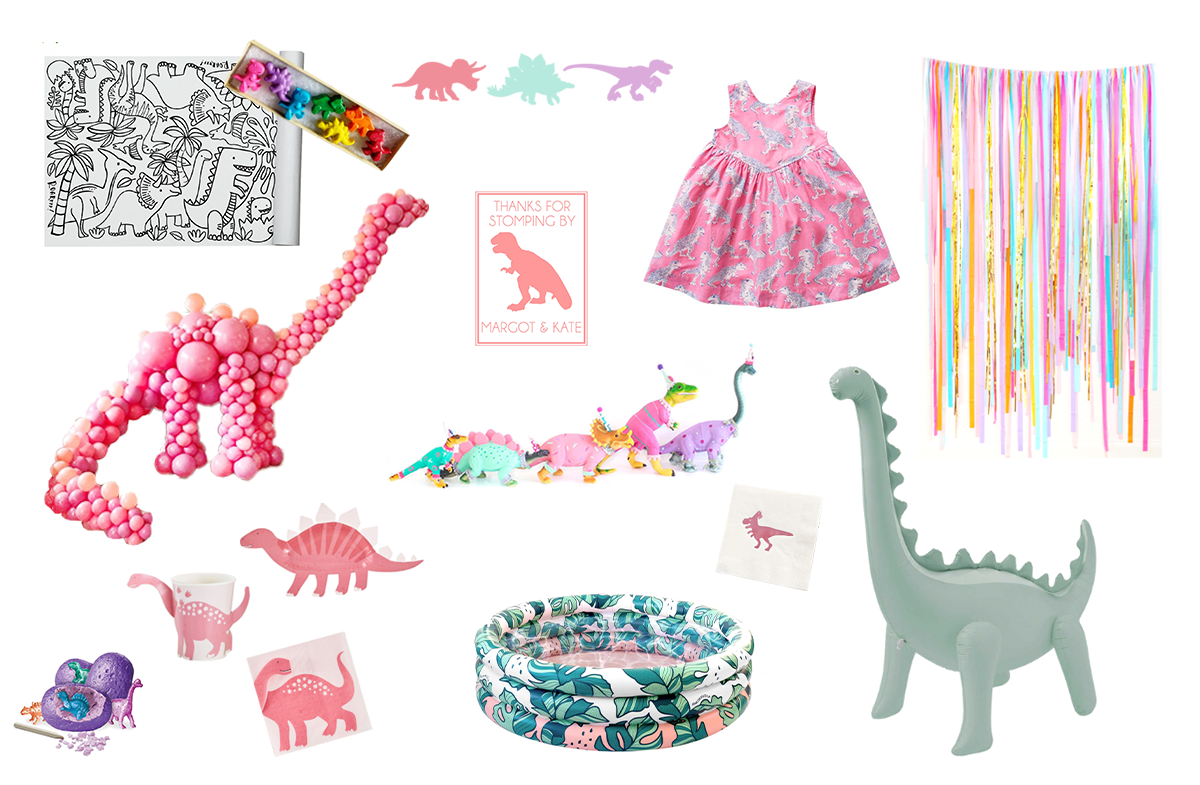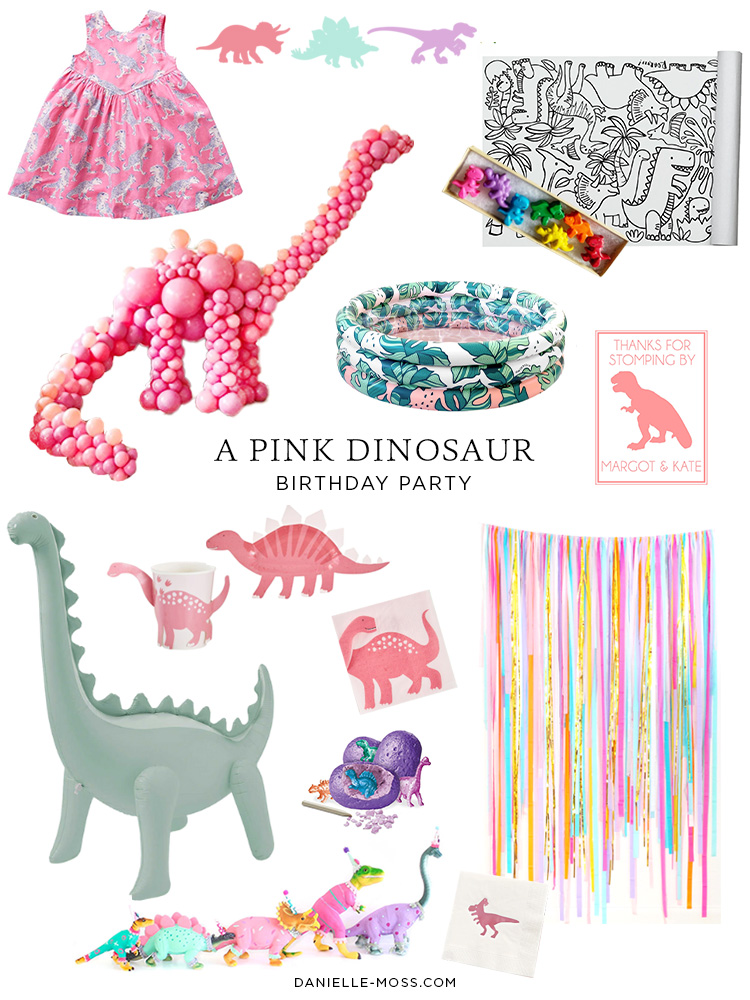 I was sure I'd be planning an Encanto or Toy Story birthday this year. Then my soon-to-be 4 year-old got a dinosaur book. She still loves Toy Story and likes Encanto (which was taken over by Sing 2). But dinosaurs are it. She's seen the good dinosaur but there's no Jurassic World happening here. But we're all about pajamas, toys, books – all of it. So we're having a dinosaur themed party. The color theme will be pink since that's Margot's favorite color. I spent hours and hours looking for decor and want to share what I found. So if your child is into all things dinosaur, I have some great ideas for a dinosaur party theme for you.
Pink Dinosaur Birthday Party Inspiration
I sure we'd have a party let alone a dinosaur birthday party, but here we are. The timing is sort of insane for us. Kate turns 2 June 27, Margot has surgery June 30 and starts 5 days of steroids the same day. Steroids make her moody and sore, and she turns 4 the day after her last dose. And we're moving to a new house that week, too. But with their birthdays so close together and things finally feeling safe (outdoors) we're doing it. The guest list will be small, but I prefer that – it's a chance to really spend time with everyone on the guest list. And so the search for a pink dinosaur themed birthday party began.
Food and activities
I tried to shop small businesses as much as possible There will be a dinosaur birthday cake, dinosaur fossils, a craft table, and we'll keep food simple by ordering pizza and setting up pitchers of spritzes for the adults. I sent a dinosaur birthday party invitation on evite, and ordered a dinosaur cake and dinosaur sugar cookies from local baker Maggie Makes Cookies. We are TBD on party hats since I've already gone a bit overboard. Since my girls are little (turning 2 and 4) we're skipping the dinosaur piñata, but that would be a fun addition. I might set up a food table and dessert table.
Dinosaur birthday party ideas
Dinosaur Dress
The girls have two dinosaur dresses – one pink and one blue. My friend told me about this one on Etsy and I had to get it. Activities like this one are an easy way to keep younger children busy.
Balloon Dinosaur
I had planned on a balloon garland but saw this dinosaur on instagram and it's so much fun – I knew we had to do this. We're getting one that's a bit smaller, but are sticking with pink, naturally.
Dinosaur Sprinkler
This thing is ridiculous but looks so fun. I had to get here. Such a fun way to keep the kids busy.
Banana Leaf Pool
Huge Minnidip fan over here – those pools were a part of Margot's first birthday (the lemon theme) and now, these.
Dinosaur Paper Goods
It was surprisingly difficult to find cute pink dinosaur paper goods, but I found these on Etsy (they're made in the UK) – the dessert plates are so cute!
Streamer
I bought this for Margot's 2nd birthday – it is a splurge but I was committed to using it year after year, and that's what I'm doing. It's super durable and weather proof, so it will last.
Dinosaur Garland
Another etsy gem that comes in any color palette you're looking for. Garlands are a great way to add a little extra something to birthday parties.
Dinosaur Party Decorations
These painted dinosaur toys are amazing but I found the same dinosaurs for $33 so I'm going to paint them myself. I bought these dinosaurs for another project, along with this spray paint and this paint, too. I got some little dinosaurs to decorate and there's another DIY I might try. Wish me luck!
Dinosaur Party Favors
Since this is a kid's birthday party, we have to have party favors. I was going to get favor box but ended up getting little bags that I'll add sidewalk chalk to (and seal with a dinosaur sticker), along with bubble wands from Target. I'll probably throw in a small toy dinosaur and am hoping to find some temporary tattoos, too.
Dinosaur Poster
This is such a fun activity for a kid's birthday party.
Dinosaur Crayons
I found these on Etsy and will have them out on the craft table with the big dinosaur poster.
Dino dig
We're planning a little dinosaur excavation with these dinosaur eggs. Break the eggs and dig for fossils and dinosaur bones – very appropriate for a dinosaur birthday party theme. And naturally, they're purple and sparkly.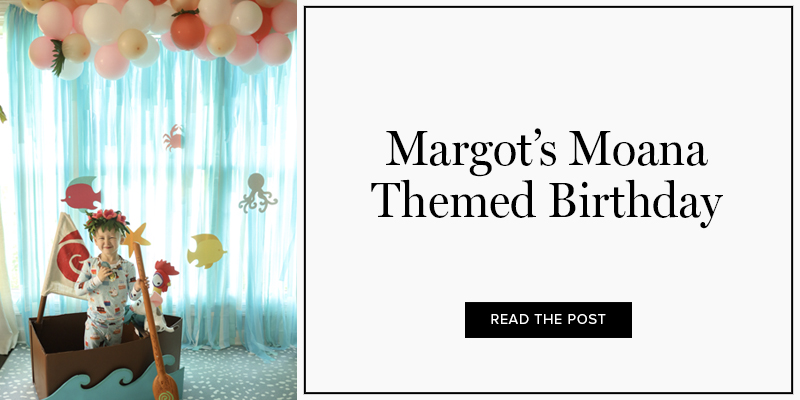 This post contains affiliate links. If you purchase something using my links, I may earn a small commission at no cost to you.