My Review of the Volvo XC90 and How it Fits Two Car Seats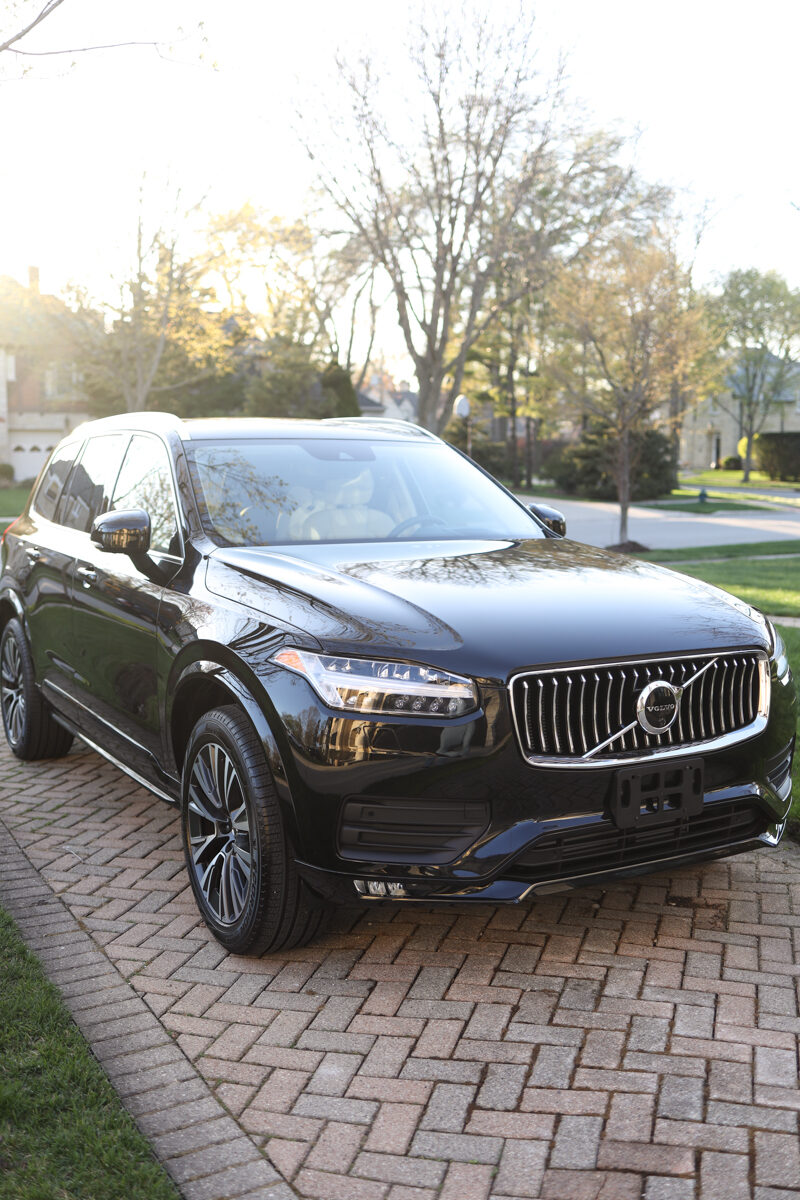 Hello and welcome to my first and only car review. I should probably lead with the obvious: I am not a car expert and know pretty much nothing about the mechanics of motorized vehicles. I'm also not a car person. As someone who knows nothing about the cars but also someone who needed a car that would comfortably hold two rear-facing car seats and all the stuff that comes with having a baby and toddler, and feel somewhat qualified to share why I chose the Volvo XC90.
I shared some video of the car's features in my instagram stories.
Why the XC90
My old car lease was up almost one year ago, but we weren't exactly going anywhere since 2020 was a bit of a mess, so we decided to save money and hold off until we needed a second car. Almost one year later, with Conor going on more showings for work (he's a realtor here in Chicago), having a second car made sense for our family.
One of my good friends has the XC60 and it drives so well, and is a beautiful car. I've been in it a few times and loved all the features and the smaller footprint, so my plan was to get one of those when the time was right. A friend urged me to look at both the XC60 and 90 and even though my heart was set on the smaller car, it was clear that the larger of the two made more sense for us. Long-term, I wanted the option to carpool or drive the girls and their friends around, and the XC60 would only allow one additional person to ride with us.
I called the dealership and asked if they could pull the XC60 and XC90 side-by-side out front for me to look at on my own. The experience felt really safe, and I was able to play around with car seats and strollers. Here's a terrible photo I took of the XC60 with our Bugaboo Bee in the back. This is our smaller city stroller, and it barely fit. When thinking of road trips and day-to-day use, we'll have the third row down most of the time which gives us a huge trunk to work with.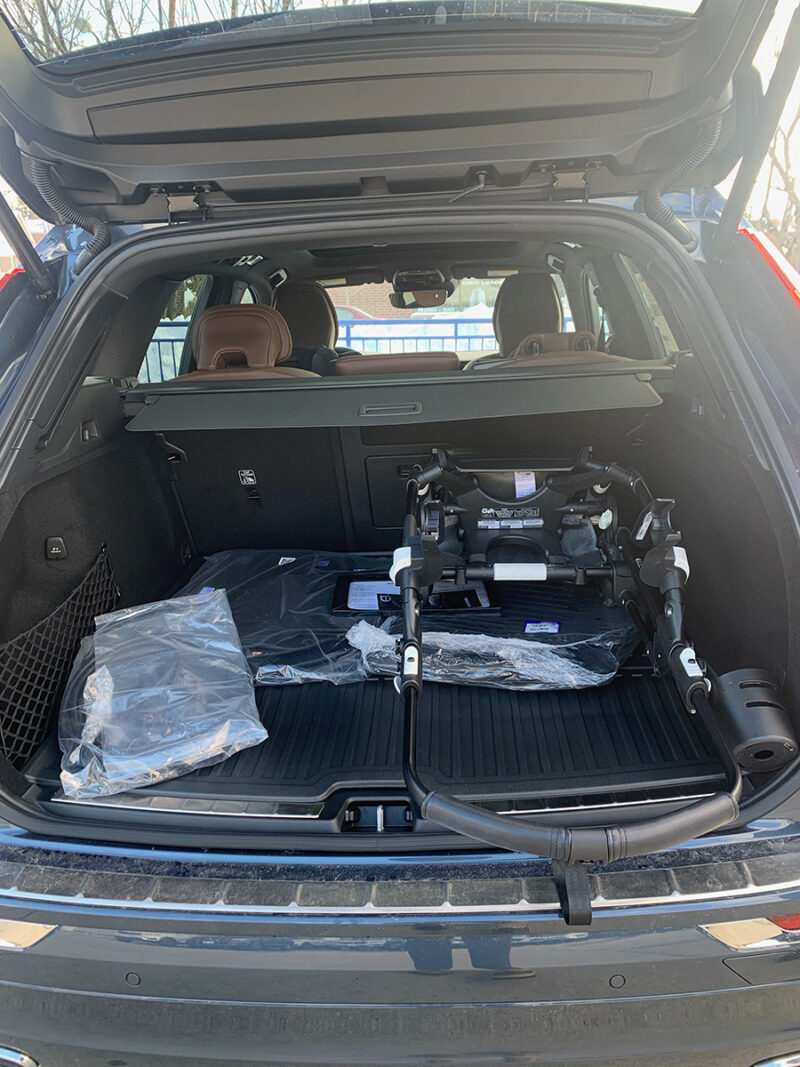 I did a lot of research online but after seeing the XC90 in person, decided not to waste my time looking at anything else. Had I not loved the XC90 as much as I did, I would have looked at the VW Atlas, but it was just so beautiful and such a smooth ride. I drive an average of 3-4,000 miles a year, so I did not purchase a hybrid but if I drove 10k plus miles a year, would have considered it. Our garage is on the smaller side and I don't know that I could even fit this car inside, so a charging station would have been an issue, too.
I decided on black on blonde interior which was harder to find but a beautiful combo, and the momentum package because the package was $5000 more and didn't have anything I needed. Today, I'm going to answer some of your questions and talk about why I love this car as much as I do.
Buying vs. Leasing
I've always leased cars, but because this car will be perfect for life with our two girls, I decided to purchase it and hope to drive it for 8-10 years – basically until I have to get a new one. Since I'm keeping it for such a long time, purchasing made sense this time around. I bought it fat Napleton Volvo (Conor's uncle's dealership) and they were wonderful to work with. Since I knew what I wanted, we told them the color combination and features, they found the car and delivered it to our house. So easy.
Favorite Features
great design: the interior and exterior are beautiful. The touchscreen is big, beautiful, and easy to use.
360 camera: As a mom, it feels so good knowing I can see everything around me while the girls play outside. The camera shows you an aerial view of everything around your car – it's amazing!
integrated booster seat: This is something we won't use for years and years, but it's nice to know we'll have one later on.
safety: Automated emergency brakes, blind spot monitoring, lane departure warning.
it's smart: I don't know what cars offer this, but my phone alerts me if my car is parked an unlocked, and I am able to lock, unlock, or turn it on from my phone.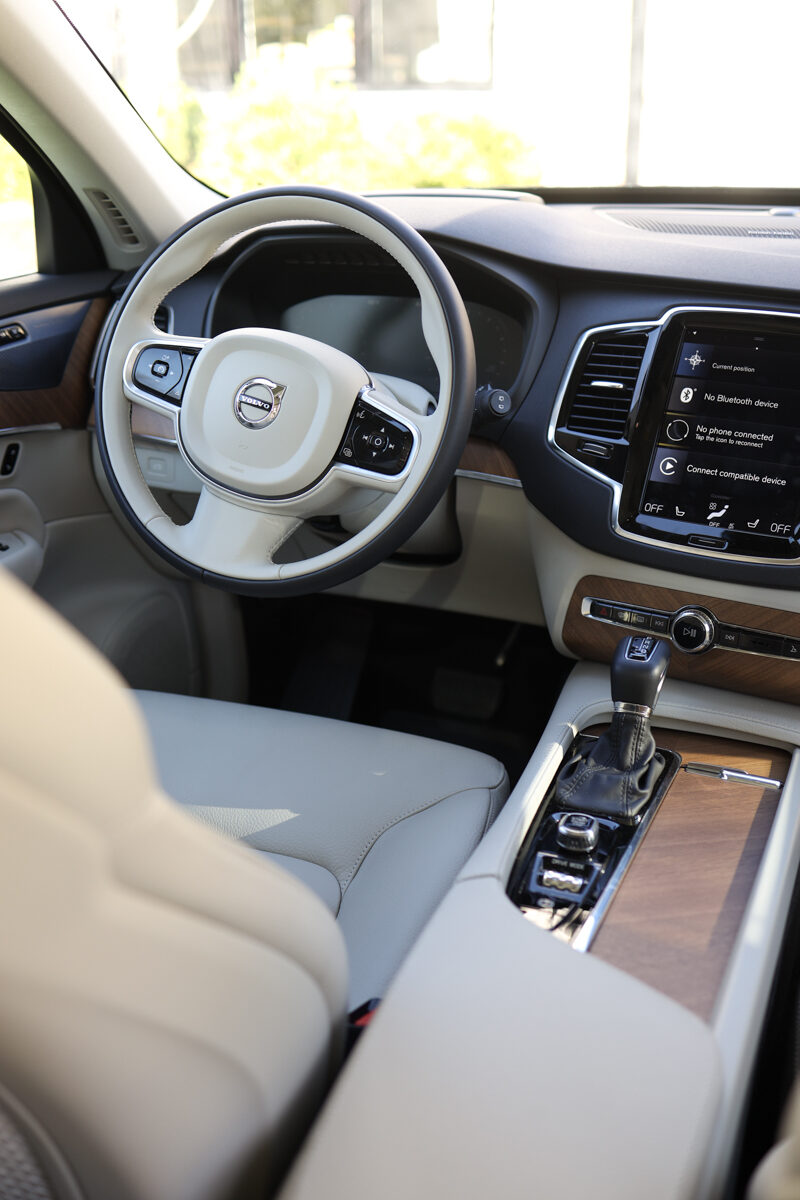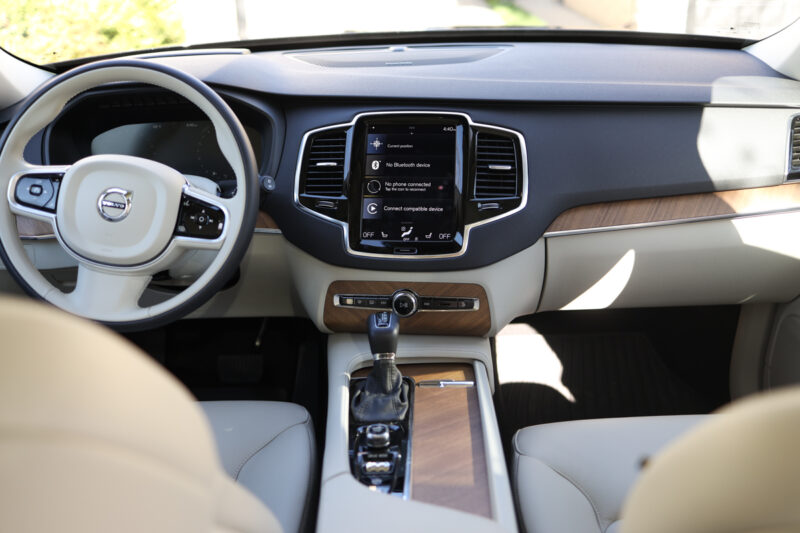 Bench vs. Captain's Chairs
When trying to figure out what I needed in a car, I turned to The Car Seat Lady and came across this article on a second row bench vs. captain's chairs. The bench offers three seats that operate separately and each can hold a car seat. Ultimately, I felt that the bench was a better, safer, and more practical option with rear-facing car seats.
Knowing that most of the time and that the third row would be down for us, having a third seat in the second row made the most sense. I haven't installed Kate's Clek Foonf yet since she's still in her Nuna Pipa, and we moved that to Conor's car since he had to take her to an appointment while I took Margot out last week, but I promise to update this post once it's installed.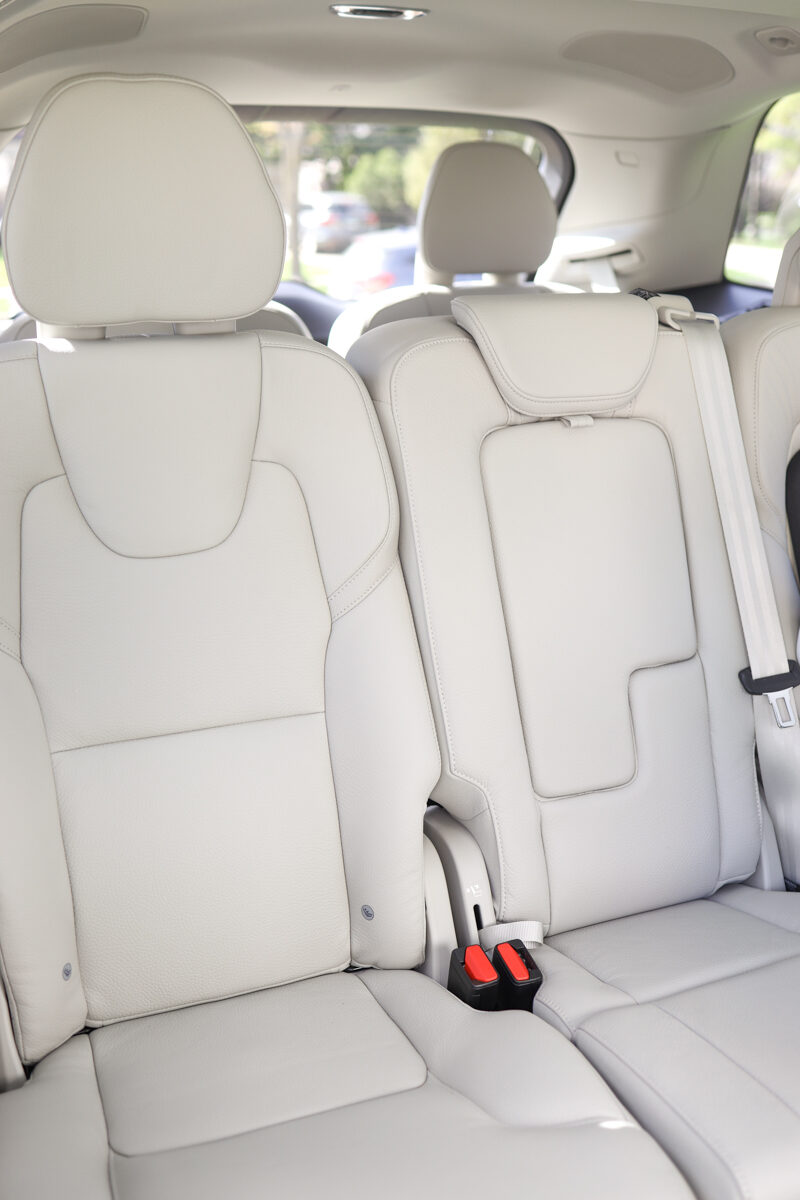 And here's the third row.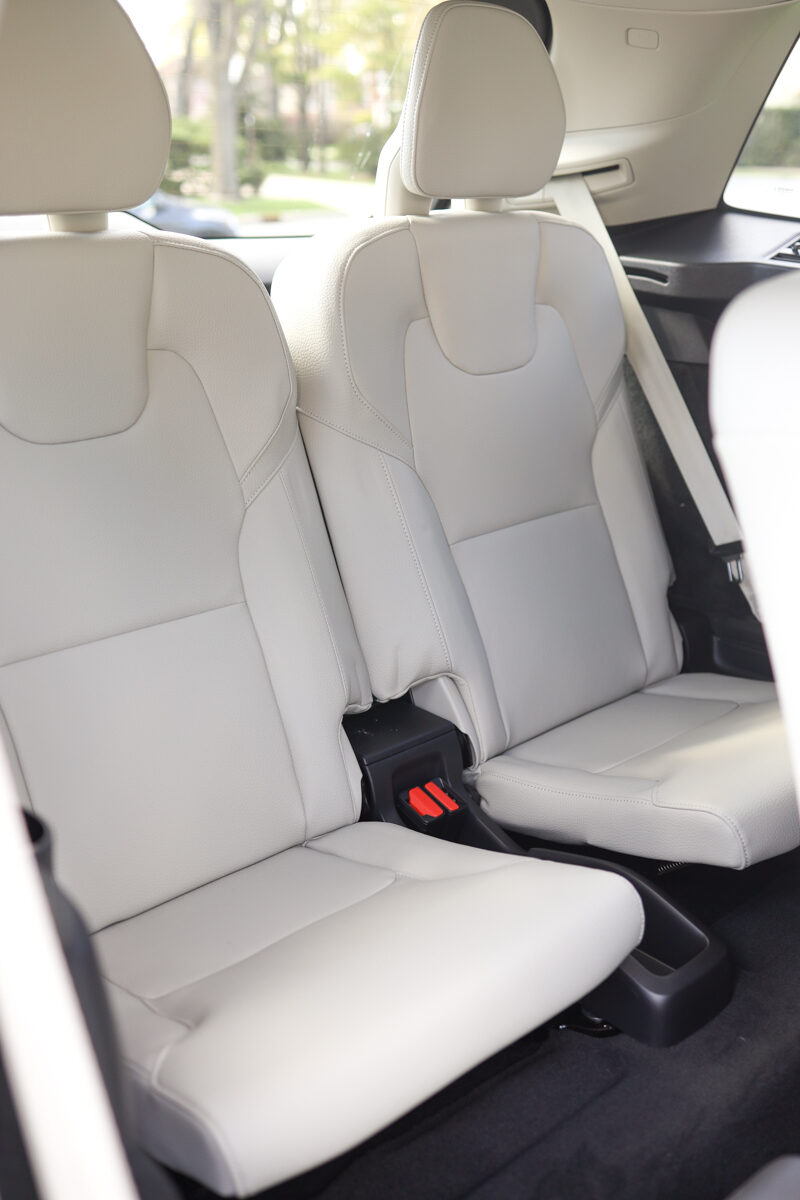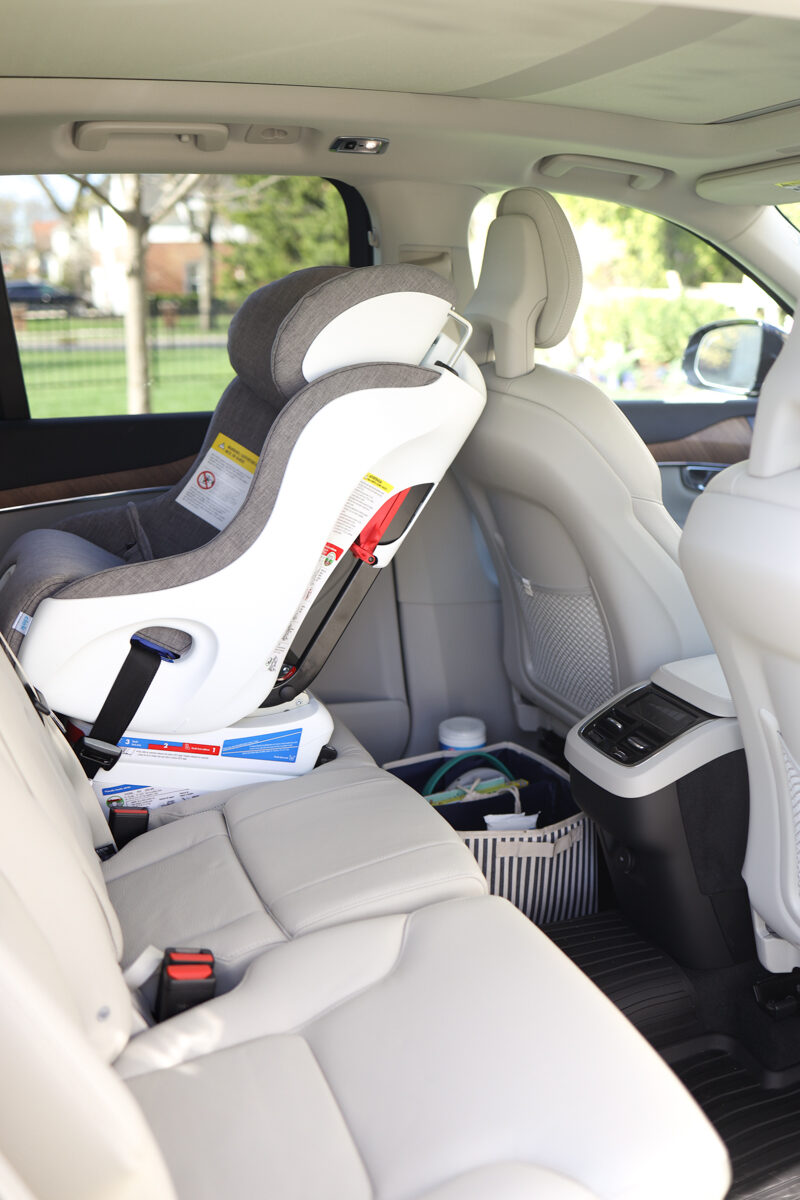 Nuna vs. Clek Foonf in the Volvo XC90
We had been using the Nuna RAVA since Margot turned one and it's a great car seat. Knowing that I'd need two more seats since the plan was to leave a seat in Conor's car, I decided to go back to researching the two to make sure I chose the best ones for our XC90. In the end, I decided on the Clek Foonf because it's more narrow than the RAVA, and we can put them side-by-side in the XC90. If the girls get along well while driving and this option works, I I plan on putting their two seats behind the driver's seat and middle seat, so we can use the passenger side seat in the bench, which allows for access to the third row.
The Foonf offers more legroom and since I plan on having the girls ride rear-facing until they max out on weight or height, this seemed like the best option. Bonus: if you have three kids or are planning on a third, you can fit three Clek Foonf across in the XC90.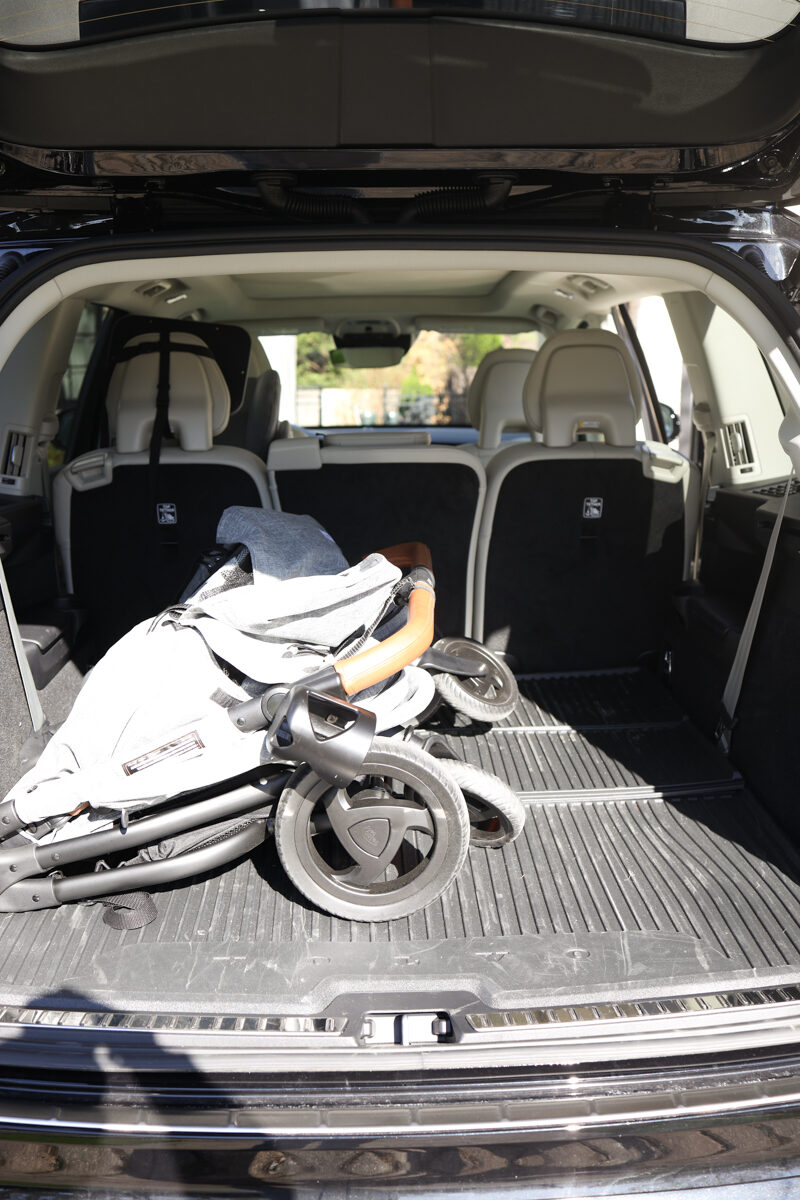 Here's the car with the third row down (above) and with the third row up (below). It's still big enough for groceries or our Bugaboo Bee, so when I'm driving the girls and their friends in the years to come, it will be fine. With the third row down, I'm able to fit both the Bugaboo Bee and Valco Snap Duo Trend double stroller in the trunk. There's so much trunk space!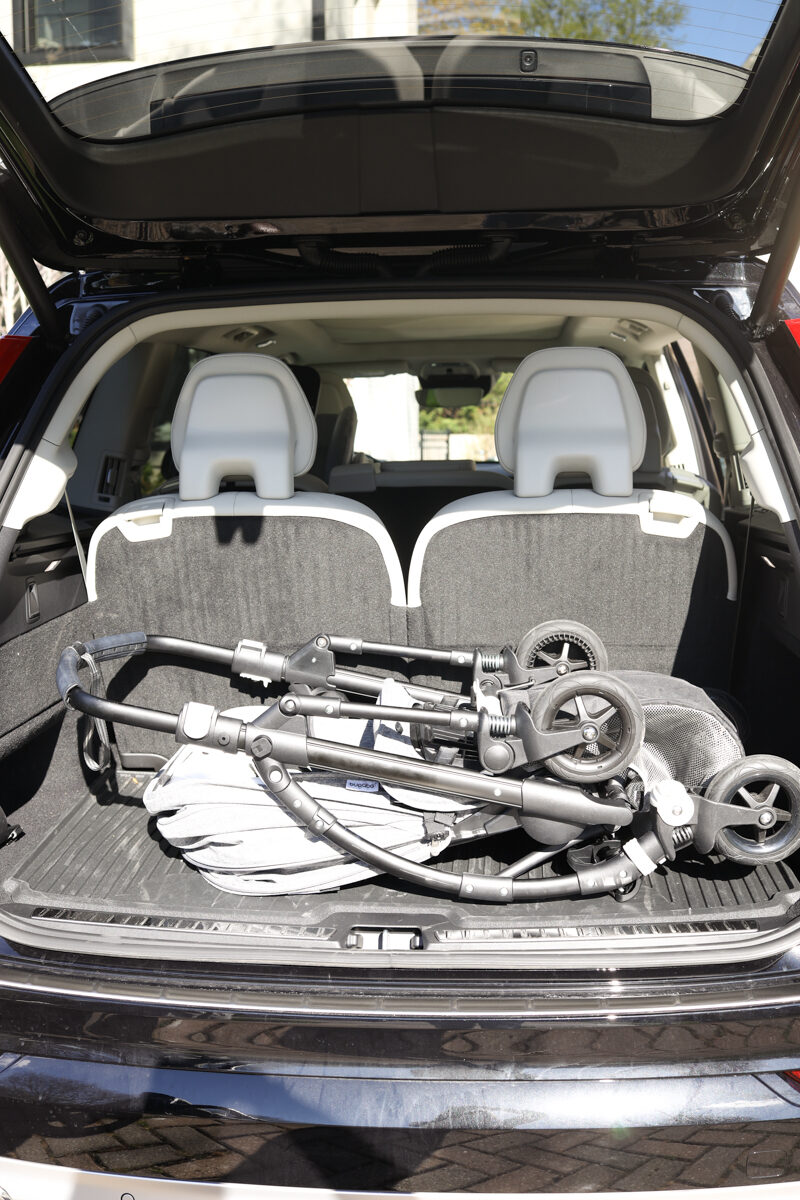 Trunk Space
The trunk is pretty small when the third row is up, but since we only have two kids, the third row will be down day-to-day, and it's easy to put up or down when needed. The only time we'd really need a huge trunk would be a road trip, running errands for larger items, or long day out with the girls, and we'd have the third row down so really, not an issue.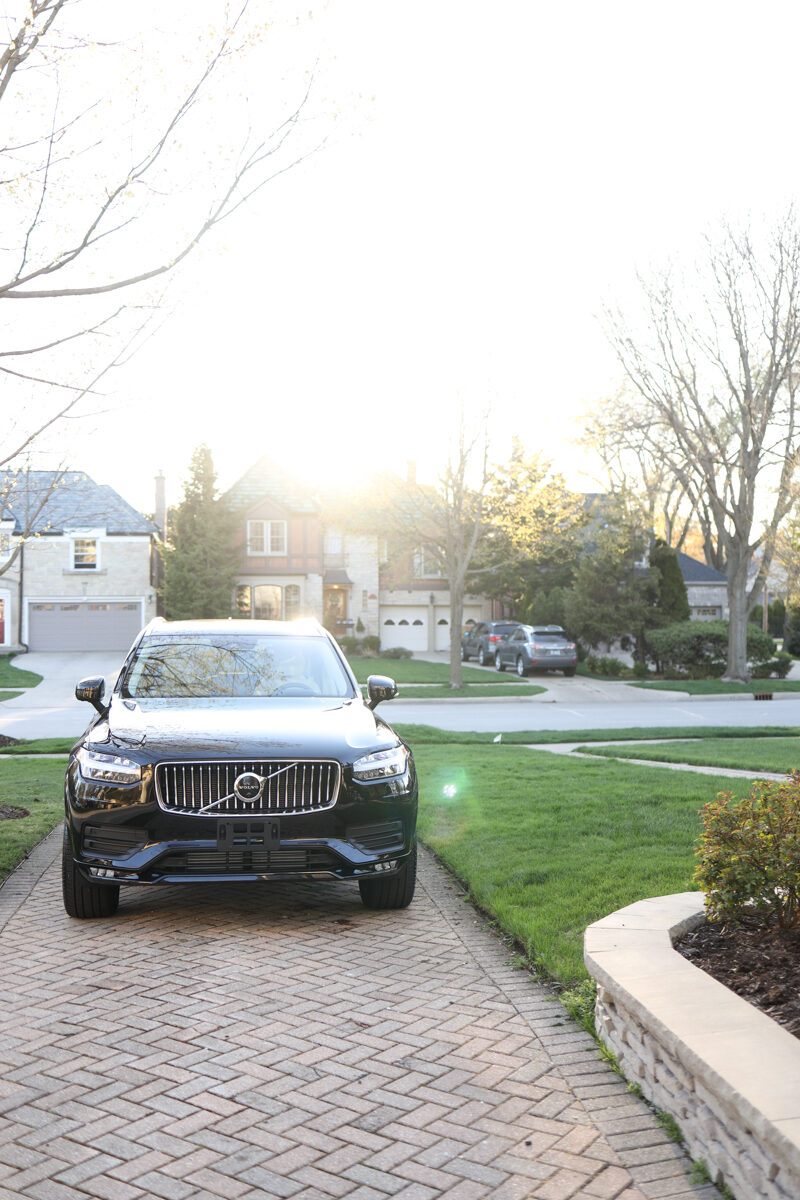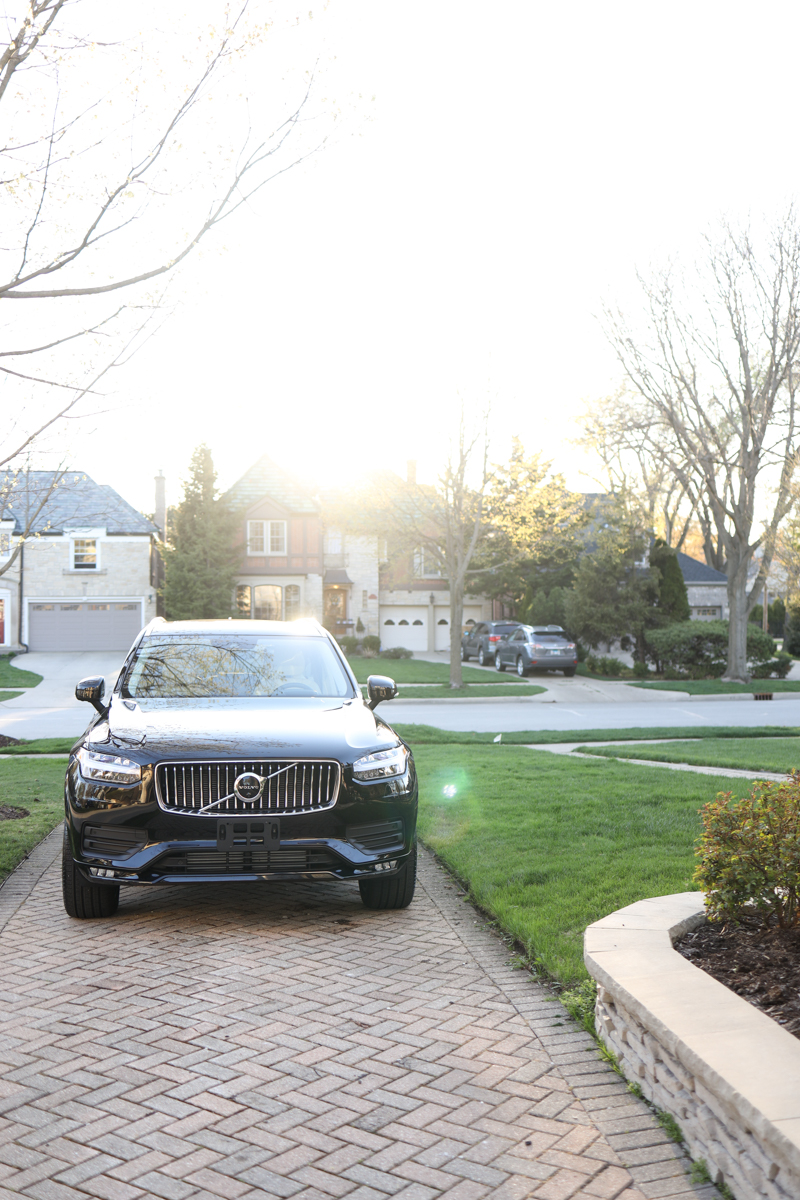 And now, to answer some of your questions about the XC90.
Would you want it if you didn't have kids?
It's a beautiful car, drives so well, and I love the features so yes. But, I would have chosen the XC60 if we didn't have kids.
Would you want it if you had three kids? Why/why not?
I believe I would but we don't have three kids so it's hard to say. You can't put a car seat in the third row so you'd have to have all three across the second which wouldn't be ideal. I can't imagine driving a larger car than this one, so I'm still going to say yes.
How many car seats will fit?
The second row bench is made up of three separate seats and it can fit three Clek Foonf car seats. That sounds kind of annoying (how is someone getting buckled into the middle seat?). We have two kids so it feels great for us.
How does the interior feel with two kids?
It feels great to me. Right now, we have Margot in the Clek Foonf behind the driver's seat and Kate in the Nuna PIPA Lite behind the passenger seat, so the only way to sit with them is to climb into the back.
Are the seats comfortable? Does it drive smoothly?
Yes and yes. The seats are so comfortable and I think the interior is beautiful. I had the Audi Q5 and thought that was smooth, but love this so much more.
What's your least favorite thing about this car?
I guess how small the trunk would be with the third row up, but that doesn't bother me.