Doona Car Seat Stroller Review – Is It Worth It? An Honest Review.
The Doona infant car seat and stroller was relatively new when I had my first baby. I wanted to use a full-size stroller, only had one child, and it didn't seem like something I had to have. My second daughter was born during the pandemic, and new baby gear was …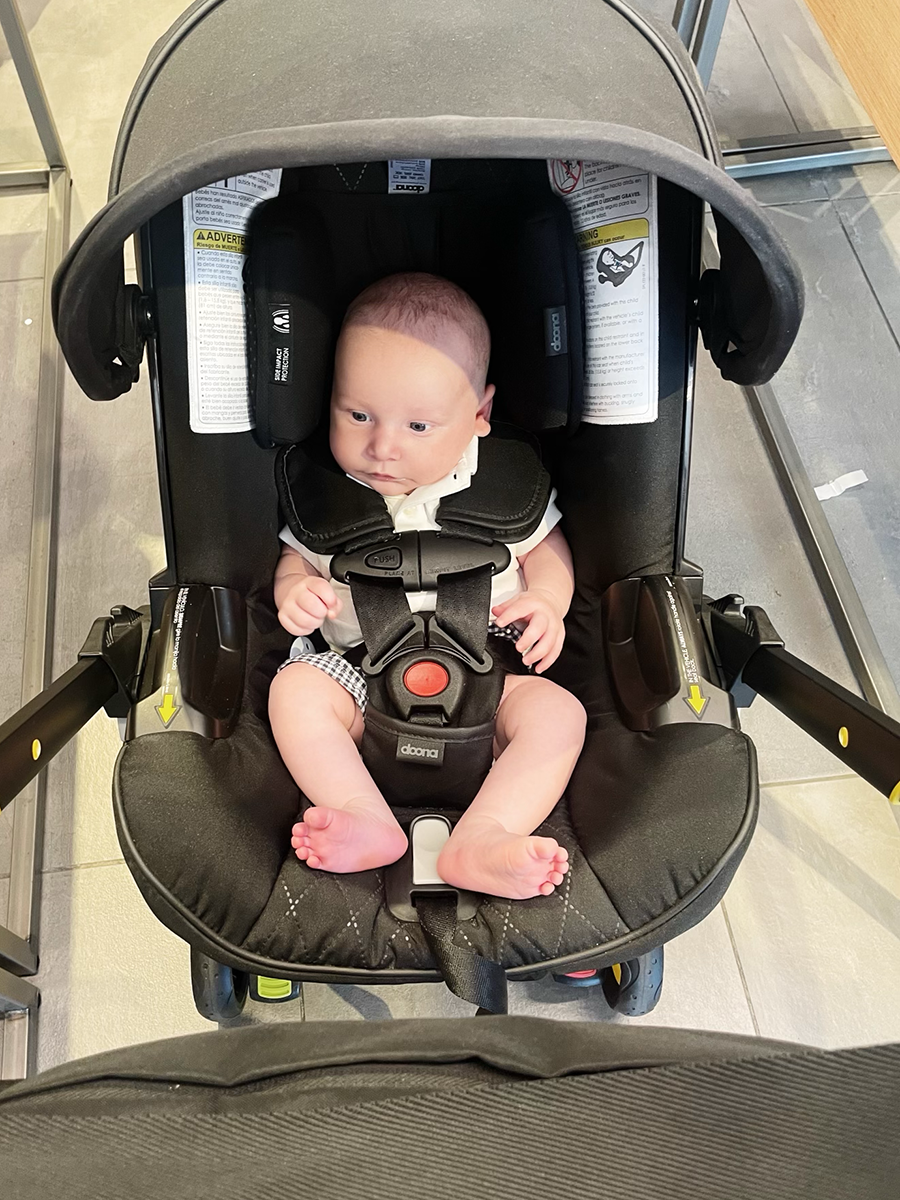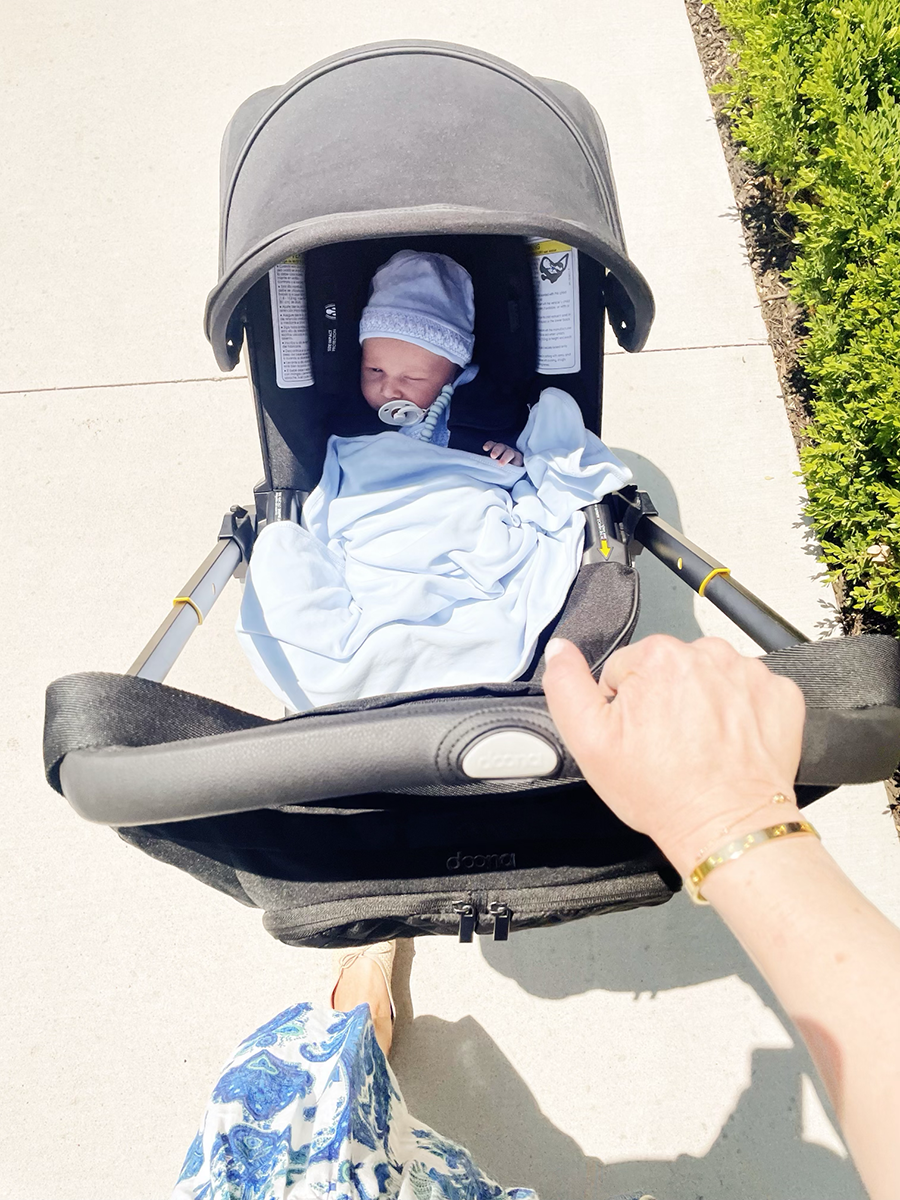 The Doona infant car seat and stroller was relatively new when I had my first baby. I wanted to use a full-size stroller, only had one child, and it didn't seem like something I had to have. My second daughter was born during the pandemic, and new baby gear was the last thing on my mind. When I found myself pregnant with my third baby, it seemed everyone was using this revolutionary car seat. Friends said I needed it. They called it a game-changer – a practical solution to getting around with three kids. Splurging on something that would make life easier day-to-day made sense to me. So I bought the infant seat that converts to a car seat with the click of a button. So is the Doona car seat stroller worth $550? Here's my honest review.
Doona Car Seat Stroller Review – Is It Worth It? An Honest Review.
If you're reading this post, you're considering this car seat and stroller combo. The Doona stroller and car seat is something you've probably seen around town. And there's a reason so many people have them. It is convenient and feels like the ideal solution for everyday use. If you're always on-the-go or like to travel, it makes life easier. I'll list the pros and cons, and then dive in a little deeper. But you should know it's not a clear "yes" from me. I think it's worth it under a very specific set of life and family circumstances. Read on for more.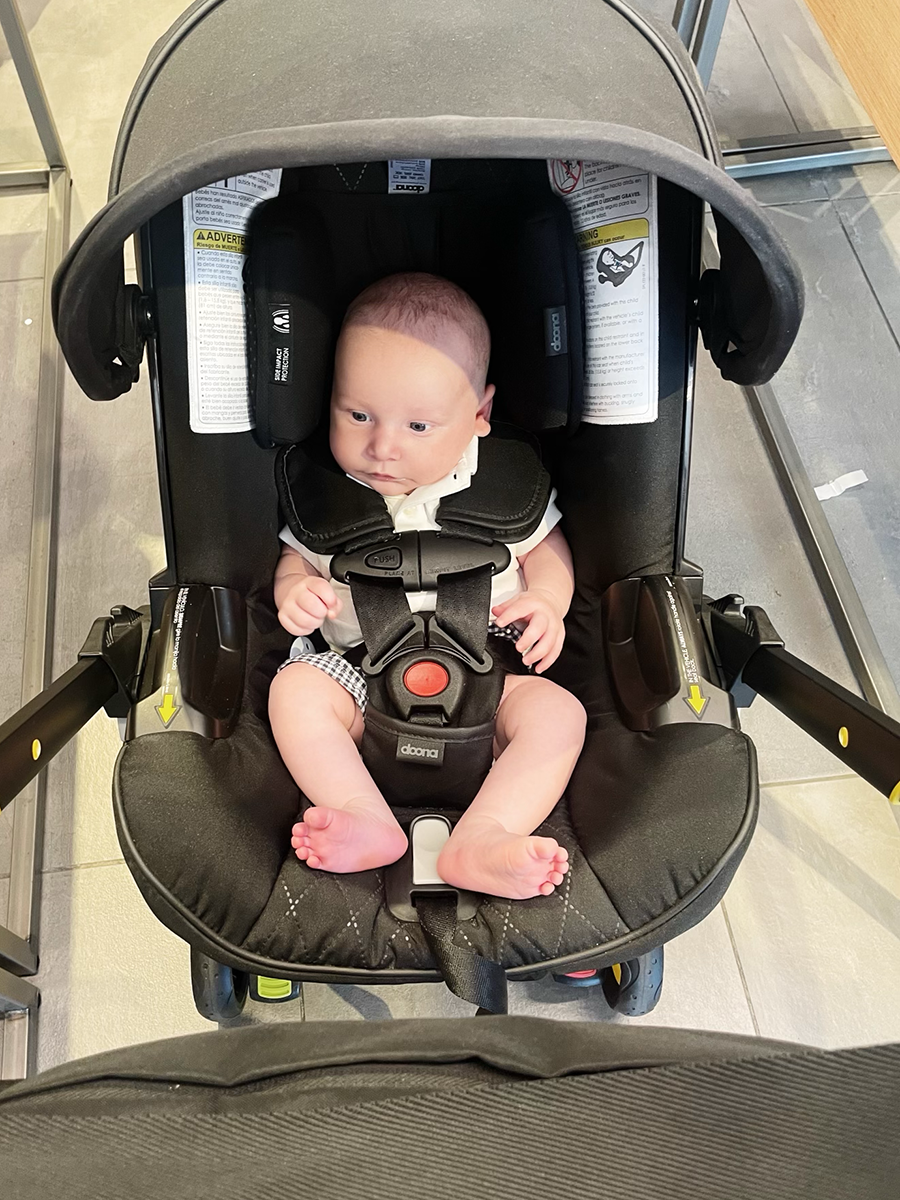 Pros
• Small footprint. No need for a stroller taking up trunk space. The Doona has a seamless transition from car seat to compact stroller, making life easier with your newborn.
• Great head support – the seat really cushions baby's body and looks quite comfortable.
• FAA aircraft approved for air travel. No bringing a car seat and stroller on a trip.
• Can be used without a car seat base, so it's great for families who don't have a car and for traveling.
• Ease of use. The Doona car seat converts to a stroller quickly and easily.
Cons
• The biggest con is that the base does not have a leg, which would ultimately make it even safer. It's still safe, but I did a consult with the Car Seat Lady, and she said this is a good car seat, but prefers a base with a leg.
• No storage or cup holders. You'll need the Doona essentials bag to hold your things. As a third time mom, I bring a lot less out with us, so it does the trick.
• Small sun canopy doesn't have great coverage for a sleeping child. There is a sunshade extension, but I've heard mixed things on it.
• It is a heavy car seat – 16.5 lbs. without your baby. I have a history of back problems, and it's been fine for me. Because it's also a stroller, you really only have to lift it in and out of the car. I find that one lift in or out much easier than carrying a car seat.
• It's a little clunky to load in the car, and I don't love the latch base install. But it's still easier to use than taking a car seat and stroller in and out of your car. It's fine but takes a little wiggling to get it to lock properly.
• There isn't an additional seat if you have a second child.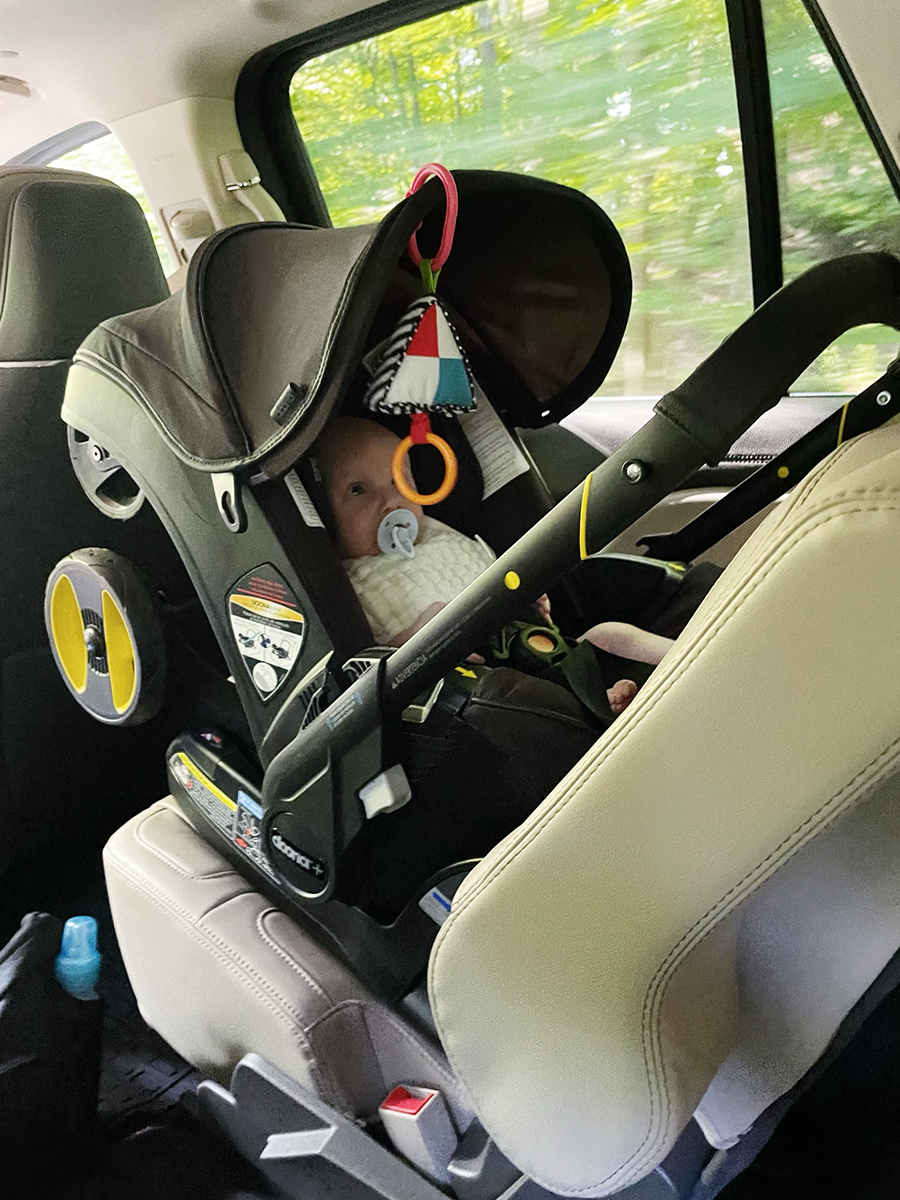 My Doona – the Midnight Edition
Doona's infant car seat comes in a few vivid colors, but I actually opted for the Midnight Collection. The stylish design is all-black, with a black leatherette handlebar and diamond-print fabrics. It also comes with a matching Doona Essentials bag.
• Built-in wheels unfold underneath the car seat for an easy, all-in-one travel system. It's so easy to use.
• Adjustable car seat handle functions as an anti-rebound bar when installed in the car.
• Materials are free of PVC and BPA chemicals.
About the Doona
The Doona is an amazing car seat that converts to a stroller in a matter of seconds. It can be used from babies 4 to 35 pounds. The infant insert that cradles your newborn in the correct ergonomic position. It offers unique 3-layer side impact protection and meet standards in both Europe and The United States. The superior 5-point safety harness and handle, which converts to an anti-rebound bar crash technology, offer additional security in the event of a car accident. The ergonomic infant insert cradles your baby – it's one of the safest car seats out there.
Doona's adjustable handle has two lengths and can be used in four positions. It can be used at a standard stroller length (long) and car-seat/anti-rebound bar length. You can also have it upright like a standard car seat handle, which also saves space when you're at a restaurant. If you put the car seat in stroller mode but lower the handle, it's the perfect height for my 5 year-old to push.
It's very easy to convert from car seat to stroller. Pull a latch on the back of the car seat and lift up to drop the wheels down. It's that easy.
As I mentioned, the Car Seat Lady recommended a base with a leg, which is what comes with the Liing. If you follow me on IG, you know I did extended rear facing with my kids – my oldest did not forward face in her car seat until she was 4.5. Because a leg will be safer, I may end up switching to the Liing, and save the Doona for short, quick trips, or travel. If you are someone who travels a lot or does not have a car, the Doona is the perfect option. If you want the safest option out there, I'd go with the Liing, which can attach to most strollers with an adapter.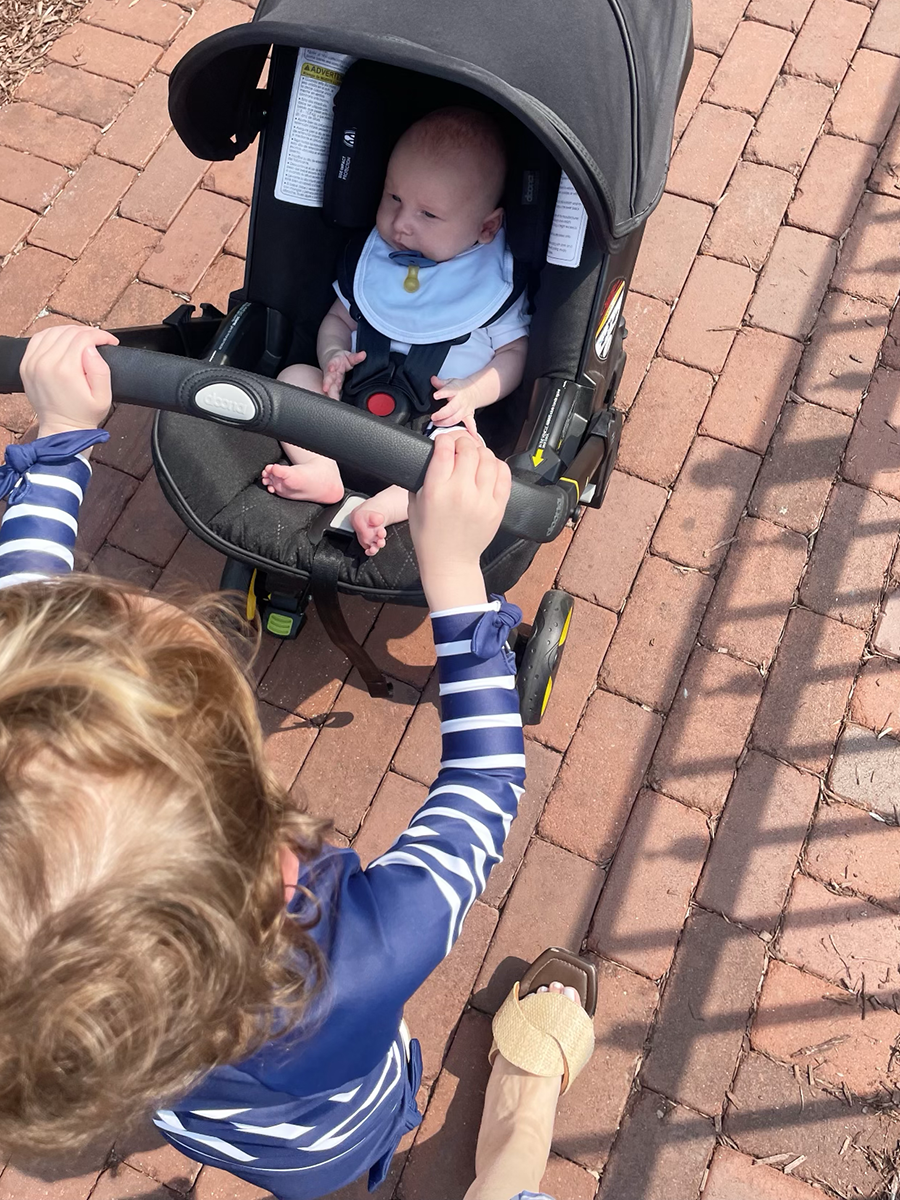 Using the Doona on-the-go
I have admittedly not gone out with all three on my own yet. But last month, we took all 3 kids out downtown and really needed our double stroller. Since there were two adults, we could have had the Doona and our double, and it would have been great. It's wonderful when we are all together. There have been a few times where I wished I could have Jack and Kate both in a stroller. If we're out for the day or going on a long walk, I'd bring our double stroller and just use the Doona as a car seat.
So is the Doona worth it?
The Doona is worth it under what I think are a pretty specific set of circumstances. I would recommend a 3+ year age gap between the baby and their next oldest sibling. If your older kid(s) are usually not in a stroller or if you travel often, it could be perfect for you. If you travel often enough, it would be worth having it for trips vs lugging a car seat and stroller.
Do I wish it weighed less? Or that it had more storage? Sure. And I really wish the base had a leg, making it safer.
If you have another child who is often in a stroller or if you carry a lot of "stuff" with you, I wouldn't get the Doona. I would not want to use the Doona alone with all 3 kids – I'd need a double stroller to contain Kate. If you have an older child who if usually in a stroller, I'd get the Clek Liing.
The Doona is mostly perfect for the stage we're in. I love not having to get a stroller set up, then attach the car seat to the stroller day-to-day. Getting 3 kids out of the car is a process, and this makes it a lot easier. I also appreciate how small it is when we're out and about.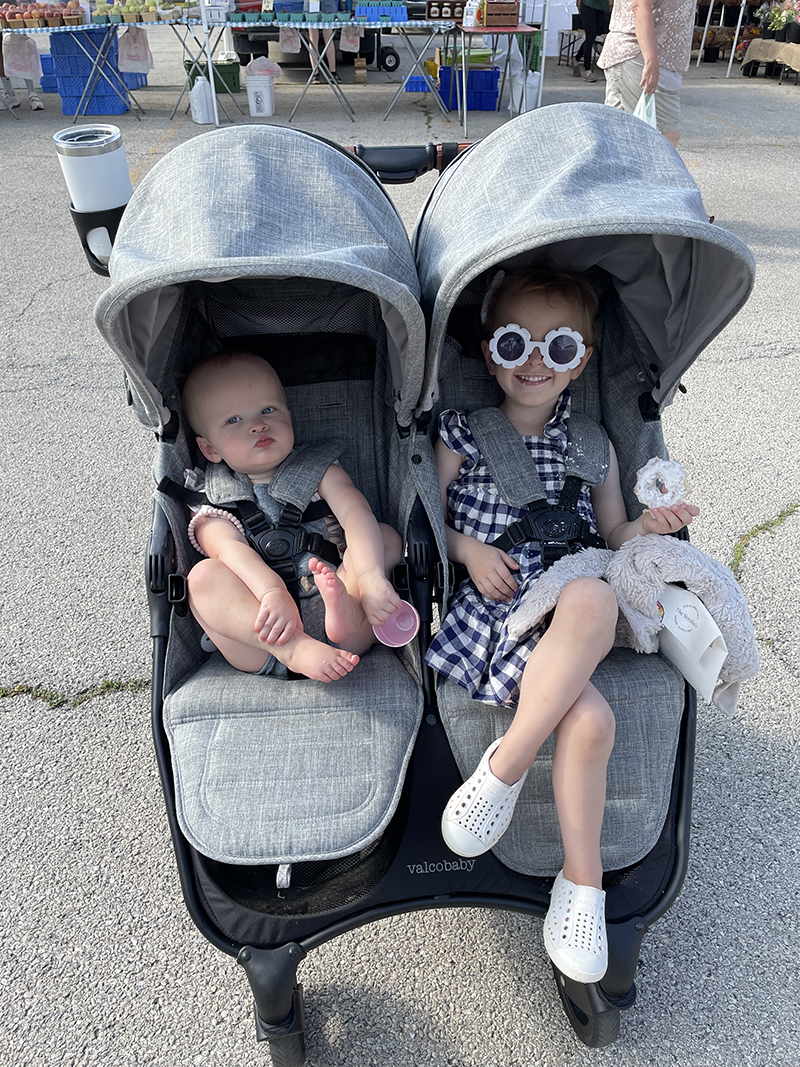 This stroller is easy to push, great for travel, and Disney approved. Read on to find out why I love it as much as i do.
This post contains affiliate links. If you purchase something using my links, I may earn a small commission at no cost to you.