The Best Wooden Play Kitchens and Accessories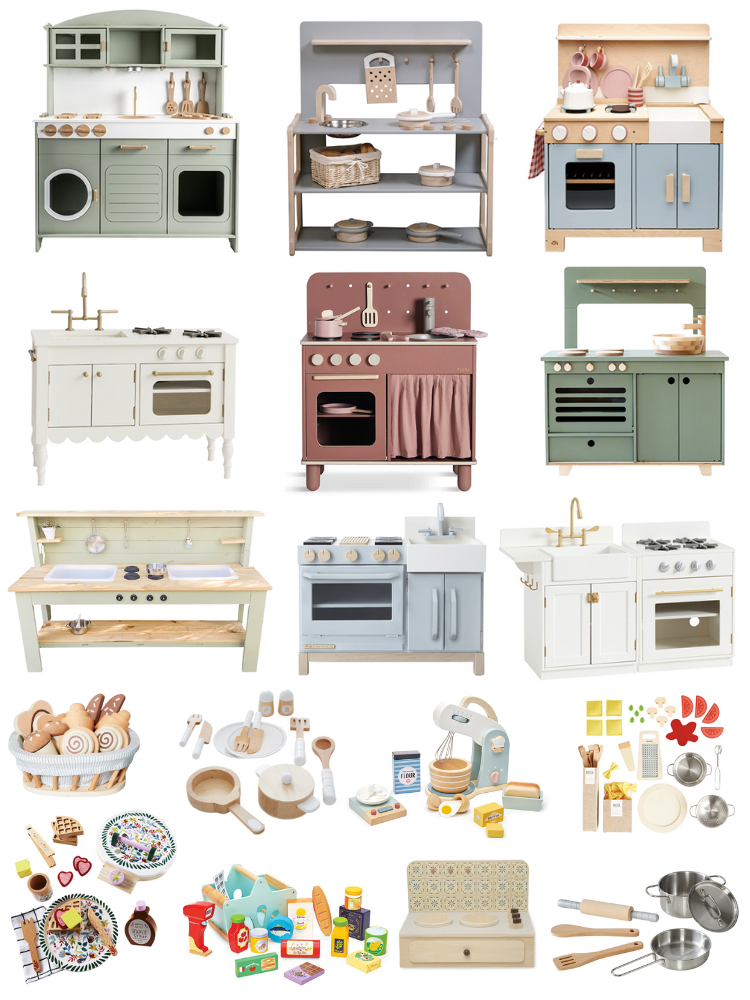 My kids really like their toy kitchen but they love their play food. Like they live for it and play with it more than anything. Children love role play, and my kids could play chef, grocery store, restaurant, and bakery all day long. You don't need a play kitchen, but with some great small options, I would recommend getting one. A pretend play kitchen is an investment, and it's also good for hours of play. If you're short on space, don't want a play kitchen, or it's just not in the budget, kitchen accessories and wooden food are some of their most-loved toys and they are really all you need. If you're debating getting a play kitchen or don't know which one to get, you've come to the right place. Here are the best play kitchens.
The Best Wooden Play Kitchens and Accessories
I've included options under $200 and all the way up to $800, and they vary in size and function. I also only included wooden play kitchens since I'm not a fan of the plastic ones. These are not always great for smaller spaces, but there are some really great tabletop options, or you can just order a cook top and sink – there are some great smaller toddler kitchen sets. The mixing, stirring, placing things in slots and containers is great for fine motor skills, but you'll get some of that with a play kitchen, too,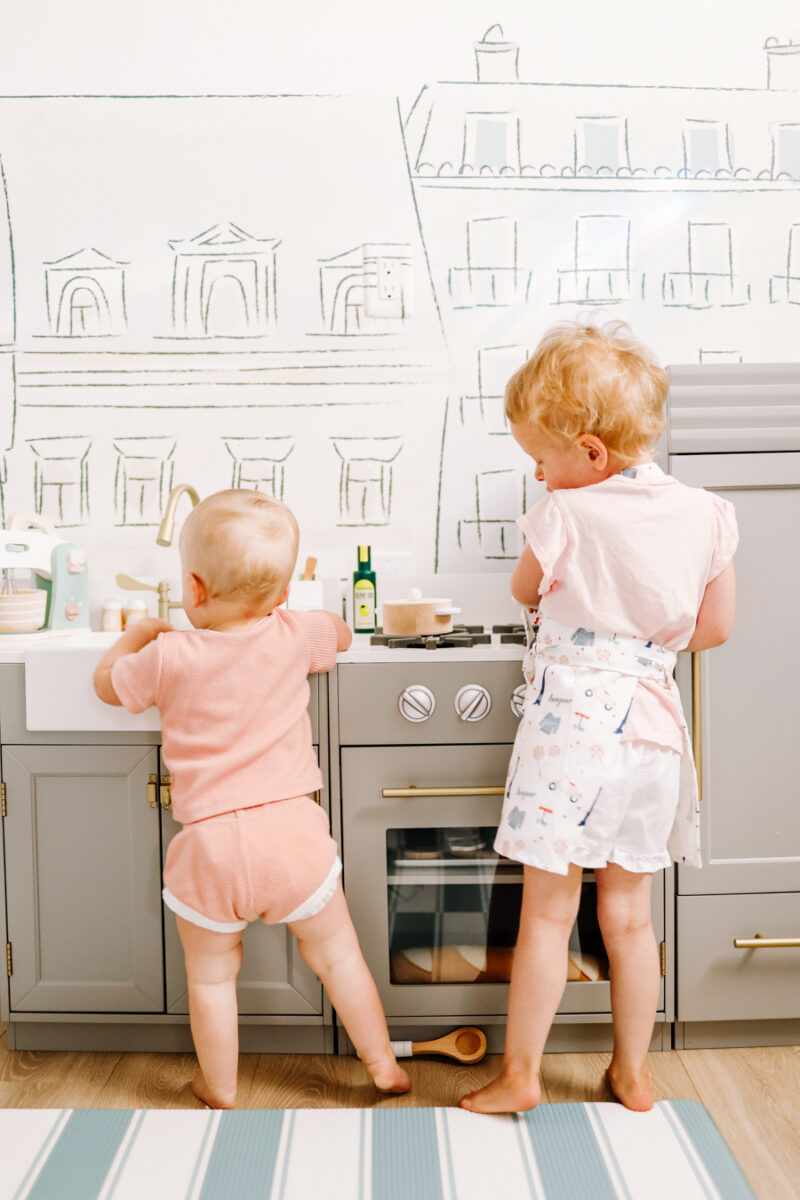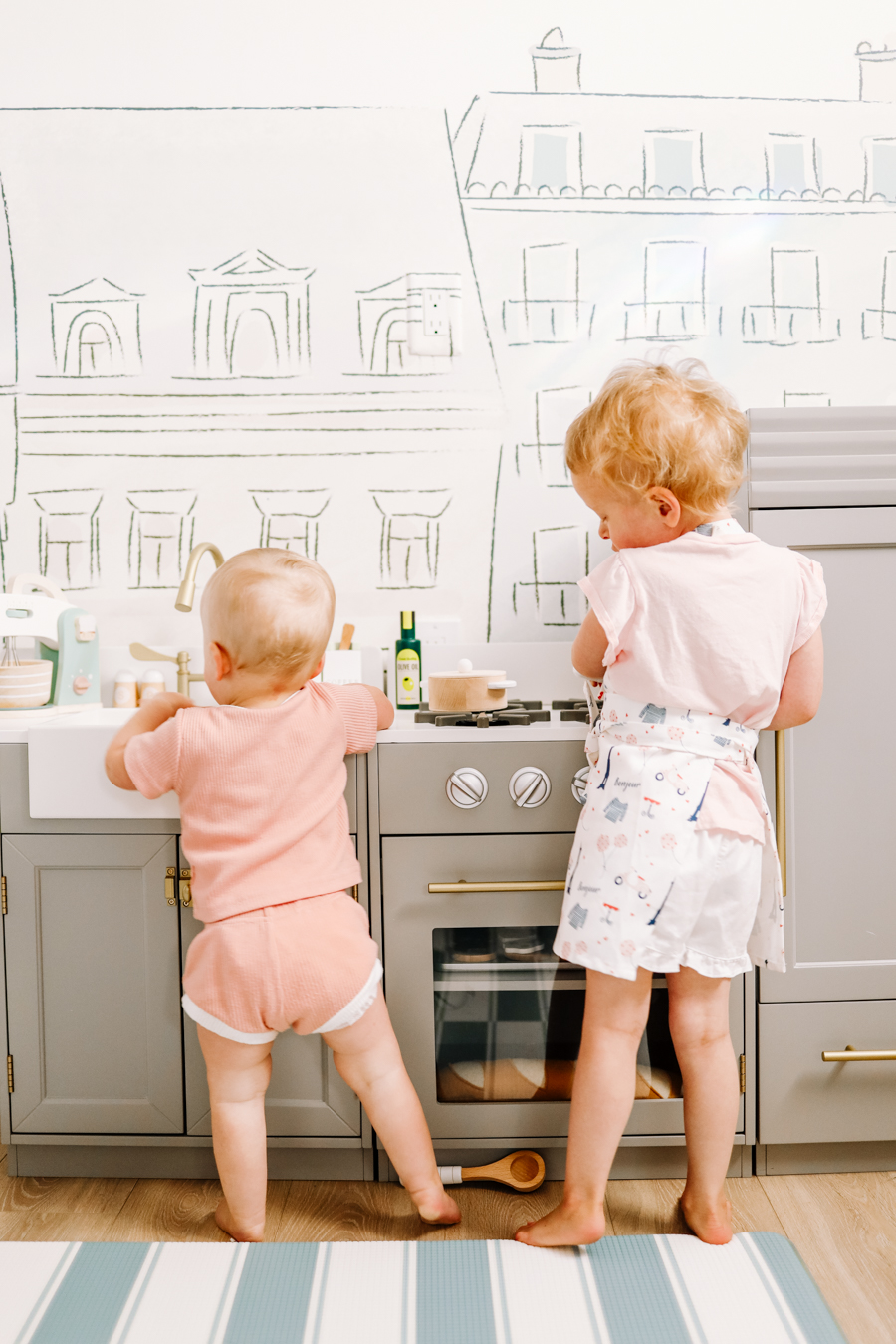 I'll start with my two favorites. The model creator play kitchen comes in a few colors and is as beautiful as a (beautiful) real kitchen. Any of the play kitchens here would make for a wonderful gift. They're made of quality materials.
We have the 3 pieces of this Pottery Barn Kids kitchen – it's on the larger side and 3 pieces. After almost 5 years of motherhood and seeing how the kitchen functions, I would do things differently. The fridge is nice but is a glorified shelf, so I'd skip that. I do love the size of the other pieces. Pottery Barn Kids makes a smaller kitchen that would be too small for my 4.5 year old. You really only need a stove top, oven, and sink. And shelving would be nice. I think that the one-piece options are the most convenient. Some of my favorite options come from etsy sellers – and I just love wood toys because the durable materials last.
A quick note about mud kitchens. They are great for sensory play – just rinse the removable sink when you're done playing. Fill with water, shaving cream, or anything your heart desires. My kids love these sensory stones, and I really like adding in silicone toys since they're waterproof as well.
Wooden Toys for Your Play Kitchen
There are endless food options for your kitchen, and they are all wonderful for imaginative play. These are my top picks for a good reason – we have most of them and my kids love playing with them. This may be an unpopular opinion but I usually find the cutting board toys with velcro fruit to be annoying. The pieces end up everywhere, so we have one, but it's not my favorite. But if you're looking for a play set, these are the best ones. At the end of the day, any great wooden kitchen set will do and you can find them at great prices (like Target and Melissa and Doug) and completely over-the-top sets that get closer to $100 since they're handmade. I left those out for you.
This post contains affiliate links. If you purchase something using my links, I may earn a small commission at no cost to you.