Our Family Is Growing
Remember when I shared this "guest room" a few months ago? Well, it's not for a guest. If you're a newsletter subscriber, you've known about this since I shared the news in my newsletter 6+ months ago. Our family is growing – we have an au pair coming from France …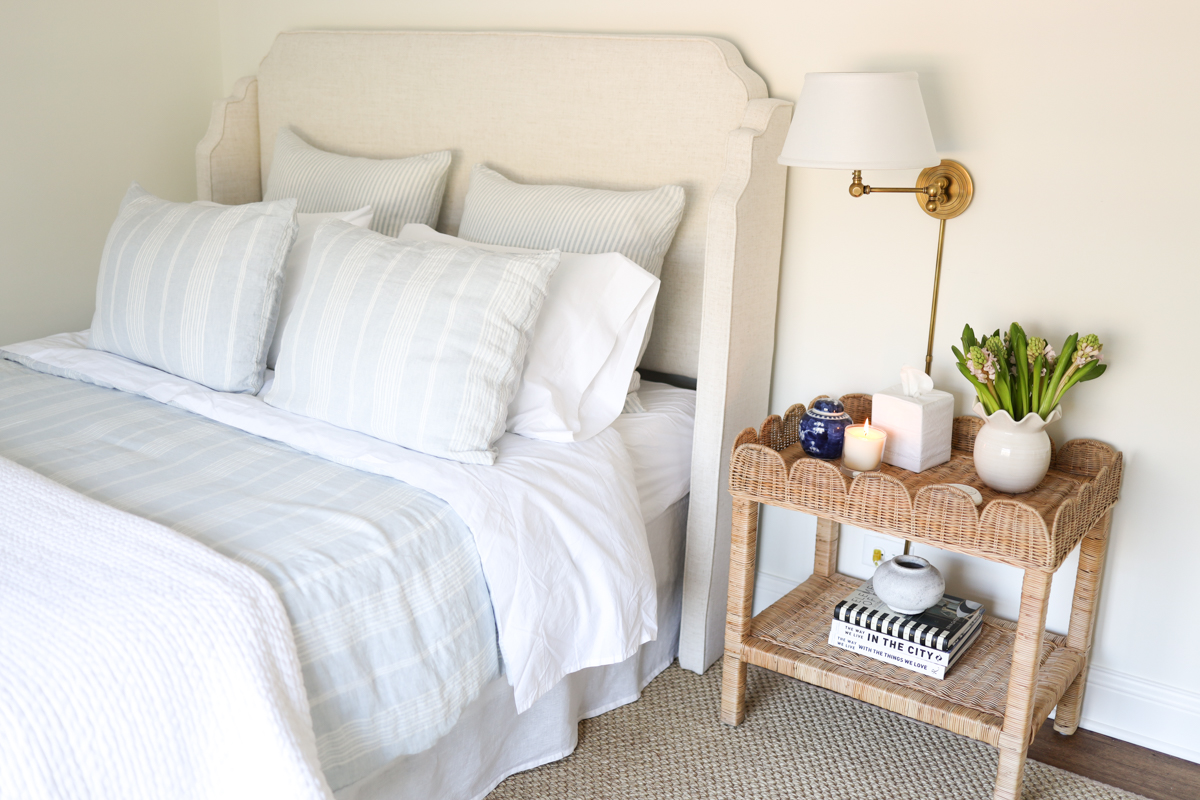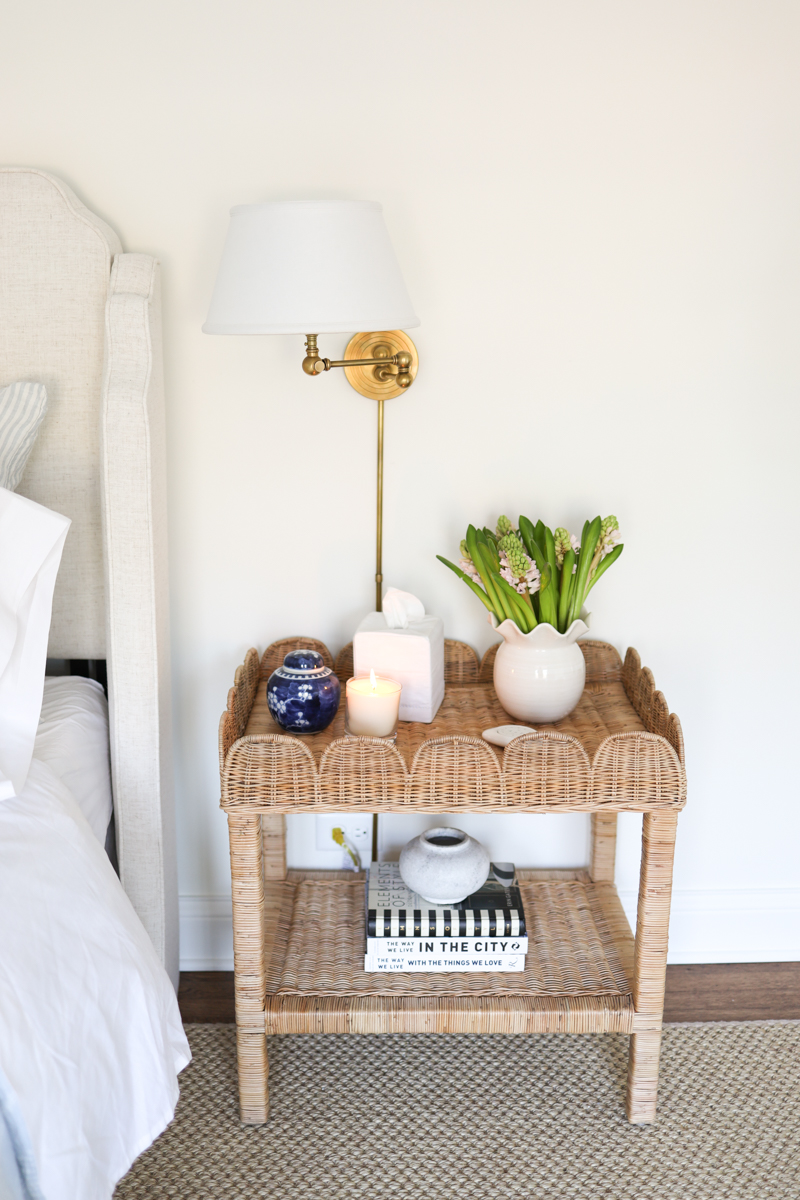 Remember when I shared this "guest room" a few months ago? Well, it's not for a guest. If you're a newsletter subscriber, you've known about this since I shared the news in my newsletter 6+ months ago. Our family is growing – we have an au pair coming from France next month! This has been a long time coming, and I am a mix of excited and nervous. I almost shared the news when I revealed her bedroom months ago but held off. didn't want to jinx it (not that I believe in that). But it's real. Her flights are booked and she's really coming.
Our Family Is Growing…
This title isn't click bait. An au pair becomes a member of your family. The term means "equal to" because they truly are a member of the family. They are not an employee, although I'd say the same for my nanny. Sure, we pay her, but she is a member of our family. But an au pair lives in your home, joins you for meals, holidays, travel, and on outings (should they want to). We'll always welcome her to join us and she'll know she can do her own thing whenever she wants to. I'd be lying if I said I wasn't a little nervous because it's such a big change. We've FaceTimed and have been texting. We've talked through our expectations, concerns, and more, and we're all very excited.
I cannot put into words how much I love our nanny. She needed to cut back to 3 days a week, and it was worth figuring things out with her because of how wonderful she is. I told her our plans and we're going to try having her come at least 2 days a week (her days are shorter anyway) to help with Jack. I trust her fully with him (and the girls, of course). She wants something flexible, and we're able to provide that, and we love having her here. So, our au pair will be able to finish those two shorter days off and help the other days.
There's so much to say. So I'll answer some obvious questions, and if you have any more, will share a Q&A box on IG.
Why an au pair?
There are so many reasons to hire an au pair. First and most important are the stability, flexibility, and financial savings.
Things understandably come up for nannies. Our nanny had a baby last year, so she initially stopped working for us, but we always stayed in touch. And she eventually returned. Most of the other nannies I interviewed had children at home and the hours didn't match up. It's hard to find someone wonderful who is really committed and while someone you trust is worth every penny, it's quite expensive. A full-time au pair is about half the cost of a nanny when you consider the upfront agency fee, $500 educational stipend, car insurance if they drive the kids, room and board (we will cover groceries and gas), weekly stipend, cell phone, etc.
The experience benefits both the au pair and the entire family. We get to learn about her culture and have a new member of the family. She gets to experience living in the US and learning about our culture. She becomes a member of our family and helps us care for our children. The agreement is that she'll stay for a year, but when the year comes up, she's able to extend if she wishes to do so.
And the flexibility! Au pairs work a maximum of 45 hours a week. But since they live in your home, those hours can be spread out. There can even be breaks during slower hours (like when the girls are in school and it's just Jack) which would mean staying on later through bedtime. We haven't fully figured this all out, but plan on talking to her about what feels good for her. I do know I'd love help Saturday mornings so I can go to a workout class, and then she'll have the rest of her weekend to herself.
What agency did we use?
We used Cultural Care, and it's the only agency we worked with, so I can't really compare it. That agency and Au Pair Care came recommended. We had a good experience.
What was the matching process like?
It's kind of like Tinder for au pairs and families. You look through a database and can search by age, region, and arrival time. There are even video interviews so you can get a sense of what they're like. If you like someone, you can express your interest by requesting a match and messaging them. At that point, they can accept or reject.
Most messages from potential au pairs expressed interest in visiting another part of the country so this process can take a while. We were open to most parts of the world, but the two au pairs we had the best connection with both happened to be from France. The first one we matched with seemed wonderful, but when she shared her plans with her parents, they freaked out, and she left the program. The second had that very special spark – we loved her personality so, so much. It was meant to be. We FaceTimed for over an hour during our first meeting, and both sort of awkwardly said that we'd love to move forward. So we matched! You then pay the agency fee and her flights will be booked.
We've been setting up her bedroom, ordered an IKEA closet and a TV. And other than that, we're messaging periodically – just chatting through some of the things she'd like to do when she arrives. We'll take her to the bank to set up an account, get her a cell phone, and show her around town.
How do I feel about having someone in our home?
Honestly? Really good. I see the relationship that we all have with our nanny, and our au pair will be one more person who loves our children. One more friend and someone who helps us with our children. I love that we get to be her family here – how amazing is that? And we have the space, so that makes it feel even more doable. But I think the benefit of getting to experience her culture, share our home and experiences with her, and have help with the kids will make it all feel very worth it. Margot loves France, so she's especially excited.
My experience with an au pair
When I was about 10, my youngest half-sister was born, and my family welcomed an au pair into our home. Malene came from Denmark and was in her 20, and very much a big sister to me. She taught me a few Danish words and songs, and I was able to help her with some English words, too. We rollerbladed together, she picked us up at school, and we loved having her in our family. I am so grateful for the joy she brought into my life, and for the insight she's given me as an adult. We're still in touch on Facebook, so I was able to talk to her a bit about my childhood. She really validated my experience.
Have any more questions? Message me on instagram.