Hospital Bag Checklist for Kids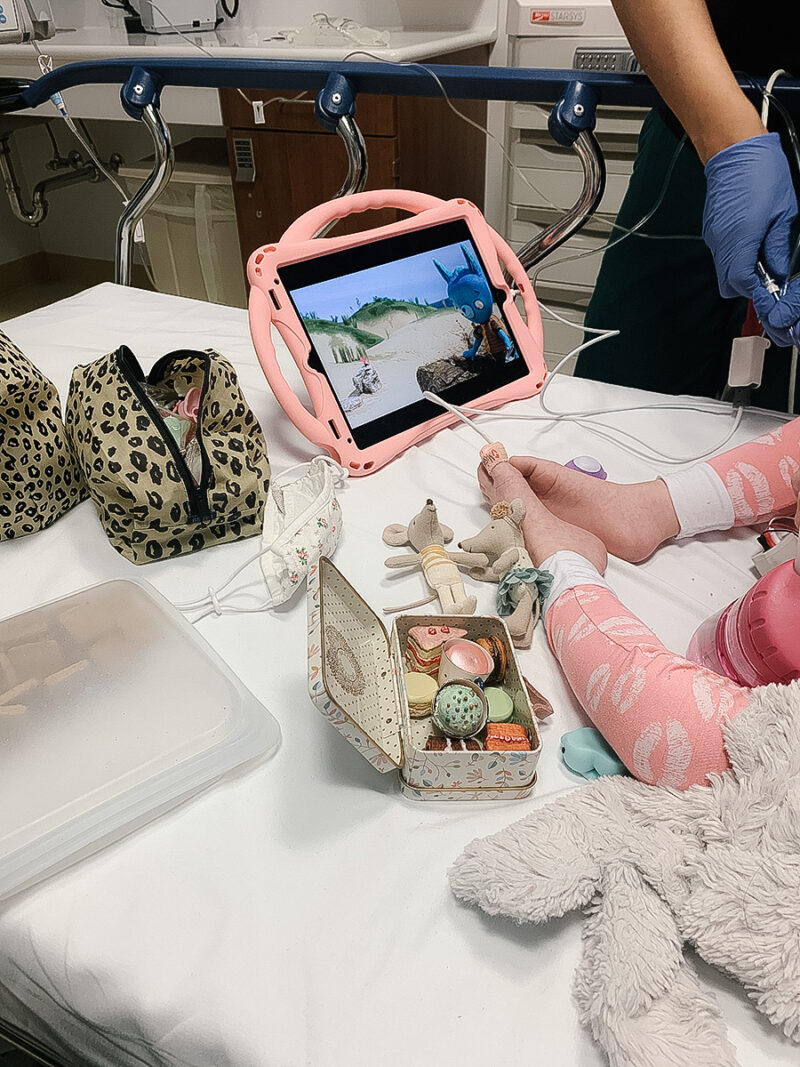 My daughter was diagnosed with Leukemia less than two months before her second birthday. We spent half the first month inpatient and over the next eight months spent a lot of time at clinic. During those first few weeks, we were in survival mode and had no idea what we were doing. But, as time went on, my clinic and hospital bag slowly improved, and I learned what worked for us. It's so easy to overpack, but I found that keeping a bag with all the essentials ready to go helped. And of course, a punch-list of some favorites to grab as we were heading out the door. Due to the pandemic, only one parent was allowed to go in, so I'd bring a stroller or our Veer wagon and load either one up with as much as I could. Here's my hospital bag checklist for kids.
Hospital Bag Checklist for Kids
As a parent, it was my job to do everything I could to keep her occupied. I tried to normalize being at the hospital, and to make our days as fun as possible. Over the course of eight months, I had to keep her busy during our 3-7 hour weekly clinic days and our half-a-dozen 5-7 hour ER visits. Aside from the obvious pajamas, blankets, a pillow and lovey from home, I want to share some of the toys that always kept my daughter busy while we were at clinic or inpatient.
I put a lot of effort into making sure I used appropriate language, and helping my daughter cope.
I'll share more about that at some point. She has done remarkably well, and it hasn't been easy for any of us, but we talked a lot about our feelings and seeking professional help was invaluable. Today, I want to talk about the ways I kept her busy and even fun for her. Every time we're at the hospital, we get a balloon and pick up lunch and a treat afterward. Finding a way to add something special to the day gives little ones something to look forward to.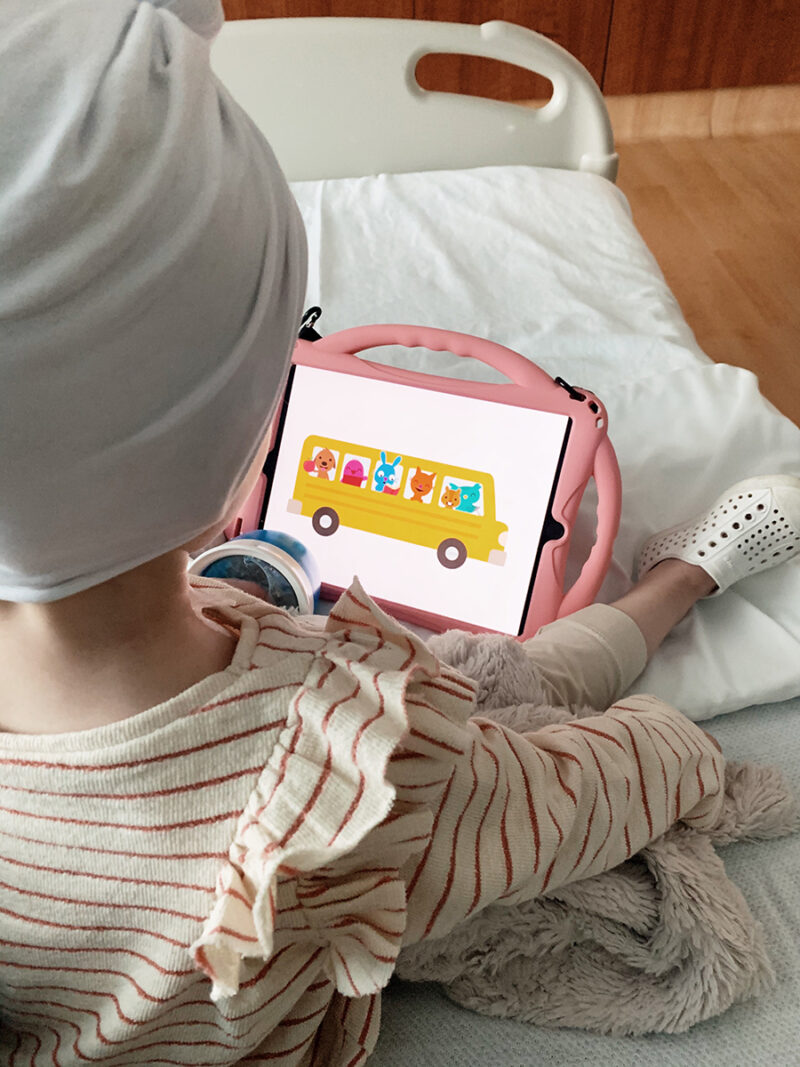 Hospital Bag Checklist for Kids: Our Most Used Item!
Between Disney+ and prime, we were set on her favorite shows, and I've downloaded an assortment of games that can keep her busy for hours. She spent what felt like way too much time on her iPad during frontline treatment, but it really is the best distraction. I feared that we'd never break the habit, but she barely uses it now – maybe once every week or two. She watches a lot of Bluey, Tumble Leaf, Daniel Tiger, and Peppa. Over the last year, we've seen Nemo, Tangled, Frozen, and Moana more times than I can count. Sago Mini World is a splurge as far as iPad games go but it's incredible – worth every dollar. She loves The World of Peppa Pig and Lego Duplo World, too.
Hospital Bag Checklist for Kids: Snacks
Letter cookies, cassava chips, once upon a farm pouches, bars, fruit, etc. I pack everything in the gobe (it's awesome) and these small silicone bags and containers.
Hospital Bag Checklist for Kids: Toys
Figurines. We mix it up with her favorites: Bluey, Mickey, Daniel, and Peppa.
These sticker books are amazing! These, too. We started using them when she was around 2.5 and would place the stickers together, and over the last few months (she's almost 3), I started to remove the paper around the stickers to make them easy for her to use on her own. Can't say enough good things about them.
Books are always great. My daughter loves anything that can serve as an "I spy" book, but story books are always nice. You can only read them so many times in one day, but if we're inpatient, I always bring 2-3 favorites.
Melissa and Doug puffy stickers are portable, reusable, and one of those toys that magically keeps toddlers engaged.
Maileg food toys and a few mice. We always bring this tea set, tiny cakes, and macaroons.
Squishies are garbage but they're cheap and she loves them.
Sensory kits have been a big one for us. You can find them on etsy, but I started making them and they keep my daughter busy for what feels like forever. You could buy these and some play dough if you're looking for something quick and easy.
Necklace making kits. We have a few (peppa, disney, etc).
Coloring is always a great option, but I wouldn't say it's my daughter's favorite thing, so I don't really make it a priority while we're at the hospital.
Now that she's almost three, she chooses some toys (usually a few tiny treats) for her backpack when we go to clinic.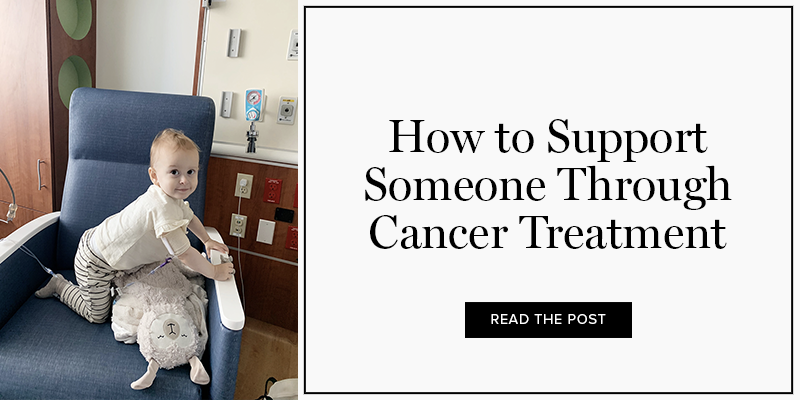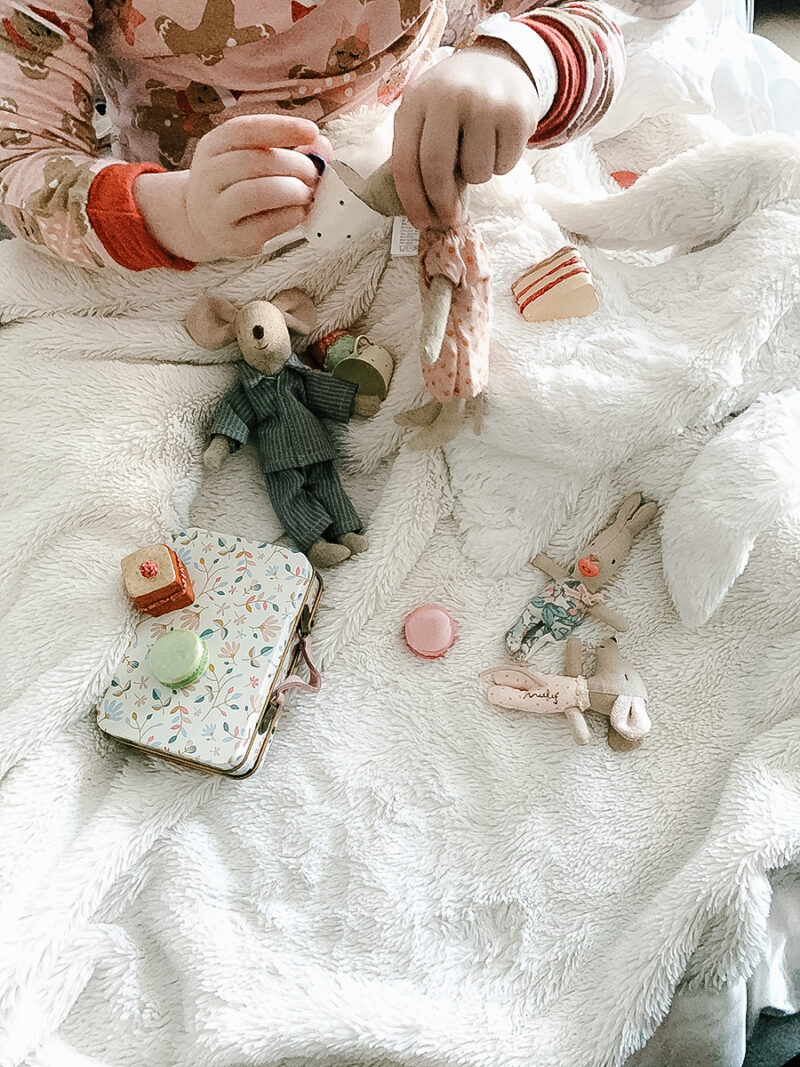 A lovey. For my daughter, it's a slumberkins named "Big" and having her buddy with her helps make things a lot cozier.
If you're a mom going through treatment for childhood cancer, please do not hesitate to reach out to me via email (hello@danielle-moss.com) or on instagram. I've started a support group for moms in treatment and would be happy to share more information with you.