Lisbon, Portugal Travel Guide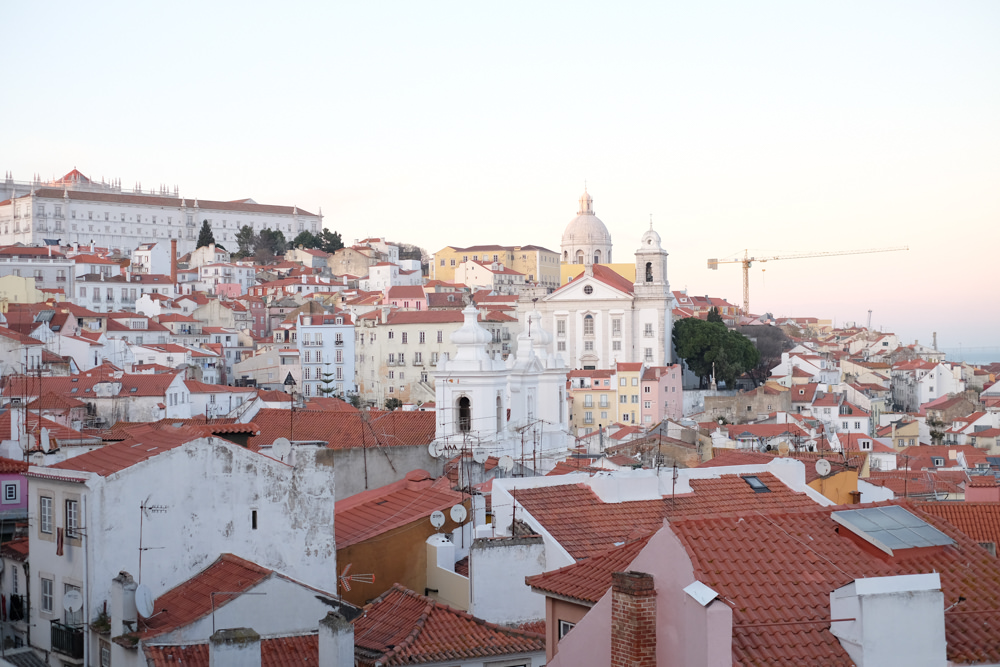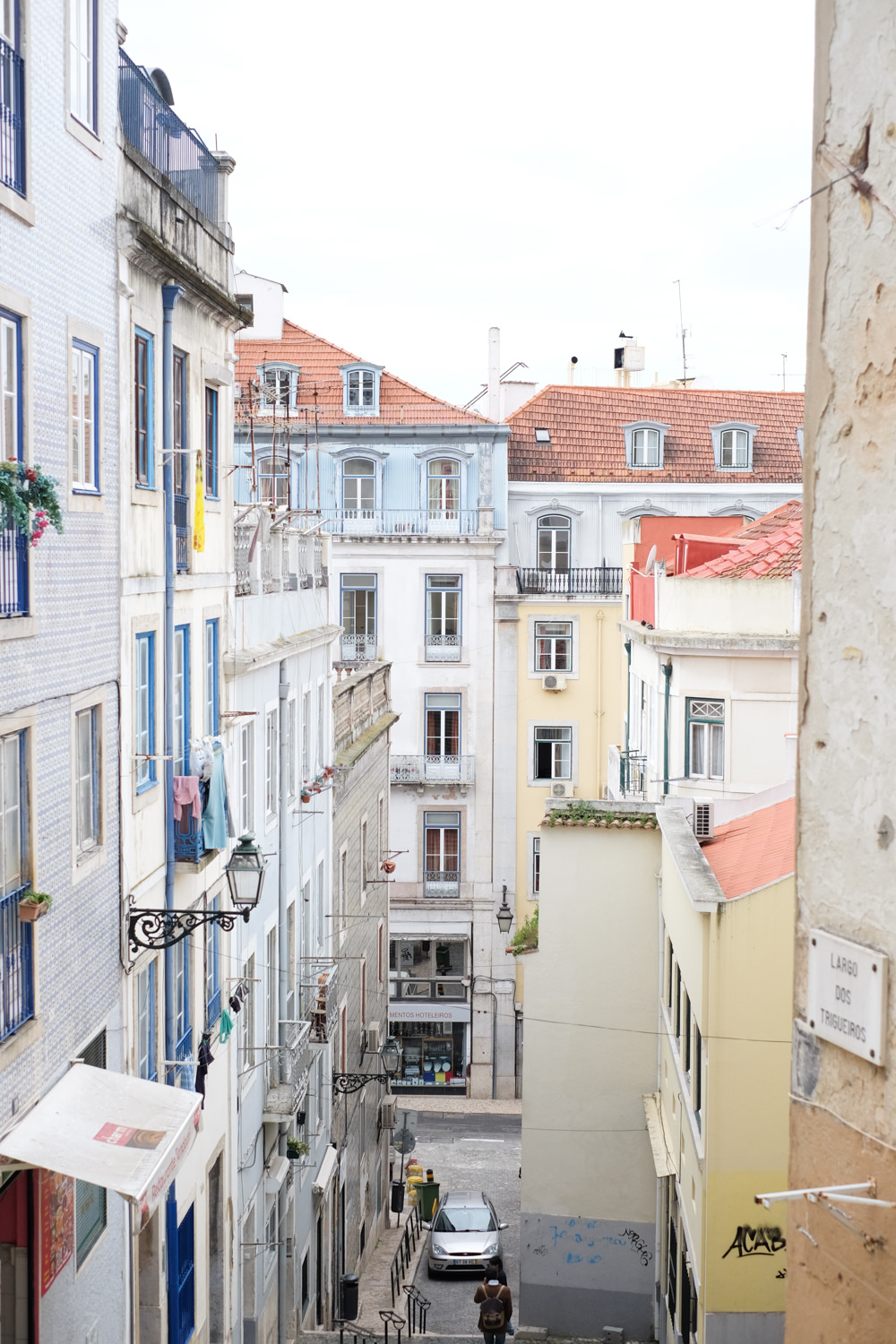 I visited Lisbon, Portugal in 2017, leaving just 24 hours after our engagement and a surprise engagement party. The Portuguese capital is one of the best places I've ever visited and quickly became one of my favorite cities. The food, wine, architecture, and history are incredible. It's one of the oldest cities in the world, but is now home to incredible restaurants, bars, and boutique hotels. We spent a total of 4 days in Lisbon and had the best time. Located on the Tagus River, Lisbon is full of historic buildings covered in azulejos (tiles) that bring endless life and beauty to the city. There aren't direct flights from Chicago so we had a layover in Dublin on the way there and one in London on the way home, but flew in and out of the Lisbon airport. This capital city is beautiful, full of life and culture, and so old – one of the oldest cities in the world.
Lisbon, Portugal Travel Guide
If you love cobblestone streets, historic neighborhoods, good food and wine, and old, beautiful European cities, you will love this European capital. Before we left, I downloaded both Lisbon and Porto maps in my Google Maps app, making them both accessible without data. I pinpointed all the spots we planned on visiting, our hotels, and marked all our favorite spots once we were there, too. It's the best way to find your way through the city. We spent 3 days in Lisbon and took a 3.5 hour $30 train to Porto. After spending 3 days in Porto, we took the train back to Lisbon for one final evening in the city before heading home.
We traveled in March, which was not peak season, and it was perfect. Crisp, beautiful weather, and fewer tourists than you'd see during the summer months. I'm sure things have changed a lot since 2017, and know that Lisbon has become an even more popular destination, so I would recommend traveling off-season, which is what I always do, anyway. Here's my Lisbon travel guide. This post was originally published in 2017.
You can read about our time in Porto here
Lisbon is a perfect place – it's one one of Western Europe's major cities features some of the most famous places in Europe. It offers everything, and in spite of the fact that it's the capital, it doesn't feel too big. There's something about it. This isn't a city you visit on a day trip. I mean, you could, but I'd recommend allowing at least 3 days to take in the ancient ruins and beauty of one of the oldest cities in the world.


When is the best time to visit Lisbon, Portugal?
We visited Lisbon in March, and I would recommend visiting in the Spring or early fall. The Mediterranean climate means nice weather, and add cheaper hotel rates, and no crowds. Traveling during peak season is one of my least-favorite things, so I'd rather have fewer beach days and avoid hot weather, crowds, and pay a premium for a hotel.
The best way to see Lisbon's top attractions
I would recommend getting the Lisbon card, or the Lisboa card, which gives you free transportation on the Lisbon Metro subway and buses, trams, lifts of CARRIS lines, CP Train Lisboa -Sintra, Lisboa – Cais do Sodré, Lisboa – Azambuja, Fertagus Lisboa – Setúbal. You'll also get into almost 40 museums and monuments. In the end, you'll save money and time – it's so worth it.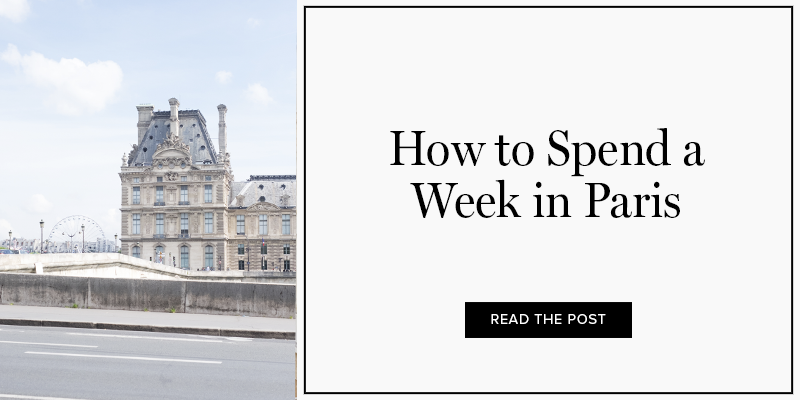 Where to eat in Lisbon
The food and wine are one of the best things about the capital of Portugal. There's so much to Lisbon, but the food is truly incredible. It's home to 9 restaurants with Michelin stars, and the traditional food is phenomenal. We had some of the best meals we've ever had while in Lisbon.
Taberna Rua Des Flores:
Rua Des Flores had some really charming restaurants but this one was one of our favorites. It's located in Baixa-Chiado and is teeny tiny (less than 10 tables) and fills up quickly, so get there early unless you want to wait outside for over an hour, which you'll do standing outside with a glass of wine–not the worst way to spend your evening.
Palacio Chiado:
This modern take on a food court in a small, converted palace was beautiful and had plenty of options to choose from including seafood, sushi, charcuterie, steak, and burgers. The ambiance is incredible – and if you find dining inside an old palace appealing, you'll love Palacio Chiado.
Bairro do Avillez:
Owned by one of the most famous chefs in Portugal, another beautiful spot full of charm and good food. Michelin Guide's POV: The tavern-charcuterie format here is part of the successful Bairro do Avillez gastronomic complex.
Park Bar:
Located on top of a parking garage, so it's anything but easy to find, but such a gem once you do. Park Bar has one of the best views in the city and a fun yet laid-back atmosphere. Great cocktails and music, and a dance floor.
Pastéis de Belém:
You'll see this gem on almost every Lisbon list, and we both thought it was worth visiting. They crank out 20,000 pastel de nata (traditional Portuguese tarts) a day! We had pasteis de nata all over Portugal and these were hands-down the best that we experienced. It's definitely a bit touristy (but wasn't too crowded since we visited Portugal off-season) and so worth it.
Pastelaria Alcoa:
We walked in one day to try the pastel de nata and liked them even more than the ones at Pasteis de Belém.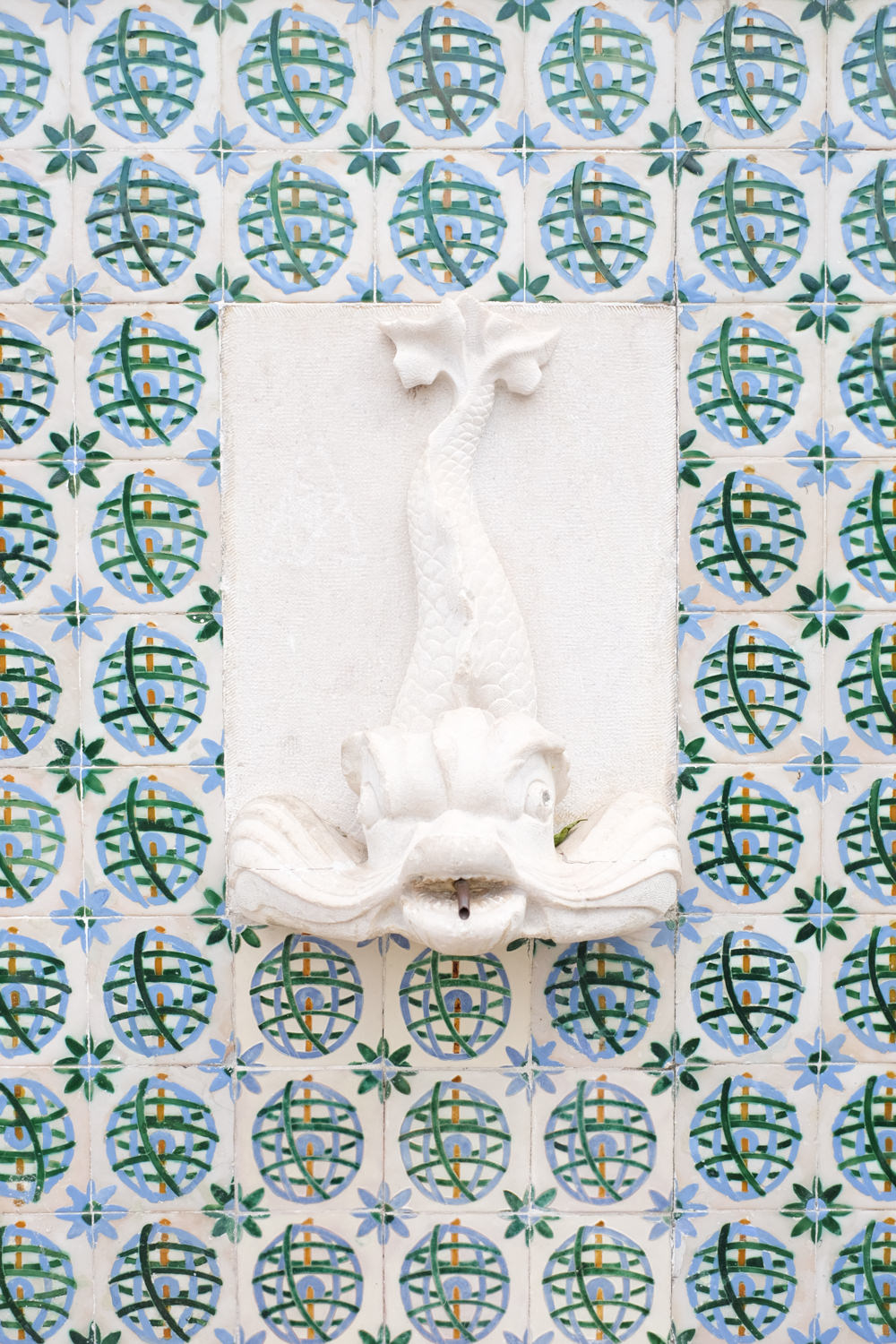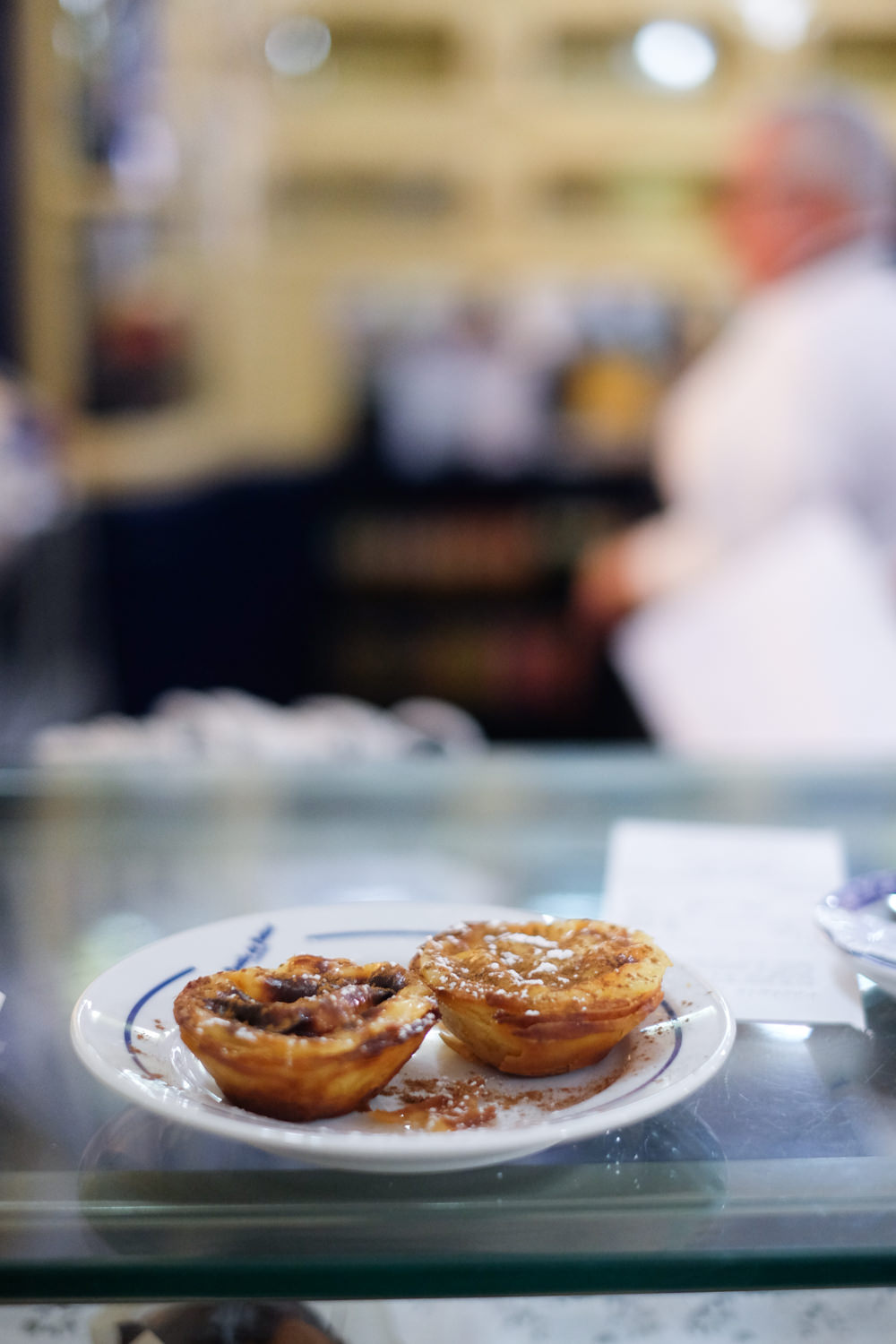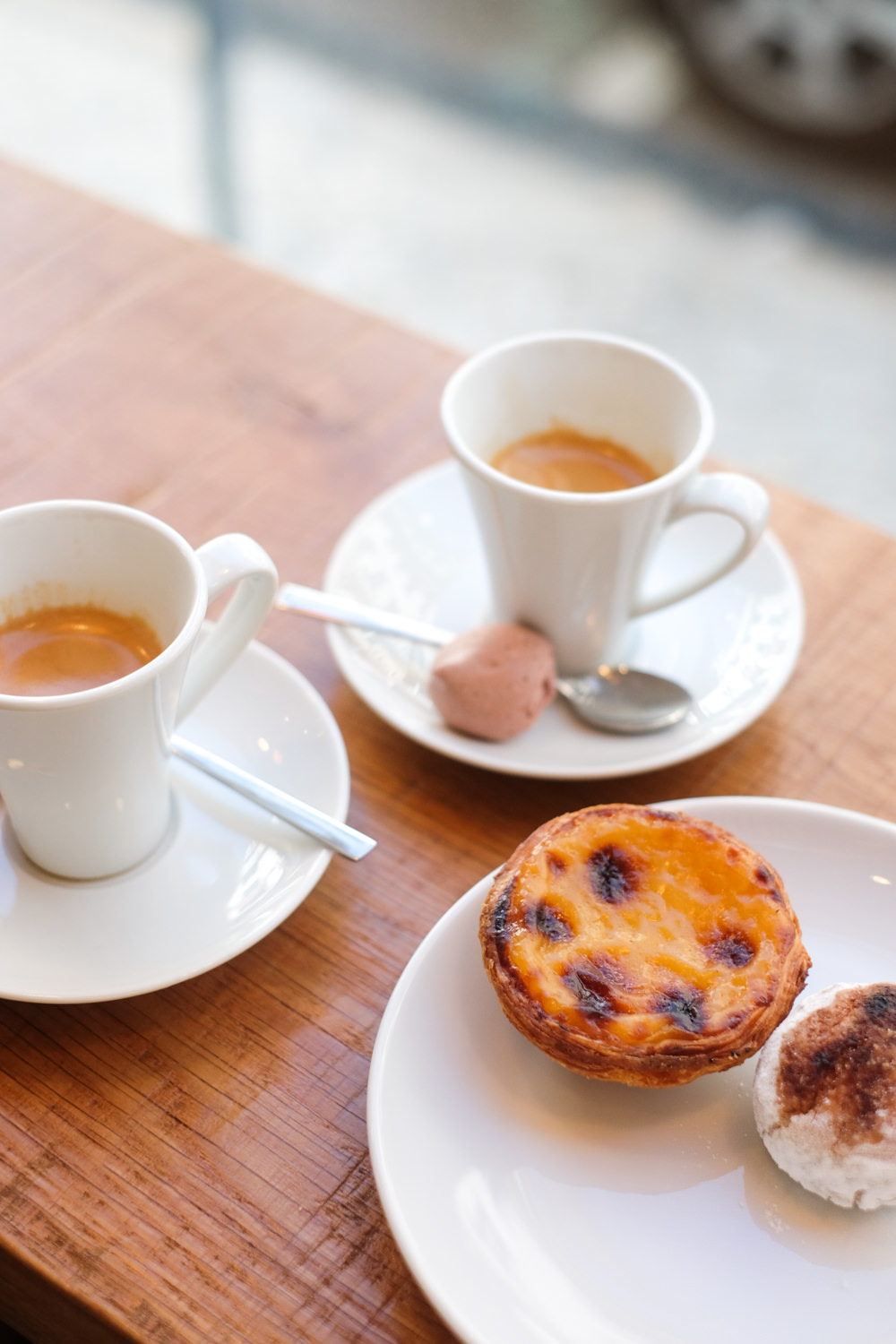 What to see and do in Lisbon, Portugal
I want to share some of LIsbon's top attractions
Walking tour:
We booked a walking tour with The City Guru (igor@thecityguru.com) through Hotel AlmaLusa Baixa/Chiado. It was the perfect way to walk through all the tiny city streets that we never would have found, to learn a bit more about the city and culture, and we got to see a few hidden treasures of the city like this magical garden.
Praça de Comércio:
A beautiful square where we shot some of our engagement photos with the Barilles. Visit at sunset–the light was magical.
National Tile Museum:
I was so excited about the azulejos (painted tiles) but loved them even more than I thought I would.
Belem tower and Jerónimos Monastery:
We took a tuk tuk from the tower to the monastery which was just a few minutes away. It's worth paying to enter and plan on visiting both around sunset since it's really sunny and crowded during the day. Don't forget to grab a tart down the street at Pasteis de Belém, too!
Carmo Convent:
We just took a quick walk through it–the roof collapsed during the 1755 Lisbon earthquake.
Shopping on Avenida da Liberdade
The City Centre
Baixa is the most is the most central neighborhood in Lisbon and features rows of houses covered in tiles.
Castelo de São Jorge
This is the most visible landmark of Lisbon and is one of Lisbon's top attractions.
Parque das Nações
Lisbon's Parque das Nações was built to hold the World Exposition of 1998 and is a modern neighborhood that is quite different than the older neighborhoods that you'll find in Lisbon.
Elevador de Santa Justa
Traveling the steep hills from the lower (Baixs) to upper (Carmo Square) streets of Lisbon can be a journey. Built in 1902, it's one of the city's public transport systems and has since become a popular tourist attraction, with an observation deck at the top and the most incredible views of the city.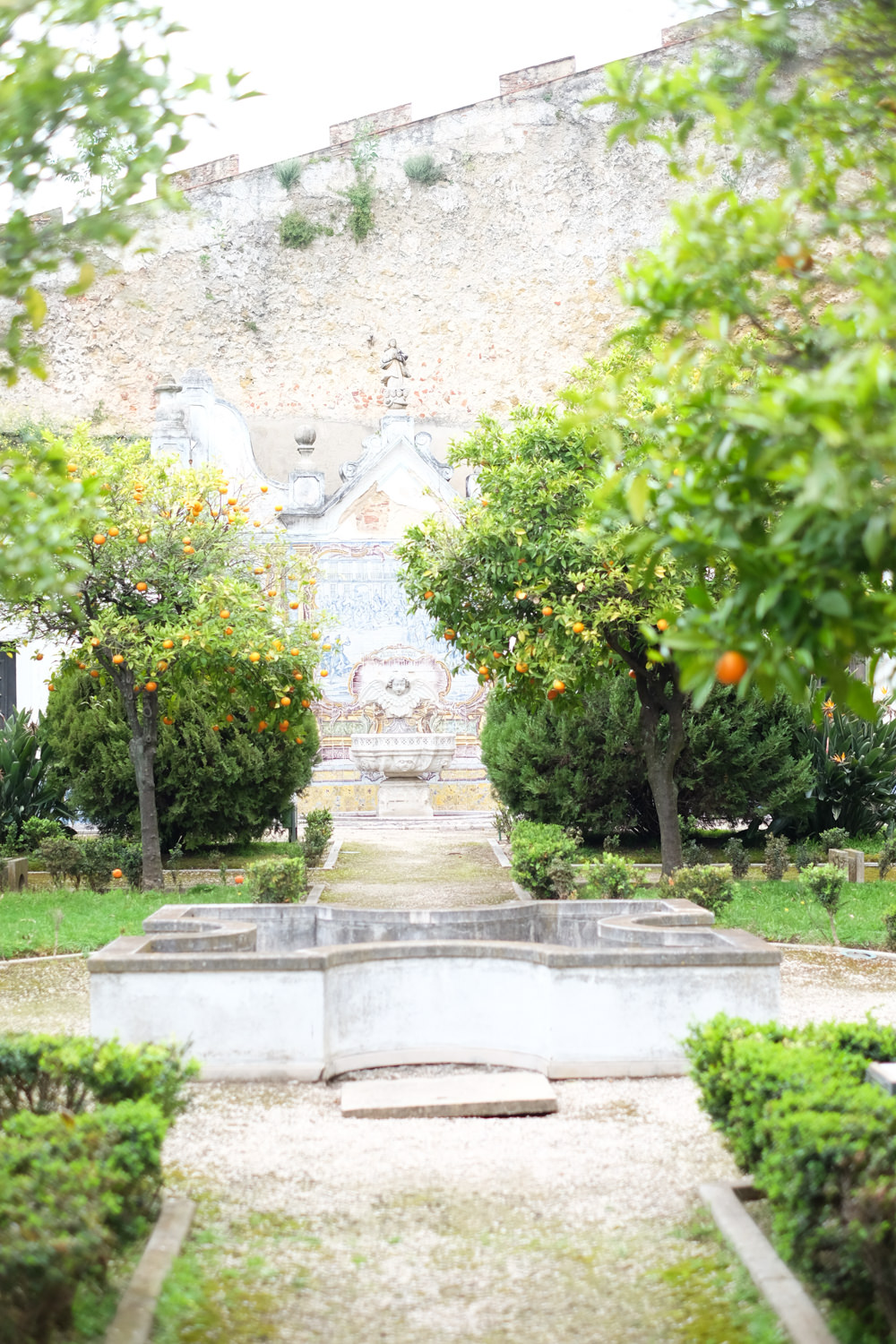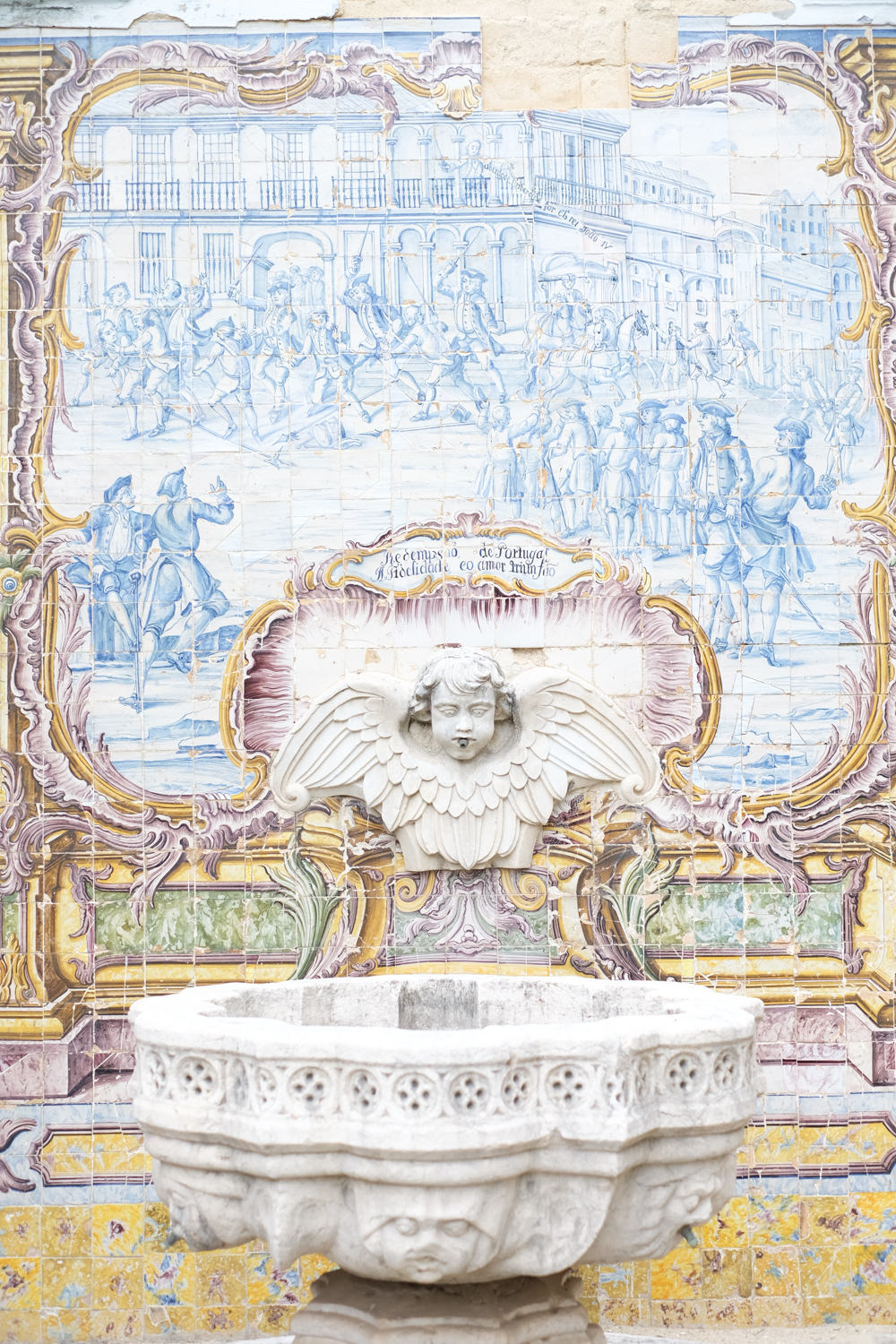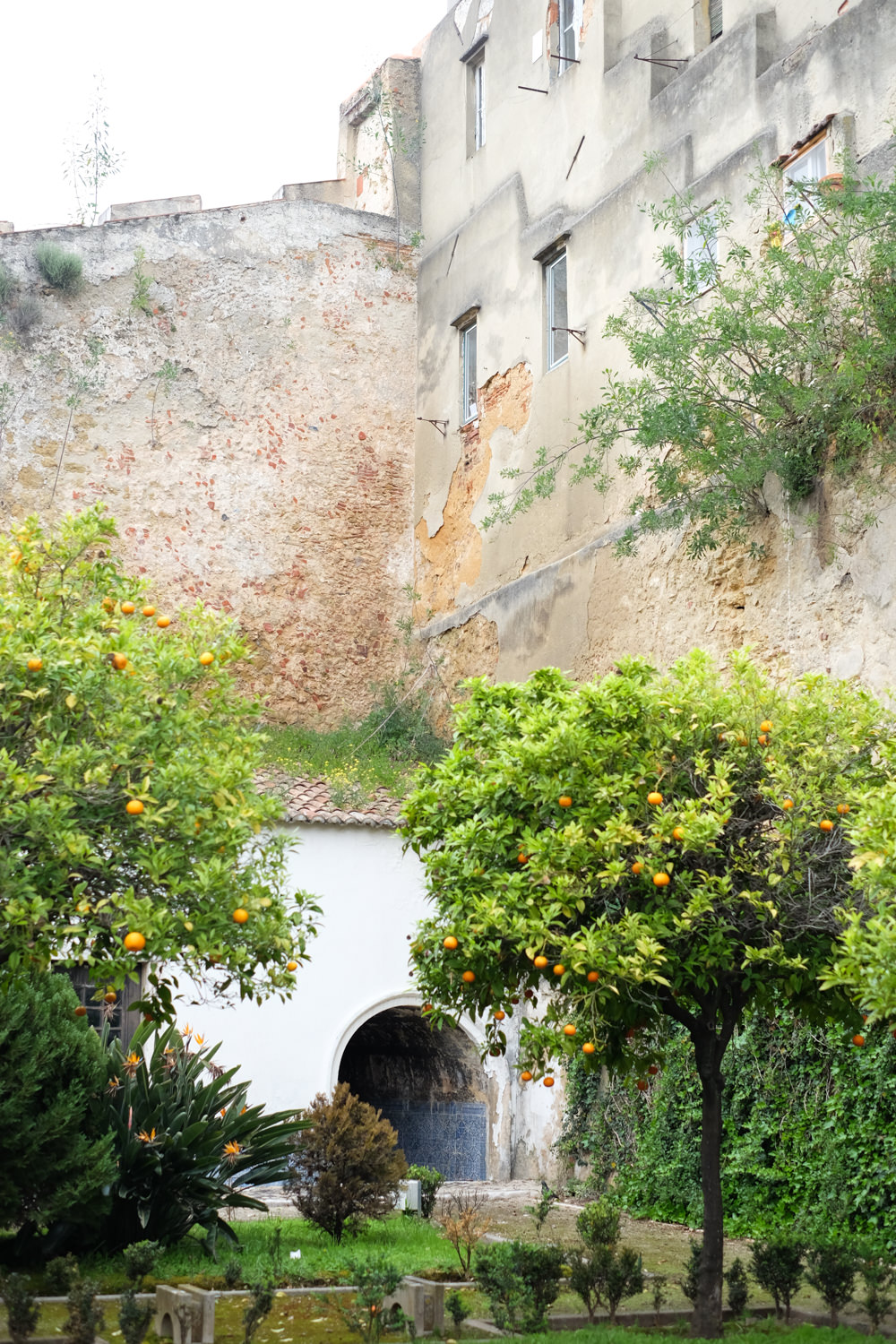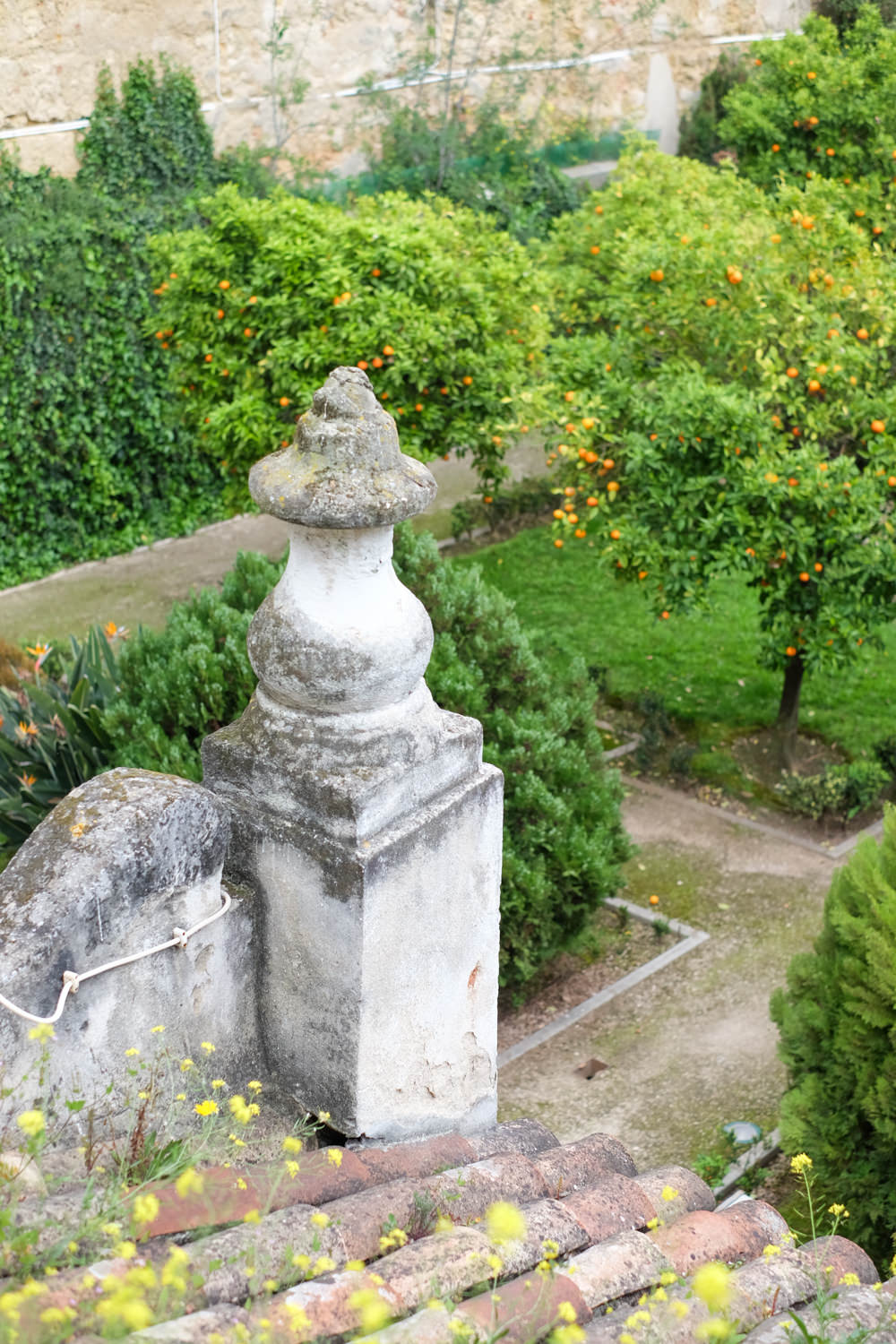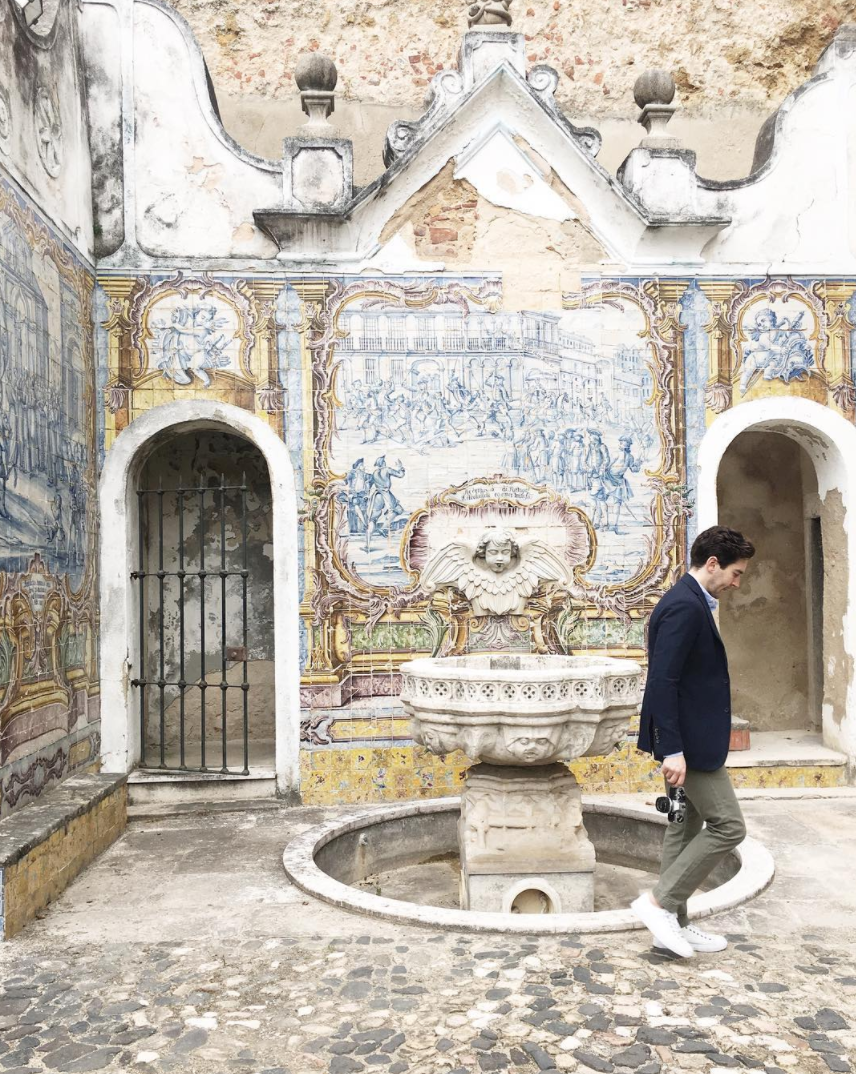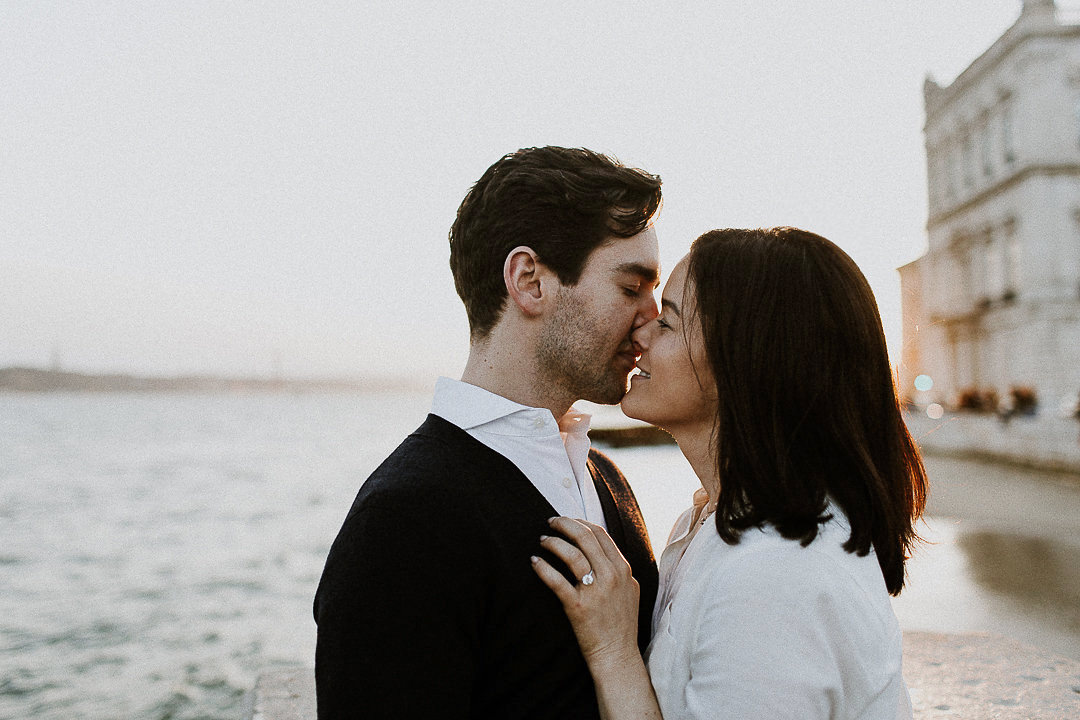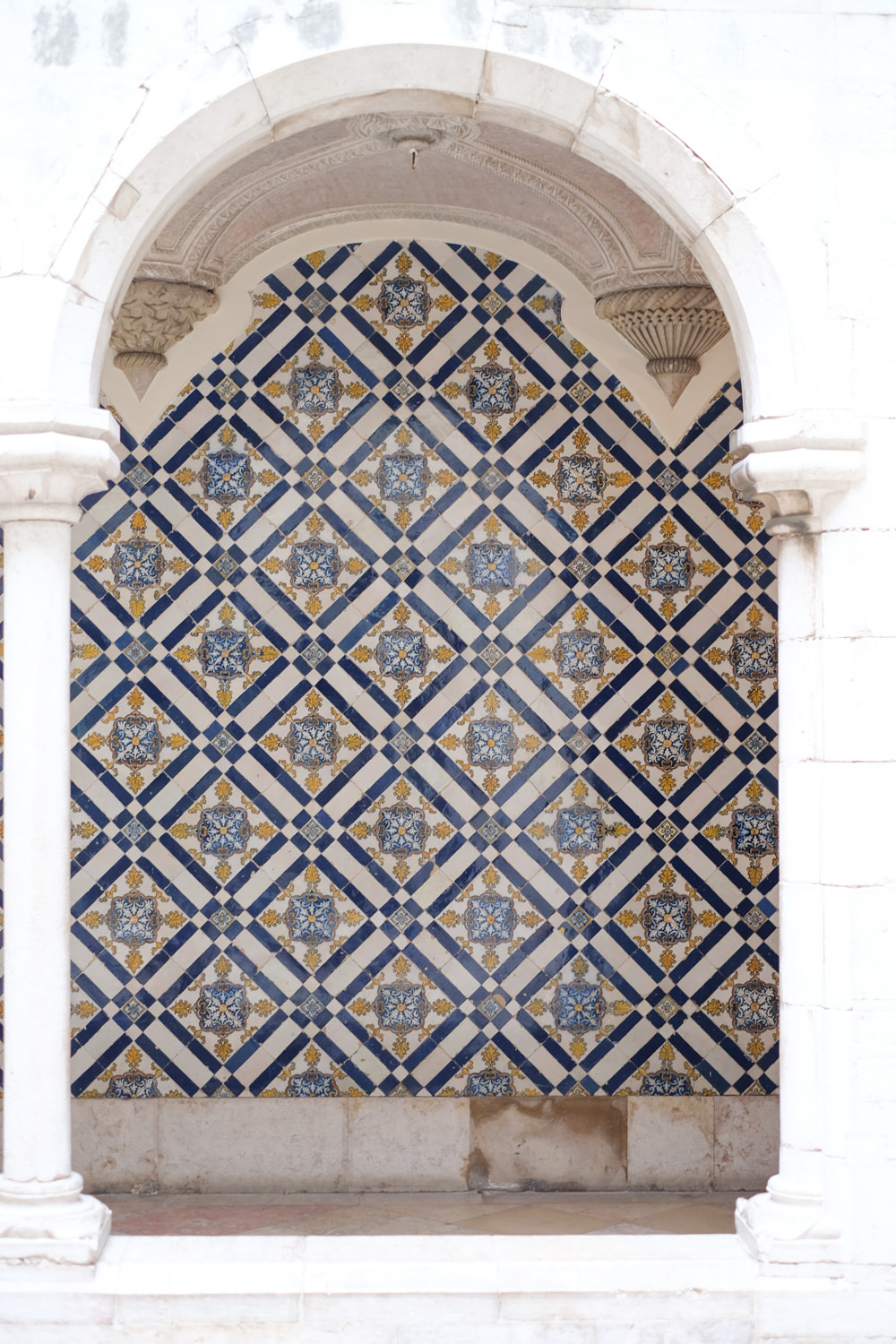 Lisbon, Portugal UNESCO World Heritage Site List
Portugal is home to 17 World Heritage Sites, and Lisbon holds 4 of them.
Jerónimos Monastery
Belém Tower
Alcobaça Monastery
Sintra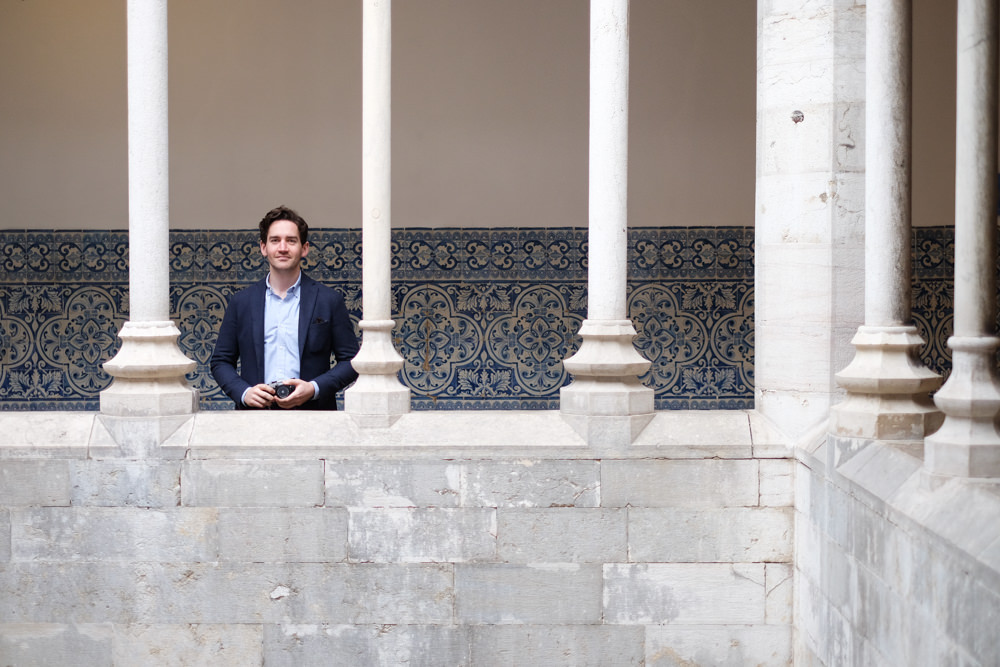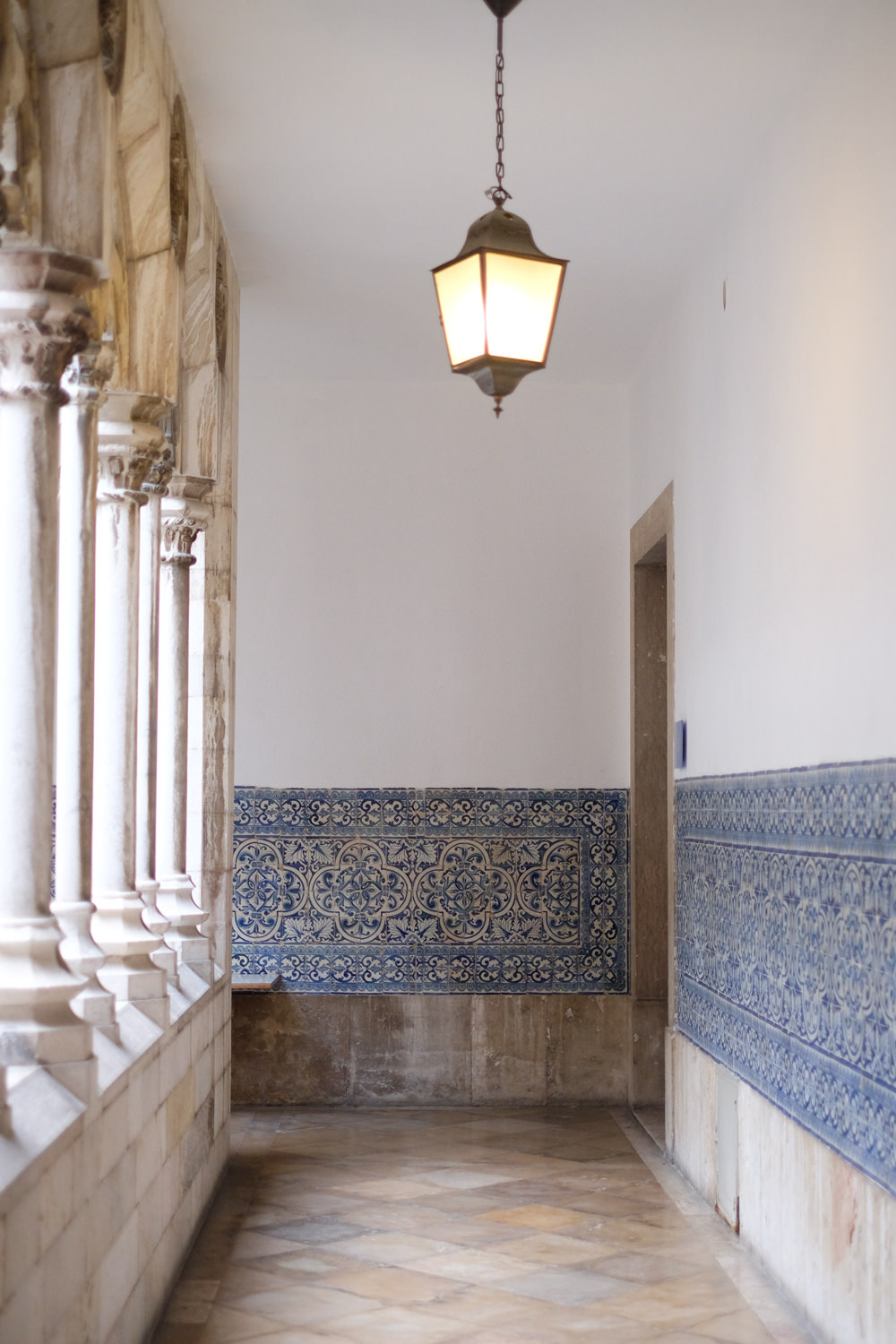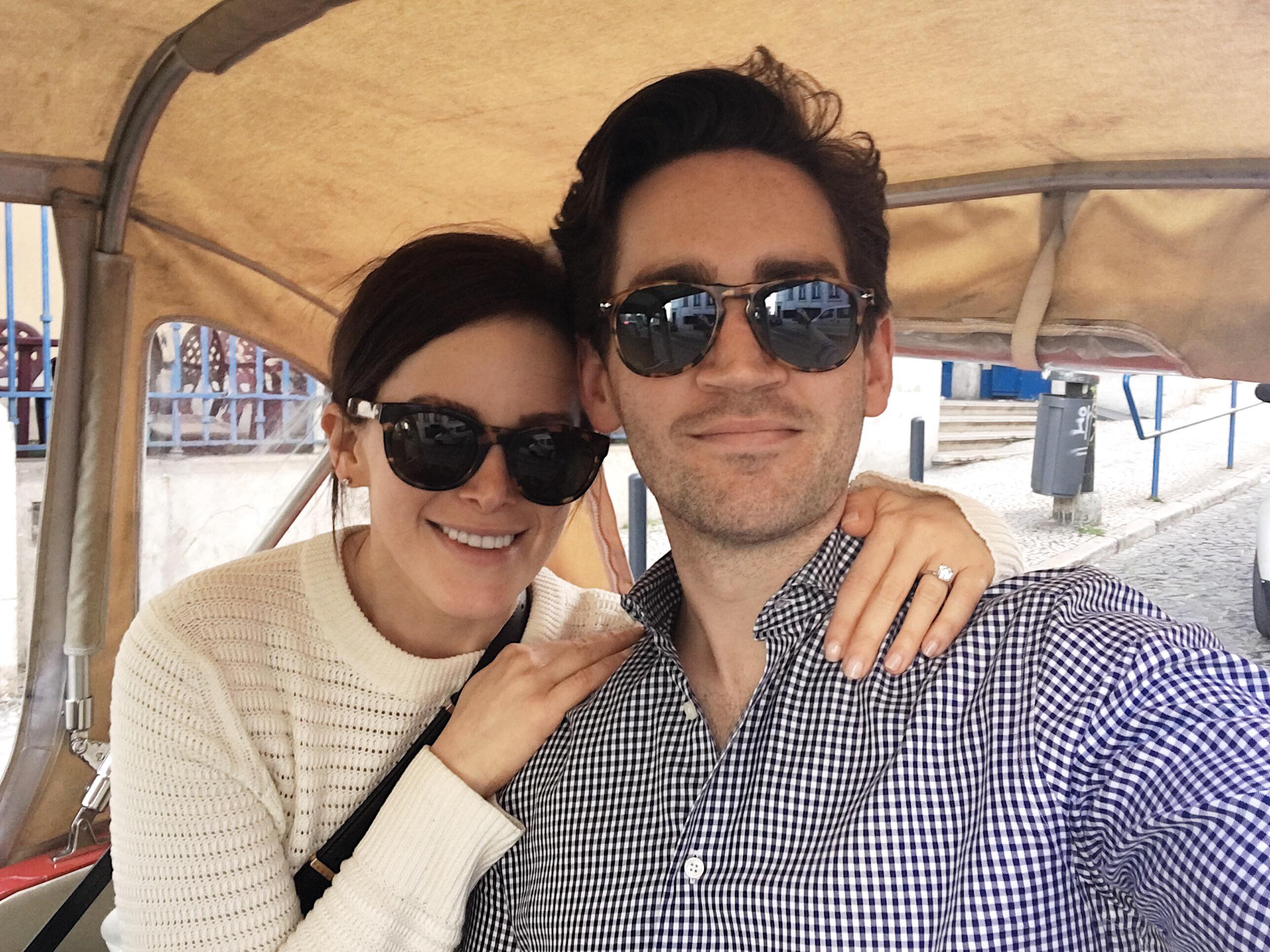 Getting around central Lisbon
The city is very walkable and has great public transportation. If you're feeling a little touristy, consider tuk tuks – that was fun.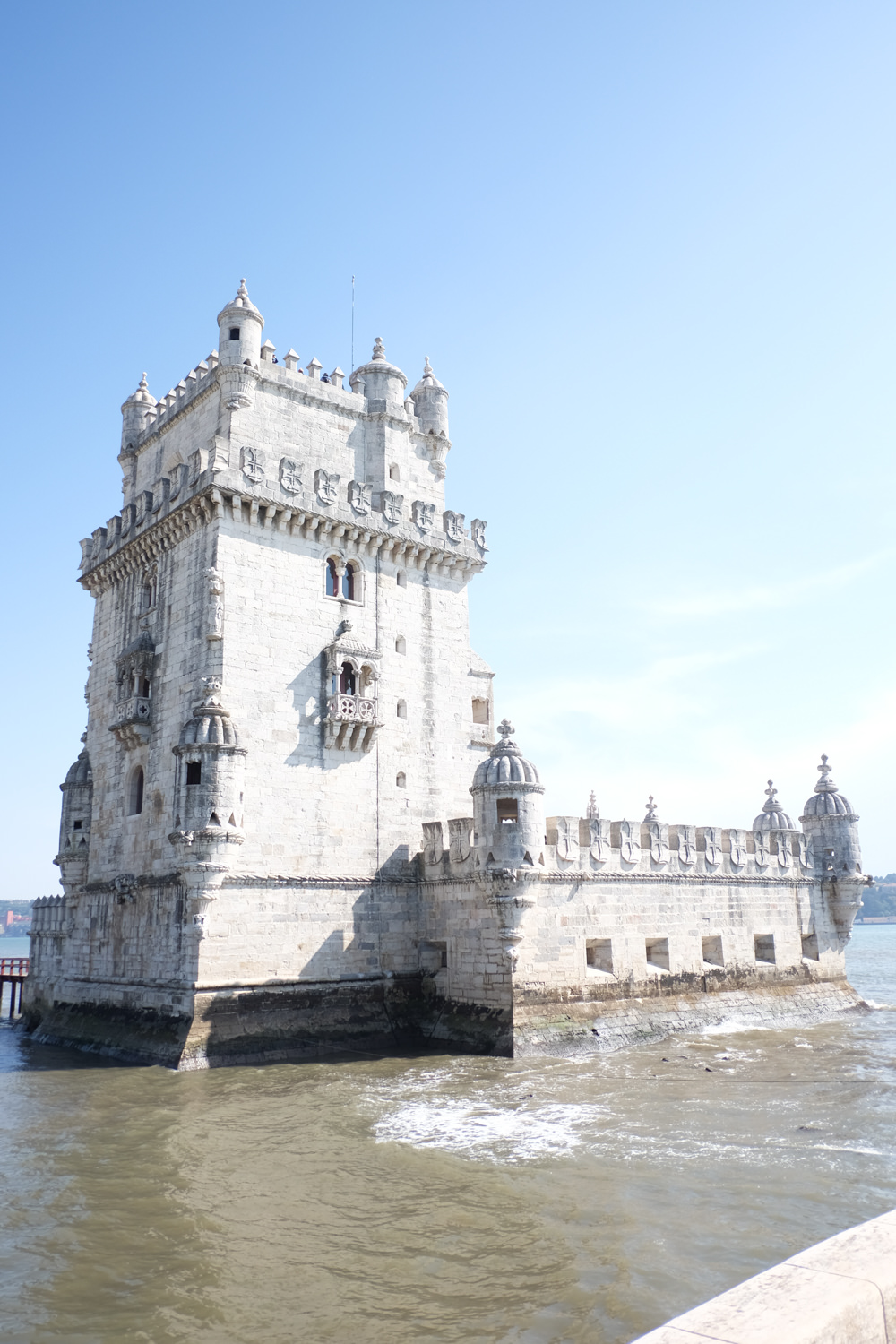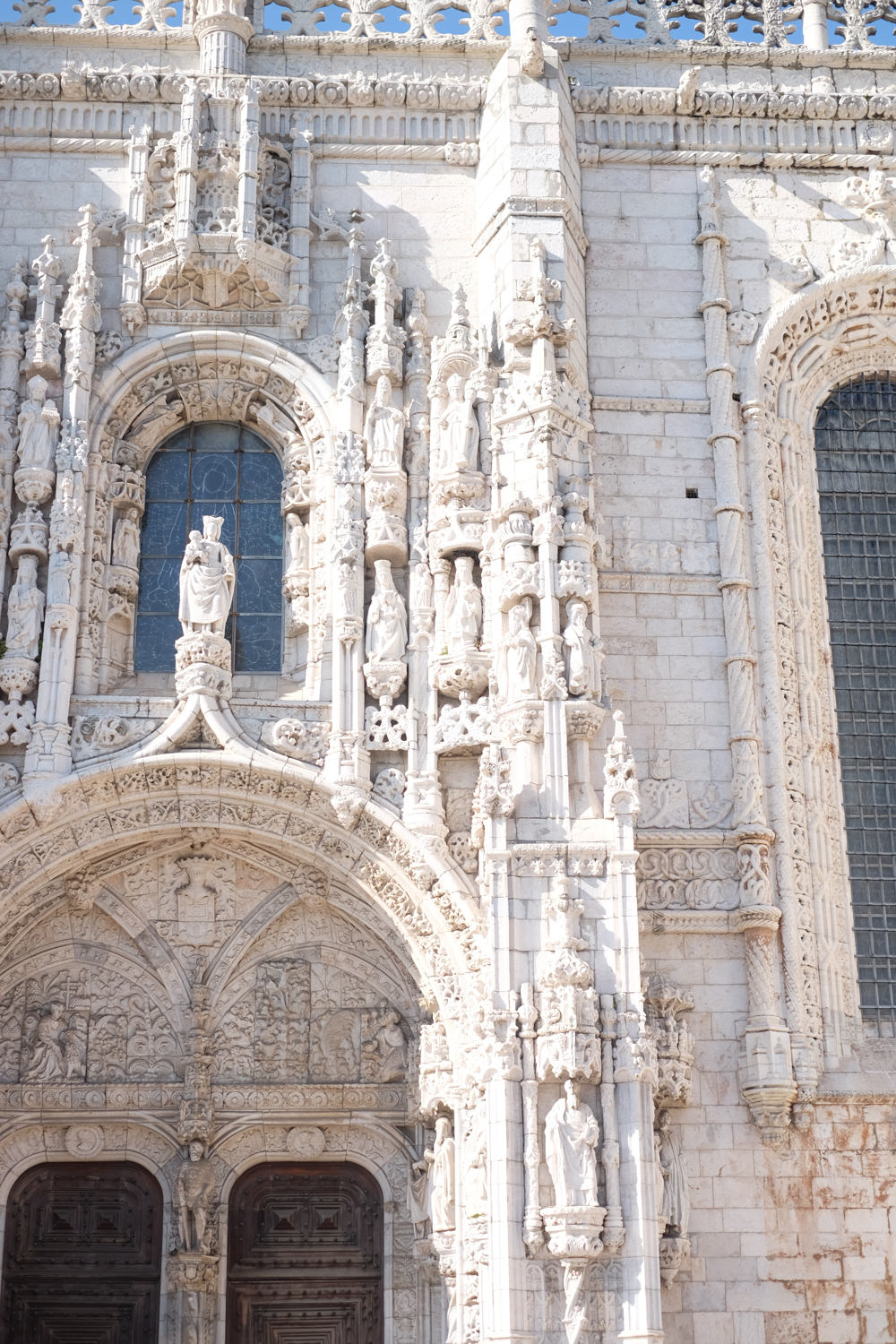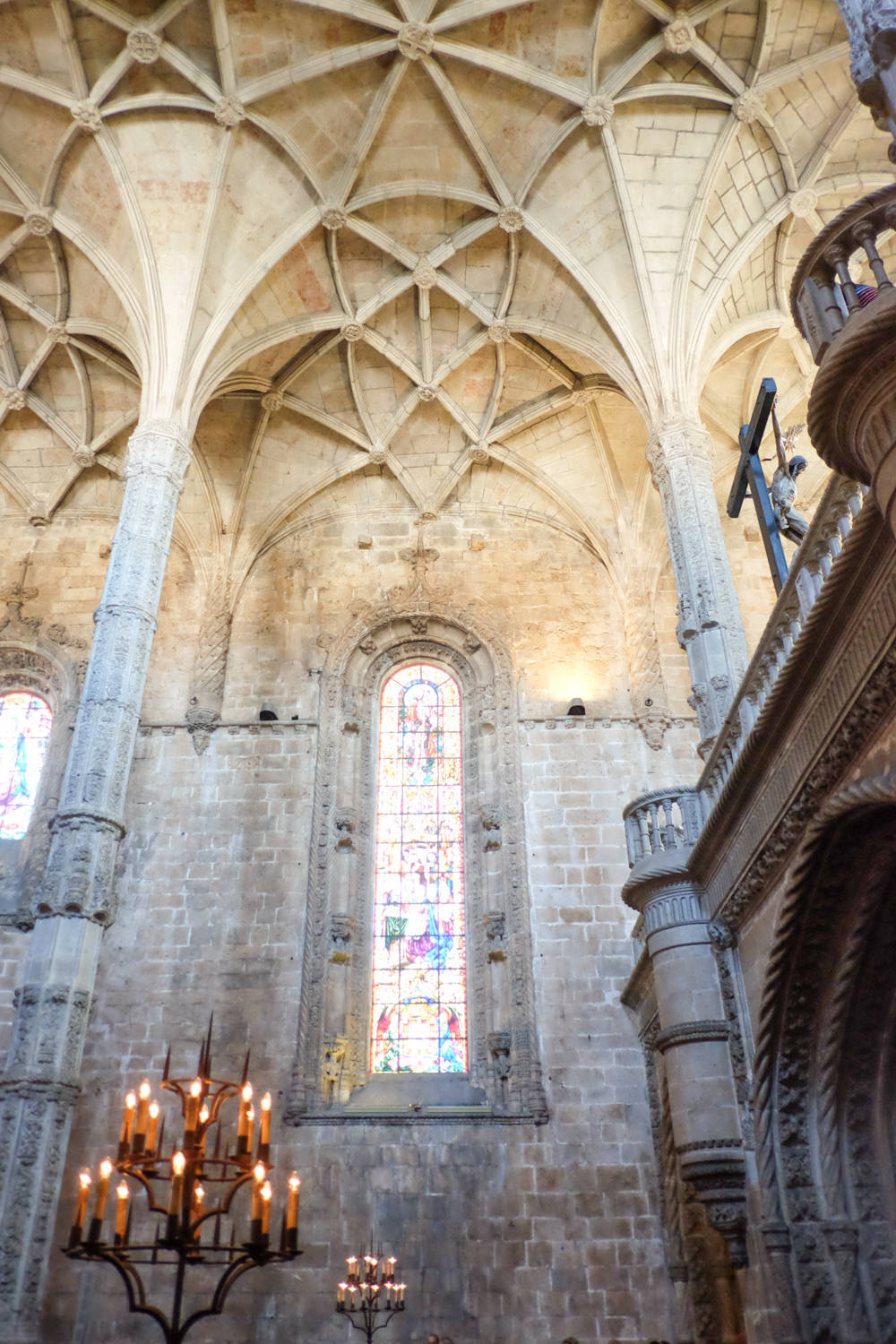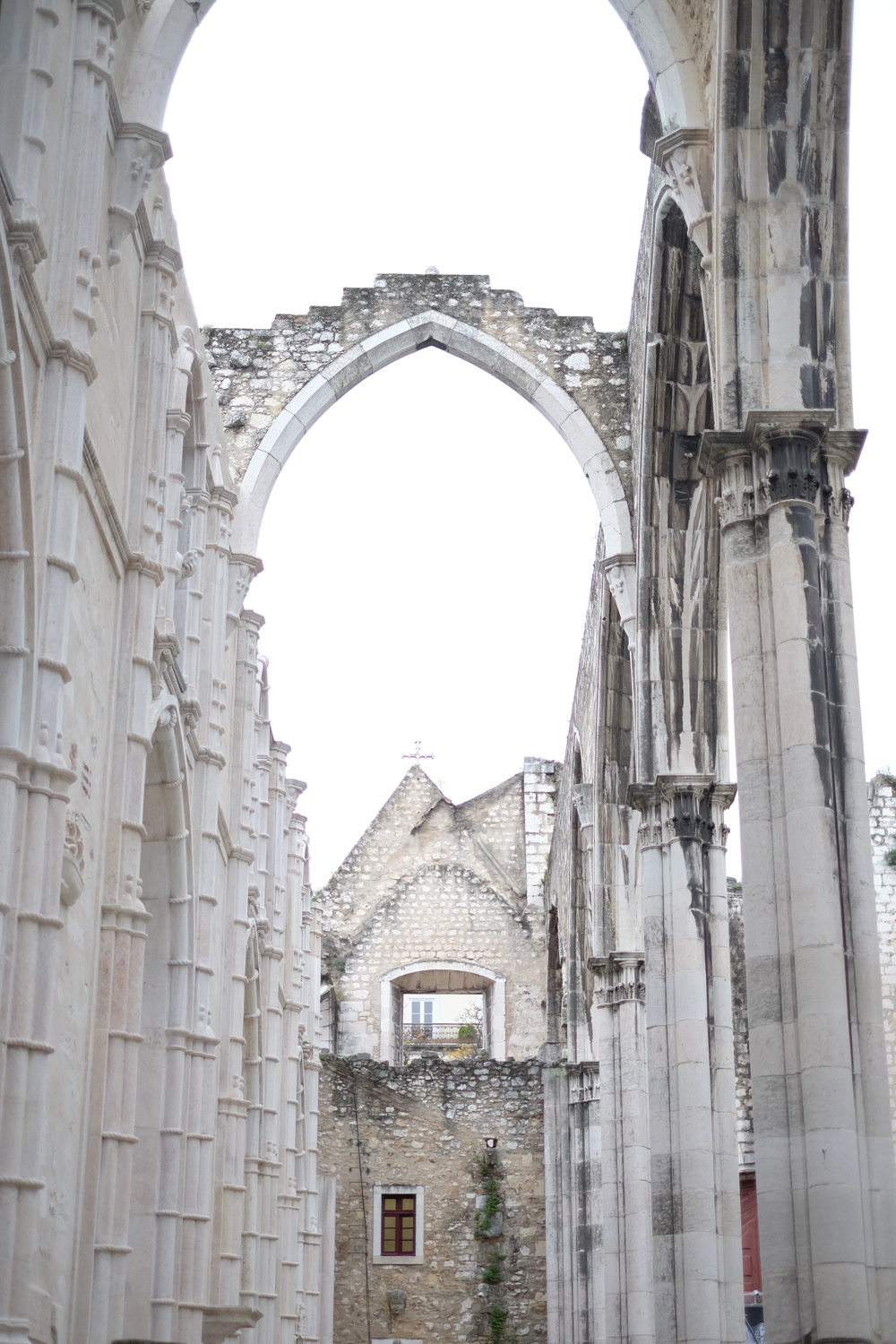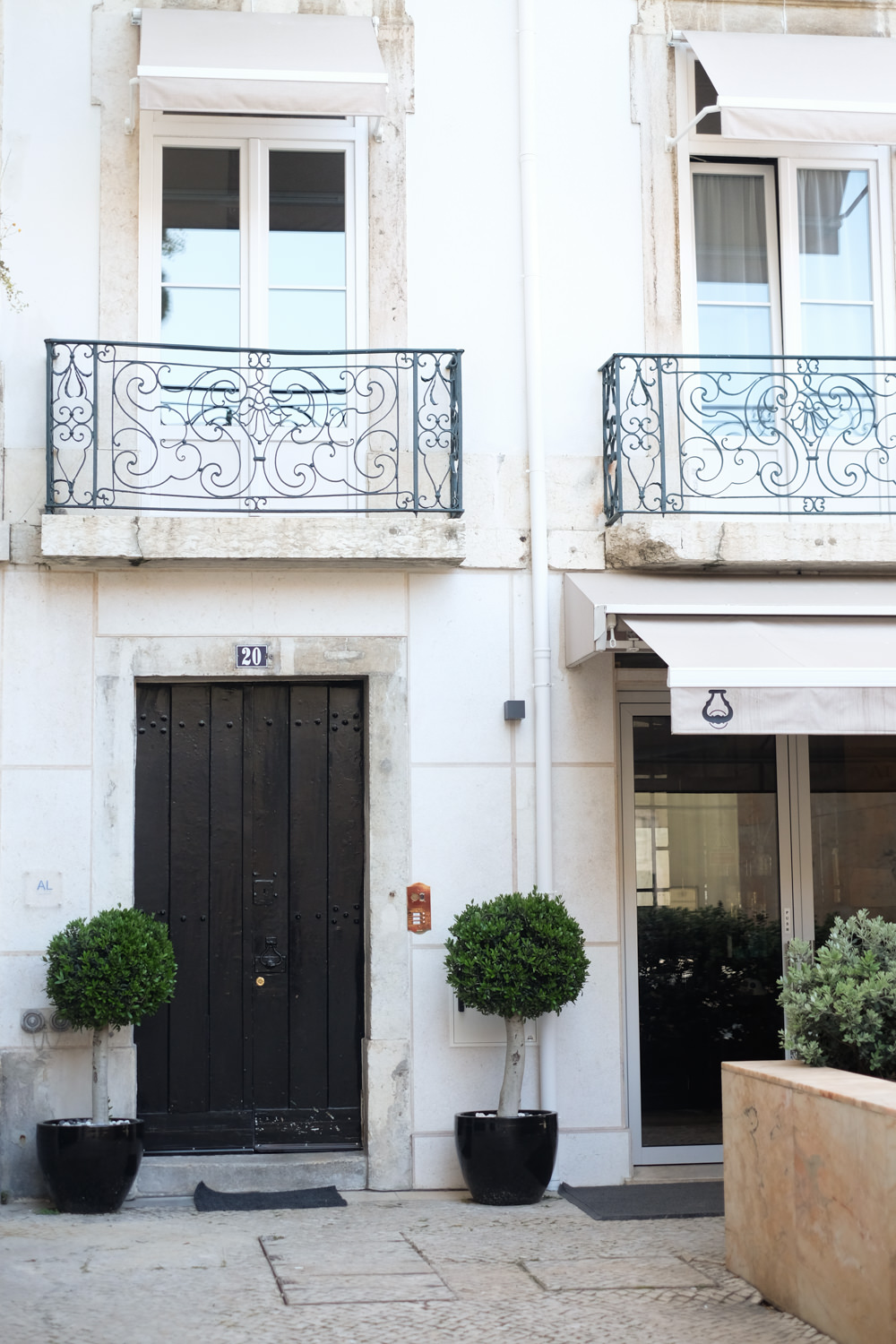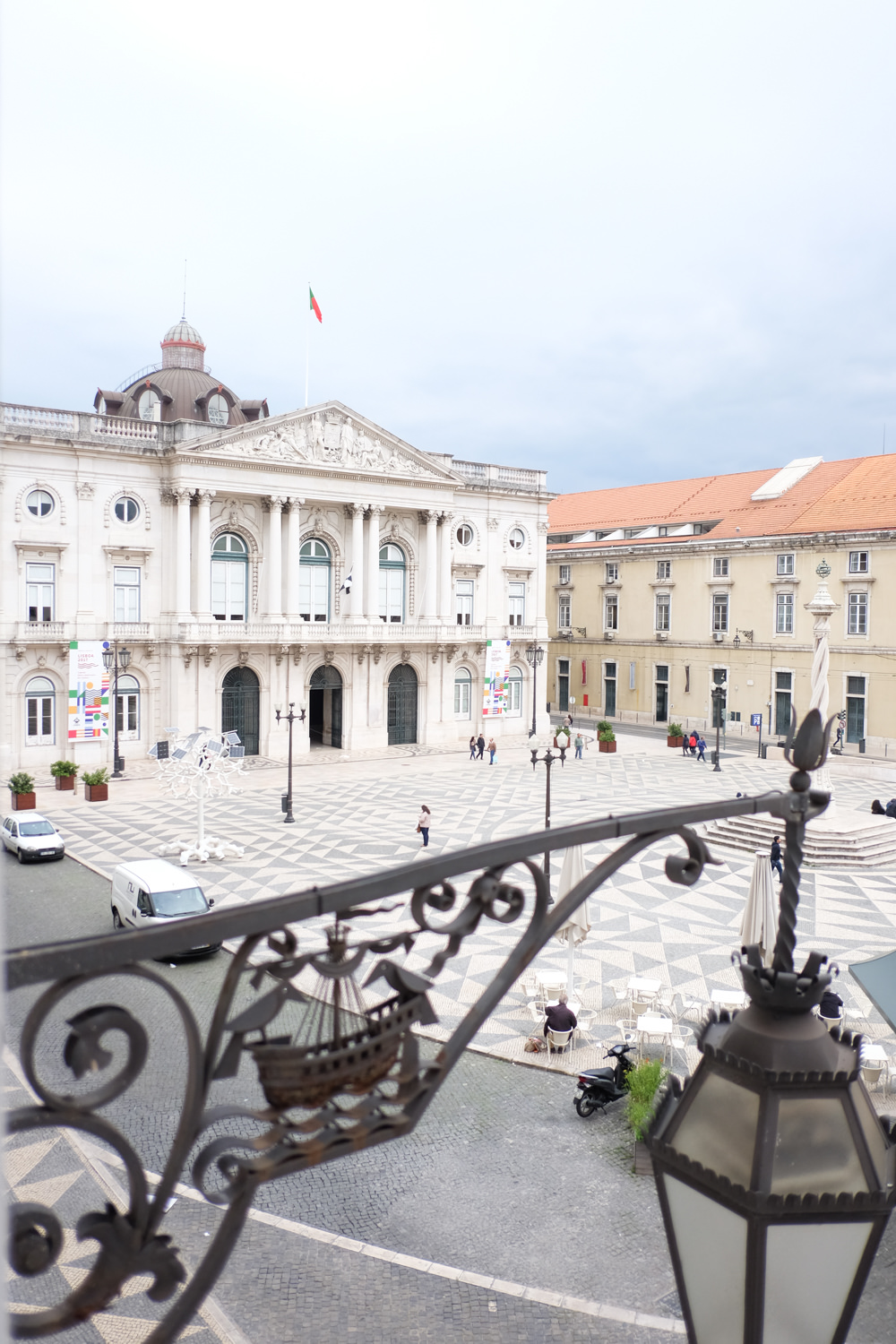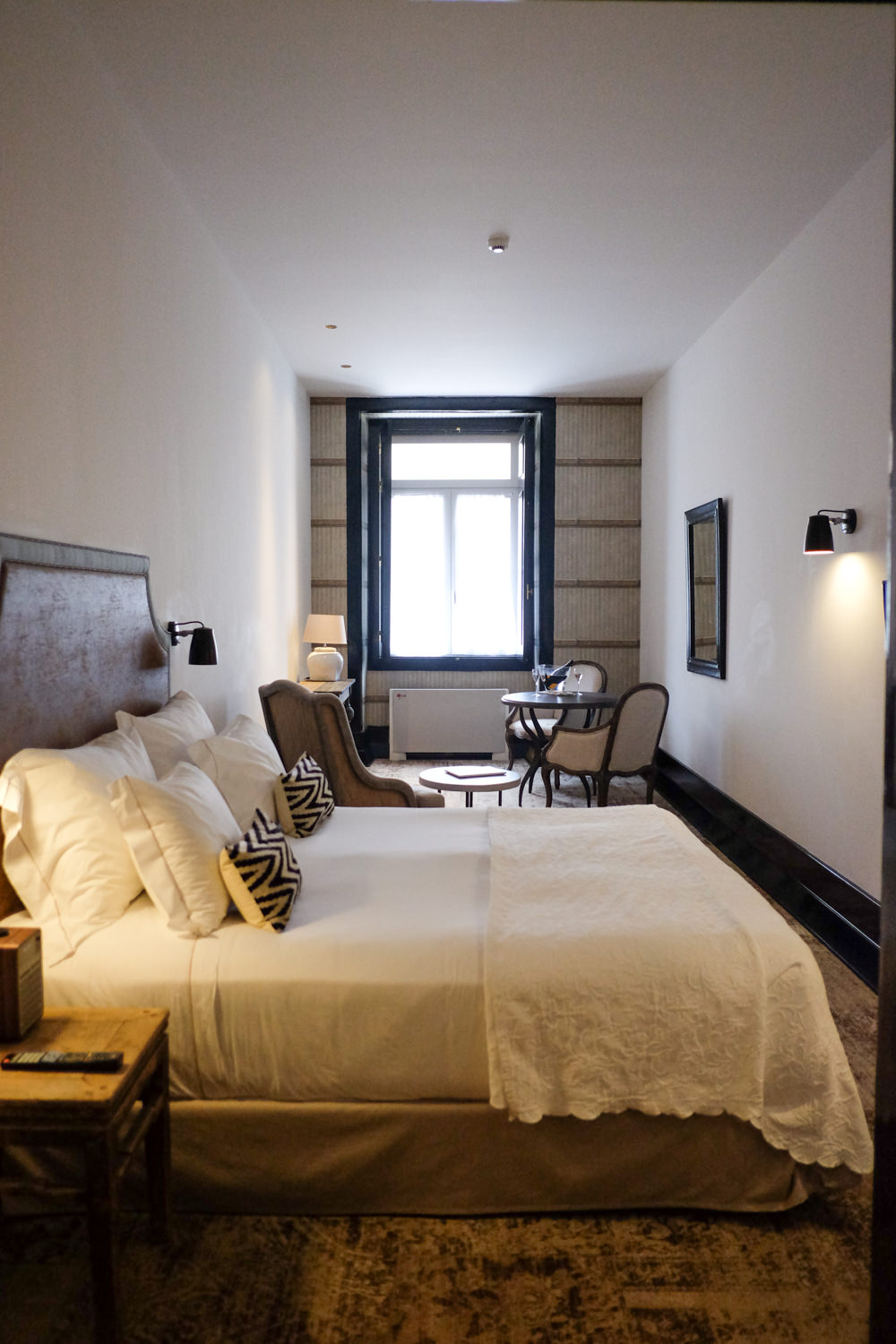 Where to stay in Lisbon, Portugal
The hotels and Airbnbs are very budget-friendly. You can get a great Airbnb for under $100 / night but since Conor planned on proposing the night before we left, he suggested booking hotels since it would be a bit more romantic and still affordable, under $200 / night. I had my suspicions and went with it and the hotels were so worth it.
Hotel AlmaLusa Baixa/Chiado:
We spent our first 3 nights here before leaving for Porto. Conor had a bottle of champagne and flourless chocolate cake waiting for us so our stay was off to a great start. It's located off Praça do Municipo, a charming little square with a little coffee shop (called the banana cafe which I naturally called the banana stand) and the Camara Municipal de Lisboa. The hotel staff also tracked down Conor's cell phone when he left it in a cab (whoops) and booked a walking tour of the city for us one morning.
Hotel Memo Alfama:
This is where we spent our last night in the city after returning from Porto. It's very central, surrounded by cute restaurants and Fado bars, so I'd recommend that, too. And the rooftop (with infinity pool) was incredible. We sat up there watching the sun set sipping aperol spritzes.