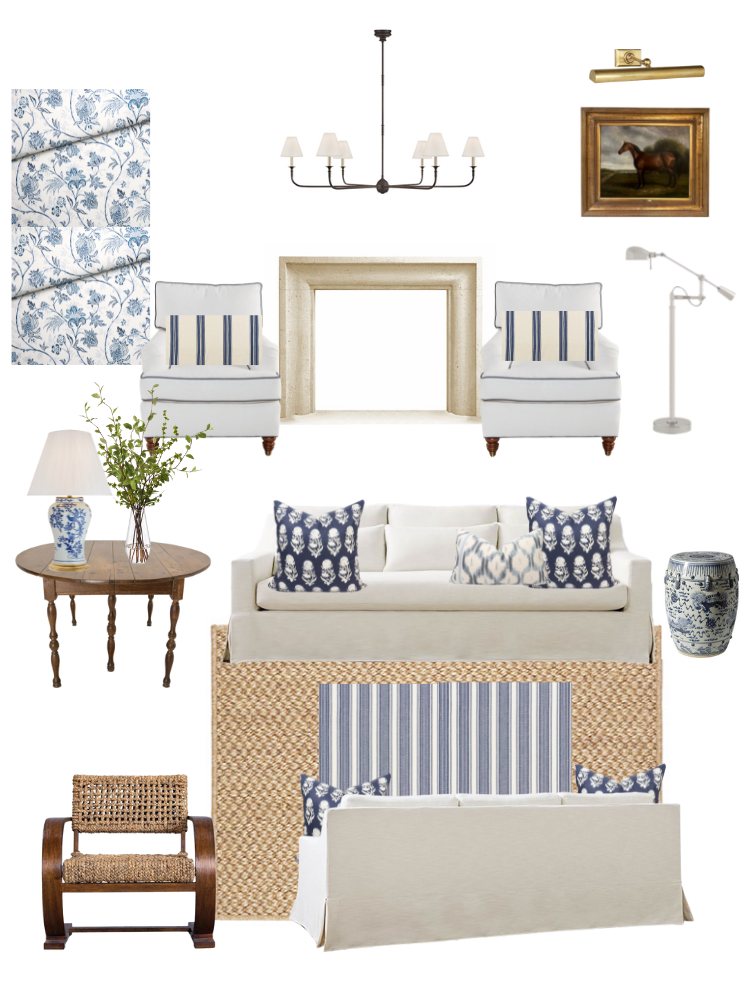 When we purchased our new home, our family room needed some work. Unlike our last home, this house has a formal living room and a dedicated family room. This is the cozy place where we'll watch movies, and where the kids will play. Family room spaces are the best, and until we moved into this house, we didn't really have one that was specifically a casual family room. Think media room and game room all in one, where we'll have lots of family time together. I know it will be one of our favorite and most used living spaces in our home. Since we're getting closer to the room being complete and our sofas should arrive in the next month or so, I wanted to start putting together a plan for this space.
Designing Our Family Room
They say the kitchen is the heart of the home, but so is the family room. It's where we gather, cozy up with warm throw blankets on cozy nights, and is where we'll have family game nights. This room is large – about 20×25′ and will be the perfect place for our entire family once it's done. I really want it to be warm and cozy while offering lots of seating for friends and family members. I want to keep the room white and bright, without feeling too stark so we'll bring in patterned accents. Lots of blue and white and both wooden and woven accents to add texture and warmth. And lots of lamps. We installed new wooden floor to match the flooring throughout our home.
I love interior design and thought I'd share more the first few months, but things are coming along a little slower than we planned (and that's ok). Water damage had fused rug pads to the wooden floor, so it needed to be replaced. The firebox was raised and felt a little too 80s, so we had it lowered and ordered a new mantel. There was some slightly outdated molding and paneling that we removed and surprise – exposed electric under the paneling. All the cans were removed, too. You know how I feel about cans. We'll have a chandelier and lots of lamps. Some picture lights, too.
Coming up with a family room layout
Figuring out the furniture layout was tricky. We had enough space for two sofas or a large sectional sofa, but I don't love sectionals. So, we decided to center two sofas in the middle of the room flanking a large ottoman, with a TV on the opposing wall. So you would lay down on the sofa to watch TV (my dream). There's a bay window that will house a table and two chairs, and the fireplace will have two chairs as well, for a separate cozy seating area. I really like that the two sofas, where we'll be with the kids, aren't near the fireplace. There's a little alcove where we would like to add a bar someday but given our family's needs right now, it will be the perfect spot for toys for our young children.
I should mention that my husband found that horse painting at auction, but we haven't really gotten into art for this space yet.
Sofa
We ordered this sofa in flax, with 3 back cushions and (I think?) a bench cushion. I'm hoping it will arrive next month. I love this sofa, too. If you're interested in this sofa, contact Anecdote – that's who we ordered from but it's not on-site. Remember to choose durable fabrics (like perennials) for larger upholstered furniture pieces, especially if you have kids and pets. I love white sofas, but we wanted these to be a little more kid-friendly, and with white walls, though a flax would look nicer.
Ottoman
Coffee tables are great, but ottomans are ideal with younger children (no sharp corners) and they are the perfect placde to put your feet up. We also ordered our ottoman from Anecdote but I'm having a slipcover made with this Schumacher fabric. My designer friend Kira David ordered the fabric for me. I wanted this to feel like a refined but casual space, and love an oversized ottoman. It will be a great place to put your feet up and will also add some pattern and warmth (remember, this is a TV room).
Limestone Mantel
This mantel will be a focal point since it's centered on the back wall, directly across from where you walk into the room. We chose limestone because it's both modern and timeless while feeling traditional. We have both wooden and marble mantels in our home and wanted something different.
Chandelier
At the end of the day, I just don't like cans but love a chandelier, and this one feels so timeless. It's casual but elegant and I love the shades. The high ceilings made this room the perfect spot for a chandelier. Chandeliers and lamps are an easy way to add in lighting without harsh, overhead ceiling light.
Custom Sisal Rug
We ordered a large rug from Annie Selke (gifted by the brand) and were able to do 21′ feet in length which almost fills the room. I love sisal for high-traffic areas – it's so durable and holds up so well.
Club Chair
The fireplace will be the perfect spot to flank two of these chairs for a cozy reading and sitting area.
Drop Leaf Table
My mother in law happens to have a table similar to this one and said we can have it. I can see large branches and a lamp on there, and of course some family portraits on this table in front of our large windows. The table will have chairs on either side, and will be a nice spot to sit and work, too. Family room meets playroom meets home office? I'll take it.
Fabric for Curtains
Fabric for Curtains
So the thing that this space needs? Some really great curtains. I am not 100% sure that we'll use this fabric but I'd like something similar. This fabric is actually available in wallpaper and is in the lead for our dining room (but in green) so we'll have to see. Once I do finalize the fabric, I'll have Basia Frossard (she made our bedroom curtains) come back to measure for these. They will be a great addition to this space.
Table Lamp
Accent Chair
This is Conor's favorite chair, and it makes the space feel pretty…cool. I love the design and the fact that it brings in both wood and woven elements.
Stripe Fabric
I'm going to order some of this fabric for pillows for the chairs by the fireplace.
Throw Pillow
I haven't ordered throw pillows yet because I want to finalize our curtain fabric, but really love this pattern. And I do know we'll go with blue and white.
Picture Light
Garden Stool
Garden stools always make great end tables – by adding some color and design and offering a place to place your beverage.
Floor Lamp
This is a splurge but it's stunning in person.