Natural Fiber Rugs: The Best Sisal and Jute Rugs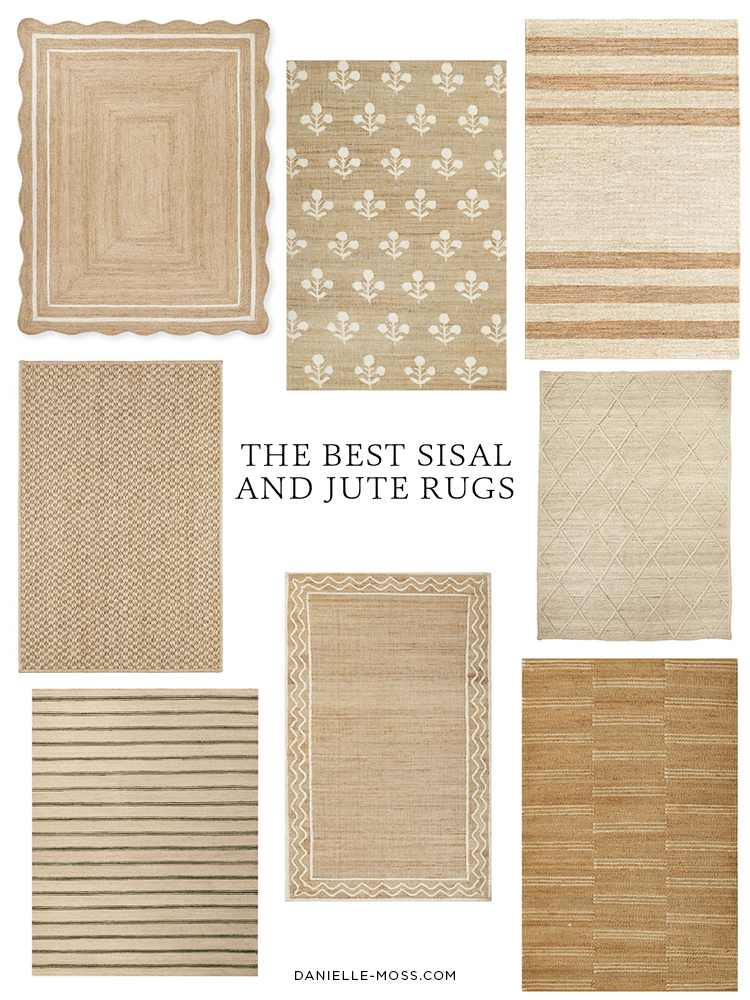 Jute and sisal rugs are like a great pair of denim. They're timeless, have that perfect, relaxed feeling, can be dressed up or down, and go with pretty much everything. My husband thinks I want our home to look like a beach house. And he's not entirely wrong – I'm from California and do love that look. A natural-fiber rug, like great denim, can be dressed up or down. They can be layered with a vintage Turkish rug, or shine on their own, and natural fibers add warmth and texture to a room. I have quite a few jute rugs in our current home, and plan on incorporating more jute and sisal in our new home, too. And if you're looking for a large area rug, and large jute area rug will cost a lot less than most large rugs.
The Best Sisal and Jute Rugs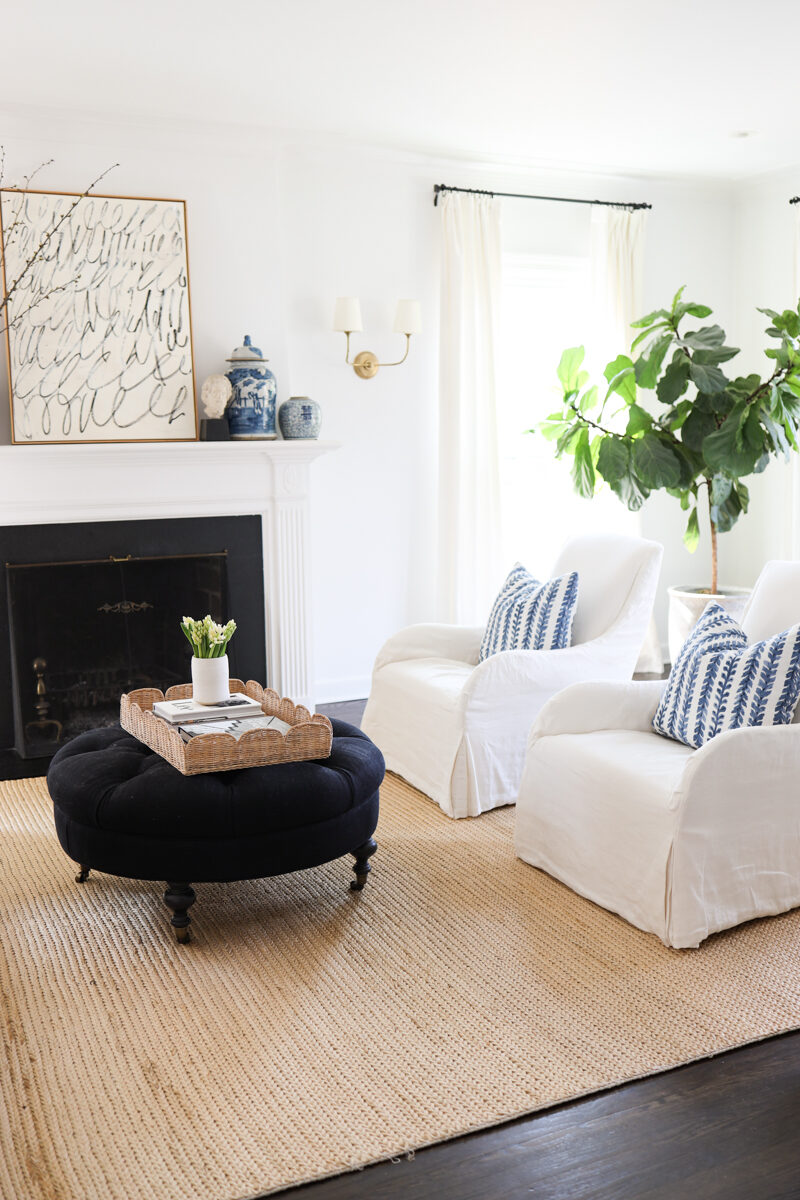 A large vintage rug will cost you thousands of dollars, but you can get a jute in the same size for hundreds. From block prints and stripes to scallops and the classic, braided jute, there's an option for everyone. If you're looking at sisal and jute rugs, I would just consider how you're going to use them. The positives are endless – neutral colors make these rugs versatile so they work with everything.
You won't see a round rug in this post because I don't like round rugs. But you'll see lots of natural jute rugs and I'm going to do my best to share rugs with a softer feel.
Choosing between sisal and jute rugs
The jute rug pictured above is in a high-traffic area, and is definitely a little beat up after years of use. So consider how much use the room gets, because while sisal isn't as soft as some jute rugs, it is more durable. The weave is a lot tighter, so sisal is great on a stair runner, too. The sisal on our stair runner (pictured below) has held up perfectly, and is soft enough under bare feet. Jute runner rugs always look beautiful in a hall, too. And pro tip: add a high-quality rug pad to increase softness and to keep the rug from slipping.
If you're stuck between sisal and jute
Remember that jute is typically softer, jute fibers shed, and they are a little less durable. Sisal is less soft but durable, which makes it great for high-traffic areas, and even as a dining room rug. But both use natural material and come in neutral shades that would offer a natural look at an affordable price. Order samples and see what feels right. The sisal we ordered for the family room is softer than some of the other ones I looked at. Jute is typically a bit chunkier, while sisal is more tightly woven.
Synthetic sisals
If you're looking for outdoor rugs, this rug has the look of natural fiber rugs (very similar to our stair runner) and would look great outside. Synthetic sisals can be great indoors, too – in a dining room or other high-traffic areas.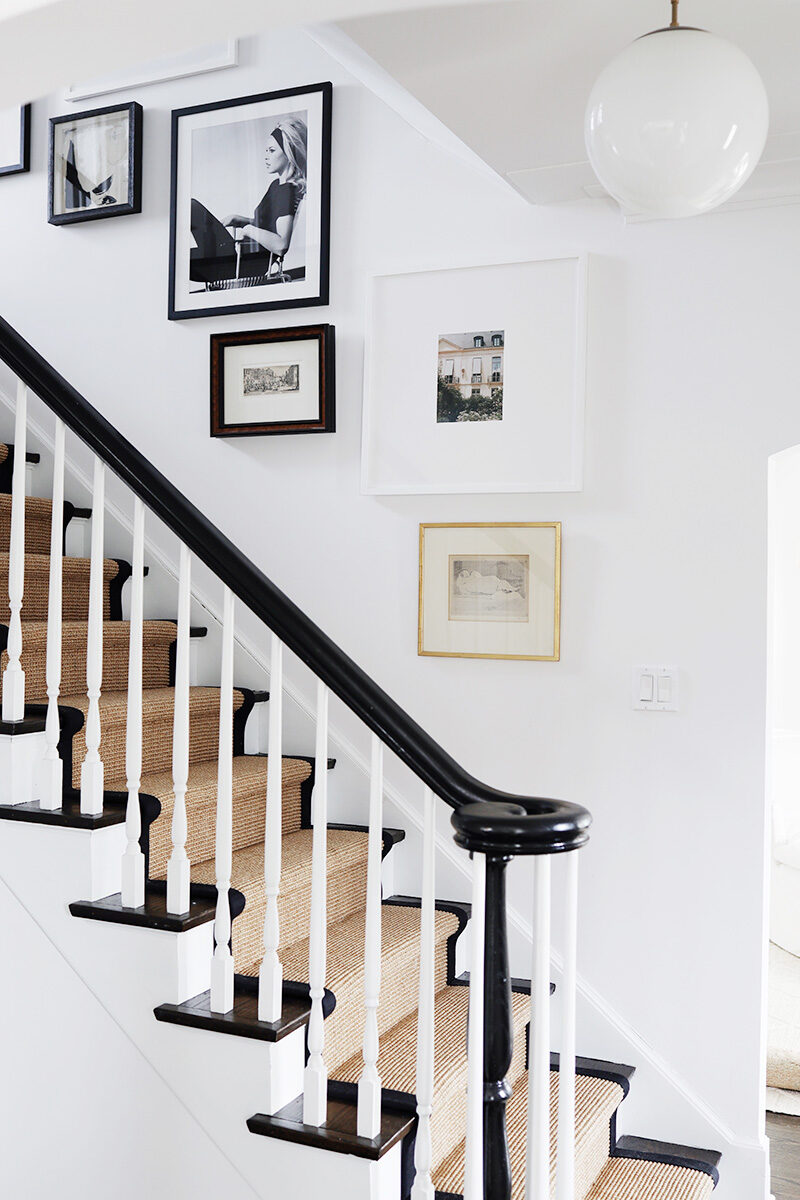 Scallop Jute Rug
This is a new arrival to Serena and Lily, and I love it so much. I'm considering this rug for Kate's room. It is so sweet and the scallops feel fun and unexpected – delicate and warm. The perfect rug for a little girls' room.
Block Print Jute Rug
I have no idea where this rug is going – the block print won't work with the girls' wallpaper or window treatments, so maybe my office? It's beautiful though, so it has to happen. This was designed by interior designer Erin Gates – everything from her collection is beautiful. I'll be partnering with Momeni for my new home, but would purchase these in a heartbeat.
Custom Sisal Rug
I ordered this rug (gifted from Annie Selke) in 12×21′ for our family room. Custom sizes make this rug a perfect fit for large rooms. It does have that tighter weave so isn't as soft as a jute, but it's still a soft sisal, and cozy enough for a family room. And it's beautiful in person. Another perk – you have the option of ordering an attached rug pad!
Diamond Jute
This is a flatter jute, and ideal in an office or area where you don't need an especially soft rug. It's really beautiful in person, and adds a warmth and lightness with the lighter tone.
Braided Jute Rug
This is the rug in our living room, and it's probably the softest jute I've ever felt. It's definitely the best option if you're looking for something soft. Like most jutes, it does shed, but that's something I'm used to, and it's held up pretty well considering the amount of time we spend in our living room. There are some areas where it looks a little worn, but it's still a beautiful rug.
Ipswich Woven Rug
I just love the stripes on this rug. It's super-soft, too. I have a sample and am debating getting this one for my office.
Striped Jute Rug
This stripe would be so pretty in a family room or sunroom, and I love that it adds both texture and design to a space.
Ripple Jute
I'm putting this jute in Margot's bedroom. The sample is very soft, and the ripple pattern is beautiful. It's a great option if you want something a little more interesting without being fully patterned.
Ivory Jute
A great budget option, I love the lighter color of this rug, and the price cannot be beat.
Broken Stripe Jute
Another gem from Erin Gates x Momeni, this rug adds an edge to the classic stripe motif, and this is how traditional artisans would have done it back in the old world.
This post contains affiliate links. If you purchase something using my links, I may earn a small commission at no cost to you.