Our Basement Playroom Before and After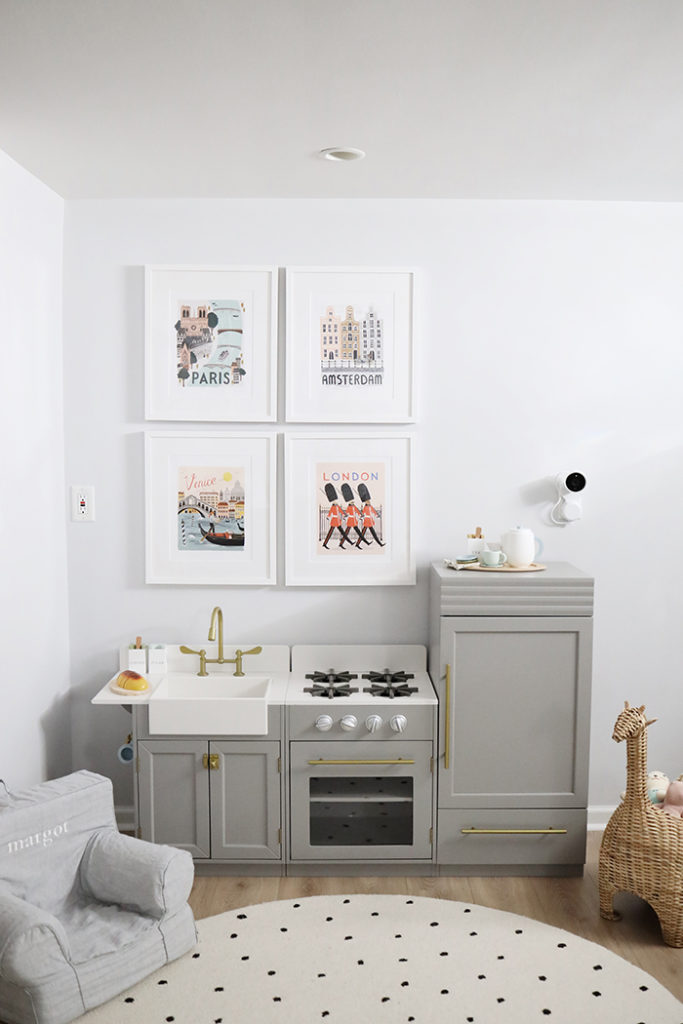 Now that we've been in our house for over a year, it's time to start sharing more of it! When we moved into our house, we planned on making the basement a space that felt like an extension of our home, and the part I was most excited about was creating a sweet little play area for Margot. Since it's arctic half the year, this is a place where we knew she'd spend a lot of time playing, and I wanted it to feel like a fun, special place for her. Here's our basement playroom.
Our Basement Playroom Before and After
The updates we made
Let's start with some updates we made to make the basement safe for Margot, and to make it feel more like it was a part of our home. Half the stairway was what some moms might see as a terrible accident waiting to happen. Our babyproofer suggested a $600 piece of plexiglass (So expensive and so ugly. Nope.) so when we redid our baths, we also had a railing made for hundreds less and it looks so good. The walls were grey and everything felt a bit dark, so I painted the room in Farrow and Ball Blackened (grey) and Wevet (white).
The biggest change for me was putting faux wood over the tile.
The tile was "fine" but made the room feel more like a basement and less like a part of our home. Since we had them laid over the tile, installation was only a few hundred dollars compared to the quote for a few thousand dollars to tear the tile out.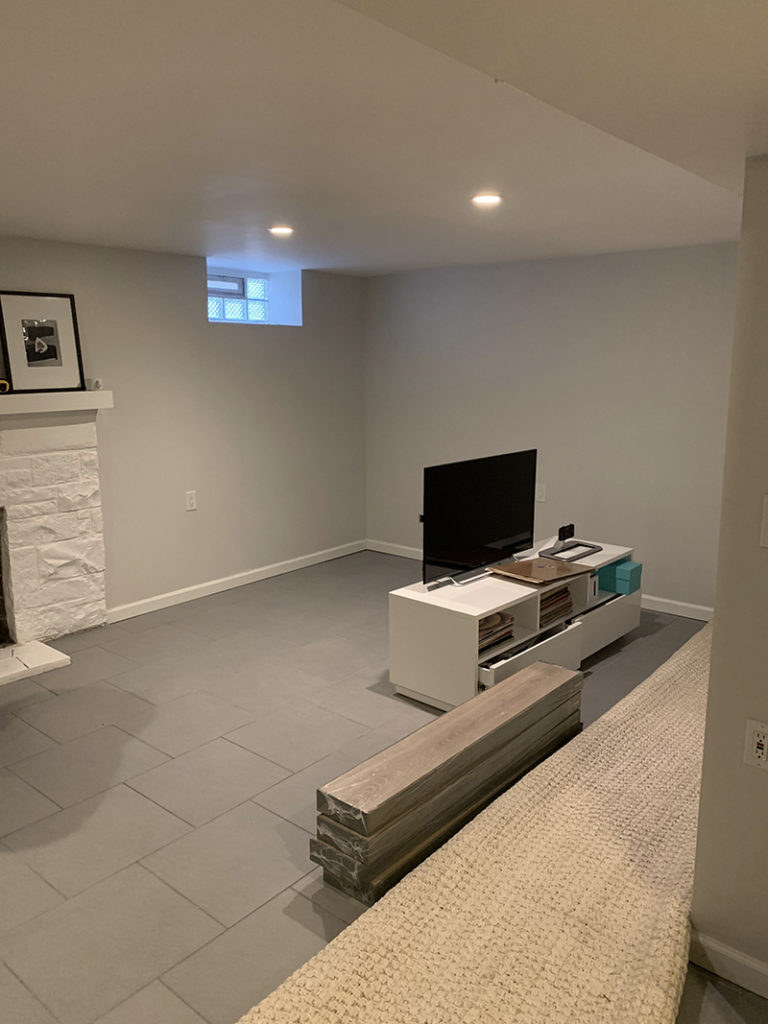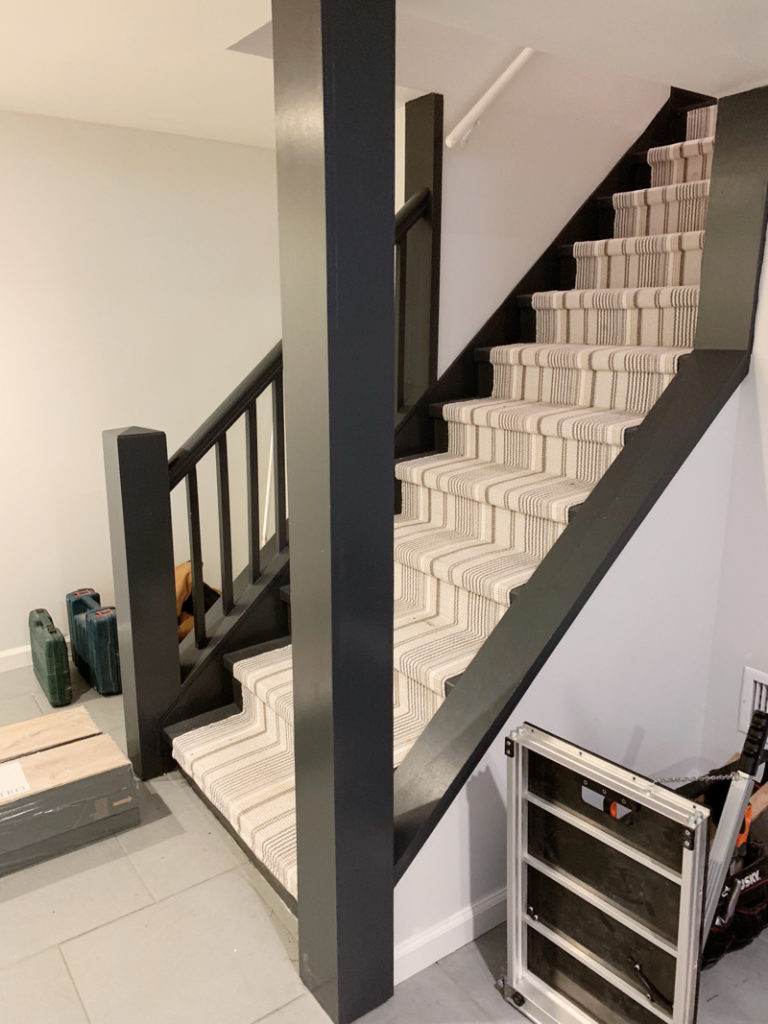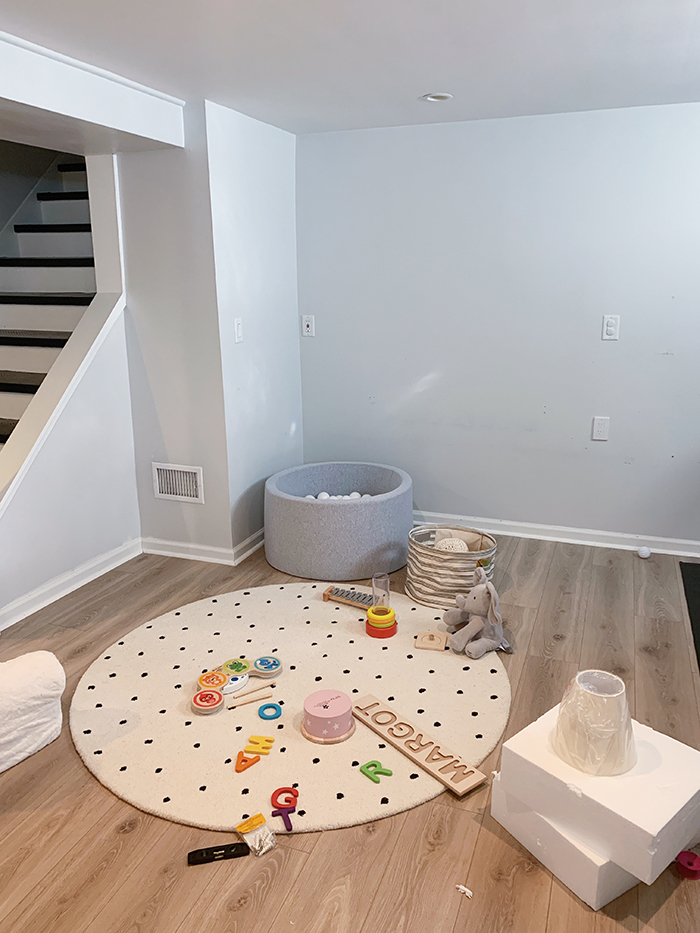 So. Much. Brighter. And safer.
We (ok, I) also had a baby gate installed at the bottom of the stairs. Safety first, guys.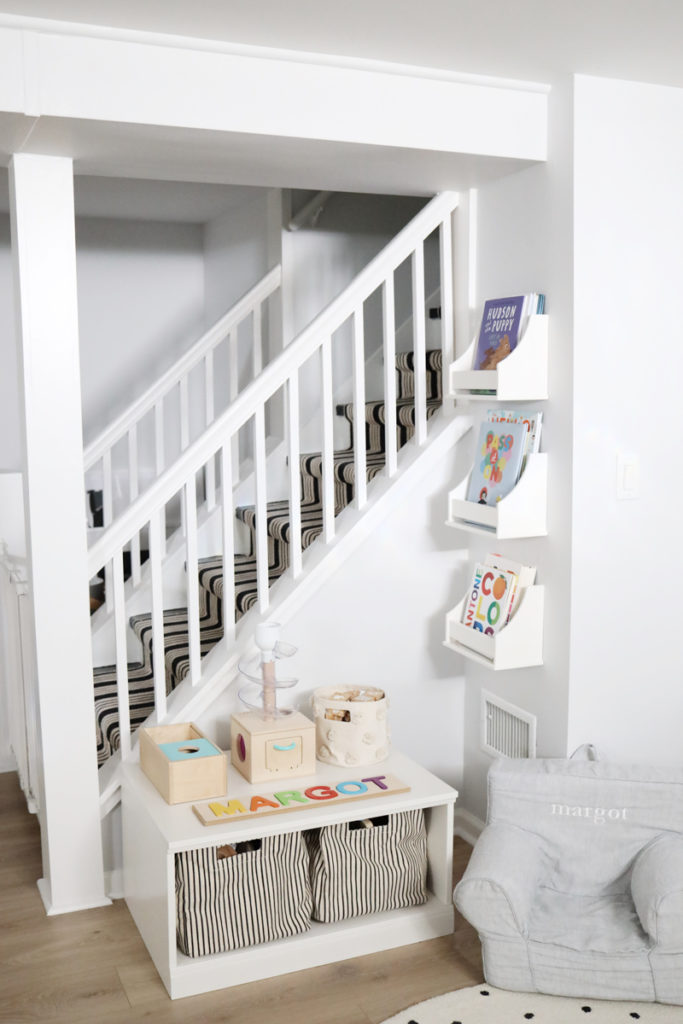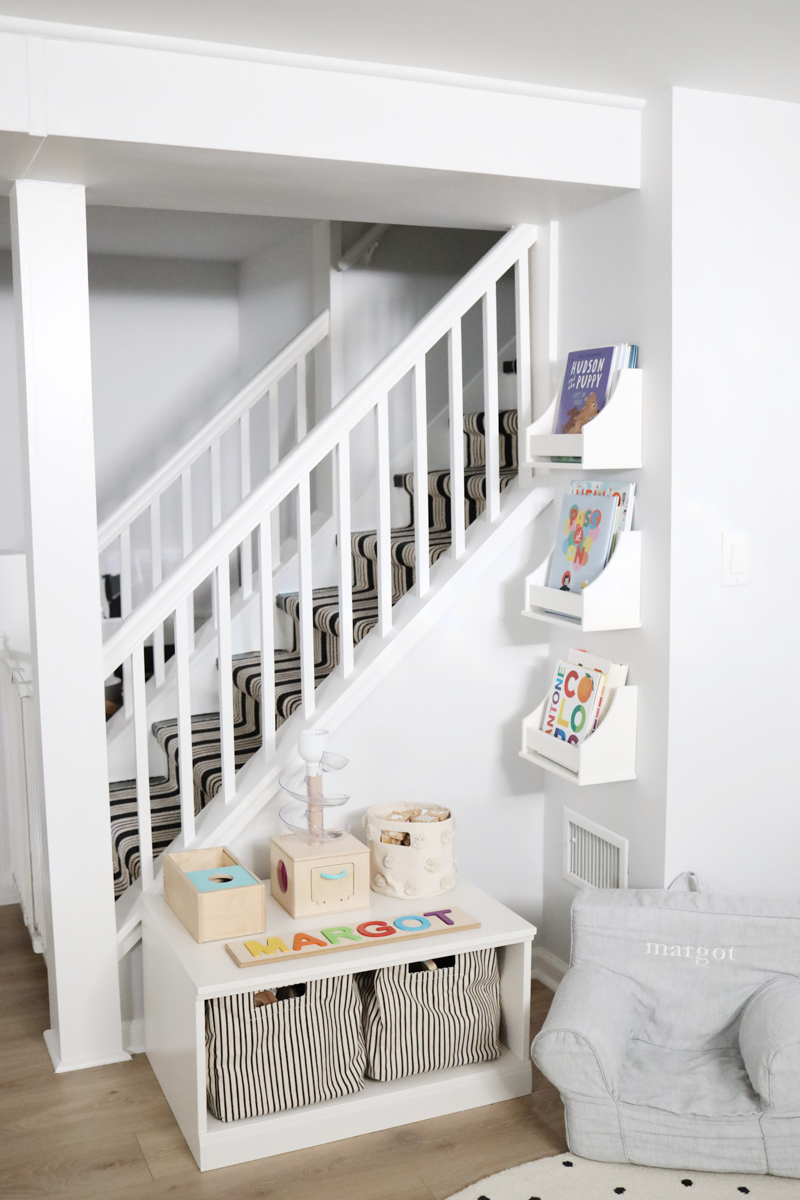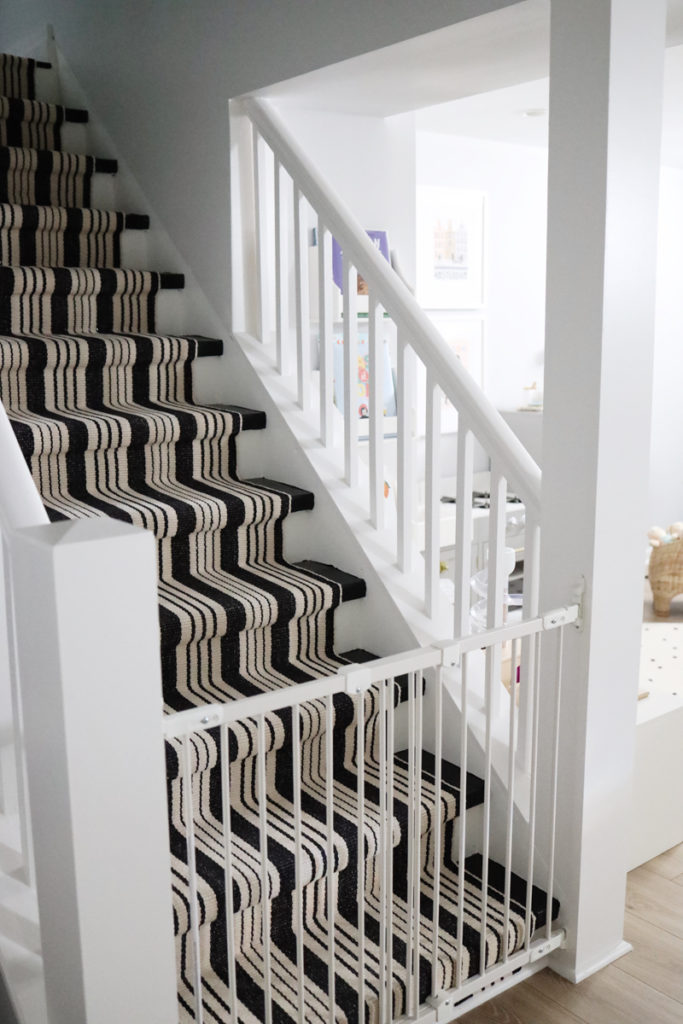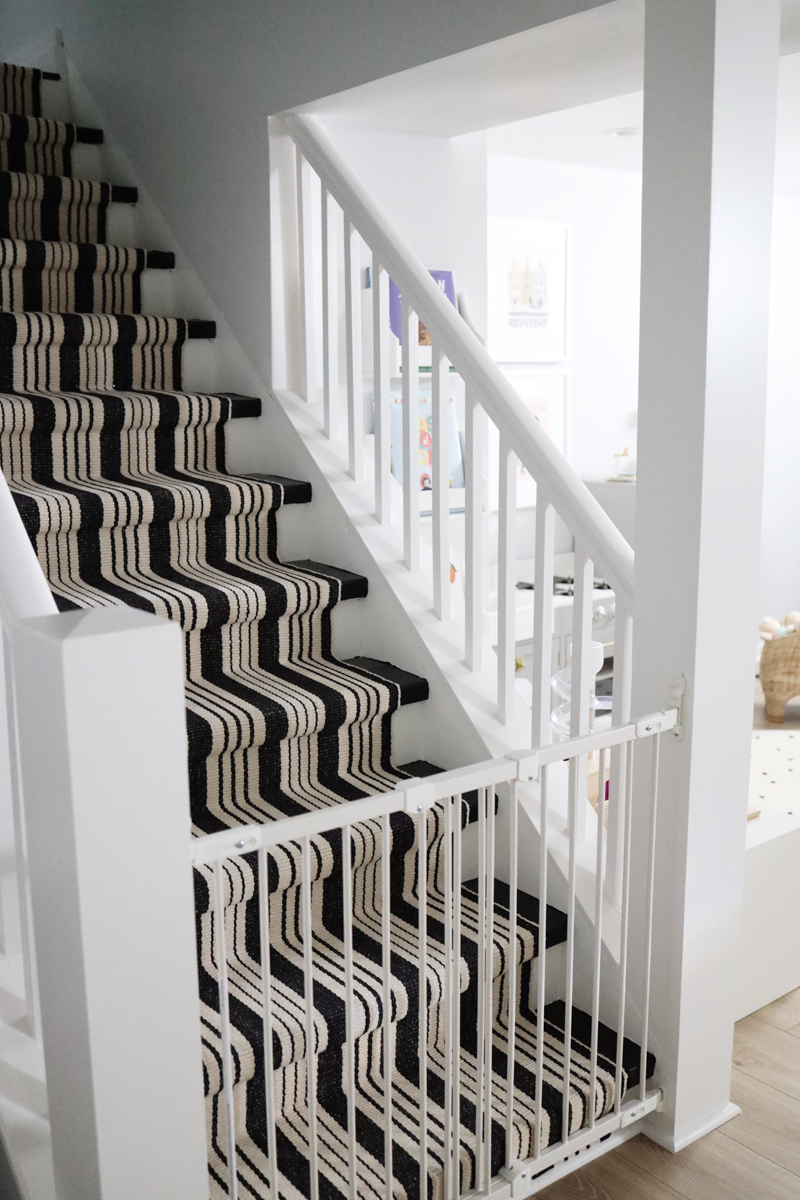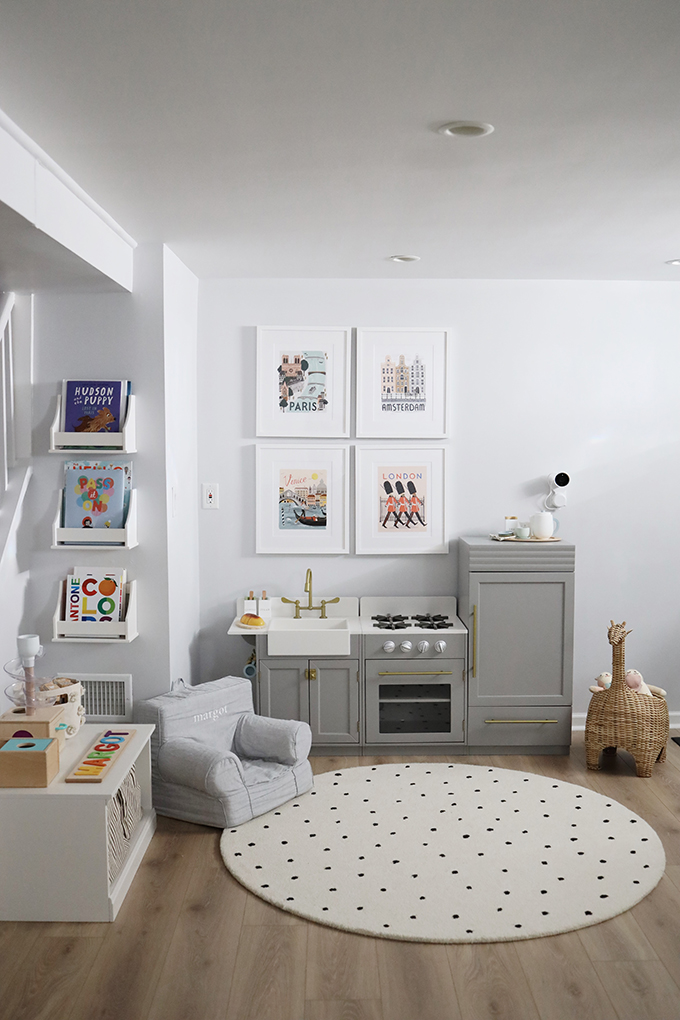 So I got to work on her little play area. It all started with this beautiful play kitchen and took off from there. There's a mostly neutral palette because come on, it's me. I did bring in a few touches of color with some whimsical travel art, and love how this space turned out.I was so excited to partner with Pottery Barn Kids on a few of the pieces in this space and am excited to share it with you today.
The Play Kitchen
Pottery Barn Kids offers an all-in-one kitchen and a larger option with 3 separate pieces, so there are different sizes and price points to choose from. If we had been in a smaller space, I would have just gotten the sink and oven, but really like the storage with the larger set. It's also ideal for Margot to play at with friends or a younger sibling someday. She's definitely too young to get it, but it's been fun for her older friends and she loves turning the knobs and opening the cabinets.
Can't wait to see her in there whipping up recipes soon! I was lucky enough to partner with them on this piece but we would have gotten it for Margot this Christmas had it not been gifted. It is an investment but it's one she'll use in the years to come, and if we get to be parents again, that's another 3-5 years of use. The quality is amazing, so I definitely think it's a worthwhile investment, and it works so well with our decor.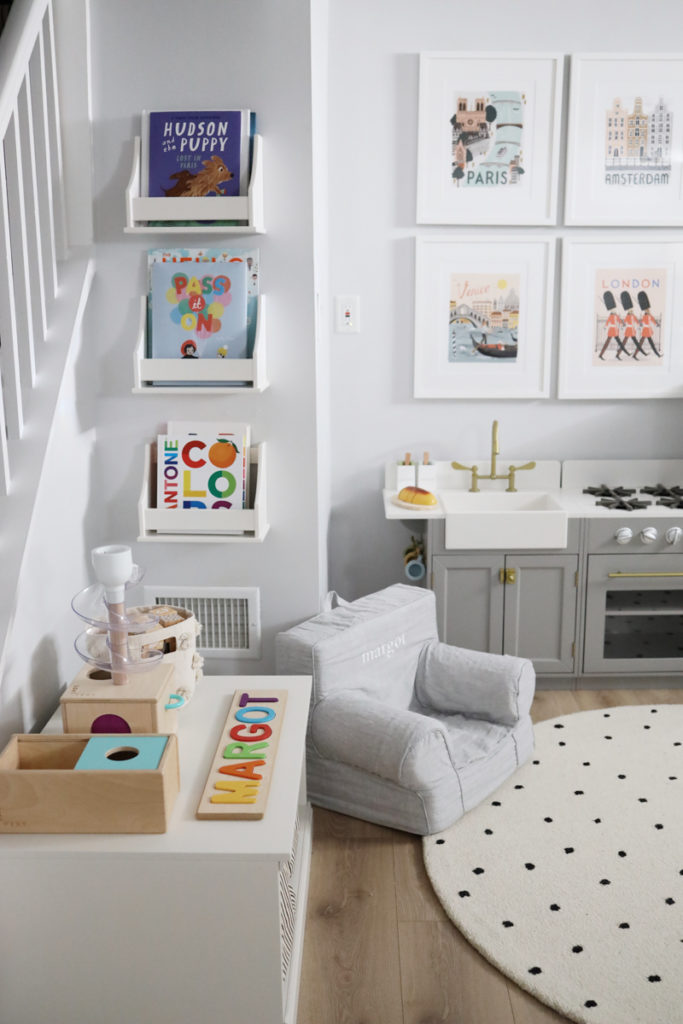 Margot loves playing at this open shelf base from the Cameron Wall System. When I chose this piece, I planned on having it serve as a shelf and play table, so it's been perfect for that and extra storage. We keep some of her favorite toys on top and store the rest in bins below. Books are her favorite thing, so displaying books and giving her a cozy little spot to read in was a must.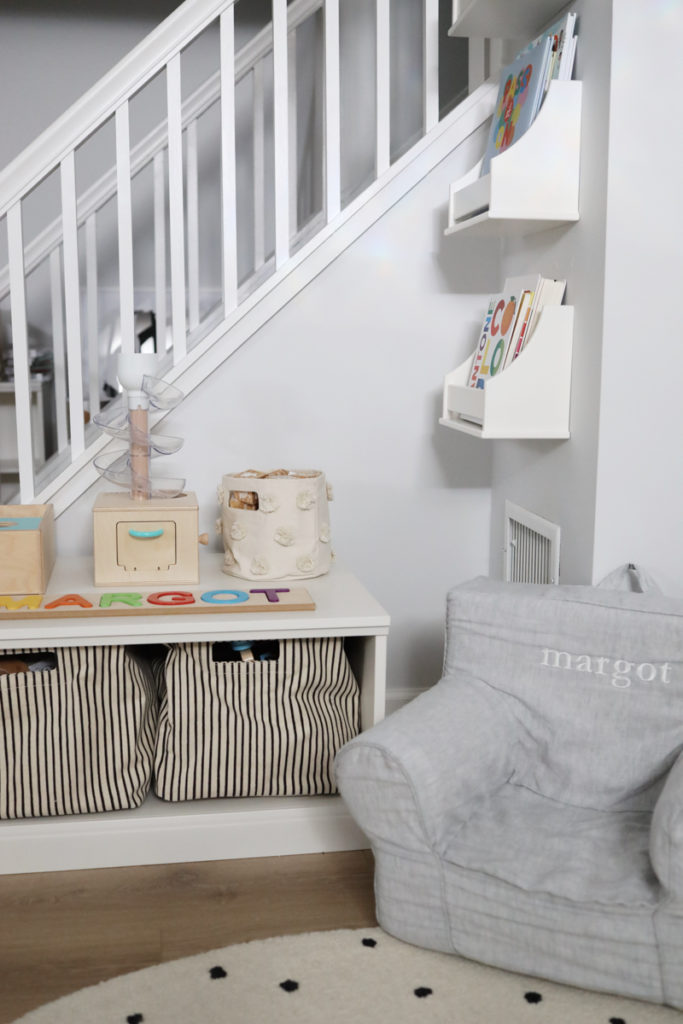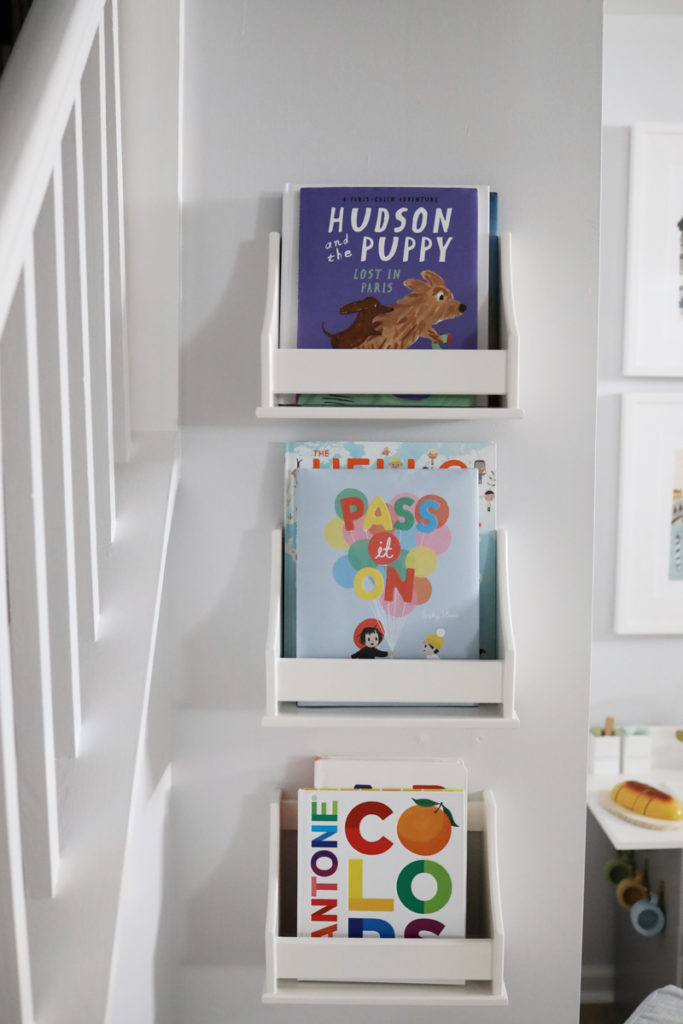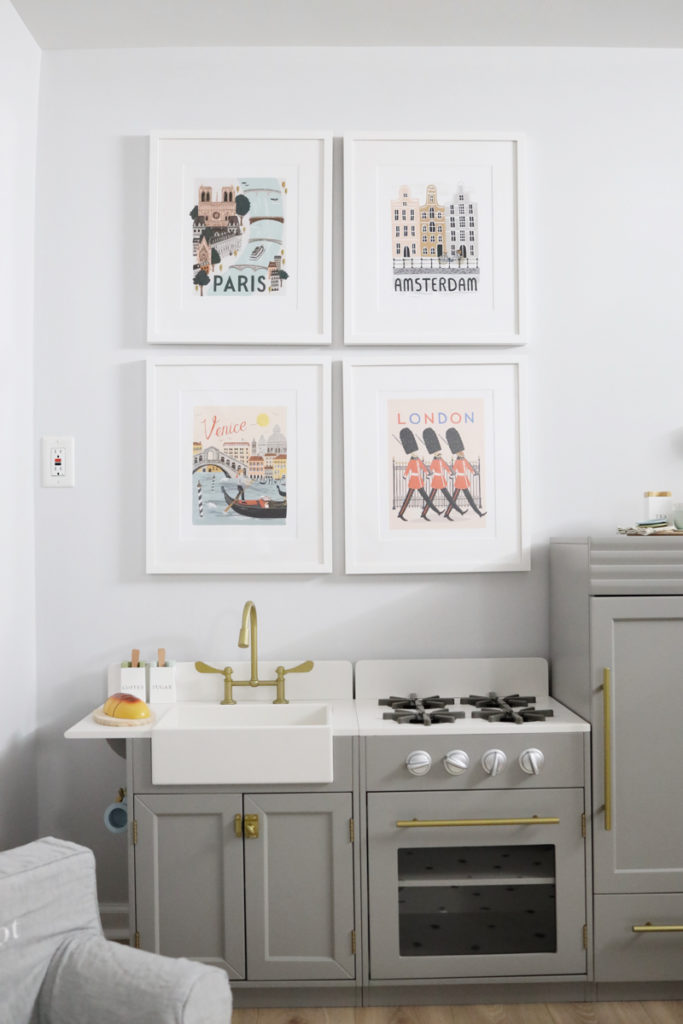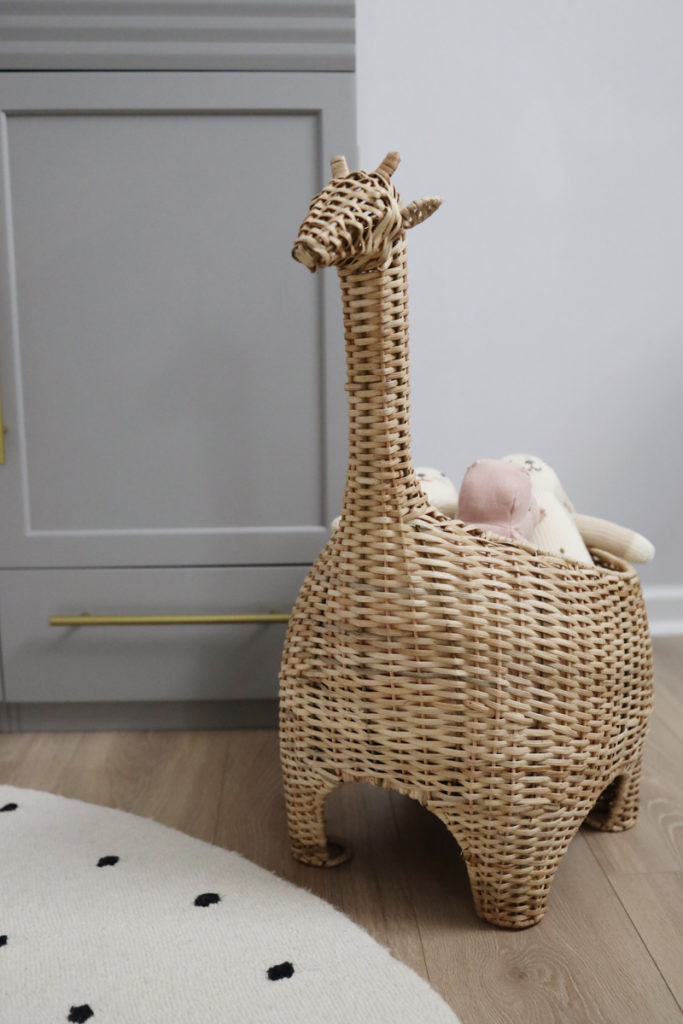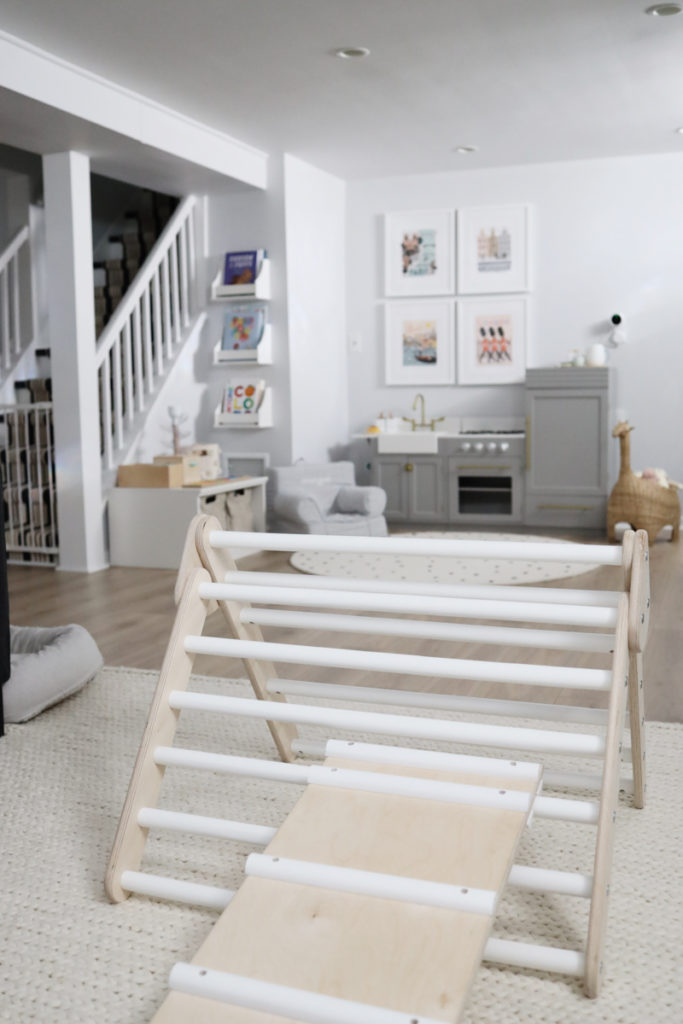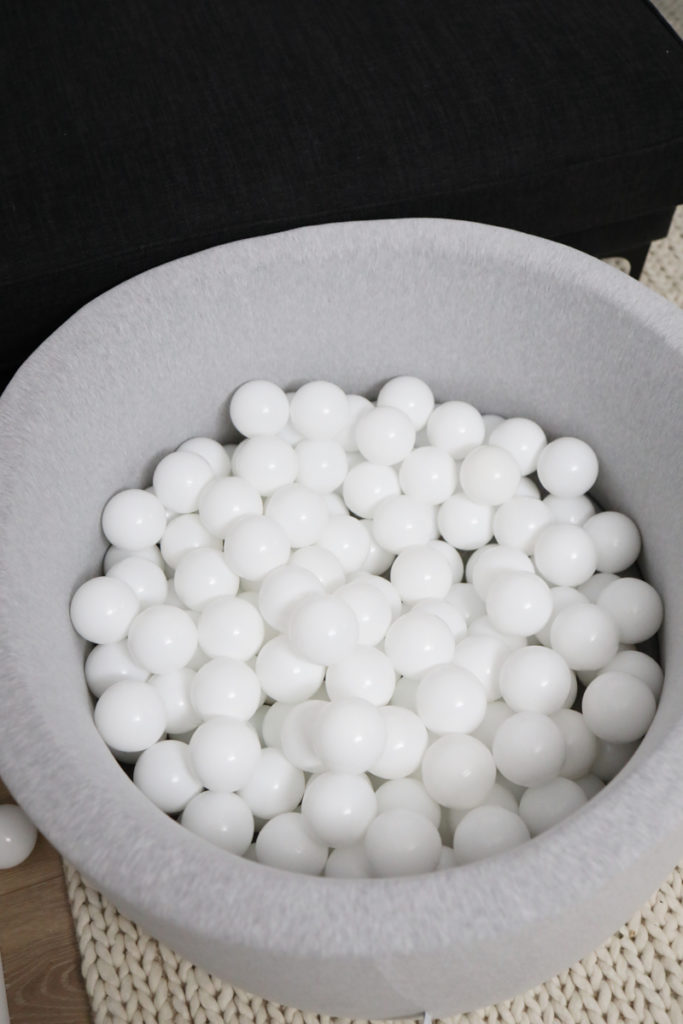 The other side of our basement isn't 100% complete but it's so close! Here's a peek at The Everygirl x Interior Define Caitlin Chaise Sofa (currently on sale!) in the Storm Pebble Weave fabric. The rug is from Lulu & Georgia and is so soft – perfect for Margot to play on.
I scoured the internet to find the perfect plug-in sconce and when I saw these sconces at Circa Lighting, I knew they were "the" ones. Hard-wiring was not in the budget, but I love that these don't look like plug-in. They add the perfect amount of light and made that side of the room feel so much more like part of our home.