My Bedroom Window Treatments: Woven Shades and Curtains
After more than three years in our home, our bedroom finally feels like the cozy haven I hoped it would, just in time for winter. I'm still planning on a few finishing touches – new pillows and a throw, and a new basket that doesn't perfectly match our rug. But …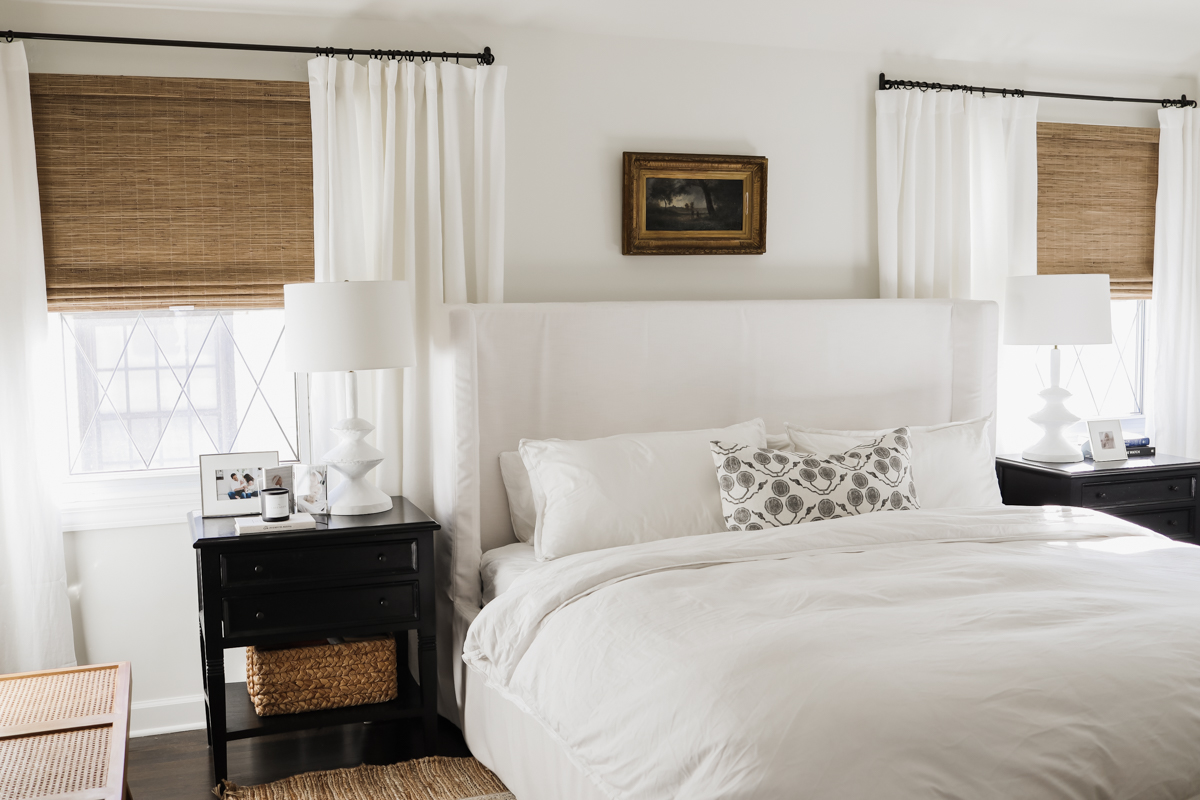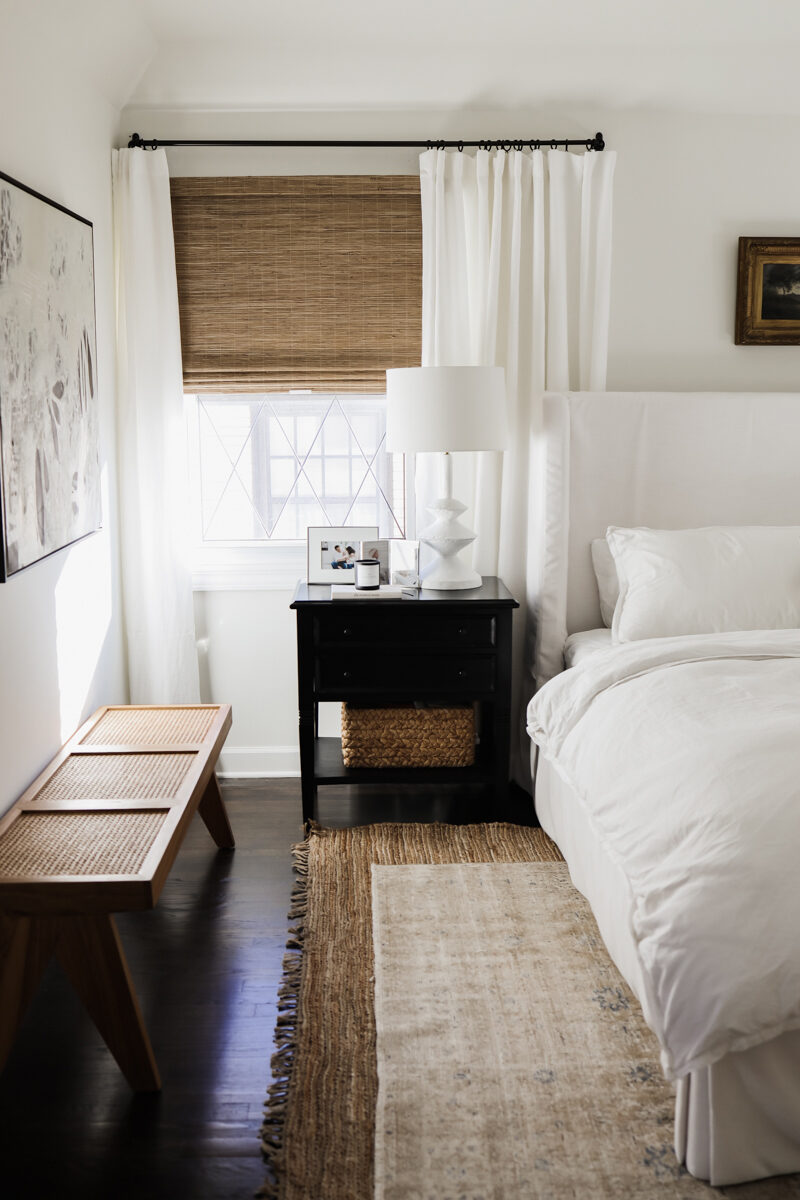 After more than three years in our home, our bedroom finally feels like the cozy haven I hoped it would, just in time for winter. I'm still planning on a few finishing touches – new pillows and a throw, and a new basket that doesn't perfectly match our rug. But before I do, I want to share our new shades since our room feels so different today than it did a few weeks ago. It all came down to adding some texture and warmth with a layered rug and the real statement: our woven wood shades from Hunter Douglas. I love the natural materials in woven shades. They offer a warm, natural look and come in a variety of colors. I'll link a few within this post.
My Bedroom Window Treatments: Woven Shades and Curtains
I went with the provenance woven wood shades in jute forest fabric (in the sycamore shade).
Choosing window coverings can be so hard (and expensive). Natural shades are always a beautiful option. I love wood blinds – natural fibers are a perfect fit for most rooms. I have them in our sunroom which is made up of wide windows – they let in a lot of natural light. The blackout shades darken our room perfectly, although we have to have an outside mount, so adding curtains helps. I knew I didn't want a lift cord since they're a little annoying and time consuming. The LiteRise Operating System which offers a cordless life, and makes them so easy to use. Just pull or push to quickly and easily raise and lower without cords, which is safest if you have young children.
LiteRise Operating System vs PowerView
PowerView came recommended for this room, but remote control shades seemed like a bit much. But I took the advice of Rachel from Beyond Shades and opted for PowerView for our new house. Opening shades with the touch of a button is actually the coolest thing ever. They're always lined up perfectly. You'll get the same cordless shade when you order your new window treatments, but they're just…better. Both lift options are great and have smooth operation, but I'd go with PowerView autoation system. Reach out to Beyond Shades for additional information.
The shades were gifted from Hunter Douglas as were the ones in our sunroom and my girls' rooms. I used these blackout liners, behind the girls' shades since they're outside mount and had some light leak. They work so well on large windows, and I can't say enough good things about the cordless option. And they're made with renewable materials.
It has been such a pleasure working with the brand. The quality and aesthetic are remarkable, and I am so happy with how they turned out. Our previous shades were very…flat. They added nothing to the room and looked a little sad when closed all the way. These are the opposite – they add dimension and warmth, and look just as beautiful closed as they do open. If you're interested in placing an order with Hunter Douglas, you can find a specialist in your area here.
But first, here's the before.
It was fine but a little dull – the white shades needed some edge banding. I do really like our blue throw, but it just so happened to be in the laundry when I was ready to shoot. It was sunny, so I decided to photograph the room anyway. I worked with a design consultant from Beyond Shades via Hunter Douglas, and she helped me choose between a few natural woods. I knew we'd need blackout since part of our room is on the street side and I didn't want street lights shining through the window.
Pro tip: Do not mount outside mount shades to the top of the window frame. Install them few inches above the frame. This adds height and makes your windows look larger. And one more tip: bring samples with various types of privacy liners home to see how light shines through.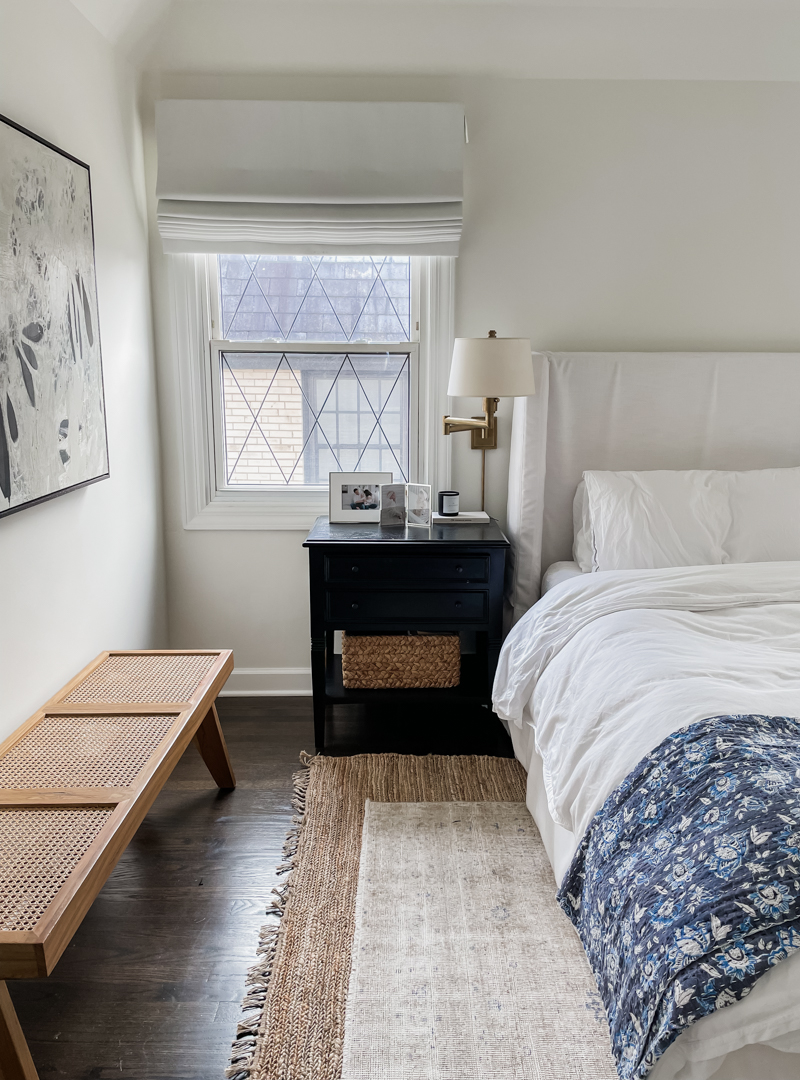 The design journey to get our room here was…a journey. These new shades offer such a clean look. The natural tones are beautiful and add natural textures to a room. Make sure you account for he desired position when measuring for your new window treatments. They should ideally have a few extra inches than the height of the window.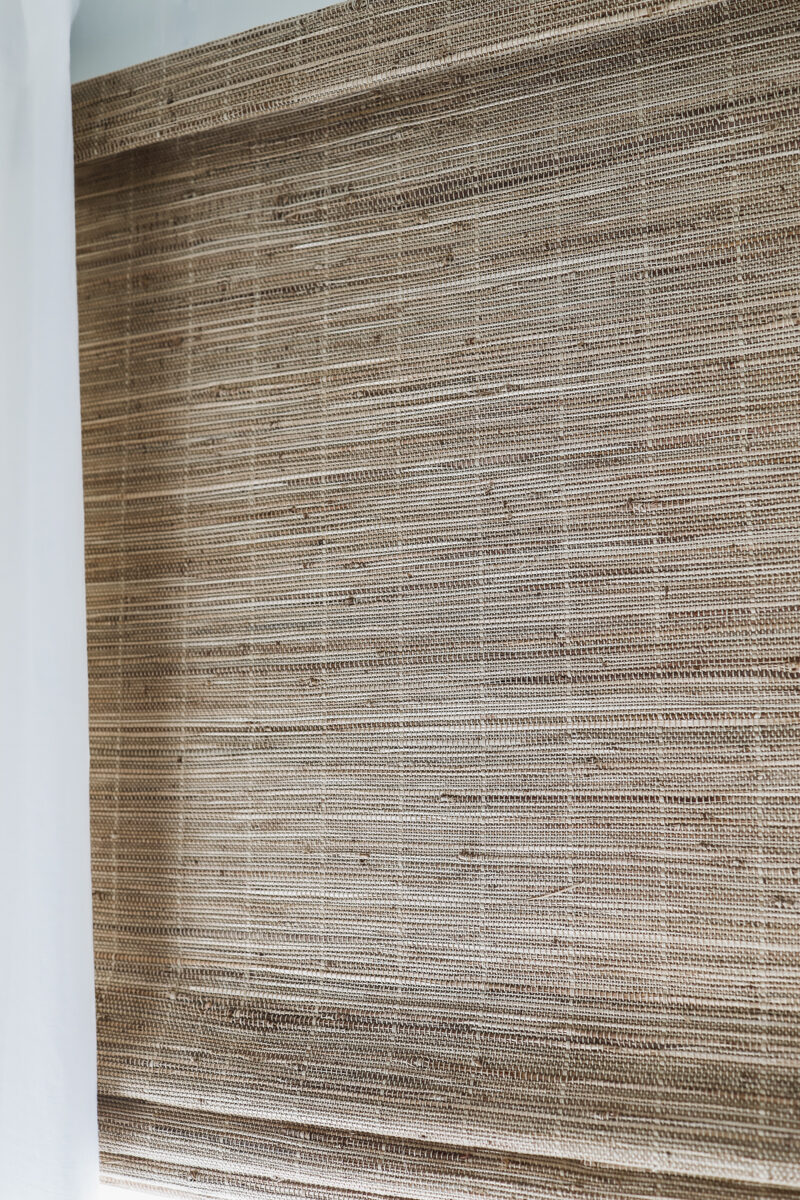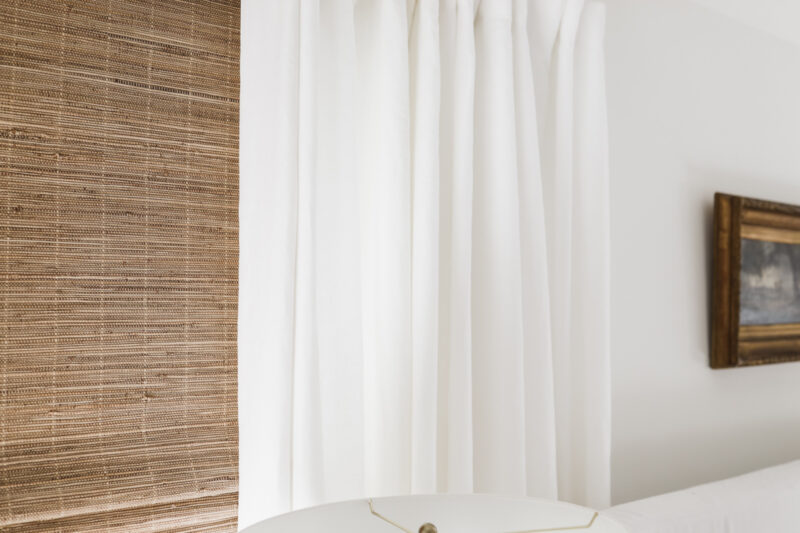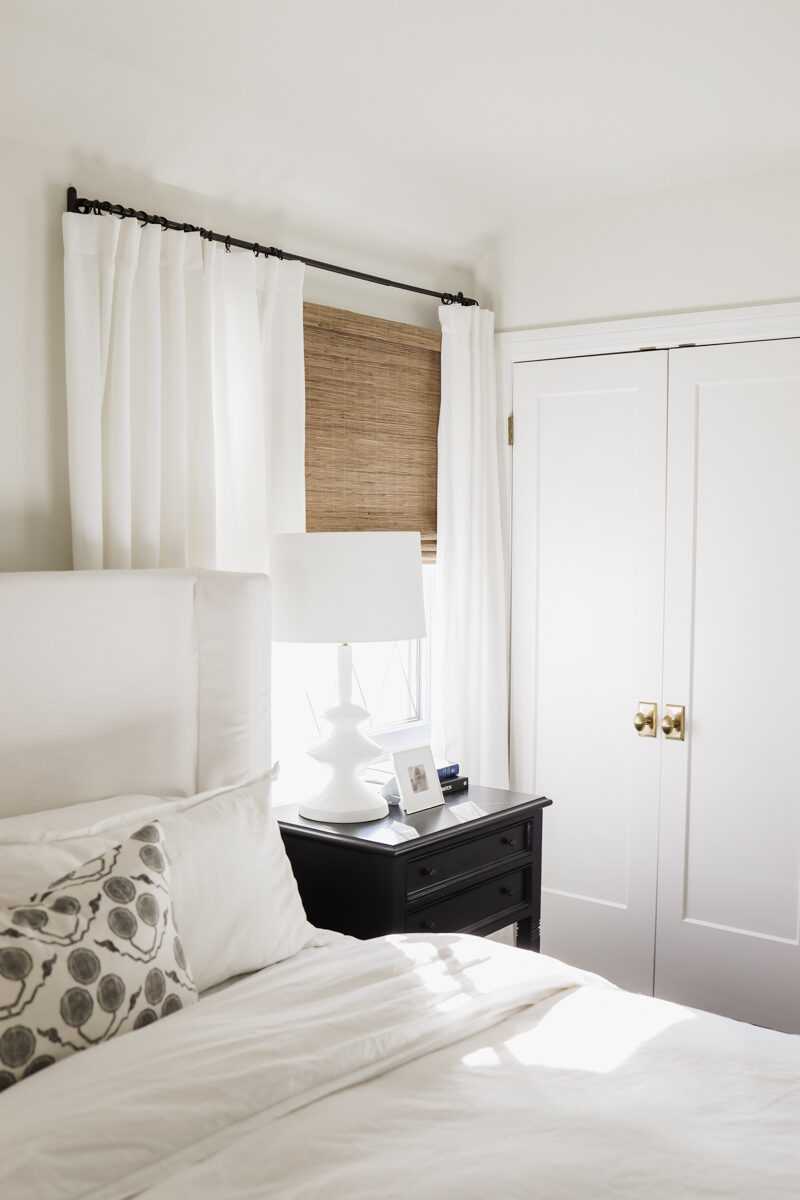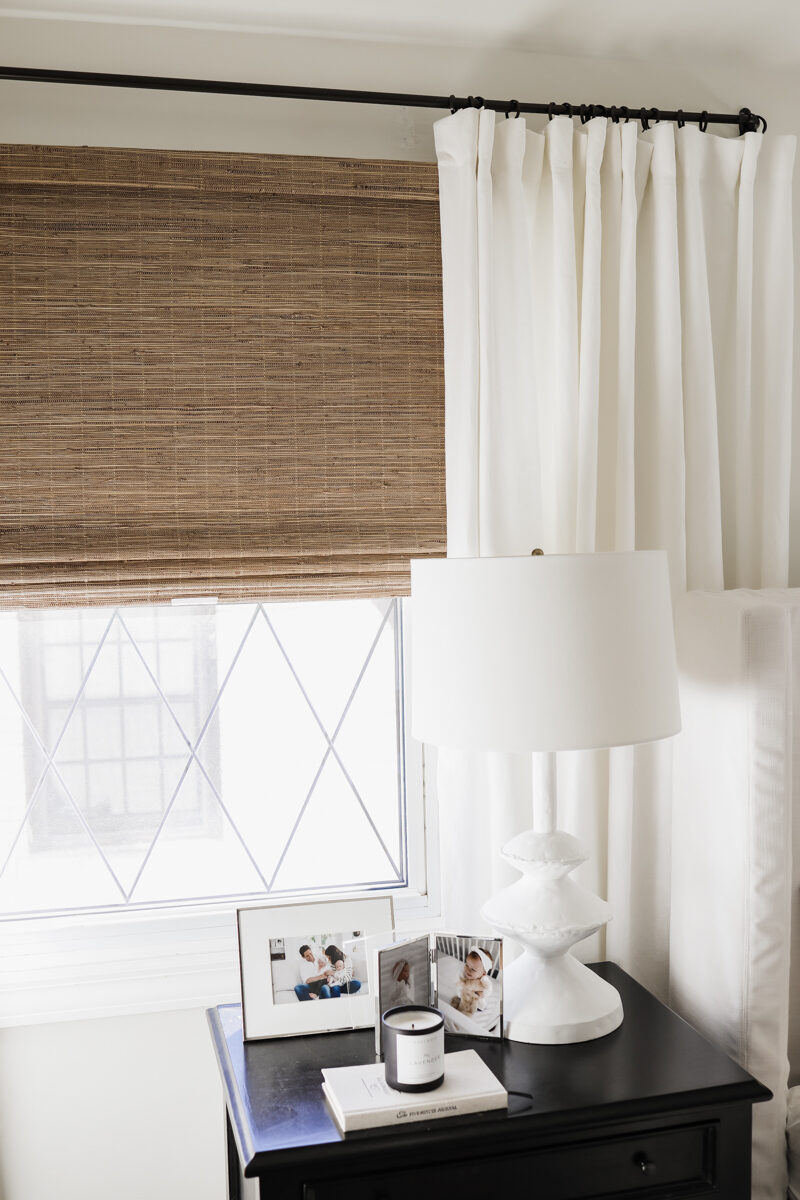 The cordless lift is so easy to use. There were a few light control options, but I went with blackout. Light filtering is a nice option if you want to let a little light in, but I knew we'd leave our window shades up during the day and down at night, so blackout was right for us. Our shades are outside mount, so they're on the outside of the window frame. I do prefer inside mount with shades when possible because there's less light that filters in.