My Bedroom Window Treatments: Woven Shades and Curtains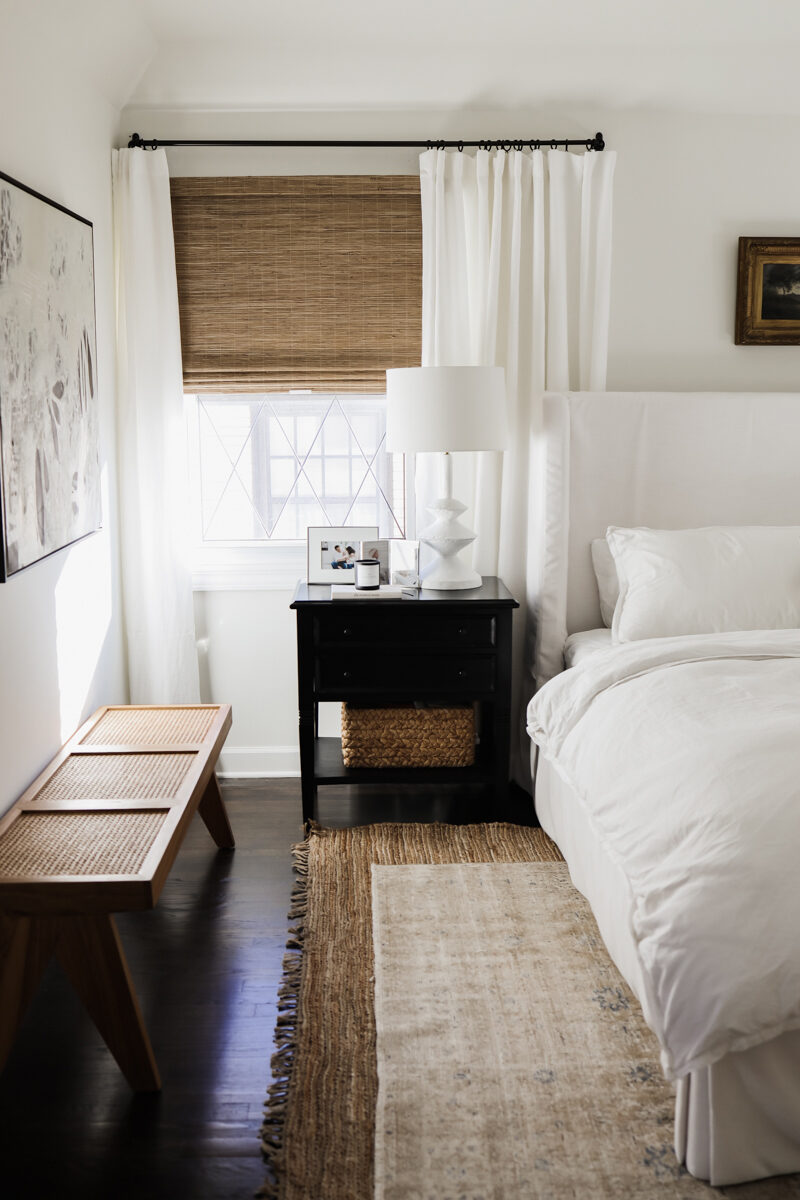 After more than three years in our home, our bedroom finally feels like the cozy haven I hoped it would, just in time for winter. I'm still planning on a few finishing touches – new pillows and a throw, and a new basket that doesn't perfectly match our rug. But before I do, I want to share these updates first since our room feels so different today than it did a few weeks ago. It all came down to adding some texture and warmth with a layered rug and the real statement: our woven wood shades from Hunter Douglas. Here are my bedroom window treatments: woven shades and curtains.
My Bedroom Window Treatments: Woven Shades and Curtains
I went with the provenance woven wood shades in jute forest fabric (in the sycamore shade).
The blackout shades darken our room perfectly, although we have to have an outside mount, so adding curtains helps. The LiteRise Operating System makes them so easy to use – just pull or push to quickly and easily raise and lower without cords, which is safest if you have young children.
The shades were gifted from Hunter Douglas as were the ones in our sunroom and my girls' rooms.
It has been such a pleasure working with the brand. The quality and aesthetic are remarkable, and I am so happy with how they turned out. Our previous shades were very…flat. They added nothing to the room and looked a little sad when closed all the way. These are the opposite – they add dimension and warmth, and look just as beautiful closed as they do open. If you're interested in placing an order with Hunter Douglas, you can find a specialist in your area here.
But first, here's the before.
It was fine but a little dull. I do really like our blue throw, but it just so happened to be in the laundry when I was ready to shoot. It was sunny, so I decided to photograph the room anyway.