The Best Furniture and Decor From Serena and Lily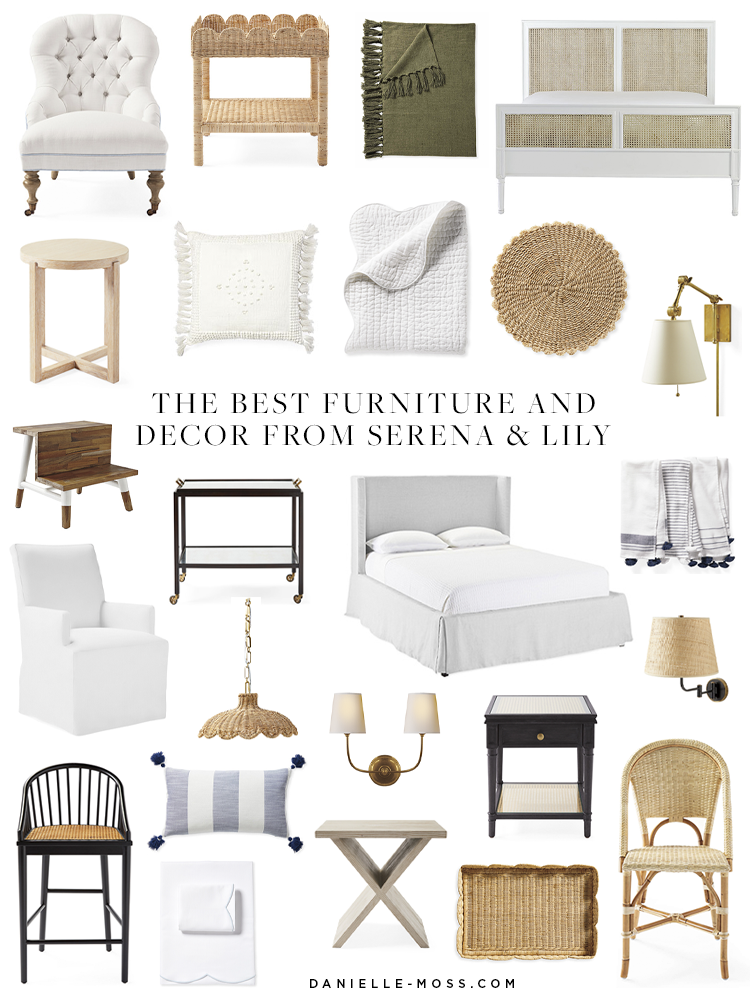 Spring is a month away and I already broke out our light blue chambray cover. Any time I look through Serena and Lily's website, I find myself wishing I had a house in Santa Barbara or The Hamptons where everything is blue, white, woven, and linen. I'm rounding up my favorite furniture, decor, and bedding from Serena and Lily. This post was originally written in 2021, and has been updated with some old (and new) favorites. Here are the best furniture and decor finds from Serena and Lily.
The Best Furniture and Decor From Serena and Lily
From chairs and side tables to beds and…more chairs, here are some of my favorite pieces from Serena and Lily. The cane, linen, and their traditional patterns are so warm and inviting.
Serena and Lily Chairs
Serena and Lily Coffee Table and Side Tables
Serena and Lily Bedroom Furniture
Serena and Lily Bar Stools
Serena and Lily Nursery
Serena and Lily Rugs, Decor, and Wallpaper
Rugs, pillows, and trays made of linen and rattan, these pieces are an extension of Serena and Lily's furniture. Much to my dismay, I don't live on the coast, but like to bring in elements like a scalloped rattan tray (texture) and as I mentioned, linen pillows. And of course, jute rugs. See all my favorite jute rugs here.
Serena and Lily Pillows
Serena and Lily Wallpaper and Rugs
Serena and Lily Baskets and Decor
Serena and Lily Lighting
I don't know what it is about Serena and Lily's sconces, but they're just so good. Plug-in or hard-wired (we have both) – they're traditional and beautiful.
Serena and Lily Bedding
I love our Serena and Lily bath towels, and one of my (newer) favorites is Margot's scalloped quilt. Linen sheets always feel like summer, but I love a good percale, too.
Serena and Lily Bath
floproduct type="grid-item" title="Bath Towels" image="https://www.danielle-moss.com/wp-content/uploads/2021/03/Serena-bath-towel.png" category="" text="" link="https://bit.ly/34QzVz7″ width="" height="280″]
Serena and Lily Outdoor furniture
This post contains affiliate links. If you purchase something using my links, I may earn a commission at no cost to you.