How to Hang Garland Around Your Front Door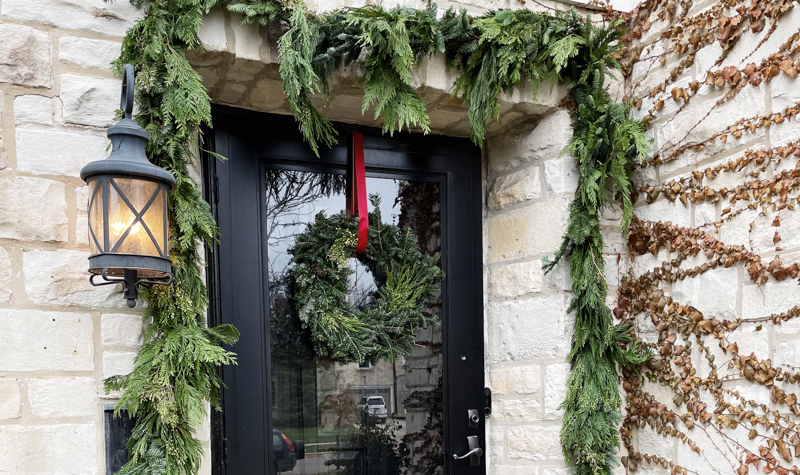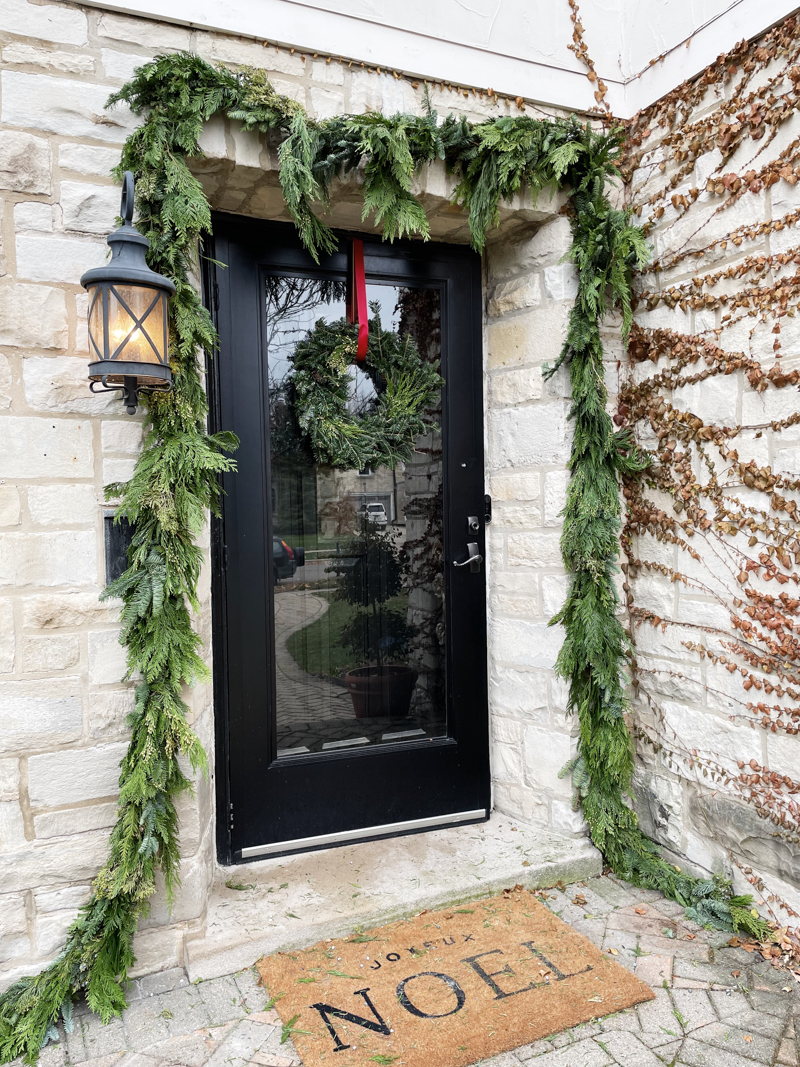 I just love the holiday season, and there really is no place like home for the holidays. I love decorating our home – there's nothing more fun than putting up your Christmas tree or sitting by the fireplace after it's been decorated. The glow of warm white lights, smell of fresh green garland, and a Christmas wreath on your front door. I love traditional decor and usually stick with evergreen accents, a touch of Christmas red, and a few festive accessories for a classic look. Holiday cheer and Christmas decorations are the best part. And I want to share something I learned a few years ago. Here's a video on how to hang Christmas garland around your front door. And you can see our holiday home tour here.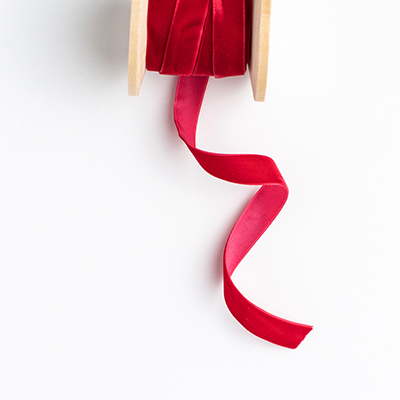 18 gift guides for everyone on your list, from in-laws and coworkers to kids and the traveler. There's something for everyone.
How to Hang Christmas Garland Around Your Front Door
I love the holidays, and now that I'm a mom, it's even more fun to decorate for the holidays. Not that having kids is what made it fun for me. I've always loved Christmas and once carried a tree home from a lot (by myself) and up 3 flights of stairs because even though I lived alone, wasn't going to miss out on Christmas. Hanging garland around a door adds a traditional, warm, and welcoming touch to your home. It's also not the only place to hang garland – I love a little garland on our staircase railing, but opt for artificial garland to avoid a mess. But outside requires the real thing. You can attach with adhesive hooks, but I don't mind a nail or two on the exterior of our home, and found that nails hold up a little better than adhesive. So here's how to hang garland, and the simple hack that will make it look that much better.
This is the easiest holiday garland hack – so simple and to some, painfully obvious. I'm not sure I can even call it a hack. But a recent instagram poll confirmed that at least 60% of you didn't know about this, so I recorded a video and wanted to share what I learned here. I just discovered this a few years ago. If you look at the photo below, you'll notice that the right side isn't falling properly.
What you need
Garland. I purchased mine at Vern Goers in Hinsdale, IL. If you're local, they have the best Christmas garlands. Our wreaths are from Trader Joes. I've always had really good luck with Trader Joe's for wreaths – they are usually around $12 and when you add a little ribbon, they're lovely.
Zip ties. I used wire last year and zip ties were much easier.
Nails. If you have brick, masonry nails. We have one above each corner of the door.
Shears. I used this to cut the garland and wire.
If you're hanging holiday garland on a staircase, I would recommend using artificial Christmas garland secured with wire or hooks. For extra security and a little holiday cheer, tie ribbons at the top of each swoop. I am not normally a red person, but really like a touch of Christmas red, and often use a classic red satin ribbon. If you want something a little simpler, try white, ivory, or an evergreen color.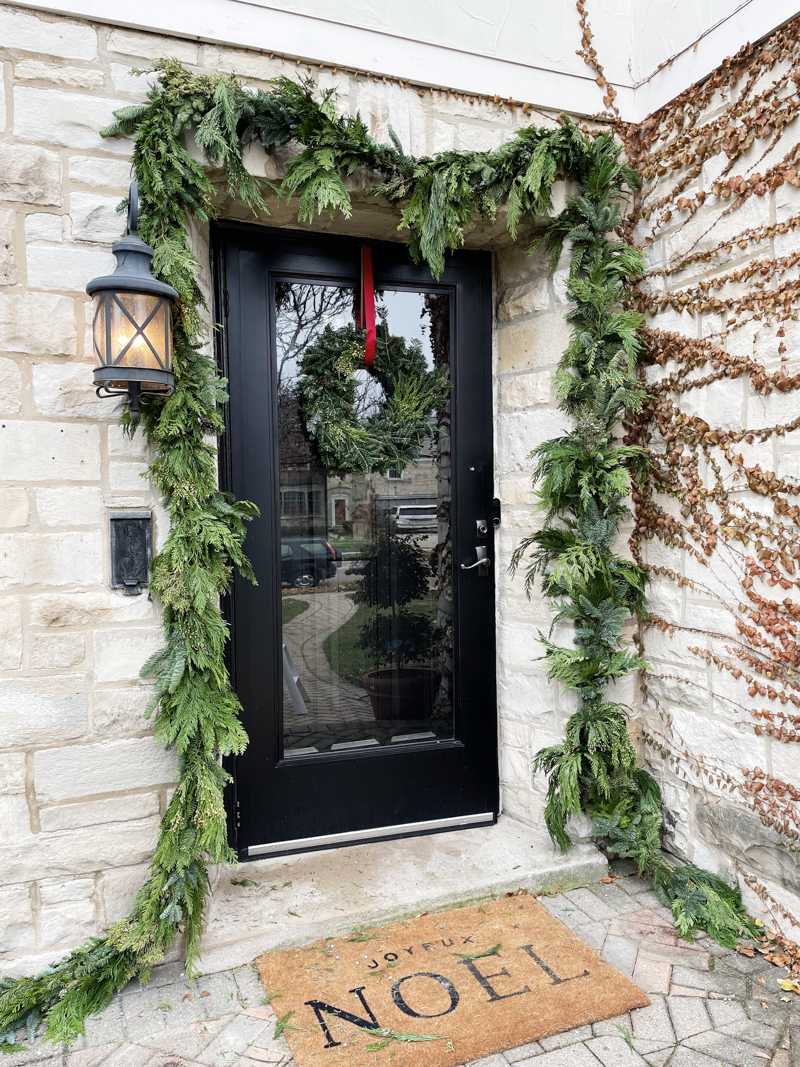 Don't cut your Christmas garland it in the middle
I bought about 20 feet of garland for our fireplace mantel and front door, and then used artificial garland for our staircase. Most people cut right down the middle, and you can do that, but I'd try this. I decided to hang it at the right height, and leave a little hanging over the nail on the right side. I then cut a piece off not too far from the top. Then I flipped it and reattached with zip ties. Be sure to weave it through the wire and pull tight. I only used two, and it feels very sturdy.
If you want to add a little cheer, consider adding Christmas lights.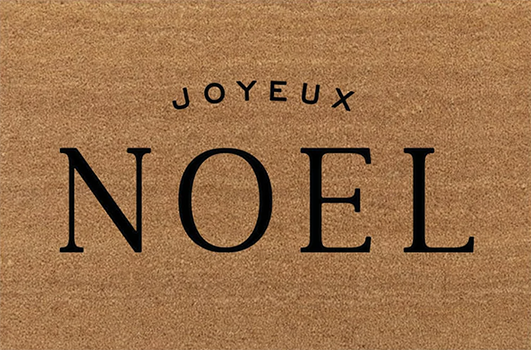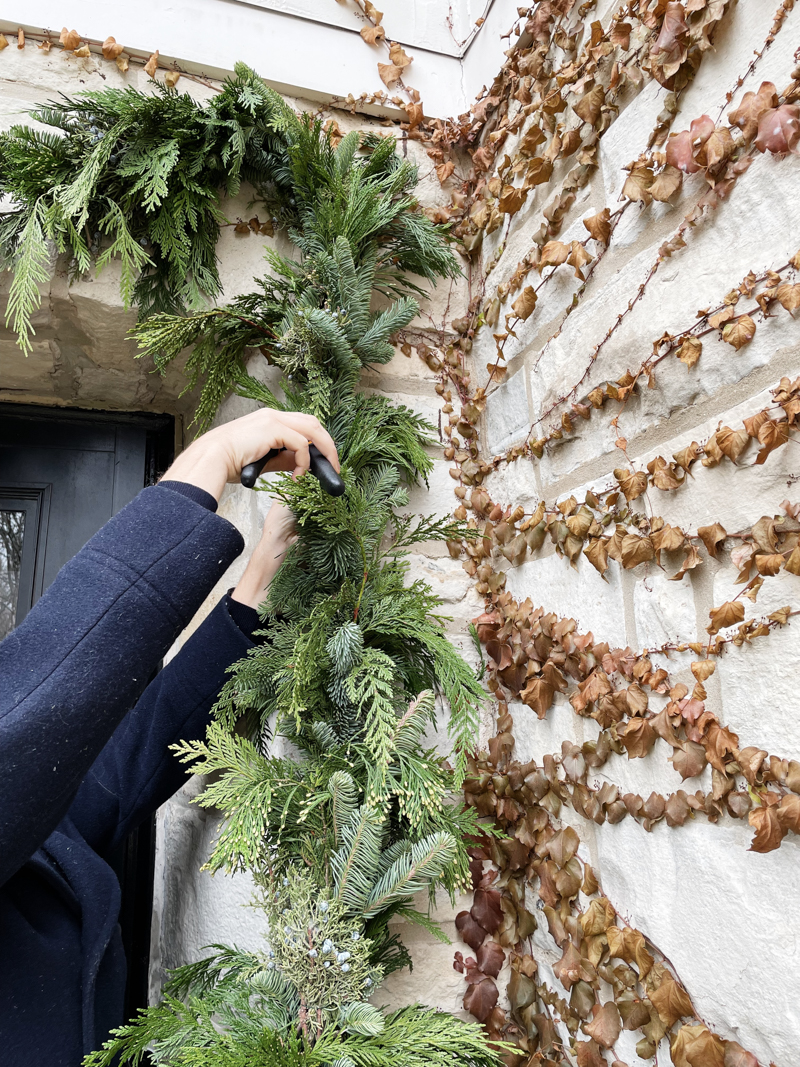 Cut the garland, leaving a few inches hanging past the nail. Flip the cut piece of garland and reattach with a zip tie. I recommend overlapping the two pieces a bit so they blend in nicely. Add in a little wire if needed.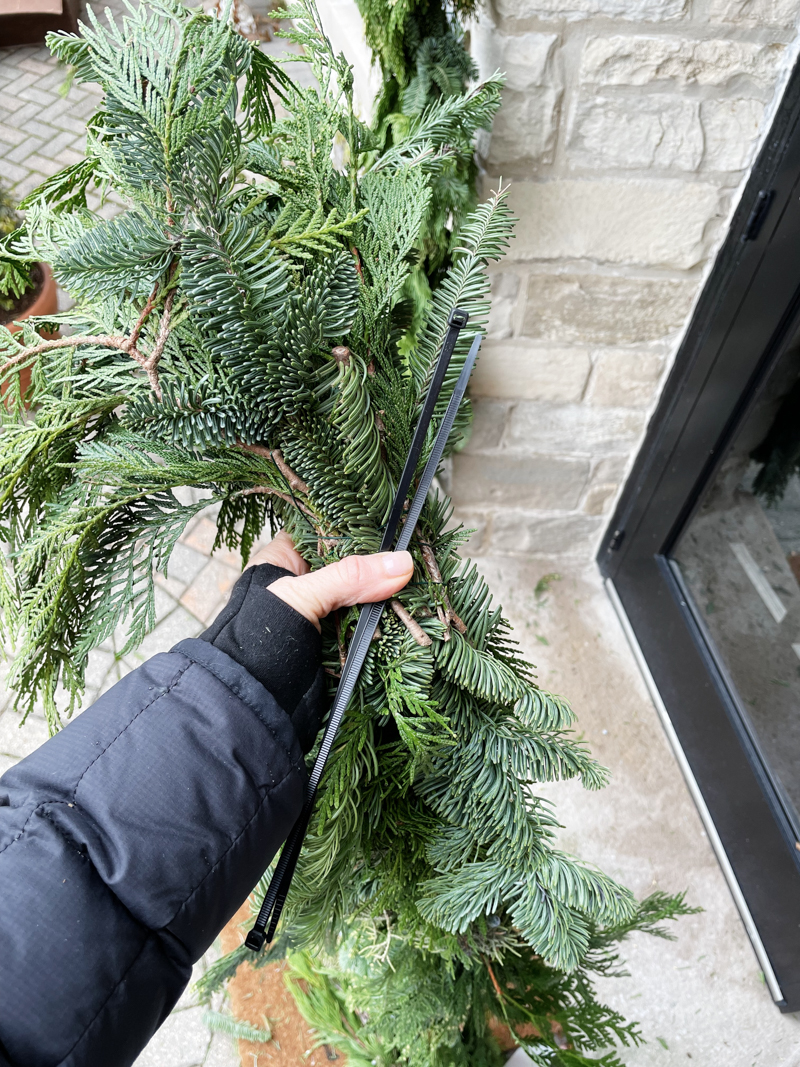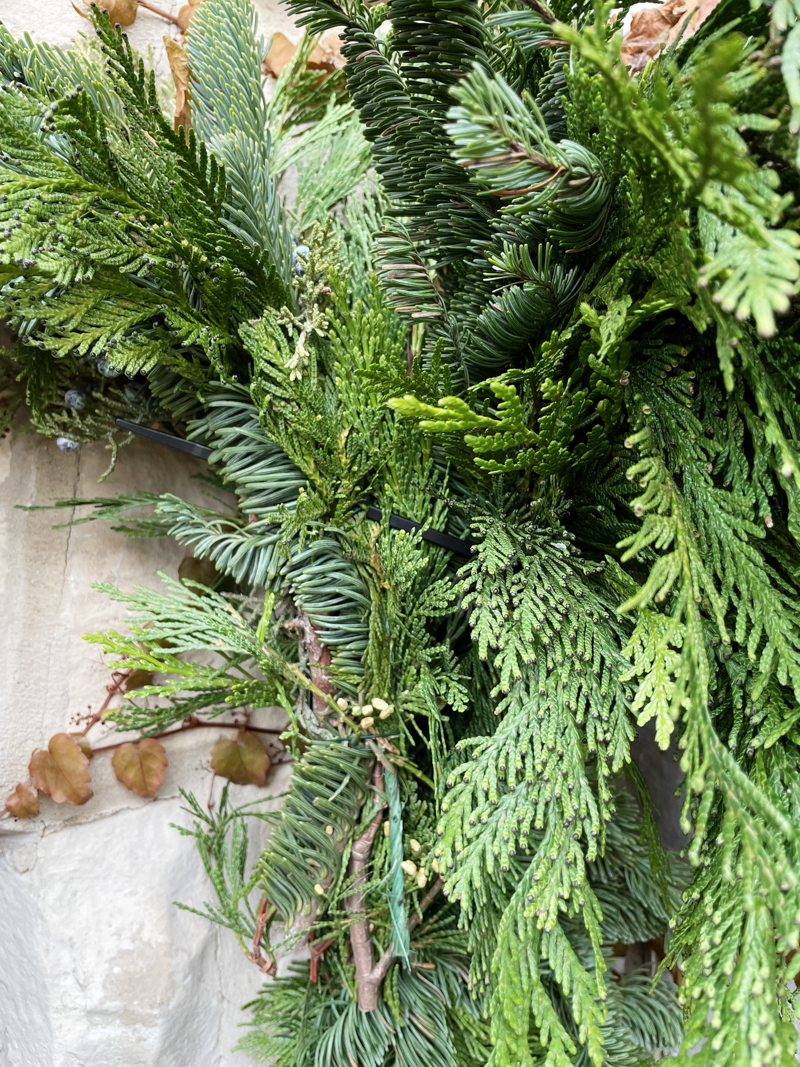 My favorite artificial garland
The Accidental Farmgirl on Etsy has the most beautiful garland. I would also recommend Balsam Hill and Ballard Designs for a selection of garland. You can choose varying lengths, but most artificial garland is not ideal for outdoor use, and it does pretty well outside, so I'd go with the real thing outdoors.
As a reminder, you're taking it from this…
It's a beautiful, traditional look and the fun part begins once it's done. Every time you come home to and see your holiday decor, you'll feel that Christmas magic. It's the best, isn't it?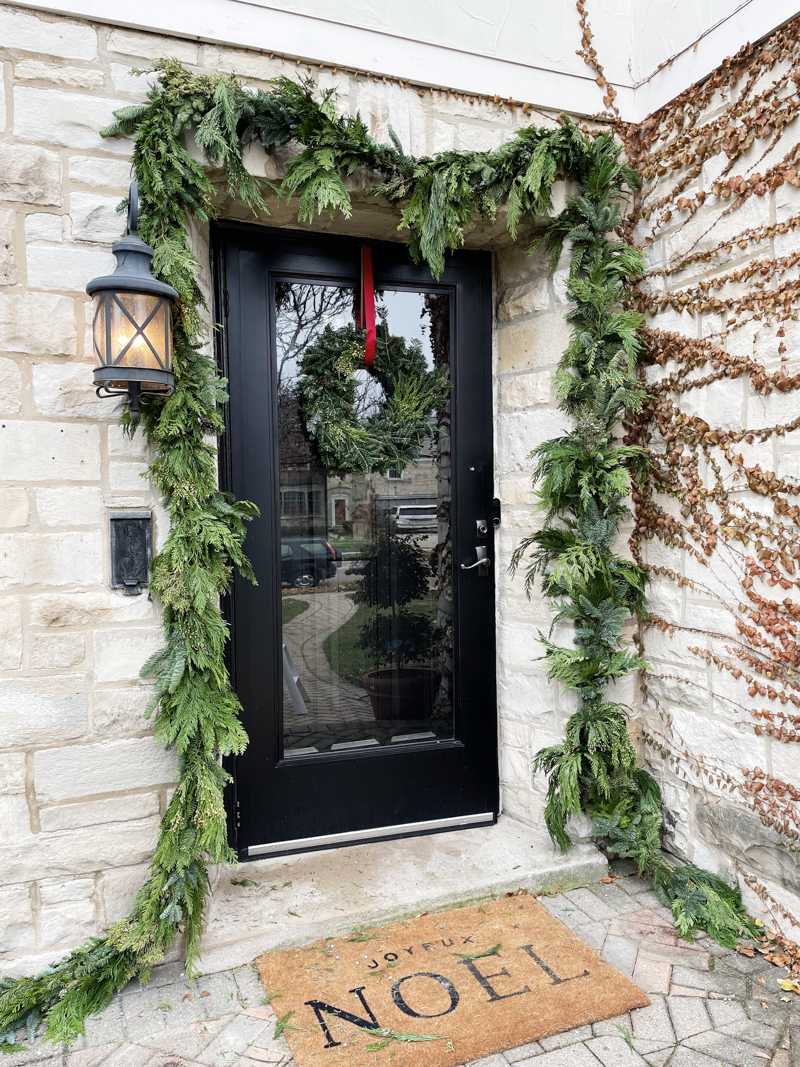 …to this! Et voilà ! Properly hanging garland.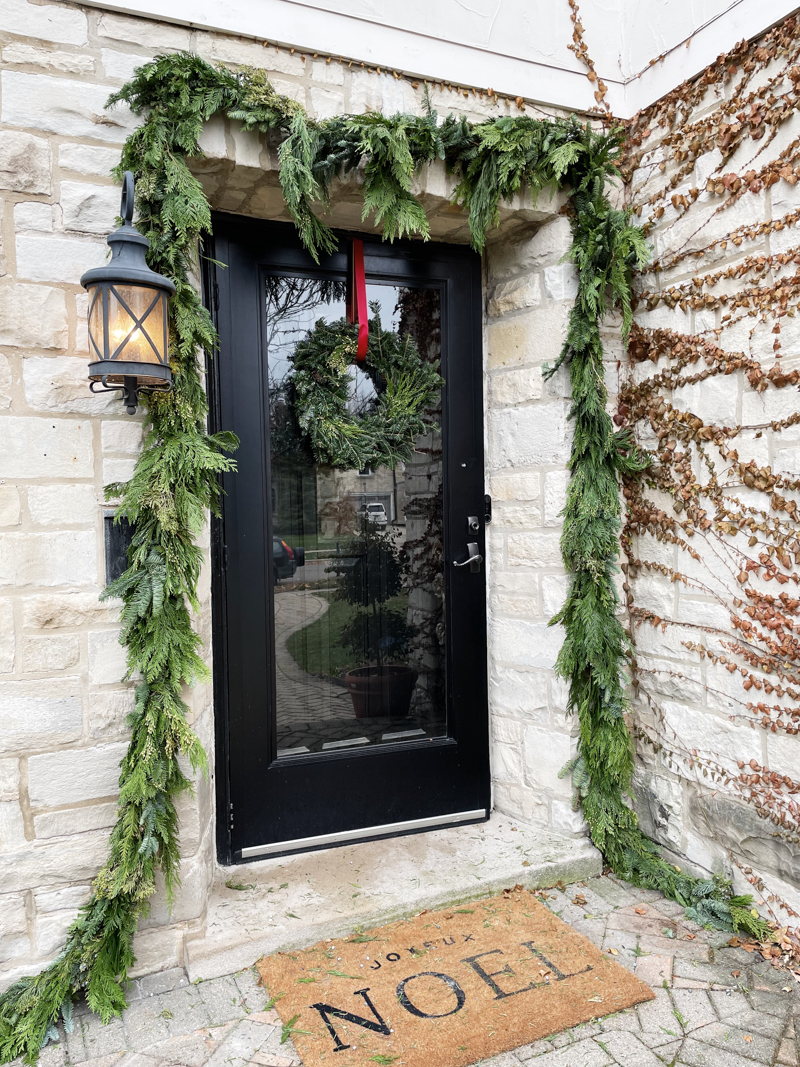 I usually let the branch tips hang on the ground a little bit, but probably left them a little too long here. I was just so excited to get this done and moved right on to our mantel. For more Christmas cheer, see my gift guides and decor posts here. And if you need more help with your garland, I shared everything step by step in this video.