Our Home (Tour) For the Holidays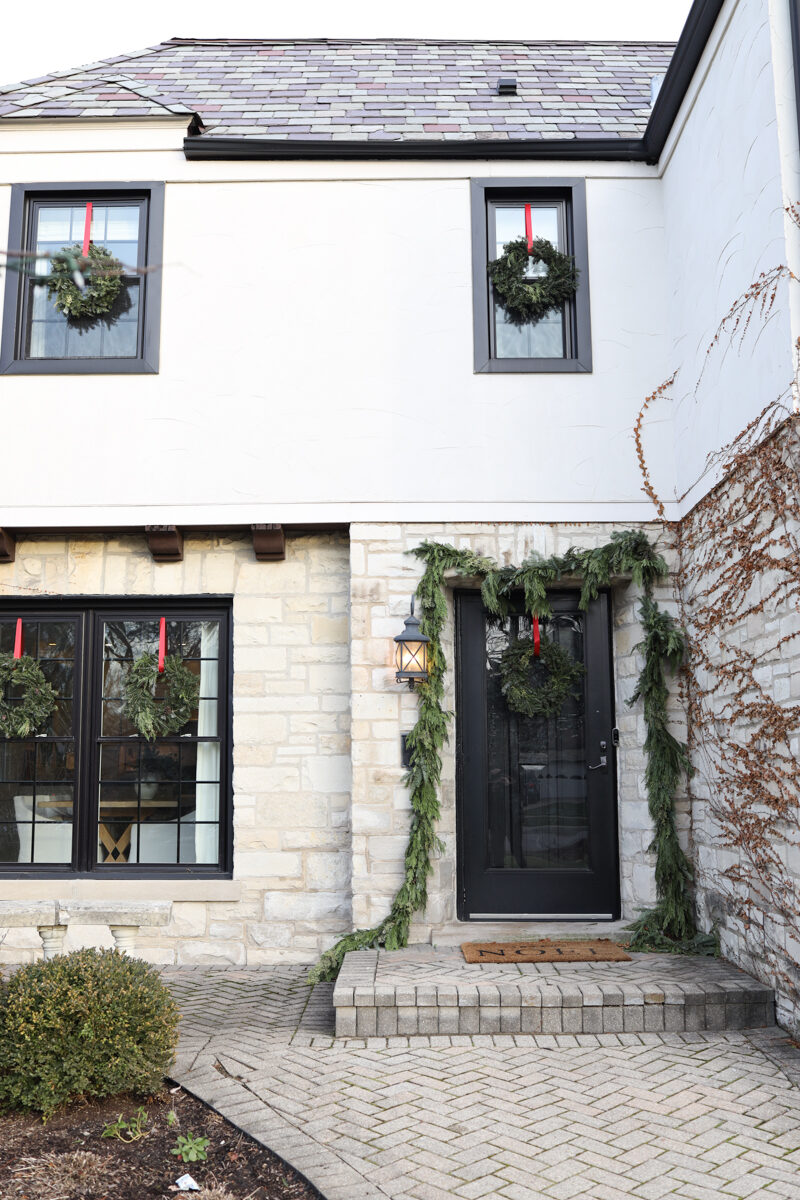 There's really no place like home for the holidays. I've always loved the magic of Christmas, but it feels more meaningful than ever this year. My girls are healthy, happy, and most important, home. Getting to be together, and making our home feel cozy and festive for the girls – there's nothing better. I've shared some photos on instagram, lots of gift guides, and how to hang garland and wreaths. Today, I want to show you all of our Christmas decor.
Anything that can be linked will be linked below. You can also shop my home by room in my shop or by searching for the name of the room or item you're looking for.
Our Home (Tour) For the Holidays
Our garland is the faux cypress from Crate and Barrel, but it sold out weeks ago. I attached it with zip ties – just wrap them around the garland and banister (so easy)!.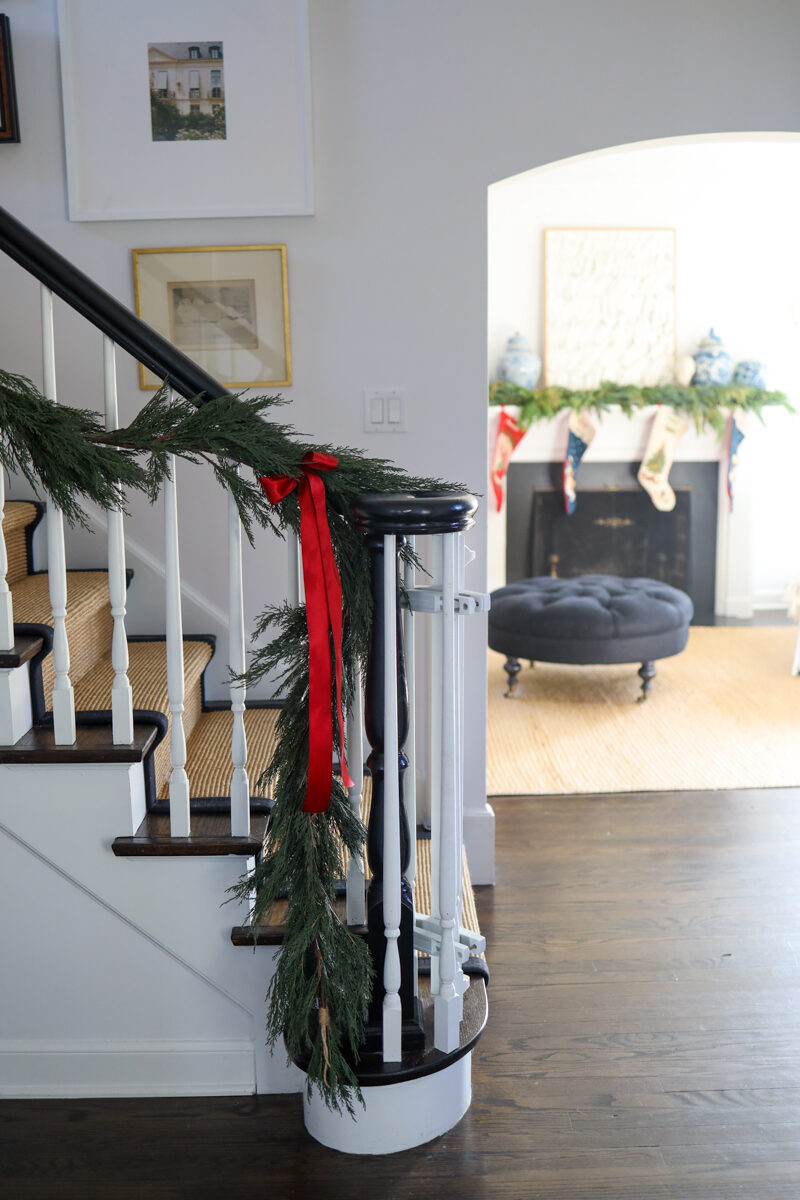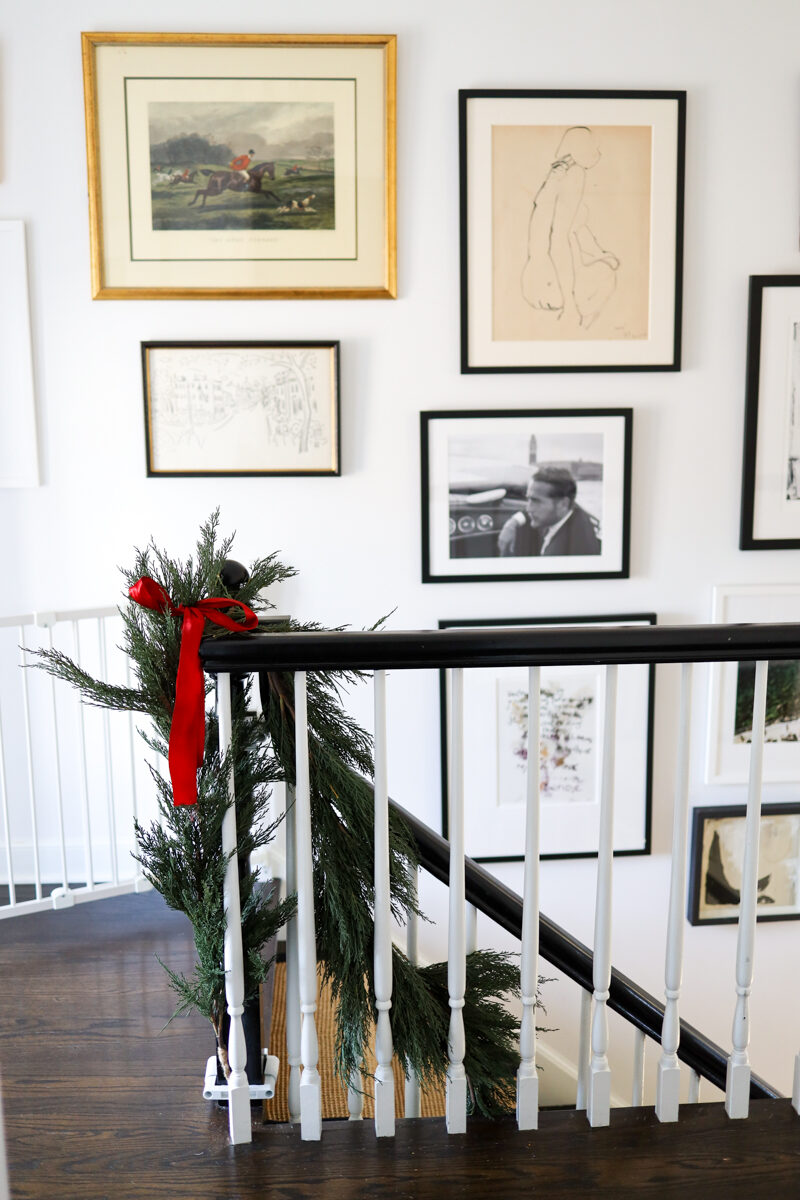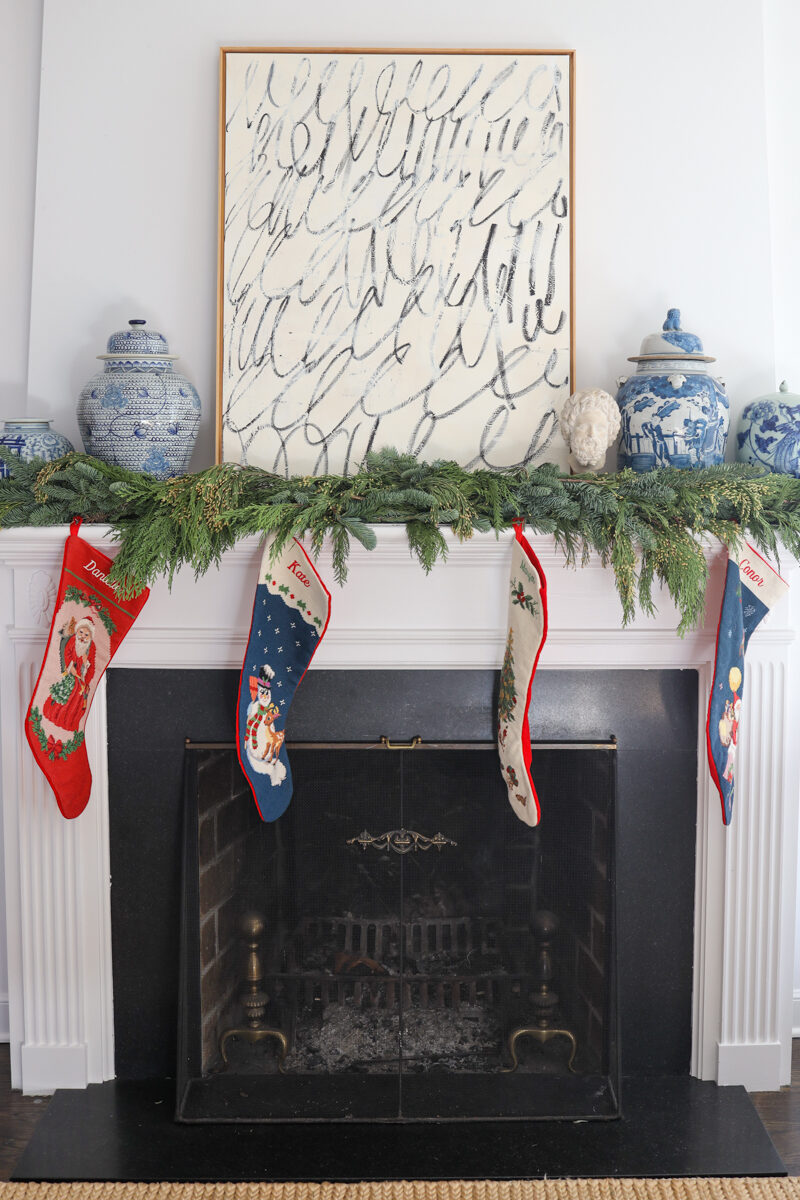 I added some green velvet pillows that we'll leave out all winter, and likely store in the spring. Our (live) garland was purchased at Vern Goers in Hinsdale. Since our tree is artificial, it's nice to have some real greenery in our home. Our stockings are vintage. They're the ones Conor used growing up, and were re-monogrammed for our family. Needlepoint stockings are hard to find. Most of the good ones I've seen are $900 or more 😳 (I know!). I do really like the Bauble Stockings, but they sell out fast. They're pricey but a lot less than the insanely expensive ones I've seen, and they are made by single moms in Haiti and a % of all sales give back, too.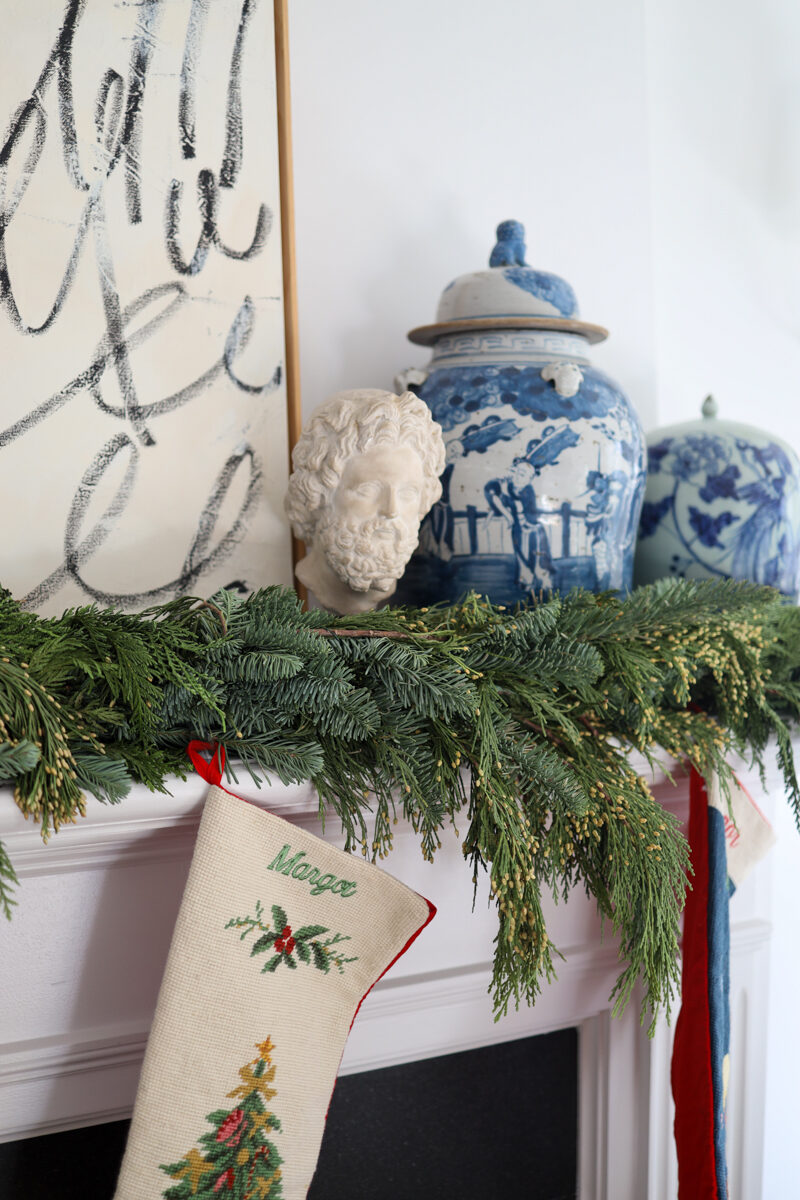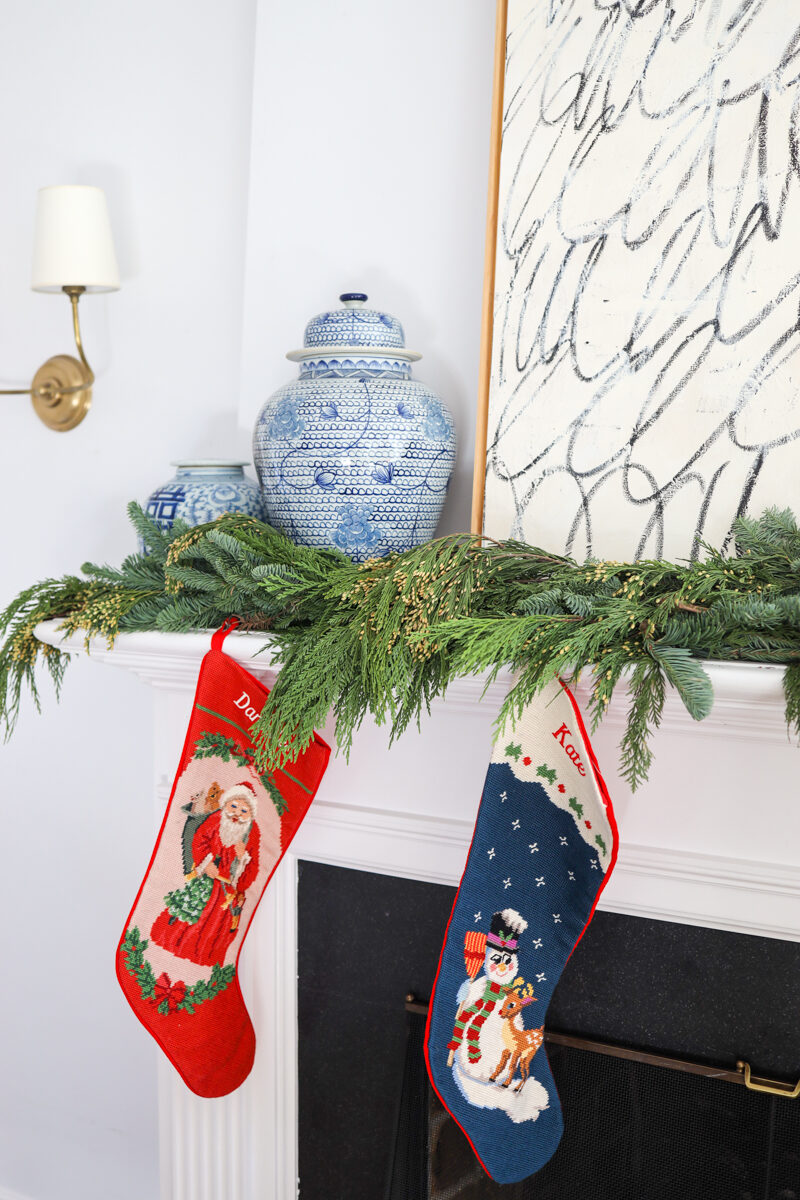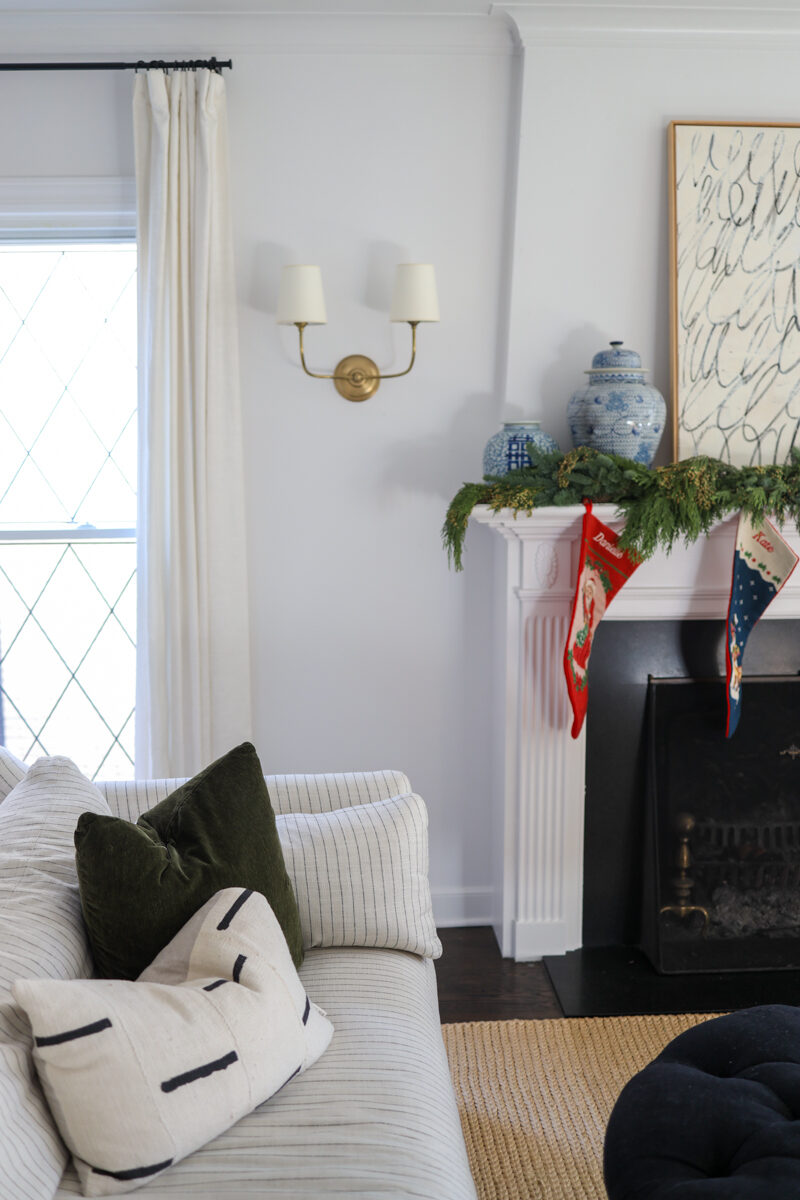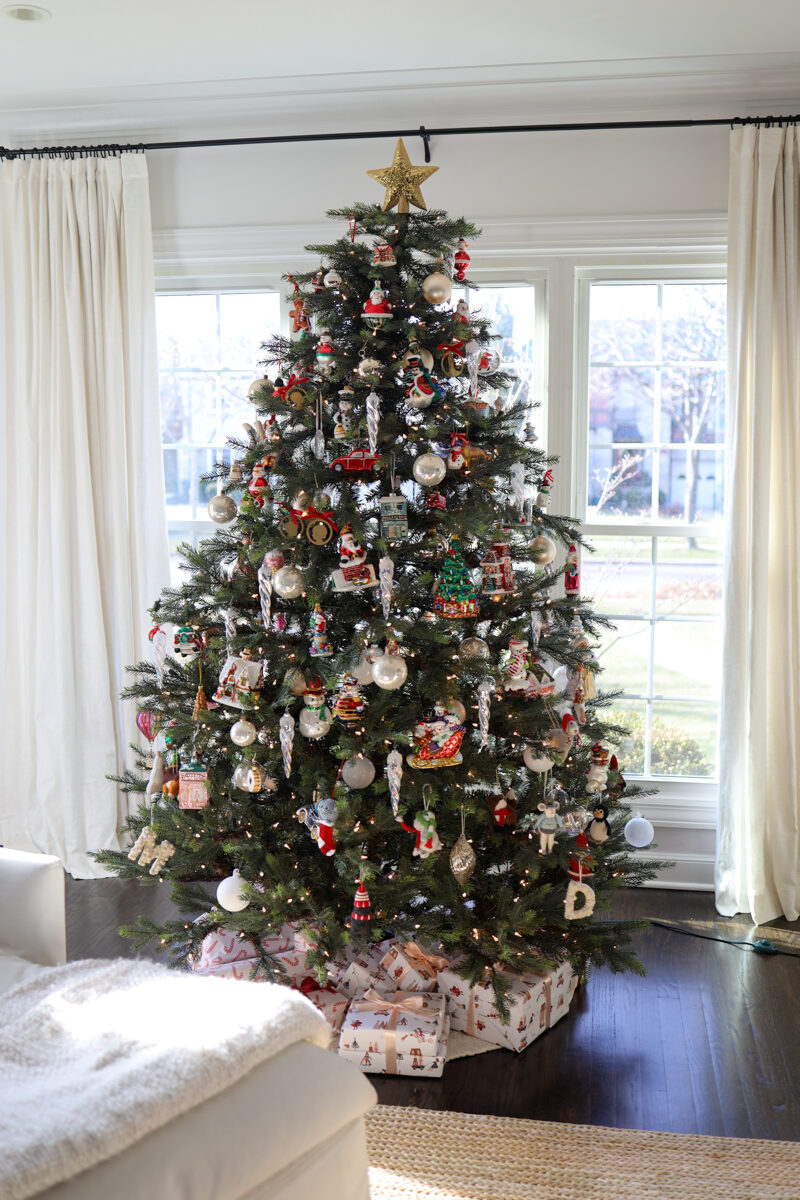 This is our second year using an artificial tree. It looks so real and is just a lot easier – no needles, no dirty water, and no stringing lights. It was gifted from the brand but we love it. I've been collecting Radko ornaments for almost 20 years and usually buy one each year. The icicles are Radko but sold out, and I have a mix of ornaments from Pottery Barn, Anthropologie, and Cody Foster. I'd love to find a vintage mercury garland at some point, too.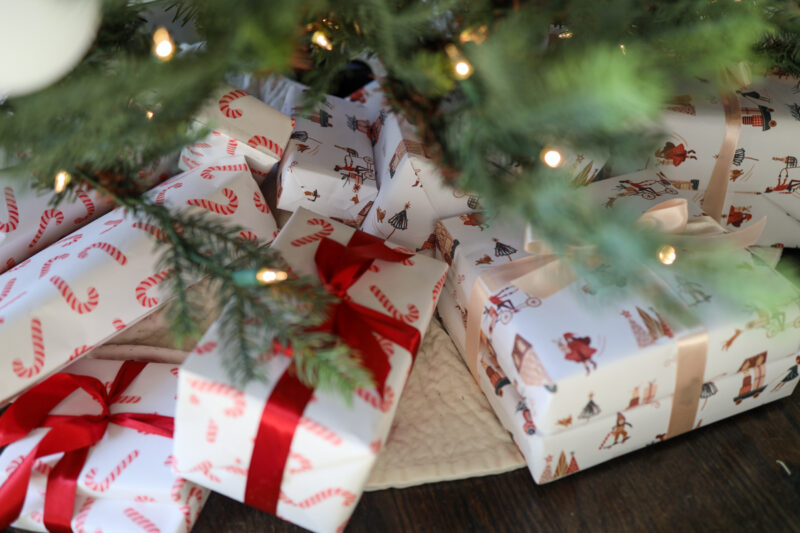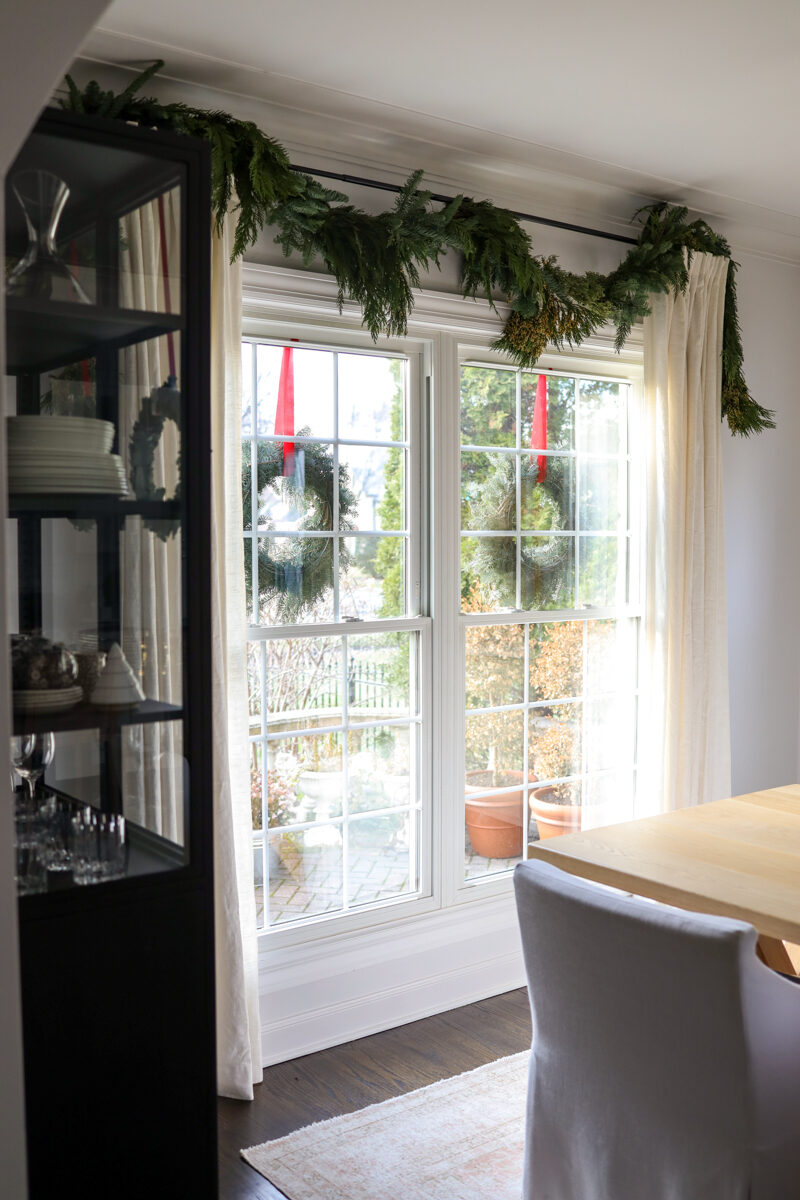 I had some extra garland left over and ended up draping it over our dining room curtain rod. It's really thick and heavy, so command hooks just weren't going to do the trick given the weight. Let's just say I tried and had to touch a wall up. Oops.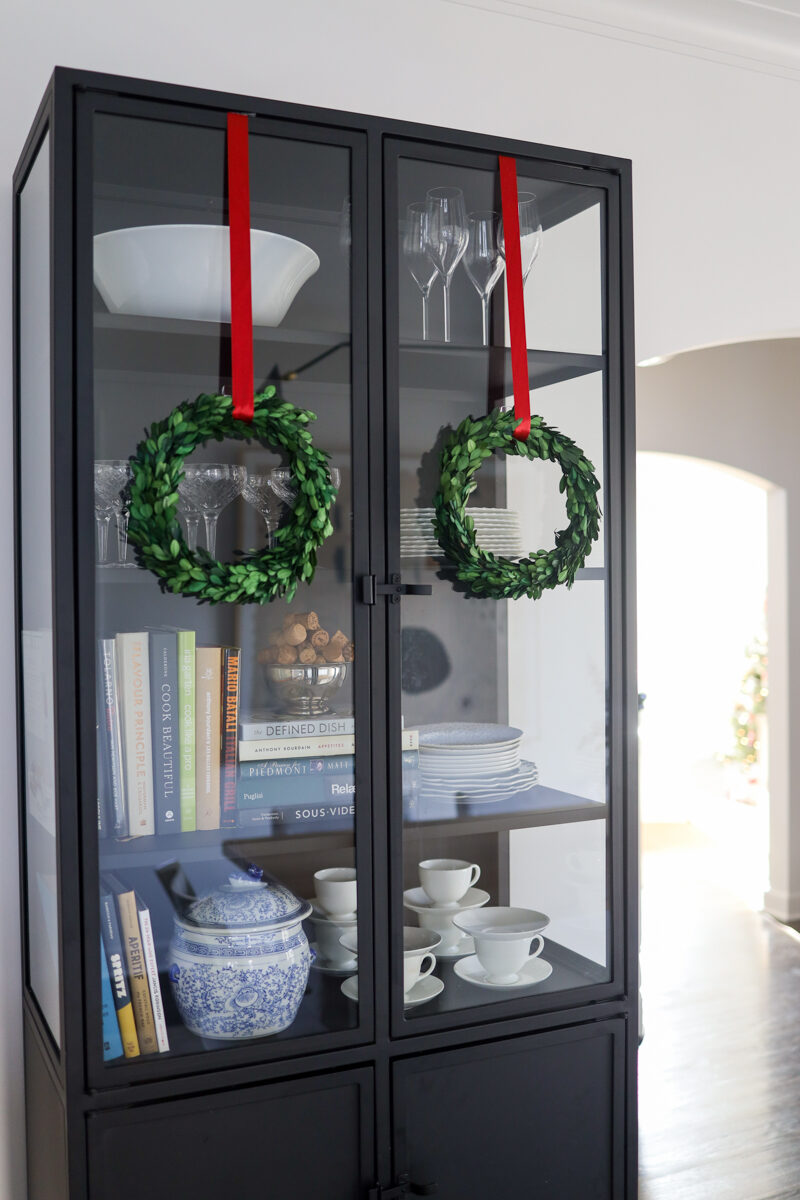 See how I hung these boxwood wreaths in this post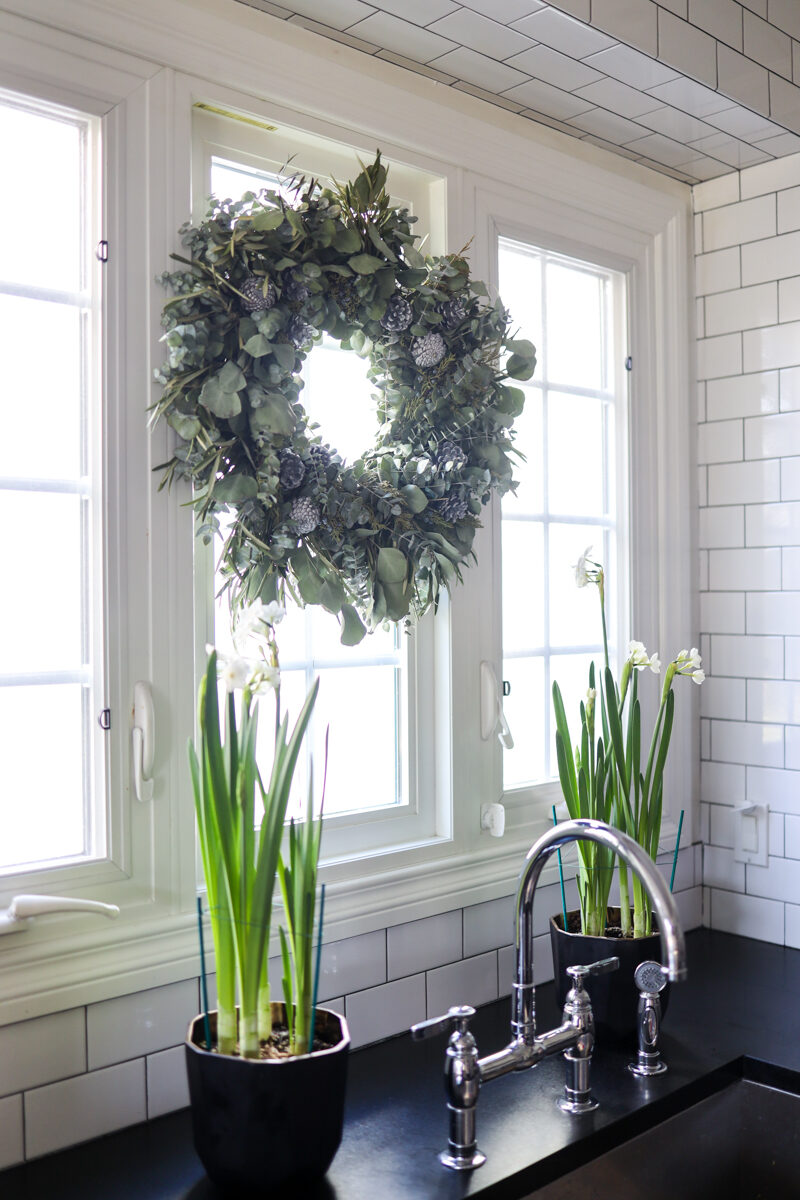 I hung this eucalyptus wreath above the sink (gifted from Williams-Sonoma) and paper whites from Vern Goers.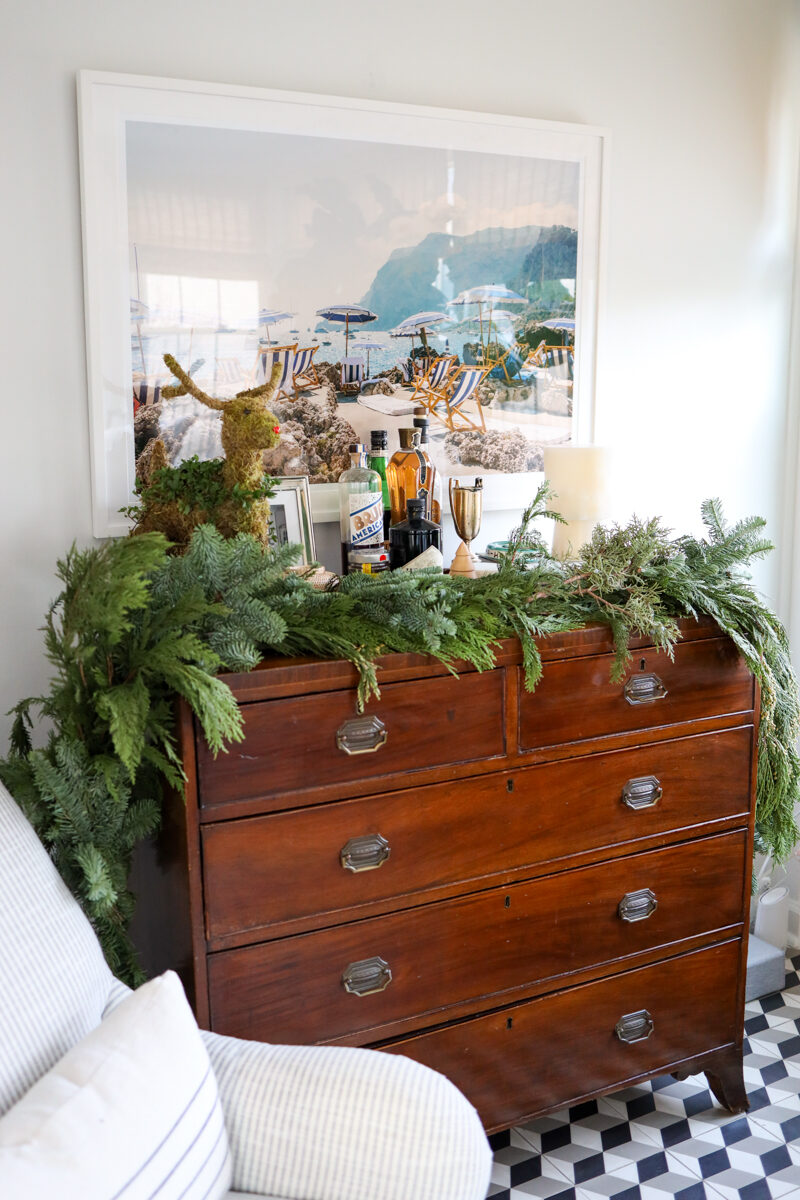 We made some changes to the sunroom, switching my desk out for this dresser/bar. The storage was necessary, and I now work at our bistro table in the same room.
My garland only came in lengths of 25′ so I had some left over, and draped the rest over our sunroom dresser. It's nice and festive, isn't it? I had been moving this reindeer around (also gifted from Williams-Sonoma) and it looks so festive with the greenery.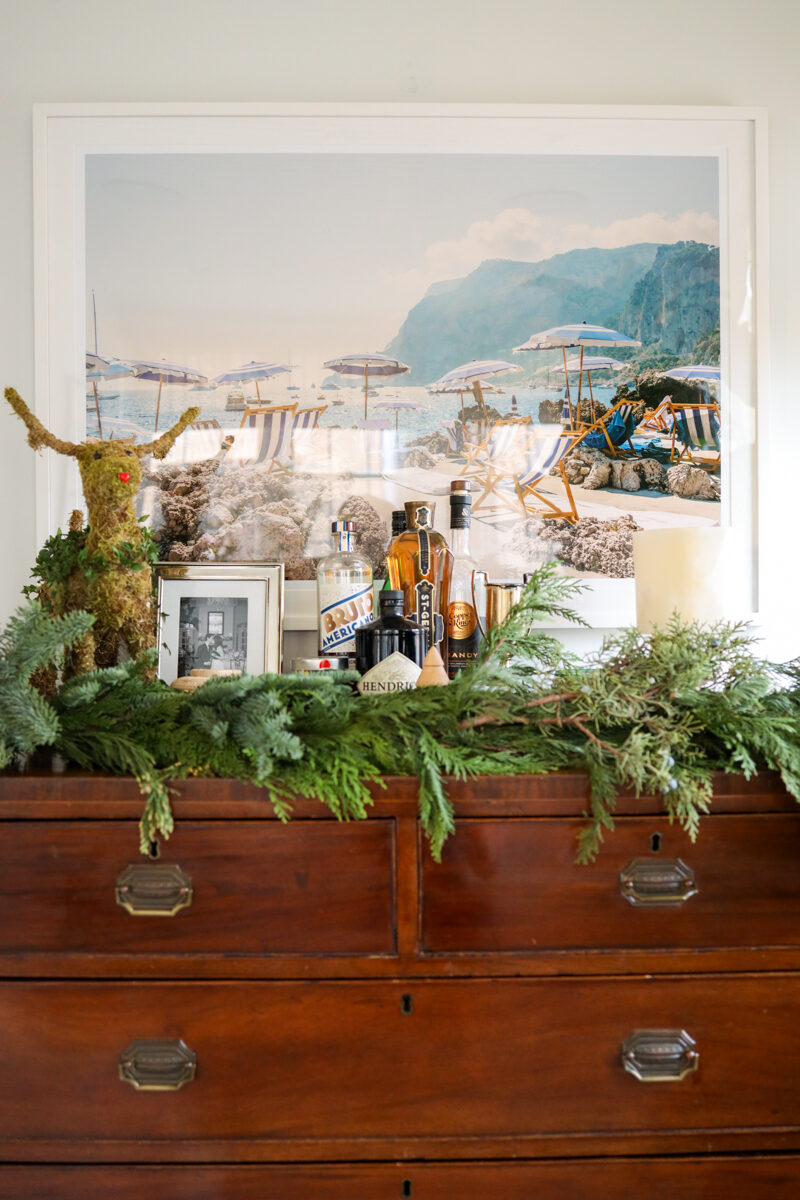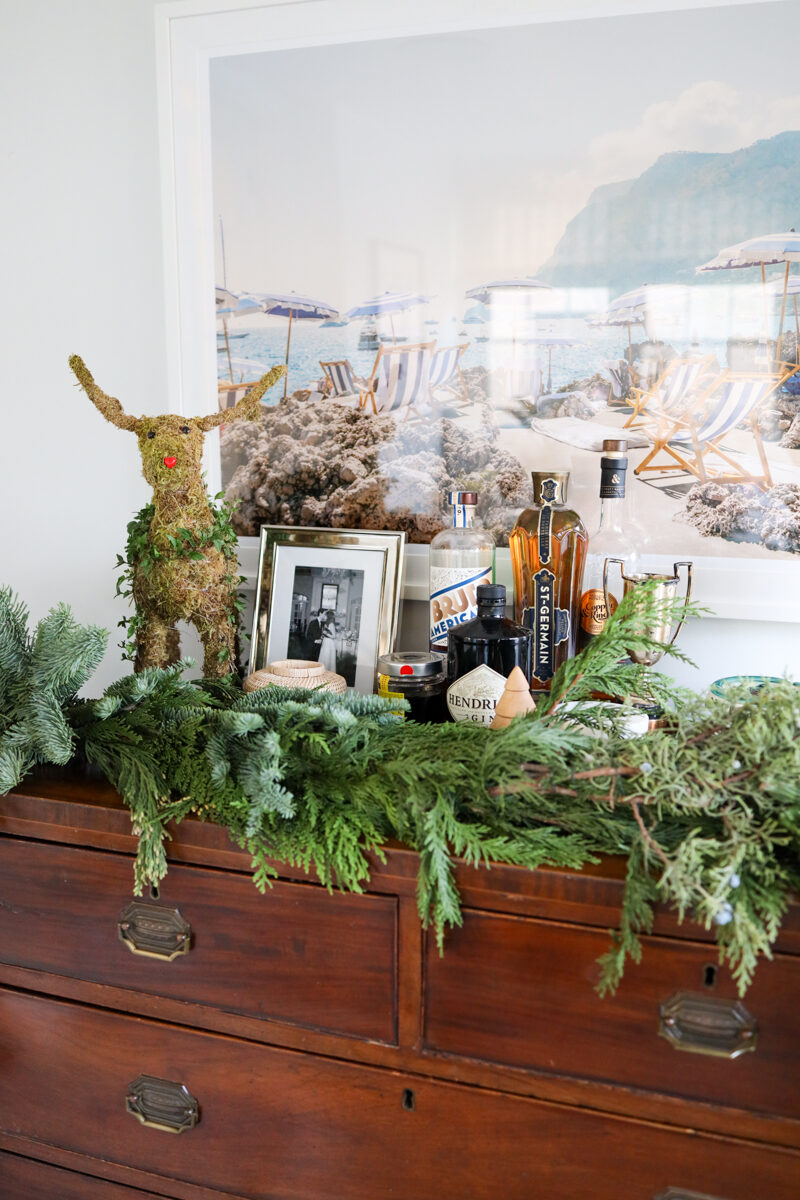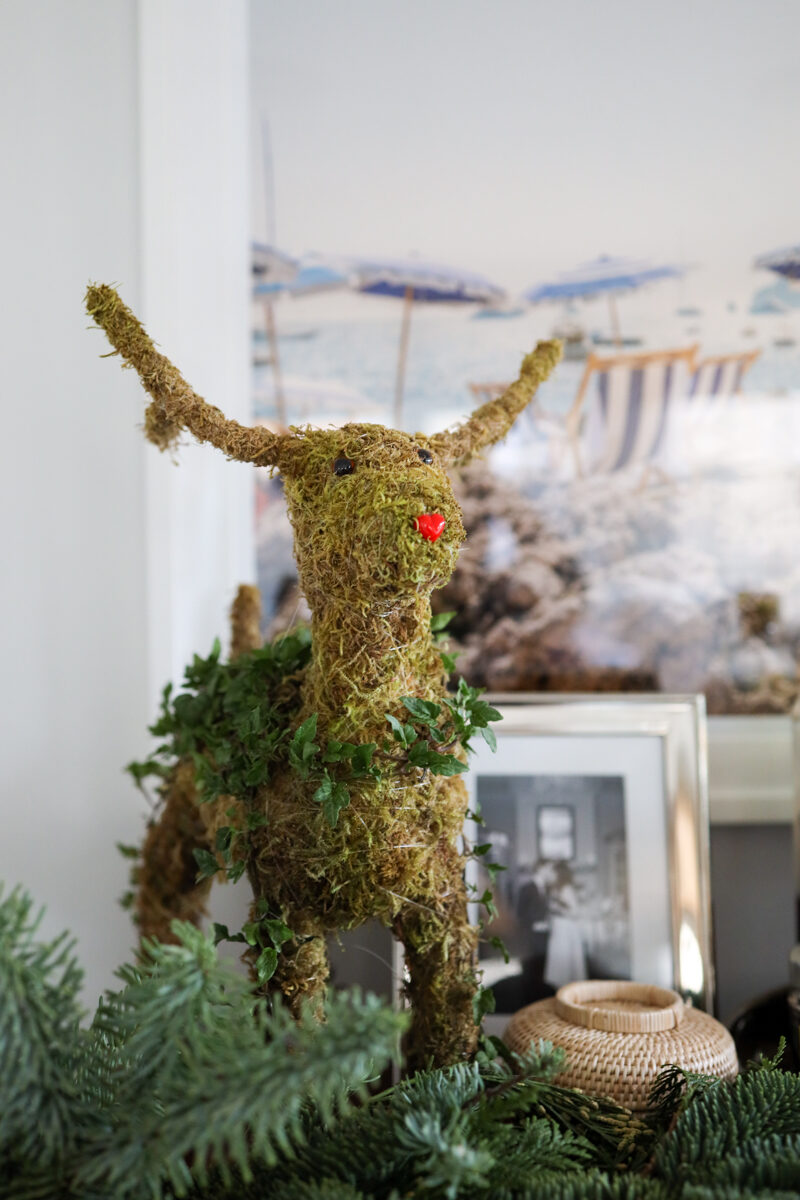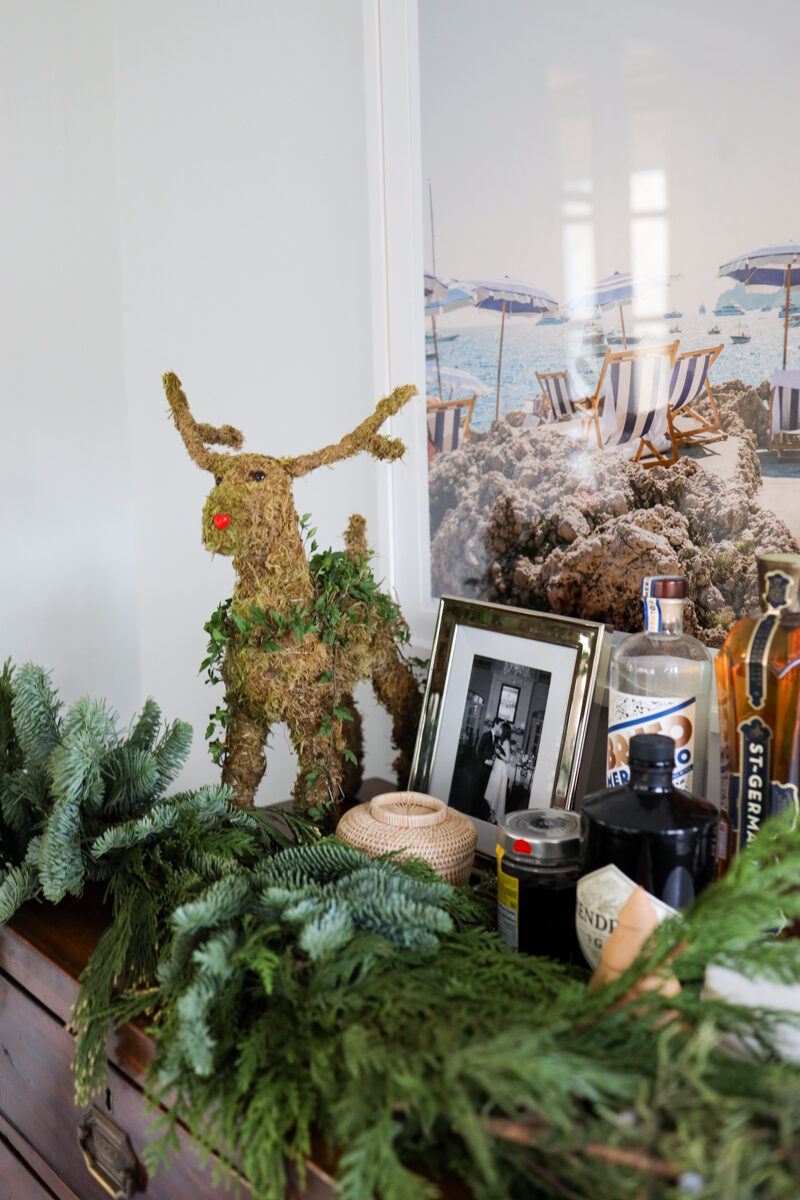 Making things cheery for the girls has been fun, although Kate really only had space for books and a little stocking since she has a glider and her dresser is currently a changing table.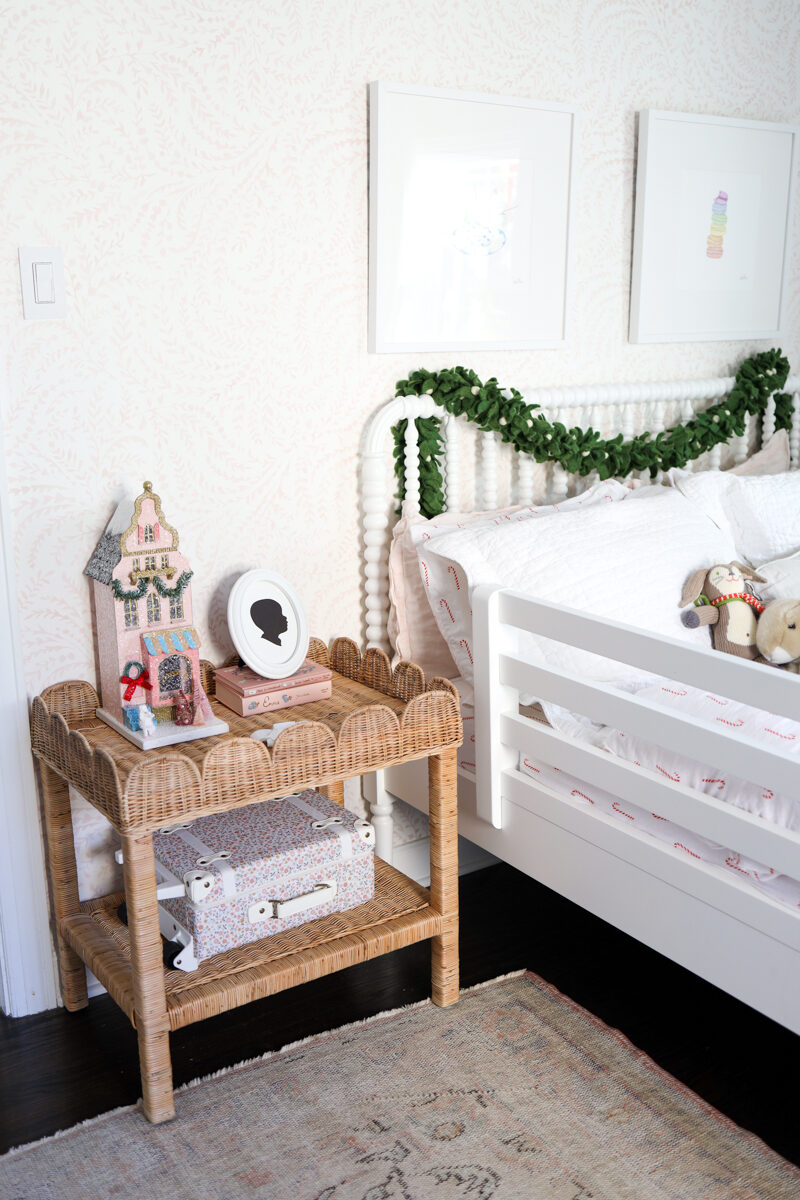 Adding some holiday bedding, felt garland, and a holiday patisserie made Margot's room feel Christmassy without being over the top. We even decorated her mouse house for Christmas!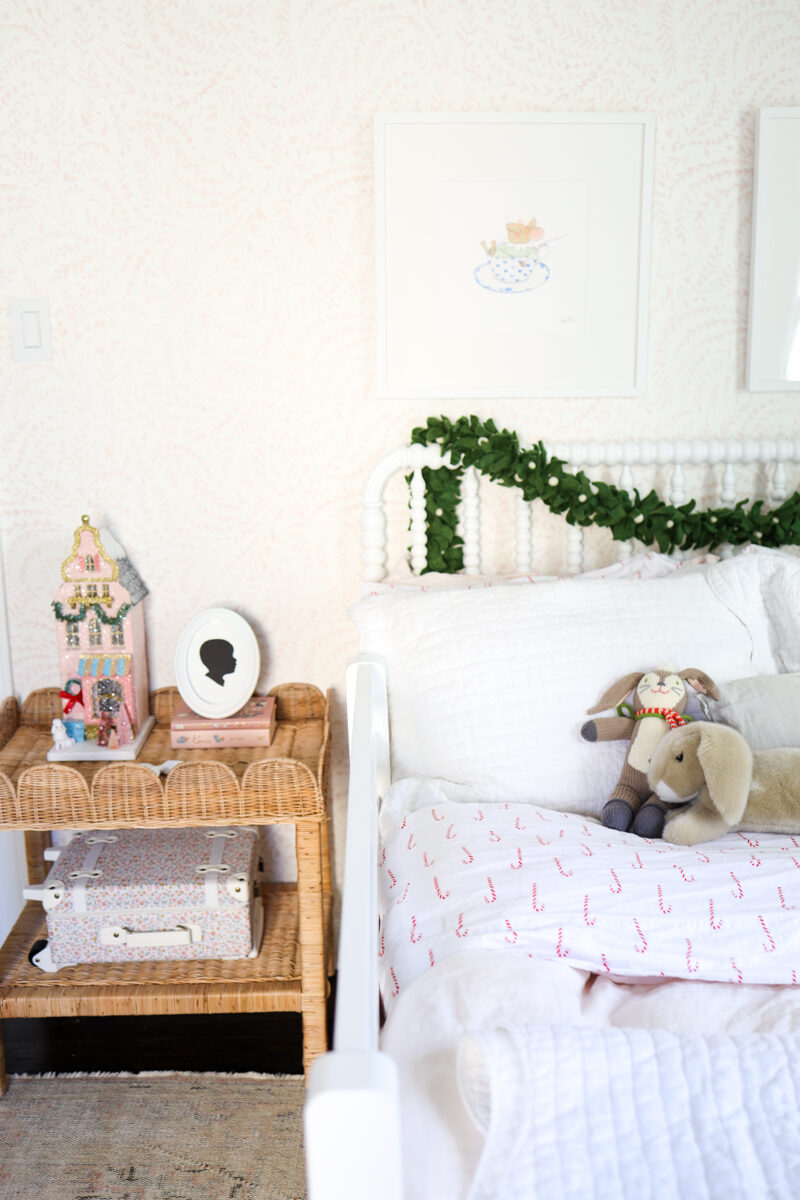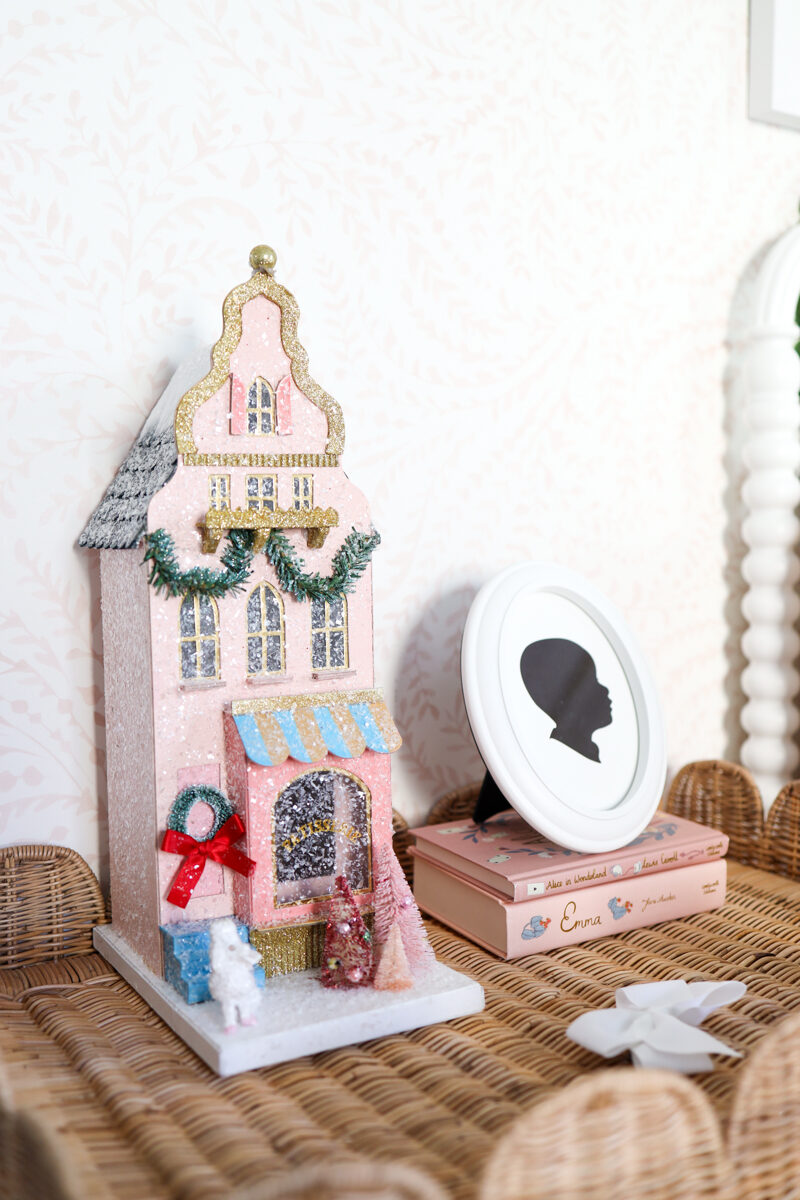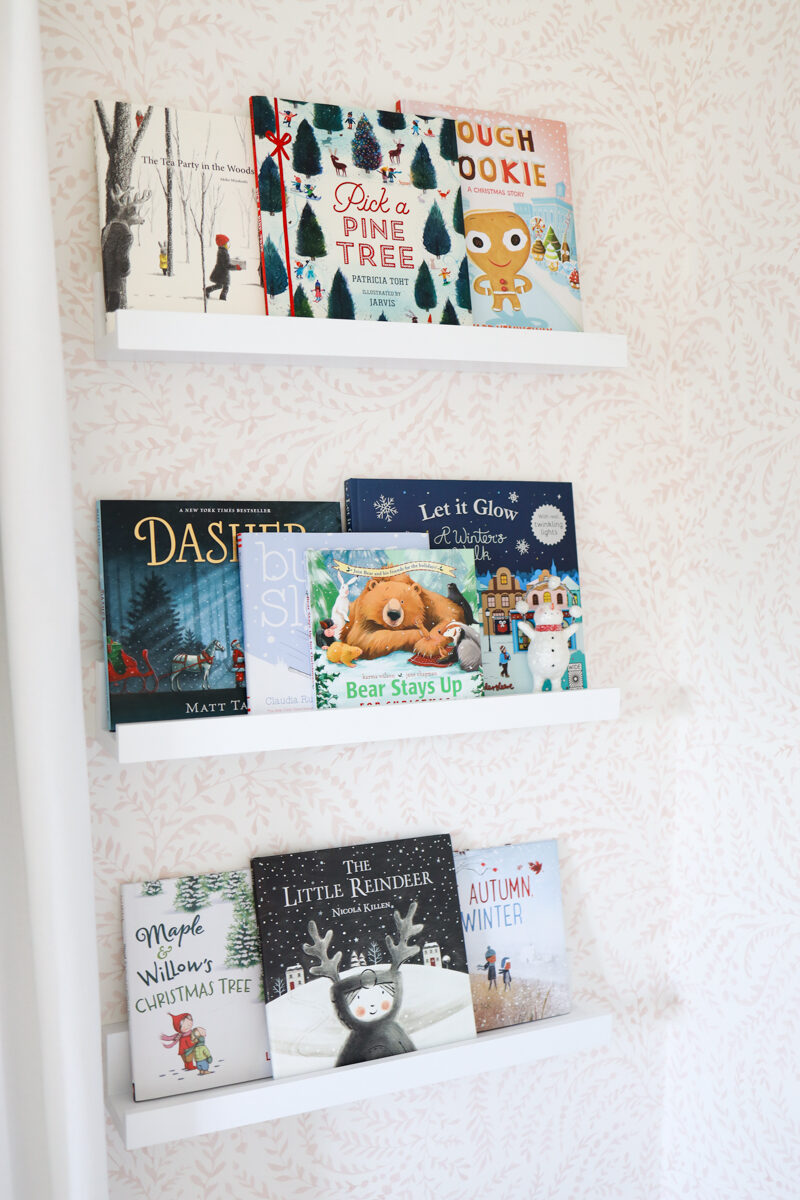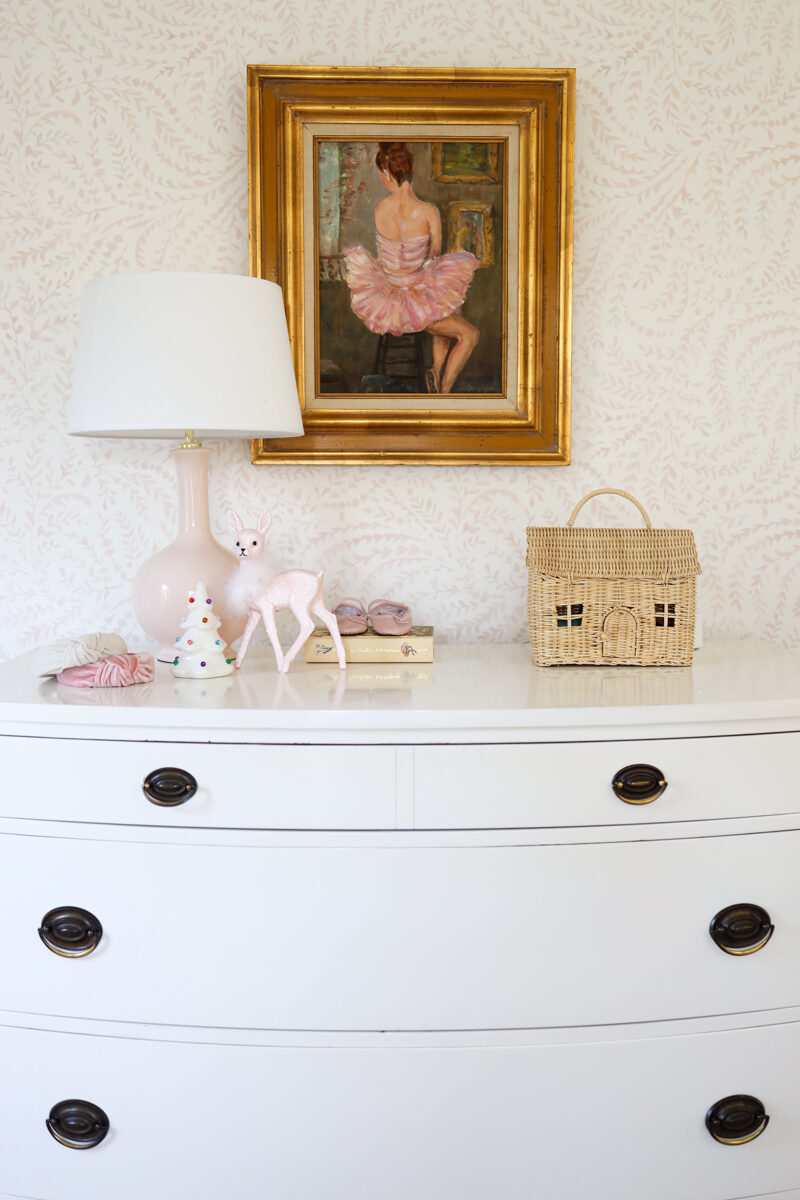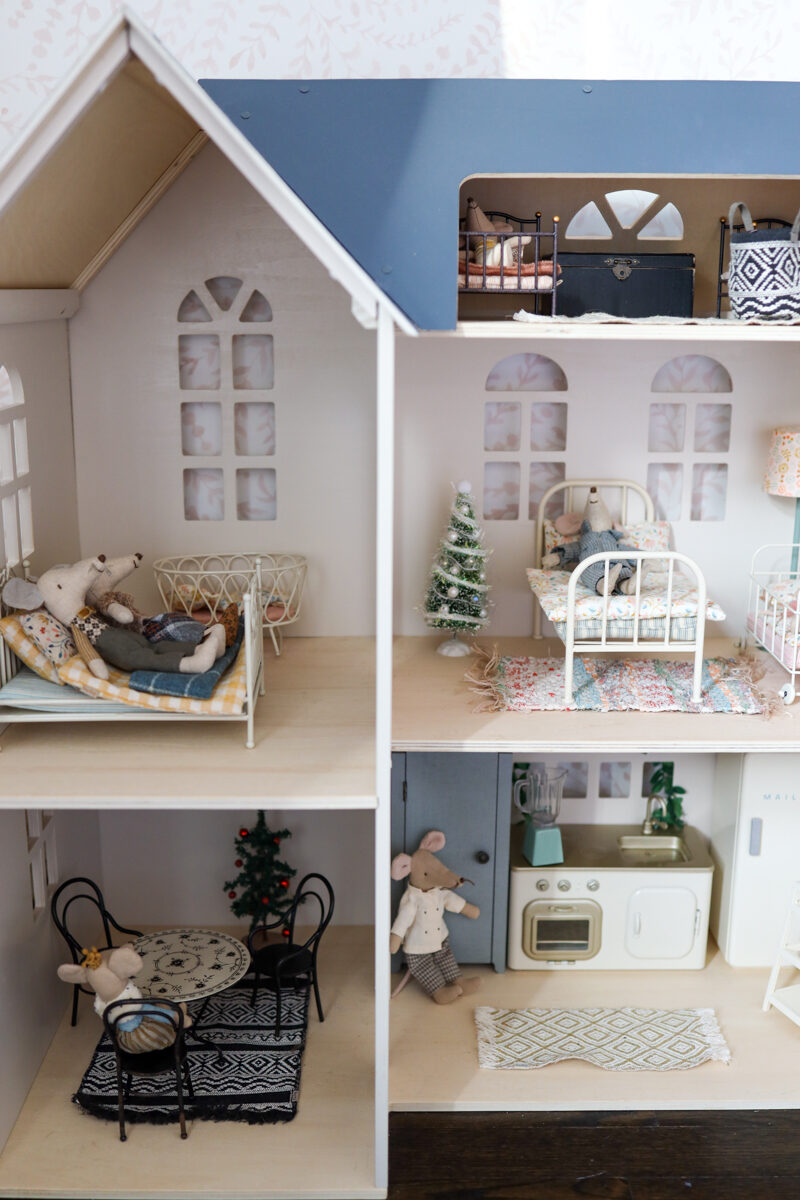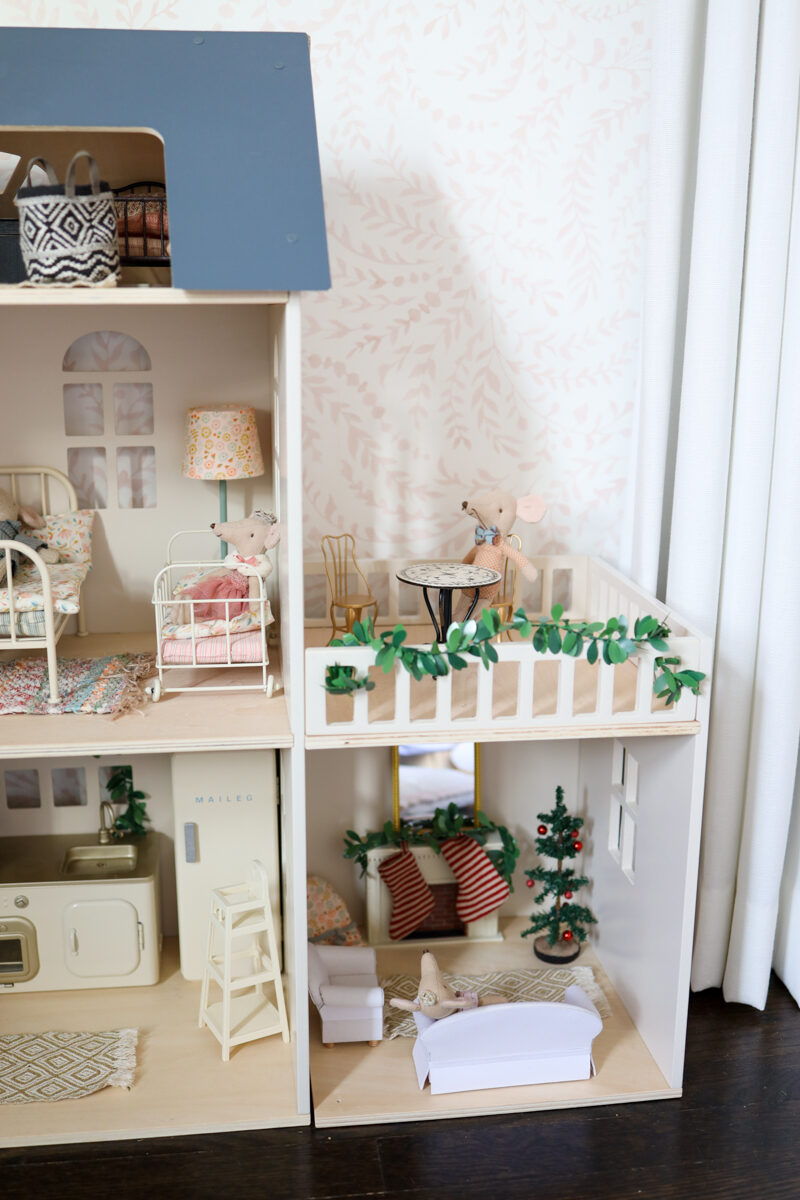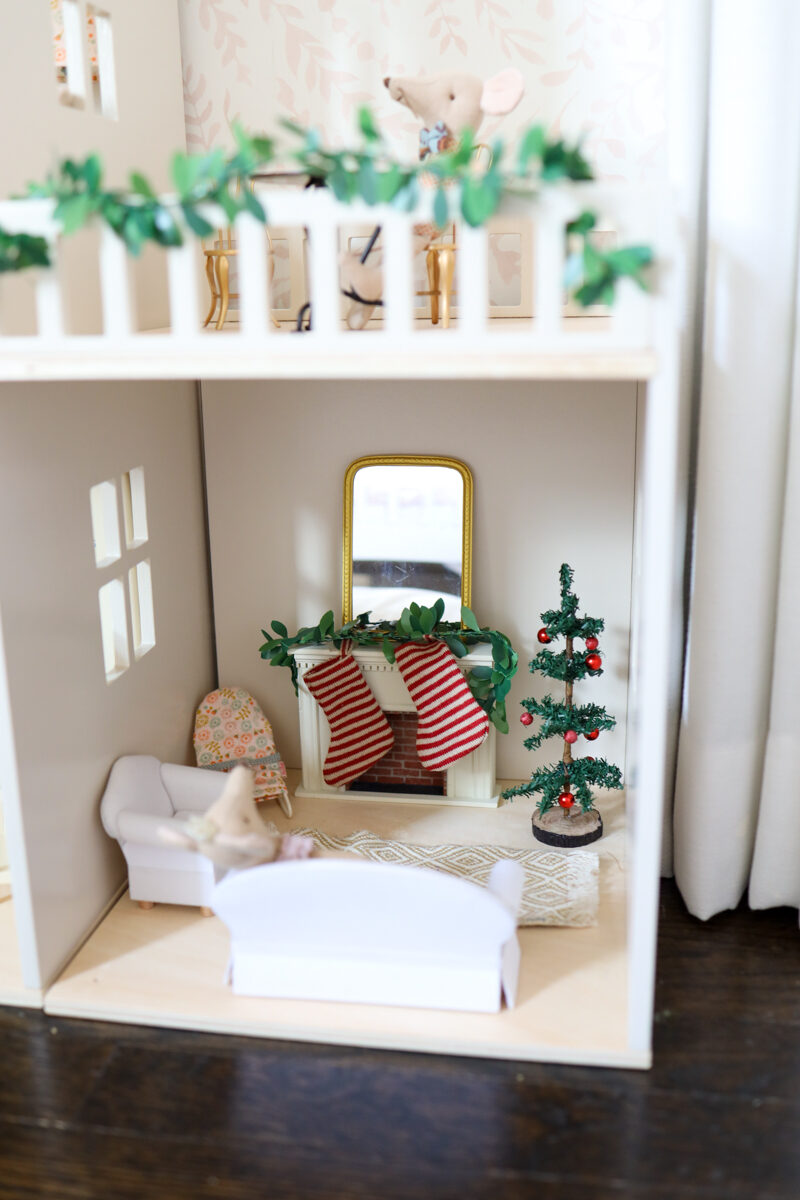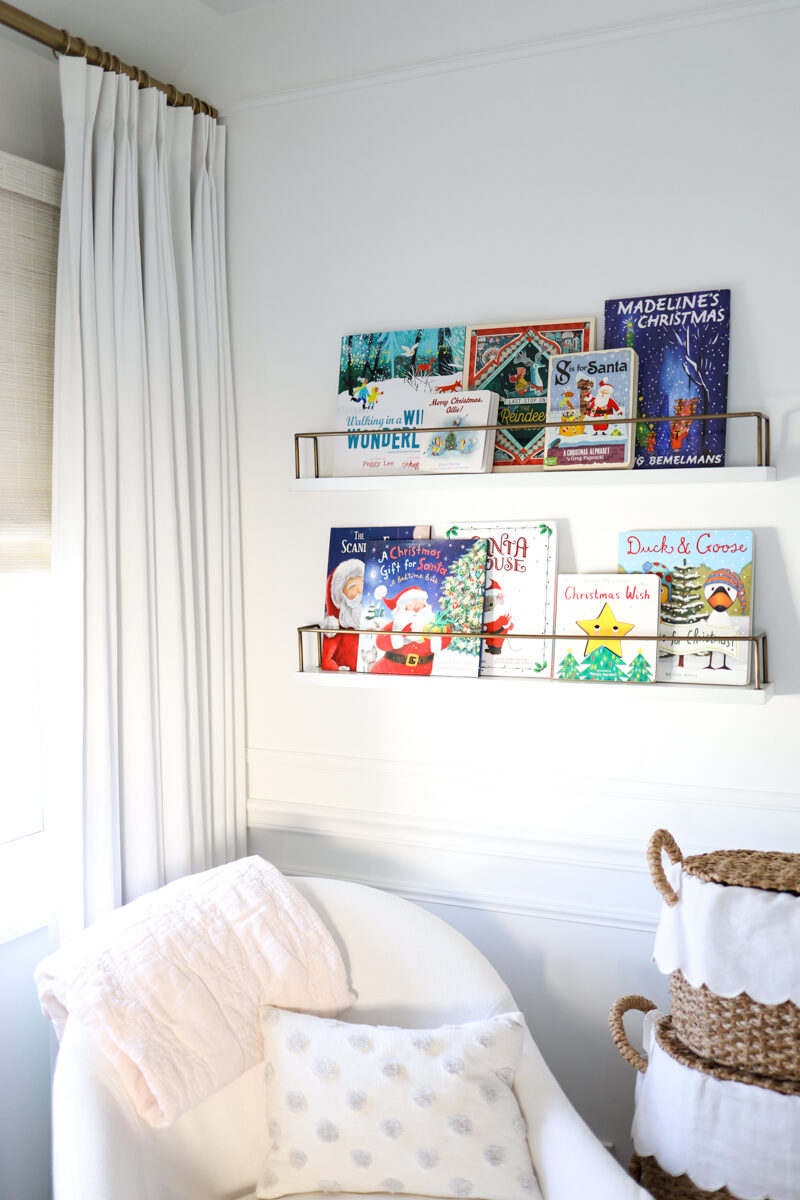 Shop our favorite Christmas books in this post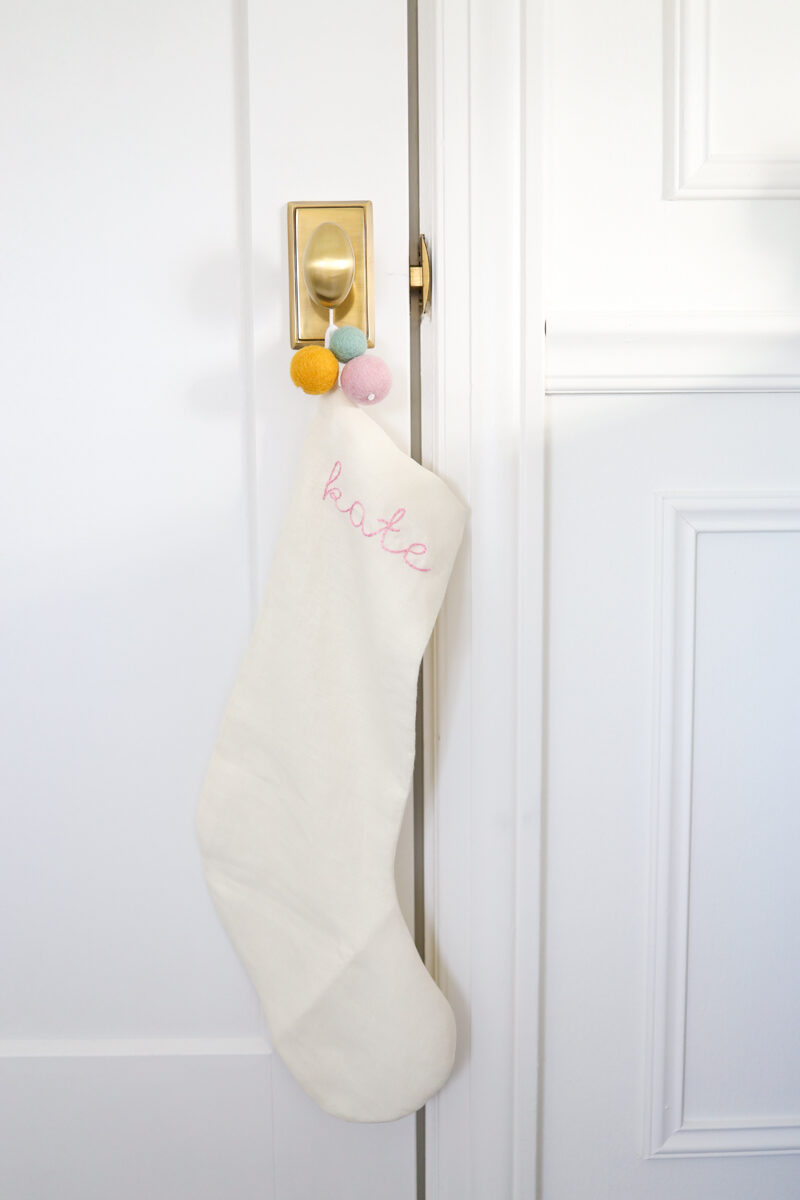 I purchased crowns for the girls from Flower Lane, and the owner gifted us these beautiful stockings.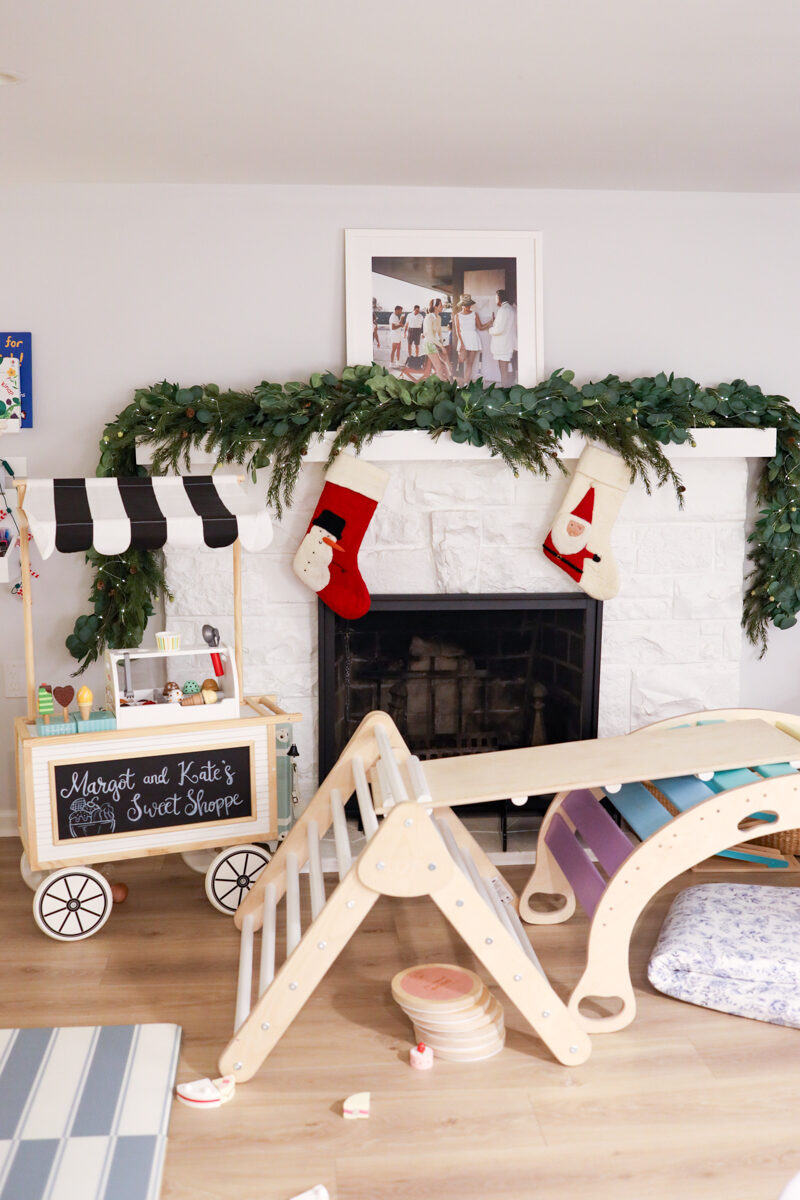 Our garland is from The Accidental Farmgirl. It was originally in the living room but this room needed something so I moved things around. It's so good, isn't it? Stockings are from Pottery Barn Kids but sadly, those sold out, too. I'll need to get it together earlier next year.
I used this 4.5′ tree in the playroom, this felt garland on the art wall, and shocker: the felt wreath (also from PBK) sold out. Sorry, guys. And that concludes our holiday home tour. If you have any questions, please leave them in the comments below. Happy to help!